ROC Inflatable SUP Review
Editor's Conclusion
ROC, a US based company, specializes in making one line of super-solid, all-around iSUP boards. Their goal is to be experts at one thing, and we think they have succeeded.
We think this
inflatable paddleboard
is best for beginners, intermediates, and experienced riders who want something easy and fun to toy around on.
The ROC is perhaps the easiest and most fun board we've had to get up, get on, and just tool around. It's a perfect iSUP for stability, relaxation, mild touring, yoga, or just good fun with family or friends.
ROC Inflatable SUP Review Review Facts
Digging into the ROC...
The first thing we gotta do is unbox this bad boy. Upon opening the shipping box, here's what you can expect to find:
- Aluminum paddle w/plastic blade
- Pump
- Detachable center fin
- Safety leash
- Waterproof accessory bag
- Backpack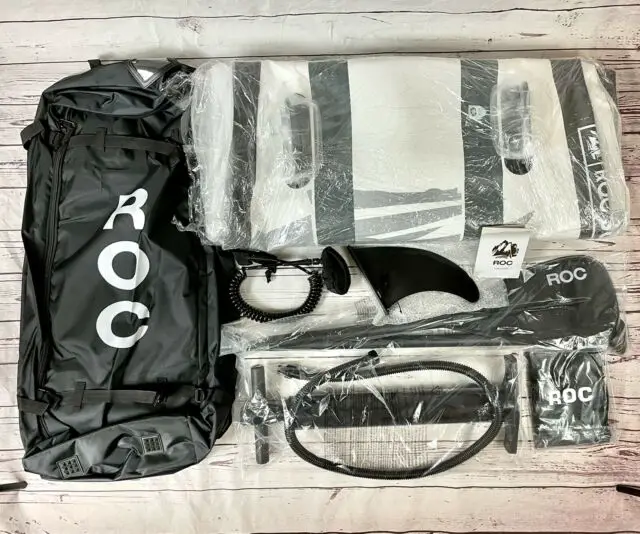 Overview and Experience
At a bit over 17 lbs, the ROC is very easy to transport, easy to lug around once inflated, and easy to navigate on the water. When dry and deflated, it rolls up and stows away very neatly and we also found the backpack easy and comfortable to use. The
paddle
is aluminum with a plastic blade - adequate for the casual paddleboard rider - and the pump gets the job done. Like all manual iSUP pumps, your arms and shoulders will be burning by the time you get the board up to 15psi. If you'll be inflating/deflating the paddleboard a lot, we highly recommend an
electric pump
. Aside from that, we like that they include a waterproof gear bag. This will let you stow some goodies like a phone, some snacks, or your car keys, for your time on the board to keep them dry and safe.
Once on the water, the ROC inflatable SUP was super playful and really enjoyable to tool around on. Its lightweight design and rounded, rockered nose combine to give it excellent maneuverability. The board is light and flexible enough for all levels of paddlers to control it, and the nose shape and profile make tight turns and maneuvers a breeze for more experienced paddlers. It's like the archetype of recreational paddleboarding.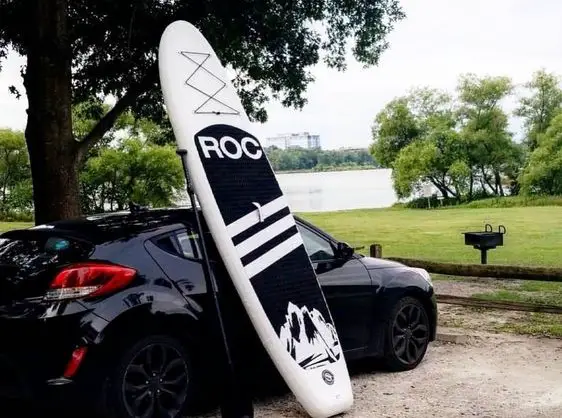 On the downside, its lightweight design makes it noticeably less stable in windy and choppy water when compared to its heavier counterparts. This isn't a serious knock on the ROC since, of course, we recommend this as an all-around recreational iSUP. Other than that, any strikes against the ROC iSUP board are purely preferential. Paddlers seeking speed, high performance, or iSUP surfing will need to look elsewhere - this is not a speed or racing board. If speed is your thing, check out the Isle, Bote, or Nixy inflatable SUP.
Wrap-Up
For an all-around awesome inflatable paddleboard experience, we believe the ROC iSUP to be one of the best paddleboards for the money.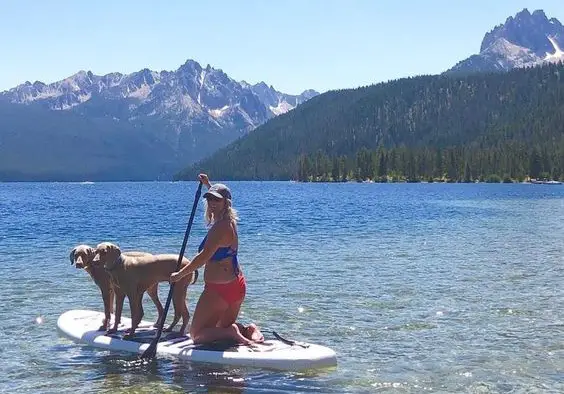 Subscribe to our Newsletter