Osprey Atmos AG 65 Backpack For Men
Editor's Conclusion
The Osprey Atmos AG 65 Men's Backpack is suitable for
hauling loads
over both long and short treks.
This pack works for all trails and backcountry environments and gives good ventilation and comfort. Versatility is designed into the bag for carrying small loads or going for heavier loads up to around 40 pounds comfortably.
A good range of zippered pockets and straps for carrying external gear. Ease of access is designed into this pack from every angle. This pack is yet another decently thought-out design.
Editor's Pros & Cons
Adjustability
Pockets
Ventilation
Comfort
Performance
Carrying Capacity
Ease of Use
Durability
Some users suggest support is lessoned for loads over 40 pounds
Key Features
Snap Shot
Anti-Gravity Suspension
Adjustable harness
Fit-on-the-Fly Hip-Belt
Front Stretch Mesh Pocket
Removable Floating Top Lid
Dual Zippered Pocket by the top lid
Web Attachment Points
Internal Hydration Reservoir Sleeve - Separate Purchase
Trekking Pole Attachment
Dual Ice Tool Loops
Sleeping Pad Straps
Safety Whistle
Load Range: 30-50 lbs
Weight 4.56 lbs
Good For:
Back-Country
All Trail types
Hot weather
Cool seasons
Long and Short Distance Hiking
Ease of Use and Features
The Atmos offers many pockets designed for easy access and a functional range of features. Large hip belt pockets with zip closures have proven to be appreciated by users. The two mesh pockets for water bottles allow users to set the angle of the pockets for easy access.
Note:
tall bottles can be carried but if carried upright, they might interfere with elbow movement.
The stretch mesh pocket allows you to carry large different shaped gear securely and easy to access. At the rear of the mesh, beaver-tail pockets are two designed in largish zipper pockets, which are suitable for carrying various types of gear and help
organizational packing
.
A divider can create a lower sleeping bag compartment with zip access separate from the main compartment. This is another good easy access feature. The two compression bags designed around the sleeping bag compartment are perfect for securely carrying large kit items.
The top lid has two practical zipper pouches that are detachable if you plan to haul a lighter load.
Comfort and Suspension
The Atmos is, according to user feedback, very comfortable to wear while hauling gear.
A suspended trampoline mesh designed into the entire rear area of the pack forms an anti-gravity support system. This system lifts the pack away from the body and even includes the hip belt. This has a dual effect, excellent ventilation, and weight distribution suspension to give a lighter feeling.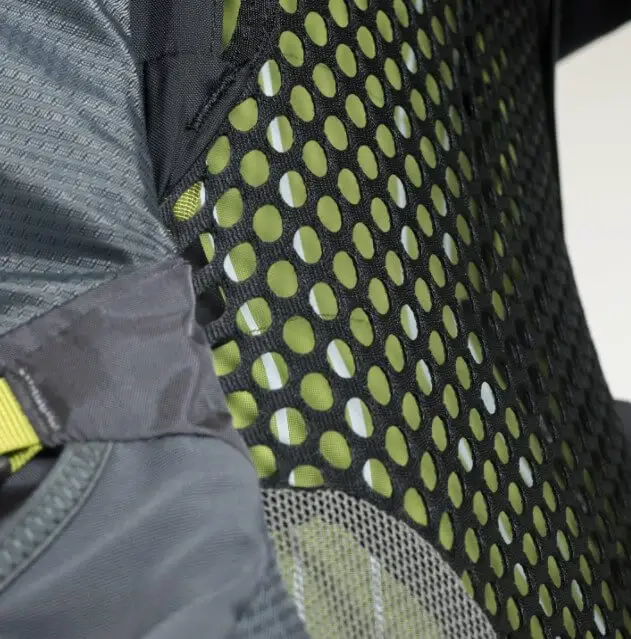 The suspension system works to distribute weight evenly from the hips upwards across the area of your back. This removes the problems of hot spots and friction, which can occur in packs that do not have a suspension system.
The shoulder pads have ample padding designed for the shoulders to carry weight comfortably. The padding is designed to fit the shape of the shoulders without being too soft.
Overall, the harness offers good ventilation, and users in hot weather appreciate this. The peripheral frame is a light-wire system that provides a balanced stiffness for hauling loads up to 40 pounds comfortably and efficiently. User feedback has mentioned that when carrying over 50 pounds, the performance though still reasonably practical, it is downplayed to a degree.
FIT and Adjustability
The pack is offered in three sizes; you get four inches of vertical adjustability, which will quickly meet adjustment needs. The hip belt allows around six inches of adjustability, which offers maximum FIT for comfort while reducing the possibility of hot spots.
User feedback suggests when carrying over 40 pounds that the hip belt has a slightly reduced rigidity. The importance and caution appear to be that when adjusting for fit, be as accurate as possible.
Weight
With an average weight of around four and a half pounds, the pack is relatively standard and not as heavy as other options. The pack's weight is due to a combination of designed-in features which enhance performance, organizational packing, and comfort.
Value for Money
They are factoring in versatility, comfort, good distribution of weight-bearing. This pack is available at a price that positively reflects the excellent performance users expect.
Comparison
The Atmos is specifically designed for use by men.
A good performing, comfortable and versatile comparative option is the Osprey Aura ag 65, and this pack is designed for lady hikers.
Another great product we reviewed is the
Osprey Atmos AG 65
, so make sure to check it out as well.
Comparative Snap Shot:
Designed in anti-gravity suspension
Designed in adjustable harness
It has a good-sized front stretch mesh pocket
Includes a removable floating top lid
Designed in dual zippered pockets for the top lid
Good range of web attachment points
Extra purchase. Internal hydration reservoir sleeve-3 liters.
designed in dual ice tool loops
Two sleeping pad straps
A Sternum strap
One Safety whistle
Designed in two zippered front pockets
It gives a load range: around 30-50 lbs
Good for:
suitable for trails & backcountry
good ventilation in hot weather
Fine for all seasons
Long & short distance hiking trips
This is an excellent comparative option for lady hikers who intend to hike in differing terrain for long or short distances. Excellent ventilation for hot weather hiking and fine for all seasons.
Another great product we reviewed is the
Osprey Aura 65
, so make sure to check it out as well.
Verdict
The Osprey Atmos AG 65 Men's Backpack is one with a tried and tested history.

For men looking for a pack that offers good performance, versatile carrying capacity, and lots of supportive comfort. The price tag reflects a product that has an excellent array of features and gives a comfortable performance.

Available at a price tag that sits slightly above a medium cost. Excellent addition to your hiking gear.
Subscribe to our Newsletter