Katadyn Hiker Pro
Editor's Conclusion
The Katadyn Hiker Pro Transparent Water Filter offers good performance, ease of use and a user friendly price tag. These positives are why this filter system has a strong following of users.

Setting up the pump is easy, all the parts simply click into place.

Especially good for sole use but with reasonable effort it's ok for groups. For a quick full liter of clean water this model works, expect to take around one minute.  Not much maintenance is required to keep the filter efficient, regular cleaning should ensure that the filter is good for around 300 gallons (1,100 liters)

The filter comes with a useful hose  which has a pre-filter and effectivity filters any large debris or dirt, when you are taking water from shallow places. This will filter water which appears silty or muddy but afterwards be sure to back-wash the filter.

For back-packers this pump is a light 13.40 oz, all the parts stow away neatly into a protective carry-bag and tuck away easily into a pack.
Editor's Pros & Cons
Easy to use in shallow water
Can connect to a hydration reservoir
Quick
Reliable and easy to use
3 stages filtration
Lightweight
Inexpensive
Can be clogged by sediments-remember maintenance
Key Features
Let's take a look at how your filter will work. When you understand this, it will be clear why maintenance is a must-do. Accessing fresh water in the wilds and converting it into being safe to drink, requires you to understand your
water filter system
.
Performance Specs
Filter Stages:
-
Pre Filter: Strainer
-
Fiberglass Filter
-
Granular activated carbon
Filter Lifespan-Average 2 years for around 300 gallons ( 1,200 liters)
All water sources in the wilds will have different levels of contamination, for some contaminants we already have a naturally evolved immunity. The Hiker Pro targets contaminants that can result in mild to seriously severe symptoms resulting from drinking unsafe water.
The Katadyn works to filter out protozoa and forms of bacteria which can cause problems, especially types such as Cryptosporidium and Giardia. A rule of thumb when accessing untreated water sources, try to locate running water in streams, rivers, or even lakes.
For those that like to carry a hydration reservoir, the Hiker Pro can connect to most hydration units.
This model has three filter stages.
Stage1
The pre-filter system is a very fine aluminum mesh set at 130-microns. This is where the larger material is caught and prevented from reaching stage 2 in the filtering process. At 130-microns the filtering process is catching debris such as tiny wood particles, plant, organic, sand, and other unwanted particles.
If large particles reach the second stage of filtration they will render the process ineffective and potentially damage the stage 2 filter. This is why periodic maintenance for water filters is important. Maintenance is quick and easy and just requires back-washing the filters.
Stage 2
water will pass through the micron glass filter system to remove total dissolved solids often referred to as TDS. Stage 2 also picks up any bacterial micro-organisms which can be caught via a glass fiber filter system. Unlike stage 1 where the filter targets debris which can often be seen with the naked eye, stage two is set at a pore size of only 0.2. Now your filter is going for micro-contaminants to ensure you get safe drinking water.
At 0.2 a regularly used filter must be well designed, this stage means filters gradually clog over time. This is why you are advised to replace the filter when you hit 300 gallons of filtered water. You can source fresh filters from Katadyn.
Stage 3
and just before you get to re-hydrate with fresh safe water. A granular activated carbon filter system will pick out organic compounds larger than 0.2 microns. Organic compounds are at times near fluid and any that slip through stage 2 get caught at stage 3. This stage is also good for filtering out any chemicals you do not want to be drinking.
This final stage filter has a similar life span to stage 2 so change it to around 300 gallons of filtered water.
Filters are not expensive, very easy to change when the need arises and this simple maintenance will ensure you get safe drinkable water.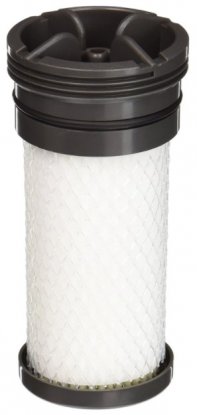 What the water filter cannot do
Basic field water filtration water systems will not filter out heavy metals. If your taking water from remote streams or rivers, it should be that heavy metals are generally not present in harmful amounts.
The filters are not able to filter out viruses, they are simply too small. Try to source running water. Virus issues can result if taking water from stagnant pooled water. If in doubt, take 5 minutes more break time and boil the water.
Portability
This filter though not the smallest and lightest is certainly light and small enough to stow in a backpack. The dimensions are set at a height of 6 inches and a width of 2 inches and weighing only 8 oz. Just about the same size as a 250 ML water bottle.
Ease to Use
You will need to work when using the pump system to get that liter of fresh water. It takes around one minute of pumping.
Over time pumping may start to require a little more effort. When you notice this, keep an eye on your filters, it may well be they are nearing the end of their lifespan.
When you receive this filter system you should have a bottle adaptor, the housing, a pump handle, the filters ( strainer and the main filter), one input, and one output silicone hose.
Assembly of these parts is simply very easy, they all slot together in an obvious sequence.
Comparisons
The nearest similar model to compare against the Hiker Pro is the Sawyer Squeeze. Methods for comparative use: Pump vs squeeze.
Both are lightweight and easy to use, the Squeeze offers a lifetime guarantee. The Pro can filter water for one person or with some determined pumping even for a group. The Squeeze is really just for one person.
The Pro is designed, to use an input hose that can reach water in difficult places and be selective, for example in shallow water, only take the upper surface liquid. The Squeeze is not designed for this purpose. the resulting water quality from both these systems is the same.
The Pro will require more maintenance due to its 3 levels of filtering design. Water treatment time, the Pro is a few minutes faster. The full Pro kit weighs a little more than the Squeeze and sets up a time for both is equal. The pro does have better ease of filtration and uses a hand-pump while the squeeze is a Squeeze as you go system.
The pro can treat one liter in 53 seconds while the Squeeze takes around 40 seconds. In the final comparison, the pro does perform better and has a higher price.
Another interesting comparison for water filters is a product like Aquamira
Water Treatment Drops
. Certainly a more lightweight option and capable of killing off all pathogens. Water treatment requires more time, up to 35 minutes, and does not filter out debris. A final downside can be that treated water has a slightly chemical taste.
Comparably for little effort, the Hiker Pro will provide liters of fresh clean drinking water, quickly and safely.
Verdict
The Hiker Pro is built to last, the only maintenance needed is to keep an eye on the filters and change them when they need it.
It is popular because the filtration system is really easy to use. The filtration flow rate is nippy and quick. The Pro outperforms a lot of other models because it has good ease of use, it's quick to set up, and very easy to use.
An added bonus is that it can connect to most water hydration packs.
The weight is fine at 8 ounces, barely takes up any space in a
backpack
and this is a medium price product that gives long-term durability and performance.
Subscribe to our Newsletter