Best Gifts for Plant Lovers Reviewed and Rated for Quality
last updated:
Jul 18, 2019
We all know that friend--the one with more plants than places to put them. The one who names their leafy companions and goes on and on about their individual personalities. This friend will undoubtedly be delightfully quirky and nurturing, but finding a gift to honour these traits can be tricky. So we took to the internet to compile of list of the best gifts for plant lovers.
Whether your plant lover likes to take to the outdoors and enjoy greenery in nature or shelter inside with their plant pals, we've got you covered. Oh, and if your friend is the type to get their hands dirty and grow their own, we've got a few special items just for them as well.
And the best part? These gifts will be both thoughtful and meaningful--all while not breaking the bank.
In a Hurry? The test winner after 12 hrs of research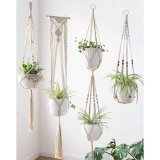 Mkono Macrame Plant Hangers
Why is it better?
In a
Hurry? Editors choice: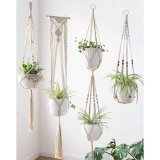 Test Winner: Mkono Macrame Plant Hangers

10 Best Gifts for Plant Lovers
1

. Mkono Macrame Plant Hangers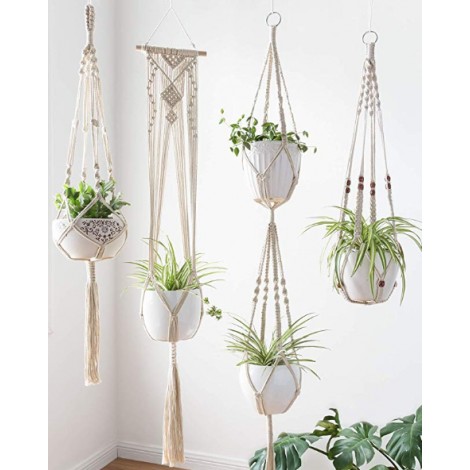 We kick off our list with one of the most affordable cute gifts for plant lovers out there. These Mkono Macrame Plant Hangers have, at the same time, a modern and vintage feel. They are beautifully crafted and will make any home feel like a serene oasis.
This gift is great as a housewarming present, or for those who have limited floor or counter space to store all of their beloved plants.
Comes in a Set of 4
Don't worry! You won't have to pick just one of these gorgeous macrame plant hangers--they come in a set of 4. Each has a different design and style and they vary in length from 35 inches long to 67 inches long.
These hangers are flexible and can accommodate a variety of different sized and shaped planters (not included). They ideally hold planters that are around 7 inches in diameter. Small and compact plants, as well as those that spill over to spread their wings, are a welcome fit in these holders.
Crafted from 100% Cord Cotton
These Mkono Macrame Plant Hangers are handcrafted from 100% cord cotton without any weird additives or chemicals. Not only does this lend to the lovely aesthetic of the hangers, but it also makes these hangers extremely durable and strong.
You can suspend these from the ceiling using tea-style hooks (making sure you secure them into a stud, or you can hang them from the walls at different heights. You will need to supply this hardware on your own.
Cost and Value
The Mkono Macrame Plant Hangers ring up at the bottom of our price range and we love their value because they are simple, yet elegant, and because they can effortless transform an urban home into a green oasis.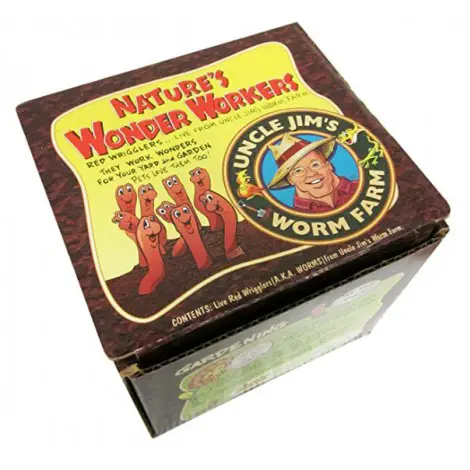 Now, this product might give some the creepy crawlies because...they are, in fact, creepy crawlies! Uncle Jim's Worm Farm is a kit that includes 1,000 living Red Wiggler Worms. Why--you ask?
Because worm farming (vermiculture) is one of the best ways to get nutrient-rich soil to feed your plants all of the goodies that they need to thrive, making these worms the perfect gifts for plant lovers.
All Natural Fertilizer
Using worms to take care of your garden and plants is one of the most environmentally conscious ways to give your plants the nutrients they need. Rather than loading up on factory fertilizers with weird chemicals and ingredients--give your plants the natural care they are craving.
Basically, plants need nutrient-dense soil that is aerated and that is damp to thrive. When worms "travel through" the soil (when they eat it), they loosen it and make neat little borrows that allow more air flow and oxygen through. They also eliminate their body weight in waste each day enriching the soil with natural manure.
Now, we know what you may be thinking...isn't this smelly? No! In fact, that's another reason worms are so incredible. They work to break down waste and generate more nutritious soil in the process. This isn't like dumping cow poop on your plants, trust us.
Easy to Use
Guess what? These little worms are as easy to put to work as they are effective. You can use them in your home garden, on your lawn, in your composting unit, and in your contained household potted plants on your balcony. The kit comes with extremely detailed instructions that are simple to follow and basically foolproof.
And what's more? These little guys double in population size about every 3 months! That means this one-time purchase can literally turn into a lifetime of black gold soil.
Cost and Value
Uncle Jim's Worm Farm rings up in the middle of our price range and we love its value because it is the gift that keeps on giving! One thing that all plant lovers need is nutrient-rich soil for their babies and this gift guarantees this for life.
3

. Spade to Fork Indoor Herb Kit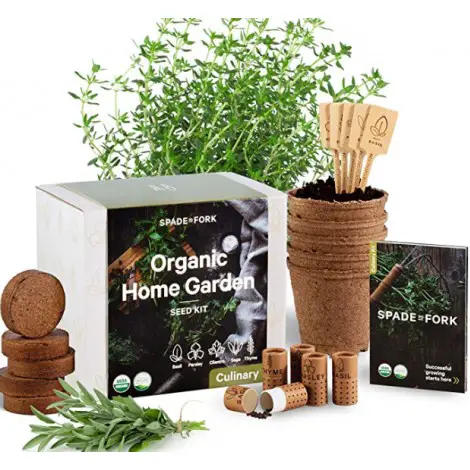 The Spade to Fork Indoor Herb Garden Kit is another wildly affordable option that makes a perfect gift for plant lovers. Growing your herbs is not only more economical, but it is also a healthier option as well. Plus, they look so darn cute sitting in the kitchen window sill!
From a Family-Owned Organic Farm
Of at the at-home herb gardens on the market, the Spade to Fork set is one of our favorites because the plants come from a family-owned farm based in rural Oregon. All of their plants are certified by the USDA to be organic, and they are guaranteed to be free from genetic modification (GMO-free).
But that's not all. Not only do the plant seeds meet these qualifications, but every item in the kit does as well, from the dirt to the compostable pots. This is a unique benefit from ordering from this country as other kits include soil and pots that have been treated with chemicals that you definitely don't want to be eating.
Kit Comes Complete with Compostable Pots
This kit comes with everything you need to get your window sill herb garden started.
In each kit, you will receive basil (large leaf Italian), cilantro (slow bolt coriander), parsley (Pelone), sage (broadleaf), and thyme seeds.
You'll also get five compostable pots made from peat--one for each seed type--as well as five fertile soil discs to place in the bottom of each compostable pot. Plus, you'll get lovely little wooden, text-burned markers to delineate what is growing in each pot.
We also love that this kit comes with super detailed instructions. The growing guide is ten pages long and will help you along every step of the way. And they guarantee that your plants grow! If you are having trouble with a specific batch, they will send a replacement.
Cost and Value
Apart from being lovely to look at a product, this is also a super-economical option. Raise your hand if you've gone to buy a bushel of fresh herbs from the grocery only to let most of it spoil before you can use them all (us too). Having your own herbs means you can pluck just what you need just when you need it, saving tons of money and eliminating food waste.
Not only is this kit super inexpensive to begin with, but it is guaranteed to grow and is totally free of harmful chemicals and other nasties that you don't want to eat. The Spade to Fork Indoor Garden is truly an incredible value.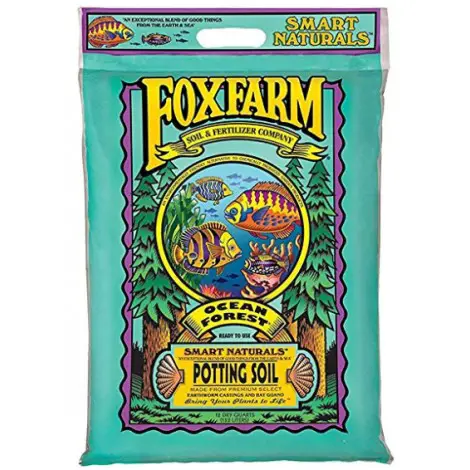 The FoxFarm Ocean Forest Organic Potting Soil is a wonderful option that is an alternative to chemically treated soils and fertilizers for accelerated plant growth. This company takes all of the best nutrient-providing sources from the land and sea to give your plants just what they need to thrive.
Uses High-Quality Nutrient Sources
FoxFarm has developed a natural way to bring your plants all of the goodness that they need to grow to their full potential by using the most high-quality, nutrient-rich sources that they can gather from the land and from the sea.
FoxFarm uses the castings from earthworms and guano from bats, as well as peat moss and humus from the forest, to account for the earth nutrient component of their mixture. The sea component is derived from seagoing crab and fish meal from the Pacific Northwest, as well as sandy sea loam.
Ideal for Plants in Containers
We love this product because it is ideal for use with plants that are in containers. To put to use properly, lightly pack in the soil around your plant. Make sure the soil is stacked high enough to support your plant, as you do not want to pack the soil around the plant tightly for support. Packing the soil lightly allows for better oxygen flow.
Then you'll want to water your plant super well immediately after potting. After that, you'll want to make sure that the soil stays moist for the best results.
You can purchase this product in a variety of different sizes to suit your friend's needs.
Cost and Value
The FoxFarm Ocean Forest Organic Potting Soil rings up at the bottom of our price range and we love its value because it combines nutrient-rich sources from the land and sea all in one bag to give your leafy loves the food that they're craving.
5

. Garden Republic Bonsai Starter Kit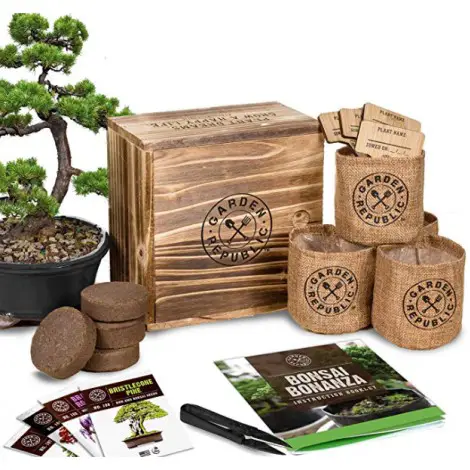 The Garden Republic Bonsai Tree Kit is another great at-home starter kit for incredible greenery. With everything you need to get started in a beautiful wooden box, this is a great project to share with dedicated kids who have a green thumb, or with your friends who are up to a new plant-based challenge.
4 Different Bonsai Seed Types
The Garden Republic Bonsai Tree Starter Kit comes with everything you need to start growing your miniature bonsai trees. This kit includes four different seed types: Rosewood (Brazilian), Bristlecone Pine (Rocky Mountain), Flame Tree, and Spruce (Black).
These seeds are grown in the United States and are guaranteed to be 100% non-genetically modified species. And you'll get more seeds than with other kits to ensure your success. Not to mention these seeds go through testing, which confirms a germination rate of over 90%.
The kit also comes with four potting soil pods with nutrients that your bonsais need to survive. Plus, you'll get four canvas bags to begin growing your trees in. You'll want to replant them into a more permanent pot later.
To top it off, you'll get four bamboo signs that allow you to write the name of each tree and the date in which you planted it so you can keep track of your different trees. And finally, you'll enjoy a handy little bonsai trimming tool to help you groom your trees properly.
Helpful Tips
The Garden Republic Bonsai Tree Starter Kit comes with some helpful resources to assist you during the growing process.
You'll get an instruction booklet with your purchase, and you'll also be able to download a list of tips from Garden Republics website. These tips are designed to help you cater your care whether you're growing your bonsai inside or outside. You'll also benefit from access to an emailed How-To video.
Of course, there are always tons of resources on YouTube that can help guide your care and maintenance as well.
Cost and Value
The Garden Republic Bonsai Tree Starter Kit rings up in the middle of our price range. We love its value because you'll get to experiment with different species of trees while engaging in a fun gardening project that is both soothing and entertaining.
6

. Mid Century Plant Stand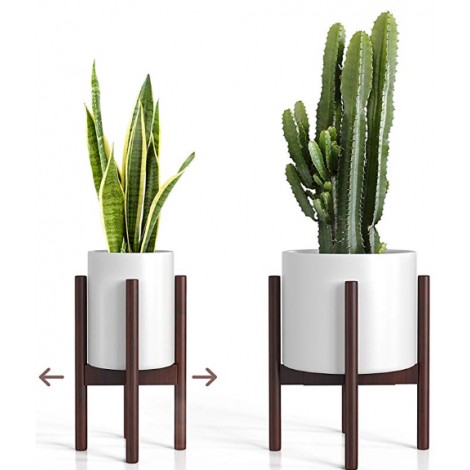 This Mid Century Plant Stand has a classic look that will fit into any home decor. It is adjustable so it can accommodate different sized planters and it is beautifully handmade to boot. Plus, you won't be disappointed with its minimalist design.
Adjustable Size
This Mid Century Plant Stand is super cool in that it can be adjusted to fit planters that are different sizes.
In its smallest configuration, it stands 16 inches tall and 8 inches wide, and is ideal for holding pots that have an 8-inch diameter. In its most extensive configuration, the planter stands 16 inches tall and 12 inches wide and is suitable for holding containers that have a 12-inch diameter. Plus, you can adjust the stand to any width in between.
Handmade from Beechwood
The Mid Century Plant Stand is handmade from beautiful beechwood. To assemble, you need to screw in one screw so you can have this puppy together in a matter of seconds. It is easy to adjust the diameter, and you won't need extra tools to do so.
This stand can hold up to a whopping 150 pounds. It consists of well-treated wood so you can use it both indoors and outdoors.
Cost and Value
This Mid Century Plant Stand rings up in the middle of our price range, and we love its value because it is adjustable and therefore can be customized to fit different sized pots and because other similar products from designer home stores cost nearly twice as much.
7

. Greenaholics Succulent Plant Pots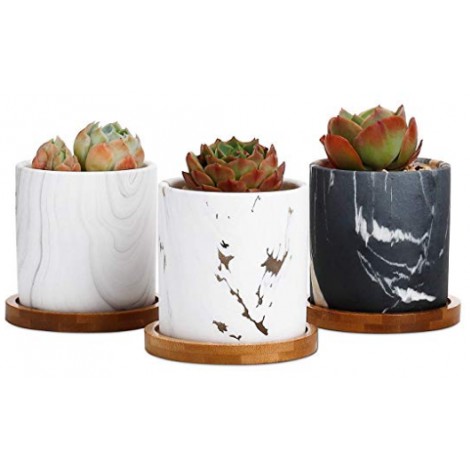 The Greenaholics Succulent Plant Pots are a stunning gift option that will add a touch of class and tons of flair to any home. With multiple different design schemes to choose from, you'll be able to find the perfect fit for your friend's home decor.
Beautiful Designs to Choose From
The Greenaholics Succulent Plant Pots come in tons of different style options. The style we have pictured is the marble set. We are also wild about the mandala sets and the patterned Greek set. With different color schemes and patterns, you'll have no trouble finding the right fit for your friend's home or apartment.
These planters are small and measure a little over 3 inches tall and a little over 3 inches in diameter. One of these will fit easily into the palm of your hand. They have been set by high heat so their colors won't fade.
Drainage Hole in Bottom
These planters are designed specifically for succulents, though they can accommodate herbs and small cactuses as well. Succulents require soil that is well drained. While many "succulent" planters on the market have no hole in the bottom to allow for the soil to drain properly, these planters do. It's the key to healthy and prosperous succulents.
These planters also come with bamboo tray bases. Keep in mind that when you water your plants, water will drain into the bamboo base. In order to preserve the life of your bamboo bases, dump excess water out so that pooled water doesn't sit in the base and create mold.
Cost and Value
The Greenaholics Succulent Plant Pots ring up at the bottom of our price range and we love their value because they are absolutely stunning and come in multiple designs. Plus, they feature a drainage hole which other similar products do not.
8

. Barebones Living Garden Scissors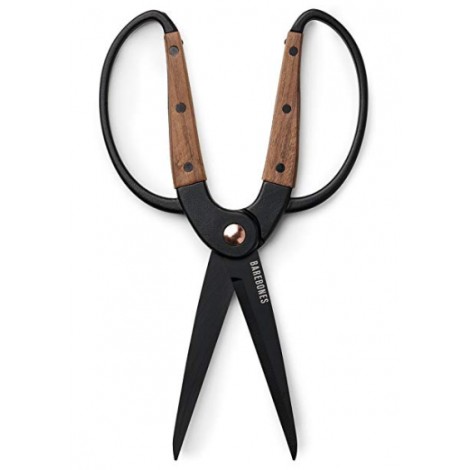 The Barebones Living Garden Scissors are an incredible option for the friend who likes to snip flowers and herbs from their garden, or who is wild about trimming plants around their home. These scissors come in 2 different size options and are beautifully finished in walnut for a classy and elegant feel.
Walnut Grip Finish
These black metal garden scissors are as beautiful as they are functional. The grip on these babies is made from dark, rich walnut that gives the tool an elegant feel. The scissors are finished with a brass screw to hold the parts together which adds to their aesthetic even more.
Have and Ambidextrous Grip
The Barebones Living Garden Scissors come in 2 different sizes. The small scissors feature 2-inch long blades while the larger scissors feature 3 and a half inch long blades.
The handles on the scissors are large which serves a few purposes. First of all, they can be used by left handers and right-handers alike. They can also be used easily with or without gloves, so you don't have to shed your gloves every time you want to use them.
Cost and Value
The Barebones Living Garden Scissors ring up towards the bottom of our price range and we love their value because they are an essential gardening tool that everyone needs and these are made from high-quality materials that will last for longer. Wiping clean and applying WD40 will prolong the life of these scissors even more and ensure that your friend can use them for years to come.
9

. Art & Artifact Sloth Plant Hanger Set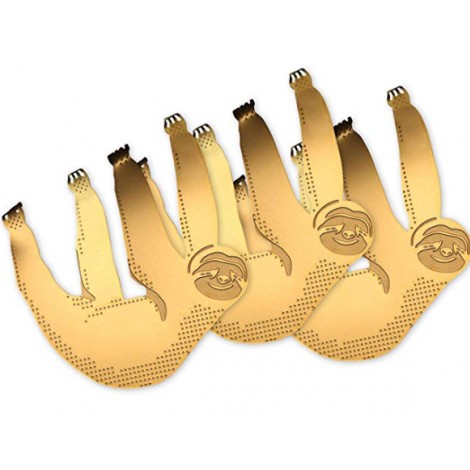 The Art & Artifact Sloth Plant Hanger Set is to die for because who doesn't need lazy friends hanging from their plants? These brass plated beauties will add a whimsical touch to any indoor home garden and can even turn into a fun household game by finding and moving them.
Stainless Steel, Brass Plated
These incredibly fun sloth jungle buddies are a great way to add a touch of whimsey and originality to any home garden. They are made of stainless steel and coated in brass, so they have a beautiful look that is built to last. Their laser etchings are precise and give a lifelike feel to the critters.
Each sloth is about 2 inches by 2 inches. These little cuties come in a set of 3.
Easy to Place and Move
Placing your jungle friends is easy to do. First, find the perfect spot. Then, gently bend the hands of the sloths around the stem of the plant. You can group the sloths together or spread them out.
It is especially fun to create a sort of hide and seek game with these little guys and move them around to different plants in the house.
Cost and Value
The Art & Artifact Sloth Plant Hanger Set rings up at the bottom of our price range and we love its value because they are too cute and they add a touch of fun to a home garden that can even be turned into a hide and seek style family and friends game.
10

. ban.do Giant Monstera Towel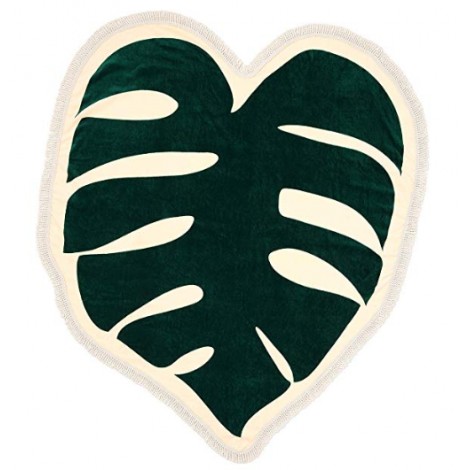 We close out our list with the ban.do Giant Monstera Towel. She's big. She's beautiful. She's the perfect companion for long days at the pool or on the beach. Not to mention she's super comfy and stylish and will pair well with any summertime outfit.
Made from Super Soft Terrycloth
The ban.do Giant Monstera Towel is made from terrycloth that is so super soft you'll want to snuggle up next to it all day. The towel itself is off white in color so you won't have to worry about it showing stains as much as an all-white beach towel. And with the beautiful large monstera leaf as the center of attention, you'll be catching looks in this towel left and right.
Plus, we love that the towel is finished in the cotton fridge to add another touch of fun flair for the summer.
Hugely Oversized
The ban.do Giant Monstera Towel is large and in charge. This baby measures 65 inches long by 65 inches wide. In fact, it's almost large enough to fit two grown people on. But what's great is that it still rolls up nice and compactly to fit cozily in your beach bag.
Cost and Value
The ban.do Giant Monstera Towel rings up at the tippy top of our price range but we like its value because it is larger than other beach towels on the market, and it has a touch of flair and design that you won't find on other products.
Criteria Used for Evaluation
Application
When we sat down to make this Ten Best List for Plant Lovers, we really wanted to create a list that wasn't exclusively comprised of house plants. So, we worked to consider a few different plant-based categories that would be right up any plant lover's alley.
First, and most obviously, we looked at plants--but not your run of the mill house plants. With a window sill herb garden, you not only add a little greenery but you also get fresh herb at your fingertips whenever you need them. The bonsai, on the other hand, is more of a project and requires more attention than the occasional watering.
Next, we considered potting because that's half of the fun. We wanted to include an array of potting options that help cluttered city homes become more like tropical oases. We love the hanging planters because it frees up floor and tabletop space. We also love the little ornate succulent pots because they can really turn up dull succulents.
Finally, we looked for products that actually help plants grown. We weren't sure about putting live worms on our list, but with thousands of positive reviews and the sheer evidence of their effectiveness, we couldn't say no. But for those too squeamish to go there, we threw in a bag of fertilizer as well.
Materials
We took a good look at the materials that went into each product on our list. Why? Because if your friend is a plant nut, they are likely the type that likes to go the natural root.
So we searched for products that are as natural as possible. The entire herb garden kit from the seed to the soil to the planter is 100% USDA certified organic and GMO-free. And the bonsai kit that we feature is GMO-free as well.
Plus, you can't get more natural than living worms, and the compost fertilizer that we feature is made using all-natural ingredients from the land and the sea.
But that's not where we stopped thinking about materials. We worked to ensure that the gardening tools and planters that we feature consist of quality materials that are sustainable and durable.
Ease of Use
Because some of these products require a bit of work, we wanted to be honest about how easy each product is to use. If you really are getting these gifts for plant lovers, they should have enough experience in planting to have loads of success with any of the products on this list.
That being said, there are a few products that present a bit more of a challenge. We're talking about the worms and the bonsai tree. The worms need to be carefully nurtured at first to ensure their survival and that they thrive once placed in the earth. The bonsai set is a real project and takes tons of attention over a long period of time.
Style
While some of the items on our list are clearly not stylish (we're looking at you, worms), many of them are and we searched for those products that have a timeless design and aesthetic so that they can easily fit into almost any home decor.
Value
It is our express mission to bring you the best products out there for the best price our there. Almost every single one of these products is well within the average gift-giving price range. Not only that, but these products are the best option in their category for quality and for price.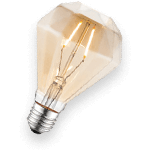 Don't Order the Worms in the Dead of Summer
While this is certainly not always the case, we did read a good number of reviews from buyers who ordered their worm kit during the dead of summer. Because of the extreme heat and sometimes a delay of pulling the package inside, many of the worms parished.
So if you are planning on ordering this during summer's dead heat, you might want to write an IOU in its place and wait until things cool down a bit, or just go with another gift idea on this list.
Consider the Space in Your Friend's Home
Let's face it--we've all ended up with a gift at some point that just added more clutter to our lives. Gives are best when they are thoughtful, when they add beauty, and when they serve a true function. So be thoughtful when you're making your selection so that you don't pick an item that just adds clutter.
For example, if you have a friend with limited floor space, don't get them the floor planter stand, get them the hanging planters.
Other Factors to Consider
Size
As we briefly touched on before, many plant lovers out there are city dwellers who are trying to bring a bit of green into their homes. This means that many will not have a ton of space to work with so we provide options that take up a minimal amount of space and even work to maximize the space they have.
Effectiveness
As ever, we read thousands of reviews to ensure the products that we're bringing you are not only affordable but effective. While there are hundreds of varieties of each of the products we present, we worked to bring you the ones that work as they were intended.
Frequently Asked Questions
q:

Are the potting soil and worms only for plant lovers with outdoor plants?

a:

Nope! You can use these products indoors as well.
q:

Do the hanging planters and floor planter come with pots?

a:

No. You will just receive the planters with your purchase.
q:

Can you use the decorative succulent pots for the permanent pots for the herb garden?

a:

Great idea! Those pots are not just for succulents and drain well enough to support herbs. Plus, they will look even cuter on the window sill than before.
Subscribe to our Newsletter