Best Vanities Reviewed & Rated for Quality
In a
Hurry? Editors choice: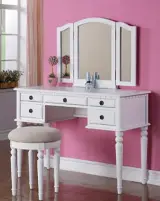 Test Winner: Bobkona St. Croix

We all deserve to treat ourselves, so why not create a space that treats us every day? Adding a vanity set to any room immediately classes the room up and inspires beauty from the inside out.
Especially for those of us that are constantly doing for others, it's important to have a space that is just for tending to ourselves. That's why we've compiled this Top 10 list for bedroom and bathroom vanities. Though these pieces were traditionally meant for dolling oneself up, they can also be used as spaces to recharge and give yourself some self-love.
Whether you're looking for something to sooth your beauty organizational woes or you are looking for a simple and uncomplicated design, we have something for you on our list. So peruse and find the set that with set your beautiful mind at ease.
Standout Picks
Criteria Used for Evaluation
Style
If you are thinking about vanities, it is impossible not to think about style. They go hand in hand, right? That's why style weighed so heavily in our consideration when making this Top 10 list.
The whole point of purchasing a vanity is to create a space where you can give yourself or someone you love the time a room to take care of themselves. So you don't want a list full of bulky clunkers with sharp edges and no refinement.
We pulled items to our list that had softer, smoother edges. Not only will these vanities protect you from those painful hip-bump bruises, but they're also much nicer to look at. We also highlighted vanities that came in multiple color options so that you could feel more confident about finding a look that is just right for you.
Of course, we considered the style and type of finishing of each vanity. Almost all of our vanities come with some style of metal finishings--not simple wood knobs. We really loved the vanities that came with hoop finishings, as they are easier to pull and add artistic design flair.
Features
Features were key in deciding which vanities made our list and which did not.
We wanted to be super clear about the kind of storage you could expect out of each vanity. While some buyers care more about a place to sit and apply makeup, others are looking for a total beauty package with room to store all of their beauty essentials from makeup to jewelry to hair supplies. So we loved those vanities that were compact but also provided ample storage. We especially love the vanities that gave tiered storage for more space on top of the vanity, and those that provided cubby slots and extra organizations drawer components.
Then we paid special attention to the function of the mirror. Almost all of our mirrors feature a 360-degree rotating mirror or a tri-folding mirror. Both of these serve to give you multiple angles--nobody likes flat hair on the back. Consider too that most of these vanities can function as other pieces of furniture without the mirror attached.
Finally, we considered the paired stool or bench option. Because stools can often be spindly and unbalanced, we featured mainly vanity sets that came with bench-style seating. The wider base of these benches make them more sturdy and thus, more durable. Of course, we looked for nice padding too, because beauty takes time.
Size
As with all home furnishings, size is such an important factor to consider. Nothing is worse than purchasing an item only coming to find it doesn't fit in your space. That's why we made sure to always list product dimensions.
Those vanities that were small in size but still managed to pack in a lot of extra storage space ranked highest when we considered size. Those items that were small but required extra storage were also noted specifically. Finally, those vanities that were large with little storage got a poor rating (because we rank items even when they don't make our list).
Materials
As always, we want to make sure that the products on our list are made from high-quality materials that won't break down tomorrow.
Fortunately, all but one product on this list is made from genuine wood, but that's not to say that all of these woods are made or treated in the same way. That's why we tried to consider how each product was sanded and finished, and how the wood was treated.
We also looked at the finishings of each product and featured items that were finished in metal and not wooden knobs.
Value
And finally, we took value under major consideration. As we stated before, home furnishings can range greatly in price, so we tried to find items that were well reviewed and that would not break the bank.
Most of the items on our list come in at under $300. Considering you get 3 separate pieces (a table with drawers, a stool, and a mirror) with almost every vanity set, we consider our price range to provide excellent value.
We made sure to make you aware of when you might need to purchase extra organizational units because of a lack of storage in the unit we presented. We also made sure to highlight the items that packed the most storage into the smallest package.
10 Best Vanities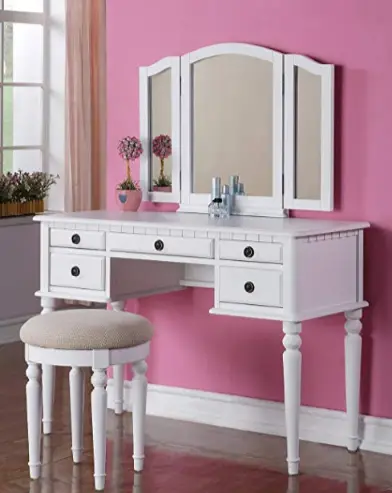 The first bedroom vanity to make our list is the beautiful St. Croix Collection Vanity Set from Bobkona. If classic elegance and style are what you're looking for, then look no further. You'll practically feel as though you've been propelled backward to the set of Breakfast at Tiffany's--it's that classy. Measuring in at 43" x 19" x 54"H, this set is the perfect size for anyone wishing to get in a little extra beauty time.
6 Gorgeous Colors to Choose From
Our main issue with this vanity set is that there are too many eye-catching colors to choose from. Featuring options in cherry, silver, rose gold, walnut, white, and black, this set can find a place in almost any home design. This vanity is made of pure wood and is sanded perfectly for a smooth finish. With rounded corners and circular brass knobs, this vanity conveys a dreamy elegance that will boost any beauty routine.
Ample Storage and Hinging Mirror
The St. Croix Collection Vanity Set comes with a matching stool. Each stool is finished with luxuriously plush cushioned fabric made to fit the aesthetic of the vanity color. Additionally, the vanity is topped with a 3 piece, hinging mirror. The mirror extensions can be moved so that you can check yourself out from all the right angles. And as for storage, the vanity features 5 working drawers. The top 3 drawers are narrow and ideal for storing jewelry and other small beauty items, while the bottom 2 drawers are deeper and great for larger items like hair dryers.
Cost and Value
As with most home furnishings, the costs of vanities can range pretty widely. This particular vanity set comes at a mid-low pricepoint which is a great value especially considering that it's made out of real wood. Add to that the thousands of positive reviews it has, you know you'll be getting a product that is worth your hard earned dollar.

2

. Frenchi Home Furnishing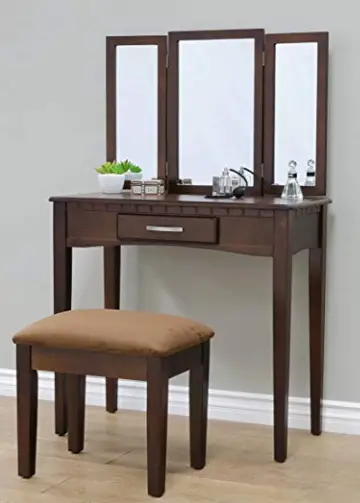 This next bedroom vanity gives us simple, elegant design at its finest. The Frenchi Vanity Set measures in at 34.5 x 18.3 x 14 inches, so it is great for those wishing to add a touch of class to their bedroom or bathroom. Because of its smaller size, you might want to consider purchasing a few desktop organizers for extra organizational storage space.
Simple Elegant Design
The simple design of the Frenchi Vanity Set embue it with a classic and timeless elegance. Made from real wood and coming in two delightful colors (espresso and white), this little beauty is a great space-saving addition to any bedroom or bathroom. The drawer features a long, slim silver handle to give the vanity set an extra shine.
Tilting and Adjustable Mirror
This vanity comes complete with an attachable and adjustable mirror, so you won't miss any of your magnificent angles. With one drawer, great for storing makeup and other small beauty items, you might consider purchasing a few other desktop organizers to keep your beauty essentials in order. And forget about spindly stools! This vanity comes with a real bench that provides stability and comfort.
Cost and Value
This vanity is simple and straightforward which is reflected in its price. It rings up at the lower end of our list's prices, so it won't break your beauty bank. Do keep in mind that you might want to purchase other organizational tools as there is only one drawer, so that could be an added price later down the line.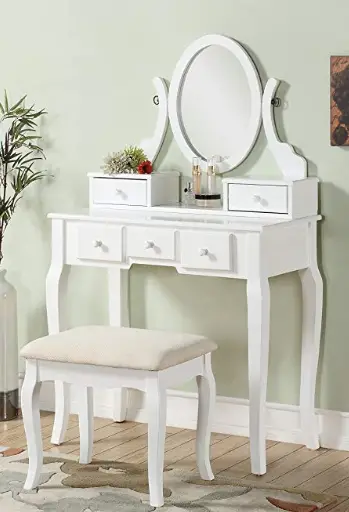 We are absolutely coo-coo over the classic design and super low price point of this vanity set. With multiple levels and elegantly curved finishes, you truly feel like royalty when you sit in front of it. Measuring in at 16 x 32 x 53 inches, this set is great for smaller spaces.
Comes in 4 Inspiring Colors with Brass Finishings
This beautiful vanity set comes in available 4 colors: cherry, white, gold, and silver. Each set is finished with decorative brass knobs on the mirror and white wooden knobs on each of the drawers. Made from lightweight wood, this vanity is great for smaller spaces.
Tiered Storage and Tilting MIrror
We absolutely love the tiered storage design of this vanity. With 3 drawers on the bottom tier and 2 drawers on the top, even more storage is available on top of the vanity. Plus, it packs a lot of drawer storage into a pretty small frame. The elegant design of the attached mirror can tilt and move 360 degrees, so it can be adjusted to all of your needs. Plus, it comes with a super comfy and sturdy padded bench, so you won't mind sitting for hours while you get your glam time in.
Cost and Value
We got our eyes checked when we saw how inexpensive this item was. It is definitely on the lower end of our price range, which was shocking considering its gorgeous design and extra storage features.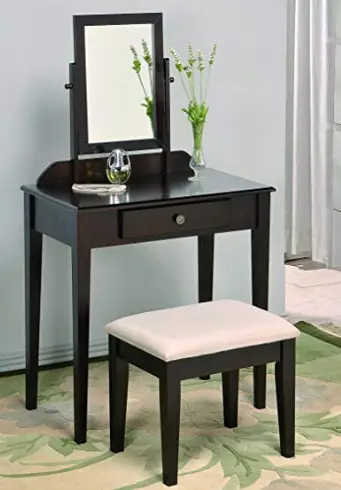 If you are looking for something a bit more on the simple side, this Crown Mark Vanity Set is a great option. It measures in at 16 x 28 x 50 inches, so it is excellent for bedrooms, bathrooms, and even closets where space is at a minimum. It's also a great addition for any little one's room.
High-Shine Finish with Available Marble Top
The finish on this vanity set is so shiny, you hardly need the mirror that comes with it! With 2 color options (white and espresso), and with an available option to replace the standard top with a marble top, you are sure to be able to find a vanity that fits the style of your living space. This vanity is made from wood and comes with silver and black finishings, depending on the color you select (silver for espresso, and black for white).
Sturdy Bench and Tilting Mirror
We love when a vanity set provides a bench instead of a stool. They are more durable, stable, and frankly, more comfortable. This set is no exception. And the stool fits snugly underneath the vanity when it is not being used which helps to save even more space. Plus, a convenient tilting mirror comes with the set so you can move it as you need to while getting ready. With only one drawer, you may want to consider other storage options.
Cost and Value
This vanity set is on the very low side of our price range. This is largely due to its small size and simplicity. But it comes with hundreds of positively pleased reviews so we're giving it a best value stamp of approval.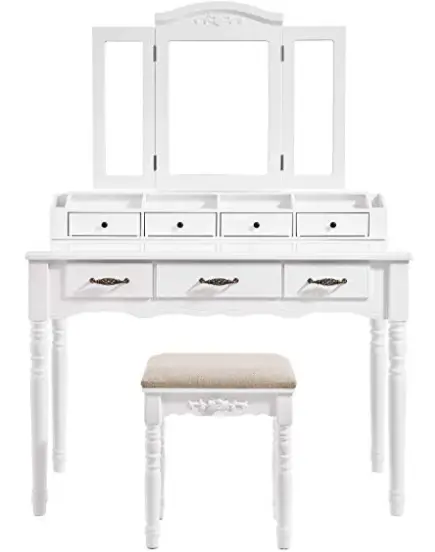 This vanity is the mack daddy of vanities. It's larger than other vanities on our list, but the amount of storage it packs in is truly remarkable. Measuring in at 42.5 x 18.5 x 59.6 inches, you will be able to find a place for all of your beauty essentials from makeup to jewelry.
Old-School Dark Embellished Finishings
This real-wood vanity is dreamy enough to be found in any super model's closet or glam room. It gives off an old-school elegant vibe with wood embellishments on the mirror and legs, as well as the scalloped bottom of the base. Coming in 4 amazing colors (black, dark espresso, walnut, and white), you'll be able to find that fits your room's mood.
Incredible Amount of Storage
There are so many storage features to talk about on this vanity set. First, there are 3 drawers on the base of the vanity great for storing makeup and brushes. On the second tier of storage, there are 4 small drawers excellent for jewelry and other small beauty items. But wait! On top of each of these drawers are 4 small open cubbies for even more storage, and next to them are 2 additional upright storage slots on either side great for holding hairbrushes, straighteners and even hairdryers. Basically, there is mad crazy storage. On top of all this is a beautiful mirror, complete with 2 hinging mirror sides so you can see yourself front, back and sideways. And did we mention all of this comes with a lovely, padded stool upholstered in durable fabric to stand up to your beauty routine's wear and tear?
Cost and Value
For the amount of storage and design you get in this baby, the pricepoint is almost a steal. It does ring up in the mid-high price range, but you are definitely getting what you pay for (and more) with this product.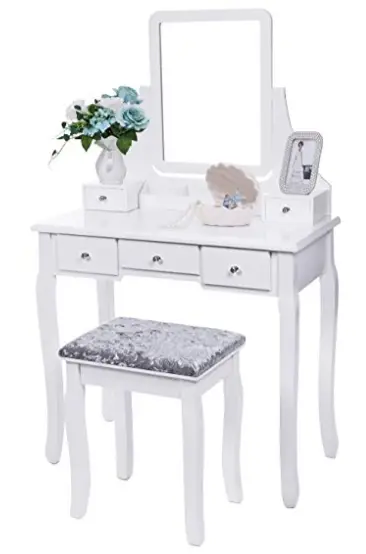 This vanity set also packs in a lot of storage punch for its small size. Measuring in at 31.5"L x 15.8"W x 53.5"H, its multitiered storage design gives you a place to keep your beauty items organized without taking up a ton of space.
Classy Crystal Knobs
There's nothing like a crystal knob to throw you back to the '50s. With 5 delicate crystal knobs, you'll feel like you've out-classed yourself. The vanity also comes in 2 neutral colors--white and black--so you'll be able to put in any room.
Innovative Storage Design for Small Vanity
We lover a multitiered storage design, especially for those furnishing small apartments in the city, or for those looking to add this vanity to their walk-in closets or bathrooms. The unit features 5 drawers, 3 larger on the bottom base and 2 smaller ones on the second tier. The middle drawer on the base also features a 4-part removable divider for added organizational purposes. In the middle of the top two smaller drawers are 3 stand-up cubbies great for storing hairbrushes and makeup brushes alike.
The mirror features the capacity to turn a full 360 degrees so you'll be able to check yourself out from all angles. Plus, the unit comes with a super padded stool for designed comfort.
Cost and Value
We love this vanity set because it is compact yet comes with a ton of storage options. Based on this, and its relatively inexpensive price point--about mid-range on our list--we give it a good value. This vanity is good for storing not only makeup items but also jewelry as well so you are getting a lot of bang for your buck.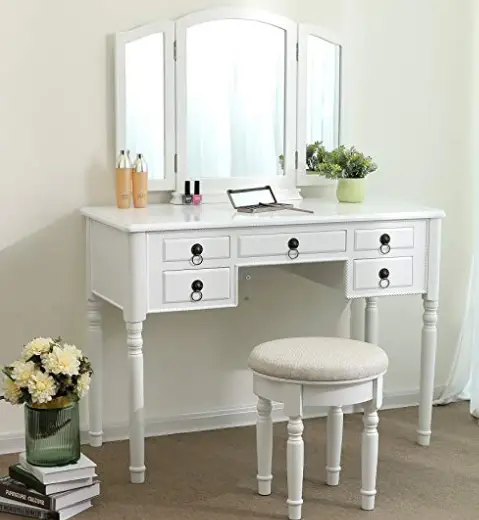 This vanity set is a high-end beauty. With tons of internal storage, as well as a wealth of storage space on top, this unit measuring in at 42 7/8''L x 18 7/8''W x 56 3/8''H will fulfill all of your beauty storage needs. Plus, she'll look good while doing it.
Comes with Expert Assembly Option
For those who are not so confident in their assembly skills, this vanity comes with an added Expert Assembly Option for an extra fee, of course. This means you'll have a professional come to your home and set this baby up for you. If that's not fashion, I don't know what is!
This vanity is made from real wood and comes only in white. It features brass loop finishings that make drawers super easy to pull out.
Incredible Amount of Storage Space
This vanity set is not tiny, but it still provides a ton of storage for its size. It features 5 separate drawers, 2 large, 2 small, and 1 long and narrow. It comes with an elegantly crafted stool and a mirror whose hinging arms can totally close in on itself.
Cost and Value
This item is in the mid-high range on our list, but the product is pretty versatile so it still ranks well on our value chart. Users reported being able to convert this vanity into a bedside table and even a desk (if you remove the mirror from the top).

8

. Roundhill Furniture Moniys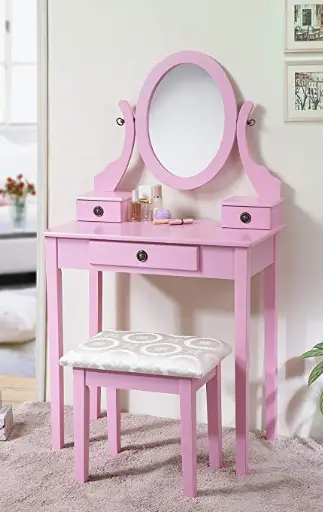 Oh, pretty in pink! This set was designed with a younger fashionova in mind. Coming in a wider array of fun colors in a compact size, the Roundhill makeup vanity is an eccentric addition to any room. Measuring in at 30x15. 75x52. 5"H and coming in at a super low price point, this vanity won't break the bank or take up too much of your precious space.
Fun and Eccentric Colors to Choose From
We've seen a lot of espresso and white and black colored vanities, so buckle up for these fun and eccentric color options. This vanity set comes in the usual gold, silver, and white, but it also boasts pastel blue, pastel pink, and pastel purple as color options. I know I would have loved the pastel purple vanity in my room as a little girl! Made from real wood and with looped brass finishings that make drawers super easy to pull out, this item is ideal for the younger beauty lover.
Ample Storage Despite Small Size
This compact vanity features the tiered storage that we love. With a large drawer on the bottom base and two smaller drawers that flank the fully rotating mirror, the younger beauty lover with have enough space for all of their prized beauty essentials. This set comes with a snazzy, upholstered bench for sturdy comfort.
Cost and Value
Though the price for this vanity depends on the color you select, it still rings up in the low range on our list. This vanity is perfect for kids, but that's not to say that adults couldn't find it useful as well. Adults simply might want to consider purchasing extra storage options as they are bound to have more beauty essentials that need organizing.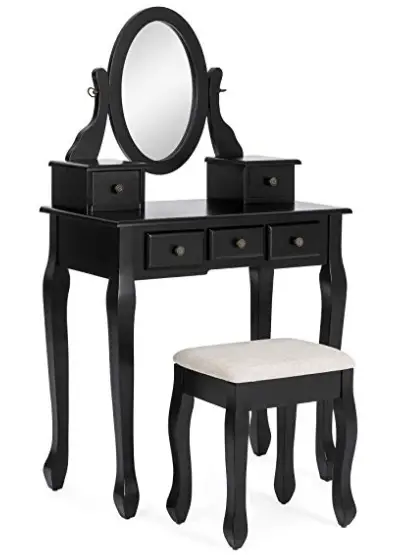 Measuring in at 30"(L) x 16"(W) x 51.75"(H), this wooden beauty comes with ample storage, despite its compact design. Plus, if you aren't the handiest of beauty queens, this vanity also comes with the option of expert assembly for an added fee.
Can Be Used Sitting or Standing
Did we mention this vanity can be put together by a professional? Good. Because it comes in sturdy wood that can be hard for some novice construction workers to handle. With brass finishings, and coming in both black and white, it easy to see this piece fitting into your bedroom, bathroom or closet. Plus, you can use this vanity standing up or sitting down.
Stool Can Hold More Weight
Though this vanity set is compact, she offers a lot of storage space. With 3 separate drawers on the bottom and 2 nice-sized drawers on top flanking the mirror, there's plenty of space for all of your beauty essentials. The unit features a mirror that can rotate 360-degrees and a stool that can hold more than your average vanity stool--up to 350 pounds.
Cost and Value
This vanity set rings up in the mid-low price range on our list. We love it because it comes with a sturdy stool and because it's compact yet features ample storage for all of your makeup and beauty items.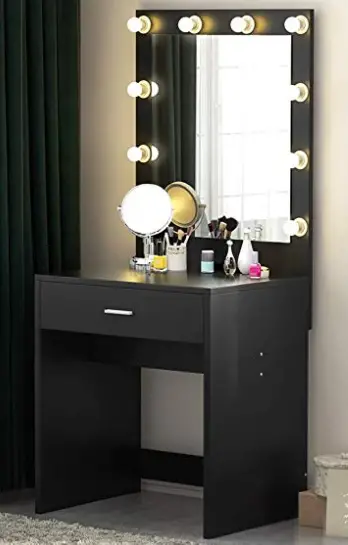 We are absolutely nuts over this vanity. It's definitely a departure from the typical designs that we have featured on this list, but we couldn't think of a better way to round our Top 10 out.
Super Easy to Assemble
This particular vanity is much more straightforward in design, and therefore, easier to assemble. Because it isn't made from real wood, it's easier to handle and much more lightweight. Plus, the tools involved are more basic as well. That being said, it does come with the professional assembly option.
Fully Functional Built-In Lighting System
This is the only vanity on our list that comes with a built-in lighting feature, so it is super glam. You can obviously choose to place any style light in the fixtures, but the vanity set comes with 3000k and 6000k lighting options. The vendor recommends the 3000k bulbs, even though that is the less expensive option. These items ship in a separate box from the vanity. All of that amazing lighting, plus the giant mirror on this vanity makes sure you won't miss a detail. There is only one drawer on this vanity, but it is extra large and comes with metal tracking and stopper so it won't slip out and so that it can support all of your heavy-duty beauty needs. This vanity does not come with a matching stool or bench.
Cost and Value
Considering that this unit comes with a huge mirror that is fully lit by 10 LED bulbs (all included with your purchase, by the way), the middle price range of this vanity isn't bad. But you should keep in mind that it only comes with one drawer (though there is ample storage space in the drawer and on top of the vanity) and no stool. This vanity is also not made of real wood, so if that's important to you, steer clear.

Subscribe to our Newsletter