Best Underwater Fishing Lights Reviewed & Rated for Quality
last updated:
Feb 27, 2019
There are multiple factors to consider before purchasing underwater fishing lights. What kind of fish are you hoping to catch? Are you going out in saltwater or freshwater? What is your budget? How big are your boat, rod and reel? How long are you planning on being out on the water? This article analyzes 10 of the best underwater fishing light kits to better help you make an informed decision prior to purchase. Specifically, water resistance, visibility, effectiveness, battery life, durability and overall value are compared.
In a Hurry? The test winner after 4 hrs of research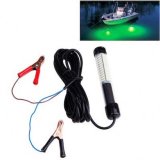 Lightingsky Submersible
Why is it better?
Three color options
50,000+ continuous hours of use
Extremely efficient (12V, 10.8W)
Low cost
Ultra-bright, highly visible in water
In a
Hurry? Editors choice: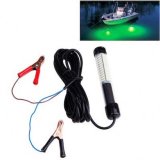 Test Winner: Lightingsky Submersible

Water Resistance
Visibility
Effectiveness
Battery Life
Durability
By Default
10 Best Underwater Fishing Lights
1

. Lightingsky Submersible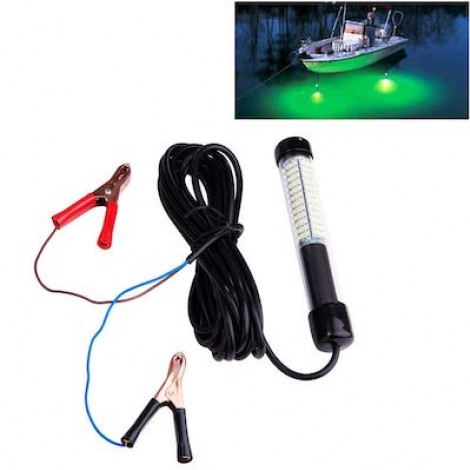 Three color options
50,000+ continuous hours of use
Extremely efficient (12V, 10.8W)
Low cost
Ultra-bright, highly visible in water
Fogs up easily
Issues with seal reported; takes in water, causing light to short out
The Lightingsky Submersible is an affordable, popular, reliable and generally well-received kit that does a nice job without breaking the bank. The lamp is offered in three different colors, with each option based on the type of fish you are hoping to catch. This particular model offers superb battery life; over 50,000 continuous hours of use.
Ultra-Efficient
The light itself is extremely efficient, long-lasting and long-lasting. It uses minimal battery power while operating for 50,000 hours, giving you an amazing charge length. The bright, 900-lumen LED lights last eight times longer than halogen bulbs. The lamp, which comes with a five-meter cord, is extremely powerful underwater and can be seen from a good distance away.
Three Colors
The lamp's bulbs are offered in green, blue or white. What color should you choose? It depends on what you are trying to catch. Smaller baitfish like phytoplankton and krill are attracted to blue lights, whereas squid prefer green. White lights serve as an all-purpose attractor. Green lamps are a popular choice among fishermen because they are easy on the eyes, especially in dark water. The price is low enough that you can try the different color lamps to see what you like best without spending too much.
Cost and Value
In terms of price, this is one of the least expensive options reviewed in this article. The customer reviews are generally good, earning an average of four out of five stars. Overall, considering the Lightingsky's low price tag, solid reputation, and overall impressive performance, it presents a great value.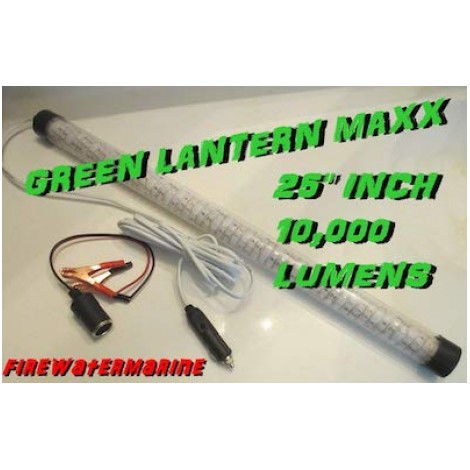 "Green lantern" ultra-bright green light
10,000 lumens (60W power), 12V
60-day warranty
Made in USA
Saltwater resistant sealant
Issues with seal reported, allowing water to seep in
Some customers dispute 10,000 lumen of brightness as advertised and claim that the bulb is dull
The Firewatermarine 12V Maxx Underwater product is a relatively low-cost option that is highly popular among customers, earning an average of four and a half out of five stars. The ultra-bright green LED light does a great job of attracting bait fish followed by larger, predatory species in virtually no time. The lamp has a special sealant which allows it to be safely used in fresh or saltwater.
Saltwater Resistant Sealant
This includes a saltwater resistant sealant, allowing it to be safely used in salt or freshwater without damage or corrosion. The lamp is weighed internally and sinks easily when submerged. The lamp comes with a 15-foot long black marine cable. The lamp itself is 23" in length. Visibility is fantastic; the green bulb shows up remarkably well, even when submerged in murky, cloudy water in the darkest of nights. The lamp is well-built and withstands tough, choppy water.
Warranty
The lamp comes with a 60-day unlimited warranty. Take advantage of this two month period and immediately notify the company if you have any problems with the light. The company is noted for its excellent customer service and fast response time. If any problems with the lamp are reported, the lamp is either repaired or replaced (depending on whether the issue is reported within 60 days of purchase), no questions asked. All of the seller's products are manufactured in the US.
Cost and Value
The lamp is sold at a relatively low price and has earned some of the highest praise from customers for its performance. The reviews are enthusiastic and people seem to genuinely enjoy night fishing with the lamp, even if it's just watching the fish dart around the light. With a warranty, solid reputation and a fair price, Firewatermarine has created a product that is truly a cut above the rest.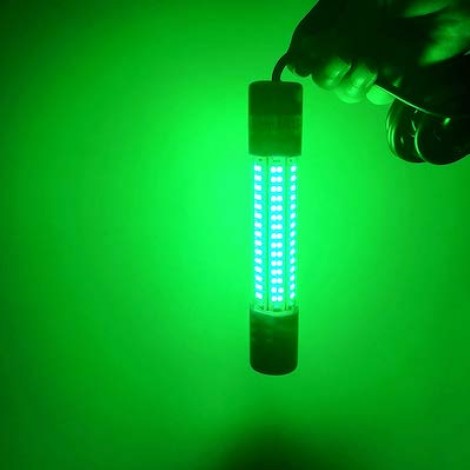 Built-in lead weight
Battery clip and power plug
Strong, lever-lock brackets
6-sided green LED bulbs, 1000 lumen brightness
Heavy-duty construction
Cord is stiff; difficult to straighten coils
Multiple reports of lights shorting out after a few uses
Amarine offers a great option with the Deep-Drop Underwater Light. With a built-in lead weight, the lamp sinks rapidly through the depths when submerged. The powerful LED bulbs do a fantastic job of illuminating the water with a bright green halo, instantly attracting baitfish, followed by larger fish. The lamp is durable, strong, well-built and made to be enjoyed.
Lead Weight
A built-in lead weight allows the lamp to sink rapidly when submerged, hence the term "deep drop." This makes the lamp ideal for fishing in deep, dark water. It also comes with a heavy-duty power cord that is built to withstand heavy use. The bright LED bulb does an excellent job of lighting up the water; even when deeply submerged, you will still be able to see.
Attracts Baitfish
This particular product, with its powerful green halo of light, does a good job of attracting schools of baitfish. Small fish can be seen circling and darting around the lamp almost instantly after it is dropped into the water. The baitfish in turn attract the larger species, resulting in consistent, action-packed fishing, with very few lulls.
Cost and Value
The Amarine-made Submersible Deep-Drop lamp is one of the least expensive models reviewed in this article. It consistently earns above-average reviews from customers, averaging four out of five stars. Few problems are reported with the lamp, and the comments are largely positive. All in all, the manufacturer has done a good job with this lamp with careful construction and clever design, and the price is right.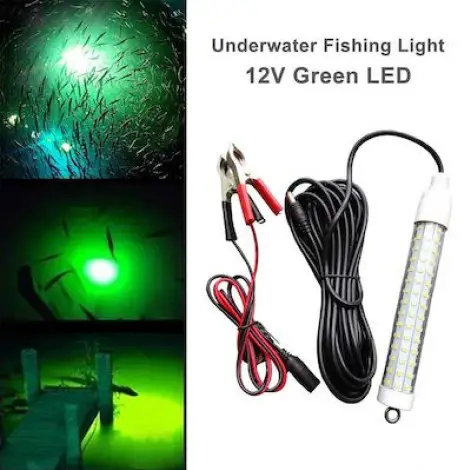 Eight-sided light
1000 lumen brightness
Low cost
50,000 hours of use
Compact size - portable and easy to store
Floats if not weighed down
Some complaints about battery not lasting as long as advertised
The Bait Finder is one of the best-performing and yet least expensive models reviewed here. It performs just as well (if not better) than some of its competitors offered at literally five times the cost. It's affordable enough to pick up a few lamps at once, and more than worth it.
Bright Green
The lights do a great job of illuminating dark, cloudy water, even when submerged at considerable depths. This is great not only for attracting fish but also for safety purposes when fishing at night, keeping you safe and visible to other fishermen. The only drawback with the incredibly light bulb is that it attracts a lot of insects, but this is a small price to pay considering the amount of fish you will draw in.
Portable
The lamp is lightweight and compact, making it portable and a breeze to transport. Of course, its lightness presents a potential drawback when it's time to submerge the lamp. To combat this, it may need to be weighed down in order to keep it from floating to the surface. This is easy enough to do by attaching a few weights to the lamp. However, when it comes to movement and storage, the Bait Finder is a stand-out option.
Value
This lamp is sold at a very inexpensive price and performs quite well. It is bright, durable, easy to store, and does its job nicely. Overall, it's a great lamp that is extremely budget-friendly. It is ideal for bait fishing, and also scores highly in the safety category for the way it easily illuminates large areas thanks to its bright green LED bulbs. Don't let the pricetag fool you -- this is a fantastic lamp.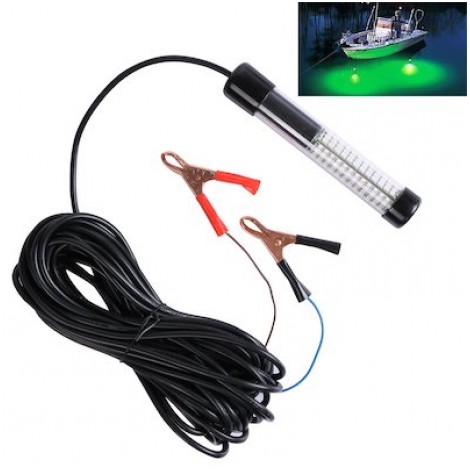 Ultra-waterproof
Impact-resistant
Eco-friendly, low energy consumption
Available in three colors
Corrosion resistant
Required battery not included with purchase
Several reports of the lamp burning out quickly
This lamp is a moderately priced, reliable workhorse that is built to last. It is sufficiently weighed down as is and will not float to the surface. The lamp is eco-friendly and does not consume a lot of energy. The lamp is composed of 180 LED bulbs, resulting in ultra penetrative light. It is super-waterproof with a strong seal to ensure high-quality performance again and again.
Ultra-Waterproof
The lamp is sealed with high-quality rubber to ensure that it is completely waterproof. It is also impact and corrosion resistant. The Goture is one of the most durable options reviewed here. It is made to withstand heavy use, wear and tear and dents and dings. The rubber reinforcement proves to be an invaluable asset, keeping the lamp free of fog, water damage, corrosion and breakage. Water intrusion causes the wiring to rapidly short out and presents a hazard.
Chain Reaction
The Goture does a great job of setting off the perfect chain reaction. Once the lamp is submerged, almost instantly, small fish and krill are attracted to the light. As the baitfish circle around the lamp, larger fish, such as bass, are immediately interested. The action is non-stop as fish are continuously attracted to the white, green or blue glow of the lamp.
Value
In terms of cost, this is a moderately-priced option which offers a good value for the pricetag. It is generally well-received by customers, earning an average of four out of five stars. The lamp is noted for its durability, strength and reliability, even when used for an extended period of time. While it is slightly more expensive than its competitors, it performs well and has earned an above-average reputation.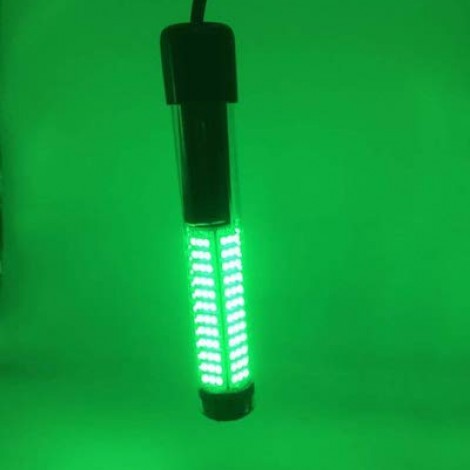 Available in four colors
Versatile; works in salt or freshwater
Can be used in cold or warm temperatures
Low cost
Eco-friendly
Reports of water getting inside the light
Complaints of bulbs shorting out
The Samdo IP68 Underwater Fishing Lamp is one of the most versatile lamps reviewed here. It can be used in fresh or saltwater, for net fishing, bait fishing, and is suitable for lake, pond and sea fishing. The Samdo attracts a vast array of fish, is easy to use, has a reliable reputation and is fairly priced.
Four Colors
The lamp is available with blue, white, green or yellow bulbs. As previously mentioned, typically, different light colors attract different species. White serves as a general purpose bulb. Blue attracts shrimp and smaller fish. Green attracts squid and smaller species. Yellow attracts larger species of fish and marine life.
Versatile
This particular lamp is noted for its versatility. It can be used for a wide variety of purposes and in a number of different environments. It also performs well in cold and warm temperatures, at deep and shallow depths. In general, it is highly effective, whether you are looking for squid or stocking up on baitfish. The Samdo's versatility makes it an excellent choice for any fisherman.
Value
The Samdo is extremely fairly priced. For a small amount, your dollar goes very far; you will receive a well-built, highly versatile, easy to use and overall impressive lamp that will not disappoint you. It consistently receives high praise from customers. With its small pricetag and great reputation, it makes a great gift.
7

. Apollointech 5000 Lumens IP68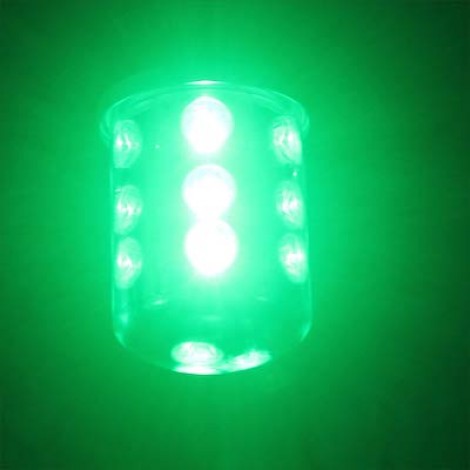 5000 lumen
Great customer service
Easily sinks underwater
Energy efficient
Portable
Some complaints about the length of battery life
Lights can become fogged up easily
The Apollointech is a fairly priced, incredibly bright lamp that performs well. It gets high marks for battery life, brightness, durability and overall value. It is fully submersible and completely waterproof. The Apollointech is easy to submerge and does not require any added weight in order to drop down into the water.
5000 Lumen
The lamp boasts an impressive 5000 lumen, offering exceptional brightness. The lamp emits a powerful green glow while drawing a relatively low amount of power (just over three amps per hour) from a 12V battery. The lamp easily attracts a wide variety of fish with its powerful bulbs.
Customer Service
Several reviewers reported having a positive customer service experience when dealing with the Apollointech team. The customer service representatives are reportedly knowledgeable, friendly and fair, answering questions accurately and quickly. A few customers reported having issues with their lamps, and noted that the seller promptly replaced their lamps, making its customer service a cut above the rest and a rare find.
Value
The light is mid-ranged in price. Considering how well it performs, how durable it is, how efficiently it runs, and the great customer service offered by the seller, it is an excellent investment available at a fair price. The Apollointech is a smart investment for any fisherman. All in all, it's a good value, and you will get a lot of bang for your buck.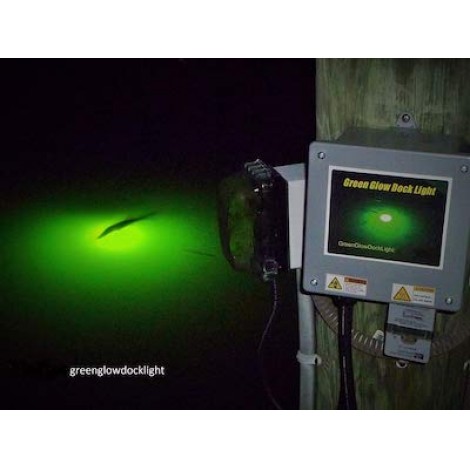 State-of-the-art innovation
Lasts for years
All-encompassing kit
Superior safety
GFCI cables
Extremely high cost
Multiple complaints about lamp not lasting as long as advertised
The Green Glow UW Dock Fish Attracting Light Kit is sold at over 10 times the price of some of the other models reviewed here. For that kind of price, the kit needs to be exceptional. Is the high cost justified? In many respects, the answer is yes; however, the kit is intended for heavy-duty use by serious fishermen. Otherwise, if the light is only going to be used occasionally, you might be better off with a less expensive option.
State-of-the-Art
The kit boasts state-of-the-art innovation, technology, design and engineering. It is barnacle-resistant, unlike LED lights. The lamp can be used in cold or warm temperatures, in fresh or saltwater, shallow or deep depths, and is ready to go within minutes of being unboxed. The kit includes everything you need and you will not need to purchase any additional equipment.
Years of Use
The lamps are rated to withstand four to five years of regular underwater use. This is considerably longer than the other lamps reviewed here and should be taken into consideration in terms of being a long-term investment. Instead of purchasing a new lamp every season, you will have a reliable lamp for years to come.
Value
As previously mentioned, the kit is much more expensive than the competition. That said, it includes all necessary components and no additional purchases are needed. The lamp typically lasts for four to five years, and offers superb performance and the highest safety marks, with low risks of electrical problems and a GFCI cable. Overall, the price cannot be justified for everyone. For a casual fisherman, a less expensive model is a more sensible choice. But for a serious fisherman who is comfortable spending several hundred dollars on a lamp kit, the Green Glow is second to none.
9

. Green Blob Outdoors DOCK-7500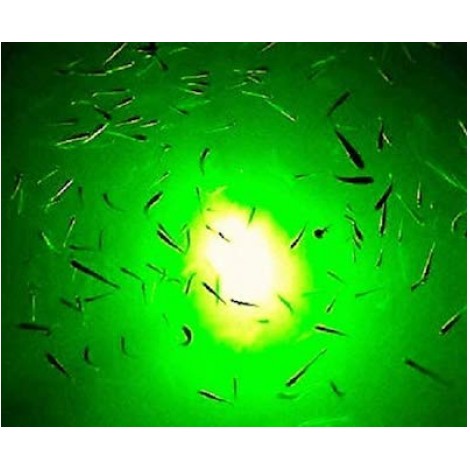 Suitable for saltwater or freshwater use
Efficient; long-lasting battery life
15,000 lumen
High safety marks
Long-lasting
Considerable pricetag
Some complaints about the lamp not being as bright as advertised
The Green Blob is the second most expensive lamp kit reviewed here. With a pricetag commanding several hundred dollars, the Blob needs to be extra special. The question is - is the kit's hefty cost justified? With excellent reviews, advanced features, exceptional ingenuity, great customer service and high durability, it's a great lamp that makes sense for hardcore fishermen to invest in.
15,000 Lumen
The light the lamp emits is exceptionally bright, boasting 15,000 lumen. The amazing brightness attracts all kinds of fish, big and small. The incredible brightness also increases your visibility in the water, an important safety consideration. The lamp lasts for 50,000 hours of continuous use.
Saltwater or Freshwater Use
The lamp is suitable for saltwater or freshwater use. It is treated and reinforced to avoid corrosion and damage, and can be safely submerged at virtually any depth. The LED lights use very little power to avoid overheating. The lamp can be used in a wide variety of environments, making it one of the most versatile options reviewed here.
Value
The kit costs several hundred dollars and is therefore not for everyone. For serious fishermen who intend to use the lamp on a regular basis and in a variety of environments, however, the Green Blob makes sense. If you want to be able to go fishing at any time of day or night, in cold or warm weather, in a pond or in the ocean, and you have a considerable budget, then the kit is something to consider. For the casual fisherman, however, it's not quite justified.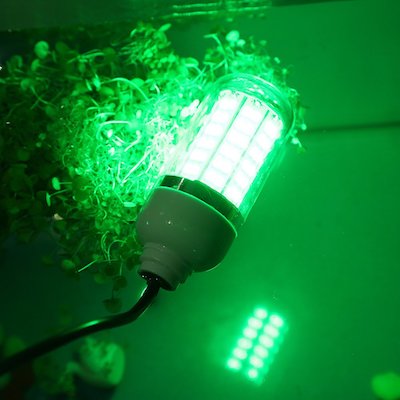 Budget-friendly pricetag
Lightweight and compact
180-day warranty
Eco-friendly
360 degree illumination
Floats to the surface if not weighted down properly
Some complaints about the lamp's brightness being somewhat dull; not as bright as advertised
The VGEBY is a well-built, inexpensive lamp with high marks across the board. It's a reliable, easy to use option that is small, compact and lightweight. The lamp is easy to transport and store. If you are looking for an affordable lamp that is fun, easy and reliable, look no further than VGEBY.
360 Degrees
The lamp has a round design which offers 360 degrees of luminance. Light is emitted from all angles for optimal brightness. The lamp is small but mighty, energy efficient, and attracts a good amount of fish and bait.
Lightweight
The lamp weighs in at five ounces. It's small, lightweight and easy to transport. Storage is no problem with such a small lamp. That said, it does not sink to the bottom as effectively as other, heavier models.
Value
The light offers a great value for a small price. It's affordable but not cheap in its construction or design. It's surprisingly effective at illuminating the water, it's long-lasting and it's durable. It's not intended for hardcore fishermen, but for casual users, it's ideal. The VGEBY would make a great stocking stuffer, with its solid reputation, small size and low cost.
Criteria Used for Evaluation

Weather Resistance
For obvious reasons, if an underwater fishing light is not water resistant, it's basically useless. That said, not all lamps are created equal in this respect. Some lamps are sealed much more tightly and securely than others, and are therefore effective when submerged at greater depths, and for longer periods of time. Water resistance is also important for safety reasons. If water is able to enter the unit, it poses a huge safety risk and electrical hazard. Best case scenario - the lights short out. Worst case? An electrical shock is created.

Visibility
The ability to illuminate the water is, of course, paramount. This allows you to fish at any time of day or night, and to see the fish clearly, even in murky, cloudy water. In addition, visibility is an important safety consideration. If it is dark out, it is important that other fishermen can see you. Also, underwater fishing lights can be used to illuminate your path and keep track of where you've already been. There is not a minimum lumen requirement to look for, and white, green, yellow and blue bulbs are reported to be equally effective in terms of visibility.
Effectiveness
Of course, you want to get a fishing lamp that works well. This encompasses more than just how well a lamp lights up an area. Does the lamp sink easily when submerged? Does it last for many continuous hours without needing to be recharged? Does it attract just baitfish? Does it have a reputation for shorting out easily? Is it resistant to corrosion? These are all factors that determine how effective a fishing lamp is.

Battery Life
Part of the fun of owning an underwater fishing lamp is being able to stay out all night on the water. This fun is cut considerably short if you have to stop to recharge your lamp's battery. Several of the models reviewed in this article boast 50,000 hours of continuous use on a full charge. How long a battery's charge lasts is largely determined by the amount of power that a lamp draws from its battery source. The more efficient a battery, the longer the charge typically lasts.

Durability
A fishing lamp that can't take a good beating is virtually useless. If the lamp is delicate, it certainly will not stand the test of time. Fishing lamps are submerged into deep, sometimes murky water for extended periods of time. They are accidentally banged against the side of your boat, tangled in the weeds, exposed to saltwater and other potentially damaging elements. They need to be able to take serious abuse and still work.
Expert Interviews & Opinions
Most Important Criteria
(According to our experts opinion)
Experts Opinion
Editors Opinion
Users Opinion
By Default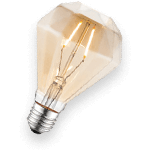 Weighty Matters
Weight is somewhat tricky when it comes to fishing lamps. A compact, small lamp is nice because it is lightweight, easy to transport, portable, and does not take up a lot of room when it's time to be stored. That said, a fishing lamp that is too light usually does not sink when dropped into the water and often floats to the surface. To remedy this, weights usually need to be added to prevent the lamp from floating. So, while lightweight lamps are easier to carry and store, they are not necessarily the best options.
Saltwater Concerns
Some fishing lamps are saltwater treated. If this is not overtly stated in the manufacturer's product specifications, then the lamp is not suitable for saltwater use. Exposing the lamp to saltwater poses the potential for electrical hazards and corrosion.
Other Factors to Consider

Brand
The seller and manufacturer of the fishing lamp are important. This is where the usefulness of the internet really comes into play; you can do some serious research into the reputation of the maker and the seller of a product before you purchase it. Check out what other customers have to say, and read what their customer service experience has been. That information is important to bear in mind before purchasing a fishing lamp, or anything else.

Ease of Use
While most fishing lamps operate the same way, some are easier to operate as a whole than others. Some lamps require a complete, full battery charge before use. Many do not include a battery with purchase. Others require weights to be added in order for the lamp to be properly submerged. The easiest lamps to use can simply be charged quickly, sink easily, illuminate the water brightly and last for a long time on one charge.

Value
The price of the lamps reviewed here varies greatly, from the least expensive options being offered at under $20 to the most expensive kits costing over $300. Many of the less expensive lamps earn consistent praise from customers and have solid reputations for performing well, nicely lighting up the water for long periods of time, while lasting for long periods of time on a charge. In short, you do not have to spend a lot to get a lot.
Frequently Asked Questions
q:

Why do I need one of these?

a:

While fishing may not be a new sport, modern ingenuity has made it easier, safer and more fun in recent years. Thanks to submersible underwater fishing lights, fishermen can venture out even in the darkest, starless nights, successfully attracting catch after catch. Lights can also be used to easily locate items in your tackle box or to illuminate your path in the water, allowing you to track where you've been with a visual guide with luminous landmarks. Most importantly, these allow you to fish for virtually all species, instead of being limited to just the fish that search for food during the day. Additionally, underwater fishing lamps allow for hands-free fishing. That is, in situations where you might otherwise need to hold a flashlight in one hand and your fishing rod in the other, now, you will have an adequate light source without the frustration of a flashlight.
q:

Can it be used outside of water?

a:

In short, yes. The lamps can be used on dry land, unless the manufacturer specifically states otherwise.
q:

Can these be used in a swimming pool?

a:

No, it is not considered safe to use a fishing lamp for this purpose. The risk of a potential electrical shock is too great.
q:

What size battery should I buy for it?

a:

It depends on the size of the lamp. The majority of the models reviewed here run on 12V batteries.
q:

How much do they cost?

a:

Anywhere from approximately $15 to $300. The lamps on the lower end of the price scale tend to be smaller and intended for casual use. The more expensive lamps are sold as kits and include advanced features and all the component parts. Bear in mind that there is not always a direct connotation between cost and value. There are plenty of high-quality underwater fishing lamps sold for $50 or less, so there is no need to break the bank.
q:

How exactly do these work in terms of attracting fish?

a:

Put simply, based on instinct, baitfish and other small species of marine life like plankton are naturally attracted to light. They will encircle a light source and dart toward it. This activity will subsequently attract larger species of fish, resulting in a chain reaction.
q:

What are some other bonuses to owning one?

a:

In short, fishing lamps can make it less dangerous and cumbersome to fish in the dark. The lamps will make it easier for other fishermen to spot you. They also make it easier for you to attach a lure to your rod and maneuver in the dark. They can also be used as luminous markers in the water, helping you to safely navigate in the dark.
q:

Is there a minimum lumen number I should consider before buying?

a:

Not necessarily, but according to experts, 900 lumen is a standard requirement when determining if a lamp will provide sufficient light. There are, however, lamps that operate with less lumen that still get high marks from customers in terms of brightness.
q:

Can it be mounted to a boat?

a:

Yes, and this is something that many fishermen choose to do. Some lamps can be attached using an adhesive, or a ziptie. For a more permanent solution, a drill and screws can be used to permanently secure a lamp to your boat.
q:

What color light works best?

a:

It depends on what you are trying to catch. Different species of marine life are attracted to different colors of light. White lights are considered to be an all-purpose choice if you are not specifically fishing for something in particular.
q:

Can the bulbs inside overheat?

a:

Yes. This is a common hazard if the lamp is paired with the improper power source; always double check the battery voltage prior to use. That way, the lamp is pulling the correct charge from the power source and not overloading it. Lamps that overheat will short out and fail.
q:

Are the cables attached to it safe?

a:

A variety of safety precautions are taken by manufacturers to ensure and guarantee the safety of their products. Many of the cables are grounded, either with GFCI circuits or otherwise. Other cables are treated to meet marine standards so that it is safe to completely submerge them without any risk of electrical hazards. This is often done by covering the cable with a specific, high-grade type of rubber.
q:

Do these attract insects?

a:

Yes, unfortunately, insects are naturally attracted to light sources. This is a virtually unpreventable problem. However, that said, insects often serve as a bait source for fish. Insect interest usually results in fish interest. Minnows, for example, survive on small marine life and insects. Minnows in turn attract larger fish like catfish and other bottom feeders.
Subscribe to our Newsletter