Best Turkey Decoys Reviewed & Rated for Quality
In a
Hurry? Editors choice: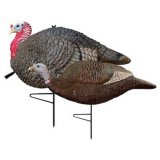 Test Winner: Primos Jake & Hen Combo

Hunting turkey decoys have become one of the best ways for you to bag the
highest number of turkeys possible
. Through the years, the design technology of these has improved significantly. Today, we have the newest, finest, most perfect options that have unbelievable realism. From their legs to their heads, all have lifelike attributes with real-looking feathers with most being sure to last you for years on end.
However, these game changers are not all made equal. Where some can attract a fair number of Jakes and Toms, some can't even attract a gobbler to come near your setup. So, we've compiled a list of the ten best turkey decoys on the market currently. In addition to that, we also have all the information that you'll need while researching in our buying guide sections.
Standout Picks
Criteria Used for Evaluation
Adjustability
Generally, there are four positions that you can set it up in, including feeding, walking, fighting, and breeding. Though there are others, these are the four most tried and tested techniques that have worked for many hunters. Regardless of which arrangement you choose, endeavor to position it at the outer edge of your range.
Try to set it up closer to you than farther away so that you can still get a shot. You might want to do some camera scouting beforehand so that you know what side the birds normally enter the field from.
The following are listed in increasing order of urgency and aggression that they tend to elicit from a Tom turkey.
Feeding
This is the least intimidating setup which appeals to the bird's stomach and heart. Stake the turkeys head down in a forest opening, agricultural field, or food plot with a Jake turkey looking your way set up diagonally from them. The setup should be set in such a way that a Tom entering the field would face them head-on. The fake Jake helps to instigate the Tom to make sure they act faster.
Walking
This position is meant to look like the turkeys are leaving the field opening or food plot to head back into the brush or forest. Once a Tom turkey sees this, they will want to rush so that they don't lose track of their potential mate. Assuming you're concealed, position the walking hens near the edge facing the wood line along with a Jake turkey in 'pursuit'.
Fighting
You can use the spring hormone of a gobbler against itself by drawing out its fighting side. Position a Jake and Tom turkeys facing each other to imitate as if they are establishing a pecking order. Scatter a few upright or feeding hens around the two. You can draw out a battle-ready gobbler through a few wings thrashes and fighting purrs. Please note that this will scare off the less aggressive birds.
Breeding
The most urgent and aggressive display is with an actual breeding 'attempt'. Positive a hen in a submissive position directly on the ground. Right in front of the hen, you should place a Jake turkey. Face the duo towards the side where you're anticipating a turkey to approach from. Generally, you'll find an aggressive Tom rushing in and circling the pair, which unknowingly puts him in harm's way.
Durability
In order for this type of product to be durable, it needs to be made from materials that will help to ensure it to do so. You'll want to keep in mind the number and amount of abuse a general decoy goes through. A durable option is one that has the ability to withstand the abuse if it hitting your truck, doesn't get dents easily, survives fights with gobblers, and more.
It should be made with high-quality materials, including the materials of the stake. The stake should be solidly made and built to last and that is one of the only things that will be holding it stable to the ground.
Effectiveness
The effectiveness arises from the level of realism that it displays. You'll need to be very careful with how realistic it is. It's easier than you think to fall for lower quality options that don't have lifelike attributes. It might be apparent straight away, but the hunting sessions will show the quality of what you've purchased.
Always ensure that you're looking for specific well painted or printed features, such as lifelike motions, paint used, and feathers to ensure that they look real. It's inevitable that paint will fade over time, but it's important that even with the fade it still looks realistic and attractive.
Portability
The product you ultimately choose to buy should be foldable to make it easier for you to carry it along with all the other hunting gear that a hunter will carry with them. It's even better if it comes with its own carrying bag as it helps to keep it even more secure. The item should also not be too bulky as that would present many challenges when you're transporting it.
Invest in a lightweight and collapsible option that collapses to a compact size for ease in transportation. Most, if not all, of the products on our list, are collapsible.
Style
There are five styles that are the most common and popular among hunters, including inflatable, collapsible, soft-sided, stalking, and motion.
Inflatable
These are a portable option that is designed to be folded up into a compact size. These usually have a metal stake and are made through 3D construction. You need to be very careful with these as they can be easily punctured and take longer to set up. On the upside, they are lightweight, making them easy to carry around.
Collapsible
These are the most preferred option as they fit the pack. These look lifelike and have different textures. It's important to remember to not fold these up too tough as that may alter its shape.
Soft Sided
These are easy to use and portable. All you need to do is unfold them and attach it to the usually included stake.
Stalking
These are great for helping the hunter to hide in plain sight. The shape resembles that of an Asian fan. They can be used as stationary, but it can also be attached to a gun barrel.
Motion
These are effective if the hunter knows how to use them properly and they are of high-quality. Therefore, it should mainly be used by experienced hunters. If a product's head moved the same as the stake, it can be the convincing factor for Tom to make a few steps closer.
10 Best Turkey Decoys
1

. Primos Jake & Hen Combo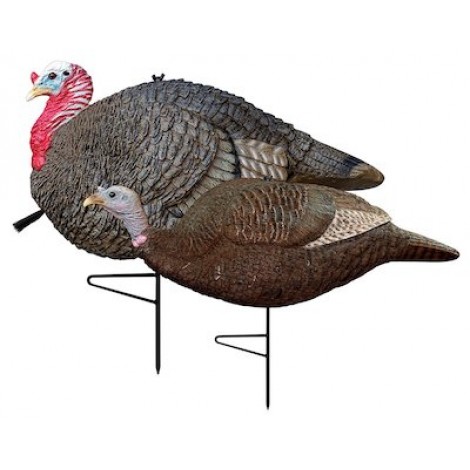 The Primos Hunting Gobstopper Jake & Hen Decoy Combo features one young male and one hen. Together, these decoys weight about five pounds, making them very easy to travel with, lightweight, and highly portable. With these, you're sure to get Tom turkeys running towards the combo set as it's constructed to stimulate a young Jake being friendly with a receptive hen.
Realistic Design
Though generic, the colors and designs of the birds are pretty good. The Jake is designed slightly better than the Hen with brighter colors and more detail. Even with that though you're sure to get a fair number of turkeys running towards these.
Easy Transportability
The Jake and Hen Decoy Combo feature a collapsible design as well as coming with a mesh carry sack. All to make it easier for you to be portable and carry these on the go. Their lightweight-ness also make it that little bit easier.
Cost and Value
The Primos Hunting Gobstopper Jake & Hen Decoy combo allows you to get two in one set without compromising the quality and price, making it highly valuable. Though it would originally be placed eight in terms of its price in comparison to the other items on this list, that number can be moved to this being second cheapest (technically) as you do get two in one set.

This product is one of the most effective and realistic options on the market currently. The construction is designed to show a breeder hen down in a receptive posture. The 100% realistic design and posture ensure that you'll have an adequate amount of time in able to make a precise shot.
Durable Materials
This item is constructed from Dura-Rubber, which is a heavy-duty material ensured to assume the shape of a real turkey when fully inflated. It does not get dents nor does the material wear off, meaning that you'll get to enjoy it for a good few years.
Detailed Feathers
The Avian-X Breeder has amazing feathers that resemble that of a real turkey. They have texture and incredible lines that are comparable to those of a hen. No Jake or Tom will run away from this decoy.
Cost and Value
The Avian-X Breeder is the second most expensive option on our list. However, with all that it offers users, it's well worth its price. With proper care, you can make this last for years, giving you plenty of usages.
3

. Montana Decoy Miss Purr-Fect
If you're in the market for a single hen, then the Miss Purr-FECT by Montana Decoy is one of the best options for you to pick. Like most , this one can also fit into your vest easily. The 3D design is more than just paint, it even includes feather cuts to make it more realistic.
Perfect Pose Technology
The Miss Purr-FECT Decoy can be set in multiple poses. It's easy to switch and change between a Feeder, Looker, Breeder pose. The two leg pole slots can help to adjust the angle of the pose as well. In addition to that, the adjustable head makes it look even more realistic.
Compresses To Compact Size
This product compresses to a compact size very fast, allowing it to be ready in a matter of seconds. The compressed full-bodied, realistic hen can fit easily in a small bag. The feathers also move to the breeze like real feathers.
Cost and Value
The Miss Purr-FECT Hen is in the low-mid price range from the products on our list. The realisticness and various poses that it offers you truly does make up for the price to make it a very valuable purchase.

4

. Flextone Funky Chicken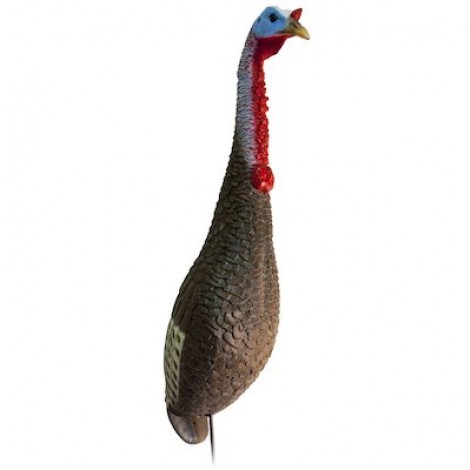 The Flextone Funky Chicken is not only fun to look at, but it is also instantly effective. The brand itself has a great reputation among turkey hunter as they make effective, yet simple equipment at affordable prices. The non-intimidating design triggers aggression that's sure to get a few aggressive gobblers towards your setup.
Non-Intimidating Appearance
This Flextone option has a small, super thin appearance with a high stance and a skinny, elongated neck. The deliberately weak designed product triggers aggression by gobblers and Jakes alike.
Compact Size
This smaller stature decoy is much easier to carry around than it's full-sized counterparts. As well as sparking fights, the size means that it can easily fit into most backpacks without any hassle. It's also great as a part of a pack.
Cost and Value
The Flextone Funky Chicken is the mid-range product on our list, meaning it's neither too expensive nor is it too cheap. However, it is completely different from many other products on the market with its humorous design and effectiveness level, making it well worth its price.

5

. Montana Decoy Spring Fling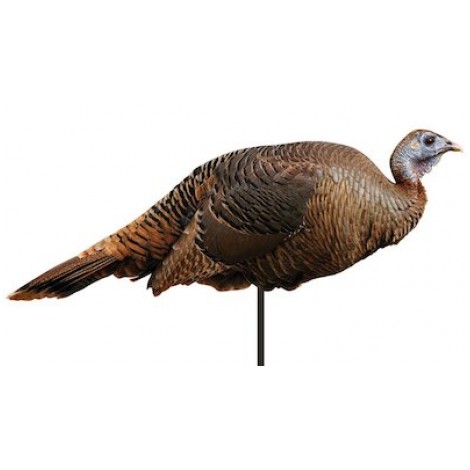 The Montana Decoy Spring Fling is the perfect choice when the time is ripe. The product is set in a seductive and charismatic pose that helps to send invitations to male turkeys. Similar to other models from this same company, it's collapsible and compact (ten inches by six inches) for easy storage and traveling.
Attention To Detail
The 2D option was designed using HD photographs of a hen just a few moments before she was bred. Therefore the attention to detail in this model is very high. Hunters can opt to use this along with other turkey decoys or alone.
Pairs Well With Others
The Spring Fling pairs great with all of Montana Decoys other Tom and Jake decoys, allowing you to make a customized set. It also comes with a leg pole that can help you to firmly hold it in one location.
Cost and Value
The Montana Decoy Spring Fling is the cheapest item on our list. As you're getting a product that is well designed and constructed along with being from a well-reputed brand, it makes the decoy well worth its price point, almost being a steal at its price.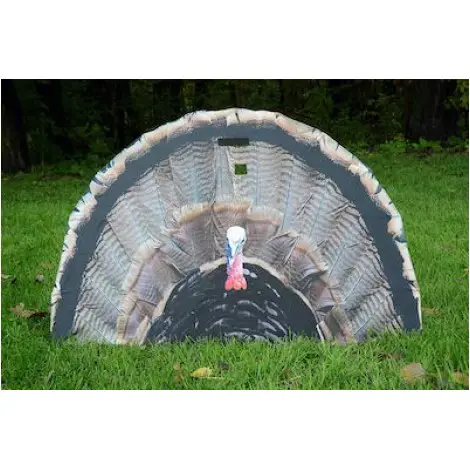 The Killer Gear product is designed to mimic a male turkey in a strutting motion. The lightweight, compact, portable Turkey Fan imitates the natural movements of a male turkey.
Smartphone or POV Camera Accessible
This hunting decoy gives you the ability to film your hunt through a POV camera or your smartphone. It allows you to capture the craziness that can sometimes ensue with this Turkey Fan.
Large Size
The turkey fan is quite large at twenty-nine inches tall and forty-five inches wide. It can easily fit two people behind it comfortably. It also allows you to sneak up on the turkeys slowly unlike other models.
Cost and Value
The Killer Gear is the most expensive item on our list. For its sheer size and capability, along with its design, it is clear to see why this is highly priced. If you have a high budget and go hunting quite frequently, then this is a great choice for you.

7

. Hunter's Edge Trans Fan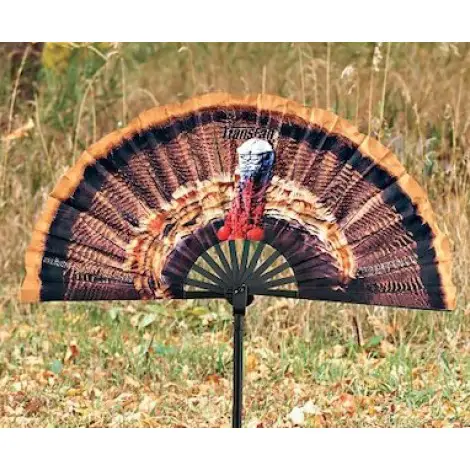 The Hunter's Edge product helps to create the illusion of a challenging Tom or a Gobbler in full strut. It's great at bringing toms or gobblers that are out of bow or gun range, while also being incredibly lifelike. It even comes with a carrying pouch that makes it easier to carry it around with you while hunting.
Unique Design
This option by Hunter's Edge imitates the look of a real turkey with nice colors. The solid design comes with a metal stake that allows it to be sturdy while you're hunting.
Construction
This item fits snugly inside of a turkey vest while also being compact and lightweight. The decoy including the stakes weighs less than one pound making it highly transportable.
Cost and Value
The Hunter's Edge product is placed in the high-mid price range from the products on our list. It's also one of its kind with an elevated platform that allows it to be seen from further away.

8

. Primos Dirty B Injured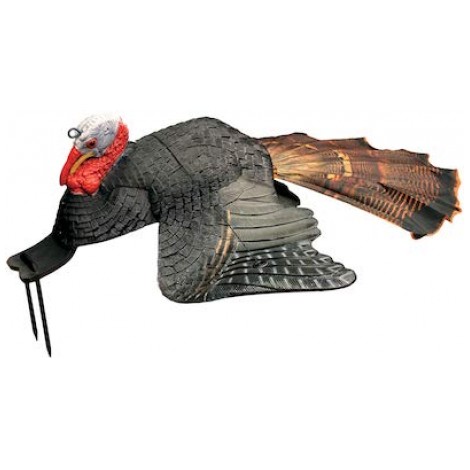 The Primos Hunting Dirty B Injured Gobbler, like other Primos models, is made with quality materials to be able to endure the toughest environments and situations. Regardless of your experience level, whether you're a casual, recreational, or professional user, this model is sure to suit your needs.
Realistic Image
This product features a realistic look as well as the action, such as the glass eyes that make it look more lifelike. You also have the option to pull the cord, which helps to create an up and down flopping motion that an injured gobbler would have.
Easy Carry
This Dirty B can be rolled up to make it easier for carrying purposes. The decoy also comes complete with a carry bag, pull rope, ground stake, fan holder, silk fan, and the decoy.
Cost and Value
The Primos Hunting Dirty B Injured Gobbler is placed in the lower price range from the products on our list. With all the accessories that it comes with as well as the relatively low price, this product is well worth all that you spend on it.

9

. Cherokee Billy Bad Act II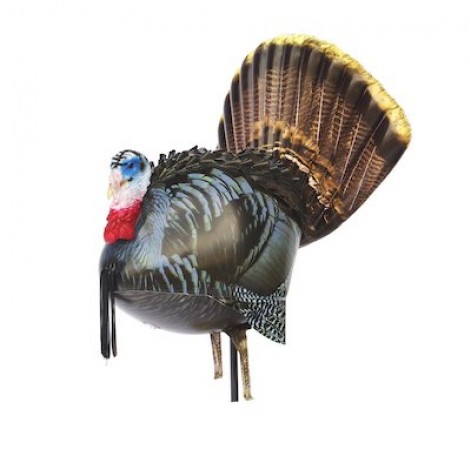 The Cherokee Billy Bad Act 2 is printed using photos for reference to give it the most realistic looking design possible. The model struts and spins in the breeze to make it look more lifelike. The product is inflatable so the product won't be as sturdy as a traditional one, but this Cherokee one sure stands up.
Realistic Design
The photo-printed design is topped off with a hairy head for unmatched mobility. It even features a cut-back feather design that seems as if it ruffles in the wind.
Compact Size
This can be easily fitted in your vest. It also can inflate in just under one minute making it a quick process. The model also comes with a repair and stake kit included.
Value
The Cherokee Billy Bad Act 2 is the second cheapest item on our list. For its price, it offers a variety of advantages for the user. In addition to that, the realistic image and movement help you to catch even more male turkeys.

10

. MOJO Outdoors Motorized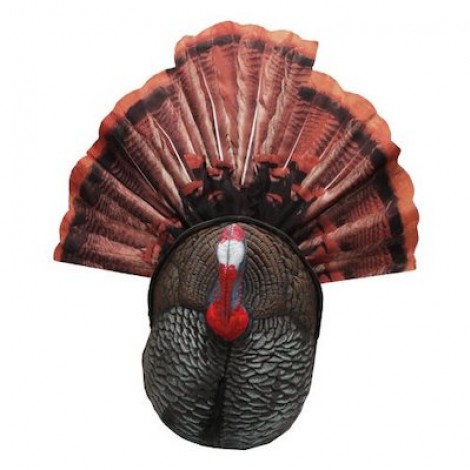 The MOJO Outdoors Quarter Pounder Motorized is a great option for those looking to add a higher level of realism to the turkey. The motorized fan can be lowered and raised through the use of a remote control. This is a great option that works great when paired with a hen decoy.
Removable Tail
This item comes with a realistic silk tail that is removable. The model is also versatile enough to easily attach to accommodate a real fan.
Built To Last
The Motorized model is built to last with its included steel mounting stake and remote control. The motorized engine can last for up to eight hours with only four AA batteries needed for that time.
Value
The MOJO Outdoors Quarter Pounder Motorized is placed mid-high price range from the products on our list. All that it includes along with its quality ensure that you're always getting the best deal possible.

Subscribe to our Newsletter