Best Telescopic Fishing Rods Reviewed & Rated for Quality
last updated:
Jun 04, 2019
Do you enjoy fishing? Are you a fan of sitting by the lake and waiting for your next biggest catch? If so, then you're probably up for buying a new telescopic fishing rod. These equipment options are the ultimate in versatility and portability when it comes to angling.
It can be hard to narrow down your options especially with the sheer number of options currently available on the market. Through our extensive research, we've narrowed down a list of the top ten best telescopic fishing rods. All of which range in size, capacity, and price, so you're sure to find something for you and your budget.
If you're someone that enjoys hiking into the wilderness or an avid angler who will stop at any good looking stream as you travel - then you ought to have a high packable fishing system. Keep on reading for our top ten.
In a Hurry? The test winner after 154 hrs of research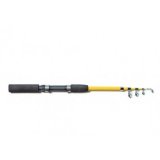 Eagle Claw Pack-It Spinning
Why is it better?
Rugged
Very lightweight
Decent casting
Super compact
Eyelets align well
In a
Hurry? Editors choice: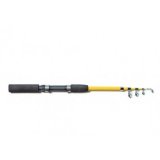 Test Winner: Eagle Claw Pack-It Spinning

12
Researched Sources
5k
Reviews Considered
154
Hours Researching
10
Products Evaluated
Connectivity
Materials
Size
Speed
Support
By Default
10 Best Telescopic Fishing Rods
1

. Eagle Claw Pack-It Spinning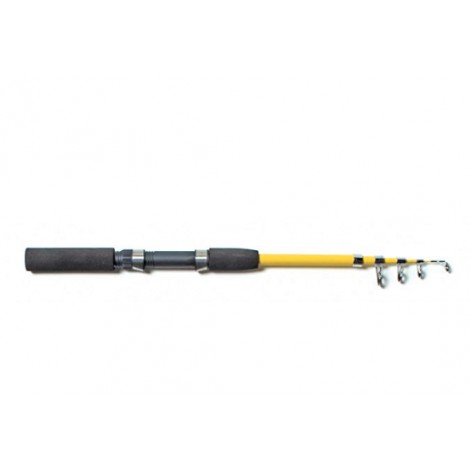 Rugged
Very lightweight
Decent casting
Super compact
Eyelets align well
Throws off alignment too easily
Poor sensitivity
If you're in the market for an extremely portable and lightweight piece of equipment, then the Eagle Claw Pack-It is a great pick for you. It's a great choice to take with you on long hikes into the country. Eagle Claw is a company that is trusted for strength, durability, and reliability of their products.
Highly Visible
The rod features a highly visible yellow and black finish along with silver trim. This design choice is great for having on a trail or in the backwoods where the coloring makes it easier to find in case you drop it. It has a closed length of 18 inches and an open length of 5 ft. 6 inches - making it a compact choice.
Sensitivity
This Eagle Claw rod is great for use between 4 lb. to 10 lb. test line, making it great for panfish and trout. It's not recommended for you to go any larger than those fishes. The four eyelets and blanks align well to allow for a medium action through a decent casting.
Cost and Value
The Eagle Claw Pack-It lacks finesse fishing, but for the compactness and the price of this rod, it's a great option for a general fishing application. In comparison to the other items on our list, this product is ranked as the second cheapest option. With everything else and the EVA foam grip, this is sure to be a comfortable option for you.
2

. Shakespeare Complete Spinning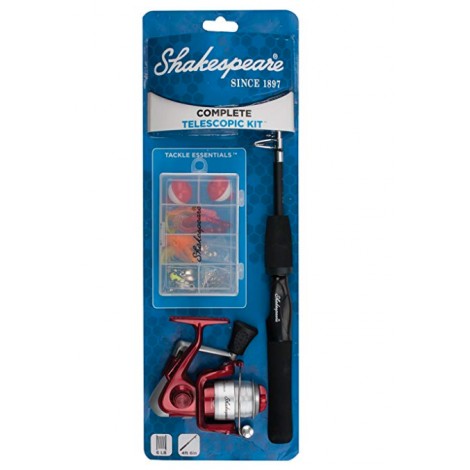 Great starter kit
Versatile use
Compact size
Small to medium sized fishing
Easy to take with you
Prone to getting tangled
Low weight capacity
The Shakespeare Complete Spinning Kit combo is great for the recreational or beginner angler who's looking for a travel-friendly outfit. It's also a great choice for those looking for a kit that's easy to stow while they travel. It comes with a 4 ft. 6 in. telescopic rod, 30-size single bearing spinning reel, and a 40 piece tackle box of assorted tackle and lures.
Reliable
The Shakespeare Complete Rod and Reel kit are designed to offer users a durable and reliable kit that's easy to use. It's made with high-quality materials to ensure the longevity of the combo set.
Great Starter Combo
This combo is a great choice for beginners or learners. It's not too heavy-duty for beginners, which helps to make it easier to learn with. However, you cannot fish anything large with this as it won't be able to handle the weight.
Cost and Value
The Shakespeare Complete Spinning Kit is a great inexpensive choice for students, beginners, and amateurs. In comparison to the other products on our list, this one is ranked at fourth place in terms of its price. It's a worthwhile spend as you'll get a host of uses out of it.
3

. Plusinno Spinning Retractable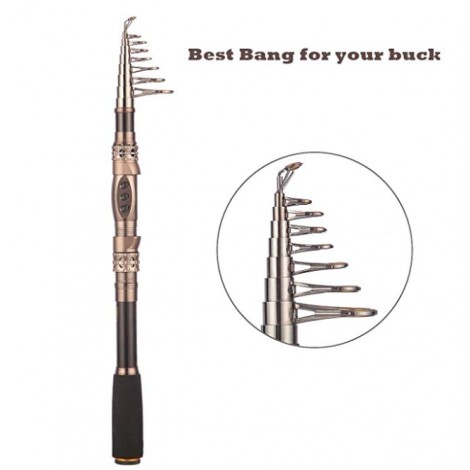 Several lengths available
For each product on the list
Little twist
Saltwater applicable
Quite a bit of power
A little heavy
Not that accurate
The Plusinno Spinning Retractable is a hybrid of fiberglass and high-density carbon fiber material that produces a strong and durable rod. It features a reel seat with a pearl finish and rod blanks that help the rod to stand out from its competitors. The medium powered rod is great for handling small saltwater species along with some freshwater fish - just not steelheads and large running salmon.
Aluminum Oxide Eyelets
The rod features stainless steel reel seat and aluminum oxide eyelets to ensure that this becomes an excellent choice for saltwater surf fishing. But, it's not only limited to saltwater, but it's also great for freshwater fishing as well. The reel is locked through two locking rings below and above the reel seat to ensure a snug and secure fit.
Fairly Sensitive Models
The rod is fairly sensitive that isn't a feature seen in many telescopic fishing rods. It's available in several models, ranging from closed lengths of 15.17 ft. to 17.72 ft. and open lengths of 5.9 ft. to 9.84 ft. The number of sections also range from 6 to 9.
Cost and Value
The Plusinno Spinning Retractable locks into place well and keeps the eyelets aligned. In comparison to the other products on our list, this one is ranked third in terms of its price. We will caution you to not use this large for larger fish as too much pressure on this rod will generate some misalignment and twist in the eyelets.
4

. Bass Pro Shops Power Plus Graphite Spinning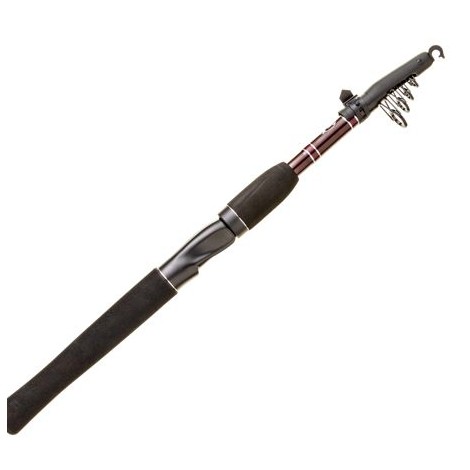 Well constructed
Easy to transport
Compact
Extremely good quality
Retractable for storage
A bit difficult to use
Might not be able to withstand heavyweights
If you're looking for an option that's lightweight and easy to use, then the Bass Pro Shops Power Plus Graphite is a great choice. It combines fiberglass with graphite to give users superior strength and flexibility. It features smooth ceramic line guides and EVA foam grips to offer the utmost comfort for the fisher.
Sensitivity Level
The rod is accurate enough for long casts while you keep full control, but sensitive enough to detect light nibbles. It's ideal for light angling, such as panfish and crappie, but can go with the big walleye and bass too.
Lightweight Design
The Bass Pro rod is lightweight enough to ensure that you can use it all day easily without feeling discomfort. The foam grips further help your comfort, but they also look great. This rod has been known to fish better than many that cost twice as much.
Cost and Value
The Bass Pro Shops Power Plus Graphite offers users with strength and flexibility through all the features it offers. In comparison to the other products on our list, this one is ranked at fifth place in terms of its price. Regardless, the rod is collapsible to make it easy to store and worthwhile to spend money on.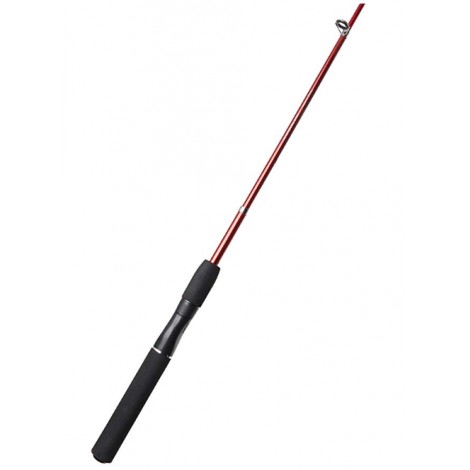 Extremely flexible
Sturdy
Collapsible
Good quality
Easy to store
Has a tendency to break with heavier fish
Eyelets become loose swiftly
The Zebco Spinning is known as one of the best options on the market currently. It's a perfect choice for those looking for a rod that will remain comfortable even after a whole day worth of use. It's comfortably designed and lightweight, while also being durable.
Lightweight Construction
This fishing rod features EVA handles to offer the highest level of comfort while not adding to the overall weight of the product. It's a lightweight design which makes it very portable and easy to carry around with you.
High Durability
The Zebco rod adopts a Z glass blank construction which increases its durability, allowing you to use this product for the years to come. The twist lock reel seat and shock ring guide further help to enhance its ease of use.
Cost and Value
The Zebco Spinning will be a great choice for those prioritizing their comfort over other aspects. In comparison to the other products on our list, this product is the cheapest product we've listed. However, even with the lower price, it's still a worthwhile buy due to all that it offers users.


Ceramic guides
An effective and simple reel seat
6 section rod blanks
Impressive sensitivity
Heavy duty
Does not collapse
No reel is included
If you want to catch the heaviest fishes and love longer casting, then the Hurricane Mako is a great choice for you to get. It's a heavy duty rod that is great to be used with kayak fishing. The advanced cushioned goods and ceramic guides along with the high-grade performance make it one of the best in the market currently.
Fiberglass Construction
The rod features sturdy fiberglass construction with the rod blank having six sections. It has a compartment for each of those sections so that it can be easily collapsed. The fiberglass material ensures durability and toughness, making it great for saltwater fishing.
Great Weighing Capability
The Hurricane Mako rod has an insane weighing capability that will allow you to catch even large blue fishes with it. It comes with a hard plastic case that can hold two rods and can easily fit in any standard sized carry on suitcase.
Cost and Value
The Hurricane Mako features an EVA handle to ensure your comfort. In comparison to the other products on our list, this one is ranked sixth in terms of its price. Though the eyelets are partly separated from the pole, if installed properly they won't give you a problem.
7

. Goture Spinning Retractable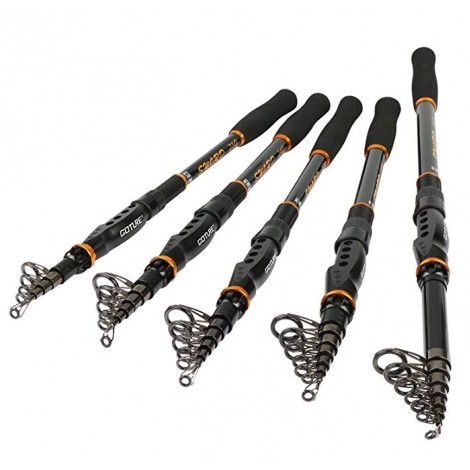 Good lifting power
Decent sensitivity
Good grips and reel seats
Holds up well in any weather conditions
Poor casting
Can be difficult to open and close
If you're looking for a powerful freshwater and salt application fishing rod, then the Goture Spinning Retractable is a great choice to pick. It's available in five different models with varying lengths and power settings. The five lengths range from 1.6 ft. to 2.2 ft. closed length, and 7 ft. to 11.6 ft. in open lengths. All of their models are made from corrosion resistant stainless steel.
Aircraft Grade Aluminum
The reel seat of this rod is made with machined aircraft grade aluminum. It uses a two locking mechanism system to lock the reel in place. The extended EVA handle holds up well in all weather conditions while still remaining easy to clean.
High-Density Blend
All of Goture's rod models are made from a blend of fiberglass and high-density carbon composite. This blend gives you a rod that is sensitive but still maintains a great amount of power.
Cost and Value
Though the Goture Spinning might not be great for accuracy, if you pick the right size and put some power in it, you can get plenty of distance. In comparison to the other items on our list, this one is ranked at the seventh place (tying with three other products) in terms of its price.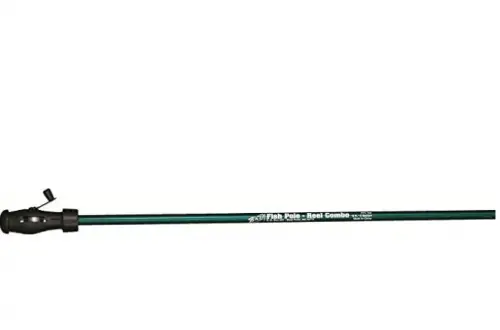 Extremely good quality
Beautiful style
Easy to use
Good performance
Easy to store
It does not have a good performance rate
Not very durable
The B'n'M Cadillac Pole and Line Reel Combo feature a 100% fiberglass pole complete with a soft EVA foam handle to help you support the rod under your forearm. It measures 12 ft. total redi-rigged with 30 ft. of monofilament line complete with a swivel. The line through pole feature includes a wire threader.
Weight Capacity
This pole and reel combo can support four to ten pounds in line weight and 1/64 to ¼ oz in lure weight.
Design Functionality
This combo is designed to offer the highest functionality possible. It's lightweight, well balanced and has an extra long EVA handle that will offer users comfort and easy use. The line through the center further adds to the convenience.
Cost and Value
The B'n'M Cadillac Pole and Line Reel Combo is a great pole and line reel combo for all experience levels. In comparison to the other products on our list, this one is ranked at eight places in terms of its price. The fiberglass and comfort features make it well worth its price.
9

. Sougayilang Telescopic Fishing Rod and Reel Combo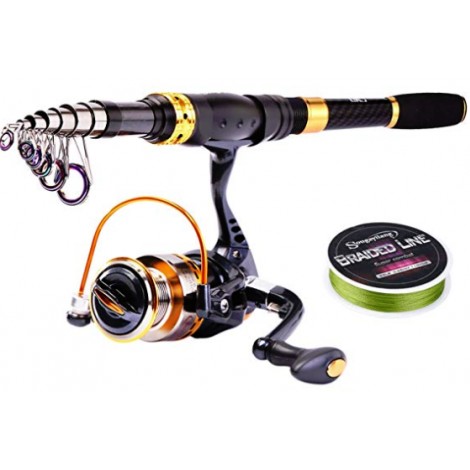 Great customer service
Carbon fiber and fiberglass construction
Ceramic guides
Telescopic handling for different styles of angling
One year warranty
Amazing color pigmentation
Carry case can't hold other gear
Quality of reel is adequate but not spectacular
The Sougayilang Telescopic Fishing Rod and Reel Combo is a very popular telescopic fishing rod currently on the market. It's available in three different lengths, including a 5.91 ft., 6.89 ft., and 7.87 ft., which helps it to be a viable option for both saltwater and fresh applications. You have the option to purchase only the fishing rod and reel, the full fishing kit, or the full fishing kit with a carrier case.
High-Density Construction
Through the use of fiberglass and high-density carbon fiber, the construction is completely sound. The setup also helps to indicate a long potential life span and good attention to detail. The handle of the rod is also telescopic, which means that it'll be extendable. However, users should be careful not to damage this as if it's blown out, you'll be left with a very low sensitivity rod.
Portability
This rod can be broken down into a very compact size, with the shortest length being just 16.5 inches. Thus, making it quite packable and great for on the go storage and great for hikes. The included reel is also one of the better options in comparison to other reels included in combos. For experienced anglers though, you might want to get an even better reel.
Cost and Value
The Sougayilang Telescopic Fishing Rod and Reel Combo feature a great aesthetic, low price tag, and nice sensitivity in an impressively packed design. Though it might have some issues regarding quality control it's still a great product considering everything. The one year warranty also helps in case anything does happen.
10

. Wakeman Ultra Series Spinning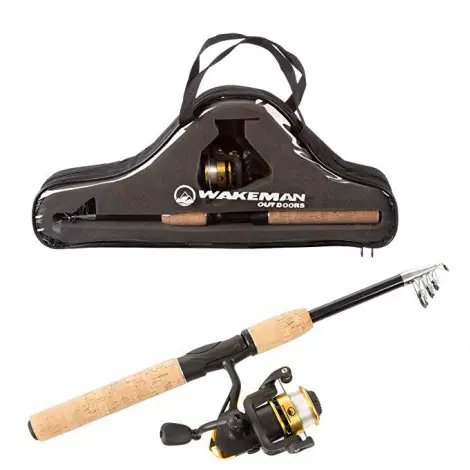 Very compact
Easy to transport
Stable
Well-made
Lightweight
Extremely fragile
Can not hold much weight
If you're looking for a compact option, then this Wakeman Ultra Series Spinning Combo will suit you just fine. It's has a lightweight, durable design that's sure to be great for experienced and beginner anglers, or even children. The ambidextrous reel comes complete with a carrying case to protect your set when it's not in use.
Compact Telescoping Design
It has a closed length of 17½ in. and an open length of 65 inches. The size makes it great for backpacking in places where fishing spots are harder to reach. The included carrying case measures 19½ in. long by 8½ in. wide with a diameter of 5 inches.
Collapsible and Lightweight
The rod is completely collapsible and is made with carbon fiber. The material helps to make it more strong and durable while lightweight makes it great for a range of experience levels. The design also ensures that the reel can be mounted for left-handed or right-handed fishing.
Cost and Value
The Wakeman Ultra Series Spinning Combo is a great all-around combo set that will suit a range of different experience levels and fishing styles. In comparison to the other items on our list, this one is ranked at eight places in terms of its price. Though it is in the higher end range [in terms of our list], the compactness and value make it worth your money.
Criteria Used for Evaluation

Connectivity
The greatest telescopic fishing rods are those which are made of many larger parts which connect into each other perfectly without the usage of many minuscule parts. These devices are often made of the same materials as normal fishing rods. Typical materials used for their construction can include fiberglass, carbon fiber, graphite and carbon composites, fiberglass and carbon fiber.
The sturdiness and durability of a telescopic rod can be greatly influenced by the eyes of the unit. The higher the number of eyes is, the more capable the rod is of distributing the weight along its full length and evenly distributing the weight throughout the arc. This allows the rod to cast over expansive distances without the risk of the breakage or damage to the collapsible pole.
Ensure that you open the pole gently and firmly. If you whip it open too quickly from a closed position, you increase the likelihood of damaging it and making it harder to close back up again.

Materials
The material of a collapsible fishing rod is extremely important to the function of a rod. The usage of certain materials in the construction of a fishing rod are essential to consider before making any purchases. The rod should be constructed with high-quality materials, such as ceramic, which provides a low-profile, lightweight design which provides more expansive distances and higher sensitivity levels.
Any collapsible rod should be flexible yet still extremely high density and be able to hold large numbers of weight.
Some of the best options have an extremely durable glass exterior which makes them beneficial for those who enjoy traveling with their fishing rods. Many rods have exceptionally durable fiberglass banks which offer extreme durability even in harsh conditions.
There is a large variety of these rods, even those in a collapsible category. Collapsible fishing rods combine stainless steel seats and graphite with their fiberglass banks to provide balance and flexibility, all within a few select parts.
Other variations of collapsible fishing rods are made up of carbon fiber, which provides the rod with immense durability. Carbon fiber fishing rods are extremely beneficial when going deep water fishing and a higher level of weight and sensitivity are required. Carbon fiber rods are usually a bit shorter than standard fishing rods, measuring 6.5 feet to 7.5 feet, but they are equally as sturdy.
The expertly crafted design of the carbon fiber rods allows it to transmit vibrations throughout the length of the rod, and allow the fisher to feel the fish eating their bait. There are a few variations of the carbon fiber telescopic rods which can be up to 50 percent more lightweight as compared to their graphite or fiberglass counterparts, which greatly increases their sensitivity.
A carbon fiber rod can be combined with fiberglass, which will increase not only the hardness but the durability as well.
Graphite rods have more power, which is why they are the preferred choice for professionals. Their downside is that they can break quite easily, so users need to handle them with caution and care. Fiberglass rods are more durable, but with that extra protection that they give, they also end up weighing more.

Size
These types of rods have two lengths from which they can be measured, one at its extended length and the other when it is collapsed. The length of the pole is measured in feet and inches. It is possible to get much more of a reach while using a longer rod, but that also causes the rod to be less sturdy.
The size can vary greatly within fishing rods - all of which then produce different results. The right length will be determined with what is right for you and your needs. Similar to the length of the handle, the longer a rod is, the farther the distance is. The shorter the length, the more close combat situations you'll encounter. With shorter lengths, the rod typically has less bend.
The average rod usually ranges from six feet to twelve feet. For beginners, it's best to experiment with different lengths to see what works best for you and your needs. If you would like our suggestion, then a seven-foot rod will probably be the best option for beginners as it's well-balanced enough to let you learn at your own pace.

Speed
The size of fish or type of fishing that a rod can handle is usually indicated by its stated power. The power can range from ultra light to ultra heavy with some rods being able to handle everything from extra light to very heavy fishes.
Extra light poles are generally best for smaller fish that are typically used for bait or landing an edible fish, such as a panfish. These do not really grow any larger than the typical size of a frying pan. For deep sea angling, extra heavy rods are the ideal rods that you should have they are best for landing large fish species.
Speed can also refer to the rapidness that a fishing rod can collapse back to it's at rest position from a bent position. This is usually referred to as a fast, moderate or medium, and slow speed. If you're casting longer distances, you want the fastest action fishing poles. Slower action poles help to provide you with more give, which makes it easier to throw bait.

Support
Support can come in various forms including the handle, reel seat, blank guides, and ferrules.
Handle
Fishing rods handle can come in a large variety of materials, sizes, and shapes. A longer handle is more beneficial if you wish to cast long distances. The length also directly impacts the distances because the distance is reliant on how hard you swing.
Reel Seat
The reel seat also affects the support greatly. A reel seat is the area of fishing in which you can adjust your reels position to your preference.
There is a large variety of fishing reels including baitcasting reels, spinning reels and spin cast reels.
A Bait Casting Reel is often the most favored by professionals, because of the even distribution of weight throughout the reel which helps catch larger fish.
A Spinning Reel is favored by those new to fishing, due to being more suited for smaller fish and lighter bait.
A Spin Cast Reel is used by both professionals and those new to fishing alike, you simply push a button and the reel with do everything else.
Blank Guide
On a rod, you'll find two structural pieces, which are a blank guide. The blank guide is broken down into two parts, with the blank being the shaft part and the guides which are the rings at the top side of the fishing rod.
Ferrules
Collapsible rods have two ferrules, with one being a female and the other a male. The ferrules act as a location where the rod needs to come together for it to be used properly. The guides should line up before you attach the two parts together to create a straight path.
Expert Interviews & Opinions
Most Important Criteria
(According to our experts opinion)
Experts Opinion
Editors Opinion
Users Opinion
By Default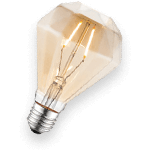 Avoid Aluminum Rods
When shopping, you should be careful not to purchase rods that are made of aluminum or have corrosive metals anywhere in the construction of the rod. That is especially important if you're a saltwater angler.
Because of how they're built, it's important for the rod to be built to last. If it isn't, then you'll inevitably end up facing issues with all of the blank connections. Rather than cheaper alternatives, we recommend going for ceramic guides to increase and enhance the long term durability of the rod.
Overall Design
Most rod setups are built in relatively the same way. But, there are some that promise extra, more fanciful features that are often unnecessary. In general, we'd recommend being wary of these extra and unique features, such as extra features, unique guides, blanks, or reel seats. In our humble opinion, simpler is often better. With fewer frills, you can expect a decrease in the potential of a cosmetic or mechanical failure.
In terms of the reel, unless you're shopping for someone completely new at speed fishing, you might want to consider just using your own spinning reel. The quality of reel in most telescopic combos is adequate but not impressive. By using your own, you can avoid any frustrating malfunctions, simply by using one that you already know of and trust.
Other Factors to Consider

Durability
As compared to standard fishing rods telescopic fishing rods are significantly weaker, so it is recommended to not use them for fish on the heavier side. They must also be opened softly yet firmly. If you reel the fish in too swiftly it may result in irreversible damage.

Flexibility
As you're casting, your rod is going to bend as it moves - and when you get a bite, it'll definitely be bending. The amount of curvature that happens helps to determine the action and power. That's something that can end up being very crucial to ensure that you get in a nice catch instead of being left with a broken piece of equipment.
As we talked about before, the power refers to the strength of the rod under pressure and the action refers to the control and speed of your cast. Power is often listed as heavy or medium. Medium units bend more towards the middle of the rod, while the heavy rods won't bend much aside from at its tip. For the smallest fishes, you can also get a low power rod.
All in all, when you're looking at the flexibility of a fishing rod, the end choice ends up being what types of fish you'll be hunting. Your use will then determine the amount of flexibility that you'll need in a rod.

Style
Spinning Rods
Spinning rods are created specifically for recreational and sport fishing. There are many options of models, which are crafted with graphite or fiberglass and embellished with cork handles or PVC. The spinning rods are commonly mounted underneath the rod. These embellishments normally assist with making the rod much more comfortable to hold during large periods of time. Spinning rods also allow for more control over the rod due to the user's dominant hand being able to grip the rod. Spinning rods usually measure in between 5 feet and 8 ½ feet.
Surf rods
One of the most popular forms is the surf rod. They are extremely popular due to their portability and easy storage. They usually measure in between 10 feet and 14 feet.
Fly rods
Flying rods are extremely beneficial when using artificial baits or lures. They are usually used with a thin and flexible telescopic rod that has little to no handle following the reel.

Use
As you'll see through all our other buying guide sections, these fishing rods can be used for almost any type of fishing. From fishing small, bait fishes to reeling in larger fish. So, regardless of what you'll be using it for - there is sure to be a model and brand that is perfect for you.
Just know that whatever you choose, it will be lighter than the typical, traditional fishing rod. The type of reel you purchase will also make an impact on your usage.

Weight
It's important to keep in mind that a telescopic is manufactured to be lighter than its traditional counterparts. The point of its weight is to make it so that it's easier for all users to travel with it. If it was as heavy as the traditional models, it would be more troublesome to carry it with you places.
When choosing one for you, take a look at the material of the rod as that is one of the main factors that affect the overall weight. A good rod shouldn't be too lightweight nor should it be too heavy.
Frequently Asked Questions
q:

How do I assemble my new telescopic fishing rod?

a:

Many beginners often feel confused or overwhelmed when tasked with creating their telescopic setup to be the best that it can be. There aren't too many resources currently for this, which is often why they feel confused. Most poles come pre-assembled, therefore you often don't have to get them up and running through countless steps. With the pre-assembled ones, all you have to do is pull the rod out and start using it.

For those that are not familiar with how this type of rod is assembled, it might just be easier and better for you to go for one that does come pre-assembled. Once you gain experience and overall knowledge of these rods, then you can buy one that doesn't come assembled.

However, as every brand manufacturers products slightly differently to one another, it's best to consult the manual and/or the manufacturer for better, more customized instructions on how to assemble your fishing rod.
q:

How can are you supposed to actually use a telescopic fishing rod?

a:

To use this type of rod effectively, line up the rings slowly, doing so until every part is fitting the way it should Pull out all the sections slowly. The same process applies when breaking it down. Simply twist it and collapse gently.

What you should do is try to open the rod too quickly. Do so, can actually end up causing more problems, with the main one being the damage that you're likely to cause to the rod. Just remember to not shoot or pull it out fast.
q:

Are telescopic fishing rods worth purchasing?

a:

There are several reasons as to why these fishing rods are worth purchasing. Firstly, they are typically way more portable than your traditional fishing rods. Often times, they will easily fit into your backpack or the trunk of your car.

Secondly, they are versatile and lightweight, therefore they [depending on the model and brand] can be used to a range of fish specifies, including crappie, panfish, trout, and more.

If you're planning or often end up angling near a river or mountain stream, these will be your best option. They are versatile, portable, and compact - making it the perfect trio for those situations.
q:

Is it better to get a rod with a built-in reel or without?

a:

The answer to this question depends on your experience and skill level of using these types of rods and reels. If you're a rookie who doesn't yet know how to select components of your setup, then you should opt to buy a combo. There are many models in different price ranges to fit any budget. On the other hand, if you feel as though you have enough experience and know-how, then you'll know which component works best with what. So, there's nothing stopping you from purchasing a reel separately.
q:

What are the benefits of having a high-quality telescopic fishing rod?

a:

Not only are they one of the best companions for fishing enthusiasts, but they are also a great choice for those wanting to go traveling, hiking, camping and fish there. They are widely used by professional fishers.

The absolute best options are very lightweight, making them extremely portable. Most of them are compact which takes out any storage issues. And though they are compact and lightweight, they often do have a heavy weighing capacity which is great for allowing you to catch even the bigger fishes. Lastly, they are exceptionally easy to clean and care for.
Subscribe to our Newsletter