Best Spinner Luggage Sets Reviewed & Rated for Quality
In a
Hurry? Editors choice: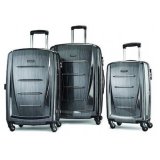 Test Winner: Samsonite Winfield 2

Interested in purchasing some new luggage for yourself or someone else? Consider a spinner set. Spinners, as opposed to rollers, can stand upright on four wheels (or eight, for oversized suitcases), which are constantly extended. In other words, the wheels cannot be folded in. Spinners are easier to operate; easy to wheel and can be moved in all directions. If you have to
walk a long distance at the airport
, you will appreciate how much easier it is to pull a spinner as opposed to a roller. Goodbye constantly having to lift the luggage up to change its angle; hello effortless mobility.
In this article, 10 popular options on the market are reviewed. The positive and negative aspects of each are pointed out for your consideration; however, all 10 are respectable choices that will undoubtedly make your next trip a breeze.
Standout Picks
Criteria Used for Evaluation
Effectiveness
Suitcases are about clever design, efficiency and convenience. While spinners are noted for their ease of mobility, that is certainly not the only factor to be taken into consideration. How well is the available space designed? Is every square inch used as effectively as possible?
Things like liners, zipped pockets, secure compartments and so forth can make your suitcase a pleasure to use. You can securely store your liquids without fear of them accidentally leaking onto your clothing. Your toiletries can be easily organized in one area, with your shoes neatly packed in another. There is nothing worse than rummaging through your once-folded clothing and belongings, desperately trying to find something in a hurry. Rather, a cleverly designed piece allows you to pack everything in a logical way, eliminating those panicky moments.
Of course, spinners are most celebrated for their mobility. They are able to be pulled and maneuvered from all angles with much less effort than their main competitor, the roller (the two-wheeled version of the spinner that has to be pulled at an angle). Spinners are designed to make walking through an airport easy, even at long distances. Overall, a set of spinner's efficiency is determined by all of these factors, with a focus on ease of mobility.
Style
It is a pleasure to own sleek, ergonomically designed luggage. Like everything else, suitcase styles change with the times. Like a purse or briefcase, it feels good to own a stylish piece. It makes a statement about you, and you will feel more confident with a new, fashionable set rather than one that has quite a few miles on it and has certainly seen better days, held together with duct tape and full of scratches.
Additionally, in the event you are flying and check your baggage instead of putting it in the overhead compartment for carry-on, when the time comes to go to the baggage claim area, you do not want to have an anonymous-looking black bag in a sea of identical looking bags. You want something that is easy to spot on the carousel, without having to tie a brightly colored ribbon on it or plaster it with stickers. You want an unusual piece that is quickly identifiable, without having to do something like tie yarn on the handle in order to distinguish it from everyone else's bags.
Motion Control
When traveling, you will undoubtedly be stuck in several congested areas. Whether you are on a crowded people mover at an airport or walking down a busy city street, you have to navigate through the foot traffic with ease and agility, just as you would when driving a car during rush hour.
One of the key advantages of spinners is that they can be moved in any direction without having to physically lift up and adjust the bag's direction. Spinners offer a complete, full range of motion, making it simple to switch the direction you are wheeling your bag from front to side-facing and so forth. Spinners are designed for responsive, streamlined motion, and this will save you a lot of difficulty and frustration you might otherwise face.
Value
While the actual cost of spinners varies from model to model and brand to brand, the overall value is determined by much more. First, consider how often you travel. If you travel for work or pleasure quite frequently, it makes sense to invest in high-quality suitcases. Conversely, if you travel seldom, it may not necessarily be in your best interest to spend a considerable amount of money.
That being said, for frequent travelers, easy to use, low-maintenance, efficient suitcases are practically priceless. Whether it's being able to easily fit all of your belongings in a piece that fits within the dimensions to be stored in the carry-on compartment, or saving yourself the pain and aggravation of dragging around a set that's not ergonomically designed, putting a massive strain on your neck and back, intelligently designed suitcases, including spinners, takes a physical and mental weight off.
Durability
Your travel bags and suitcases should be built to last, period. It should be strong and sturdy. If you've ever seen baggage carriers loading iems into the cargo unit, sometimes literally tossing it, you know that there is no room for delicate, cheaply made styles. Plus, we put a lot of strain on our suitcases ourselves. If you've ever had to sit on a suitcase to zip it up, you know that we put them to the test, pushing their capabilities.
If you've ever broken a zipper on your suitcase, you understand the frustration of owning a cheaply made piece. Or, if you happen to be using a spinner or a roller and you lose a wheel, your favorite piece can soon become your worst nightmare. Suitcases are meant to be packed to full capacity, they're rolled for long distances, they can be packed into crowded compartments and subjected to turbulence, tossed onto carousels, pulled through crowded, bumpy city streets and so forth. Your suitcase needs to be rugged and durable. Otherwise, you will probably find yourself buying a replacement bag mid-trip, frustrated beyond belief.
10 Best Spinner Luggage Sets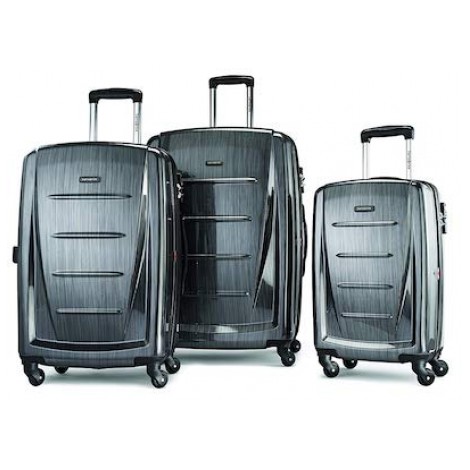 The Samsonite Winfield is a handsome, sleek, 3-piece hard side set. Each piece is lightweight and features a telescopic handle. The Winfield's are full of cleverly designed compartments and will keep you organized on your next trip, with everything in its right place.
Polycarbonate Construction
This set is made of sturdy, durable polycarbonate material. This allows each piece to withstand heavy use while still being lightweight and manageable. It provides superior protection, keeping your belongings safe from damage, and is also easy to keep clean and take care of.
TSA Compatible Lock
Each piece includes a TSA-approved combination lock. This decreases the time spent at the security checkpoint while increasing the safety and security of your personal belongings. They also include privacy pockets and crisscrossed dual straps to keep your carefully packed items safe and organized.
Cost and Value
Winfield has earned 4.2 out of 5 stars based on over 3500 customer reviews. It is a moderately priced set and falls in line with the competition. Overall, it is a high-value item sold at an appropriate price. For frequent travelers looking for a quality spinner set full of advanced features and modern conveniences, the Winfield is a great choice.

2

. Kenneth Cole Out Of Bounds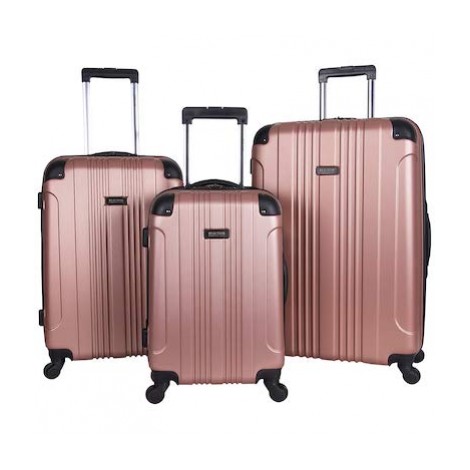 The Out of Bounds set is stylish, lightweight and low maintenance. It's bright, carefully constructed and full of advanced features that make traveling that much easier. Compared to other options, it's quite affordable, which is a nice bonus, considering it's made by a designer brand. Overall, it's a very attractive option that will make your next trip that much easier.
360 Degree Movement
Each piece included in this 3-unit set includes the benefit of four wheels. Like all spinners, you will enjoy 360-degree effortless movement when maneuvering through a congested area. You can wheel your luggage at any angle, offering streamlined, superior mobility and stability. You don't have to worry about picking your suitcase up off the ground, nor do you have to worry about it accidentally toppling over if you pull it at an angle too sharply.
Ultra Organization
Each piece contains carefully lined compartments to keep all of your belongings safe, protected and organized. You will find ample room to pack your things, even in the smallest of the three pieces included in the set. Not a cubic inch of space is wasted; everything is expertly designed to serve a purpose. From safety straps to partitions, your belongings will stay neatly packed and safe from harm.
Cost and Value
The Out of Bounds has earned 4.1 out of 5 stars based on over 2000 customer reviews. The price is quite reasonable, on the lower end of the spectrum. The customer reviews are generally positive, with customer satisfaction ranking quite high. In sum, this is a high-quality set sold at a fair price, making it a very good value.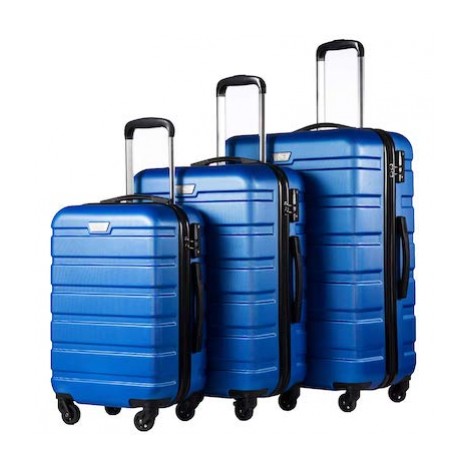 The Coolife is another 3-piece hardshell set with high marks for quality, general usefulness and customer satisfaction. It is also reasonably priced, ergonomic and lightweight. Despite its lightweight construction, it offers superior protection, keeping your belongings safe while in transit.
14 Different Colors
The Coolife set is available in 14 cheerful, bright colors. If you have to check your bags, it is easy to spot your vibrant, eye-catching set on the baggage carousel. Gone are the days of trying to find your black bag in a sea of identical black bags; the cleverly designed Coolifes are stand-out items, in more ways than one.
Two-Year Warranty
The Coolife spinner set is sold with a comprehensive, two-year manufacturer's warranty. This is quite generous and ensures that any repairs or replacements will be made by the manufacturer, no questions asked. Coolife has an excellent reputation for customer service and is quick to respond to any questions or concerns while standing behind the quality of its products.
Cost and Value
The set has earned 4.2 out of 5 stars based on over 900 customer reviews. The price is relatively low and quite reasonable. This product, therefore, is an excellent overall value; a high-quality set with the assurance of a two-year warranty sold at a very fair price.

4

. AmazonBasics Soft Side


This particular 3-piece set, manufactured by Amazon's in-house brand, is the first soft side (also called softshell) set reviewed in this list. There are several advantages to this particular style; it can be more durable and scratch-resistant than its hardshell (hard side) contemporaries, and more resistant to wear and tear.
Collapsible
The set is collapsible, which makes it perfect for storage while not in use. Additionally, it is easier to fit inside crowded, full overhead compartments. Despite being made of "soft" material, it is deceptively strong, still providing your belongings with superior protection against damage.
Expandable
On top of being collapsible, each piece is also expandable. In other words, the malleable fabric expands, allowing you to utilize 25% more storage space. Softside style certainly has its advantages, whether it's being collapsed or expanded to meet your needs. Either way, your belongings will fit perfectly, thanks to the versatile, adjustable fabric.
Cost and Value
The spinner set has earned 4.2 out of 5 stars based on over 600 customer reviews. It is priced competitively and fairly. With the vast majority of customer reviews being positive and the set coming highly recommended by those who have purchased it, it is a superior value; a smart buy at a great price.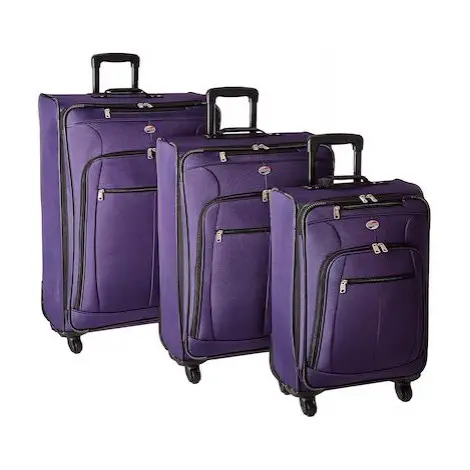 American Tourister is one of the heavy hitters in this industry. This 3-piece spinner set features a soft side with side and top handles for ease of use and convenience. Each piece is full of extra features like organizational pockets, and the set offers the added bonus of being collapsible and expandable.
Ergonomic Handles
Each piece features top and side handles, offering versatility and comfort. The handles are padded, so wheeling iy for long distances is a pleasure, putting virtually no strain on your hands, wrists, arms, shoulder or back. American Tourister is known for its meticulous attention to detail and careful design, and this spinner set is no exception.
Plentiful Pockets
The interior of each piece is carefully designed to utilize the space for maximum efficiency. There are organizational pockets, zipped compartments, protective liners, and mesh partitions. Say goodbye to hectic traveling and difficulty locating your belongings. You will be able to pack your things in a logical way, and will not waste any time struggling to find your cell phone charger, your child's favorite toy, your sweatshirt for that chilly flight, and so forth. Everything is readily accessible and completely manageable.
Cost and Value
The spinner set has earned 4.1 out of 5 stars based on over 600 customer reviews. Its price is on the lower end of the spectrum, which is in no way indicative of the overall quality of the set. Rather, it is a rare find; a great option sold at a low price. It's a bargain and a very good value.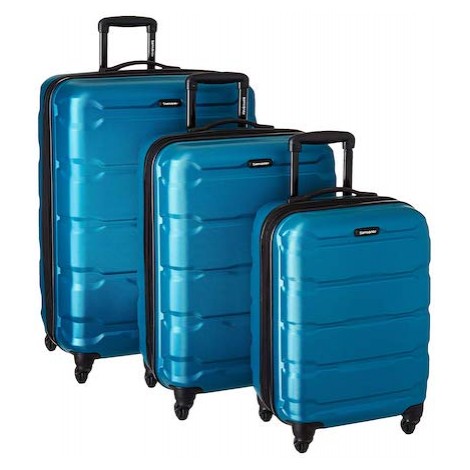 The Samsonite Omni is a beautiful, striking, high-end spinner set. It is quite impressive, from its stylish appearance to its superior performance. It commands a price somewhat higher than the other sets reviewed in this list, however, for a frequent traveler with the highest standards, it is undoubtedly worth it.
Micro-Diamond Texture
The Omni features a patented micro-diamond texture. This renders it virtually scratch and scuff-proof, no matter what sort of heavy use it is subjected to. The three-piece set is easy to keep in pristine condition, making it a set that you will be proud to travel with. It's sleek and modern, as fashionable as it is functional.
Effortless Mobility
Like all spinners, the Omni's three pieces offer a full, 360-degree range of motion. The wheels have been re-engineered for superior performance, making mobility even better than before. The engineering and design team at Samsonite spared no expense when manufacturing the Omni, making it as streamlined and smooth as possible.
Cost and Value
The set has earned 4.4 out of 5 stars based on over 500 customer reviews. As previously mentioned, it is markedly more expensive than the other options reviewed here. That being said, the overall quality and performance does indeed justify the price. For a serious traveler who needs a reliable high-end set on a regular basis, the extra expense is well worth it. The Omni is an excellent option with a price that is reflective of its overall value; superb.

7

. AmazonBasics Har Siide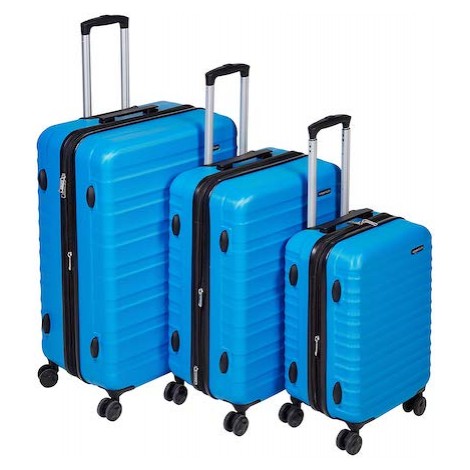 This 3-piece set, manufactured by Amazon's in-house brand, is the hard side version of Amazon's soft side style reviewed above. It is a basic, sturdy set that is affordably priced. It does not have the same bells and whistles as some of its contemporaries, but for the occasional traveler, it does the job and is more than adequate.
Extra-thick ABS
The hard side option is made with extra-thick ABS material. This offers superior protection; preventing your belongings from sustaining any damage while in transit. The exterior is also scratch and scuff resistant and easy to keep clean. It is also lightweight, making it easy to wheel for an extended period of time.
Added Convenience
The set is full of little extras. For example, the interior of each piece includes three separate zippered pockets for organization. Each piece is also expandable by up to 15%. The handle is telescoping and ergonomic, designed to make traveling long distances a breeze.
Cost and Value
The set has earned an average of 4.0 out of 5 stars based on over 300 customer reviews. The reviews are generally positive. The price is quite affordable. This isn't the most impressive or advanced spinner set reviewed here, but it's fairly priced and simply designed. It's a good choice for the occasional traveler, but probably not ideal for the frequent flyer. All in all, it's an above-average set offered at a good price, making it a decent value.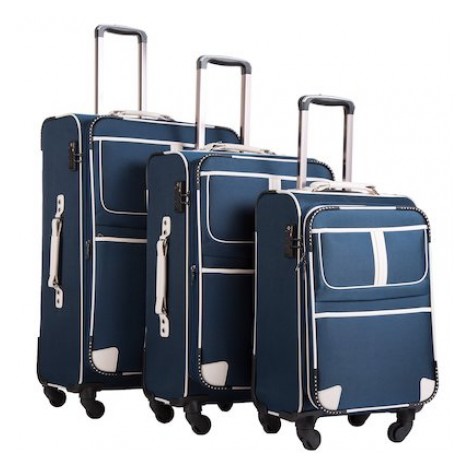 This Coolife set is perhaps the best bargain on this list. The three-piece set is enthusiastically reviewed, with high marks for both style and overall performance. It's an impressive set offered at a very fair price, making it an attractive option for either the frequent or occasional traveler.
Jacquard Oxford Cloth
The set is made with Jacquard Oxford cloth, a soft side material. It is stronger and much more durable than the majority of polyester materials, and also offers a rich, handsome appearance. The trim, available in four different color combinations, has a unique design and is easy to spot on a carousel, making it practical in multiple ways.
Front Storage Pockets
Each piece features multiple interior and exterior storage pockets, giving you even more room to store your belongings. Storage is secure; the set comes equipped with TSA-approved combination locks. Now, you can fit more items in your suitcase with the peace of mind of knowing that your items are always protected while still being in full compliance with the TSA.
Cost and Value
This set has earned an average of 4.5 out of 5 stars based on over 200 customer reviews; an excellent score. The price is surprisingly low, considering the high quality of the set and the enthusiastic praise from customers. The Coolife set is therefore of exceedingly high value; a rare find and a smart buy.



The Showkoo is an affordable, 3-piece hardside set packed with extra features and bonuses that make it an extremely convenient suitcase set to travel with. Strong, protective, ergonomic and handsome, it's an all-around smart choice and makes traveling easy. Don't let the low price fool you; it's built to last and stands up well against even the high-end competition.
Silent
The wheels are exceptionally smooth for virtually silent mobility. The spinner set, which can be maneuvered 360 degrees, is engineered for optimum ease of use. Rolling it along is virtually effortless, and the wheels stay perfectly aligned, even after serious use.
Smart Interior
The interior of each piece is fully organized, with protective pockets, liners, and dividers. Additionally, the set comes with TSA-approved locks for security and compliance, and will not delay you at the security checkpoint. You will be able to travel safely and securely, staying perfectly organized all the while.
Cost and Value
The set has earned an average of 4.3 out of 5 stars based on over 150 customer reviews. Its price is quite low, while the reviews are largely positive. This spinner set is a great find and an excellent value and is perfect for any traveler who appreciates smart design, ergonomic engineering, and a good bargain.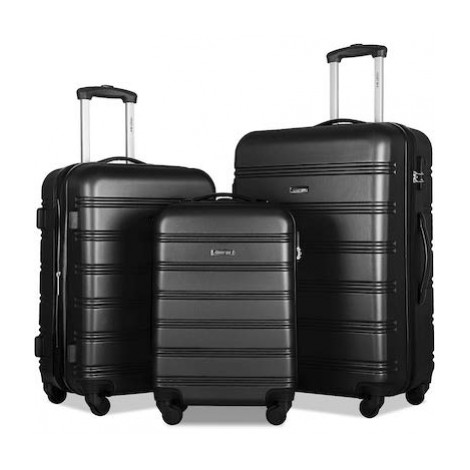 The Merax is a sleek, stylish 3-piece hardsided spinner set that is both a workhorse and a show pony. It's the perfect example of fashion meeting function. It looks fantastic and it works well. You will be proud to travel with this chic set and its performance will not disappoint you.
Super Lightweight
The set is unusually lightweight and compact. Don't be fooled by its lightweight construction; it's still incredibly strong and will protect your breakable belongings, including delicate electronics, from sustaining any damage, even during a turbulent flight. The overall engineering is impressive; it's amazing that a suitcase so feather-light can serve as such effective protective armor.
5-Year Warranty
The set is sold with an impressive, generous five-year warranty. If you have any problems with it, it will be replaced or repaired, no questions asked. The manufacturer's customer service team is noted for its responsiveness and overall customer-friendly sales policies.
Cost and Value
The set boasts an impressive 4.6 out 5 stars based on over 50 customer reviews. A larger sample size is needed to truly get an appreciation of the set's value and performance, but from the information available, it is more than promising. Overall, it's an excellent value; a great set sold at a very reasonable price.

Subscribe to our Newsletter