Best Snow Gaiters Reviewed & Rated for Quality
In a
Hurry? Editors choice: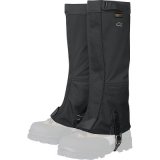 Test Winner: Outdoor Research Crocodile

Sometimes,
boots
just aren't enough. Outdoor activities in especially tough or dirty terrain can tear up even the most durable of footwear. Other activities put a repeated strain on other areas of the feet and ankles – think things like horseback riding – and require an
extra layer of protection
. While a high-quality pair of boots is a must, there are so many variables that can still lead to discomfort or, in cases of remote backpacking, dangerous frostbite, and foot trauma. Often, gaiters, or snow gaiters, are worn to protect the feet and skin from snow and incredibly cold temperatures and the elements that come with it. For this list, we will be taking a close look at cold weather gaiters, or snow gaiters, in particular, though many features we share will apply to types of gaiters that are made for all sorts of outdoor activities.
Standout Picks
Criteria Used for Evaluation
Materials
The ideal pair of gaiters strikes the perfect balance between protection and comfort. Most of the items on this list are made from some sort of sturdy nylon. Other additions may include a polyurethane coating which adds an important layer of weatherproofing. Gore-tex is another great material for weatherproofing found on some higher-end gaiters. Others have a scented coating that helps to repel ticks and other insects for hiking during Spring and Summer months. The lower section of the gaiters should be constructed of the toughest material, with a tightly woven or multiple layered abrasion-resistant fabric used. This is because the portion around the boot itself will see by far the most wear and tear in its lifetime.
Weight
For most hikers, the idea of strapping anything extra to their legs before a long tramp uphill sounds like a nightmare. More weight slows you down, causes fatigue, and can decrease your mobility. Luckily, most gaiters are extremely lightweight, with most weighing in at just a few ounces.
When purchasing an ideal pair of gaiters, a middle ground must be achieved. You want something heavy enough to stand up to the elements, but light enough to be unobtrusive during use. That means anything more than 5 or 6 ounces will be a noticeable addition to your wardrobe and should be avoided for the most extreme, long-distance uses. Any gaiter between two and three ounces provides a great counterpart without skimping on protection.
Size
As mentioned above, gaiters range from ankle to knee high. Not all gaiters are right for every activity. Knee-high gaiters for instance, while providing great protection, may not give users the greatest mobility possible. For that reason, the casual user looking for a more affordable product should stick to lower-rising gaiters. These provide that bit of extra protection needed to make tramping or trail-walking more comfortable. Serious users looking to pull out the stops should stick to knee-high designs which provide the greatest possible protection. Intermediate sizes are great for those who aren't exactly sure what they will encounter in the wild. Even if encasing most of the lower leg feels like overkill, keep in mind the last time you were stuck outside with wet feet. The extra protection is necessary, even if it's only as a precaution.
Features
Most gaiters fasten to your boots securely via some type of instep strap and lace hooks. The fasteners themselves must be tough and resilient enough to stand up to repeated heavy use. It doesn't really matter how durable the material itself is if they won't stay on your boots. Look for straps made from tough, abrasion resistant material like Cordura nylon that can take a lot of punishment. Be sure to test out the straps a few times when trying out gaiters. Does the material seem appropriately lightweight or is it just flimsy? Your feet will thank you later.
Additionally, it is important to look at how the gaiters fit around your lower leg. Many features zippers which provide a tight seal against the elements. However, as anyone who has ever spent time in extreme cold knows, navigating metal zippers with frigid fingers is no fun. Cold weather users may seek out gaiters with high-quality Velcro design for easier access.
Value
As we have seen, gaiters are far more than a simple boot covering. If used properly, they provide an invaluable layer of protection against the elements for much of the lower extremities. When conditions are harsh enough that footwear simply isn't enough, look no further.
Numerous styles and extra features are available depending on the type of activity one chooses to undertake. Rugged materials range from thick and insulating to breathable. Along with an array of features comes an array of prices. For many regular consumers, it might not make sense to fork over the cost of the boots themselves twice over just for a bit of extra protection. Still, when it comes to outdoor gear, peace of mind is paramount. It's one thing to have a product fail to deliver back in civilization. It's quite another thing to have that occur in the middle of the wilderness.
At the end of the day, this list has attempted to look beyond mere name recognition and stylish bells and whistles to discover products that deliver when it matters most, no matter where your active outdoor lifestyle takes you.
BEST SNOW GAITERS REVIEWED & RATED FOR QUALITY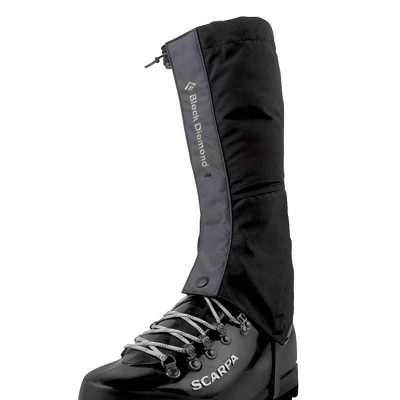 For something a bit more high-end, check out the GTX by Black Diamond. Just as slick as it sounds, this Gore-Tex hard-shell gaiter fits your ankle like a suit of armor. The ever-important in-step buckle is nickel-plated, furthering this gaiter's air of impenetrability. A coating of neoprene completes this triple layered marvel, which is the perfect choice for those looking to brave the harshest of conditions. Whether you're backpacking or climbing icy peaks, the GTX will suit you just fine.
High-Quality Fabrics
The GTX gaiter looks and feels deluxe, with not one, not two, but THREE layers of Gore-tex protection to keep moisture out. Additionally, a layer of neoprene keeps feet and shins warm and toasty no matter the temperature. That makes these an ideal choice for cold-weather hiking and mountain climbing.
Fit
This is a hard body gaiter, meaning they won't crumple up or shift while being worn. The outer body firmly fits around the lower leg and feet with the sturdiness of a cast, while breathable fabric allows for a far greater range of motion than one might expect.
Cost and Value
Consider this one of the 'Porsches' of the group. The combination of Gore-Tex and Neoprene alone raises the price. This is a cold weather gaiter intended for use in extreme conditions, so consumers should be aware that the price point is a fair bit higher than some other options.

2

. Outdoor Research Crocodile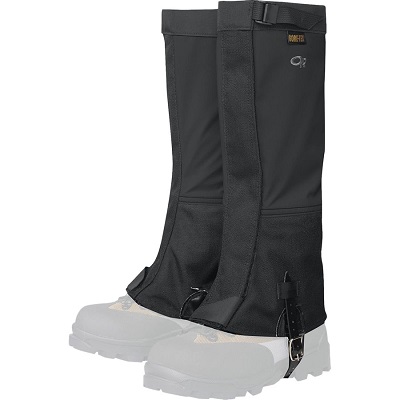 Outdoor Research is a company that has been turning out quality Gators for over thirty years since their founding in the suitably rain-swept wilds of Seattle. Their Crocodile gators feature many of the quality features that define their products. The exterior is nylon with a Gore-tex lining. The inner leg and boot is tough non-abrasive Cordura nylon. The contours of the gaiters are a bit larger to encompass larger boots, such as plastic models designed for mountaineering.
Inset Strap
Though the velcro front strap is quite durable and sticky, the main key to these gaiters is the inset strap. Users have the option of adjusting and readjusting the gaiters at will during hikes, eliminating the need to struggle through long tramps through snow and water while tripping over gaiters that are too loose or dealing with the pain of gaiters that are too tight.
Sturdy
These are not weak-kneed gaiters. The Outdoor Research Crocs hold their shape nicely during long treks. The Cordura-enforced nylon guards against puncture and abrasion by the elements and the Gore-Tex lining offers top-notch protection against moisture.
Cost and Value
These gaiters are on the more expensive side of the spectrum. They are made from high-quality materials from a leading brand name in the business. If you are a devoted hiker they are an investment well worth your time.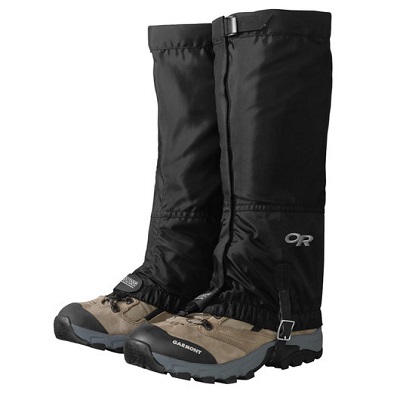 These mark a more casual outing by Outdoor Research. Many of the more 'deluxe' options, such as the addition of Gore-tex and Cordura nylon, are jettisoned in favor of a more stripped down, affordable alternative. On the plus side, the gaiters are still highly durable, with the quality construction and velcro straps that define the OR brand. They also rise high on the shin, providing waterproof coverage to most of the lower leg.
Water Resistant
Just because these boots are more affordable, doesn't mean they're any less effective at keeping water out. A silicone coating takes the place of high-end Gore-tex to form a seal that, while more cost-efficient, still does just fine standing up to the elements.
High Quality Velcro
It may sound funny to single out Velcro as an 'outstanding' aspect of any product, but the clasps on the Rocky Mountain Gaiters are terrific. Durable, debris-resistant, and stick as hell, these gaiters are easy to put on and stay in place no matter where you take them.
Cost and Value
If you are looking for a balance between quality and affordability, the Rocky Mountain High Gaiters by Outdoor Research hit the sweet spot. Free from some of the fancier materials of other gaiters, these still get the job done with quality craftsmanship and a design that can take a whole lot of punishment.

4

. Outdoor Research Verglas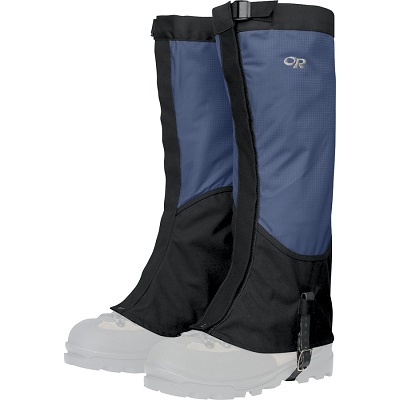 This is a lighter, more stripped down version of Outdoor Research's more well known 'Croc' gaiters. The emphasis here is on simple protection against the elements. Expect the same durable Cordura nylon protection, terrific waterproofing, and breathable fabric. Missing is a bit of the padding which made the crocs better against low temperatures but bulkier to wear and transport. These are great gaiters for hiking, backpacking, and warmer weather climates.
Abrasion-Resistance
Unlike lower-priced gaiters, Outdoor Research outfits the lower portion of their products with Cordura nylon. Bulkier and tougher than regular ballistic nylon, Cordura stands up to greater punishment and will not tear no matter what you put it through. Overall, this makes for a more durable product with greater longevity.
Great Fit
The Verglas fixes securely to your boots via a front strap, Hypalon strap, and special lace hook (a feature definitive to the OR line of products) that helps keep laces secure and dry while tramping through snow. All combine to create a system designed to lock out snow and ice.
Cost and Value
Outdoor Research creates a high-end product so you can expect to spend a bit more for these gaiters than some of the competitors. That said, the Verglas creates a nice mid-point in terms of price when compared to the higher-end Crocs. A solid option for cold weather snowshoeing.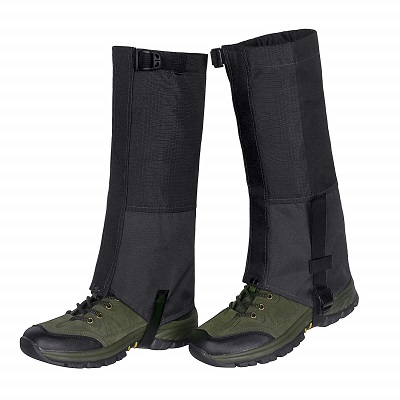 These tough but simple gaiters from Unigear are fully waterproof with a polyurethane coating and are durable and tear resistant. A hook and loop enclosure at the top ensures a firm fit around the calf and the buckles that fit under your boot are built to last through strenuous use. During warmer months, the breathable nylon is a great way to stay cool while avoiding pesky biting insects and ticks. The gaiters are lightweight and won't add significant weight to your pack.
Tear Resistant
Built specifically for temperate weather and rough terrain, the Fivejoy gaiters are designed to protect your feet and legs from direct trauma. Insects, cacti, and even rocks are no match for these. The nylon exterior is remarkably tear resistant, even in the most inhospitable of conditions.
Lightweight and Portable
At a thickness of just 2MM, these gaiters are great for warm weather use. They also fold up beautifully, so transporting them is a cinch. This makes them ideal for backpacking in warm, rugged terrain such as deserts and badlands.
Cost and Value
Along with other thinner, warm weather gaiters, these are fairly affordable. The material is fairly simple and straightforward along with the construction of the gaiter itself. They do one thing - protect your foot - but they do it well. Just don't expect top-notch insulation against cold.

6

. Black Crystal Hiking Ski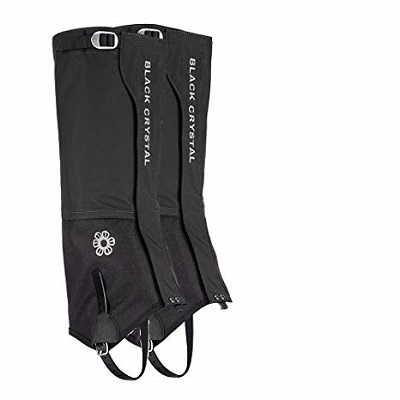 This is a more affordable offering from Black Crystal. Their hiking ski affixes to the boot via extra durable aluminum buckles. The gaiters themselves form an unbreakable fit, thanks to zippers and velcro along with a top buckle that fits neatly around the cuff. Three-layer nylon fabric keeps ankles bone dry in harsh conditions. They weigh in at less than eight ounces, for an extra light hiking experience that travels extraordinarily well.
Perfect Fit
These gaiters fit the hiker's body via a number of means: Buckles, zippers, and velcro. This means they do a great job of keeping feet dry and safe while providing a 'second skin' fit during vigorous hiking. The velcro along the cuff helps hold the gaiter up even during strenuous use.
Easy Access
Many gaiters on the market are put on via velcro. This one is no different. What is different is placement. Unlike other gaiters, the Hiking Ski positions its separation as the front as opposed to the rear of the gaiter, making it far easier to remove at the end of a long, hard day of hiking.
Cost and Value
The Black Crystal Hiking Ski is another great value gaiter for the cost conscious. It fits well and is durable enough to withstand the cold temperatures and ankle deep snow of skiing or snowshoeing trek. While it lacks the recognizable quality of a Gore-Tex or Neoprene gaiter, it still gets the job done.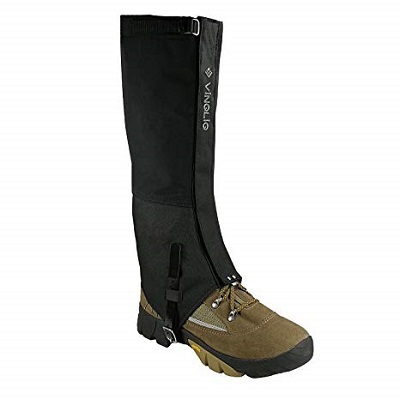 These affordable gaiters from Vinqliq pack a surprising amount of protection into a surprisingly lightweight package. At just under 7 ounces, these gaiters perform wonderfully in wet conditions thanks to three layers of waterproof nylon protection. A reinforced buckle holds fast to the bottom of the boot, while a specially designed hock holds shoelaces in place and prevents them from getting saturated in snowy conditions. Abrasion-resistant nylon on the lower portion finishes out this solid offering from Vinqliq.
Cold Temp Resistant
These gaiters are one of the few on the list to strike an ideal balance between being lightweight and providing optimum protection against the elements. Most alpine gaiters are heavier due to the layers of padding needed to insulate feet and lower legs. These are remarkably light, while still holding up in environments as low as 40 below zero.
Dual Lock Protection
The front of the gaiter is marked by both a standard Velcro strap as well as a metal reinforced strap at the top to ensure a tight consistent fit around the foot and lower leg. These will hold up even during strenuous use.
Cost and Value
Given the protection against cold temps and waterproofing, these are remarkably affordable. They offer the same safeguards against the elements that one would expect from gaiters more than twice the price.

8

. Hillsound Armadillo LT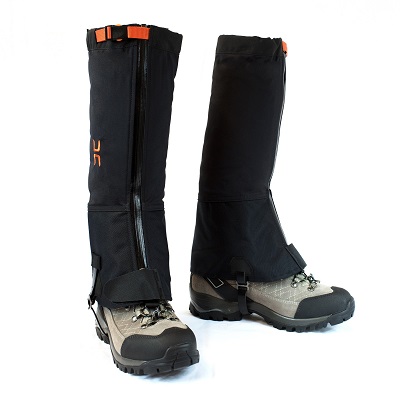 The Armadillo Gaiter by Hillsound is a rugged product which is waterproofed right down to the zipper that holds them in place. Windproofing is another great feature, with snowboarders and motorcyclists enjoying protection from even the heaviest gusts while moving at full speed. The exterior is resistant to abrasions and works great in tall grass or deep snow. As with many other cold weather gaiters, the fasteners holding them to the boot are sleek and reinforced. They also come with a boot-lace hook to hold laces in place.
Form Fit
There is nothing more annoying than gaiters that slip down your calf or are loose enough to let snow into the gap between gaiter and leg. The Armadillo comes complete with Flexia Nylon around the cuff which ensures a tight, form-fit seal that keeps snow out.
Waterproof Zipper
Hillsound takes waterproofing seriously. So much so that the zipper itself is treated with a waterproof coating. This adds an extra layer of convenience to taking them off and putting them back on. Any snow or ice that has accumulated on the exterior won't make its way to the warm inner lining.
Cost and Value
These are a good middle of the road pair of gaiters in terms of price. They're a bit more than the cheapest items on the list but far from the investment presented by others. A solid buy for those who spend a good deal of time outdoors.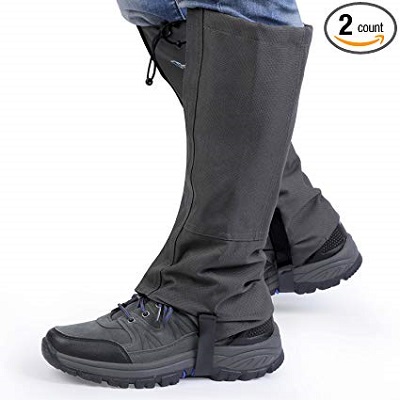 These low-priced gaiters from Outad offer the bare essentials of protection for a price that is far more affordable than other options on the list. Far thinner and more lightweight than more high-end gaiters, these will do just fine for hikers looking to have something on the side 'just in case'. Though the nylon exterior is waterproof, they likely won't hold up to total submersion in water, though they will do just fine for hiking during inclement weather.
Lightweight
The main draw of Outad's gaiters is their portability. Without numerous layers of padding and material, these scrunch up tight and take up far less space in your luggage than other options. Additionally, at just a few ounces they're far lighter than higher priced gaiters with fancier materials. This makes them ideal for the casual hiker.
Warranty
Outad backs up their product with a money-back guarantee, something quite rare for a product this affordable. Any issues with the product result in a replacement or the purchase price paid back in full. That's just one more factor that makes this a great choice for the new and nervous buyer.
Cost and Value
These are one of the lowest-priced gaiters featured on the list. For a pittance, you get solid protection against the elements. Though they won't hold up under the most extreme conditions - or complete submersion in water for that matter - these are a safe choice for the occasional backpacker.

10

. IDAND Waterproof Gaiters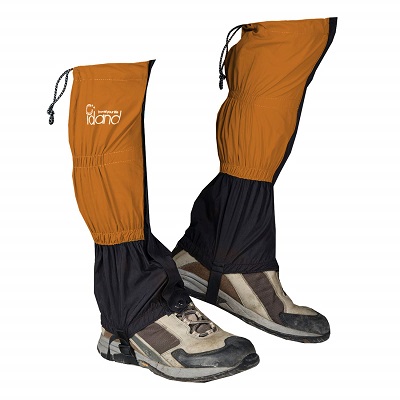 These loose Gaiters have much more in common with leg warmers. They come in a standard black as well as a camouflage pattern perfect for hunters and trappers. The Gaiters are a 'one size fits all' product so you don't need to worry about measuring your boot or calf circumference before making the purchase. In addition to being windproof and waterproof, they have a tightly woven nylon body that is breathable in warmer months. All in all an affordable, relaxed alternative to hard body gaiters.
Comfortable
The fit is a bit looser on these gaiters, so you don't have to worry about cutting off circulation to your feet when sitting or standing for long periods of time while out on a hunt. The interior is soft fleece so you'll be toasty and comfortable no matter the temperature.
Simple
Aside from choosing black or camo, buying these is a snap. There's no quibbling over boot size, calf diameter or height. They're one price, in one style, with a single size that can be customized for any hunter or hiker.
Cost and Value
These are simple gaiters, which fit a bit more like especially high-quality leggings. As such, they have an extraordinarily low price point. This makes them a safe bet for a 'just in case' pair of gaiters. You don't need to use them constantly to make up for the sticker price.

Subscribe to our Newsletter