Best Selfie Sticks Reviewed & Rated for Quality
last updated:
Apr 16, 2019
Social media is a method of brand promotion, business development, establishment as an Instagram influencer, and driving traffic to other sites (e.g. YouTube), etc. Of course, virtual social interaction is still key and we quite literally like to show ourselves in the best light possible, whether it's to keep our friends and family up to date on Facebook or Instagram.
Selfies aren't always flattering. It's hard to get that perfect angle; taken from far enough away with good lighting, without appearing squished in the frame (especially if you are taking a selfie with another person). Sure, you could always ask someone else to snap the photo for you, but that's (a) awkward; and (b) a gamble.
Every problem has a solution, and in this case, it's the selfie stick. In this article, 10 popular selfie sticks are reviewed so that you can find the perfect one.
In a Hurry? The test winner after 10 hrs of research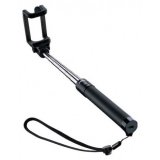 Mpow
Why is it better?
Compatible with almost every operating system and mobile device
Very low cost
Bluetooth compatible
Easily adjustable
Compact, light, portable
In a
Hurry? Editors choice: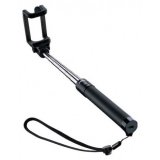 Test Winner: Mpow

14
Researched Sources
21k
Reviews Considered
10
Hours Researching
12
Products Evaluated
Use
Motion Control
Advanced Features
Adjustability
Durability
By Default
10 Best Selfie Sticks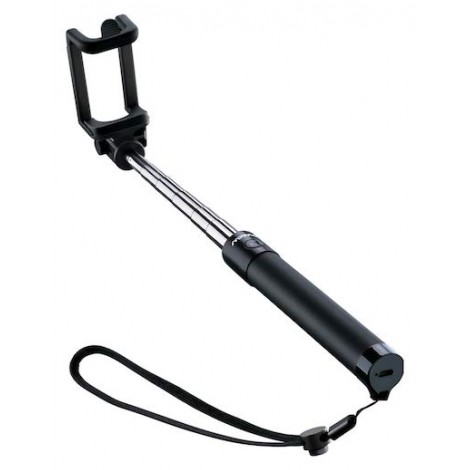 Compatible with almost every operating system and mobile device
Very low cost
Bluetooth compatible
Easily adjustable
Compact, light, portable
Requires the use of a battery
Some complaints about the quality of the screen's resolution
The Mpow is an amazing device; it is sold at an incredibly affordable price and yet has all the advanced features and versatility that you could possibly look for in a selfie stick. From Apple to Samsung smartphones, the Mpow offers unprecedented compatibility (with the exception of Google's Pixel, which the seller makes very clear). Overall, it's an affordable, high-quality selfie stick that makes it easy to take group or solo shots in seconds.
Soft Touch Grip
Ergonomics are important when considering a selfie stick. Sure, a selfie-stick is a very small step away from being hands-free, but you do still have to hold the stick up in order to take the photo. With a soft touch grip, the Mpow has a nice feel to it and does not strain your hand, wrist or arm.
Bluetooth
The Mpow is fully Bluetooth integrated for easy operation. The selfie stick itself can be operated any way that you control your phone; verbally, with headphones, or with the touch of a button on the Mpow itself. Whichever way you choose to operate the Mpow, you will enjoy its convenience, putting you in charge of your selfies, and making taking multiple shots a breeze.
Cost and Value
The Mpow averages 4.2 out of 5 stars based on over 6,800 reviews. Considering its overall good performance and extremely low price, the selfie stick is a very good value. It takes great pics, it's easy to use, and it's quite durable.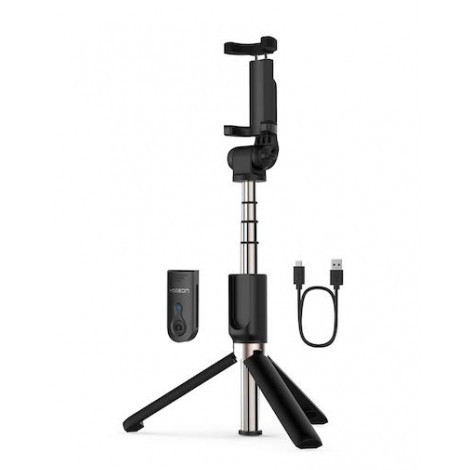 Tripod included with purchase for ease of use
Ergonomic, Bluetooth integrated remote
Length is adjustable for versatile shots
360 degree design for full rotation
Monopod and tripod stand
Does not activate camera shutter to take photos
Tripod hand does not hold smartphone in a stable manner
The Yoozon is all about ease of use. From a tripod to a wireless Bluetooth remote, the Yoozon makes it easy to comfortably use the selfie stick for hours at a time. The quality of the pictures it takes is great, and it is versatile; spanning from over two feet in length to very close distances.
Wireless Remote
The Yoozon includes a Bluetooth integrated wireless remote. This makes it extremely easy to snap a selfie. No more fiddling with the buttons on your phone, and no more manipulating the stick itself. By simply clicking a button using the remote in the palm of your hand, you can take a multitude of fantastic selfies, virtually effortlessly.
Tripod
The folks at Yoozon have truly thought of everything. Holding up a selfie stick all day can cause your hands, wrists, arms and shoulders to grow tired and even sore. To solve this problem, a tripod is included with the Yoozon. The selfie stick is easily mounted on a compact, lightweight tripod so that you no longer have to lift the stick up in order to take the selfie. It's all about convenience and simplicity.
Cost and Value
The Yoozon has an impressive 4.5 out of 5 stars based on over 1,800 reviews. It is competitively priced and falls right in the middle of the cost spectrum. Considering that the vast majority of customer reviews are positive, the price is reasonable, and the selfie stick comes with many helpful features, it is a great value.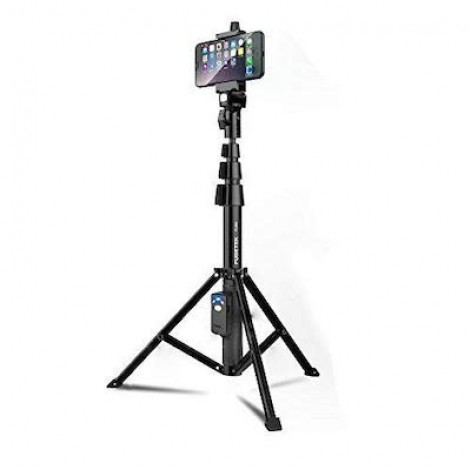 Increased durability and extra safety features
Compatible with a wide range of devices
Includes tripod, charging cable and manual
Includes battery-operated, Wireless Bluetooth remote
1-year manufacturer's warranty
One customer claims to have received a used device sold as a brand new device
Another customer claimed the Fugetek was in poor condition upon arrival
The Fugetek is a selfie stick that comes packed with accessories and advanced features. It is intended for both new and advanced photographers. It is designed to be good enough for professional use, yet fun and easy enough for anyone to enjoy. The images the Fugetek captures are quite impressive. So, whether you are recording a lecture or taking a selfie with your perturbed-looking cat, you are guaranteed a good shot, every time.
All-in-One
The Fugetek offers everything you could look for in a selfie stick. You will not have to worry about buying any additional accessories, downloading and installing apps or paying for any upgrades to use this impressive selfie stick. Simply look over the manual and you will be amazed and impressed by all of the different uses for this fantastic device.
Increased Durability
The Fugetek is manufactured with extra safety features to keep your smartphone in good shape. From a secure mounting platform to the supportive tripod, you will not have to worry about your smartphone accidentally falling and sustaining damage. Extra steps have been taken to ensure that your smartphone is always being safely and securely held in place, and that there is no risk of it taking a spill.
Cost and Value
The Fugetek averages 4.7 stars out of over 1,600 reviews. It is competitively priced and quite fair, considering all of the extra features and accessories that are included with your purchase. As mentioned, it is a great choice for a professional photographer or a casual Instagrammer. All in all, it's an excellent value and a smart investment.
4

. kungfuren Selfie Stick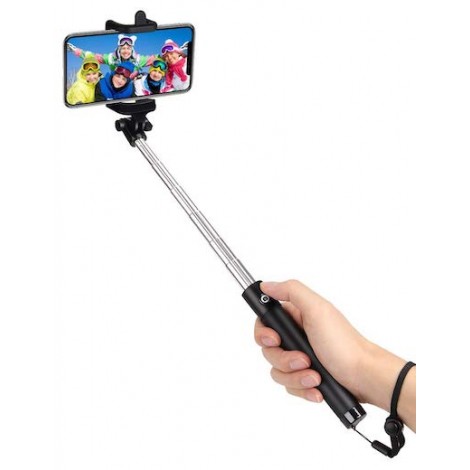 Fully Bluetooth integrated; easy to use
Sturdy, durable and designed for serious use
Extremely affordable, but not cheaply built
Compact enough to fit in a purse
18-month manufacturer's warranty
One customer noted that the pics taken with the kungfuren are unacceptably dim
The kungfuren is a simple, affordable selfie stick intended for use with iOS, Apple and Android devices, among others. It includes a long-lasting, durable battery. The kungfuren is easy to use, sturdy and adjustable. It does not have the advanced features that some others have to model, but for consumers looking for a simple, easy to use selfie stick that's virtually effortless, the kungfuren is absolutely something to consider.
Incredible Battery Life
The kungfuren uses battery power. On a full charge, the selfie stick works for an impressive 50 hours. Most battery-operated selfie sticks last for approximately 20 hours after being fully charged. The kungfuren is clearly an efficient device, designed for minimal power output.
Super Compact
The kungfuren is one of the lightest, most compact and portable selfie sticks reviewed here. When the stick is not extended, it is small enough to fit in a purse, backpack or even a deep pocket. It takes up almost no space, and is easy to fit in carry-on luggage without taking up room or weighing you down.
Cost and Value
The kungfuren has earned 3.9 out of 5 stars based on over 1200 reviews; an average score. However, the kungfuren's incredibly low price must be taken into consideration. While it isn't the most advanced selfie stick on the market that you would probably not gift to the consummate gadget lover, it is nonetheless respectable and reliable. All in all, it's an average to good value.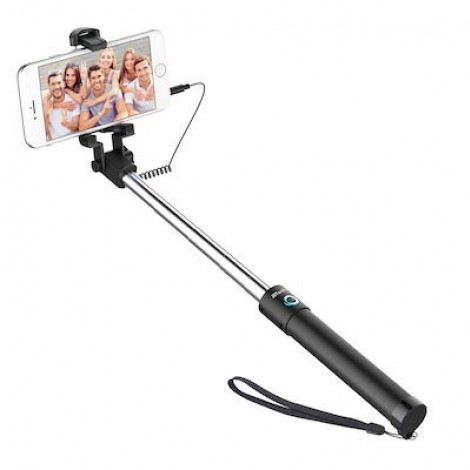 Battery free use
Extends up to 28"
Operated by audio cable (included with purchase)
Purchase includes detailed, easy to follow user manual
Lifetime guarantee
For Apple users, several apps need to be downloaded and installed
Some issues reported with the clasp that is supposed to hold the phone in place; causing it to fall
The JETech is yet another incredibly affordable selfie stick that makes taking solo or group shots a breeze. Its overall operation is simple, and no batteries are required to use the JETech. It does not have all the bells and whistles that some of the more technologically advanced selfie sticks reviewed here do, but for the average consumer, the JETech works quite well, and does not lack in any department, technologically speaking or otherwise.
No Batteries Required
The JETech does not require the use of any additional hardware. No batteries, no remotes, no tripods. It's a basic selfie stick that may lack some of the conveniences of its more high-tech competition, but for some customers, that's a plus. Simply attach your iPhone and you're ready to go. For Apple users, there are a few more steps.
Telescopic
The selfie stick extends from mere inches to over two feet in height. This allows you to take photos from a wide range of distances. When the telescopic pole is not extended, the JETech is quite compact, making it easy to transport and travel with; ideal for vacations.
Cost and Value
The JETech has earned 3.9 out of 5 stars based on over 900 reviews. The price is certainly right, making the JETech an attractive option. While the reviews aren't stellar or overly enthusiastic, overall, the general consensus is that the selfie stick works pretty well and is sold at a great price. Therefore, it's a good value for what it is - a basic selfie stick that works just fine.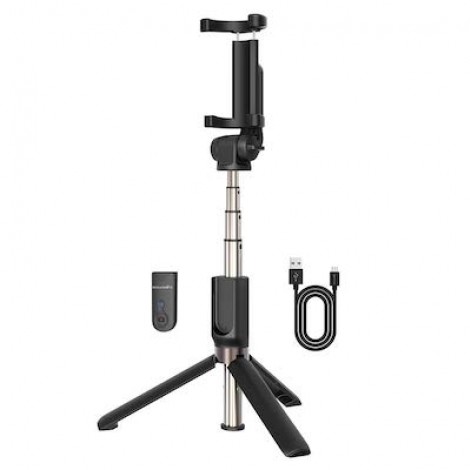 Seller provides lifetime quality care
Includes Bluetooth remote with 30-foot range; powered by rechargeable lithium battery
Tripod is stable on a multitude of surfaces for secure, steady pictures and video
Sturdy, aluminum alloy telescopic stick
Full rotation (360 degrees)
The clamp is too loose and cannot be tightened; allowing the phone to flip over
Customers reported difficulty pairing devices via Bluetooth
As far as selfie sticks go, the BlitzWolf is what you would call fully loaded, from hardware to software to accessories. The BlitzWolf is an advanced selfie stick that does indeed have all the bells and whistles that even the most discriminating tech junkie could be looking for. Want to show off your tech skills while taking great pics of you and your friends with ease? Look no further than the BlitzWolf.
Bluetooth Wireless Remote
The BlitzWolf comes with an advanced Bluetooth wireless remote. The signal range extends to an impressive 30 feet, giving you the freedom to take your selfie from quite a considerable distance away. On top of that, the remote is fully replaceable for the 24-month period following purchase, giving you the guarantee that you are going to be receiving an incredible, long-distance remote that will work perfectly for the first two years, or you will receive a brand new one.
Stable Tripod
The tripod that comes with the BlitzWolf is exceptionally stable. That means that you can take photos and videos on all sorts of terrains; not just flat surfaces. Record yourself hiking in the woods, rock climbing, snowboarding, playing sports or whatever. The BlitzWolf will sit steadily virtually anywhere you put it, keeping your phone safe and your videos excellent.
Cost and Value
The selfie stick has earned 4.2 out of 5 stars based on over 900 reviews; which is a very good score. Its price is in line with the BlitzWolf's competition. If you purchase the BritzWolf, your money is going quite far. With the guarantees the seller offers, it's a smart, safe investment with fantastic benefits. In sum, the BlitzWolf is an excellent value that comes highly recommended.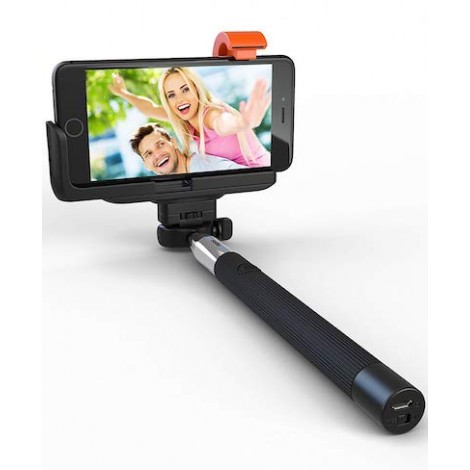 Battery free
Powered by Bluetooth technology
Ideal for group photos
Close-ups, wide angles, 360 degree rotation
Portrait and landscape mode, panoramic shots, group shots, videos
According to one customer, it is incompatible with the Samsung Galaxy 8, contrary to seller's advertisements
Reportedly does not work with the iPhone X despite seller's claims to the contrary
The Selfie World is a small, simple gadget that basically does it all. It works with almost all smartphones, is easy to operate, and takes everything from high-quality videos to beautiful, professional looking self-portraits. It's one of the most user-friendly models reviewed here.
All Operating Systems
Unlike other selfie sticks, theSelfie World is compatible with virtually all operating systems and the vast majority of smartphones. Very few apps are required for installation, and all the requisite programs and apps run very quickly. The 3-6-5 would make a great gift for a tech junkie who has it all; especially if you are unsure what kind of phone he or she is currently using.
Portraits, Videos
The selfie-stick can be configured to take extremely flattering portraits, where you can adjust everything from the angle to the lighting to the contrast and so forth. Not a professional model (yet)? Don't worry. You can take your own impressive-looking headshots at the touch of a button, and take advantage of the advanced portrait settings. Of course, the stick is not just limited to selfies; it can take videos, group shots and everything in between.
Cost and Value
The Selfie World has earned 3.8 out of 5 stars, based on over 300 reviews. The stick is not quite as advanced as some of its contemporaries, but it is nonetheless a good choice. It is sold at a very reasonable price. It is not the least expensive stick reviewed here, but it is certainly on the lower end of the price spectrum. It would be a great gift for just about anyone, including someone brand new to photography. The price is right and it's never too early to think about the holidays; a selfie stick like the 3-2-1 would make a perfect stocking stuffer or grab bag gift.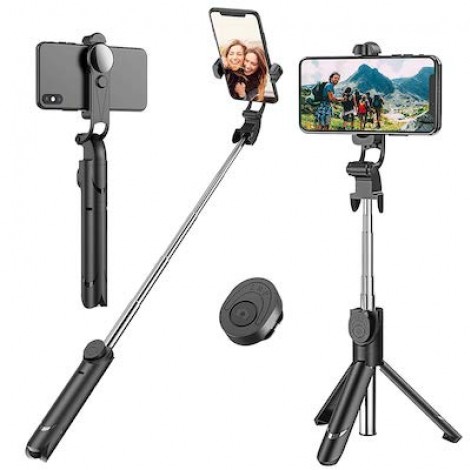 Rechargeable battery
225 degree angle rotation
Superior phone safety
Versatile; takes a wide array of photos and videos
Stable tripod; works well on multiple surfaces
One customer stated that the selfie stick did not work when her smartphone was in its case
A customer reported that the stick would not pair with her smartphone at all whatsoever
The Erligpowht Selfie Stick may be sold by a brand you've never heard of, but please do not disregard the Erligpowht. It's a pleasant surprise. Reasonably priced, very well-reviewed, versatile and well-built, it might be one of the best products you've never heard of until now.
Accessories
The selfie stick includes the most popular accessories among gadget enthusiasts; a Bluetooth, battery-powered remote and a sturdy tripod stand. The battery is included with purchase and simply needs to be charged upon unboxing.
225 Degrees
The selfie stick offers 225-degree rotation. This may initially sound like a con rather than a pro when so many other selfie sticks offer full 360-degree correlation. However, there appears to be a direct correlation between selfie sticks with full 360 degree-rotation and issues with holding the smartphone steadily in place. With this particular selfie stick, you are able to rotate the phone at a wide range of angles without risking accidentally dropping it.
Cost and Value
The selfie stick has earned 4.5 out of 5 stars based on nearly 500 reviews. This in and of itself is quite impressive. Its price is on the lower end of the spectrum, but its quality is quite high. It comes with all the requisite features and accessories and is ready to use as soon as the battery is charged. All in all, it is an excellent value with a very good return on investment.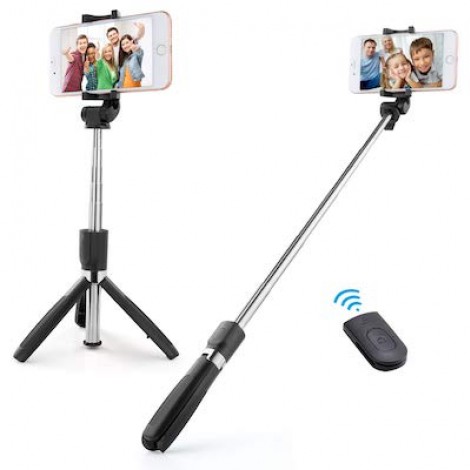 Incredibly versatile; compatible with the vast majority of smartphones; pairs quickly
Consistently excellent performance
Highly affordable price
Incredible battery life
Light, compact, easy to travel with
More information is needed to accurately report on the potential negative aspects of the BESTTRENDY. It should be noted that this is a lesser known brand, with a small sample size of customer reviews from which to garner a true and accurate picture of how well (or poor) the stick's performance truly is
The BESTTRENDY selfie stick essentially has it all. It's well-built, efficient, easy to use, durable and takes reliable shots. It's fully Bluetooth integrated and the apps work quite well. It can be used for versatile purposes and is affordably priced. Whether you're interested in taking stunning selfies of yourself or capturing your next family vacation, take the BESTTRENDY along with you to ensure you capture every moment.
A Travel Companion
The selfie stick is quite light and compact. It telescopically extends to over 2' in length, but when the stick is folded down, it takes up virtually no room. It is lightweight and easy to carry in a purse, backpack or carry-on luggage. Forget about lugging around heavy camera bags on your next trip; simply put this selfie stick in the zipped pocket of your bag and go.
Incredible Battery Life
The selfie stick is battery powered. The battery is rechargeable and is quite efficient, using as little power as possible. In fact, when in standby mode, the battery charge lasts for several months. When being actively used, the stick can work for hours on end on one charge. Charging is rapid and removing the battery is simply.
Cost and Value
The BESTTRENDY averages a perfect 5 out of 5 stars based on 44 customer reviews. Granted, 44 reviews is a relatively small sample size, but nevertheless, that is quite a perfect score. The reviews that are posted are all extremely enthusiastic, extolling the selfie stick's numerous virtues and overall excellent quality. Of course, more reviews are needed to accurately compare it to some of the selfie sticks at the beginning of this list, which have been reviewed thousands of times. That being said, the BESTTRENDY appears to be a fantastic value at a very low price.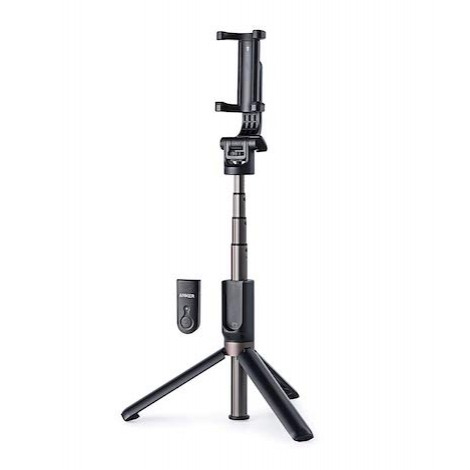 Universal compatibility
Perfect for use with GoPro
Long battery life
Micro-USB cable
Instructions are easy to follow and understand
One customer review described the stick as being made of "cheap plastic"
Another review complained about the stick's durability (or lack thereof)
The Anker is relatively new to the selfie stick market. However, the information that is out there about the Anker looks positive and promising. It appears to be well-built, reliable and versatile; compatible with a multitude of smartphones.
Micro USB
The Anker is packed with advanced features, making the Anker's performance superior and its overall design quite impressive. The Anker comes with a Micro USB cable that can be directly connected to the vast majority of smartphones, for ease of use, convenience, and instant file transfers.
Respectable
Overall, the Anker, while relatively unknown, appears to be quite respectable. It is well-designed, durable, technologically advanced and yet easy to use and operate. Familiarizing yourself with the Anker is not difficult; the instructions are reportedly easy to follow and generally make sense, which can be rare in the tech industry.
Cost and Value
The Anker has earned 4.4 out of 5 stars based on 20 reviews. 4.4 out of 5 stars is quite good, but 20 reviews is an extremely small number. As previously mentioned, more information is needed. The price is competitive and reasonable, though slightly on the higher end. It is quite possible that the price is warranted and worth it; however, 20 reviews are simply not enough to base a definitive and confident opinion on. Therefore, the Anker is most likely a good value, if you are comfortable spending money on an item that is not an absolute sure thing.
Criteria Used for Evaluation
Expert Interviews & Opinions
Most Important Criteria
(According to our experts opinion)
Experts Opinion
Editors Opinion
Users Opinion
By Default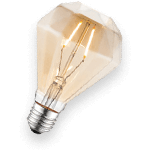 Check Multiple Sources
Do careful research before purchasing a selfie stick, and do not base your decision on just one site. You may find that a selfie stick is glowingly reviewed on one site, and absolutely panned on others. Try to find an independent, unbiased website that is not affiliated with the seller.
Check several sources before making a decision, and avoid any sponsored results that may show up when you perform a search using your browser. Some website "reviews" are cleverly disguised advertisements meant to display a product in the best light possible, selfie sticks included.
Don't Overspend
There is no reason to assume that the higher the price, the better the selfie stick. There are perfectly respectable selfie sticks available at incredibly low prices. This is where the customer reviews can really help to inform your decision, along with checking multiple websites and sources to verify that the information you are getting is accurate. Also, don't be tempted to buy a selfie stick with advanced features that you do not necessarily need. Remember, you're taking selfies, not producing a film.
Other Factors to Consider

Brand
There are pros and cons to buying from one of the most popular sellers of selfie sticks. Thousands of reviews certainly can help you to make an intelligent decision. That being said, there is no reason that respectable newcomers should not have a chance at the selfie stick market. You simply want to avoid taking a risk on a no-name brand. There is certainly a lot of room between the best-known brands and those that are virtually unheard of.
Again, check multiple sources, look for unaffiliated websites and unbiased content to truly get an understanding of the particular brand you are potentially dealing with. When it comes to tablets, it's not uncommon to run into software or hardware issues that require the assistance of a tech support team or a customer service representative to either assist you with whatever problem you have encountered, or to guide you through the process of returning/exchanging the tablet in the event it is defective or problematic.
Responsiveness
Think of the last time there was something you really wanted to take a picture of; regardless of whether it was a selfie or a regular front-facing image. A gorgeous sunset, a romantic moment, a child blowing out the candles on his birthday cake. These moments are beautiful and fleeting. You've probably experienced the frustration of seeing the perfect shot and missing the opportunity to capture it because your phone was too slow, or you accidentally hit the wrong button with your finger, or something else went wrong. In an instant, the moment, which cannot be recreated, is gone. Frustrating would be a nice way to describe it.
A well-made, easy to use, technologically adequate selfie stick is, above all, responsive. When you touch the button to take the shot, it should instantly capture it; and not just a single shot, but several burst photos for you to review. You should never have to put the selfie stick down and make manual adjustments on your phone. The whole point of a selfie stick is convenience. A lag between when you push the shutter and when the image is captured is unacceptable.

Materials
The materials used to construct a selfie stick are an important consideration, and there are several things to keep in mind. You want to find a sick that's lightweight and compact. However, plastic sticks are often not as strong as those made of aluminum alloy or other materials. Of course, a heavy selfie stick is not ideal either; imagine lifting up a golf club every single time you want to snap a photo. You're going to be ready to ditch that thing within an hour.
The solution here is to find a stick that's light enough to lift comfortably for an extended period of time, while still being sturdy and reliable enough to securely hold your phone. Again, picture holding a selfie stick up in the air and seeing it drop your smartphone to the ground. You can almost picture it happening in slow motion. Your poor, innocent smartphone tumbling defenselessly to the concrete, with you unable to catch it fast enough. What a nightmare. To avoid this, don't be afraid to go to a big box store and test out several different models. Ideally, you want a stick made of a sturdy material (stay away from plastic) that is light enough to hold comfortably. Aluminum alloy is the perfect material to extend telescopically when needed, and is not heavy or cumbersome. It is also strong and can securely hold your smartphone in place, so that you will get a lot of use out of your selfie stick, without your heart skipping a beat every time you raise the stick to snap a shot.
Frequently Asked Questions
q:

Should I buy a selfie stick with a Bluetooth remote?

a:

Yes. A Bluetooth remote makes operating a selfie stick much easier. Some can be used up to 30 feet away from the camera, allowing you to take photos from a wide range of distances. Yes, the Bluetooth remotes are battery powered, but the batteries are rechargeable and efficient.
q:

Should I buy a selfie stick with a tripod?

a:

Yes. This allows you to take group shots and videos with ease. It also frees up your hands and allows you to record for long periods of time without straining your arms.
q:

How much do selfie sticks cost?

a:

The price range varies greatly, from just under $10 to about $50. Long story short, selfie sticks, even the higher end ones, are affordable.
Subscribe to our Newsletter