Best Sectionals Reviewed & Rated for Quality
In a Hurry? Editors choice: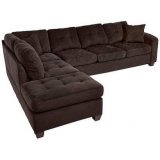 Test Winner: Homelegance

Whether you're replacing an existing sofa or you're redesigned your entire living space, sectionals are a
great solution and furniture piece
. They are large and (generally) more comfortable than normal sofas. They are great for family rooms and game rooms. If placed in front of a television, every seat as a good view of the screen.
Nowadays, you can find anything from extremely high quality and pricey sectionals to affordable, decent quality sectionals. There are also various sizes from 3 seaters to 13+ seaters. All in all, there is something for you.
Keep on reading to find our top ten sectionals along with a buying guide to help you decide which one suits your needs best.
Standout Picks
Criteria Used for Evaluation
Comfort
The comfort of a sofa will depend on what you're looking for in a sofa. Below is a good guide in what to look for depending on what your requirements are.
Soft Versus Firm
If you (1) prefer plush furniture that envelopes you in, (2) like relaxed look furniture, and/or (3) a personalized, sink in feel -- then you will want to go with softer sofas.
If you (1) prefer a tidier look, (2) like more support and resistant, and/or (3) like even, structured comfort -- then you will want to go with firmer sofas.
Depth
If you (1) prefer more back support, (2) like shorter than average sofas, and/or (3) like an upright feel -- then you will want a sofa with a shallower seat.
If you (1) like to tuck your legs onto the seat, (2) prefer taller than average sofas, and/or (3) like to lean back at a wide angle -- then you will want a sofa with a deeper seat.
Height
If you (1) have back or knee pain, (2) prefer a seat height like that of a dining chair, and/or (3) like an upright feel -- then you will want to go with a higher seat sofa.
If you (1) want a more relaxed feel, (2) prefer leaning back, and/or (3) like to stretch your legs out -- then you'll want a lower seat sofa.
Durability
The durability of a sectional sofa will come from the frame that the sofa is constructed from. Those that are constructed with kiln-dried hardwoods show quality as they will not crack or warp, unlike those that are built with plywood or pine.
The frame of a sectional sofa is highly important as they are not usually one solid unit. They are designed to be able to be moved into different configurations, allowing you to customize them to your space. The joints where the arms and seat are attached are typically screwed, dowelled, and glued in.
Materials
The material of your sectional sofa can affect the appearance, comfort, and duration of your sofa. The best thing to do is examine all the different types as well as what they can each offer you. Then decide on the one that suits your lifestyle and needs best.
The common materials used are polyester, faux leather, genuine leather, microfiber, chenille, velvet, cotton, twill, floral, stripes, and plaid.
Polyester
When purchasing polyester sofas you can be sure that the fabric will last a long time. These are also easy to clean and won't stain or fade easily. You also won't have to worry about the sun bleaching the fabric when placed in front of the window.
The only downside of polyester sofas is that they can be difficult to clean. If the fabric gets grease on them, then it will be quite hard to clean. So, it's important for you not to spill any foods while you watch TV.
Faux Leather
If you're a fan of leather sofas, but can't afford the price tag that most come with, faux leather sofas are the next best thing. Though these are not as soft to the touch as real leather sofas, you won't have to worry about needing a professional cleaning every single time. It also won't age as well, but for its price, it is still a durable and great looking choice.
Genuine Leather
Though it's not a fabric, quite a few people do opt to go for the genuine leather option for their sofas. It looks great as it ages, feels amazing to touch, and holds its value more so than other fabrics do. You do have to watch out for any spills as anything major will require professional cleaning. The mild discoloration and patina that forms on leather sofas as they age are preferred by many.
Microfiber
Microfiber, as the name suggests, is made up of lots of tiny fibers, making it one of the most comfortable fabrics used for sofas today. It is loved because of its durability and stain resistant powers. As long as you act quickly to remove any stains, it's likely that you'll get it fully cleaned off.
In addition to all of that, microfiber is also great as it doesn't collect or attract dust in the way that other fabrics do. So if you have bad allergies, then microfiber is a great fabric to go for your furniture pieces.
Chenille
Chenille sofas are incredibly soft because of the way that the fabric is constructed. They often appear as though they are multi-shaded as they scatter the light that hits it. These are great for those homes and/or spaces that don't get a lot of natural light. It's also a great fabric type of families and individuals with busy lifestyles as it's durable and sturdy.
Velvet
Though it's hard to beat the soft texture and comfort of a velvet couch, they do happen to wear out faster than any other fabric type. When buying a velvet couch, you should keep in mind that you'll need to use a steam cleaner to clean it if there is a stubborn stain or whenever it gets dirty. Velvet sofas are great for statement pieces as they aren't too common.
Cotton
Cotton is one of the most popular material options for sofas. That's because there are so many different patterns, colors, and styles to choose from within cotton sofas. It makes it easy to find a sectional sofa that fits in your space and decor. They are quite easy to take care of and can easily stand up to moderate stains. If they do get dirty, you can simply spot clean them.
Twill
Due to the make and style of this fabric, twill is great for hiding stains, making it ideal for busy individuals and families. It also resists wrinkles and cleans easily. In addition to all that, twill is also very water resistant therefore can be cleaned before a stain forms whenever you spill a drink.
Floral
Most of the time, the sectional sofas that you're looking at will be of a solid color. However, there are a few floral designs out there. These seem more elegant than their solid colored counterparts. However, it's important to pay attention to the patterns to ensure that they go well with your decor.
Stripes
Stripes are great for busy individuals and families as they can easily mask and hide problems in comparison to solid colored sofas. Depending on the pattern of stripes, they can add just a little interest without being too crowded or overwhelming in their design. The ease in cleaning depends on the fabric type.
Plaid
Plaid sofas are generally not going to be garish or bright. Instead, they are often more subtle and refined. The pattern often does not stand out from afar. It simply adds a little interest to the sofa when you look at it a bit closer. Plaid is another one that is great for distracting and/or hiding small spills from others. Thus making it great for households with kids or pets.
Size
There isn't really a standard regarding furniture sizes. Small and medium sections are the most common type. A few general measurements regarding small, medium, large, and extra large sectionals can be seen below.
Small (~3 Seater) Sectionals
Common measurements for this size sectional are:
Length: 78 inches - 88 inches
Depth (back of the sofa to front seat cushion): 37 inches to 40 inches
Depth (back of the sofa to the front of chaise): 68 inches to 72 inches
Medium (~5 Seater) Sectionals
Length: usually equal sides (e.g. 95 inches x 95 inches or 98 inches x 98 inches)
Depth: 37 inches to 40 inches
Large (~7+ Seater) Sectionals
Common measurements are:
95 inches x 118 inches x 59 inches
Extra Large (~13 Seater) Sectionals
Though not too common, their measurements can be something along the lines of 17 feet x 17 feet.
Style
There is a range of different styled sectional sofas, including stationary, reclining, modular, sleeper, convertible, chaise sectionals, and home theater style. All of these have different uses, so depending on your lifestyle and space - each will suit it differently.
Stationary Sectional Sofa
These are the most common types of stationary sectional sofa. They are designed to only stay in one shape, rather than be transformed into multiple like modular sectionals. In these, the sofa locks or connects to each other to stay in one place.
With a sturdy place and simple lines, these sofas are reliable and comfortable to sit on. Though you won't be able to recline on them, you will surely be able to rest comfortably on them. The pillows (cushions) often come attached to the sofa, making them easier to take care of. With these, you won't have to worry about positioning them or the pillows slipping around the sofa while you rest.
Reclining Sectional Sofa
These types of sectional sofas are ideal for media rooms and family rooms. They come in a range of styles within this sector. You'll find everything from a traditional sofa that has individual reclining seats to individual movie chairs.
Reclining Sectional Sofas are great for working on homework, watching a movie, reading, and more. They make it very easy for anyone to easily get comfortable. In terms of its size, they do tend to be bigger than the stationary sectionals, therefore need more room to set up in.
Modular Sectional Sofa
Modular Sectional Sofas usually come in three to five pieces, as the sofa is built up of a few individual pieces. Some of these pieces can even work as standalone furniture pieces. With this type, you can easily arrange them in different styles and configurations, depending on what suits your lifestyle and space the best.
They are perfect for homes that have more of a contemporary style. You can easily choose to place them all together to make a long sofa, or spread them around to have smaller pieces spread around. They are generally light enough to be moved around easily.
Sleeper Sectional Sofa
If your home does not have a spare bedroom for guests, Sleeper Sectional Sofas are a great way to get around that. This way, you have a sofa and a bed that is more comfortable than traditional sofa beds.
They usually are heavier as they have a bed hidden inside. However, once positioned in your room, you won't have to worry about finding a place to sleep or even about extra seating.
Convertible Sectional Sofa
These types of sectional sofas can be pulled apart into various different pieces. They often also have places to store items inside of hidden compartments. You'll find these in various styles to offer you a wide selection to choose from. This ensures that you'll find one that suits your aesthetics and decor easily.
Convertible sections are ideal for both smaller and larger homes and you can mix and match the pieces to fit your specific space. For larger areas, you can just bring them together to bring one cohesive unit.
Chaise Sectional Sofa
This is another very popular style of sectional sofa. This is just like a convertible sectional sofa but with the added ottoman. The ottoman can also be used as a footstool or as extra seating and storage.
Home Theater Sectional Sofa
Similar to the reclining sectional sofa, the Home Theater Style is great for media rooms and family rooms. They simply have all (or majority) reclining seats.
10 Best Sectionals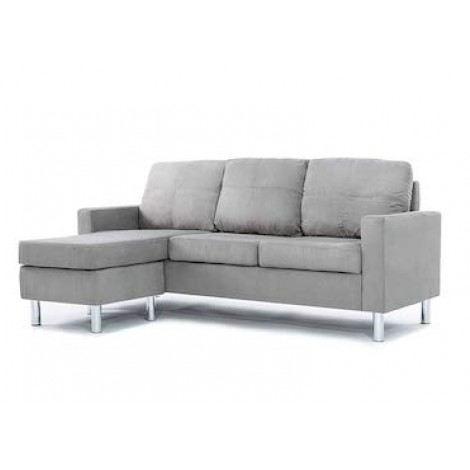 The Modern Microfiber Sectional Sofa by Divano Roma Furniture features soft microfiber upholstery. It comes in two pieces, the sofa and the ottoman. The small stature of this sofa ensures that it is ideal for studios and/or small apartments. It has detachable legs and a hardwood frame to give it sturdiness.
Detachable Legs
This sectional has detachable legs that allow you to easily clean. You then also have the option to switch the legs out to give a completely different look to the sectional.
Versatile Use
The Divano Roma Furniture Sectional can be used either as a sectional or as a sofa with an ottoman. You simply need to switch the cushions and place the longer cushion on the couch and cover the ottoman with the shorter cushion.
Cost and Value
The Modern Microfiber Sectional Sofa by Divano Roma Furniture is the cheapest sectional on our list. You can't do much better in terms of price. Though it could be comfier, the price that it's set at makes the value quite high.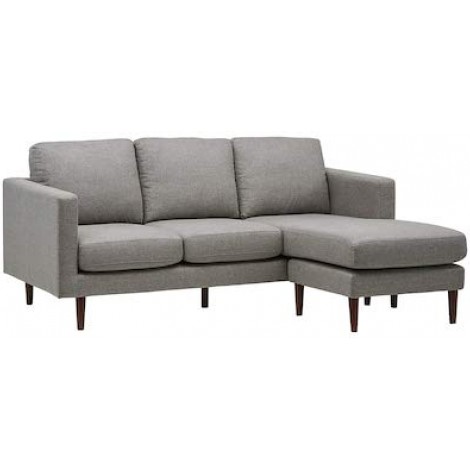 You don't need to have the highest budget to afford a trendy and modern piece of furniture. The Rivet Revolve Modern Reversible Chaise Sectional offers a modern style at an affordable price. The sectional comes in four color options and durable fabric. The chaise can also be set in various positions to allow you to customize the sectional to your home.
Ultra Versatile
This sectional sofa features an ultra versatile design that allows you to create any layout or shape that works best for your room. It's also easy to change it up whenever you want to give your space a refresh.
Modern Design
The Rivet Revolve Sectional has tall arms, flush sides, and wooden legs. It also features a durable and strong, stain-resistant fabric to further ensure it's longevity.
Cost and Value
Though the Rivet Revolve Modern Reversible Chaise Sectional Sofa is in the medium to high price range, it makes up for that by offering something that is sure to last you many years. The medium firm cushions are wrapped in Dacron, which also helps it to be easy care.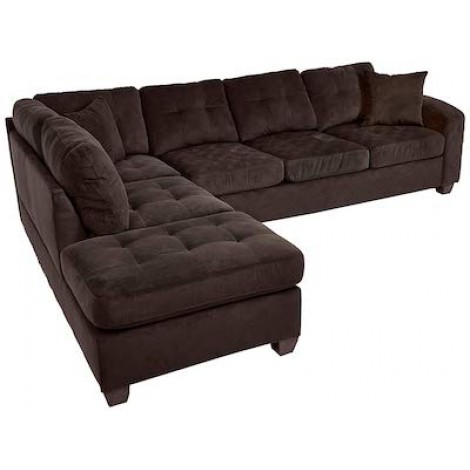 The 2 Piece Polyester Sectional Sofa by Homelegance is a classic L-Shaped sectional sofa. It offers you the highest amount of comfort and relaxation for you to enjoy. It features a tufting accent that is soft, but still easy to clean. The 100% polyester cover adds to the ease of cleaning if the cushions do get dirty.
No Sag Construction
This is crafted to give you a high-quality sofa that has a no-sag feature. The removable backrest and cushions just allow you to get everything clean without any hassle. It also allows you to customize your sofa using different cushion covers.
Easy Configuration
The Homelegance 2-Piece Sectional Sofa features a reversible chaise that allows you to configure the sofa the way that suits your space best. This allows you some customization capability.
Cost and Value
The Homelegance 2 Piece Polyester Sectional Sofa comes with a reversible chaise and toss pillows. In addition to that, it features removable cushion covers. With all of that and its price, which is on the lower end of the scale (on our list), it heightens the value of the product considerably.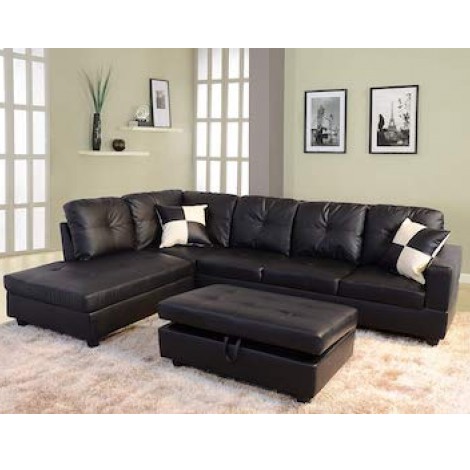 If you're in the market for a more contemporary style sofa, then this product by Lifestyle is the perfect option for you. It comes complete with an ottoman and pillows. All the necessary tools come with the sofa to ensure that you have an easy assembly. For those wishing for a timelessly modern piece, then this is a great option.
Easy to Clean
This sectional sofa by Lifestyle is a great choice for those that want to have the ability to wipe their furniture if it gets dirty. The faux leather allows you to do that without damaging the fabric.
Ample Seating
The sofa is a decent size that gives you ample seating and space options. The added ottoman provides additional storage and more storage options is always a good thing.
Cost and Value
The Lifestyle is a mid-range product (on our list). With the ottoman and two pillows included it raises up the value. The faux leather feel also adds a bit of luxury in, making it worth its price.

5

. Poundex Bobkona Dervon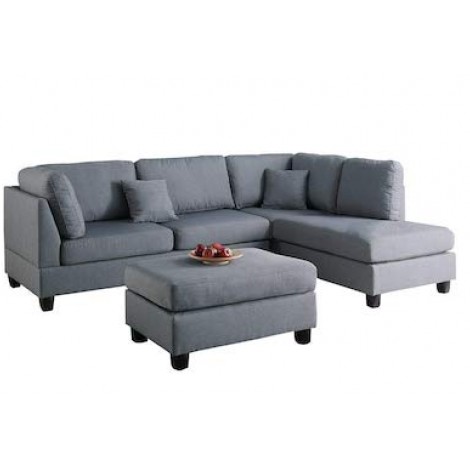 Nowadays, the simplistic style has really been taking over. The Dervon Chaise Sectional by Poundex has the perfect mixture of stylishness and simplicity to enhance your space. It comes in two colors, which are grey and chocolate. The sofa is upholstered in a linen-like fabric to offer you the maximum amount of comfort possible.
Easy Setup
This sectional comes complete with all the tools and accessories you to need to assemble it, further helping the ease in which you can get this all set up quickly.
Linen-Like Polyfiber
The carefully selected material ensures comfort, beauty, seam strength, and wearability to offer you a product that is durable and longlasting. The reversible design ensures that you can set up the chaise on the left or the right, depending on what suits your space best.
Cost and Value
The Poundex Bobkona Dervon Chaise Sectional With Ottoman Set is great for contemporary or classic living spaces. It is very simple to set up. Though it is on the higher range of prices (on our list), it still more than makes up for it with its use. It also features a reversible side with a muted beige tone to suit all living spaces.

6

. Coaster Home Furnishings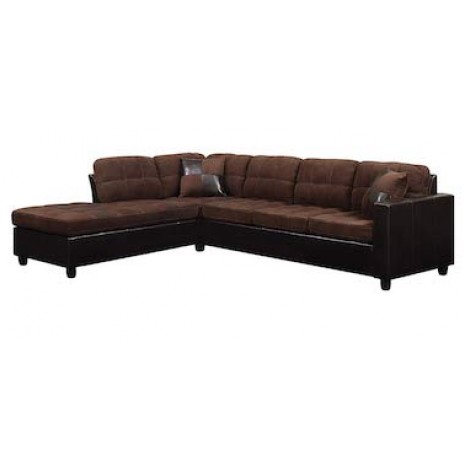 This Mallory by Coaster Home Furnishing is a combination of contemporary and casual style. It features a reversible tufted sectional in microfiber and faux leather. The design allows you to create a contemporary lounging or entertaining space. The microfiber ensures comfort, while the faux leather ensures easy to clean capability.
Removable Cushions
The cushions in this Coaster Home Furnishing Section are all removable, including the back and seat ones. This ensures that you have an easier time cleaning all parts of the sofa.
High-Quality Materials
The Mallory is made with high-quality solid wood and padded microfiber match PU. It's also reversible which allows you to create your own desired setup. It also features a kiln-dried hardwood framing and a matching ottoman (purchased separately).
Cost and Value
The Mallory is on the lower end of the price range (on our list). It has removable cushions as well as a multi-color and texture design. All in all, it's designed to offer you a luxury product at an affordable price.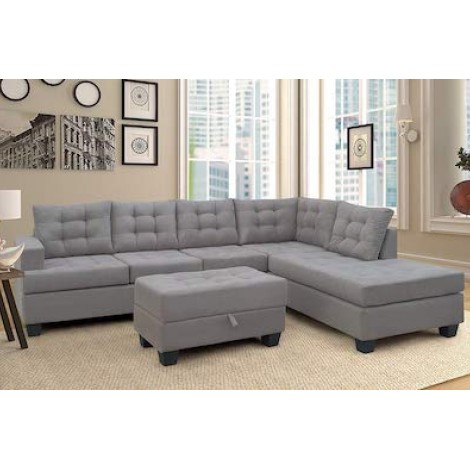 The 3-Piece by Merax is a Harper and Bright design, which features a chaise and ottoman. The sofa is constructed with an inner-spring and sturdy hardwood to provide you with durability and stability. If you're looking for a couch that gives you luxury and contemporary vibe, then this couch is great.
Soft Suede Material
The waffle suede microfiber fabric is soft to offer the highest amount of comfort. It offers comfort that many budget-saving options don't give. The couch and ottoman are also padded with thick foam to add extra comfort and an elegant appearance.
Arm Rests
This Merax sectional sofa features armrests to prevent young children from falling off and to give you a comfortable place to rest your arms. The set also comes complete with six pillows.
Cost and Value
The Merax 3 Piece Sectional Sofa with Chaise and Ottoman by Harper & Bright Designs is another sofa that is on the lower end of the price range (on our list). It features all the necessary parts, such as the ottoman, chaise, and pillows, along with the sofa. The style, design, and construction ensure that this sofa is well worth its price.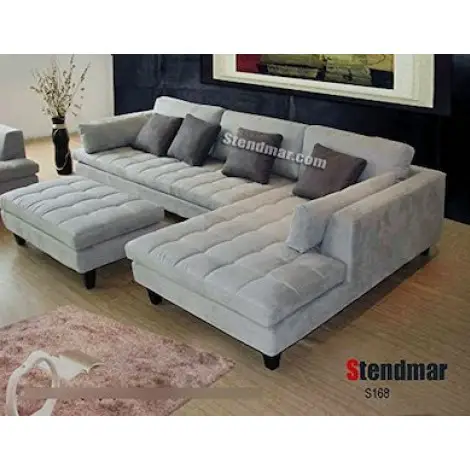 This three piece sofa features an ultra-modern design. It's highly versatile that can be configured in various ways to offer different seating options. The three-piece set includes an ottoman, sofa, and chaise. The sofa also comes with four throw pillows in a darker grey color.
Versatile Configurability
The design of this sectional sofa ensures that you can arrange the sofa in various ways to suit your space best. You can add footrests, create a large lounging area, or take up different spaces as you arrange the sectional in different ways.
Create A Queen Bed
For those times that you have extra guests over, this sectional can be arranged in such a way that it ends up making a queen sized bed that's perfect for two adults.
Cost and Value
Though the Stendmar 3 Piece New Modern Gray Microfiber Sectional Sofa isn't the most expensive sectional you'll find online, it is still in the higher price range (on our list). With its versatility, style, and design it makes it definitely worth its price.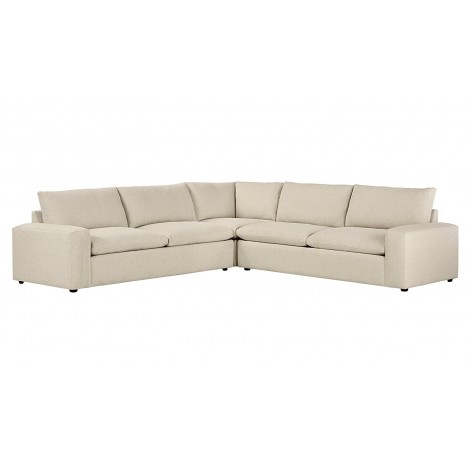 Whether you're accommodating spills, pets, kids, and every other aspect of a busy lifestyle, the Stone & Beam Hoffman Down-Filled Performance Sectional Sofa can handle it all. In its timeless look, it also features a durable, stain-resistant fabric, and plush comfort to give you it all. The design also makes it seamless to blend in with any and all of your existing style items.
Ultra Comfort
This sectional offers users with exceptional comfort through its high-performance polypropylene fabric. The material is designed to be able to endure heavy wear and tear of a family or individual with a busy lifestyle.
Modern Casual
Though the design of the Down Filled Performance Sectional is undoubtedly modern, it still has a timeless traditional and casual feel to it, making it stand out from the crowd. The sectional also is constructed with a solid hardwood frame to ensure its durability and longevity.
Value and Cost
The Stone & Beam Hoffman Down-Filled Performance Sectional Sofa is a comfortable, modern casual sectional sofa. Though this is the highest priced item on our list, the list of pros definitely outweigh any cons. If you're in the market for a traditional sectional, then this is your best bet.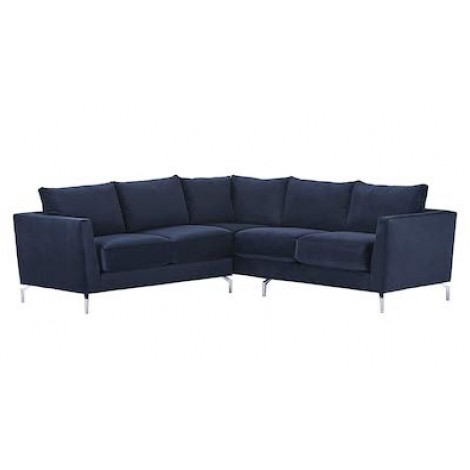 This eye-catching design will be a great modern addition to your space. The sophisticated and smart design stands out thanks to its metallic legs and slim profile. The sofa is constructed with stain-resistant fabric that will help you keep it looking fresh for longer.
Reversible Cushions
The sectional features reversible cushions help to further the lifespan of the sofa. The cushion covers are also removable so that they can easily be cleaned and/or replaced.
Velvet-Like Material
This Rivet Emerly Modern Sectional has a velvet looking material, but it's actually not completely velvet. The material is actually a lot tougher than traditional velvet fabric.
Cost and Value
The Rivet Emelery Modern Velvet Metal Leg Sectional Sofa is a part of a larger Rivet line, which means that you can add various products with the sectional. Though it is on the higher end of the price scale, the expensive look and feel of it make it worth a lot more.

Subscribe to our Newsletter