Best Saltwater Lures Reviewed & Rated for Quality
In a
Hurry? Editors choice: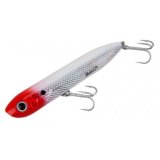 Test Winner: Heddon Chug'N Spook

It takes a different kind of lure when you are going to be fishing in the ocean. They often need to a little stronger, a little larger, and a little more rugged. You can use any kind to get the desired results when you go saltwater fishing, but it will do you a big favor if you start using more specialized options. The products on this list are a collection of some of the best you can buy if you want to catch big saltwater fish. The fish that you can catch out on the ocean are just so much larger than most freshwater fish. It is a totally different experience when compared to freshwater fishing. This list will make sure that your next trip into the big blue will be about as successful as you could hope for.
Standout Picks
Criteria Used for Evaluation
Effectiveness
This is the thing that you are probably wondering about with each of these: does it catch fish? The rating in this category will let you know. It is a good idea to just surf the reviews for each product, and just see that. It is the simplest metric for if a lure works or not. If other people have caught fish with it, then you know it probably works. Each of these has been successful for a good amount of people online, which means that they should work for you too. This is a metric that balances all the other parts of the criteria, such as the attractiveness, as well as the motion of it. The products on this list will all become a go-to in your tackle box that you know that you can go to if you want your next cast to be a surefire catch.
Visibility
The more visible that your saltwater lure is, the more likely that the fish will come up to it to check it out. The color schemes of these are all a little different from one another, but they all do a good job of being eye-catching enough that fish will come and see what is going on, at the very least. The higher the rating in this category, the more attractive it is when it is in the water. All the options on this list have very attractive color schemes that do a great job of glittering and glowing so that they are easily seen by fish in the deeper parts of the water. They use many different things to do this, such as using a blade that will effectively reflect sunlight down at the fish, or using a reflective color scheme that will shine an irresistible color scheme down at the fish below.
Durability
Durability in a fishing lure is much more critical than in many other kinds of items. The products on this list have to be able to stay together, even as a fish is trying to tear it apart and eat it. The strength is the first thing that needs to hold up if you want to be able to catch your prey. There are many parts that can be defeated by a large fish. The hook is the most important. It needs to be made of a durable enough material that you won't have to worry about it being straightened out by the fish's thrashing. Always check to see that the lures are made out of durable materials that can handle many pounds of pull on them. These also need to be able to handle being in saltwater, as well. Saltwater is great at eating away at the metal, so look for stainless steel hooks.
Motion Control
This is another important aspect being able to do a good job at keeping the fish attracted to it. How they move in the water while they are being dragged behind the boat is also very important for how well that they attract the fish. You want an option that will move naturally, and act like the prey that these larger fish are always trying to eat in their spare time. The higher the rating in this category, the more lifelike the motion as it is dragged behind your boat or brought in by your reel. There are many ways that thet move in the water. They can move smoothly like a fish that is just wandering about, or they jerk around, like a more excitable fish. The options on this list will all do a great job of blending into the larger fish community.
Ease of Use
The big secret to fishing is that a lot of it is just enjoying the waves while you wait for a bite. The art of waiting is a relaxing and fulfilling experience in itself. If you are always playing with your rod and trying to perfect the line, then it can become more apparent that your lure is a trap for fish. The less that you have to manage your line, the more effective it will be as a way to catch fish. All the options on this list are designed so that you can just let them trawl behind your boat and do all the work for you. The higher the rating in this category, the less work that you will have to do so that your lure does a good job for you. It can be pleasant just to let the fish come to you, so let these high-quality lures do the brunt of the work for you.
Top 10 Picks
The Chug'N Spook is an incredibly effective option that does a great job of making a lot of noise up at the surface of the water to attract fish.
Walk The Dog
This product is designed to do a great job of making a lot of noise up at the surface of the water. It is designed to be a topwater option that brings fish up from the lower parts of the water. It is specifically designed to attract larger predator fish and does this by emulating a struggling smaller fish. This is designed for simple and effective "Walk The Dog" movements.
Design Features
The Chug'N Spook is designed to make a lot of noise, and get those big fish excited to come to the surface and say hello. It will shake and rattle all over the place when you bring it in and is sure to get something's attention. It has a rattler designed into it as well that will make a good deal of noise for the maximum amount of attention drawing.
Cost and Value
The Chug'N Spook is a great option that many people swear by. It does about as effective a job at catching the attention of big prey as you could honestly hope for. This does a great job at luring the big one in, and can also be bought at a very reasonable price. This is a must in any successful fisherman's arsenal.

2

. Ecooda Hard Bait Pencil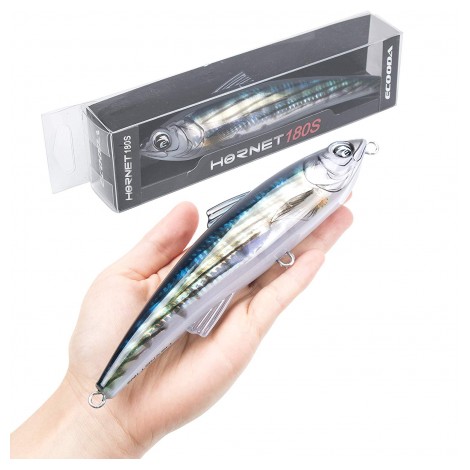 The Ecooda Hard Bait Pencil is designed for strength and durability. This is a good choice for when you are trying to catch the really big fish.
Strong and Durable
This is designed with large fish in mind. Take this one out into the ocean, and let it do its magic. It can handle over one hundred kilograms of weight being put on it, so you don't have to worry about any stronger fish getting away with it. This is a good choice for trying to catch large fish, such as mackerel and tuna.
Other Features
Besides being strong, this has also been designed to be easy to use. It will do a great job of doing all the work when it comes to attracting large fish. If you are trawling in your boat, then leaving this in the water behind the boat will make it take on a very natural swimming action. It will look just like a real fish to anything that you are trying to catch.
Cost and Value
This product is quite large and is designed to catch you the big one. It is quite cheap for the level of quality in the catches that you will begin to make. Any time that you are going out on a fishing trip in blue water, then make sure that this is going to be coming along with you. It can also be used in shoreline fishing to pretty good effect, as well.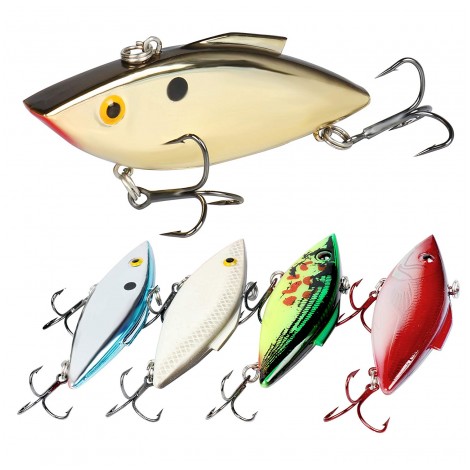 This one is a very good deal because you can get a set of five at a very competitive price. They are all well-designed and varied in their looks.
Crankbaits or Rattle Traps
You can buy a set of five of either crankbaits or rattle traps. Both types are of very high quality, and you get a variety of styles so you can pick your favorite. These are designed to be very attention-getting and work very well as a bait you can use to bring fish out from the depths of the water. They move very quickly and do a great job of catching fishes attention.
Great Design
Each of the five that you get in this set does a great job of getting the fish to come calling. They have all had a lot of thought put into them to make them as life-like as possible. The eyes have been designed to be very life-like and to look like they are tracking other fish. They are also designed to be very colorful and eye-catching.
Cost and Value
You can get five of your choice in this set, and each of them will do a great job at helping you catch fish. These are designed to be very effective, and each of them has had a good deal of care put into their presentation. The price is quite a steal for the amount of value that you will get out of them.
4

. Goture Soft Shrimp Bait Set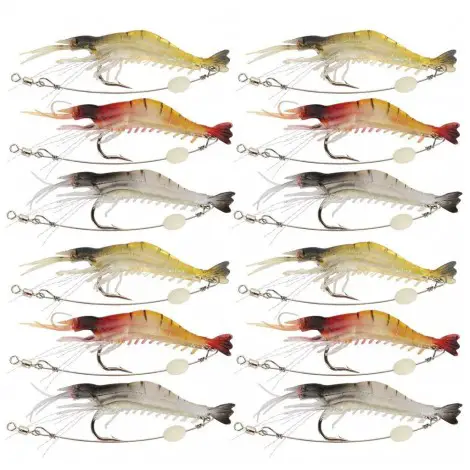 This is a large set that looks like shrimp. These will do a great job catching large fish like Bass or Salmon.
Shrimp Bait
These are designed to look as life-like as possible. It will be hard for those big fish to resist. The texture of these is that of a very soft and mushy plastic that feels quite similar to a shrimp. These will do a great job of tricking anything that finds shrimp tasty, in saltwater and fresh water. The hook is also cleverly hidden beneath the shrimp for an extra layer of camouflage.
Variety and Features
You can get a good deal of variety in the kinds of shrimp that you use to bait your hooks. There are many different colors to choose from so you can find the one that works best for you. These are also very easy to use and can be quickly attached to your line. It also sinks very slowly, which gives it a life-like appearance to any would-be catches.
Cost and Value
This set of shrimp baits is a very good deal. You can choose from a wide variety of sizes. There are options that range from three to twelve different shrimp baits. You won't have to worry about losing any of these. They do a great job at moving realistically and being attractive to the sort of fish that anyone would dream of catching.

5

. Strike King Redfish Spinnerbait
The Strike King is designed with very impressive levels of technology that make it soft, but durable. It is made of premium materials.
Premium Materials
The Strike King is a really great option due to the level of quality that has been designed into all of its pieces. This has a gold blade attached to it that does a great job of making sure that the fish notice it. It is also made of an impressive stretchy material that will keep stretching but is also more than powerful enough to keep that fish hooked.
Other Features
This is great for other reasons as well. It is designed to move around a lot while it is in the water, and it does a great job of emulating the movements of a fish. The wire is made of gold-plated steel, which makes it even more durable, and also more eye-catching at the same time. The hook is very durable, too.
Cost and Value
You can buy this in a wide variety of styles, but they are all built of very high-quality materials. It is a great choice, but it does cost a little more than the other options on this list. It makes up for its higher price by being a premium quality. Take this one out on the waters and you will never let go of another bite, again.

6

. wLure Minnow Crankbait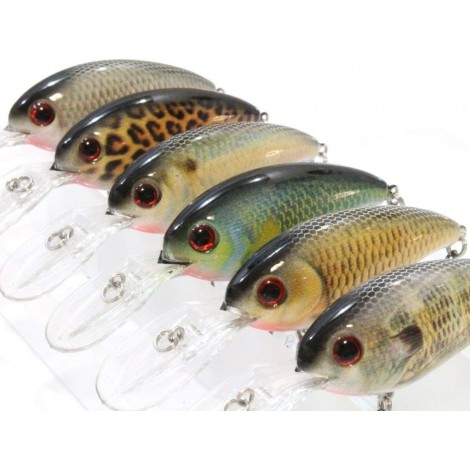 This is a set of very life-like lures that look just like minnows. It turns out that Bass love eating little minnows. These do a great job of catching Bass.
Life-Like Minnows
These do a great job of looking just like minnows. They are four inches long and feature very impressive eyes that look like they naturally follow you as you move around. They come in a variety of patterns that all do a great job of looking just like the real thing. These will do a great job of tracking any kind of fish that you are out to catch.
Other Features
This is designed to be as effective in its other features, as it is with its natural looks. The hook is incredibly sharp and will snag on a fish with very little provocation. They are also designed to be very effective at lasting for a long time in the saltwater. They will never rust, no matter how much use you put on them.
Cost and Value
This set is great when it comes to getting your money's worth. You get a set of six different options, and all of them are designed differently. Once you find the one that the catch of the day likes, you 'll be set. They are all made with care that makes them look incredibly life-like. These will improve your fishing game immediately.

7

. Rapala X-Rap Saltwater
The Rapala is a very effective option that is designed to be eye-catching, and also very durable. This will make it possible to catch some big ones.
Lots of Movement
These are designed to produce a good deal of movement. This will make it easier for fish to catch its trail, and for you to catch those fish. This is great at attracting fish due to the grand movements that it makes, but also because it has been designed with some holographic inserts inside of it that make it very effective at catching a fish's eye.
Durable Design
This has been designed with its eyes on a big catch. It has two hooks attached to it, which means that when it catches hold, it won't let go. This is designed to be as durable as is possible. It won't give out when you are dragging something powerful in. These have also been designed with a rattle in them so that fish can hear them for miles around.
Cost and Value
The Rapala is a very effective and flashy option that will do a good job of getting you some fish. When you buy it, it only comes with a single lure. It has had a lot of work put into it and will serve you well for many fishing trips. This is effective in attracting fish, and then keeping a good hold on them once you have them.

8

. Yo-Zuri Inshore Twitchbait
This is a very fancy option that has some modern features that are worth looking into. It is perfect for inshore fishing.
Perfected Design
The Yo-Zuri takes advantage of some modern technologies to give you the best in fish lure design. It has been modeled internally so that it has a flashy prism that shows off all the colors of the rainbow. It has also been designed to be perfectly balanced and will engage in a very normal looking swimming motion when it is trailed behind your boat.
Variety and Quality
The Yo-Zuri has many different styles for you to choose from. It is easy to find a version of this that is very effective at catching fish. This moves about in a twitchy way that looks just like many smaller fish that you see in shallow water. The hooks have been designed to be able to last the wear and tear of saltwater fishing.
Cost and Value
The Yo-Zuri is a great product in all respects. It is durable enough for any kind of fishing. It is eye-catching in both its color and the zippy way that it moves around in the water. Even better, it can be bought for a very low price. This is a great option to have in your tackle box when it feels like you cannot catch anything with anything else.

Rapala makes great lures in many different styles. This is more in the style of other jerkbait options, and it will dart all over the place, catching the eyes of many fish.
Rapala Quality
Rapala has two different entries on this list for a reason. This does a great job of catching the eye of any fish in a wide radius. It moves around in a very aggressive style that will quickly get any fish that are around to try to take up the challenge of catching it.
Other Great Features
The Jerkbait is well-designed in its physical qualities, as well as with the ones to do with its motion. This is designed to run under the boat at around three to eight feet. It also does a great job of giving the fish that final temptation when you stop reeling it in and will come to rest in a very natural way.
Cost and Value
This is a very cheap one that does a great job of bringing the fish into you. The colors on all the different fish are very eye-catching, and it has a style of movement that the fish won't be able to ignore. This fish is a great choice for anyone who wants a high-quality product that does a good job of getting a hold on the big ones.

10

. FAIGAFAIVA Jigs Spoon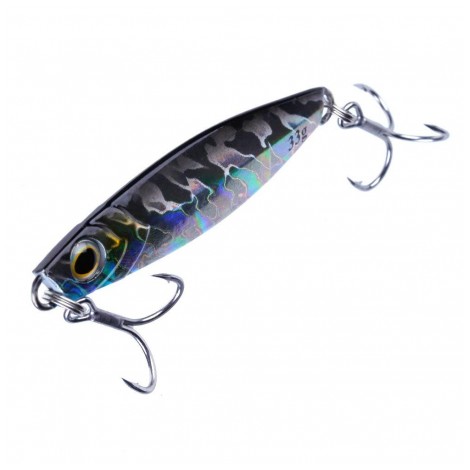 The FAIGAFAIVA is a great option with a great name. This is great at catching a wide variety of types of fish.
Versatile
This is designed in one of the most classic styles. It will do a great job at keeping you in the game with a wide variety of fish to catch. If you aren't quite sure what you are aiming for, then this is a good option for you. It has many kinds of movement going on that are sure to catch the eye of some foolish, and large, fish.
Efficient Design
This is also designed with precision in mind. All the products coming from this company do a great job of giving out just the right kinds of movement so that any sort of fish attracted. The colors of the fish are very flashy, as well. Finally, the eyes have a very realistic look to them that makes them maddeningly enticing to any large fish.
Cost and Value
This does a great job of being useful for just about anybody, and just about anywhere. If you are going out fishing with no real objective in mind, then it would be a good idea to think about putting this one on the end of your line. It is very reliable and does a good job at luring in all kinds of fish that you would be more than happy to say that you have caught.

Subscribe to our Newsletter