Best Quarter Socks Reviewed & Rated for Quality
In a Hurry? Editors choice: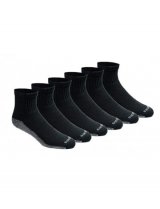 Test Winner: Dickies Men's Dri-tech

You may be shocked to learn that there are literal glossaries and reference books on sock lengths...literally. And what this riveting literature reveals is that quarter socks are the cherished just-right Goldilocks of the sock kingdom.
For those who desire more support and coverage (especially of the ankles) than a low profile sock, yet less coverage and more breathability than a full-on crew--the quarter length sock is the answer to your prayers.
These bad boys are ideal for hitting the gym as they offer protection and support of the ankles, especially when moving laterally or when off-roading in unpredictable terrain. Plus, they won't suffocate your calves like a standard crew.
So if you're looking to upgrade your
athletic sock
game and you want your next purchase to pay off on the court, in the gym, or on the track, we've got you covered.
Standout Picks
Criteria Used for Evaluation
Comfort
When thinking about the products to make this Ten Best List, we took comfort as one of our primary considerations.
In evaluating comfort, we consider the materials that each sock is made out of (more on that below), the breathability (more on that below), the cushioning provided in the sole, the presence and quality of the toe seam, and the overall feel.
We value products that are made of a blend of materials that feel soft against the skin and that minimize friction that can cause blisters. We like breathable socks for the same reason, as this reduces friction from moisture that can cause blisters as well.
We like a product that has cushioning in strategic places on the sole to keep the overall body of the sock slim so it fits comfortably inside of your shoe. And we like products that have no toe seam or a very thin toe seam to avoid more discomfort and blistering in the toe box area.
Materials
As for materials, we value choices that have a nice blend of materials that work to serve different functions. Cotton is soft, though it is not always the most breathable. Polyester dries more quickly though it isn't always the softest. And spandex keeps the fit snug, though it can sometimes be too tight or lose its shape.
That's why it's important for us to feature options that have nice blends of these fibers so that you can get the best of all worlds.
Also worth reading best merino wool socks
Breathability
Now for more on breathability. There are multiple ways that a sock can be breathable. For one, it can be made of breathable fibers that encourage sweat to evaporate and dry faster. This is usually referred to as Dri-TECH or Cooling Tech (it's called different things by different brands).
There can also be strategically placed mesh zones and air channels that encourage air to flow to your feet and keep them nice and cool that way.
Because quarter socks have a bit higher profile, it is important that they are breathable up to the ankles so you don't sweat unnecessarily.
Durability
Of course, we always want to make sure that products are durable. That's what makes the premium options on our list worth it. While you'll get more pairs for the same price with the budget brands, they will be far outlasted by the more premium choices.
Of course, you'll be able to rotate out the multiple pairs that come with your purchase. But with the high-tech that keeps the premium brands from stinking, you won't have to wash them every time which will extend the life of each pair. And you won't have to worry about having so many pairs to rotate either.
Value
As for value, we harken back to the same point. While you'll get more pairs with the budget brands, the more premium options will last for far longer which imbues them with more value.
And because Rockay will replace their pairs for life, you can count on your purchasing lasting your lifetime and that is a value that is hard to beat.
10 Best Quarter Socks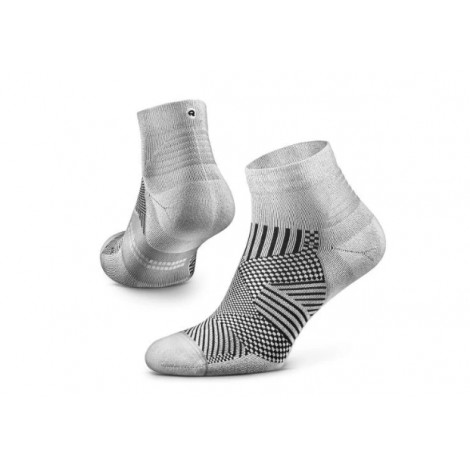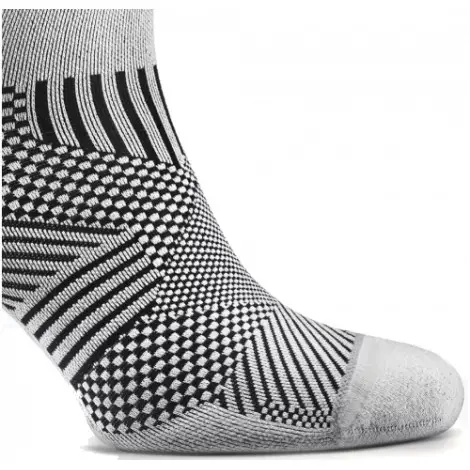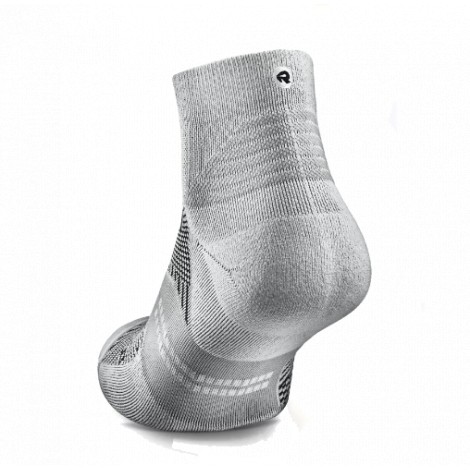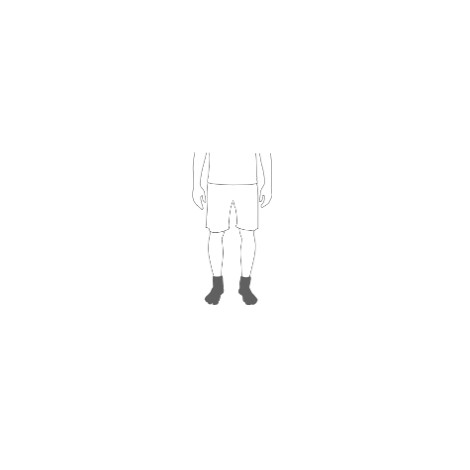 We start our list off with a bang. The Rockay Flare Quarters are simply some of the best running socks on the market and they will allow you to propel your game to the next level. With just the right amount of cushioning and the perfect proportion of arch compression, you'll be able to run for longer or extend those tasking workouts at the gym.
Perfect Profile
The Rockay Flare Quarter is an ideal addition to your workout wardrobe because it boasts a perfect profile that gives you the support and the look that you are after.
This product is similar to the Razer Trails below, but it is more authentically a quarter sock and comes just above the ankle. This means that you'll get two unique compression zones--one around the arch and one around the ankle.
Not only will this help to keep the sock up and in place, but it will keep a healthy flow of blood to the muscles in your feet which helps to keep your feet feeling fresh for longer. That translates to longer workouts and runs for you, and a shorter recovery time as well.
We award points for Comfort here.
Super Soft Wear
And because you are looking for a sock that offers more coverage does not mean you should have to sacrifice comfort or breathability. With mesh zones that offer a healthy flow of air to the feet and active moisture-wicking tech, your tootsies will stay dry so you can keep working up a sweat.
And the fibers that were specially selected for this product are not only technical, but they are soft and comfortable as well. With the right amount of stretch and no obnoxious toe seam, you'll enjoy the functional benefits as well as the soft feel of these babies.
We award points for Comfort, Materials, and Breathability here.
Cost and Value
The Rockay Flare Quarters have another great thing going for them--they are some of the most durable socks on the market as well.
Because of their specialized fiber blend (all of which are derived from recycled materials, by the way), these socks can hold up in ways that the competition cannot.
They are also treated with anti-stink tech that makes them resistant to smelly bacterias. This means that you can go without washing your set after each use which also works to extend their life as well.
So we award points for Durability and Value here--especially since Rockay guarantees your products for life.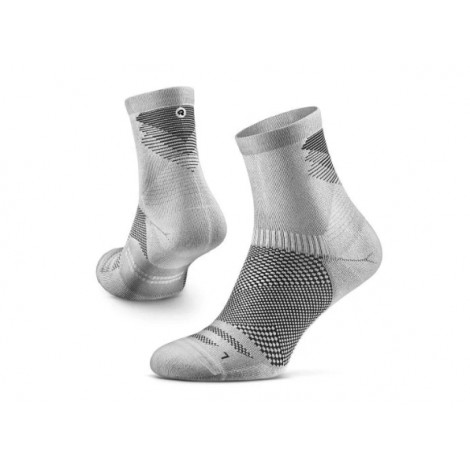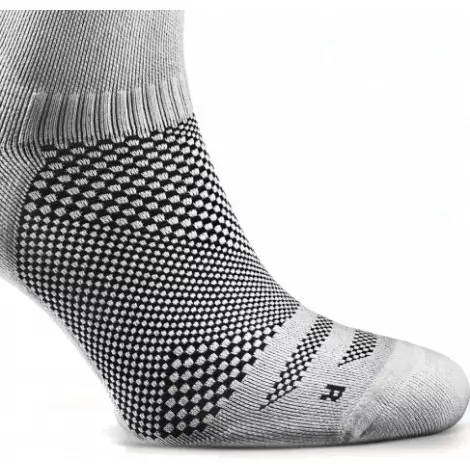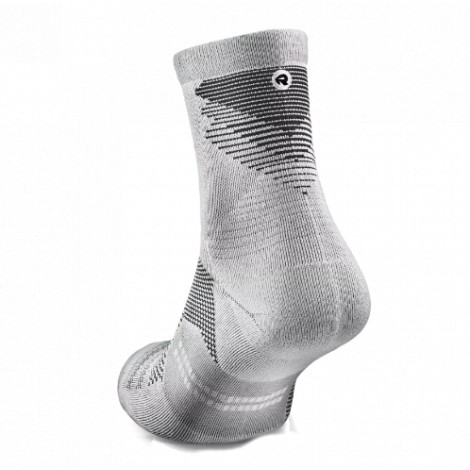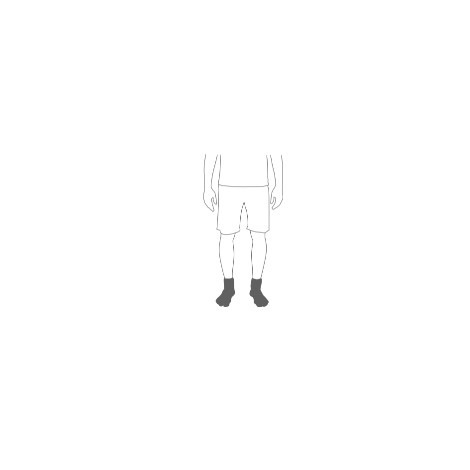 Next to make our list are the Razer Trails brought to you by Rockay. With their just right quarter profile length, they function excellently as a running compression sock and they also offer up tons of breathability and embedded technology to make them a forerunner in the athletic sock game. Plus, they are great for the environment.
Snug Support at Ankles
If you're looking for the perfect balance between support and breathability, the Rockay Razer Trails should be close to the top of your list. They are comprised of 3 unique materials that create an even more unique blend to provide ultimate support and compression in all of the areas that require it the most.
We love that each fiber chosen for this product is made from 100% recycled materials (most of which is pulled from the ocean). These fibers are incredibly strong with superior elastic properties, so they hug and support your foot in the arch and around the ankles.
Plus, with lots of extra padding in contact areas and a seamless toe, you'll enjoy a snug fit that is super comfortable, as well. And you'll enjoy the added benefit of a bit of extra ankle protection against cuts and scrapes from contact on the trail. We award major points for Comfort and Materials here.
Cooling Action
The Rockay Razer Trails are also specially designed to fight against blisters. Not only does the quarter profile lend to this end, but the mesh zone technologies allow maximum airflow. This works to wick away moisture and lower the amount of friction present between your foot and the sock.
This, along with no seam in the toe box make for a product that truly understands and combats the leading causes of blisters. We award points for Breathability and Comfort here.
Cost and Value
It's true that these ring up on the higher end of the sock spectrum, but they truly do trump their competition. Not only are the fibers super durable, fighting against wear and tear and being able to hold up for years and years, but they are also treated with a special technology which means you can wash them less, also working to extend their life.
The Polygiene technology that the fibers of the product are coated with make an unpleasant home for smelly bacteria so they cannot grow. This means that you can hang your sweaty socks out to dry without washing them, and they won't develop that all-to-familiar stinky stiff sock presence.
And even if you do experience a breakdown in the quality of your pair, Rockay stands behind their products for life. They will send you a replacement pair without asking any questions to you. We award tons of points for Durability and Value here.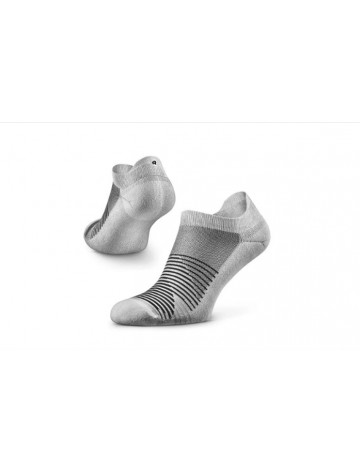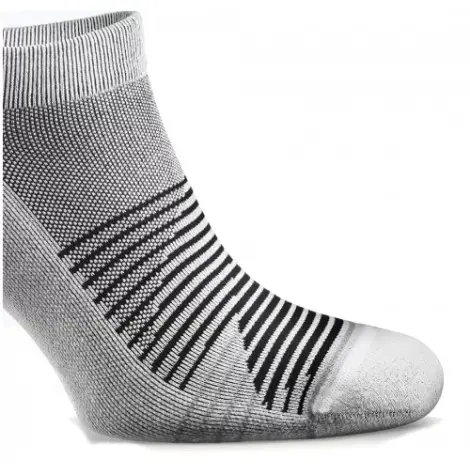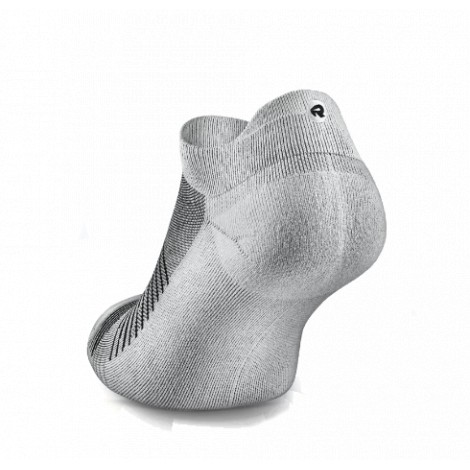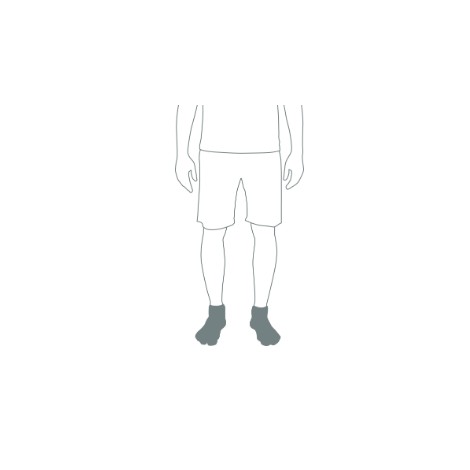 To round out our Top 3, we bring you the Rockay 20four7 athletics. As you might have guessed, the reason they are called 20four7s is because they are so comfy, you'll find yourself wanting to just about live in them. With cushioning for performance and a nice breathable profile, you'll be want to wear these all day long.
Unique Profile
Quarter socks show up on the sock list between a no-show and a crew. This pair of athletic socks show up between a no-show and a quarter--and we like them for marching to the beat of their own drum!
This profile provides more coverage than a no-show and can come in handy if you are breaking in a new pair of shoes, or if you're running off-trail because they will protect your ankles from rubbing against your shoes.
A few other design features that we are crazy about are the reflective logo for safety when running in low light conditions, the additional padding for impact absorption and overall comfort, and the absence of that annoying toe seam. For these reasons, we score this product high in the Comfort category.
Made from 100% Recycled Materials
As with many of Rockay's products, the 20four7s are comprised of 3 different fibers that are each 100% made up of recycled materials. You may be thinking, "That's great for the ocean and the earth, but can that really be comfortable?"
Remember, you'll want to be wearing these 20four7. So the answer is invariably yes!
These recycled fibers are soft and durable at the same time and will hug your foot tightly without compressing it uncomfortably. Plus, you'll get all the beneficial kickbacks from the cooling mesh zones that allow for more exceptional breathability and less blister-causing friction.
And what's more, these fancy recycled fibers are treated with another product--Polygiene--that works to keep your socks fresher for longer.
In fact, you won't even need to throw these babies in the washing machine each time you use them. You can hang them out to dry, and they won't smell! That's because Polygiene won't let smelly bacteria build up.
So we have to give the 20four7s high marks in the Materials and Breathability categories.
Cost and Value
The Rockay 20four7 is competitively priced for a premium pair of athletic socks. We are more than confident that you will not only be happy with your purchase, but that you will more than get your money's worth out of these bad boys.
This product is designed to last and is insured if it doesn't. Yep! Just as they do with all of their products, Rockay will replace any pair of socks that wears out over time (which they likely won't!) because they stand behind the elite quality of their brand and their products.
Cha-ching! Major points for Durability and Value here.

4

. Dickies Men's Dri-tech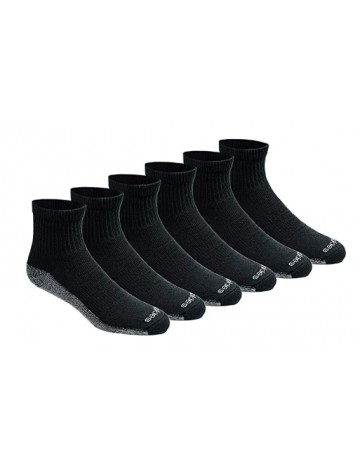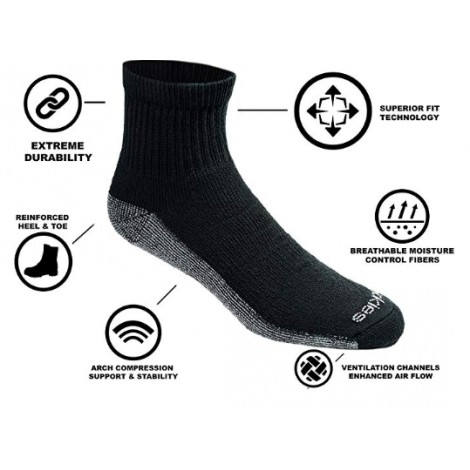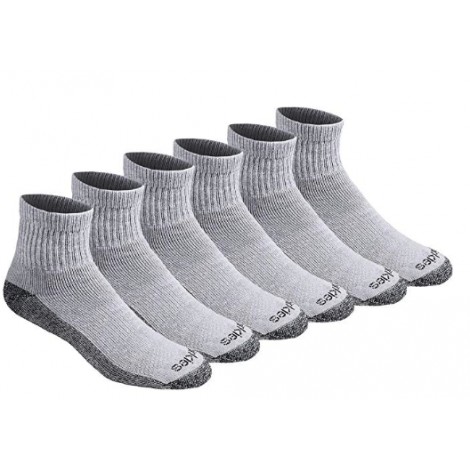 If you are one of the millions of people who suffer with extremely sweaty feet, we've got one of the best budget socks for sweaty feet out there for you right here. The Dickies Men's Dri-tech may be cotton based, but they have tons of breathing channels and a feel that you won't be able to get enough of.
Breathable Channels
The Dickies Men's Dri-tech proves that cotton is not the enemy. While many other brands demonize cotton as being too hot and holding onto moisture, which leads to them making the case for more synthetic fibers, Dickies begs to differ.
These 70% cotton socks not only feel great, as only cotton can, but they also offer up the kind of breathability you need and expect in an athletic sock.
These feature multiple breathability channels that allow more air to flow in, even with more coverage over the ankle. We award points here for Breathability and Materials.
Full Cushioning
We are also wild about the fit and feel of these babies. With full cushioning on the sole and a snug fit and compression around the arch, these will stay in place and make you feel like you're walking on air.
And we like that the toe box and heel are reinforced to ensure for longer wears and more prolonged durability. We award points for Comfort and Durability here.
Cost and Value
The Dickies Men's Dri-tech rings up on the lower end of our price range and we like that you'll get six pairs with each purchase. This means you get a pair for almost every day of the week so you can keep them all in heavy rotation.
While the toe and heel are reinforced, some reviewers comment on holes forming so we dock some points for Value and Durability here.

5

. adidas Athletic Cushioned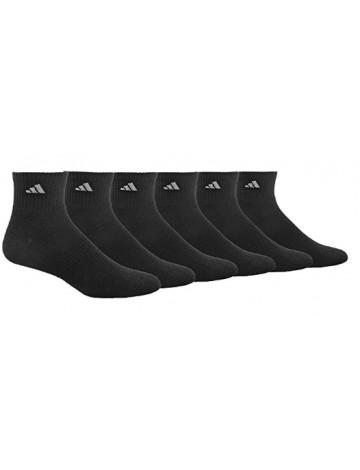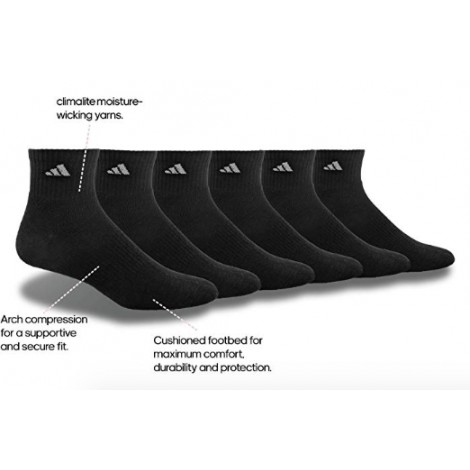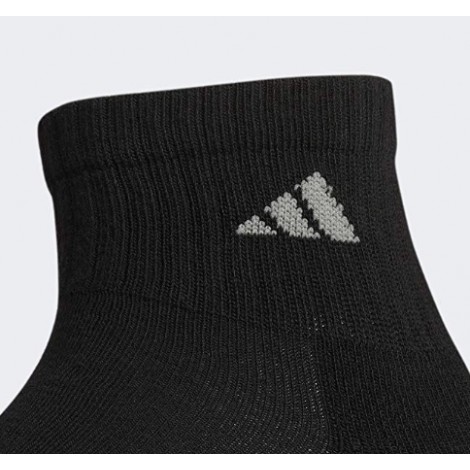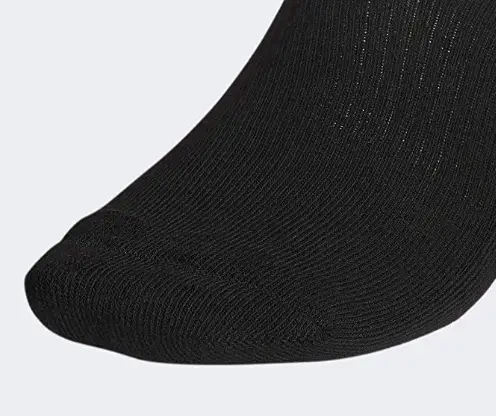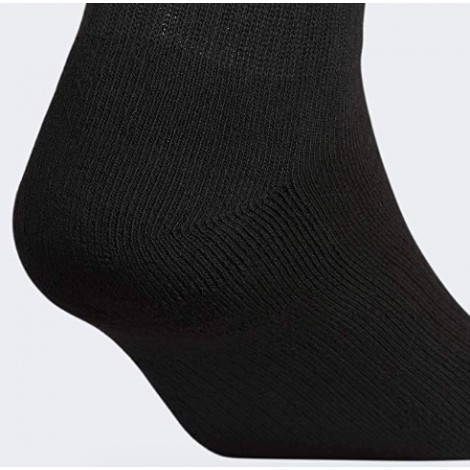 If you're looking for some tried and true favorites, then these quarter socks are a good bet. This is a great option if you're shopping on a budget and you are serious about comfort. With added padding and a snug fit, you will be able to practically live in these.
Lots of Compression
These put lots of compression on the table. Because of their profile, you will not only get compression in the arch, but you'll also get a snug fit throughout the entire sock--all the way up to the ankle.
This works to keep the sock in place and also ensures that you are getting a snug fit that won't shift around in your shoe. With compression, you may experience shorter recovery times and a greater flow of oxygen to your tootsies. This helps to fight against foot fatigue.
When purchasing these, consider the tight compression. If you are looking for something not quite so snug, go with a size up.
We award points for Comfort here.
High Tech Yarns
The high tech yarns work to ensure that your feet stay nice and dry during your workouts. The yarns naturally let airflow in and the fabric actively pulls moisture away to encourage fast evaporation times, which offers up cooling action as well.
Not only that, but the yarns are super soft to the touch and are accented by a fully padded sole which will make you want to wear these for days on end, so we award major points for Comfort, Materials, and Breathability here.
Cost and Value
Thse ring up in the middle of our price range and we love their value because you will get multiple pairs with your purchase. And while some reviewers find that these may shrink in the wash (you should dry on low), they do find that they hold up pretty well, so we give Durability and Value points here.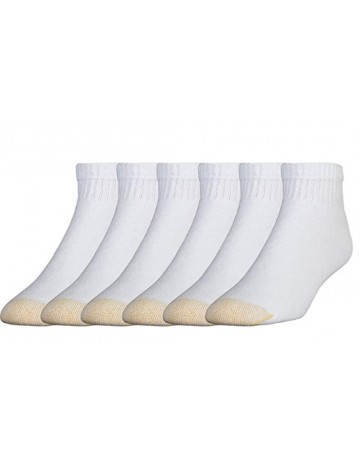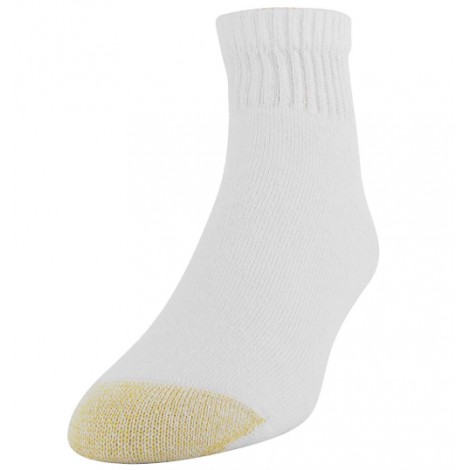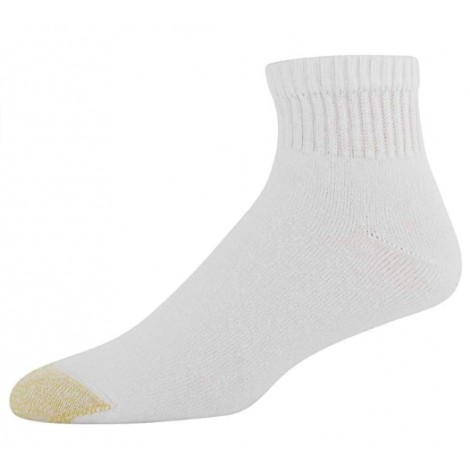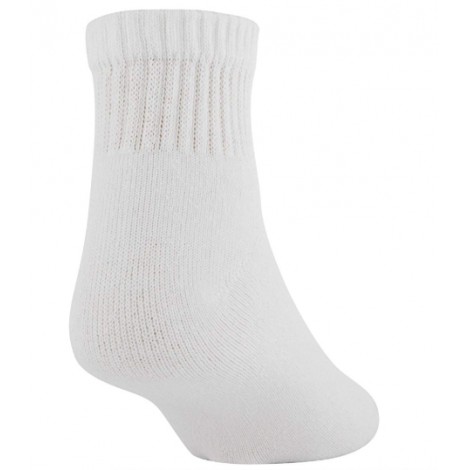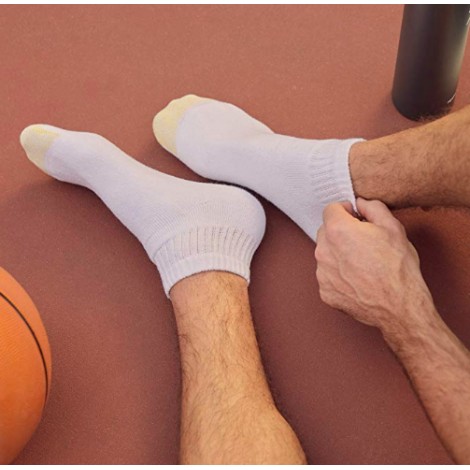 The Gold Toe Cotton offers up the nostalgic basketball gold toe look that will take you back to your younger days. But that doesn't mean that these puppies are outdated. They are a super compatible product that is both versatile and comfortable so that you can get tons of use out of them across the board.
Reinforced for Durability
This is a great versatile athletic sock that functions especially well for basketball and training. With a nice guard around the ankles and a no-slip construction that keeps the socks where you put them, these offer up comfort and protection as you pivot and drive.
And as the name suggests, the toes in this product are golden--but not just in color. The heel and toe are both reinforced with extra stitching to ensure that you don't cause a blowout during explosive movements. We like this Durability factor and add points for this.
Cottony Goodness
These are made from combed cotton, which means you'll not only enjoy an insanely soft feel, but you'll also get tons of breathability on top of that. This led us to award points for Materials and Breathability.
With channels that let air in and extra breathing zones around the ankles, you will feel both supported and fresh during the length of your training and practice. We award more points for comfort here.
And you'll also enjoy an excellent, snug fit with the added compression.
Cost and Value
These show up at the bottom of our price range, and we love their value because you'll get six pairs with your purchase. We also find from reviewers that they hold up decently during washing, though they do start to develop some pilling over time on the inside, which can become bothersome, so we dock some points here for that.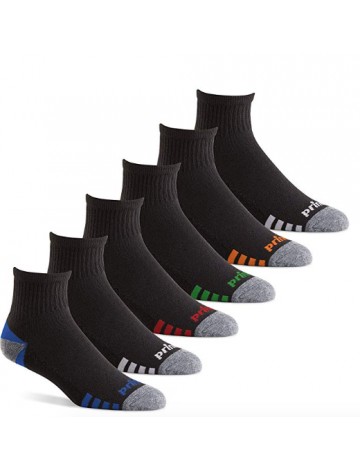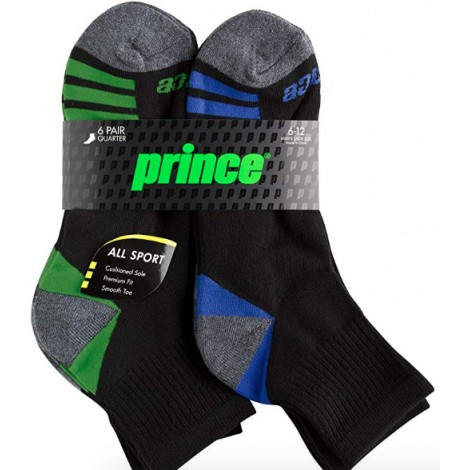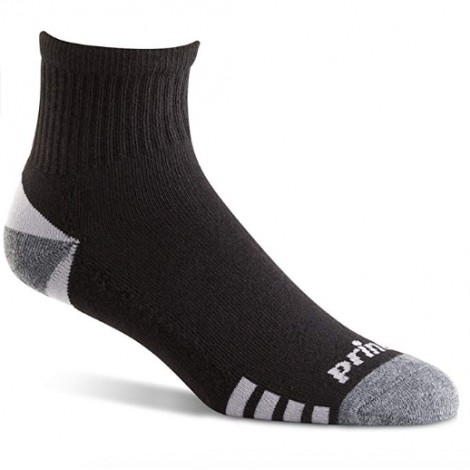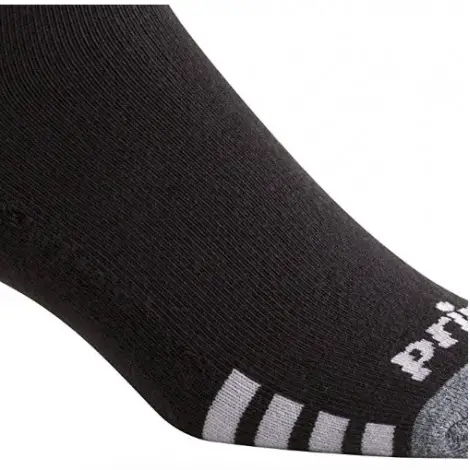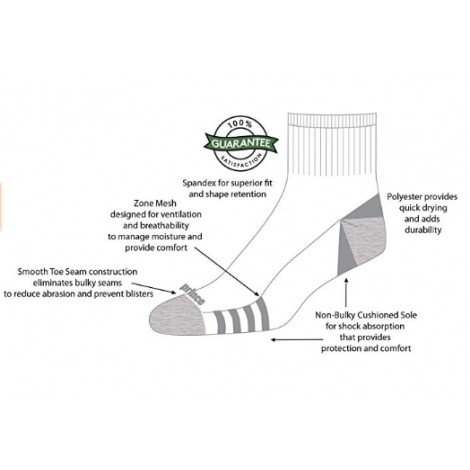 The Prince Athletic is another great budget-friendly option that seriously delivers on fit and comfort. Their whole philosophy is to deliver comfortable and supportive socks that don't pack on needless bulk making them hard to fit into your shoes, and they deliver on this as well.
Slims Down Bulk
The Prince Men's Athletic arrives at the perfect balance between comfort and bulk. While many athletic socks add padding around the entire body, making them puffy, over-large, and hard to fit into your shoes, these offer specially localized padding zones to deliver comfort in the essential places only.
That means you'll get extra padding in the heel to help absorb nasty shocks from your workout. You'll also get a toe seam with a slim profile that works to cut down on chafing and the potential of blisters. We award points for Comfort and Materials here.
Excellent Fit
The spandex and polyester blend of the Prince Men's Athletic makes for a product that offers up exceptional fit, durability, and breathability.
Polyester works to dry far more rapidly than cotton, and zone mesh works to manage the sweat and moisture that accrues from a hefty workout. It also stands up well to washing and the intensity of your game.
Plus, the compression from the spandex holds the sock firmly in place and works to provide excellent support that keeps you and your lower body in alignment for safe practices and longer playtimes.
Cost and Value
The Prince Men's Athletic rings up on the lower end of our price range, and we love their value because you'll also get six pairs with each purchase. However, we dock some points for Durability here because many reviewers report notable signs of wear in the heels after very heavy use in less than a year.

8

. NIKE Performance Cushion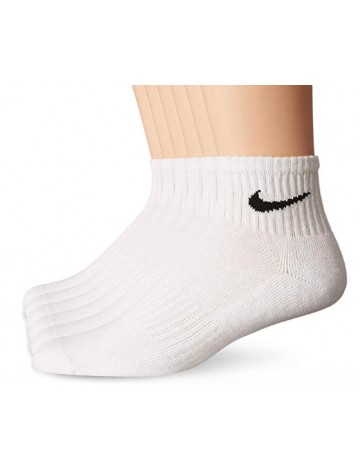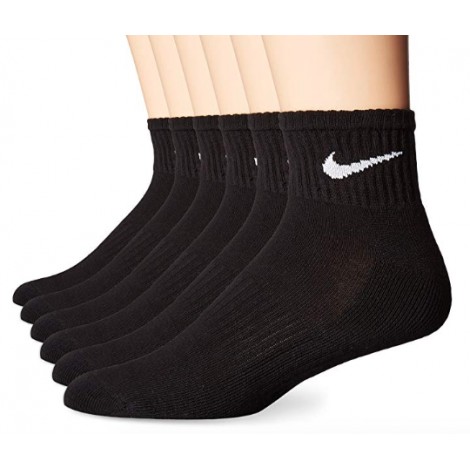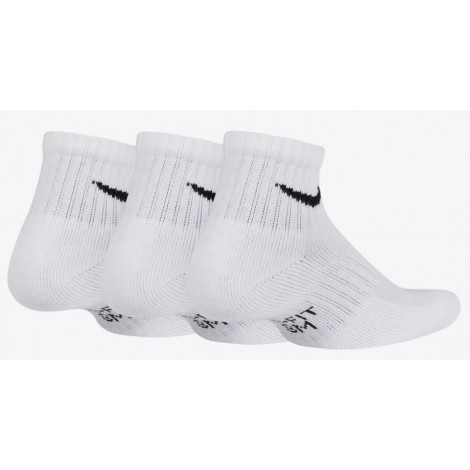 And no list would be complete without a Nike option. The NIKE Performance Cushion works to deliver a comfort blend of cotton, polyester, and spandex, along with ample arch support and compression to ensure that you can keep pounding even after the competition tires out.
Dri-FIT Tech
The NIKE Performance Cushion provides a comfortable blend of plush cotton and stretchy spandex to cradle your feet with extra cushion. Add to that the blended polyester and Nike's Dri-FIT technology, and you've got a sock that is as breathable as it is comfortable.
We award points for Breathability, Materials, and Comfort here.
Band of Compression
The NIKE Performance Cushion is made for both men and women athletes. With a lovely band of compression around the arch, you will enjoy just the right amount of support to keep you playing or practicing for longer. The snug fit and lift help to keep your body in alignment and safe from injury.
We award points for Comfort here.
Cost and Value
The NIKE Performance Cushion ring up on the lower end of our price range, and we like their value because, with each purchase, you will receive six pairs. However, some reviewers find that these do not hold up super well (especially to drying) and that they can lose their elasticity rather quickly. We docked points for Durability here.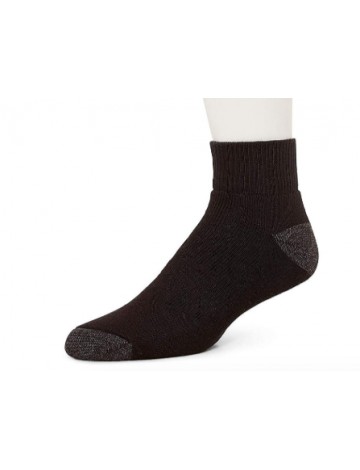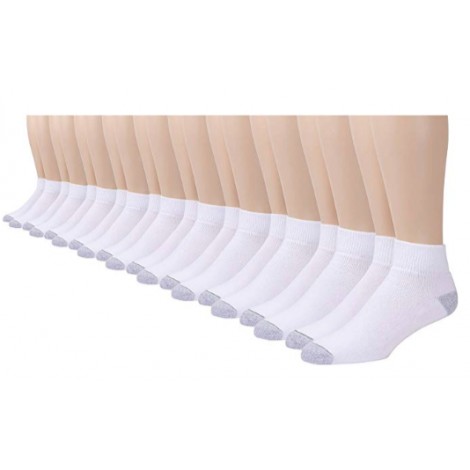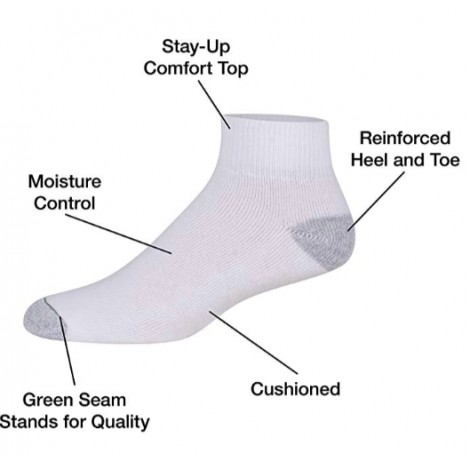 The Burlington Cotton is another great option if you're looking for all day wear. These are very comfortable and come with a whopping 10 pairs per each purchase. With a majority cotton blend, you can use these for workouts or wear during the winter and still enjoy some breathability.
High Cotton Count
The Burlington Cotton, are, as the name suggests, made out of mostly cotton. They do offer some breathability, but these are going to be better suited for colder months when you're looking for something to keep your tootsies nice and warm. We take points from Breathability here.
Cushy Comfort
Because of their high cotton content, these are super soft and cushy. There isn't just cushioning at the bottom. However, they still have a slim profile so you shouldn't have trouble getting these into your shoes.
We like the comfort band that keeps the socks up around the ankles without cutting into the skin, and we like the reinforced heel and toe for a bit of added durability. We award points for Comfort and Materials here.
Cost and Value
The Burlington Men's Cotton ring up at the very bottom of our price range as you'll get 10 pairs for the price of one of our premium brands. That being said, reviewers find that they do stretch a good deal both during wears and after washing and drying so we dock points for Durability here.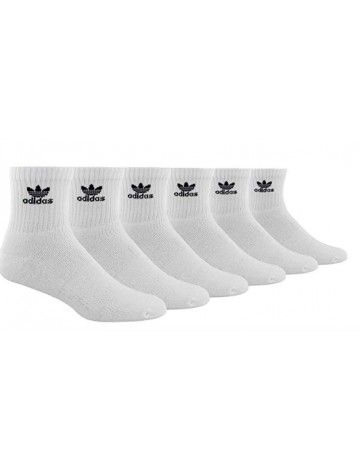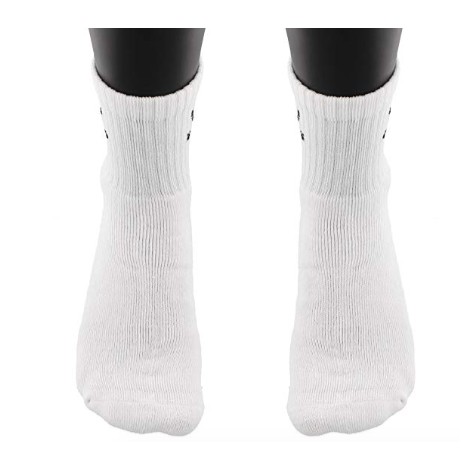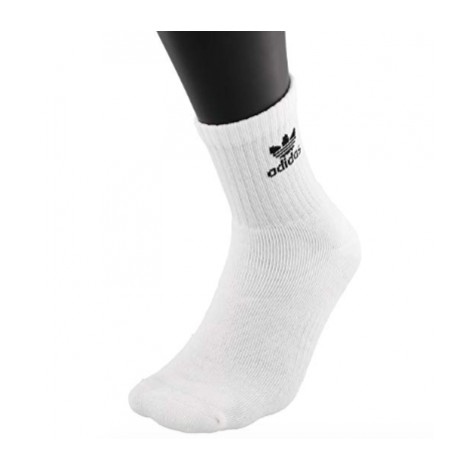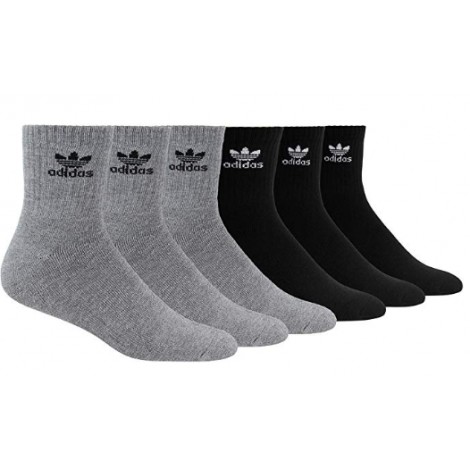 This product is the perfect way to round out our list. They offer a soft cushiony footbed, support in the arches, and a no-slip top that keeps these babies in place without slipping down. And because they are not made of cotton, they breathe and dry super well and quickly keeping your tootsies fresh.
Footbed is Cushioned
The Trefoils are nice and comfortable even though they don't pack on a lot of bulk. With a footbed that is cushioned, rather than the entire sock, you will feel like you're walking on clouds and still be able to fit comfortably into your shoes. We award points for Comfort here.
This polyester blend is nice and breathable and we award points for Materials and Breathability here.
Support Around Arch
These also come with nice support around the arch and ankles. This will help to maintain balance and stability and will work to prevent injuries. And we love that the tops around the ankles hug your body without cutting into your ankles so that the socks stay up and blood keeps flowing.
We award points for Comfort here.
Cost and Value
The Trefoil ring up at the bottom of our price range and we like their value because you'll get six pairs of this respectable brand name with your purchase.
However, reviewers find that just after a few wears and washes, these start to show wear in pilling and strings coming off, so we docked points for Durability here.

Subscribe to our Newsletter