Best Popcorn Makers Reviewed & Rated for Quality
last updated:
Jul 15, 2019
Whether it's a movie night at home with family and friends or when you need a quick snack, popcorn is always a favorite. It's easy to make, easier to carry around and it's plenty satisfying. Plus, let's not forget that nothing smells better than a freshly popped popcorn. While you can always purchase prepackaged popcorn, there is nothing quite like freshly made popcorn that can instantly transport you from your living room to the metroplex and turn family movie night into the best night of the week. The thing is though that making popcorn is easy, making great popcorn is really, hard. So we've found some of the best machines that are going to help you get the perfect pop every time.
In a Hurry? The test winner after 13 hrs of research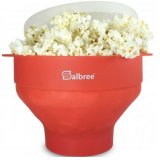 Salbree
Why is it better?
Helps the environment by reducing the waste of popping bags used to pop popcorn
Comes in a wide variety of colors - 14 to be exact
Dishwasher safe
Very user-friendly and easy to use
In a
Hurry? Editors choice: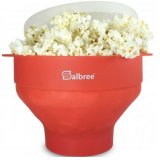 Test Winner: Salbree

11
Researched Sources
11k
Reviews Considered
13
Hours Researching
10
Products Evaluated
Power Source
Adjustability
Portability
By Default
10 Best Popcorn Makers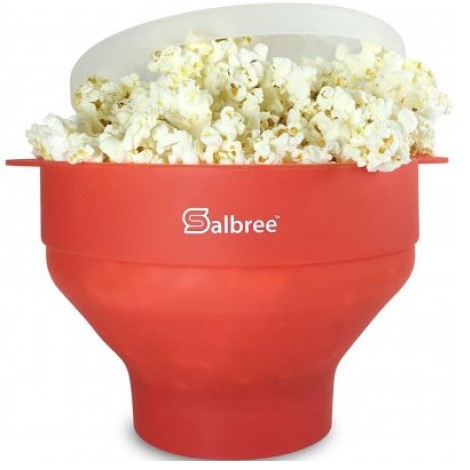 Helps the environment by reducing the waste of popping bags used to pop popcorn
Comes in a wide variety of colors - 14 to be exact
Dishwasher safe
Very user-friendly and easy to use
Must be thoroughly rinsed or else it may begin to taste of soap
Can have issues with burning some of the popcorn
This is a collapsible silicone popcorn maker that is easily stored and easy to use. All you have to do is open the bowl to its fully open position, put ¼ to ½ a cup of kernels in the bottom, add your oil or butter, put in in the microwave, and enjoy delicious, fresh-popped popcorn. It is easy, but more importantly delicious.
Food Grade Silicone
Only the best silicone was used in making this popcorn maker. You can rest easy knowing that it has been tested by third-party laboratories and deemed acceptable for food use (and the company will happily provide you with a copy). It is perfectly safe in the microwave.
Cool Touch Handles
Like many things do when microwaved, silicone gets hot. Salbree has addressed this issue though and included handles that are cool to the touch and allow you to remove your bowl of delicious, hot popcorn from the microwave without burning your fingers. No need to touch the bowl here.
Cost and Value
This Salbree popcorn popper is very inexpensive. It is good for the environment and good for your wallet. You will get many a good bowl of popcorn out of this popcorn maker for very little upfront cost. If you are a lover of bagged popcorn, this will ultimately pay for itself because simply buying kernels is less expensive than buying the premade bags.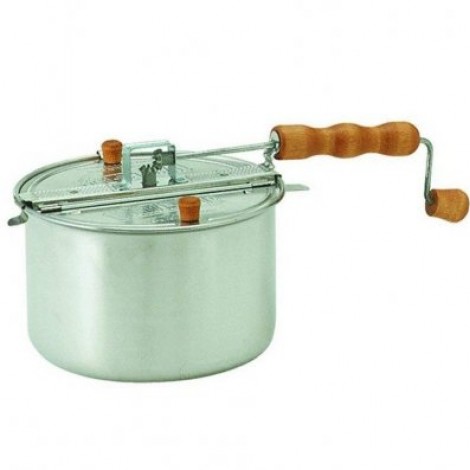 A built-in stirring system makes for no burned popcorn
Popcorn is ready in as little as 3 minutes!
No extensive clean up required
Lid includes steam vents to help the popcorn stay crisp and dry
Plastic gears may break
The lid doesn't always stay in place well
This aluminum popcorn maker will have you eating delicious, movie theatre popcorn at home with very little effort and in very little time. It is used on the stovetop and comes with a stirring handle so that none of the kernels burn. It is easy to clean and will produce perfect popcorn in only 3 minutes.
No Burned Popcorn
The stirring system that is the essence of this popcorn maker is patented and ensures that you don't get any burned popcorn. It does so by constantly stirring the kernels which makes it so that they evenly heat and evenly pop. You'll have big, beautiful, and most importantly delicious popcorn that can get up to 42 times the original size!
Easy To Clean
As in all things that are used in the kitchen, clean up can make or break any fancy tool. If something is easy to clean, it is a lot more likely to get used and even recommended. This unit is incredibly easy to clean. All you have to do is wipe it out with a paper towel so that there are no popcorn or butter/oil remnants and move on with your life. Easy.
Cost and Value
This Whirly Pop popper is very reasonably priced. It makes delicious, evenly popped popcorn every time, quickly and with little effort. That alone makes it more than worth the small amount you will be spending on it. Compared to others on this list, it is not the cheapest but is not far from that point.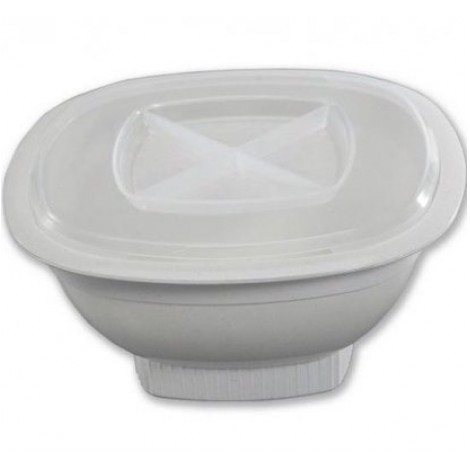 Microwave and dishwasher safe
Oven safe up to 400 degrees
Acts as both the popper and the bowl to enjoy it out of
Allows for a grease-free popcorn eating experience, if you so choose
Bowl is very hot after cooking the popcorn and must be handled with care
Will discolor if used for purposes other than popping popcorn
This is another completely different style of popcorn maker. Here you have gemstone cookware that is unbreakable and comes with a plastic lid. This cooking method requires no oil and will have your popcorn popped and ready to eat in under 4 minutes. It is both dishwasher and microwave safe and is made in the USA.
No Oil Required
Unlike other methods, this one requires absolutely nothing besides the corn kernels. This can make for a much healthier popcorn experience and also gives you the benefit of being able to dress it exactly how you like it. Any condiments or toppings are added after it is done cooking so that you don't have to worry about grease, artificial flavorings, or salt.
Gemstone Cookware
The unbreakable cookware used here makes for a unique experience. It is weighted, molded, and then cured in a 450-degree oven which makes it oven safe up to 400 degrees forever and it won't be melting on you. The bowl is then trimmed and smoothed by hand, paired with a lid and sent directly to you!
Cost and Value
This one falls right close to the bottom of our list price-wise. It will make you quality popcorn, and even provide the bowl to eat it out of, for a very small price. If you are a popcorn lover but want to enjoy it without all the grease then you will love this purchase.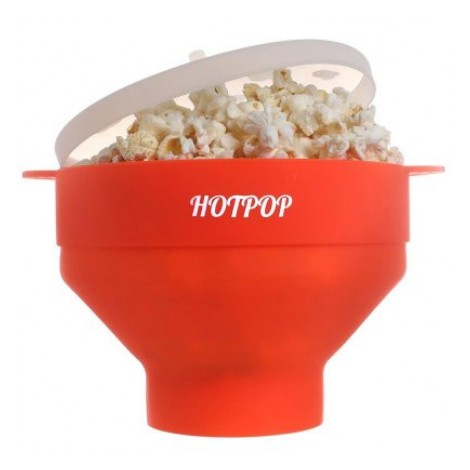 Comes in a variety of colors
Bowl easily collapses for storage
Easy usage
Dishwasher safe
May be difficult to get the timing down initially
Doesn't always collapse evenly
This unit is another silicone popcorn maker. It is made of food-grade silicone, easily collapsible for storage purposes, and will make about 15 cups of popcorn in 4 minutes. It allows you to bypass the noise and hassle of using electric hot poppers or stovetop models while still enjoying the delicious, not bagged, popcorn you love.
Quickly Make Popcorn
When you decide you want popcorn you probably want it now, or as close to that as possible. Good news! In just about 4 minutes you can have 15 cups of popcorn! This unit is quick, effective, and produces a lot of delicious popcorn in no time.
Toxin Free
This popcorn maker is BPA-free and is made of food-grade silicone. It can be used with or without oil and helps to avoid whatever lines the bags of popcorn you buy at the store. If you want to ensure that you and your family are only eating the best and healthiest popcorn, then this is a great option.
Cost and Value
This may be the cheapest item on our list. It does a great job at cooking popcorn quickly and effectively and does so with very little money out of your pocket. If you are looking for a quick, easy, and inexpensive solution to your popcorn popping problem then you will love this one.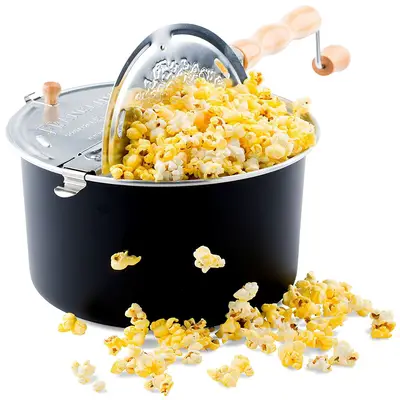 Serves a large number of people
Easy cleanup
Easy storing
Cooks popcorn evenly
Can be used for more than just popcorn
Reviewers noted after a while the handle became loose and would not turn all the kernels at the bottom
This one might look similar to others we offer on this guide but its quite different. One of the biggest difference being it is made out of aluminum, what this means is this popcorn maker is capable of distributing heat better then stainless steel does. Having this feature ensures most of your kernels are popped at the same time for even popcorn throughout. Additionally, this popcorn maker is cooked at your stovetop giving you a traditional feel that's a bit nostalgic yet oh so delicious.
Extra Large
If you're looking to entertain a movie night or have several family and friends over, you might want to take a look into one of these. This popcorn making is 6qt which means it makes enough popcorn to feed a large crowd. Furthermore, it was designed with a large rotating handle that allows you to rotate your kernels as they pop for better, non-stop popcorn. Having this feature allows your kernels to pop even the difficult ones that seem to never rise.
Easy Clean Up
Nothing is quite as satisfying as being able to clean a pot or pan quickly, and being able to enjoy your company or your bowl of popcorn with friends. This popcorn maker allows you to do just that. You will simply need to wipe down the interior, and exterior of your pop after every use and you're good to go- that's it once your pot is wiped down it is prepared for the next time you want to use it.
Cost and Value
The cost of this popcorn maker is a bit on the medium price range. However, taking into consideration that you're receiving a quality product with a lifetime warranty from the brand you will quickly realize you're getting a great bargain. The pan is easy cleanup it holds a whole load of popcorn so you don't have to make batch after batch for your guests and you can easily store it away as it doesn't take up much space- a win, win if you ask us.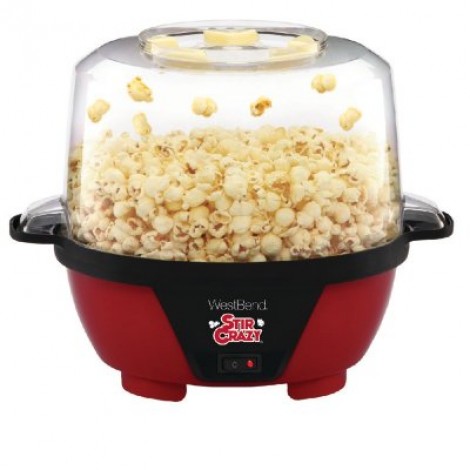 Pops all the popcorn in just about 4 minutes
Gives the option for any type of oil, and even butter
Has a very obvious and visible on/off switch
Very easy to clean up
The entire unit has to be inverted to get the popcorn out
May make a grinding sound if not enough oil is used
The design found here is somewhat unique. It doesn't require the use of an oven or a microwave, the Stir Crazy simply needs an outlet. You plug it in, turn it on and let it do the rest of the work. It'll produce up to 27 cups of fresh, hot popcorn in about 4 minutes that you and all of your family and friends will love!
Butter Well
When the bowl is in popping position, there is a well to put butter in it on the top. If there is butter in it while it is popping, the heat from the heating element that is popping the popcorn will also melt the butter which makes it drip down. This dripping will evenly and beautifully coat every fully popped kernel. But wait - you don't have to only use butter! You can use whatever type of oil or seasoning combination you want for the same effect.
Easy to Store
As this is one of the bigger units we've talked about it's easy to wonder how much room it is going to take up. The manufacturers have taken this into account and really made it as storage-friendly as possible. The lid, that also doubles as a bowl, will allow the unit to nest right into it. The cord is permanently attached and will wrap up nicely on the bottom of the base.
Cost and Value
This one goes right along with other mid-range units on this list. It does have some advantages though that make it worth the purchase. It doesn't have to be babysat like other units and it doesn't require the use of any other appliance other than itself. It also evenly coats the popcorn with the topping of your choice which is another big plus. This is definitely worth its cost.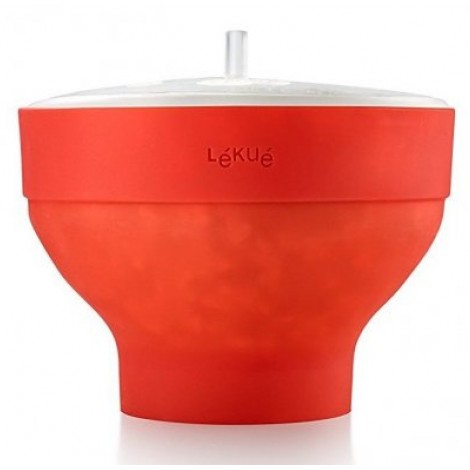 More than 90% of the kernels used will pop
The only material used in making this is platinum silicone
Dishwasher safe
Comes with recipes
Often has hot spots where the popcorn burns
Hard to find the right time for it to pop in your microwave
This Lekue popcorn maker is a similar style to the HOTPOP and Salbree options we've already discussed here. It is collapsible and easily stored, making it the perfect option for small spaces like busy kitchens or dorm rooms. It'll make fluffy, delicious popcorn lightning fast. It measures 8 inches height-wise, is 5 inches tall when fully extended, and 2 inches tall when collapsed.
Suction Lid
One thing that makes the Lekue different than the others is that it comes with a suction lid. The lid will keep your popcorn in the bowl instead of letting it pop right out of the bowl and all over your microwave. This makes for no cleanup of your microwave and makes the fact that the bowl itself is easy to clean just icing on the cake.
Recipes Included
With this unit, you won't just be given a fancy new tool and then have to figure out the best way to make popcorn in it. It comes with a recipe book! This way you will easily know how to best utilize it and make yummy buttery popcorn, healthy oil-free popcorn, and anything in between.
Cost and Value
This microwave popcorn popper is very affordable. Like others, it will ultimately end up saving you money because you won't be consistently buying bags of popcorn at the store. It is a great purchase that you will get a lot of use out of and won't regret for a second.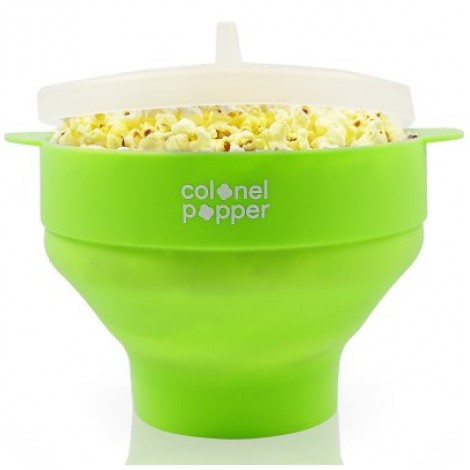 Comes in several colors
Can make up to 14 cups at a time
Made of BPA free silicone
Collapses down to 2 inches tall making it very easy to store
Will leave unpopped kernels frequently
Popcorn may burn
Sometimes less is more and if you're looking for a no-fuss, easy to use, won't break down on you popcorn maker look no further. This unit is simply a bowl, similar to others we've talked about thus far, that is made of silicone and collapsible. It'll give you that air-popped popcorn taste that you love with none of the hassle and all of the speed and convenience of microwave popcorn.
Use Any Kernels
Do you like your kernels organic? Amish? Maybe with all the butter movie theater-style? This popcorn maker is perfect for you then. It is compatible with any kernels and with a little variation on cook times and seasonings, you can make the popcorn that you love.
Smart Grab Handles
Microwaving popcorn is great for speed and even taste. One thing it isn't great for though is pulling the bowl out of the microwave once it's done. Most of the time handles are hot, the bowl itself is hot, and you find yourself either burning your fingers, your countertop, or looking for a couple of hotpads. The smart grab handles featured here will allow you to grab it right out of the microwave as soon as it is cooked without burning anything.
Cost and Value
This is one of the least expensive popcorn poppers you can find. It is simple and effective to use and your wallet will appreciate the small dent that it makes. If you love popcorn but want to ditch buying expensive kinds, buy the kernels and make your own here!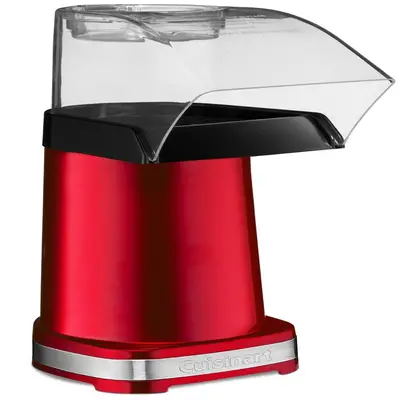 Healthier popcorn
Easy to use
Transportable unit
Comes in two different colors
Reviewers noted the popcorn can fly out if there is no bowl placed underneath
If you live in a dorm or you live alone, or you just want to make enough popcorn for yourself this is the perfect option for you. This small popcorn maker had to be a part of our selection because sometimes convenience is the perfect addition to any guide. When you first might look at this popcorn maker you might come to terms that it is a smaller size than most of our favorites; however, don't be fooled by the size this small yet powerful popcorn maker gets the job done with a powerful 1500 watts that can make up to 10 cups of popcorn in 3 minutes. Therefore, not only do you have the option of using it as a single serving, but you can also make a bunch for friends and family.
Healthier Option
Those who make popcorn regularly know most popcorn is made with lots of oil or butter yet there are healthier options like this one. This particular popcorn maker makes your popcorn with air. What this means is you do not need oil or butter to make your kernels turn into popcorn instead the air compression makes them pop. By removing the need for oil, your popcorn instantly becomes healthier and a better snacking choice.
Transportable
Why be conformed to your kitchen when you can essentially make popcorn anywhere you would like. This popcorn maker can be transported anywhere it is lightweight and small enough to allow you to take it with you. Additionally, it comes with a long cord to avoid the hassle of having to find where to plug your new machine.
Cost and Value
The price on this unit is right in the middle, but when you take into consideration that it is smaller than most, the price might seem a bit on the higher end. Keep in mind you are getting a good product that offers a healthier way to pop your popcorn.
10

. Great Northern Countertop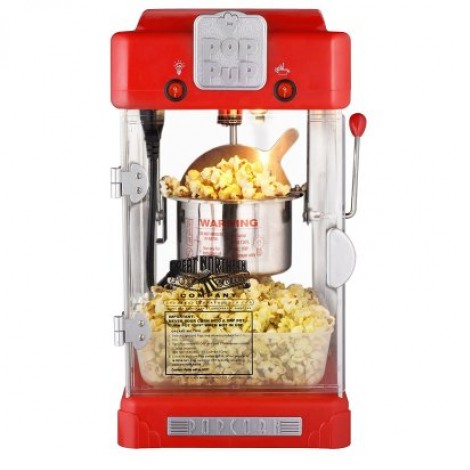 Brings commercial quality in a package that will fit in your home
The kettle is made of stainless steel
Has a warming light to keep popcorn warm and ready to eat whenever you are
Each batch makes 1 gallon of popcorn
Takes up more space than other popcorn makers
Needs to be preheated before adding necessary ingredients
This unit combines everything you love about a fancy movie theater popcorn maker with the convenience of those you fit in your home. This is a countertop model that can hold up to 2.5 ounces of kernels, features a light warmer, a pullout popcorn tray, and hanging popcorn tray. It even comes with a measuring cup and spoon for serving.
Pull Out Popcorn Tray
The tray that the popcorn falls into once popped is easily pulled out. This makes it possible to use for serving or transporting without having to do so in small batches. It is also super convenient because the tray itself is dishwasher safe which will eliminate a dish and make clean up a snap.
Retro Style
Sometimes it's all about the look. This is especially true in popcorn makers. If you are going to buy a big, visible one, it may as well be one that looks neat and catches your attention. This one has a cool retro look to it, but is a smaller version and doesn't take up all of your space like others of the similar design do. Odds are good too that the 1 gallon of popcorn this will produce at a time will be more than enough for your family to enjoy.
Cost and Value
This is the second most expensive unit on our list. Logically, it falls there because it is a step above in both quantity of popcorn produced and styling than the standard stovetop or microwave versions. But, it is smaller and takes up less space than the most expensive. That being said, this unit comes at a great price for what you're getting and you'll be more than happy you spent the money.
Criteria Used for Evaluation


Power Source
The three main options are ones that go in the microwave, ones you use on the stovetop, and those that are a little appliance that plugs in and are powered that way.
Microwave options are either made of silicone or stone. You simply put the kernels and oil (or not) in the bottom and push go. They are easy to use and maybe even easier to clean up. Most are even dishwasher safe. However; popcorn is easier to burn and it can be hard to figure out the right time to cook.
Stovetop versions are often considered the gold standard. They make fluffy, crunchy popcorn every time and do so quickly. They are also easy to use and easy to clean. The biggest con here is that you have to stir it constantly until done popping, but that is only a few minutes and might be worth the time commitment.
A standalone appliance can range anywhere from simple plug-in counter unit too expensive, big, movie theater-style. They too make delicious popcorn but do require a bigger storage footprint and a bigger upfront cost.


Adjustability
How many people do you plan on cooking for? This point can influence you in the direction of one popcorn maker over the other. If you are the only one eating popcorn, then you would likely be well served to get a smaller option. Most microwave options are good for that, as is the stovetop edition. It wouldn't make any sense to get a big bulky unit to simply cook a couple of servings at a time.
Conversely, if you want to cook large quantities - we're talking gallons of popcorn here - then you need a bigger unit. Not only do they cook in bulk, but they also include warmer lights and potentially trays that will keep the popcorn warm and ready to eat whenever you or your guests are ready for it.


Portability
What kind of storage space do you available to you? Do you have a large kitchen with empty cabinets or a tiny one with only a couple inches to spare? This makes a big difference. Most microwavable options are also collapsible and are only a couple inches tall when fully collapsed. They also act as their own bowl once they are fully extended and the popcorn is cooked so that removes another dish.
Stovetop versions are similar in size to pots you would have in your kitchen already. While they don't take up a ton of space, they do need a little more room than a collapsible version does. This is also true for the Stir Crazy appliance version. It does also double as a bowl but does have a little bit bigger of a footprint.
If you are looking to have a novelty piece, then you won't need to worry about storing as it will be out and visible at almost all times. That does mean that you 'll need to have the space to put it there initially, which likely isn't a problem if you are looking for this type of popcorn maker in the first place.
In conclusion, owning your own popcorn maker is very much an achievable dream. They are affordable and practical for any kitchen. Homemade popcorn is both easy to cook and easy to customize. You can have healthy snacks when you want them and decadent treats when you prefer something a little heavier. You will appreciate the ability to have fresh, warm, exactly as you like it popcorn on demand right in the comfort of your own home.
Expert Interviews & Opinions
Most Important Criteria
(According to our experts opinion)
Experts Opinion
Editors Opinion
Users Opinion
By Default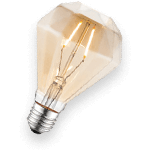 The Popcorn Maker You Want and Need
What's the reason popcorn isn't a staple of everyone's diet? Why isn't it an easy snack that if you're careful can be healthy and filling and tasty? It's because it can be a pain to make and buying a bag of popcorn all too often is like buying a bag of air with a bit of popcorn in it. So, our whole goal here is to make sure you're giving popcorn the place in your life that it deserves. Put a bowl of popcorn on the counter and how long do you think it'll last? Not long, that's how long, so make more popcorn, live your best life.
Frequently Asked Questions
q:

Will I have unpopped kernels at the bottom of this popcorn popper?

a:

Ideally, no. However; each popcorn maker tends to have somewhat of a learning curve for the user and until that is figured out you will have at least some unpopped kernels. Though, units with constant stirring in some form have less of an issue with this than ones that are used in the microwave.
q:

Can you use this popcorn maker with or without oil?

a:

Most units on this list can be used without oil. However; microwave versions tend to do better with no oil than ones with more moving parts that need a little bit of oiling during the process.
q:

Can I make healthy popcorn in this popcorn maker?

a:

That all depends on your oil or lack thereof! One cup of undressed popcorn carries 30 calories in it and may not be all that filling. Adding a little bit of healthy oil such as canola, olive, or avocado, can boost both the nutrient content and the satiation factor.
q:

How do I use this popcorn maker?

a:

Most microwave varieties you simply add the kernels and oil of choice in the bottom, top with the lid and go. It is similar for stovetop varieties, but you do have to constantly stir them until popping is complete.
q:

What oil should I use in to pop popcorn in?

a:

It is best to choose an oil that has some nutritional value instead of one that takes away from that. It is also good to choose one that can handle the heat and won't burn or scorch your popcorn. The top two oils that fit those qualifications are canola and olive oil.
q:

What is the best home popcorn maker?

a:

That depends largely on what you're looking for but if you've made it this far on our list, then you have a good idea of what the top ten are!
Subscribe to our Newsletter