Best Play Kitchens Reviewed & Rated for Quality
In a
Hurry? Editors choice: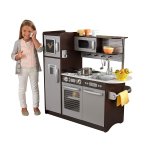 Test Winner: KidKraft Uptown Espresso

There has been a revolution when it comes to how seriously people have begun to take their food. It is important to find the stuff that is sourced properly and to explore as many interesting culinary adventures as possible. A good thing to do for any parent is to introduce their child to the world of cooking as early as they can. The easiest way to avoid having them cutting themselves on knives, or burning their hands on stovetops is to get them a tiny kitchen of their own. These play kitchens do a great job of showing your little one what it is like to get their hands dirty, while also allowing them to exercise the creative muscles that all kids have so much fun using. This is a list of ten different play kitchens that cater to a wide variety of ages, play styles, and budgets.
Standout Picks
Criteria Used for Evaluation
10 Best Play Kitchens
1

. KidKraft Uptown Espresso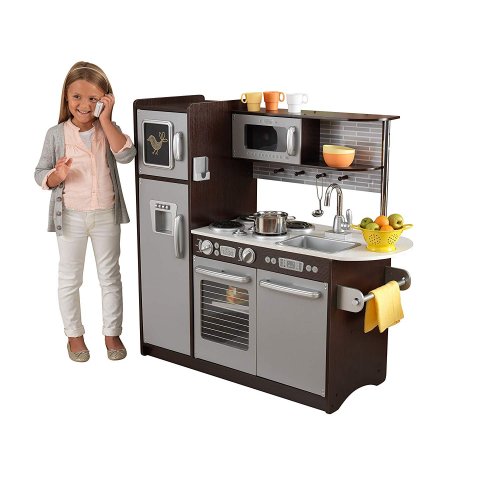 This is a play kitchen that oozes with modern style, and is a great choice for anyone trying to go for something more realistic for their child.
Decked Out Kitchen
The Uptown Espresso Kitchen has so many little design decisions that is hard to express on a single page. This kitchen has lots of little touches that will give your child lots of opportunities for creative play. There is fake ice in the ice machine, it comes with a cordless phone, so they can order in some delivery when they are busy, and it has all the accessories you would find in a real kitchen.
Great Build Quality
This kitchen is made of very high quality materials that make it feel lifelike, and also like a sturdy, real kitchen. There is a wooden roll for holding paper towel. There is also a chalkboard for writing down imaginary lists of groceries. There are also lots of drawers so you can easily fit all the accessories for the kitchen inside the actual kitchen. It cleans itself up.
Cost and Value
This play kitchen costs a little bit more than other play kitchens that you can find on the market, but this is a top of the line toy that your child will be able to play with for a long time. There is a lot of different things for them to interact with, and there's more than enough room for more than one person to play in, so they can even have help in the kitchen.

2

. Step2 Lifestyle Custom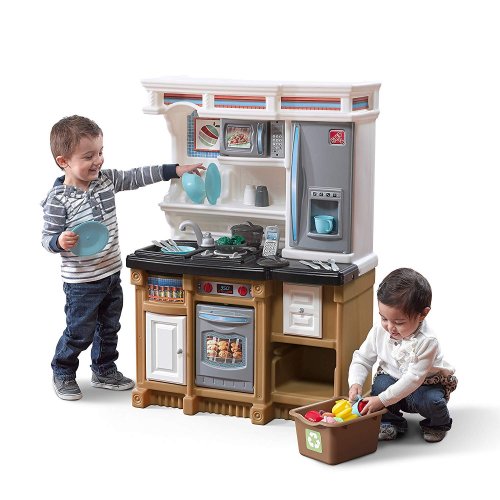 This is a great and interactive play kitchen for kids who are a little bit younger. It has tons of little features and additions that make this a good choice for anyone looking for a new toy for their kids.
Full Kitchen
This kitchen has lots of the accessories that you would find in a real kitchen, and will do a good job at being a substitute until your kids can help out in the real thing. It has a stove top that comes with a pot for boiling water, and a frying pan for sauteing. There is also some counter top space for doing some food preparation.
Extra Features
There are lots of extra features in the Step2 that will give your kids lots of opportunities to find new ways to play. The stove top activates with realistic boiling and frying sounds so that your kids can feel like they are actually cooking. There are also multiple places to pull out drawers, including a drawer for cutlery storage, and a recycling bin for clean up.
Cost and Value
The Step2 Kitchen Playset is a great choice for anyone looking for a play kitchen for smaller kids. It doesn't take up too much space, and has lots of little diversions that offer a variety of ways to play. It costs a little more than some other kitchens on the market, but this kitchen is great for all the extra pieces that come with it in the form of cutlery and plates. You will need to buy your food separately, or just let them imagine what they are cooking up.

3

. Little Tikes Super Chef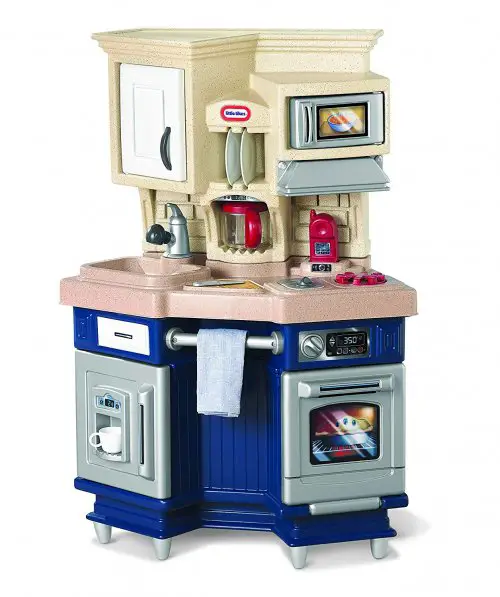 The Super Chef Kitchen is the first entry from renowned seller of children's toys, Little Tikes. This kitchen has a little bit of everything so that kids will never get bored running their own kitchen.
Variety of Activities
The Super Chef Kitchen has lots of little pieces that make it a great place for your kid to always have something to do. It has lots of drawers for storage, and comes with all the pieces that you need to put in them. This kitchen comes with the works when it comes to playing with your play kitchen. There are plates, cups, cutlery, pans, and even a phone.
Other Features
The Super Chef Kitchen has lots of little touches that make it a good choice for an interactive playset. The knobs on the microwave and oven are totally adjustable, which will help kids get in the zone when it comes to pretend cooking. There is also a towel rack, which is a good place to put a towel for the real clean up you will have to do sometimes.
Cost and Value
The Little Tikes Super Chef Kitchen is a very good deal for a full-fledged play kitchen. It comes with everything that you will need to make for a believable kitchen. It comes with all the tools to make some pretend food, as well. That, coupled with the interactive knobs and drawers, make this a great choice for anyone looking for something a little cheaper.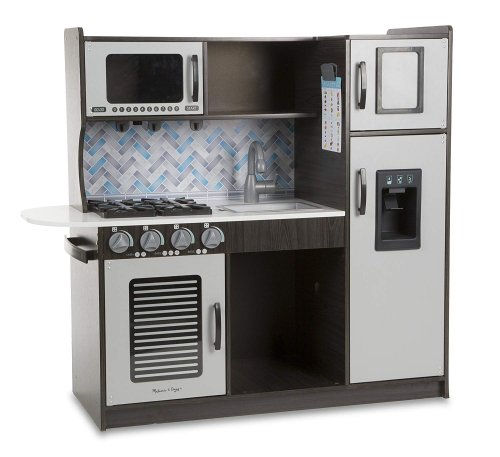 This play kitchen is a great choice due to how realistic this looks. This looks exactly like the kitchen most of us already have in their house, but sized for the kids.
Realistic Design
No strangely placed coffee makers or drawers here. This is a lifelike recreation of a normal, if a little smaller, kitchen. It comes with a realistic looking microwave, fridge, oven, and dishwasher. It even has a working ice maker. All the drawers and accessories open up so you have lots of space to store everything after the kids are done with their play.
Other Features
There are lots of clever touches with this play kitchen that make it a good choice for the most immersive play kitchen on the market. All the knobs on the appliances turn and click, so that your children can choose how they want to cook their pretend steak. It also has other great touches like a spinning microwave plate, and a tearable notepad for grocery lists.
Cost and Value
The Pretend Play Toy Kitchen is a great place to pretend that you are in the kitchen It has lots of great little features that make the illusion feel more believable. It also doesn't cost as much as many of the other, more realistic kitchens do. This set can be bought without the extra pieces, like plates and pans, or with those things bundled in for a little extra cost.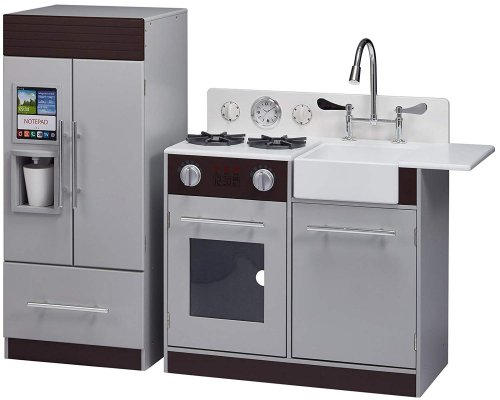 The Teamson entry on this list is a simple, but effective, take on the play kitchen. It uses a more natural set of materials to make a pleasing looking play kitchen.
Natural Design
The Teamson is designed without a back wall, which gives it a more natural looking design. It also makes it easier to place this in the middle of the room when it is time for play. It is made out of wooden materials, and is painted with non-toxic paint. The simple and open design of this play kitchen is great for letting your child's imagination run wild.
Other Features
The Teamson kitchen has lots of little interactive bits that will keep your children entertained for many a lazy afternoon. The play kitchen comes with a stove that has a working gas knob, so your kid can choose to cook their food on high or low. It also has a big deep sink that has lots of room for cleaning up. There is also a fridge with an icemaker.
Cost and Value
The Teamson is the most expensive play kitchen on this list so far, but its pieces are made with love, and it has a very charming design and set up. Compared to other kitchens, it has lots of room for your child's imagination. The fridge and stove are separate from each other, so your child can move around how they want their new kitchen set up, as well.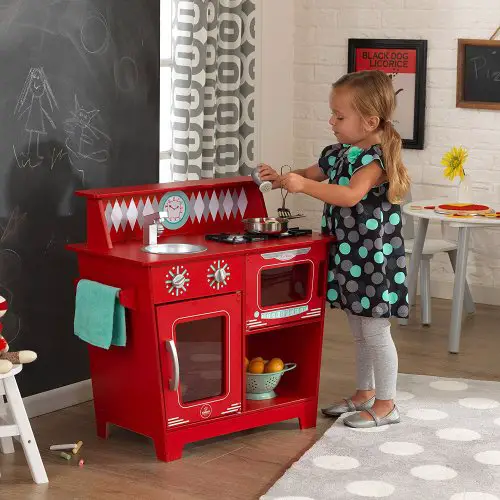 This is a good choice if you are short on room, or just want your new playset to simple and colorful so that your child can be engaged, and use their creativity.
Colorful Playset
This play kitchen comes in a very bright red color that does a good job of looking welcoming and charming, so that your kids will always be excited to play with it. It is a bit smaller than many of the other play kitchen's on this list, but that can be useful for those who live in smaller places. It still has lots of things for your kid to interact with.
Other Features
There are many interactive bits on this play kitchen that make it an exciting place for your child to play for an extended period of time. All the knobs that you see in the picture can be interacted with and make a pleasant clicking sounds. There are a few different drawers that act like a fridge and an oven so that your child has somewhere to store thing, and a place to cook them.
Cost and Value
The KidKraft Playset is a good choice for anyone who is looking for something a bit more manageable when it comes to space and cleanliness. This kitchen is also stylish enough that it will look good as part of your home as a decoration, and as a toy. It has lots of interactive pieces and options so your child will never be bored. It can also be bought at a very reasonable price.

7

. Little Tikes Ultimate Cook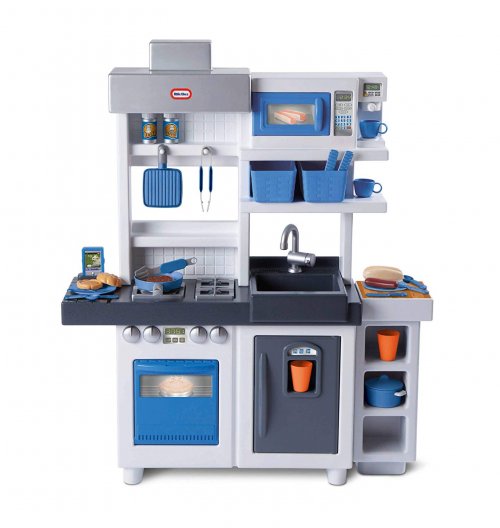 The second entry from Little Tikes goes the extra mile in filling out your collection of toys with this decked out play kitchen.
Full-Fledged Kitchen
The Ultimate Cook Kitchen does a good job of living up to its name. This play kitchen has enough features to keep your child entertained for days, and might even turn them into a real chef in the process. It has all the appliances you could hope for, including a microwave, oven, and refrigerator, and has lots of space for storage, too.
Other Features
This play kitchen is great for being able to do lots of things, because it gives your kid lots of space to play around in. It has lots of counter space that goes out to both the left and the right, which gives your child lots of room for doing some imaginary food preparation. The stove also makes realistic noises so your child knows things are actually getting cooked.
Cost and Value
The Ultimate Cook Kitchen is a fully decked out playset that will give your child hours of interesting scenarios for play. There are enough appliances that there will be something new to discover all the time. The price of this set is also very reasonable for what you get, which includes all the extra pieces of cutlery, plates, cups, and frying pans.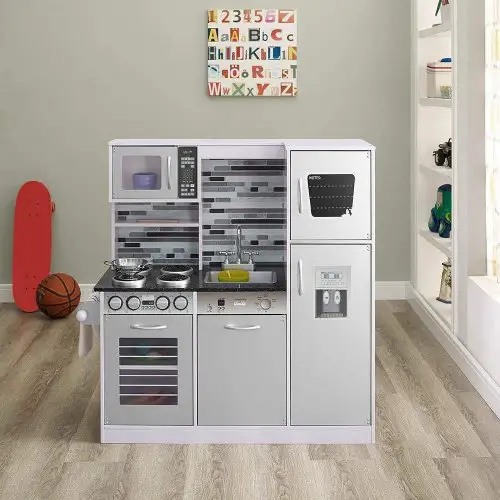 The entry from Naomi Home is a great choice for anyone who wants somewhere to be able to put all their child's things. This one has lots of storage space.
Lots of Storage
The Naomi Home comes with many places to put all your things so that this play kitchen can almost double as a storage chest. There is lots of room for you to put all your kitchen toys, while also tons more room for anything else that you can think of. All the surfaces of this play kitchen open up so that they can be used for storage.
Other Features
The Naomi Home has really dedicated craftmanship that goes along very well with the nice look of this play kitchen. The knobs on the stove turn and click. They do a very good job of looking just like the real thing. It also has four elements on the stove so your child can make quite the elaborate meal, if they need to.
Cost and Value
The Naomi Home comes at a very reasonable price when you consider the amount of work that has been put into its design. It is made of a lot of thoughtful pieces, and the details in its minutiae are very impressive to look at. This is a good choice if you are looking for something that comes with a lot of storage, and also like the realistic looking kitchens a bit more than the rounded, plastic ones.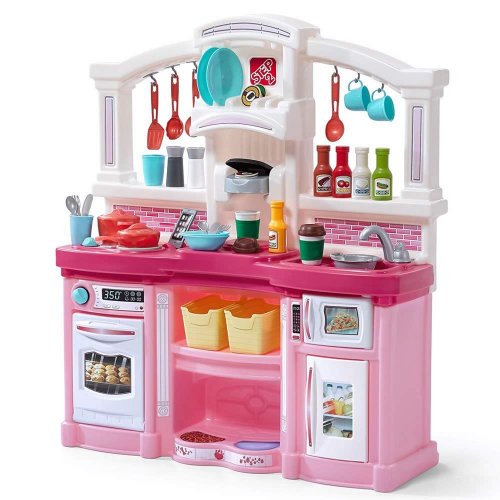 This is another entry from Step2 on this list of play kitchens. This one is a little more cartoony, and has lots of little features for your children to enjoy.
Packed With Entertainment
The Step2 Fun With Friends is decked out with lots of things to do. It has the basics, such as an oven, a fridge, and a microwave, but there are lots of other pieces to enjoy, too. Interesting additions to that formula are things like a place to put some dog food and water, both real and imaginary, so that there is even more options for fun.
Other Features
The Fun With Friends has many other great things going for it that make it a good choice for anyone looking for a play kitchen. There are some convenient bins that can be stored under the sink that are perfect for fitting all the toys when it is time to clean up. The stove is also designed to make realistic cooking sounds when there are pans put on it.
Cost and Value
This entry from Step2 is a good choice for lots of people. It has a great, welcoming, look that will entice your kids to play with it again and again. There are tons of knobs and drawers for extended periods of play, too. Best of all, it comes at a really great price for how much you get with it. It comes with everything, except the food that your kids will be cooking up.

10

. Little Tikes Splish Splash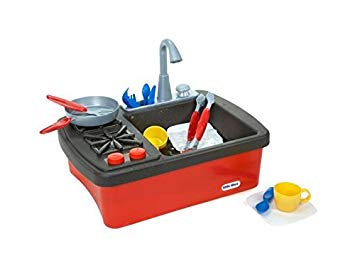 This is another entry from Little Tikes, but they just have lots of great products to go around. This one is different than the others on this list, because it is very portable, and toddler friendly.
Portable Kitchen
This play kitchen is designed so that it is easily portable, and can be played with by anyone. It is just a small tray that has a two piece stove, and a sink for washing up. This makes this a good play kitchen for when you are bringing your child somewhere and need to give them something to distract them on the ride, or for when you get to your destination.
Other Features
The Splish Splash has lots of clever features that make it easy to use, and to clean up. It is made completely out of plastic, and doesn't have nay hard to reach places. This means that is easy to clean up. It also has a sealable portion in the bottom of the sink that allows you to put away all your accessories after you are done with them.
Cost and Value
The Splish Splash costs quite a bit less than the other entries on this list, but it is also designed for a much more specific purpose. This is the play kitchen that you should buy if you want something for your kids to do that you can move around the house with you. For the smaller size of this set, it has lots of things to do.

Subscribe to our Newsletter