The 10 Best Patagonia Jackets Fully Reviewed
In a Hurry? Editors choice: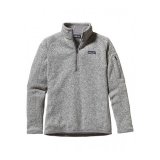 Test Winner: Better Sweater

Patagonia: the name is like a sweet tender kiss on the lips of a frozen traveler. If you're caught out in jack frost's brutal playground on a cold winter night, then Patagonia is your best bet at not only survival but style as well. One is left perplexed to name a brand more synonymous with warmth and class. They've been doing this for a long time and have thus garnered a reputation for some of the best in winter gear. But, of course, only 10 can rise above.

Getting caught in the winter air is no fun for anyone. Well, if the snow were sentient, it likely would have quite a bit of fun freezing us puny humans to the bone. But for us, winter may bring about the best holidays, but it also brings the worst weather. But with Patagonia, you at least won't have to face it alone.
Standout Picks
Criteria Used for Evaluation
Weight
Ultralight: This type of sweater is usually worn by people who partake in winter sports. And it's easy to see why, they're very versatile, while also being very warm and cozy to wear. They have similar insulation properties to down sweaters, which we'll discuss in more detail when we reach them. However, these jackets utilize premium lightweight shell and down fabrics which contribute to the jacket being more lightweight. These are great whether you're partaking in outdoor activities during the cold weather, or simply watching them from the bleachers. They help retain your body heat, so you aren't left shivering, while still being lightweight enough to be worn during casual days. Keep it closed to keep warm, open it up to look cool, the choice is yours.
Down sweaters: Now, as you might imagine, these sweaters are literally made from duck down. These are what you'd go with if you wanted a more casual appearance. These sweaters are designed to be nice, casual, stylish, all the while providing plenty of warmth, as is their function. Like before, these are very good to wear when you're watching or even partaking in an outdoor sporting event in the winter.
Mid-heavyweight: These are made for when the weather outside redefines frightful. When it's heavy duty snow outside, then you need to break out the mid-heavyweight jackets. These are the big puffy ones that make you feel like a walking human marshmallow. These jackets can handle pretty much everything, from skiing to backpacking up a snowy mountain. However, be forewarned, they do weigh more than the two previous entries. The reason for this is simple, they carry a lot more insulation and filler than the previous entries, and while they will do their job right, you will have to be prepared to gain, like, 5 extra pounds in the bargain. Speaking of insulation, though.
Insulation
Insulation
Pretty much every single one of Patagonia's jackets is made with some kind of filler or insulation as a bonus. The most common kind of filler is duck down, which is used by the bird they initially came from as a means for thermal temperature regulation. Patagonia uses down in pretty much all of its jackets, although different down depending on the product. And since it's different, some, of course, are better than others.
The quality of the down itself is measured by what's known as a fill power number. The higher the number, the higher the quality of the down itself. For example, let's say you have two different jackets. One has a fill power number of 600, and the other is 800. Which do you think is going to help you feel toastier against the snowstorm that's raging outside?
How well your jacket regulates the warmth of your body is known as the jacket's "loft." If the jacket in question has a high loft, then that means that the jacket is better at regulating temperature, meaning that the inside of the jacket when completely zipped up will be warmer. So, if you live in, say, Chicago, where the snow can get particularly bad some years, then you need to find a jacket with a very strong loft.
Durability
Durability
The durability of your jacket depends on two different details: what material the jacket is made out of, and how much it weighs. Lightweight jackets can be pretty durable in their own right, but heavier jackets just tend to last longer because they're made of tougher materials. They have to be because a heavyweight jacket has a lot more stuff it needs to hold in.
Keep in mind, of course, that just because a jacket is meant to be light or even ultralightweight, that doesn't mean it can't be just as durable as the heavier sets. Again, it's all in what the thing is made out of.
It's also all about what the thing is primarily trying to accomplish. If a jacket prioritizes being warm over being durable, it will still try to be durable so that you don't waste your money on a jacket that blows away into the first stiff breeze it meets. But the insulation will still be the top priority.
Value
Price
It's an undeniable fact of life: if you want a Patagonia jacket, then you need to cough up the big bucks. These jackets go for upwards of hundreds of dollars on the retail market. And while it will be rare to find one that costs over $1000, Patagonia loves to push that envelope by getting as close as they possibly can. Fortunately, anyone who buys a Patagonia product will agree that they are more than worth the price. They're completely insulated, comfortable to wear, are almost always stylish, and will never once make you rethink your purchase.
Top 10 Picks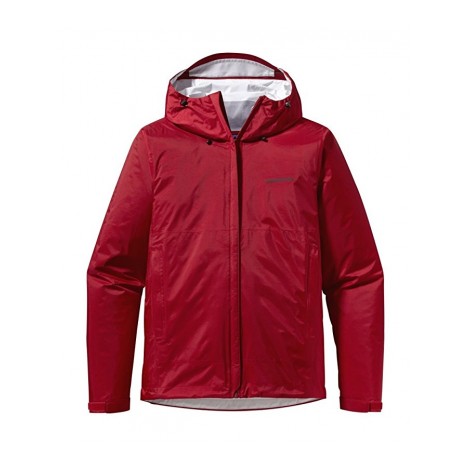 Starting off our list, we have our #1 pick, the Torrentshell Jacket. If you live in an area known for being both rainy and windy at the same time, then this is about as perfect a jacket for you as you can get your hands on. It may not be the cheapest thing in the world (get used to that with Patagonia), but it's definitely worth the money.
Insulated against the wind
It's not exactly the most insulated thing in the world, but it's not really meant to be. This is a jacket meant to be worn on top of other pieces of clothing, so insulation is helped by that factor. Meanwhile, the thing that this jacket is meant to insulate you from is the wind. It blocks the wind from hitting your body full force, meaning no more wind chills when you're wearing this.
Durable
Don't let its thin, flimsy design fool you, this jacket is 100% nylon. Very little will tear this jacket, and you have a testing guarantee from Patagonia. Which is a very good thing, considering what we're going to discuss in the next segment.
Cost and Value
Let's get one thing straight right off the bat; Patagonia products are not cheap. They are considered high quality in both fashion as well as functionality, and they put a lot of expensive material and resources into making their products as good as possible. Because of that, you get these exorbitant prices. But it should be noted that the products in question are always worth the price.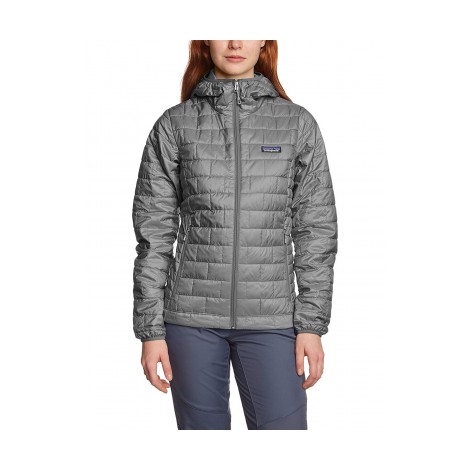 Coming in second place, our #2 pick, the Nano Puff Hoodie. This is easily one of the best winter jackets you can find out there right now in terms of functionality and comfort. So, what precisely does it do that's so dang impressive? Let's take a look and find out.
Water repellent
Is it snowing? Or are you getting a good winter shower? Well, worry not about your jacket, because the material it's made out of has been outfitted with water-resistant coatings and fully sealed seams. Not only making this one of the most durable jackets that Patagonia has in their lineup but also one of the most waterproof.
Very warm
If you live up north, in cities like New York and definitely Chicago, then warmth is what you're looking for above all else when winter comes knocking. Not to worry then, because if the Nano Puff hoodie has you covered anywhere, it's in the warmth provided by the jacket itself. Through a mix of the material keeping out the cold and keeping your body heat in, this hoodie is the best when it comes to keeping warm.
Cost and Value
Like a lot of different clothing, this jacket comes in various sizes, each having its own price tag attached. At its smallest size it's a rather average price, but in its largest size, it becomes extremely expensive, even by this list's standards.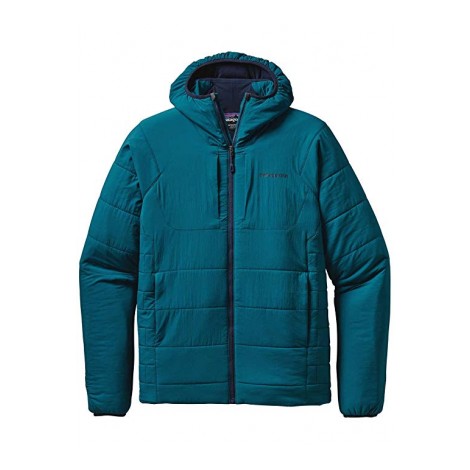 Finishing up our top 3 segment, we have the Nano-Air Hoodie. This light, yet durable nylon jacket sits at the top of most people's best winter jacket lists, and it isn't hard to see why. Why is that? The answers are as follows:
Ripstop shell
The title may say nano-air, but there's nothing thin about this hoodie. Despite its lightweight nature, this hoodie is very durable, thanks mostly to its ripstop shell and plain-weave liner. Top it all off with a durable water repellent finish (or DWR for short), and you have a jacket with exceptional mechanical stretch and above average breathability.
60-g Full range Insulation
Do you know why Patagonia gets to have the big price tags and the fancy reputation? They get it because they do things like invent the patented 60-g Full range Insulation. This is a special kind of insulation that warms and stretches, and when combined with the shell and liner from before, as well as the patented nano puff-brick quilting that comes with the nano line as default, gives this jacket the kind of stretch and air permeability the likes of which you've never seen before.
Cost and Value
This jacket is by no means cheap, even by Patagonia standards. However, it isn't too expensive by those same standards either, so it all evens out. Especially since it is more than worth your money.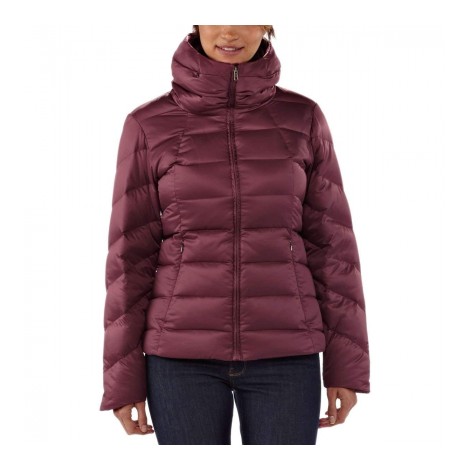 In the #4 spot goes the Patagonia Downtown Loft Jacket. If you're looking for sleek style along with warmth and comfort on those lonely winter nights, then the downtown loft jacket is precisely what you're looking for. Wearing this not only makes you the talk of every man and woman you pass but will also keep you snug and warm when the weather outside is frightful.
Satin polyester shell
Satin and polyester; both are decent enough at keeping you nice and warm on their own but blended together, the two make an unmatched team when it comes to warmth and comfort. Satin provides the soft, comfortable feeling, while the polyester adds extra flexibility and durability. Add onto that some 600-fill-power duck down, and you have a recipe for one very warm jacket.
Stealthy hood
Hoodies are nice, but the hoods themselves can easily catch onto something, or if it's snowing, the snow can build up in the hood, ruining it when the snow inevitably melts. So thankfully, the hood of the Downtown Loft jacket comes with a special pocket in the collar that the hood can fold into.
Cost and Value
Like before, this jacket also has a size-based price range. Unlike the previous entry, however, it's a lot more forgiving in terms of highs and lows. The middle of this range shouldn't give you any trouble at all.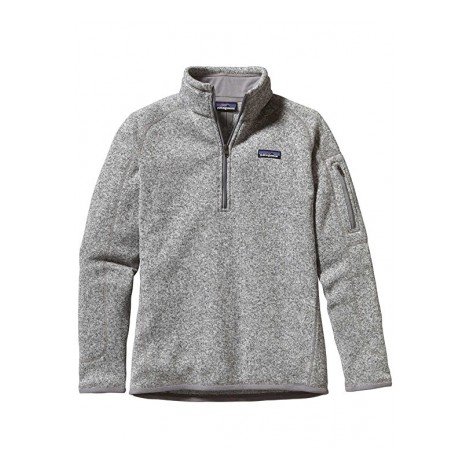 In 5th place, we have the Better Sweater. This is, without question, one of Patagonia's most famous products that they've ever put out. And it isn't hard to see why, as this jacket is made from a large number of high-quality fabrics that make it equal parts light and warm. If you're looking for top-tier winter weather protection, then this is the jacket for you.
Warm comfy build
The build of this jacket is specially designed to be as warm and snug as possible. The fabric itself is made with a sweater-knit face, and the interior is made from fleece. The yarns are heathered, giving it more breathability while still helping to retain heat.
Machine washable
You'd be surprised just how many of these jackets can't be washed in a washing machine, usually having to be wiped clean with a damp cloth. However, one of the main things that make this jacket so comfortable is the convenience of being able to be washed in a washing machine.
Cost and Value
The best part about this jacket is the price and is easily the biggest secret behind its mainstream appeal. The price range is very forgiving and only goes up as high as it does because this jacket is available in so many sizes.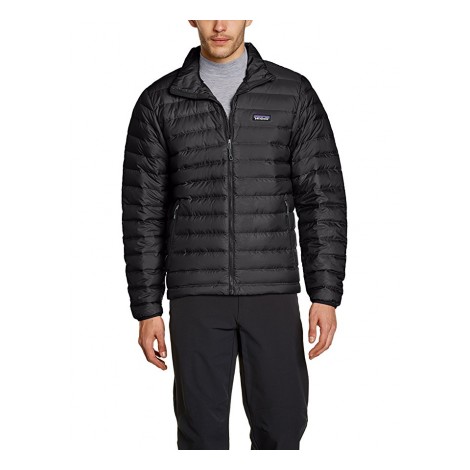 In our #6 spot, we have the Down Sweater. Unlike other entries on this list, this jacket is completely synthetic in its material and make. However, do not take that to mean that you should underestimate this jacket, as it is more than capable of keeping you warm when a cold front blows into town.
Longer length
If there's any pet peeve people have about these sorts of jackets, is that even when you buy one that seems to fit, you'll still have trouble when it comes to lifting up your arms, and the hem of your jacket comes with you, and then takes your undershirt with it. But thankfully, this jacket, by default, comes with a longer length hem that won't give you such troubles.
Durable shell fabric
The fabrics that make up this jacket is a durable shell fabric, made from 100 recycled polyester ripstop, that's then treated with DWR. This makes it rip-resistant, water-resistant and just good looking all around.
Cost and Value
The downside to this jacket is the price, which starts expensive at its lowest price and only keeps going up. You'll often find the smallest and largest size of this jacket priced $200 apart from each other.

7

. LW Synch Snap T Pullover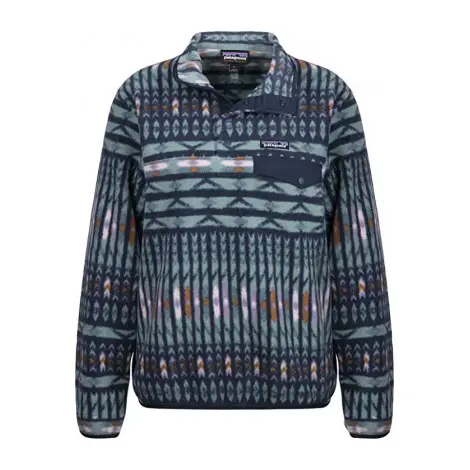 In our #7 spot, we have the LW Synch Snap T Pullover. A bit of a mouthful as far as names go, but don't worry, this is one very high-quality jacket. So, what is it that makes it such a worthy part of Patagonia's lineup? Well, let's take a hard look.
Warm, comfy, but not in the way
While this pullover jacket is made from all the stuff that makes a Patagonia jacket just that, it's made in such a way as to make it completely out of your way when you wear it. You can play sports, go to class, and do pretty much everything you do without having it on, and never have to take it off because it feels like it weighs you down.
Spandex cuff and hem
The cuffs and hem of a jacket can be a bit irritating, especially if the cuffs run a bit small compared to the rest of the jacket. Fortunately, the cuffs and hem of this jacket are made of spandex. Which means they'll comfortably stretch to accommodate your wrists and hips.
Cost and Value
The best part about this item is the price. Being a simple pullover, with nothing very special implemented into it, at least not when compared to the others, the price range is actually very fair at most retailers. In fact, the base price for this pullover may be one of the cheapest on this list.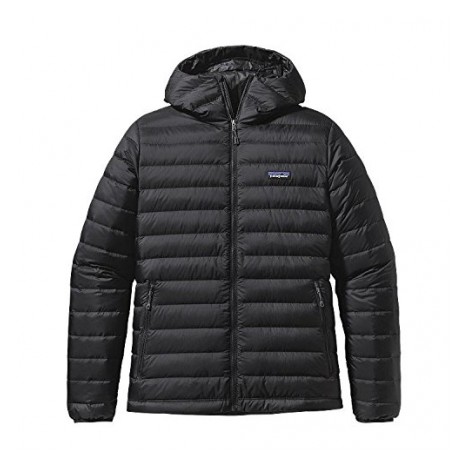 In 8th place, we have the Down Sweater Hoodie. Now you may be wondering what real difference there is between this and the down sweater from earlier. Simple, this one has a hoodie. But in all seriousness, there are a plethora of other differences between this and its cousin elsewhere on this list.
Nylon-bound elastic cuffs
One of the things that gets in the way of enjoying the warmth of your sweater is when your cuffs are just big enough to let in the cold when you lift up your hands. Now the layer of warm air that was maintaining your body heat is gone. To combat this, the cuffs are bound with nylon, which you can adjust to your comfort level, but are there to maintain the warmth of the coat's interior.
Single-pull adjustable hood
Wouldn't be much of a hoodie if the hood itself wasn't worthy of any mention, would it? And this hood is something else, to be sure. For one, you don't need to pull on two different strings simultaneously just to adjust the thing, instead of being adjustable by a single, conveniently located string.
Cost and Value
At smaller sizes, this hoodie's price is perfectly manageable, but in larger sizes, it's one of the most expensive items on this list. Which is a real problem if you're plus size but want a high-quality hoodie for yourself when the weather starts dropping.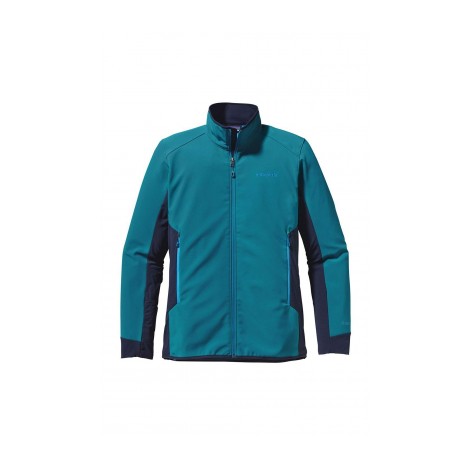 In our second to final entry, we have the Adze Hybrid Jacket in #9. Don't worry if you have trouble pronouncing the name, no one really can. But despite that, this is still one of the all-time best lines of jackets that Patagonia have ever put out. So, what makes it that way, you ask? Well, for starters.
Gusseted underarm panels
You ever wonder why your jacket lifts up with you when you lift your arms? The answer is actually under your arms. The underarm area is often undersized, meaning that when you lift your arms up, the rest of the jacket doesn't have enough slack. Luckily, this jacket comes with gusseted underarm panels that give you that extra slack that you need.
Polyester and spandex blend
The soft shell of this jacket has been made with a strong, flexible, and most of all comfortable blend of polyester and spandex. Add onto that a DWR finish and a fleece grid backer, and you have a jacket that is both warm, functional and comfy to wear.
Cost and Value
Once again, we have a surprisingly good deal for a Patagonia jacket. True, it's likely because there really isn't anything to this jacket besides some really good materials, but the price range on this one is actually very affordable by Patagonia's standards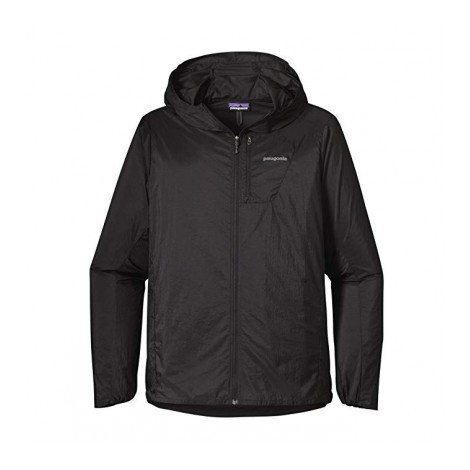 In our final entry, we have the Houdini Jacket, a rather run of the mill jacket, now that we know the standards set by Patagonia. By no means a bad jacket, however, as it is very high quality. Certainly, much higher quality than other jackets like it from other brands.
Drawcord hem
The problem with jacket hems, even the really good elastic ones, is that they, by their nature, cannot predict the size of the person wearing them. However, the Houdini chooses not to even try predicting, as its hem is controlled by a drawcord. Now you can control how loose or how tight your hem is around your waist.
Specialized hoodie
Not only is the hoodie controlled through a singular cord that you can use to control the size of your hood, without having to sync up two cords at the same time like with other hoodies. Now the hood is also specially shaped in order to not block your peripheral vision while keeping to what makes a hoodie so useful.
Cost and Value
We're back to a very average price range for Patagonia, firmly set in the triple digits as always. But the price range itself is tight and fair, with usually only about a $50 difference between the shortest and longest size.

Subscribe to our Newsletter