Best Microphones for Streaming Reviewed & Rated for Quality
last updated:
Apr 22, 2019
Using entry level equipment just isn't going to cut it anymore. The cameras and microphones that come with most computers these days just aren't going to be good enough if you want the audio or visual quality that you would hope for. This is especially true of the microphones these days. It has become increasingly easy to upgrade the sound quality of your computer's microphone for a cheap price. If you plan on streaming, this is going to be a necessity. It can be helpful for gaming with friends too. It has also become much easier to set up your sound equipment. Gone are the days of plugging in strange hookups into black boxes. Most of the time the modern microphone just needs a USB slot to plug into. Here is ten of the best microphones that you can use for streaming. They'll make your life much easier, and clearer.
In a Hurry? The test winner after 13 hrs of research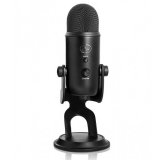 Blue Yeti
Why is it better?
Lots of sound settings
Easy to change volume
Designed for all kinds of sound
Easy to set up
In a
Hurry? Editors choice: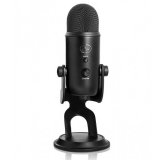 Test Winner: Blue Yeti

15
Researched Sources
6710
Reviews Considered
13
Hours Researching
10
Products Evaluated
Sound Quality
Adjustability
Ease of Use
Insulation
Value
By Default
10 Best Microphones for Streaming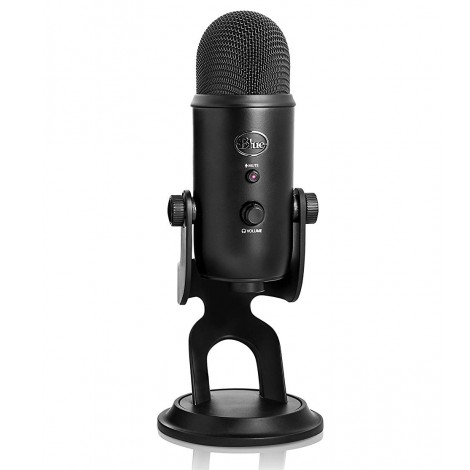 Lots of sound settings
Easy to change volume
Designed for all kinds of sound
Easy to set up
Impractical to move around
The Blue Yeti will bring high quality audio to your streaming session without the need for time-consuming set up or exorbitant prices.
Everything You Could Want
The Blue Yeti is a great microphone for all kinds of people. That is because it comes with settings that make it a perfect fit for all kinds of work. It can be set for all kinds of patterns of sound reception. This includes omnidirectional to pick up the sounds of an entire room, and cardioid for picking up what is only in front of the microphone.
Other Features
The Blue Yeti is great for lots of other reasons too. It is designed so that you can switch around lots of settings. It has easy to reach buttons for volume and muting that will make on the fly adjustments a breeze. It is also great because it can be very easily set up. All you need to do is plug the Blue Yeti into the side of your computer and then you'll be ready.
Cost and Value
The Blue Yeti falls right in the middle of the pack as far as price goes. What makes this such a great option is that it is designed to maximize the effectiveness of all its sound settings. If you want a microphone that will do a good job no matter what you want from it, then the Blue Yeti is the one you should seriously consider picking up.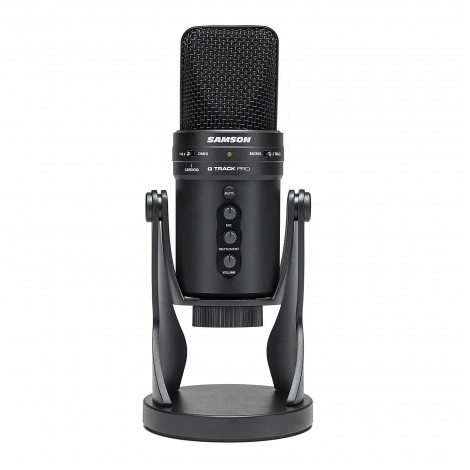 Lots of settings
Can attach an instrument
Easy to change around
Plug and play
Doesn't have a shock proof mount
The G-Track is another great choice if you are looking for a mid-range microphone that can do just about anything.
Condenser Mic
The G-Track is a condenser microphone, just like the Blue Yeti. This means that it will do a great job at handling all kinds of mellow sounds. It is great for any kind of talking or music that you need to do. It has multiple settings so that you can pick the right sound pattern for what you are doing. It will do a great job of picking up all the personality of your voice.
Other Features
The G-Track is lovable for tons of other reasons, too. It is designed with tons of settings that you can switch around on the fly. They are all right on the base of the microphone, which makes it easy to change it up as you go. Another great feature is that this microphone comes with a lone-in for attaching electrical instruments.
Cost and Value
The G-Track costs a little more than the Blue Yeti. These are both durable and powerful microphones that are good enough to pick up any kind of high quality sound that you want. The G-Track is very similar to the Blue Yeti, and it is mostly a choice of which one looks better to you. They both come from respectable companies, too.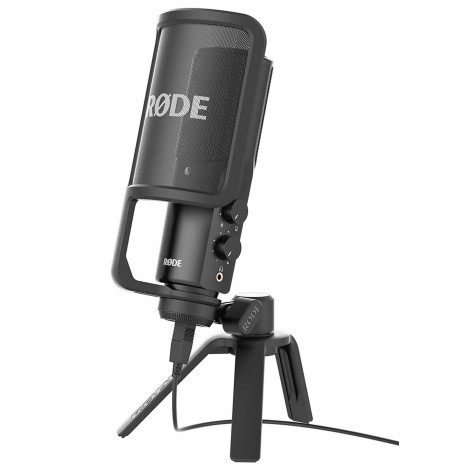 Great sound quality
Can monitor the sound using hook up
Comes with lots of goodies
Quality pop filter
Mic can be too sensitive sometimes
The Rode puts all its eggs in one basket, and is specifically designed for one person to chat into it. It does a great job of giving you perfect sound audio.
Cardioid Microphone
The Rode is designed with a single sound setting, but it does commit to that setting very effectively. A cardioid sound pattern is named the way it is due to the heart shape that it picks up. It is perfect for picking up noise from a single direction, without letting in any bleed from outside that heart shape. This makes it perfect for a single speaker, such as with podcasts or streams.
Other Features
The Rode comes with some other clever features, too. It comes with a pop filter that does a great job of reducing any unwanted and uncontrollable noises. The pop filter is very well-made and effective. It also comes with tons of pieces of equipment for set up. This includes a stand for the microphone, a bag for storage, and an attachment arm for hanging the mic.
Cost and Value
The Rode is a pretty high-end choice for a cardioid microphone, It will give you some of the best recorded audio you could hope for. This choice is perfect for anyone who knows exactly what this microphone is being set up for. Using the Rode microphone will make sure that your listeners know exactly what you are trying to say.
4

. Audio-Technica Cardioid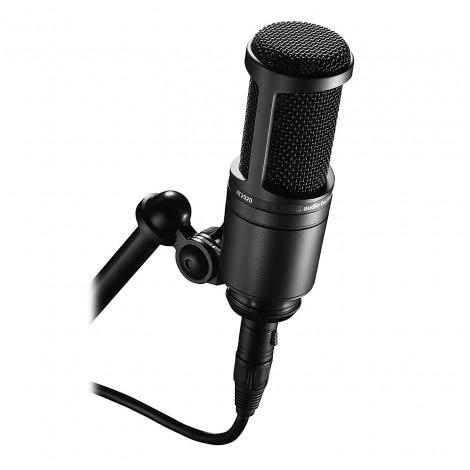 Great sound isolation
Does a good job at dealing with range
Comes with goodies
Good price for value
This is another cardioid microphone, but this time it is made by Audio-Technica. Their microphones are a bit simpler and cheaper than the Rode ones.
Simpler Cardioid
Outside of being a cardioid microphone, the Audio-Technica is the perfect microphone for those who are seeking versatility. It has a high range of sound that it can comfortably handle, so don't worry if you have any unexpected shouts due to the game. The Audio-Technica is designed to be able to handle all kinds of sounds and situations.
Other Features
The Audio-Technica has lots to get excited about. The isolation of its sound pattern is very effective, which makes it perfect if you are worried about any side noise being picked up. It also comes with tons of goodies, including an arm for mounting it on a table or stool. It also comes with a bag that will let you package it all up safely when you are done.
Cost and Value
The sensitivity of the Rode makes it a good choice if you can control your environment perfectly, but the Audio-Technica's isolation makes it perfect when you need something to use in a more free studio. It does a great job of only allowing for the noises that you want people to be able to hear. It is also a cheaper solution, which is something to be excited about.
5

. Antlion Audio ModMic 5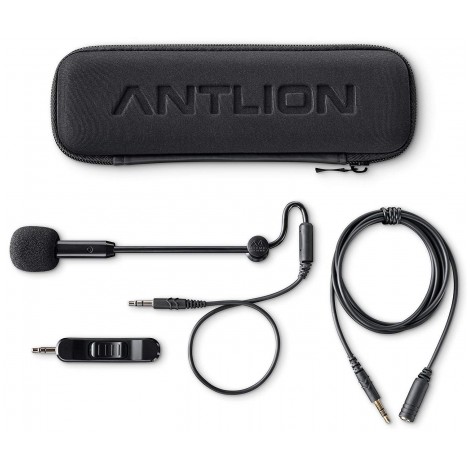 Easy to attach to headphones
Multiple settings
Easy to adjust mute and volume
Flexible arm
It takes some work to get the sound just right
The ModMic is a unique option that will easily convert your favorite pair of headphones into a gaming headset. This is a perfect solution if you want something lowkey.
Headphone Attachment
The way that the ModMic works is that it is attached to the side of your preferred headphones with some adhesive tape. It is very easy to set up, and it lets you put it just where you want. The microphone is attached to a short arm that lets you place it just how you should like it. The result is a perfect microphone that doesn't get in your way when you are trying to focus on the game.
Other Features
The ModMic has tons of features that will make your life easier. The microphone can actually be set for multiple modes. It will do a great job being used as a unidirectional or as a omnidirectional microphone. The arm of the microphone is also flexible, which makes it easy to switch up the positioning if something isn't working out.
Cost and Value
A big thing going for the Antlion is that it doesn't cost very much. Although it is such a small option when compared to the other microphones, it does a great job at picking up any sounds you need it to. The way that it is designed is also perfect for making sure that you don't feel like you are being distracted by the bulkiness of the other Mics on this list.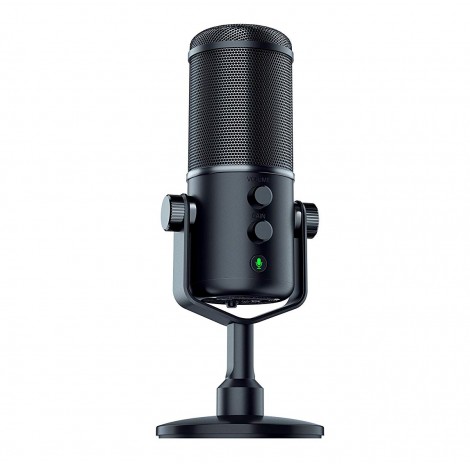 Designed for streaming
Great filter for unwanted sounds
Great dynamic range
Natural sounding audio
This is a dynamic microphone that is designed to be able to pick up every little switch up in your voice and setting. This is a professional microphone.
Professional Microphone
The Seiren has been designed with streaming specifically in mind. It has been designed to do a great job at capturing your voice perfectly. It uses a single capsule, compared to the three capsules found in many other options, so that your voice is being recorded in a natural way. It also does a great job at filtering out incidental sounds you don't want your viewers to hear.
Other Features
The Seiren does a great job in many other ways, too. It is designed so that you can easily keep up with what you voice sound like, due to the implementation of a monitor. The monitor program works with no latency, so you'll never feel behind your viewers when something goes wrong. The Seiren is also designed with a wide range that is perfect for catching all your laughs and shouts when things get hectic.
Cost and Value
The Seiren is designed with streamers in mind, and the results are apparent. The Seiren does a great job at making sure that your voice comes out in a natural and pleasant way. The sound quality is perfect. It also does a good job at filtering out anything unwanted. This microphone costs a bit more, but it is worth the cost if you have the money.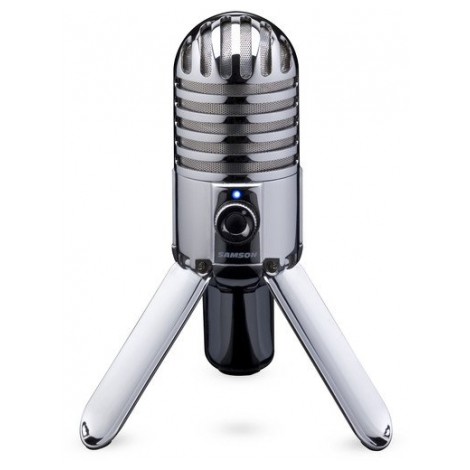 Easy to stand up
Attaches through USB
Great value
Good sound isolation
The monitor software has some interference
The Meteor is a simple and cheap microphone that does a great job at giving you some of the best audio you could hope for from a microphone.
Simple Set Up
The Meteor is a studio performance mic, but without all the hassle of the other mics of that caliber. The Meteor is packed with features that put it in the same category. It has a cardioid pattern that does a great job of picking up only the sounds that you want. It is also designed so that the sound you record is very high definition.
Other Features
The Meteor has other features going for it, too. The other thing that makes this such a good choice is how easy it is to set up. The meteor comes with a three-pronged stand that is perfect for setting the microphone up very quickly, without needing to worry about its stability. The microphone also is attached through USB cable, which makes it even easier to set up.
Cost and Value
The Meteor is a great option for tons of reasons. Another one of them is that the Meteor doesn't cost very much, at all. This microphone is perfect for anyone who wants something simple. This microphone doesn't need a studio, or any special set ups. It can rest under its own weight while giving you great audio quality that you can be proud of.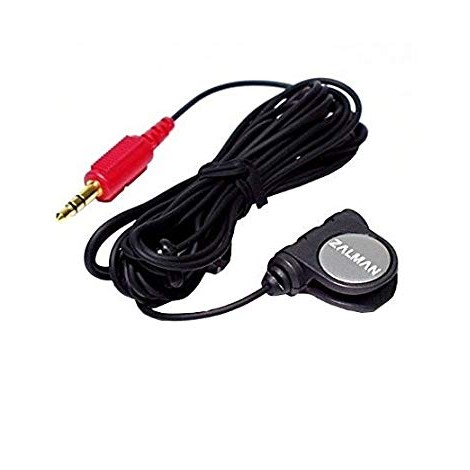 Very powerful microphone
Long cord
Easy to set up
Great price
Microphone picks up all sounds
The Zalman is another headphone microphone that you can attach to your headphones. This one is even easier to use, and easy to set up.
Headphone Microphone
The Zalman has a very clever design that makes it incredibly easy to set up. It comes with a jack that you plug right into the head phone jack. This attaches the microphone right into your headphones, without the need for any complicated set up. It is easy to personalize where the headphone is through the mini clips that come with the microphone.
Other Features
There are some other greta things about the Zalman. One thing about the Zalman that many reviewers noted is that it doesn't have any sort of noise isolation. This microphoen will pick up any sounds that it hears. This can be good for immersion, as your listeners will more fully appreciate where you are. The other great thing is the cord is incredibly long, which is great for being able to position yourself anywhere.
Cost and Value
The Zalman is the best deal on this list by a wide margin. You will get a very effective headphone for an incredibly cheap price. It doesn't have much in terms of other features. There are no options or settings to worry about. This is a very powerful microphone that will do a good job of making sure that your viewers can hear you.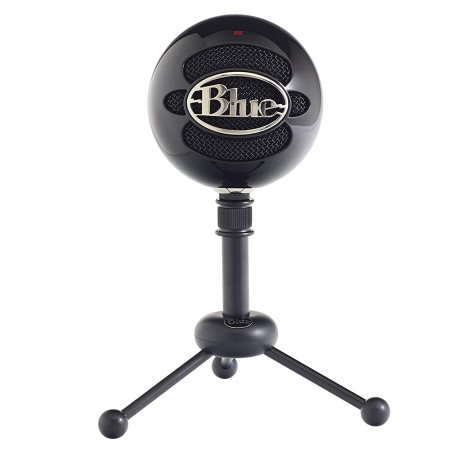 Easy to set up
Multiple settings
Great price
Lightweight build
Have to be very close to it
The Snowball is another microphone option from Blue that will do a great job at keeping your audio woes as minimal as is possible.
Simple and Effective
The Snowball is designed to be a microphone that you can quickly set up and get to work with. It is connected through a USB plug in, which makes it very easy to plug it into your computer and then immediately be ready. It also comes with a convenient stand that can be set up in seconds. You won't have to worry about the stability of your mic, at all.
Other Features
The Snowball comes with tons of other things to like, too. It comes with a few different settings, which is great for switching it up when necessary. It can be used in both a cardioid pattern, and an omnidirectional one. The Snowball is also great because it is so lightweight, which makes it perfect for storing and taking out as needed.
Cost and Value
The Snowball has another big selling point going for it. That is the fact that it doesn't cost very much, at all. This is a great budget microphone that just about anybody can buy and enjoy. It will do a great job for any kind of streamer. The multiple settings and easy set up also makes it a perfect choice for anyone who is just getting into the hobby,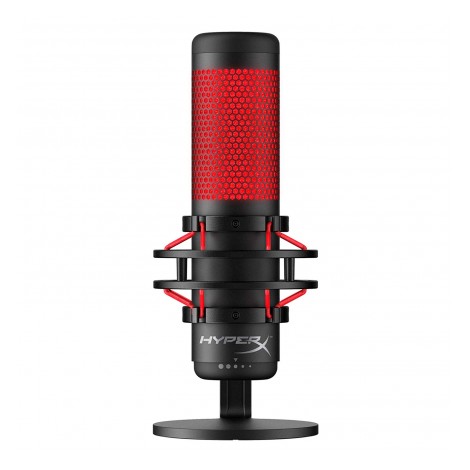 Lots of settings
Easy to set up
Good stability
Interesting style
The mic can get in the way
The HyperX is a newer microphone that is designed for streaming. It is packed with features, and strikes a good balance between professional and cool.
Fancy Microphone
The HyperX has a very striking design, but the design of it is the real eye-catching piece. It is packed with different options for its use. It has cardioid, omnidirectional, bidirectional, and stereo settings to work with. It also uses some ease of use functions that make your life much easier, such as the single touch button to mute the mic.
Other Features
The HyperX has tons of other things going for it. It comes with a mount that is incredibly easy to set up. It is also shock resistant, so the mic will remain stable if someone smacks the table that it is sitting on. The HyperX is also great for how easy it is to set it up. It has a professional look, but all it takes is a USB plug to set it up.
Cost and Value
The HyperX is a great microphone for anyone who is interested in getting something a little fancier. It does a great job in any of the settings that it is set in, and it sports a good pile of quality of life features that will immediately make your life easier. The flashy style is also a big selling point. It is one of the costlier options, but does a good job at its price point.
Criteria Used for Evaluation
Expert Interviews & Opinions
Most Important Criteria
(According to our experts opinion)
Experts Opinion
Editors Opinion
Users Opinion
By Default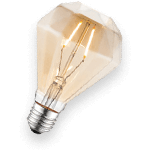 Keep Set Up Simple
Buying one of the cheaper options on this list might be a good idea if you don't plan on using your streaming set up every time you use the computer. Some options on this list come with bulky microphones that prefer to stay where they're put. Others can be put in a bag and then in a drawer when they are not being used.
Gear Hungry
It takes a lot of things to set up your stream. Buying a microphone is an important part of it, but there are tons of other things that you need. Make sure that you have everything, and that everything is compatible with each other, too.
Other Factors to Consider

Size
When you go from playing video games, or whatever hobby you want to share, on your own to doing it for an audience with a microphone, it can be surprising how different it feels when there's a microphone in front of you. One of the biggest reasons for this is that some microphones are larger than others. Some microphones are so large that they will take up your entire face if you put it in front of you. One way to make yourself feel more comfortable in front of a microphone is to find one that does a good job of letting you rest naturally. One of the advantages to the microphones that you attach to your headphones is that they will come with you as you go, so you don't need to be worried if your sounds are being picked up by the microphone. Some of the larger studio microphones will need you to lean in to use them, which is something to keep in mind.

Compatibility
Something important about buying a microphone is making sure that it is the right microphone for what you want to do with it. Some microphones are designed for certain things. Condenser microphones, for example, are designed more for sounds that fall in the middle of the sound level range. This includes things like voices and guitar. These kinds of microphones will do a good job of making sure that the sounds will never be too loud for your guest. Another thing to think about is how much sound you want to let in. Cardioid microphones do a great job of listening in on a single person, but an omnidirectional mic will do a good job of catching sounds coming from all over, if you wanted to use directional sound with your viewers. The kind of experience you want your viewers to have is an important thing to keep in mind.

Features
There are some useful features to look out for that many of these microphones have. It will make your time streaming much more comfortable. This includes things like the ability to mute the microphone easily. Anything can happen while you are streaming, including personal information being let out, or something embarrassing coming through your bedroom door. Making sure that you have a microphone that can have the sound turned off immediately is an important way to know that you'll be safe. Another useful feature to think about looking for is finding a microphone that comes with a monitoring program in the microphone. This is the easiest way to be able to tell what sound is being heard by people in the stream, as well as what sounds are being heard, too.
Frequently Asked Questions
q:

What else do I need to stream?

a:

It takes a few different pieces of equipment to get your stream off the ground. The fact that you are looking at this list is a good start. A microphone is important because it is your first impression to the audience. Good sound quality is what people will stay around for. The next thing to look for is a good set of headphones. You want headphones that will do a good job of letting you hear the game, as well as the other sounds that are going on in your stream. Another important thing to look for if you plan on streaming from your console to your computer is a capture card. This is a machine that will send your gameplay on your console to your computer so people can see it. Finally, and optionally, you can buy a webcam too. A webcam lets people see your face, which might be important to getting your audience to know who you are better.
q:

How do I set up my new mic?

a:

With most modern microphones it will be very easy to get your microphone set up. This is because most microphones use a USB port to work. If you buy one of these microphones, then you don't have to worry about any extra pieces of equipment or software to get your microphone to work. It will be as easy as plugging in the microphone, and then opening the proper program that comes with it. The only thing that might make this more difficult is if you buy a microphone with a different connector. Some microphones use the connectors that go with more serious audio equipment, such as guitar amps and the like. If you buy one of those microphones, then just make sure to also buy an adapter for it so that it can attach to your computer's USB or headphone jack.
q:

What type of sound pattern should I use?

a:

There are multiple kinds of sound patterns that microphones use. Which one you should use depends a lot on what you want your audience to hear. The most often used one by streamers will be the cardioid. This is the pattern that you use if you just want people to only hear you. The pattern is narrow and directed towards the person talking. The other most common type of microphone is the omnidirectional. This is a good choice if you want to pick up the sounds of multiple users, or a full band. This microphone will pick up sounds from all sides.
Subscribe to our Newsletter