Best Metal Lockers Reviewed & Rated for Quality
last updated:
May 30, 2019
High School wouldn't be High School without the presence of lockers--they hold an absolutely seminal role in high school culture. Slipping notes in the louvers, meeting at such-and-such's locker between classes, decorating with pictures of heart-throbs and album covers...getting shoved into a locker. (Let's forget about that last one!)
But if truth be told, these sturdy storage cases can serve just as many functions outside of the high school setting as they can within. Not only are the units on this list great for office storage, but they are ideal for home storage as well.
While some of the options we feature are more heavy-duty products, many are designed for home use. Some are meant for kids while others can double as TV stands. So latch onto all of the nostalgia that's attached to metal lockers and welcome one into your business or home.
This is the best product on our list that is currently in stock: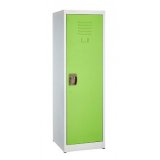 AdirOffice Kids
Why is it better?
2 different height options
4 kid-friendly color options
2 adjustable shelves
2 sets of hooks
Louvers and name tag holder
In a
Hurry? Editors choice: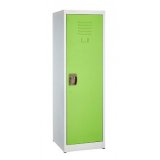 Test Winner: AdirOffice Kids

15
Researched Sources
1400
Reviews Considered
10
Hours Researching
10
Products Evaluated
Size
Materials
Style
Features
Value
By Default
10 Best Metal Lockers
1

. Salsbury Industries Five Tier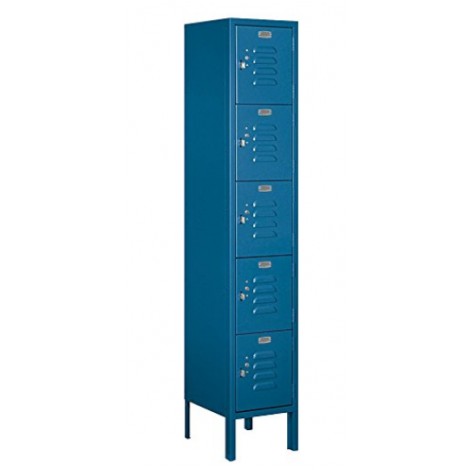 5 1ftx1ftx1ft cubbies
3 color options
Customizable combination and digital locks
Louvers and identification plates
3-year warranty, best value
Issues bending metal during assembly
The Salsbury Industries Five Tier is an incredible full-sized option that offers tons of individual storage space with a variety of customizable options in-factory. That means you can specify your locking requirements and Salsbury will handle it for you so that your product is ready to go upon delivery.
5 Separate Storage Compartments
This set from Salsbury Industries is one of the largest on our list, as well as the most heavy-duty. When fully assembled, it measures 5 and a half feet tall, 1 foot wide, and 1 foot deep. It weighs a solid 54 pounds so you can rest assured that this baby isn't going anywhere.
It features 5 separate storage compartments. The storage parameters are as follows: 1 foot tall, 1 foot wide, and 1 foot deep.
This product is made of metal and comes with assembly instructions. We recommend using two adults to assemble and remind you that the metal pieces can be sharp so exercise caution when assembling.
Multiple Locking Options
This product comes in 3 available color options: blue (pictured), gray, and tan. But blue is our favorite.
Salsbury Industries loads this product with handy features. Each of the 5 doors comes with 4 louvers down the middle for ventilation. If you've ever been in a locker room, you know how unpleasant odors can become when they're locked up. This will help to bring some airflow into each unit.
The standard locking unit is a steel hasp. Each of these is designed to accept a combination or padlock lock (available upon request for additional fees). But if you're looking for something a little bit more high-tech, don't worry! Salsbury Industries has you covered.
Upon purchasing this unit, you may request for Salsbury Industries to install either built-in combination locks or built-in digital locks. These, of course, will result in additional fees, but we absolutely love these available options. And you may also request to have numbers or names engraved on the identification plates for each unit.
Cost and Value
The Salsbury Industries Five Tier rings up towards the top of our price range but we love its value because it's--in our opinion--the best bang for your buck out there. Plus, with tons of customizable options and a 3-year warranty, it's hard to beat this deal.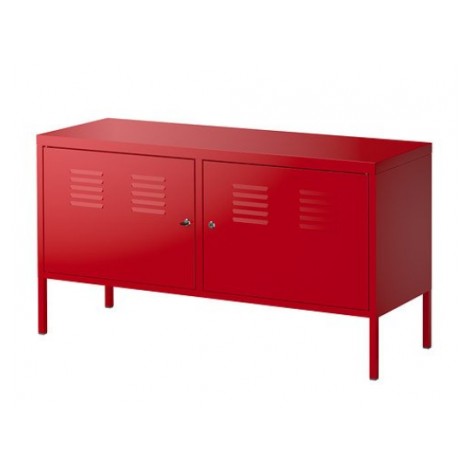 Multi-function furniture piece
2 locks and 2 keys
3 fun colors
1 shelf in each compartment
Easy to clean
Issues with dented panels upon delivery
The Ikea Cabinet Stand is a modern twist on the traditional locker, which only Ikea can do. Because it is configured differently, this product can also double as a TV stand, bar, or display case. With fun color options and tons of storage, this is one of the best-designed products on our list.
Features Organizational Shelves
As we mentioned before, the dimensions of this product are a little different. It measures 4 feet long, a foot and a half tall, and 5 inches deep. Its unique configuration lends itself towards being a bar, a runner, or a TV stand.
The unit features 2 doors with 2 separate storage compartments inside. Each storage compartment is separated by a shelf. Because the base of the unit is elevated off the ground, it is easy to clean underneath it.
This product is made of metal and can be easily cleaned. It must be assembled but comes with easy-to-follow directions. Only one adult is needed to assemble this product.
Comes With 2 Locks and Keys
The Ikea Cabinet Stand comes in 3 color options: blue, red (pictured), and white. Each door features 2 rows of 5 louvers to allow ventilation for items inside. Each door also features a lock and a key, included.
Cost and Value
The Ikea Cabinet Stand rings up in the middle of our price range and we love its value because Ikea masters the art of marrying fashion with function. Not only will you get safe storage that's locked up, but you'll also get an additional piece of furniture on top of that.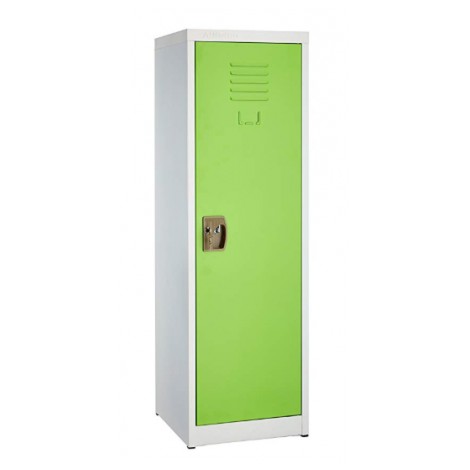 2 different height options
4 kid-friendly color options
2 adjustable shelves
2 sets of hooks
Louvers and name tag holder
Trouble lining up holes during assembly
This option from AdirOffice Kids is an amazing way to add organization and tidiness to any child's room. It's large enough to hold sporting equipment but also designed to house textbooks and notebooks. With fun colors to choose from, it will fit the decor of any kid's room.
Constructed from High-Quality Materials
The AdirOffice Kids Storage comes in a couple of different size options to suit everyone's needs. Each product is 15 inches deep and 15 inches wide. Choose between a 2-foot tall unit or a 4-foot tall unit. Taller units are ideal for sports gear, though they can also accommodate games and books.
The inside of the product features 2 shelves that are totally adjustable. You'll also 2 hooks attached to either side of the "top" shelf. These hooks are ideal for hanging jackets, bags, or hats.
This product is made with a steel frame and steel siding so it is built to last, unlike some other flimsier products on the market. Plus, it comes with rubber pads on the bottom to keep the unit from sliding around and damaging the floor. It does require some assembly, but one adult can handle that job.
4 Kid-Friendly Color Options
This option comes in 4 kid-friendly colors. While the frame and sides of the product are off white, the door comes in blue, green, red, and purple. These colors are vibrant and bound to inspire your little one.
It comes with a lock and 2 keys for easy access. The door features a row of 5 louvers to ventilate sweaty sports gear inside. There is also a designated slot for your child to design their own name tag and slip it into place.
Cost and Value
This option from AdirOffice Kids rings up at the bottom of our price range and we love its value because it comes in 2 size options and multiple colors so your child can get just the style that's right for them.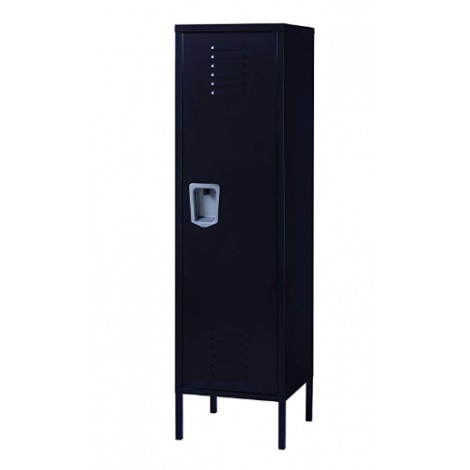 2 adjustable shelves
4 hanging hooks
Mid-size option, can be paired
No tools needed for assembly
Accommodates most padlocks
Have to slam to fully close
This option from Office Dimensions is great for storage at the office, in a dorm room, or at home in the mudroom or in a child's bedroom. Its classic design is both aesthetically pleasing and functional and will fulfill all of your storage needs.
Perfect Mid-Sized Choice
This product is the perfect mid-size choice for storage in the home or office. It stands 4 and a half feet tall, 15 inches wide, and 15 inches deep. Weighing in at 50 pounds, this is a sturdy option that can handle heavy use. And being a mid-sized option, you may choose to pair this unit with another for even more storage possibilities.
It is made from durable metal that snaps together rather than being screwed together. This means you won't need any tools for assembly, and that set-up is a breeze. It also means you won't fight with alignment issues as you do with some other products out on the market.
2 Shelves and Hanging Rack
We love that this product includes 2 shelves that can be moved and adjusted to suit your current needs. It also comes with a set of 4 hooks installed on the upper back wall of the unit. This is great for hanging gear, drying out rain jackets, hats, or bags.
The unit comes with a pull-down latch that will accommodate most padlocks if you choose to lock it. The padlock is sold separately. It also features 1 row of 6 louvers for ventilation. You can pick this baby up in black or white.
Cost and Value
This choice from Office Dimensions rings up at the bottom of our price range and we love its value because it's the perfect mix of function and fashion and it features some internal storage configurations that set it apart from other items on this list and on the market.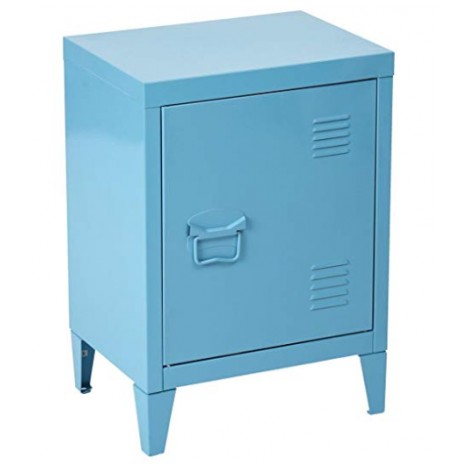 Doubles as an end table
2 storage compartments inside
3 colors to choose from
Easy to assemble
Assemble with or without legs
Deal with sharp edges when assembling
This is one cute little cubby! It's nice and compact and can be slipped under a desk for extra storage or double as a decorative end table for even more added functionality. It is ideal for storing smaller items like electronics and office supplies, or just to conceal personal items from your guest's view.
Assemble With or Without Legs
This is an excellent little product that's great when you need a little extra storage space and a lot of extra flair. It measures about 2 feet tall, about 16 inches long, and 1 foot deep. Weighing just about 15 pounds, this item is easy to move around if you like to rearrange frequently.
The HouseinBox comes with simple assembly instructions as well as with all necessary tools and can be put together in no time. You may also choose to assemble the organizer with or without its legs. This allows you to play with the height of the unit as the legs are about 2 inches in height each.
Choose Between 3 Colors
The HouseinBox is made from steel and can support items being stored inside of it and on top of it as well. It's a tad too small and lightweight to be used as a TV stand, but it can be used as an end table for lamps and bedside items.
Inside, you'll find 1 shelf that creates 2 separate storage compartments. With 2 sets of 5 louvers, your items stored inside will be ventilated and won't get musty. The door features a pull handle. This product doesn't lock.
This product comes in 3 fashionably current colors: robins egg blue (pictured), red, and white.
Cost and Value
The HouseinBox Low Stander rings up at the bottom of our price range and we love it because it is just so cute. Plus, it can function as an end table if need be to get even more use out of it.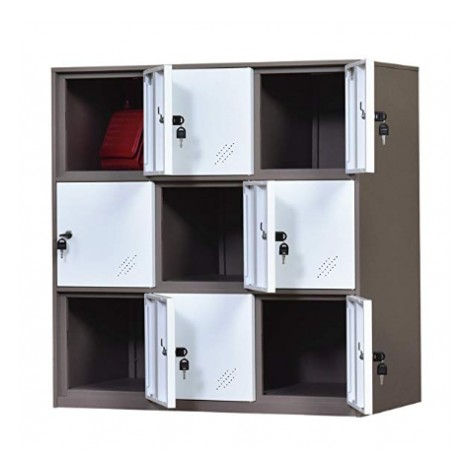 Customizable locks and colors
Stackable units
About 1ft storage inside each compartment
9 storage compartments with keys
Cold-rolled steel
Customization extends the shipping time
The Super Metal Furniture 9 Door is a great storage cube for the office or workplace. It would even be put to good use in the classroom as cubbies. Because of its size, it offers up lots of storage inside as well as potential storage space on top as a bookshelf or the like.
9 Different Storage Compartments
This product features 9 individual storage compartments. The unit in its entirety measures 3 feet tall, 3 feet wide, and 17.7 inches deep. That means that each individual storage compartment measures about a foot in every dimension. This provides ample storage space for most personal items, including a medium-sized backpack.
This product is made from steel (cold-rolled) and is coated with environmentally friendly electrostatic powder. You will need to assemble this item at home, but Super Metal Furniture provides excellent assembly instructions as well as a youtube video to help with this process.
Tons of Customization Options
On each of the 9 storage compartments, you'll find a lock with 2 foldable keys. Each lock is different and while you cannot purchase extra sets of keys, SMF will replace the keys for you if they are lost. In fact, SMF offers tons of options for you to choose from.
If you would rather have digital or combination locks installed, simply notify them and they will be happy to do this for you at the factory (for an extra fee, of course). You may also choose between an array of color options on their website.
And if you're looking for different storage configurations, this company makes tons of other products that you might find interesting. Or you may choose to purchase 2 of this product and stack them on top of each other for even more storage.
Cost and Value
The Super Metal Furniture 9 Door rings up at the very top of our price range but we love its value because of it offers more storage space than any other product on our list and it is comprised of premium quality materials with tons of customizable options.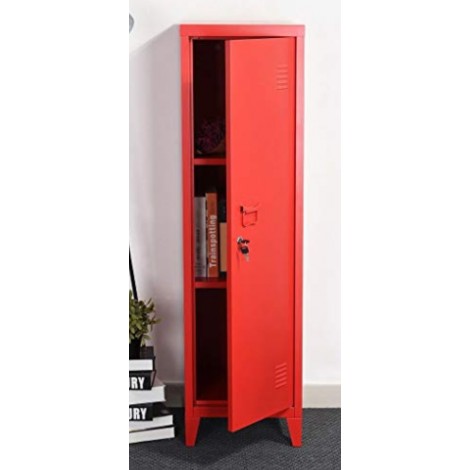 3 large shelves for storage
Lock and set of keys
Nice looking design and color
Small footprint
Assemble with or without legs
Cannot adjust the shelves
This is the second HouseinBox product to make our list and it can be used as a design compliment to the first mini-cabinet that we featured, or as its own stand-alone storage option. With great colors, design, and features, this is a wonderful addition to any home or office.
3 Storage Shelves Within
This HouseinBox is a great option that will provide ample storage space without taking up a large amount of space in your home or office. It measures 4 and a half feet tall, 15 inches wide, and 15 inches deep. It weighs about 33 pounds so it's not super heavy and easy to move around if you need to.
With 3 storage shelves inside, there's plenty of space to organize your things. Each shelf is about 15 inches tall. Unfortunately, you cannot change the dimensions of the shelves--they must be installed at specific points.
Comes With Lock and Key
This product is made from steel so it is sturdy enough to hold your heavier items. You may also choose to store items on top. The door features 2 sets of 5 louvers at the top and bottom. The door also includes a lock with a set of 2 keys for your convenience.
You can choose to assemble this product with or without its legs. If the height is an issue, simply construct the product on the ground without installing the legs.
Cost and Value
This HouseinBox rings up towards the bottom of our price range and we like its value because it offers large, fashionable storage without taking up tons of space in your home.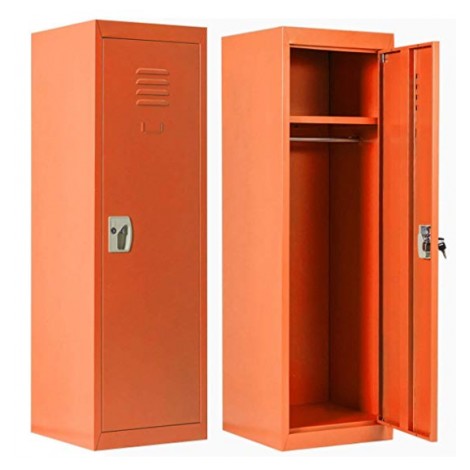 Great color and size for kids
Top shelf
Hanging bar
Easy to assemble
2 Keys and a lock
Some pieces hard to line up
The INVIE Kids option is a great choice for any kid's area whether in their room or playroom. The design details in this product will help to keep all messy kid areas neat and organized and will add a touch of style to the room as well.
Perfect Kid Size
This option is the perfect size for kids. It measures 4 feet high, 15 inches wide, and 15 inches deep. It is made from sturdy metal and is super easy to assemble without any extra tools or gadgets needed. Your little one can even help with assembly.
Plus, it comes in color options that are perfect for kids as well. You can pick this guy up in orange, red, or blue.
Features a Shelf and Hanging Bar
This product comes with a storage shelf at the top of the unit which is 9 inches tall. This is great for folded clothes or other small items. Underneath the shelf is a hanging bar which supports coat hangers and is a great option for hanging up dress up clothes or everyday wear.
This unit comes with 4 louvers at the top as well as a name card placement holder so your child can design their own name card. And it also features a double lock with 2 keys for extra security.
Cost and Value
This INVIE Kids option rings up at the very bottom of our price range and we love its value because it was designed with kids in mind and because it offers dedicated storage to keep those messy kids rooms organized.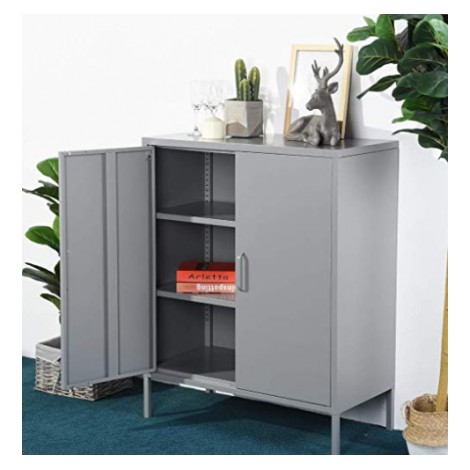 Modern and industrial design
Can be used as a TV stand
Comes with 2 large shelves inside
Made from durable rolled steel
Functions as a bookshelf
Shelves cannot be adjusted
This item from HomyCasa is a wonderful little twist on the standard locker. While it doesn't actually feature a lock, it is designed in the same vein but in the style of a bookshelf. This is a great modern looking storage option that will declutter your space while classing up the design value of the room.
Designed Like a Bookshelf
This product is designed to look and function like a bookshelf. Because it is made of sturdy rolled steel and reinforced steel tubing, it is super durable and can hold quite a load. 2 shelves on the inside offer up tons of space for your books and other personal items. Each shelf creates a 10.2-inch storage space. The shelving heights cannot be adjusted.
When assembled, this product measures 3 and a half feet tall, 2 and a half feet wide, and 15.7 inches deep. That means it won't take up a ton of space in your room but will provide lots of needed storage.
Modern Design
Finished in a powder-coat of gray, this product gives off a modern and industrial vibe. It will fit well into most decors and update the style of your room. Plus, you can use it as a TV stand or as display storage to add even more character to your space.
Cost and Value
This option from HomyCasa rings up at the bottom of our price range and we like its value because it offers a different style than the other products on our list and because it can double as a TV stand or other piece of functional furniture.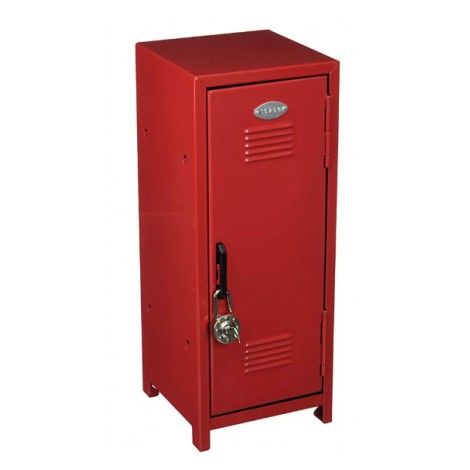 Comes with lock and key
Comes in 4 great colors
Small for storing desktop items
2 shelves and 6 hangers
Colors vary among products
We close out our list with the Rhode Island Novelty Mini. It's super cute and small enough to fit on top of your work desk or on your kitchen counter. It's great for storing electronics and chargers or hanging up your keys. And all for a price you'll love.
Little Bitty Package
While this guy looks like a full-sized locker, it's actually a tiny mini-version meant for smaller storage. All things told, it measures just 11 inches tall, 4 and a half inches wide, and 4.25 inches deep. You can hold it in your hand.
That being said, it is great for storing keys and electronics like chargers or remotes. It has 2 shelves that you can move and arrange. Plus, the inside features hanging hooks (6 total) and a place to put a photo. You can also apply magnets to the outside if you'd like.
Sturdy Construction
Just because this item is small doesn't mean it's shoddily made. It features durable construction and you won't even need to assemble it. You can pick it up in red, pink, black, and royal blue, and it functions as a great gift. It also comes with a lock and key.
Cost and Value
The Rhode Island Novelty Mini rings up at the very, very bottom of our price range and we like its value because it offers up the aesthetic and nostalgia of a locker without taking up all the space. Plus, it's a great option for storing and organizing smaller items like office supplies on your desk.
Criteria Used for Evaluation


Size
When creating this Ten Best List, we wanted to ensure that we included a wide range of size options as our readers' requirements are bound to vary quite a bit.
To that effect, we included some over-sized, super tall options that hit about 6 feet. We also included some smaller and more compact options that stand around 4 feet tall. And we included a variety of configurations. In fact, the product that offers the most storage is built like a cube, not a column.
But one thing is consistent. Because these products are made of thin metal, the inside storage space is totally optimized. In other words, the space that the product takes up is the space you get in storage. And if you've ever purchased wood furniture, you know this often isn't the case.
So, to summarize, we love companies that offer different size dimensions to accommodate their customer's needs, and we love companies that work to design their products with the most internal space in mind.


Materials
As we're sure you're well aware, not all metals are created equal! That's why we worked to bring you the highest quality products on this list.
We will say that after reading thousands of reviews, there can be some issues with damage during shipping because these sheets of metal are designed to be thin (harkening back to optimizing storage space). Additionally, these sheets tend to be sharp and can potentially cut you.
So with that said, we advise you to examine your set when you get it and make sure there isn't too much damage done from shipping. We also suggest that you wear a pair of gardening gloves or the like as you assemble your product so that you won't cut your hands.
But that's not all we considered when looking at materials. We worked to feature products that have real metal fixings and that come with locks. While some of our products do not come with locks from the factory, they are designed to accept most styles of locks out there.


Style
While these pieces are definitely meant for function, we worked to bring you options that were fashionable, current, and modern as well. Many of the items on our list embody an industrial style that will fit well into any modern home.
We love the array of colors on our featured products and we especially love those companies that offer multiple different color options for each product.
But above all, we love the pieces on our list that double and fashion-forward furniture. We feature a few end tables, TV stands, and bookshelves that will help you to organize and conceal your belongings all while giving you a handy piece of furniture.


Features
Some of the features we love most on these products include their ventilation systems. Louvers are key to ensuring that your belongings don't get stuffy and that sweaty clothes and athletic gear don't start to fester inside an airtight space.
We also love items on our list that can be assembled with and without their legs. This gives the user a bit more control over the size of their item and this can be changed over time.
Of course, we love when products offer storage shelves inside and especially when those shelves can be moved and adjusted to different heights. Products that feature hooks and hanging racks also score highly on our list.
But above all, we love the products that feature customizable locking options. A few of the companies on our list will install digital or combination locks at the factory for you so that you can enjoy an updated storage system that is even more secure.


Value
As for value, we worked to bring you the most storage at the highest quality on the lowest dime. Most of the products on this list are super affordable, especially compared to other storage options. These units are more durable, easier to assemble, and easier to clean. Plus, many of them can serve multiple purposes so you are getting the most bang for your buck.
Expert Interviews & Opinions
Most Important Criteria
(According to our experts opinion)
Experts Opinion
Editors Opinion
Users Opinion
By Default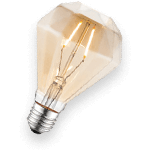 You Can Purchase Inserts
If you see a product on this list that doesn't quite fulfill all of your storage and organizational needs, there are some additional items you can purchase to help you to get organized.
A quick search will turn up hundreds of different locker organizers. If you are looking to store larger items in your locker, you won't necessarily need these, but if you would like to arrange your locker to accommodate smaller items, purchasing one of these organizers is a great idea.
Not only are they super inexpensive, but many of them are totally adjustable and can be configured to meet your changing needs.
Make Copies of Your Keys
While some of the companies on our list say that they will replace missing or lost keys, this can take a while and some still will not do this. None of the companies offer an option to purchase more keys either. We don't really understand this, but, alas.
So! Before you go and lose all your keys, make a copy of each one--we're talking to those who purchased multi-storage units especially. This will ensure that you're never locked out of your storage.
Other Factors to Consider


Durability
When considering the materials each product is made out of, we also considered how durable each product is. All metal cabinets can stand up well to wear and tear and are easy to clean. They also don't fall apart as easily. But we will say that because the metal is thin, it is best to make sure your unit is on level ground to prevent it from bending.


Ease of Use
For this category, we thought about how easy each product is to put together. As we mentioned before, you should exercise caution when assembling these pieces because they can be sharp. But most of these units can be put together in under an hour with minimal tools required.
Frequently Asked Questions
q:

Are these products magnetized?

a:

Yes. You can use magnets on these products.
q:

Will my product come in one box?

a:

Most of these products ship in one box. However, if you've purchased one of the larger products, you may receive it in two smaller boxes.
q:

Do I have to purchase a special kind of lock for my locker?

a:

Nope! Most of these units will accommodate any regular sized padlock or combination lock.
Subscribe to our Newsletter