Best Makeup Brush Sets Reviewed & Rated for Quality
In a Hurry? Editors choice: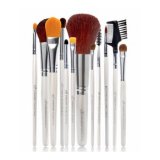 Test Winner: e.l.f. Cosmetics 12 Piece

Are you stumped over why your contour looks more like Ru-Paul's Drag Race than Kim K? Are you struggling to create the perfect, sultry, smokey eye that doesn't resemble a racoon face? The answer could be in the tools you are using.
Just like with cosmetics, not all brushes are equal! To achieve the flawless, airbrushed look that many people strive for you,
you need the right tools of the trade
. Brushes made from cheap quality bristles can shed while you apply your makeup. They also won't blend as well, leaving you with harsh lines and a 'fake' look.
We rounded up the top ten brush sets on the market for every budget, skill level, and beauty routine. Whether you're in the market for a basic brush kit that can multitask, a master collection for professional full face application, or something in between, we have you covered.
Standout Picks
Criteria Used for Evaluation
Application
Since makeup brushes are used to apply your makeup, it seems to make sense that a crucial factor in building this list was the application that the products offered. Streaky foundation or blush and harsh lines in contour or eyeshadow is the opposite of flawless, so we scoured reviews from experts and at-home users to find the top performing pieces for every budget.
For that flawless, airbrushed finish that doesn't even need an Instagram filter, having the right tools for the job is just as important as having the right products.
Texture
The skin around your face is delicate and sensitive, the eye area especially The texture of the brushes was another key factor we took into consideration while compiling our list. Harsh, abrasive bristles can tug at the skin around the eyes which will contribute to premature wrinkles. They can also leave you with skin discomfort and scratches that you want to avoid.
We read thousands of reviews to find the softest pieces on the market, whether you prefer natural, synthetic bristles or a combination of both.
Durability
Everyone has heard of poor quality makeup brushes that shed bristles. This is annoying (hello tiny bristles all over your freshly made-up face) but also affects the quality of your application once a considerable amount has been lost.
We read thousands of reviews to find the longest lasting brushes available, no matter how much of a beating your rigorous beauty routine will put them through. This includes the regular, weekly cleanings we know you routinely follow.
Value
Here at The Gear Hunt we always strive to bring you the best value products for your money. However, when it comes to buying a set, there should always be extra value offered. Many of the products that landed on our list offer tremendous value for money.
While buying things in bulk can often save you a couple bucks, when it comes to makeup brushes investing in a set while net you some colossal savings. Compared to purchasing brushes individually, many of the sets cost the same as the price as less than two of the brushes individually! And not to worry if you are working on a budget, there are tons of high-quality, professional grade tools available at an affordable price.
Materials
The materials used for the bristles can make a load of difference in the quality of your application. Creamy products such as foundation, concealer, and cream eyeliner or highlighter are best applied with synthetic bristles for a streak-free result. Powdered product like eye shadow, blush, and powdered highlighter require fluffy, ample bristles to pick up and retain pigment. The same is true for blending brushes.
While traditionally natural bristles were best for this job, modern cruetly-free brushes perform just as well these days. If you prefer to support cruelty-free brands that align with your moral values there is a set of high-performance pieces out there for you.
10 Best Makeup Brush Sets
1

. Morphe: The Master Collection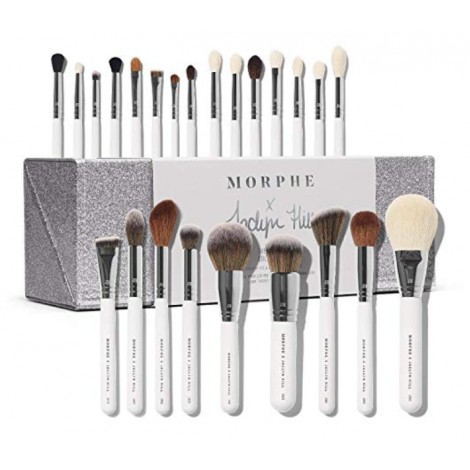 Clinching the top spot on the list, we have Morphe X Jaclyn Hill The Master Collection. This kit made the number one spot for a ton of reasons. The quality and craftsmanship of the brushes, the wide range of brush styles that make any look possible, and the extremely reasonable price tag considering the value of this kit were all reasons that stood out to us. If you are in need of a serious beauty routine upgrade, ready to splurge on some good quality brushes, or are already a fan of Morphe brushes, keep reading to learn more about why The Master Collection is something you should consider.
YouTube Sensation Jaclyn Hill
In this day and age of social media frenzy there are tons of beauty YouTubers out there Jaclyn Hill has been around since the beginning of the make up tutorial craze, starting her YouTube channel in 2011. Today she has over 5.8 million subscribers!
One of her most watched videos ever included reality superstar Kim K and is called "Get Ready With Me & Kim Kardashian". It is not surprising that Jaclyn curated and helped created a Master Collection of brushes alongside cosmetics giant Morphe. Jaclyn was heavily involved in selecting each brush that made the cut, and said she chose this collection with her followers in mind so you could create virtually any look.
Master Collection
There are 24 brushes in this collection, which will allow you to create virtually any look you desire. From basic fresh face looks to dramatic smokey eyes with a full contour. There are all the basic brushes you would expect to find for face - blush, powder, bronzer, foundation. Then there are some specific brushes that have been specially designed for professional level application such as the 'beast mode blender brush' or the 'glow baby glow brush'.
There is an outstanding 14 brushes for eyes as well so you can create all your favorite looks. One of the top things we like about the Master Collection is the wide variety of eye brushes it includes. There is an impressive four different blending brushes, which will ensure you can buff away any harsh lines leaving you with that airbrushes, flawless look you desire. On top of that, there are some brushes that have very specific purposes such as 'Inner Corner Highlight Brush' or the 'Carve Your Crease Brush'. Then there are the basic brushes such as 'All Over Lid' and 'Eyeliner Smudge'.
Cost and Value
One of the top reasons the Morphe X Jaclyn Hill Master Collection made the number one spot is the value! There are 24 brushes in this collection plus a custom designed hard carrying case. This is a complete set that will prepare you to create any type of look for face and eyes.
Another reason to love this set is the quality. Morphe is already known for its high quality, budget-friendly products and this collab with professional make-up artist and top YouTuber Jaclyn Hill is no exception. There is a mix of synthetic and natural bristles, for flawless application no matter what the product you are using.
If you are looking to upgrade your existing tools or want to take your cosmetics application to the next level, than the Morphe X Jaclyn Hill Master Collection is for you.

2

. e.l.f. Cosmetics 12 Piece


Snagging the number two position we have the 12 Piece Brush Set from budget-wise cosmetics giant e.l.f. Despite the price tag of this product that will leave you with plenty of cash in your wallet, the quality and performance is outstanding. Reviewers loved that this kit was a great starter for those who were just beginning to get into cosmetics application.
Super Budget Friendly
One of the number one reasons we love this set is that it is so budget-friendly. Being a woman there are so many expenses that go into upkeeping our appearance. Hair appointments for cuts, color, and styles, manicures, and pedicures, eyebrow appointments, waxing or laser, eyelash appointments, the list of expenses to maintain your look can be overwhelming.
E.l.f. Has a reputation of delivering quality products for a fraction of the luxury brand prices. The 12 Piece Set has everything you need for a full face application, and will still leave you with enough money in the bank for all your other beauty expenses!
Great for Beginners
This kit from e.l.f. Would be a perfect gift for a teen or someone who is new to cosmetics. Until you have an established beauty routine and know what tools work best for the looks you are trying to achieve, splurging on an expensive, professional quality kit would be frivolous.
This set is also nice for beginners or teens because it contains all the basic brushes that you need and nothing more. For a seasoned beauty junkie and professional MUA, fourteen brushes for eyes would make sense. But this can be confusing, overwhelming, and excessive for those who don't apply a full face of makeup on the daily.
E.l.f. Keeps things simple, and provides everything you need and nothing that you don't!
Cost and Value
Well, we have already raved about the fantastic price tag of this set from e.l.f. While the quality may not be comparable to professional brands, for the price these tools offer a ton of value and quality. Reviewers loved that the brushes lasted just as long as more expensive ones.
The bristles are a mix of synthetic and natural fibers, to give flawless application to all types of cosmetics. One of the biggest perks to this kit is that it allows you to try out a variety of brushes to see what works best for you. Once you have established your beauty routine, you can invest more in higher quality brushes that you use daily.
For the price, you cannot go wrong with checking out the 12 Piece Set from e.l.f. We give bonus points because this product would make a great stocking stuffer or secret Santa gift for any beauty junkies on your list.

3

. It Cosmetics Heavenly Luxe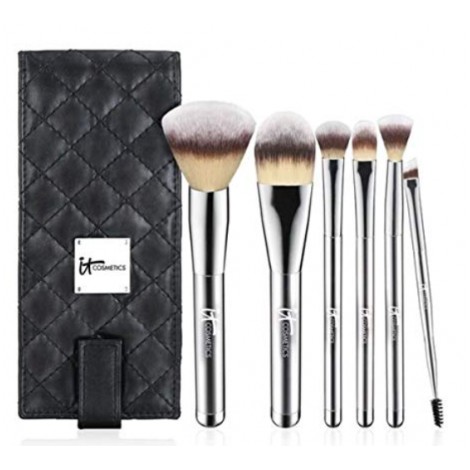 Finishing up the top three we have another great kit from high street cosmetics brand It. It Cosmetics is a relatively new brand that was developed by a former news anchor named Jamie Marie Kern Lima. She wanted to create a brand of cosmetics that performed as well as other luxury lines but was geared towards the needs of those with sensitive or problem skin (think rosacea, eczema, redness, and blemishes). The skincare and cosmetic products are developed with dermatologists and plastic surgeons to offer top quality skincare and makeup for anyone who suffers from skin issues.
Non-Shed and Cruelty Free
One of the big reasons to love this set is that is 100% cruelty-free. For many people who are concerned with animal rights or those who follow a vegan or vegetarian lifestyle, supporting companies who test on animals or use animal products can be a big deal-breaker. It Cosmetics is, and always will be a 100% cruelty-free brand, so you can feel good about purchasing their products knowing that no animals were harmed.
Many companies that offer synthetic brushes still test some of their other products on animals. If supporting animal rights is something you feel passionately about, it is worth researching companies to choose ones that are 100% cruelty-free throughout their entire line.
Black Leather Case
The It Cosmetics Heavenly Luxe Set comes with 6 essential brushes for face and eyes plush a posh leather carrying case. The addition of the travel case is a huge selling point in our books, because this allows you to safely store your brushes when you travel or need to apply your makeup outside of your home.
Quality tools are quite an investment and stuffing them into your makeup bag where the bristles can be damaged and deformed isn't the best method if you want to preserve the lifespan.
Cost and Value
The Heavenly Luxe 6 Piece Set offers professional quality, cruelty-free, must-have brush essentials at a very fair price. The quality of these brushes is higher than some bargain brands, so you can expect them to stand up for more use including regular cleaning. One thing many reviewers raved about was the softness of the bristles and how well this set stood up to its 'no shed' guarantee. For face there is a 'Must-Have Multi-Powder', 'Must-Have Concealer', and 'Must-Have Foundation'.
Included for eyes you get a 'No-Tug All- Over Eyeshadow', 'No-Tug Crease', and 'No-Tug Eyeliner and Brow'. For those who want to invest in professional quality, long-lasting tools without getting too extravagant with a set that includes unnecessary brushes that will not get used, than the Heavenly Luxe 6 Piece Set is the perfect option to consider.
Bonus points because It Cosmetics is 100% cruelty-free throughout their entire line, so you can feel good about supporting this company.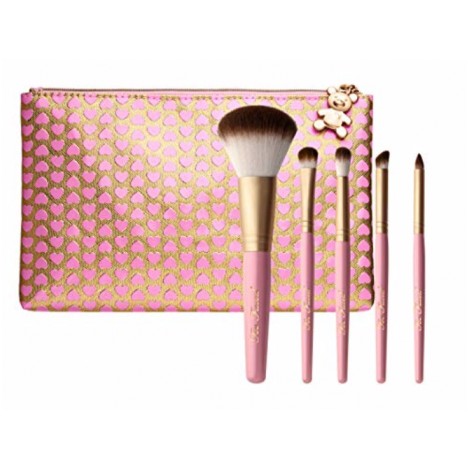 Our next product for you to consider is from luxury cosmetics brand Too Faced. The Teddy Bear Hair Professional 5 Piece Set includes one brush for face and four for eyes. One thing we love about these Too Faced tools is the beautiful pink and gold design of the handles and bonus makeup bag. Reviewers could not say enough about how these were the softest tools available on the market and really lived up to the name 'teddy bear hair'.
Extra Soft Bristles
You would expect anything with the term 'teddy bear hair' to be over-the-top soft and this Too Faced 5 Piece Professional set lives up to its name. Reviewers raved that these bristles were the softest they had ever used.
Anyone who has ever scratched the sensitive skin around their eyes by using cheap quality brushes with abrasive bristles will know the importance of selecting quality items.
Pink and Gold
Another reason the Teddy Bear Hair Set made our list is the cute pink and gold design that it features. These will great on display on your vanity, bathroom counter, or make-up table. Many women keep their makeup tools out in specially designed brush holders or decorative cups and jars.
These will look just as cute on display as you will after applying your makeup for a night on the town.
Cost and Value
This is another professional quality product that comes from a luxury brand, so the price tag is a bit higher than bargain or drugstore brands. However, for the quality and especially the softness of the bristles the Teddy Bear Hair Set is worth considering.
If you have sensitive skin around your eyes, this is certainly a set that would work well for you. We give bonus points for the matching pink and gold makeup bag that is included, along with the teddy bear charm added to the zipper-pull which is a really nice detail. This set would make a great higher price tag gift for a beauty-aficionado on your list. It is worth noting there is only one brush for face included - a powder brush, and the other four are for eyes so this may not be the best pick for someone who does not already own foundation, blush, and concealer brushes, if those are part of your beauty routine.
As with most products, you get what you pay for in the world of cosmetic brushes. If you are looking to make an investment in some long-lasting, ultra-soft products than look no farther than the Too Faced Teddy Bear Hair Set.

5

. Morph: Eye Master Collection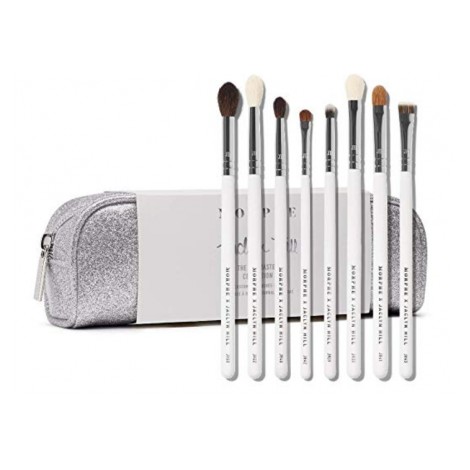 Up again on our list we have our favorite beauty-guru YouTuber Jaclyn Hill collabing with cosmetics giant Morphe to release the 'Eye Master Collection'. We love Morphe, which was founded in LA in 2008 by artists and influencers who wanted professional grade cosmetics at an accessible, affordable price point for everyone! Morphe brushes have long been raved about by social media influencers in the beauty world, and their collabs with Jaclyn Hill do not disappoint!
8 Brushes
As the name implies, this set is all about eyes! If you are looking for a set that will help improve your contour than best to skip this one as there are no powder, foundation, stippling or face blending brushes here! Jaclyn has long been known for her smokey, sexy, sultry eye looks and this collection is perfect for achieving those!
Whether you are going for a soft, natural daytime look or an all-out, dramatic, night time eye that can be paired with a ball gown, you can achieve it with the Eye Master Collection.
Perfect For Blending and Buffing
One of the best things about this set that is designed for eyes is that it includes an impressive four blending brushes. For anyone who has ever tried to achieve a dramatic eye look and ended up looking more like a drag queen, well the problem could be in your blending!
The secret to that flawless, airbrushed look that all our favorite social media influencers achieve is in the blending! Harsh lines and visible transitions between shades need to buffed and blended out if you want to achieve an Instagram worthy smokey eye. On top of the four blending brushes, The Eye Master Collection also includes a 'Brow Bone Highlight', 'Eye Liner Smudge', 'Inner Corner Highlight' and 'All Over Lid'.
Cost and Value
The price point on the Morphe X Jaclyn Hill Eye Master Collection is extremely reasonable for professional quality products. If you looked up the cost of purchasing each brush individually, you would notice that the set offers even more value for money. Adding even more value is the carrying case that is included with purchase.
Reviewers raved about the high quality of these products that were comparable to more expensive luxury brands. They stated that the tools picked up pigment well, did not shed, and blended harsh lines with ease making flawless application a breeze. The Eye Master Collection is not ideal for people who do not regularly apply a full eye makeup since you may not get as much use out of it as another more basic set.
It is definitely worth checking out for all the beauty junkies out there that cannot resist a dramatic smokey eye and love trying new, creative looks.

6

. BH Cosmetics Rose Gold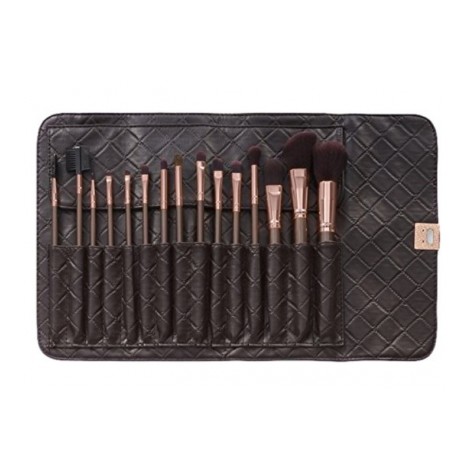 Up next we have a 15 piece set from BH cosmetic. This set offers a complete line of brushes that allow you the creativity to create any look you desire. The combination of synthetic and natural fiber bristles deliver cutting edge blending and pick-up pigment well. If you are looking for more than just a basic kit but do not have the budget to splurge on luxury brands than the Rose Gold 15 Piece Set is not to be overlooked.
Quilted Carrying Case
We love that the BH Rose Gold Set comes with a carrying case. To keep your makeup brushes in pristine condition you don't want to cram them into your makeup bag loose along with the rest of your cosmetics. This can damage the bristles causing them to become deformed or fall out, and will affect the accuracy of your application.
The BH Rose Gold Set comes with a quilted carrying case with pockets for each individual brush. This keeps the bristles protected so they do not lose their shape. The case is secured with a chic rose gold clasp that perfectly matches the brushes.
Vegan Friendly
You can feel good about purchasing the BH Cosmetics Rose Gold Set because the company is 100% vegan-friendly and cruelty-free. This is great for people who are concerned with animal rights and do not want to support companies that do not align with their moral values.
Cost and Value
One thing we love about this set is the price. Cosmetics are expensive enough before you factor in the cost of tools as well. BH Cosmetics was founded in LA and strives to offer quality products at an affordable price.
Reviewers loved how well this kit blended as well as picked up pigments, two big factors to consider when choosing a good set. Many reviewers stated that the Rose Gold Set performed as well as more costly luxury brands.
Another big plus is many people stated there was very little shedding and the bristles stood up to being cleaned well. If you are looking for more than a basic kit but do not have a large budget to work with, then certainly checking out the BH Cosmetics Rose Gold 15 Piece Set is the way to go.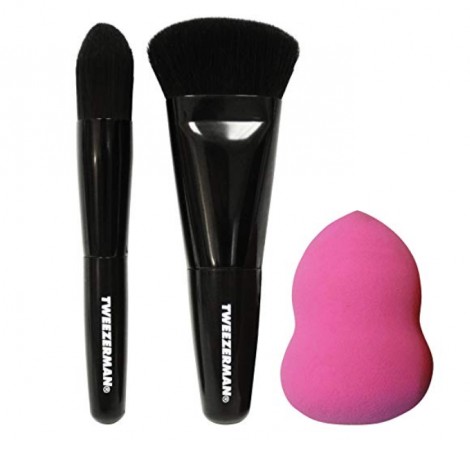 Everyone has heard of Tweezerman brand tweezers before. The iconic brand has been around for years and is a cult favorite of makeup artists, beauty gurus, and everyday gals as well. Many people may not know that Tweezerman also makes makeup brushes that perform just as well as the companies namesake product, tweezers.
Great For Travel
These three pint-sized contouring tools certainly deliver a mighty punch. The small stature makes them ideal for travel. The Brush IQ Mini Face Set won't take up a lot of space in your makeup bag and will be ideal for taking with you on overnight trips or vacation.
With all the other items that seem to make their way into our makeup bags, saving some space is always a welcome factor.
Sculpted, Flawless Look
The Brush IQ Mini Face Set offers two synthetic-bristles mini brushes. The larger brush is ideal for applying foundation, streak-free for a flawless finish. The smaller brush can be used to apply your contour or concealer. Last is the mini sponge blender tool. This is used to buff and blend out any harsh lines for that airbrushed Kim K look.
Reviewers raved about how well this set performed. One woman stated she bought a second kit just to keep in her purse for on-the-go touch-ups.
Cost and Value
If an Instagram-worth contour is what you are after than the Brush IQ Mini Face Set is just what you need. Loads of satisfied reviewers raved about the high-quality of these products. The bristles are super soft and stand up to cleaning well.
It is worth noting that this set is strictly for contour, so if you do not already own tools for eyes and face, that will be a separate investment.

8

. Tarte Minutes To Mermaid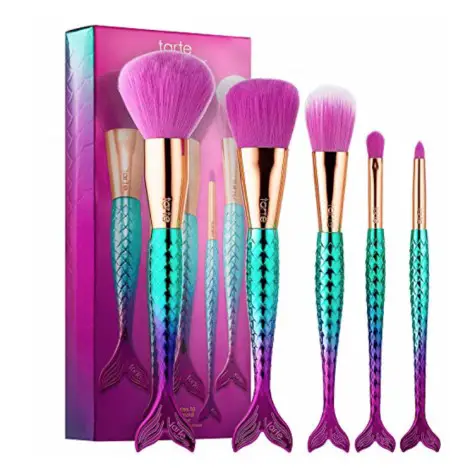 Another cult favorite cosmetics brand is Tarte. Known for their whimsical packaging and fun product names, this Minutes to Mermaid Set is no exception. If you want tools that will look as good on display on your makeup vanity as your face will look after your best beauty slay, than this kit is worth checking out.
Whimsical Design
With a name like Minutes to Mermaid, the design of these tools is really appropriate. We love the hot pink and white bristles which are eye-catching and fun. The handles are a metallic turquoise, purple, and pink with a mermaid tail design on the end.
These would make a great gift for a beauty-obsessed friend or family member, or even a splurge item for yourself.
5 Pieces
Tartes Minutes to Mermaid kit includes two smaller tools for eyes and three larger tools for face. Reviewers raved about how the soft bristles did not scratch or pull delicate skin around the eyes.
Cost and Value
One thing to love about the Minutes to Mermaid kit is it is extremely affordable, especially for a 5-piece set. The cost of a single brush could easily be more than this entire kit!
Loads of satisfied reviewers boasted about the high-quality of these products. If you are looking for some eye-catching statement brushes that will look great on display and bring a smile to your face everytime you use them, then the Minutes to Mermaid kit is the way to go.

9

. e.l.f. Cosmetics 19-Piece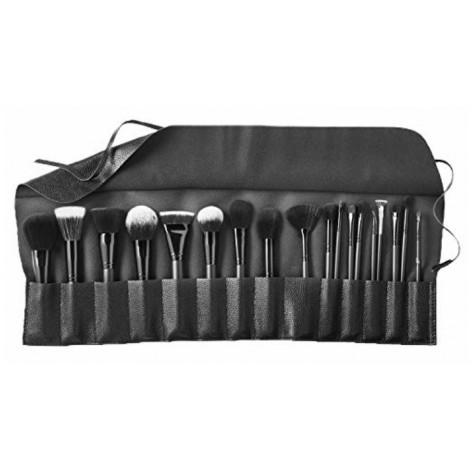 Next to consider we have a travel kit from drugstore favorite e.l.f. This 19-piece kit comes complete with its own brush roll for ease of travel.
Brush Roll Travel Case
One thing to love about e.l.f.'s 19 piece set is the brush roll travel case that comes with it. As we have already discussed earlier, proper transportation of your beauty tools is key to keep them in pristine condition.
Storing your brushes in your makeup bag with your other cosmetics is not ideal as the bristles can become damage and deformed.
Vegan Friendly
As always with e.l.f. Cosmetics, this 19 Piece Set is 100% vegan-friendly and cruelty-free. We love that this kit contains some great tools that some of the other sets on our list did not include such as a blending brush for face and a fan brush for cheekbone highlighter.
Cost and Value
One thing e.l.f. Is known for is offering super budget-friendly products. With all the other beauty expenses women have to budget for these days, saving a few bucks here and there can really help.
We give bonus points because this kit comes with a brush roll travel case to help keep your tools in tip top shape. Another great thing about this set was the wide variety of tools it offered, which will help you achieve any look you desire from natural girl next door to dramatic smokey eye.

10

. Bobbi Brown The Basic Brush Collection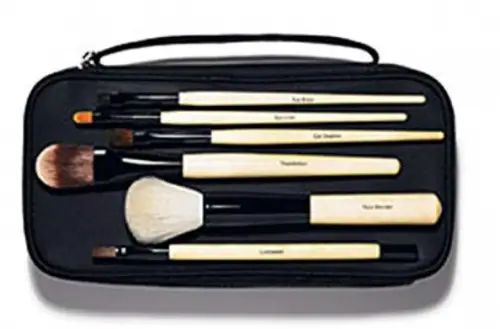 Bobbie Brown is a famous makeup artist to the stars who also has a luxury line of beauty and cosmetic products. She got her start in NYC in the 1980's and has since amassed a cult following who love her down to earth natural look and high-end line of cosmetics.
Luxury Item
In the cosmetics world you get what you pay for. This luxury line of brushes offers superior quality and craftsmanship. Reviewers loved how the bristles held up for years and never shed. They were also super soft, especially for delicate skin around the eye that can scratch easily. One man stated 'he was a hero to his wife for buying her the Basic Brush Collection as a gift'. (Fella's take note if you want to impress your ladies).
Great Starter Set
As the name implies The Basic Brush Collection from Bobbi Brown is a great starter set for someone who is looking to investment in some high-quality makeup tools. This kit includes 6 pieces including a foundation, concealer, face blender, eye shadow, eyeliner and eyebrow tool.
Cost and Value
While this price tag may not be for everyone, it will make a great splurge item for someone who wants to invest in high performance, long-lasting tools will hold up for years to come. Bonus points for the super soft bristles that don't shed, even after years of use. Adding more value to the cost is the hard carry case that is included. Transporting and storing your tools in a specific case will ensure they last longer and remain damage-free.

Subscribe to our Newsletter