Best Luxury Dog Beds Reviewed & Rated for Quality
In a
Hurry? Editors choice: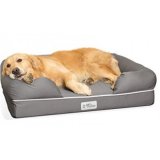 Test Winner: PetFusion Ultimate Orthopedic

Aren't dogs the most loyal, brilliant, and remarkable pets that love to spend the most time laying by the master's side?
Dogs are active animals who enjoy exploring, sniffing and playing, but it's also imperative for them
to get enough rest
. The lovely pets spend about 8 – 12 hours every day sleeping, and although we are separable species living under one roof, sleeping with your dog in the same may not be a wise proposition. Whether you have a sprawled or burrower dog, they run hot or need some extra warming up, or they require additional support, getting a luxury dog bed is your best bet.
In this detailed guide, our dedicated team looked into some of the foremost luxury
dog beds
you should check out. This info should be helpful if you are looking to purchase the best luxury dog beds from the packed market.
Standout Picks
Criteria Used for Evaluation
Size
Dog beds come in different sizes intended for small, medium, or large size dogs. Measure your pet from the snout to tail when lying in it is in a stretched-out position. If the dog is still actively growing, ensure what you purchase is a few inches longer so that it does not outgrow its bed. The extra space also allows it to stretch and turn around.
If you have two or more dogs that enjoy snuggling together, there is no doubt that you will require a large bed that can fit all of them. Similarly, if you intend to fit the bed in a dog crate, take the dimensions of the crate to ensure what you shop for is sizeable enough to fit in.
Comfort
It is a good idea to get a dense, thick, overstuffed bases rather than shredded foam or fiber that could flatten out quickly. Such beds offer more comfort. The cover fabric should be cozy and smooth to keep your four-legged friend warm. Remember to check if the fabric is breathable and promotes airflow to ensure your pet remains cool and comfortable in all seasons.
While most dogs sleep stretched out, others will curl up, slant, or slouch. Observe the preferred sleeping position of your dog and settle for a dog bed design that can accommodate the pet comfortably in that position.
Style
Luxury dog beds can either be in a bolster or mattress style. Some pets love using the bolsters and sides of the lounge as a pillow. The bolster cushions the pooch from all sides and gives it a comfortable place to place the head and back. This will be especially useful if the dog experiences joint pain or has arthritis. If this is your dog, make sure you get a bolster style bed for them.
Other dogs prefer sleeping while stretched out. Flat and large mattress style bed will be perfect for such dogs. If the is shy or nervous, getting them an enclosed bed where they can hide away when things are much is a wise idea. If it looks concern you, ensure what you settle for is stylish to compliment your home décor and make a fashion statement.
Support
Like it or not, your dog will age with time and most likely develop joint pains, especially if it is large in stature. Therefore, it is wiser to get a bed that offers support and comfort to the joints. Orthopedic foam beds are designed to support your dog's joints, back, and entire body. They distribute the weight and do away with pressure points, which cause aching in the joints. Orthopedic beds also exacerbate arthritis and offer relief from joint pain while increasing mobility.
Ensure the orthopedic dog bed has high-quality foam for the base to conform to the shape of the dog's body. Look for overstuffed dog beds for your pet's support and comfort. Add-ons like bolsters and pillows also provide extra support to the head, neck, and body and eliminate pain.
Materials
The materials used to manufacture a pet lounge determine its durability. The most commonly used materials are suede, foam, shearing, and shag. Look out for sturdy units that have been constructed from solid premium quality material to ensure long-lived delivery. Keep in mind that most dogs are messy, and others shed a lot. Therefore, the pet bed should be machine washable and dryer friendly for easy and convenient cleaning. If your pet likes to chew or scratch before lying down, look for durable chew-proof materials, like nylon and canvas.
Additionally, in the case of a pet accident, a water-resistant cover will prevent the foam from wetting. Getting eco-friendly materials mean that your dog is safe. Some pet beds are made of recycled materials that help keep harmful substances out of our landfills and environment.
10 Best Luxury Dog Beds
1

. PetFusion Ultimate Orthopedic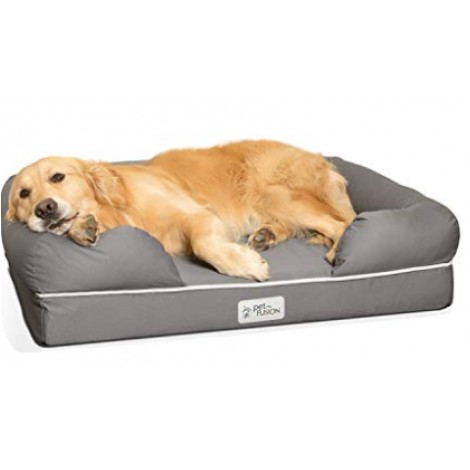 Dogs have proved over time to be the most loyal beast to humankind among the animal kingdom and deserve proper care. The PetFusion Ultimate Orthopedic dog bed provides your loyal and lovable animal friend with unmatched comfort and warmth.
Cozy and Comfy
The cozy memory foam dog bed will soothe and carry away the friendly beast to sleep each time they sit on it. Inside, you will find a 4-inch memory foam base that cushions, elevates the level of comfort and makes it perfect for aging dogs with joint complications.
The removable cover is a product of 35% cotton and 65% polyester making it super comfortable and warm. Worry not about effects on the dog's skin since the cover fabric is SKIN CONTACT SAFE certified. The cover has a convenient easy to access zipper for closing. The best part is that you can purchase the replacement covers separately.
Practical Design
The unit is sturdy and will stand up to decades of rough use, while robust enough to withstand over 100lbs of a load. Not just that, the dog lounge boasts a low-key modern design that will blend with any home set up. How thoughtful of the bed makers to include a waterproof liner to protect the foam from spills and moisture. This makes it more durable. Moreover, to ensure that the dog bed stays in position without slipping on hard floors, the company also included a non-skid bottom.
Cost and Value
This may not be the cheapest dog bed the market has to offer, but the unprecedented level of comfort justifies every dollar you are required to spend.

2

. Friends Forever Orthopedic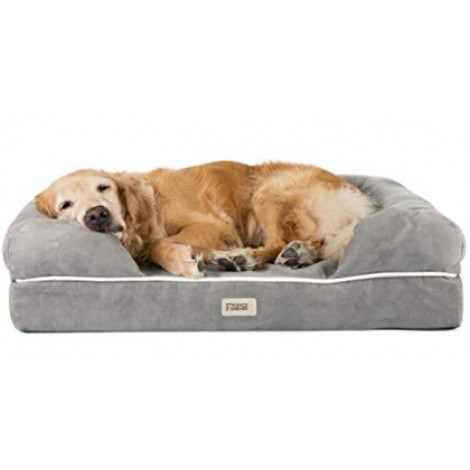 The next best luxury dog bed is the Friends Forever Orthopedic Foam Dog Bed. A fancy-shaped pooch bed that serves just right. Your lovely canine companion will have nothing less than comforting, refreshing and relaxing sleep. Resting on their bed will be an experience they look forward to.
Ultimate Comfort
The Friends Forever form dog bed can be rightfully considered an orthopedic device in every sense of the word. Among its highlights is the 4-inch thick human-grade mattress foam that conforms to the shape of the dog's body and ensures maximum comfort and support. The foam couples with cushion poly-fill bolster to elevate the comfort to elite levels. This makes it a simple way of addressing disabilities if any, and minimizing further potential hazards during sleep or just hanging out.
Functional and Convenient
Buyers with space constraints will be delighted to know that thanks to its compact structure, it takes very little space. Nevertheless, do not be deceived by the minimalist design; this functional unit can hold up ton impressive 75 lbs, making it perfect for large dogs.
For the cover, expect a sturdy anti-tear suede fabric that will not succumb to intense everyday use. Considering how messy dogs can be with fur and spills, it was wise of the manufacturer to make the cover machine washable and a breeze to clean. Worry not about the safety of your pet since the cover assured of the dog's skin protection. You will find a solid metal zipper that opens easily to allow you to remove the cover.
Cost and Value
The Deluxe dog bed will cost you a few extra bucks but will make a significant difference in ensuring more comfortable and healthier naps for the pup. Not just that, the company has confidence in the workmanship and stands by this product with a satisfaction guarantee.

3

. Furhaven Pet Deluxe Orthopedic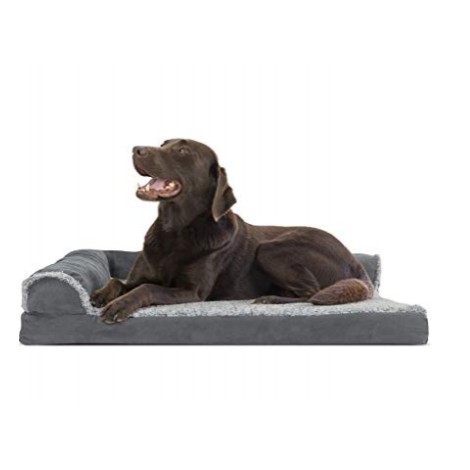 Very few other luxury dog beds offer better in terms of comfort and convenience than this Deluxe Suede Dog Bed from Furhaven. Furhaven kept in mind all the important features a pet lounge should include and offered exhilarating cushioning feeling with this smooth and cozy dog bed.
Built for Comfort
The company specifically crafted the unit with your pet's comfort in mind. The cover is created from Ultra plush, flecked faux fur that promises stellar comfort levels, warmth, and support. The base is made of egg-crate orthopedic foam with peak and valley design to reduce the stress on the neck and back, which the dog would otherwise experience, and conform snuggly ensuring plenty of comforts.
Ergonomic Design
Like other top-class dog beds in its class, this unit features a dual-bolster L-shaped construction that provides support and cushioning and lets the pet rests in countless positions. The makers included a low profile opening on two sides to allow the pup to quickly hop in and out of the lounge. Not just that, on the cover, 2 separate zippers allow you to remove the core fillings and clean it.
The entire unit is also lightweight and easy to transport. As soon as you notice dirt on the cover, simply toss it into a laundry washing machine to clean it. The company recommends this piece for product weighing less than 55 lbs.
Cost and value
We all express admiration for moderately priced products that can offer long-lived quality service, and this unit offers just that. At an easily achievable price, this luxury dog bed compares favorably to the pricier high-end competition making it well worth the sacrifice.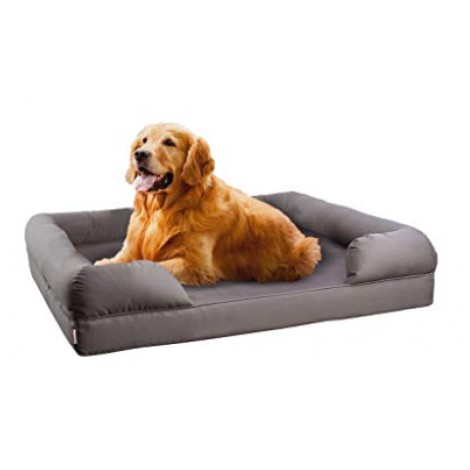 Why squeeze yourself on your bed with your dog when this orthopedic foam dog bed is up for grabs. Your adorable pet deserves this equally splendid unit to spend its rest time or retire into after a long tiresome day. Let us face it, sleeping with your dog can be infuriating thanks to the constant snoring, fight for space and fur and hair. It brags about its simple features yet so essential as far as comfort and protection go.
Designed for Relaxing
If you have a dog that is aging or has mobility issues, arthritis, or aching limbs, then here you go. The product offers practical assistance and support while soothing pressure points to reduce pain. The quality memory foam used will support the head, neck, and shoulders to ensure maximum comfort and ultimately protect your four-legged pal from internal injuries. The cover is made of fluffy material, making it nice and puffy for maximum sleep enjoyment.
Ease of Use
To begin with, assembly is simple and straightforward. The bolsters come pre-loaded in the fabric covers so you only need to insert the memory foam base and close the zip, and you will be good to go. The removable cover will stand up to wear and tear and save you the extra cost of replacement. Additionally, the makers purposely made the cover machine washable and easy to spot clean to enable you to clean up easily whenever it has messed up.
Cost and Value
Value for money is the name of the game with this orthopedic luxury dog bed. Without compromising on quality and convenient, Petlo offers this product at a reasonable cost making it worth checking out if you are not willing to spend a ton.

5

. Sleep Zone Cuddle Cave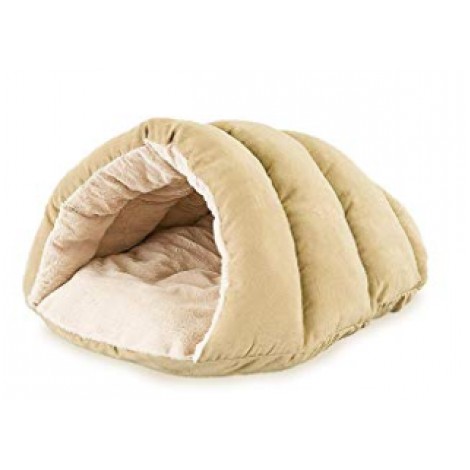 Sleep Zone goes on with their obsession in delivering high-quality products with these cuddle cave faux suede dog bed. Save for the few modifications in design and add-on features, the makers of this cave dog bed kept in mind all the important features conventional dog beds include. This is another deserved entry that promises high performance, luxury and longevity.
Comfortable Design
What sets this unit apart from the competition is the enclosed cave designed that covers the entire pet's body. As you would expect, the base features ample cushioning which ensures the head and neck stay perfectly positioned and delivers ultimate comfort. The interior is covered by cozy and plush faux suede that provides comfort and warmth.
Well-Built
The fabric used for the cover is of premium quality and will make it through years of severe abuse without wear and tear, or losing shape. The robust, well-made construction assures absolutely no clumping or shifting. Washing it has been made less of a task courtesy of the machine-washable fabric used. Despite comfortably handling pets weighing up 10 lb., this seat is still very lightweight. Therefore, moving it around will be no issue.
Cost and Value
You cannot do better than this dog bed as far as pocket-friendliness goes, making it a darling and a must-have to practically every pet keeper. At a small fraction of its premium competitors, your dog still enjoys having a place to belong.

6

. Snoozer Luxury Overstuffed Sofa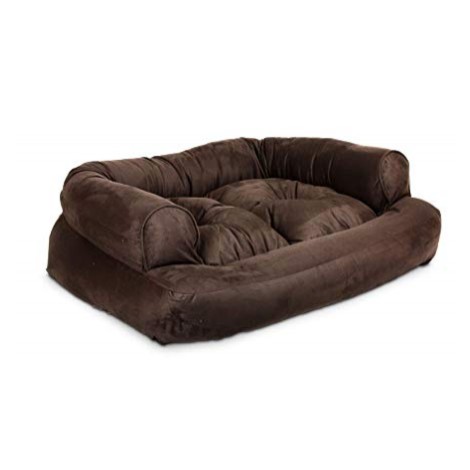 Worry no more, if you live with a dog that keeps sneaking and squeezing into your bed sheets or couch to get warmth. Snoozer brings you a decent way to give an excellent harness to your pet in this luxury pet sofa bed. So if you have thought about finding a plush and cozy lounge for your charming canine buddy but haven't yet, look no further than this pleasant unit.
Sufficient Cushioning
Inside, the manufacturer stuffs high loft polyester fill to make it cushiony and much more comfortable. The fluffy base offers an impressive 6-inch thick cushion to offer the dog the ultimate comfort he desires. For extra support and comfort, the lounge includes poly-filled bolsters that can be removed. As small as it appears, the pet lounge has an impressive carrying capacity courtesy of the overstuffed base.
Effortless Application
The microsuede cover can be easily removed for cleaning by unzipping. What's more, the fabric is machine washable and easy to clean, ultimately making it resistant to unwanted stains and odor. The dog bed comes in small, large and x-large sizes meaning there is something for every pet size.
Cost and Value
The Snoozer Luxury pet sofa bed is not cheap but first-rate, premier quality products on the market seldom are. Besides lying on the higher end of the price scale, it meets and surpasses expectations in matters of comfort, support, and durability. Highly recommended if you are not short of funds and are willing to sacrifice additional bucks for extra quality.

7

. JOYELF Medium Orthopedic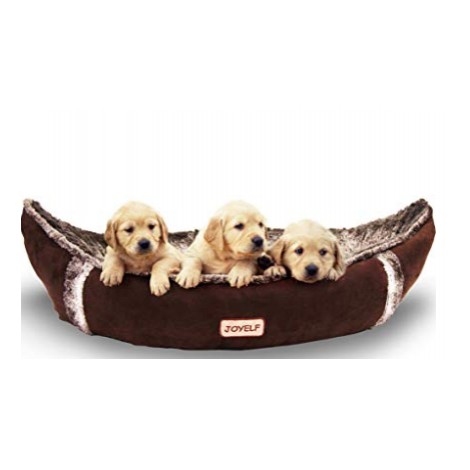 Joyelf tends to assume you are like most loving dog owners and that taking care of your pups is part of your daily routine. They know just how difficult it is to find a cozy and warm resting spot for the lovable creatures, so they provide this orthopedic dog bed. We checked a lot of aspects, and this pet bed fulfills a lot of them.
Ample Cushioning
This relaxing and pleasurable piece is everything your dog needs to relax in complete comfort. The manufacturer was innovative with one side made from the faux wool side for warmth and another side made of microsuede for cooling. The company included soft sponges in the base for cushioning, support and comfort. To add to that, the couch arms padded bolsters offer support to the pet's body and relives the creature of fatigue and discomfort.
The ergonomic boat shape design is particularly suited for pups and will curl into a bed while still wrapping the pet up like a blanket.
Functional Features
This is the perfect resting companion for your small to medium-sized pooch. The boat design dog bed measures 36"x 20"x 10 making it ideal for long dogs or multiple small cats. As you would wish, the cover is removable and easy to clean. Whenever you need to clean it, simply unzip it, remove the sponges and throw it into the laundry washing machine. You will want to note that the outer fabric is waterproof, making the boat bed safe against spills and messes.
Cost and Value
Joyelf constructed this dog bed with budget shoppers in mind. You get what you pay for here. This unit is among the cheapest we could find and still delivers exceptionally making it a decent bargain.

8

. Enchanted Home Quicksilver Sofa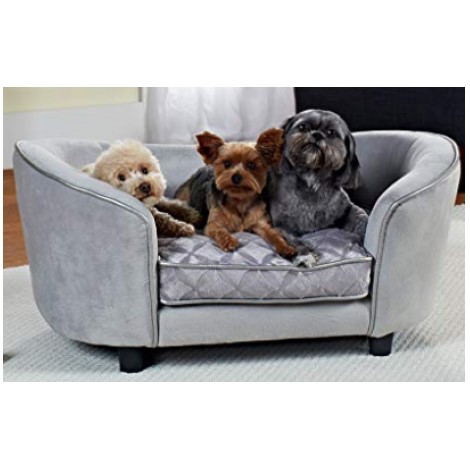 The Enchanted Quicksilver Dog Bed is a sure win for both you and the dog. The pet lounge is a game-changer in this game of luxury dog beds. The manufacturer designed it with a proper understanding of dogs demand and the needs of the pet owner. It is your go-to option for longer luxurious, relaxing and refreshing rest time.
Superior Comfort
From the looks, you can tell that this pet lounge was specifically designed to offer your dogs superior comfort in every way. A 12-inch thick embossed micro-velvet cushion is dedicated to providing cushioning and cozy comfort. The entire set is covered by a metallic faux-leather trim fabric that is warm and cozy, making the bed as comfortable as can be and friendly to the pets skin.
Spacious, Draft Free Design
The 34" x 22.25" x 15" are clear indications of the massive size of the sofa dog bed promising ample real estate for giant dogs or several smaller dogs. Feel free to unzip the cover for cleaning whenever it requires washing. The good news is the cover fabric is machine washable saving you the strain of handwashing it. Moreover, to keep your pet free from draft, the legs allow for 2-inch ground clearance. The best part is the makers included pockets for convenient storage of toys, bones and other small items.
Cost and Value
Don't be mistaken by the deluxe high-end construction; this capable seat still lies in the affordable end of the price scale, making it perfect if you are on a high budget.

9

. Colorfulhouse® Pink Princess House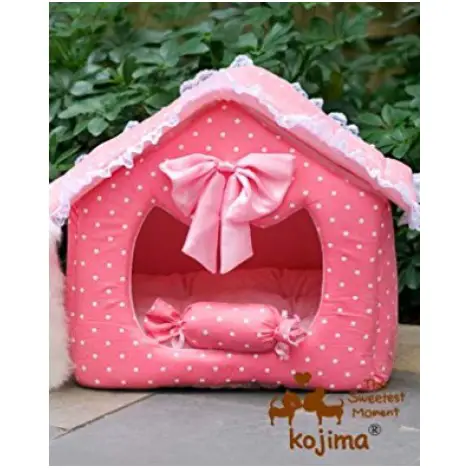 Style is a quality in abundance and Colorfulhouse seems to have perfected this aspect in creating this product. The company goes on with their obsession in delivering fancy high-quality products with this Pink Princess Pet House.
Style meets Function
You cannot help but notice the sleek girlish decorative design this fancy unit displays. If you adore the style, you will certainly love the princess house design with a bow-knot fitted above the entrance and lace embroidery. This will undoubtedly not go unnoticed and will accentuate the décor in whatever setup you throw it on.
You will not have to worry over tucking your pup in, and the little canine can easily crawl in and out of the shelter by itself thanks to the wide opening.
Smooth and Cozy
The company perfectly combines ultra-soft suede and superfine polyester to achieve a sturdy and durable yet cozy, warm and comfortable blend of fabric that is durable and supportive. The compact size is excellent for small to medium size pups. Additionally, inside the shade, there are two pillows for extra support and comfort.
Cost and Value
At such a low price and desirable delivery, you have no reason not to get this dog house. Inside the package, you will get a free small gift and gift card, making it an excellent gift for the pet lover in your life.

10

. WYSBAOSHU Cute Princess


WYSBAOSHU is fair and wants to save you the trouble of competition for space with your dog when sleeping in your bed or sitting on the couch. So the company brings you this well-made snug dog bed that very well serves the purpose of a resting spot and ensures your lovely pet is comfortable every day.
Optimum Comfort and Warmth
The soft cushioning not only elevates the comfort but also reprieves the animal of any neck or back injuries and offers support. The plush fabric will add a little extra warmth and comfort while also keeping off dirt and grime so it will not pick bad smells. Should your house get too cold at night, worry not for this bed keeps your dog warm and cozy.
Stylish Yet Practical
This piece looks as good as it functions. If you care about looks, you will love the cute lovely princess style. To spice up the decorative looks, the makers fitted a bowknot and lace on edge. As small as it may appear to be, this capable piece can accommodate up to 6.5Kgs of weight.
Cost and Value
We all tend to be inclined to products that are simple, functional, moderately priced and built to last a lifetime. This pet dog is no different. The price is within reach of the average pet lover, and the practicality is incomparable.

Subscribe to our Newsletter