Best Knee High Socks Reviewed & Rated for Quality
In a Hurry? Editors choice: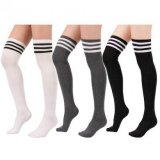 Test Winner: Zando Stripe

What are shoes without socks? Whether you're just moving along,
going for a run
, or dressing up, there are a huge variety and styles of socks that make your day more comfortable. In specific, knee high socks have the ability to dress up an outfit or provide you with additional protection. Our list is written to provide you with a balanced list of products from various materials and price points. Keep on reading to find out the best products currently on the market along with information on how you can find the best products for you.
Standout Picks
Criteria Used for Evaluation
Breathability
When you're choosing socks, regardless of what weather you'll mostly be wearing them in, it's important for them to be breathable. If they aren't, then you're faced with the issue of moisture control. The sock's ability to take away moisture is vital for keeping your feet healthy, dry, and cool. Socks that stay enclosed and wet for long periods of time can create fungal and bacteria growth.
Sweat is one of those aspects that shouldn't be something to be embarrassed about. It's your body's natural mechanism of trying to maintain a proper body temperature. Moisture control can be included with different aspects of a sock, from their materials to fabric to its features.
Breathable materials are key to keep your feet dry and absorbing sweat away from your feet. Synthetic fiber blends or custom made materials are a great way to wick away moisture. Along with the overall sock, breathable woven insets, like ventilation panels and mesh fabrics, help to dry your feet. Some brands even choose to include custom-made features or fibers that enhance the socks breathability. These features include iWick, Coolmax Polyester, and ThorWick Fiber technology.
Ease of Use
As many of these knee-high socks are made from various materials, it can be hard to keep them hole free and clean. The addition of synthetic and wool materials can mean additional attention that you'll have to pay towards the care of your socks, including washing and drying them.
Before purchasing a product, you should ensure that you check how certain products need to be washed in order to keep them for longer. If it seems like it might take longer than you're willing to put into the care, then we recommend going with a product that's made with a different material. If you prefer more sensitive materials, then we recommend purchasing a larger number of socks.
Materials
The material used for a sock is one of the most important factors to consider when purchasing socks. The main reasons for that are to determine its breathability and comfort. Socks that are not breathable, will not provide your feet with the proper airflow that's needed to avoid your feet from becoming sweaty. The material is also important in determining the durability and fit of the sock. Socks which are cheaply made will not last as long as those that are made with high-quality materials.
The most popular material you'll see is cotton. However, there are now a number of synthetic materials emerging that are gaining popularity. The structure of synthetic materials is more durable and are better suited to absorb moisture.
Below are the most common choices for sock materials.
Merino Wool
Unlike the traditional scratchy wool socks, merino wool is made of itch-free, fine fibers. Their biggest advantage is their thermostatic, which means that they are great for keeping your feet comfortable and regulating the temperature. They are great for cool and warm conditions, while also being great at absorbing and wicking away moisture. However, their main downsides are their price and it's slower to dry than synthetics.
Synthetics
Synthetic materials just mean when several different materials are combined for a greater fit and comfort. For example, Lycra and Nylon are used to help the sock retain its shape and create a snug fit, while Isolfil polypropylene, Wickspun acrylic, CoolMax polyester are commonly used to wick away moisture.
Synthetics are more durable, dry faster, and they are better at wicking away moisture. However, they are less comfortable in hotter climates and reduce insulation when they are wet.
Ingeo
Ingeo is a corn-based polylactic acid that is the eco-friendly alternative to polyester. It is recyclable, a renewable resource, it controls odors, and wicks moisture. However, it is considerably less durable than other options and it can only be commercially composted.
Silk
Silk is a great natural insulator that is used in some socks. It is decent at wicking away moisture and feels great against the skin, while still being lightweight. However, it is no wear durable as some of the other options, which becomes its greatest downside.
Cotton
Lastly, the most traditional option is cotton. If you are not an active user, then cotton is a great option for you, plus it is also an inexpensive option. However, if you are an active user, then you'll find problems with cotton socks, including its ability to just absorb sweat, saturating it quickly, but then drying it very slowly.
Size
Different lengths of socks are meant for different purposes. For example, no show socks are great for flats, ankle socks are best for sneakers, and anything longer than crew neck socks are great for boots. You might consider these knee-length socks or crew neck socks to be too enclosed or constricting, most are in fact quite breathable.
These longer socks are great when paired with boots or with more athletic activities, such as hiking or running. The longer the length, the more protected your legs are. Some even feature ventilation, which makes them even more breathable.
These knee-high socks often come in a one-size-fits-all with a certain shoe size range. Some, however, do come in different sizes for different ranges. We recommend that you check these size ranges before purchasing these socks. If it is not stated in their description, the comment and questions section is a great place to find answers.
No matter what size or style you choose, you should ensure that the sock is able to provide you with the proper moisture control and air circulation for it to remain comfortable.
Style
The appearance of your socks is one of the first things that others will notice. Whether they are bright and colorful or muted and basic, they can all cause different reactions for different people. Our list has products from all colors, including bright and bold products to basic, solid colored products.
Some products are great for providing you with functionality, while others are just meant to be shown off. Regardless of what you're looking for, our list has something for you. If you live in a cooler climate, or you prefer to wear boots, long socks are ideal for protecting your skin against the weather (and your boot's interior materials) - thus creating a lightweight barrier.
So, while shorter socks might look for appealing, long socks are more protective and beneficial for certain scenarios. You'll need to examine what type of activities you'll be doing frequently or what you'll need socks for and choose accordingly.
10 Best Knee High Socks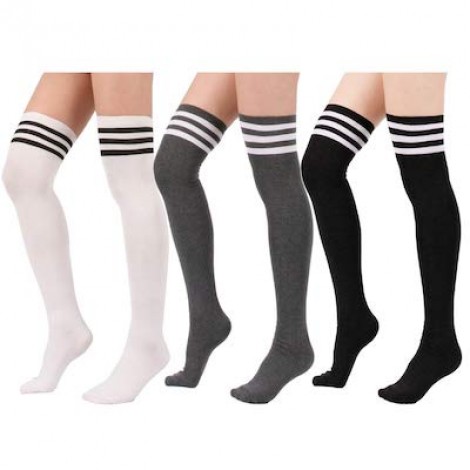 These super stretch Zando Women Stripe Tube Over The Knee Socks are made with thick and durable materials. They feature a comfortable stretch that makes it comfortable for a whole days wear. They come in the classic four colors, which are grey, white, black, and blue - meaning you can match them with almost anything.
Breathable Material
These are made of high-quality spandex and cotton. They are made to be comfortable and durable to allow you all-day comfort. The soft material also makes it softer and more breathable for your skin.
Super Stretchy
These are super stretchy as they come with a high-quality elastic. For average height individuals, these socks fit just over the knee. The elastic at the top ensures that the socks stay on your legs.
Cost and Value
This product is ranked at the eight places in terms of their price with the items on our list. However, since the set linked is a 3-pack of knee high socks, the ranking then goes to the sixth place.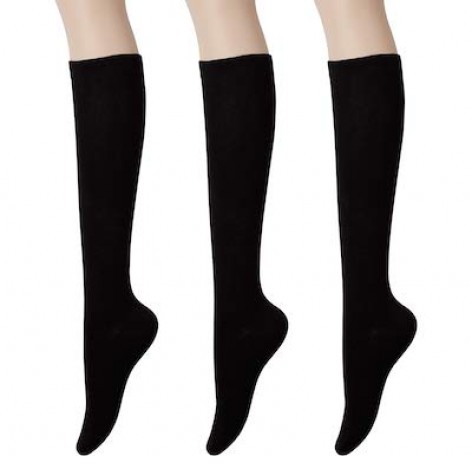 This product is made from high-quality cotton with 84% cotton, 6% polyurethane, and 10% polyester. It's a one-size-fits-all model, that can fit individuals with sizes between six to nine. They are comfy and comfortable to wear, even for longer periods of time. The material also helps to ensure that they are not too thick or thin, making them suitable for all seasons.
High- Quality Materials
The material also helps to ensure that they are not too thick or thin, making them suitable for all seasons. With their material blend, you'll be getting socks that are highly stretchy and soft.
Simplistic Design
These socks are available in solid colors and triple stripe designs, ensuring that you can pick whichever you prefer. They are designed to land right below the knee to give you a more casual look.
Cost and Value
The KONY Women's Cotton Knee High Socks are ranked at third place in terms of its price. However, as you get three in a pack, it raises the price to value ratio considerably.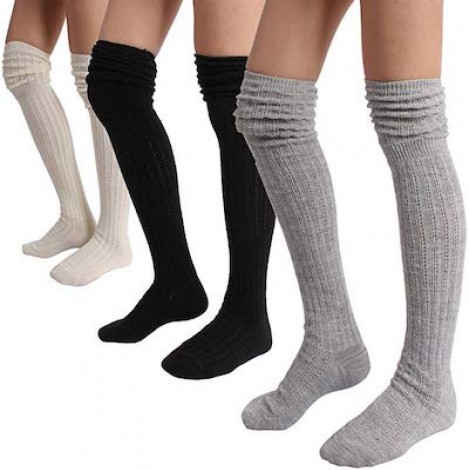 This product from STYLEGAGA'S is a warm, stretchy, and thick sock that will keep you warm during the colder months. They have a good pattern that can go with a variety of outfits. You even have the option to slouch them or keep them straight up.
Colors
These are available in three colors, including grey, black, and white. You can choose to either get them all together in a three pack or get them individually.
Slouch Top Design
They have a slouch top, over the knee socks that allow it to bunch up a little at the top. This adds a design aspect as well as a bit more protection under boots to keep the air out and keep you warmer for longer.
Cost and Value
These are the most expensive on this list, however as there are three in the pack, they are raised up to eight place due to their price divided by three. The quality and the feel make up for the price and make it worth it.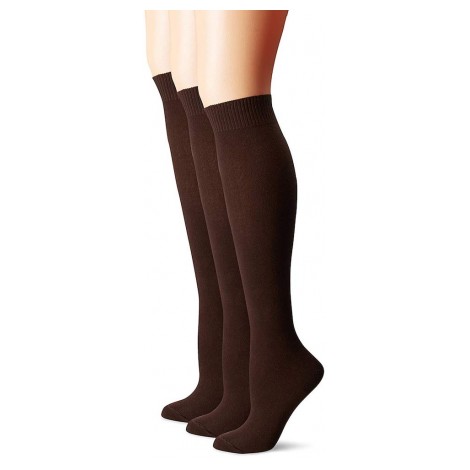 The soft breathable nylon and cotton blend of materials makes these ideal for everyday wear. They have a comfort band at the top that makes sure that the socks stay up even while you move around. They even feature smooth toe seams to allow you the maximum amount of comfort possible.
Versatile Use
This product can be used in various ways. Whether you're playing golf or you're wearing them as part of your back to school uniform, these knee-high socks can fit in any role.
Comfortability
These are comfortable to wear - even under boots. They are designed to be stylish but still keep you warm during the cold weather months. Plus, they are even made in the U.S.
Cost and Value
These are ranked at seventh place in terms of their price in comparison to the other items on this list. However, since it only includes one pair of socks, the ranking then changes to the tenth place.

5

. Henny Rue's Lovely Annie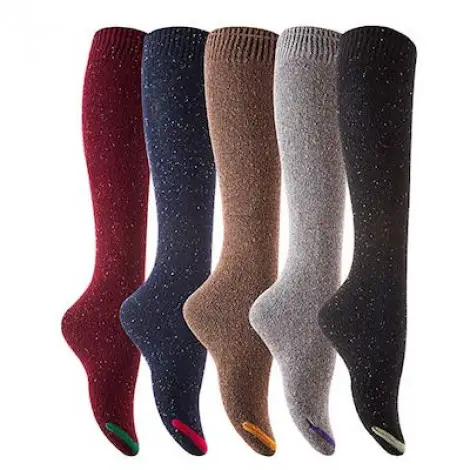 Whether you're in the market for high crew socks or knee-length socks, this option from Henney Rue can be used as either. From girls to women, it can be suited for both. They can even be great under different sized boots. They fit everyone who has a shoe size between six to nine in U.S. women's sizes.
High-Quality Elastic
These stretchy knee high socks will not leave a mark on your legs from the elastic band as they are not too tight nor are they too loose. For most, these will reach the top portion of your knee. If you're on the lower portion of the sizes, then it might fit over the knee.
Stay Up Design
Even after multiple washes, these Henny Rue knee high socks are guaranteed to stay up and maintain their grip. They also come in five colors, including navy, grey, coffee, wine, and black.
Cost and Value
The Henny Rue's Lovely Annie Women's Knee High Cotton Socks are ranked at ninth place in terms of their price. However, as they come in a pack of 5 socks, the ranking then goes to fourth place as their value increases.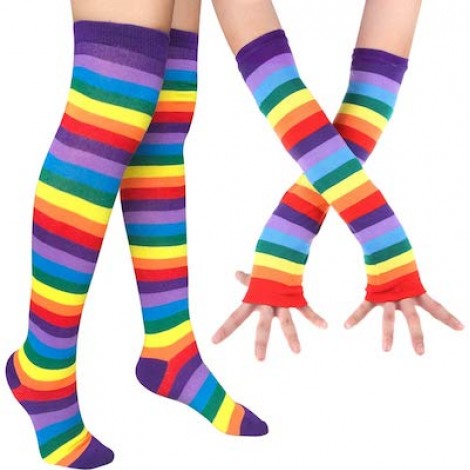 For a fun and bright addition to your outfit, you can't get more colorful than these. They are made from great materials that ensure its comfortability and softness. It's designed to be bright and bold, which is sure to grab attention. The length of these socks depends on your height, which means that it can either be knee might or they can even be stretched to over the knees.
Colorful Design
It would be amiss if we didn't mention the colorfulness of this design. It's designed to garner attention while you walk around with these on, regardless of the season and/or weather.
Versatile Use
The Chalier Womens Rainbow Stripe Socks comes in a set of the socks and fingerless long kit gloves, making these a great gift for your loved ones or for yourself. They are great for normal life, highlight parties, cosplay shows and performances, fun parties, and as a Halloween costume.
Cost and Value
In terms of its price, the Chalier Womens Rainbow Stripe Socks are ranked at second place. As they come as a set, the price seems to be quite fair and mid-ranged.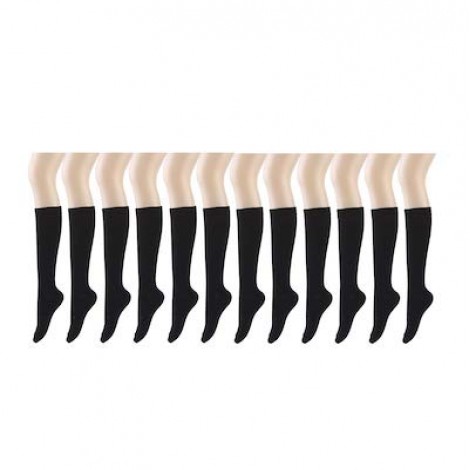 This product is quite comfortable and soft. They are great for anyone who has a shoe size between 4 to 10. They are mostly made with cotton, with 80% cotton, 5% elastic, and 15% spandex. For easy care, you can simply machine wash them on warm and tumble dry on low.
High-Quality Construction
Though these might not be the thickest socks out there, they do the job. You probably cannot wear these in cold weather without anything else on your feet, but during warmer temperatures - these are great. If you just want something between your skin and your boot, these are a great option.
Knee Length (on most)
For most, you'll find these to come up to your knee. These Gelante socks are not too tight to cut off circulation nor are they too loose that they'll fall down.
Cost and Value
This product is ranked in fifth place in terms of price. However, with the 12 pairs that it comes with, the price to value ratio puts them on the first place for its price.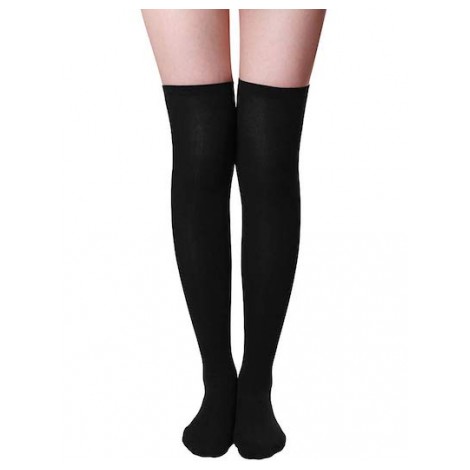 If you're in the market for some simple and stylish over the knee socks, then these HASLRA Women's Over The Knee High Socks are a great option. They are made for great quality materials while also being thick and durable. They have excellent stretchability and feature two different size ranges.
Sizing
Most over the knee or knee-high socks feature one size that's supposed to fit most people. These by HASLRA come in two different size options, which are Medium and Large. The medium size is ideal for those with a shoe size for 5 to 9 and the large size is ideal for those between sizes 9 to 10.5.
High-Quality Construction
These are made of high-quality spandex and cotton, which ensure its comfortability and durability. It's made to allow your skin to still breathe while keeping you as warm as possible
Cost and Value
In terms of its price, these are ranked in first place. Though the product linked is the one pair pack, they also have options for two pairs and three pairs - along with different designs as well.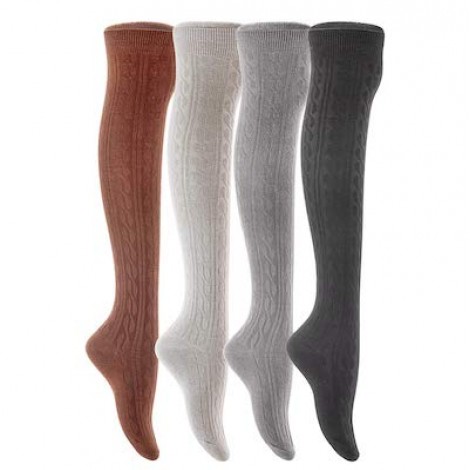 These elastic women knee length cotton socks by Lian Lifestyle are a great option for those looking for the classic colors of socks. They have different sets of four pairs that contain all the basic colors that can help you match any outfit. They are great for individuals who's shoe size is between five to nine.
High-Quality Cotton Material
These socks are made 80% cotton, 15% acrylic, and 7% polyester. They come in nine colors, including navy, cream, black, coffee, beige, dark grey, light grey, and wine. The materials used also help to ensure that the socks remain soft and comfortable.
Mixed Spinning
These are mixed spun to decrease the number of 'holes' that traditional woven socks tend to have. They are built to fit most individuals who have medium to slim builds.
Cost and Value
The Lian Lifestyle Women's Knee High Cotton Socks are ranked at sixth place. As you get four pairs in one pack, the ranking then goes up to third place due to its value.

10

. Sumona's Fancy Design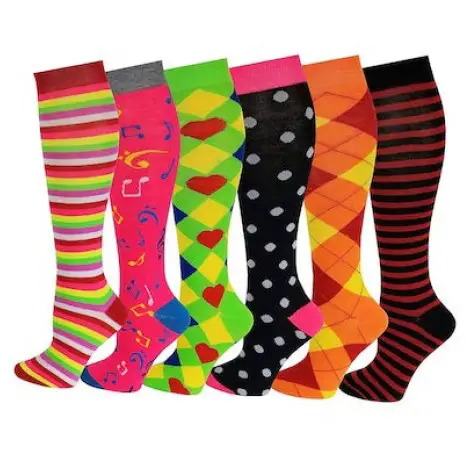 For those individuals looking to buy bright and colorful socks, but still, need a little bit more support and warmth - the Sumona Women's Fancy Design is the best option. They come in a pack of six with assorted designs in each.
Bright Design
It would be remiss if we did not mention the bright and colorful designs of these assorted socks. Regardless of what your wearing, these socks can really bring an outfit to life.
Well-Made Construction
If you need knee-high socks that will be bright, colorful and still keep you warm, then these are a great option. You can even wear these for lower than 48°F temperatures (plus windchill) and they'll keep you warm. You just might have to layer two pairs of these, but since it's a six-pack - it's very easy to do so.
Cost and Value
The Sumona Women's Fancy Design Multi Colorful Patterned Knee High Socks placed fourth place in terms of its price point. However, since it does come in a 6 pack, it ends up coming in second place with its price and value ratio.

Subscribe to our Newsletter