Best Kids Luggage Sets Reviewed & Rated for Quality
In a Hurry? Editors choice: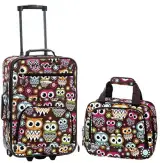 Test Winner: Rockland 2

When I was a kid, there weren't very many companies designing luggage with kids in mind so I ended up using the old
luggage
of my parents. These pieces were huge and heavy and beaten up to no end.
Then, the Christmas before I turned 14, my aunt gave me my first luggage set. A hard-shelled, pink and white polka dotted 2 piece beauty. I loved this luggage and used it for years.
It went to camp with me, to college, to my study abroad in London, and eventually, to New York. It was more than luggage--it took me places.
So as you peruse our list of kids luggage sets, keep in mind that you're buying more than just luggage. You are actually purchasing a special gusto for travel and for the world--for all that's out there.
Standout Picks
Criteria Used for Evaluation
Style
When considering products for children, style is always a main contributing factor. The more a child likes the appearance of a product, the more likely they are to like it and use it--it's practically science. So style was the first thing we looked for.
All of the products on our list come with multiple different design options to suit any child's aesthetic. We shied away from using gender to describe certain products and designs because girls can love dinosaurs too, right?
When ranking our products on style, we also considered the longevity of the style or how the style will grow with the child. For example, while a 5-year-old might like a sassy girl on her luggage, she might feel differently when she's 12. The styles that were more versatile got higher rankings.
Size
The size was another key factor we considered when compiling our list.
About half of the luggage sets on our list are meant for the tiniest of travels, about 5 years of age and under. These sets are smaller in size, lighter in weight, and by virtue of this, not able to carry tons of stuff. We provided the dimensions of the bags to give you an idea about how much storage each set actually provides.
Overall, the soft shell bags on our list provide the most storage. Some unzip for extra depth and include multiple front, easy-access pockets for food and other items that need to be on hand when traveling.
Features
We paid a lot of attention to the features of each luggage set when making our list so that you see the inside before buying.
We loved bags with additional pockets and dividers on the inside of the luggage to provide more organizational space--a key for kids and adults when traveling and trying to keep a tidy hotel room. We also loved bags that had outside pockets for easy access.
Included in our features category were the accompanying items to each set. We loved sets that come with backpacks because they are easy to carry and they can be used for school as well as travel. We also liked sets that came with a separate toiletry bag to ensure those leaking bathroom essentials don't end up all over your clothing.
Durability
Of course, we had to think about durability. In doing so, we took a look at the kinds of materials each product was made out of.
The hard shell luggage sets on our list are by far the most durable. They can stand up to heavier travel uh-ohs and won't rip and tear like some fabric bags. They also keep your belongings more secure. Plus, they're easier to wipe clean from travel messes.
That being said, we did feature a few soft shell bags. These stood up in reviews as users stood by their durability.
Value
All of our lists consider value. We want to make sure that you are getting the best product for your traveling buck. Although luggage can be pretty pricy, the items on our list will not break the bank.
Who wants to spend a whole paycheck on their child's first luggage set anyway?
While children may outgrow some of these luggage sets more quickly than others, the quality of the materials that each of our products is made out of will lend themselves nicely to hand-me-downs.
Plus, many of our products come with 100% satisfaction guaranteed, so you know you'll end up satisfied with your purchase.
Ten Best Kid's Luggage Sets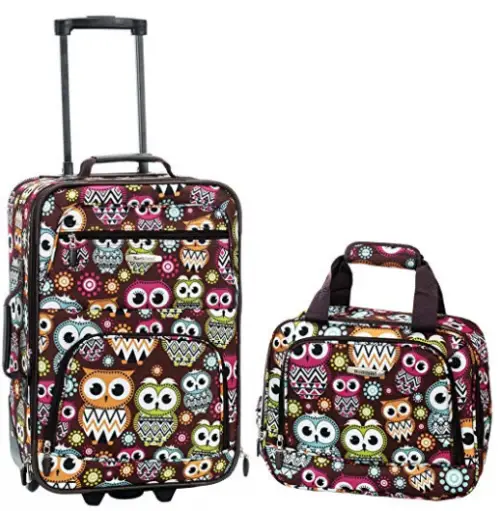 The Rockland 2 Piece Luggage Set is our number 1 pick for kid's luggage. It's lightweight yet durable and comes in so many colors and patterns that it will truly be a challenge to pick just one. This set is great for both quick weekend getaways by car and more extended travels by airplane.
Over 60 Colors and Designs to Choose From
This soft-shell kids luggage set is made out of super durable 600D fabric that will hold up to all of your traveling adventures. It comes in more than 60--yes 60--colors and designs which means there is literally a style (and likely more than one) for everyone. The set comes with 2 bags
2-Piece Set Designed for Carry-On
Rockland's 2-piece set is perfect for those wishing to save money on extra baggage fees. The 19-inch roller bag and the 14-inch detachable tote can fit in the overhead bin and underneath the seat in front of you, respectively. The wheels and telescoping handle on the roller bag make it super easy to maneuver, even for the youngest of passengers. The rolling bag has 2 front pockets, great for storing items that need to be easily accessible, plus 3 pockets for seamless organization inside the bag. And if you need just a touch of extra room, the rolling bag can be unzipped and expanded by 2 inches. Both bags are fully lined, and the carry-on tote bag comes with a strap that can detach and be adjusted. The tote also comes with an additional back strap to allow you to attach it easily to the rolling bag. And to top it all off, both bags come with locks and keys so all of your items will remain secure while traveling.
Cost and Value
I don't know about you, but when I became an adult and learned how pricey luggage can be, it totally blew my mind! It's the stuff I put my stuff in, after all. That being said, this set will not break your bank and is a great gift for young and old travelers alike. It's durable and fun and will serve as a great travel companion for years to come.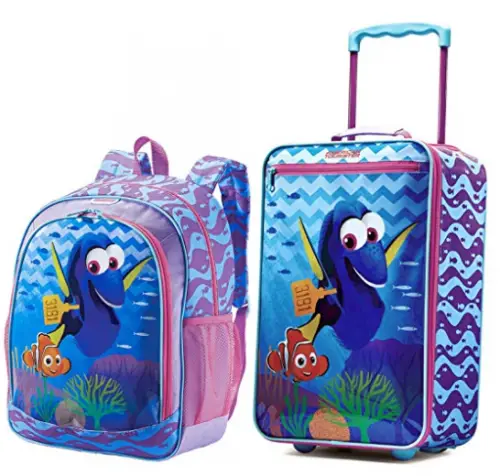 The American Tourister Disney Collection truly brings any child's travel dreams to life. With multiple different Disney designs to choose from, your kiddo will love using this set. Perfect for weekend travel or as carryon luggage, these pieces will go where you go.
Disney Magic Brought to Life
From Star Wars to Paw Patrol to Frozen to Finding Dory, American Tourister and Disney know just how to make traveling a little more magical. With over 10 Disney themes to choose from, there is bound to be one that your kid will love. Each bag is made from durable polyester and printed vinyl which means it is easy to wipe clean from many travel messes that may arise.
Easy-to-Carry Backpack for Kids
This set comes with 2 bags--an 18-inch roller bag and a super convenient and easy to carry backpack. The roller bag features a telescoping handle and 2 roller wheels make it easy for kids to take charge of their own luggage. With a full front pocket for easily-accessible storage, a mesh pocket on the inside for undies and the like, and crisscrossing straps to hold your folded items in place, this roller bag does it all. The matching backpack comes with a front zipper, large body zipper, and a mesh water bottle holder on one side. Plus, the straps are nice and padded for comfort while carrying.
Cost and Value
This set is one of the most inexpensive on our list. It's designed specifically with kiddos in mind and meant for the younger traveler. It can stand up to lightweight use by children but is not ideal for the older traveling whose items begin to weigh more.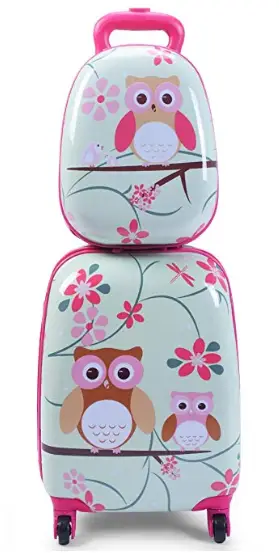 The Goplus 2 Piece Kids Carry On Luggage Set marries design with durability and function. This set is great for travel, but the backpack is also ideal for standing up to the wear and tear of the school year.
Hard Shell Designed for Durability
This set is the first hard-shell set to make our list. The shell is made from super strong polycarbonate and nylon which means it will hold up for ages, unlike some cheaper soft-shell fabric designs. How many hard-shell backpacks have you seen? This was a first for me, and I was skeptical about the weightiness of it, but because it's made from polycarbonate, it is super durable and super light. This set comes in 6 adorable designs for your little globe trotter to choose from.
Ergonomically Designed for Ease of Use
The ease of use of this set is next level. The 16-inch roller bag comes with a telescoping handle and 4 wheels that will roll in literally any direction, making it extremely user-friendly especially for the little ones. Though there are no front storage zippers on either bag, the roller bag features a full lid zipper on the inside as well as crisscrossing security straps to keep your items in place. The 12-inch backpack unzips completely and can lay totally flat. It also comes with velcro accordion supports to keep the backpack from opening all the way if desired. With padded straps and an additional strap to easily secure the backpack to the roller bag, the backpack is super versatile and easy to carry.
Cost and Value
Even though hard-shell luggage is typically more expensive than their soft-shell cousins, this set proves that you can get quality for less. Plus, Goplus offers 100% money back guarantee if you aren't totally satisfied with your purchase. On top of that, if you consider that the backpack can also be used year-round for school, this value is hard to beat.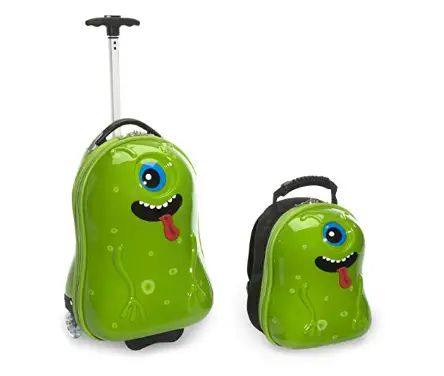 These super cute travel buddies are bound to give your kid the travel bug. This set, like the previous one on our list, is ideal for weekend travel and daily school use.
4 Amazing Buddies to Choose From
The Travel Buddies Luggage Set comes in with 4 adorable buddies and colors to choose from. Whether your kiddo wants to get out there with the alien design, roar like a tiger, float like a butterfly or bleep like a robot, there's a design for them. Plus, these cute buddies are made from super durable polycarbonate and nylon, meaning they can hold up to some serious travel abuse--even the comings and goings of a school year.
Easy for Kids and Adults to Use
The 18-inch roller bag comes with 2 wheels and an adjustable telescoping handle that can extend for adults to use with ease, and be lowered for children. The roller bag unzips totally to lay flat which is excellent for finding items with ease, and not making a mess of your packing while searching for those socks. The lid features a full-zipping pocket, and the body of the roller bag comes with crisscrossing straps to keep your clothes put. The backpack is also hard-shelled for durability but lightweight enough to carry with ease. It can unzip totally and lay flat as well and comes with accordion velcro that you can secure so that the backpack will not fold all of the way open. The backpack features an elastic pocket and padded straps to top it off.
Cost and Value
This set also rings up on the low end of the spectrum, especially considering it's a hard-shell set. Its durability and premium material design means that it will hold up to some heavy usage--even the wear and tear of a typical school year.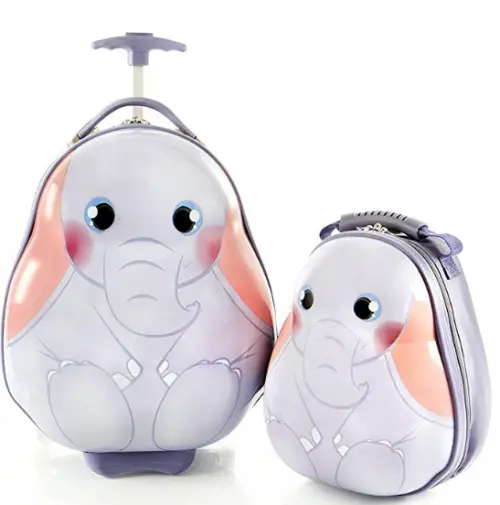 The Heys America Travel Tots Kids 2 Pc Luggage Set was designed especially with kids in mind. Its cute shape and fun characters to choose from will have your child dying to take a trip just so that they can use this luggage.
8 Shiny Options to Choose From
This beautiful hard-shell set wows not only for its durability but also for its unique shape and design. The hard shell polycarbonate design means that it can stand up to heavy travel demands. And the glossy exterior means scuffs and messes are easy to clean off. Plus, the set comes in 8 super cool character options: ladybug, emperor penguin, penguin, elephant, panda, owl, parrot, and bee.
Lightweight and Easy to Carry
The 18-inch roller only weighs 3.5 pounds, so any tot from 3 years on up can roll the roller bag with ease, and the roller blade wheels add an extra touch of flare. The roller bag also comes with a multi-locking, telescoping handle so adults and kiddos can roll without crouching over. Plus, the roller bag features crisscrossing straps on the inside to keep clothes from shifting, and it can unzip completely which helps when looking for packed items. The backpack features a super sturdy handle that allows the user to attach it easily to the roller bag. With a full-length zipper, the backpack also folds flat but comes with accordion velcro options to keep the backpack from opening all the way.
Cost and Value
This hardshell set comes in just a little more expensive than our other hard-shell sets on the list so far. According to our reviewers, this could be in part because of the highly durable quality of the design.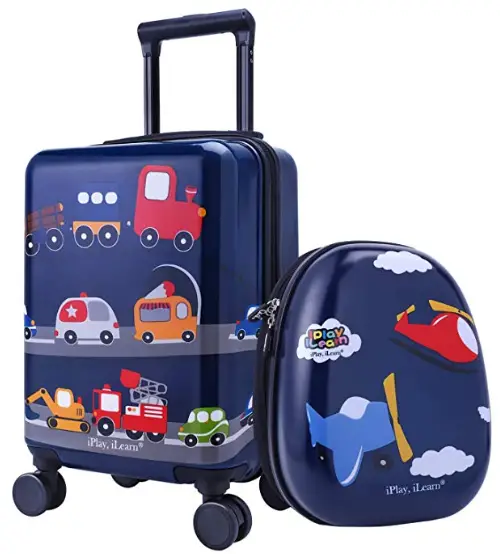 This luggage set is the epitome of children's luggage design. It's clear that iPlay, iLearn puts a lot of thought into designing their products, and this set is no exception.
Anti-Scratch Exterior
The iPlay, iLearn Kids Carry On Rolling Luggage set is both a kid's and a parent's dream. The super-durable polycarbonate design can hold its own against travel bumps and bruises, and the sleek outside is also extremely easy to clean. Featuring different modes of transportation on the outside, this set will surely get your child in the mood for traveling the world--however you get there.
Multiple Organizational Bonuses
The 18-inch roller bag comes with 4 rotating wheels that will allow your little munchkin to move the bag in any direction. It doesn't get any easier than this. Plus, the inside of the roller bag is design heaven. The lid features a full zipping pocket with two smaller zipping pockets (1 mesh, and 1 regular) for super embedded organization. And with crisscrossing straps, none of your items will shift in flight. The 13.5-inch backpack attaches easily to the roller bag with a convenient strap in the back. Plus, it features padded straps for safety and ease while carrying on the shoulders.
Cost and Value
This is the most expensive item on our list so far, but you get what you pay for. The amount of time iPlay, iLearn spent researching and honing their product is evident in its design and functionality. Plus, all of their products come with a 100% satisfaction guarantee which is a motto you can really get behind.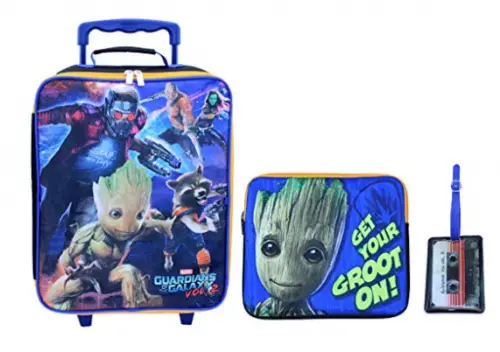 This super-affordable 3-piece set features the Guardians of the Galaxy who are more than happy to guard your precious cargo.
Features Marvels Guardians
This soft-shell Marvel's Guardians of the Galaxy set is great for any Marvel's fan. The front of the roller bag features not 1, not 2, but 5 different Marvel characters, and the utility case features the one and only Groot. Plus the "Awesome Mix Vol. 2" mixed tape luggage tag rounds off the fun design.
3-Pieces for Complete Luggage Needs
So far, the sets on our list have only been comprised of 2-item sets. This one takes it up a notch. The 18-inch roller bag comes with a full 2-zipper zipper, an extra top handle for ease of carrying, a telescoping handle for rolling, and 2 roller blade wheels for smooth sailing. The utility case is great for storing small electronics and books that your little world traveling will want to access during long car rides or on the plane. And finally, the luggage tag will make sure that your child's marvelous luggage never ends up in the wrong hands.
Cost and Value
Despite being a 3-piece set, this set is the cheapest on our list so far. It is not as heavy duty as the hard shell options on our list, but it is great for young weekend travelers with a penchant for superheroes.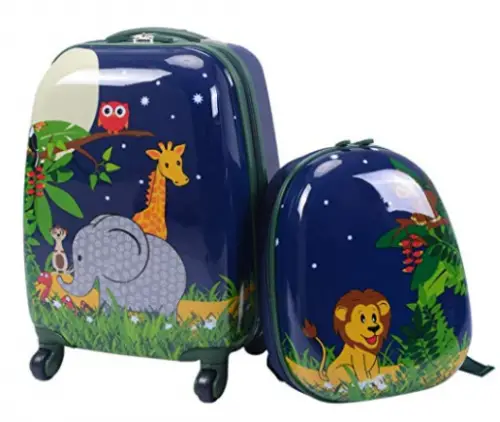 This fun little 2 piece set from Lucky Link is great for the young traveler and school-goer alike. With 4 kid-approved designs to choose from, your little one will be traveling in style.
Easy to Clean and Keep Looking New
Lucky Links 2 Piece Kids Carry On Luggage Set is made from strong and sturdy polycarbonate. This means it can hold up to heavy use whether traveling or taking to school every day. Plus, the polycarbonate outside is easy to clean, as is the inside--we know how messy life can get sometimes--so you can keep this set looking new adventures to come. This set comes in 4 fun designs to choose from, so there's bound to be something for your little traveling partner.
Unzips Fully for Easy Access
Both the 16-inch roller bag and 12-inch backpack are able to unzip fully. This feature is critical in keeping packed items organized as you don't have to pull everything out to find what you're looking for. The roller bag has 4 easy-roll wheels that allow your little one to roll in any direction with ease. The inside features a full-length zipper for snug storage as well as crisscrossing straps to keep the clothes in the main body from moving around. The backpack features an elastic pocket for keeping smaller items at hand, and elastic accordion supports to keep the backpack standing up. Plus, the backpack fits snugly on the telescoping handle of the roller bag to help keep all of your child's travel items together.
Cost and Value
This set is priced comparably with other hard-shell items on our list. It is durable and sturdy enough to hold up to daily use at school. It also comes with a 100% money back guarantee if you're not totally satisfied.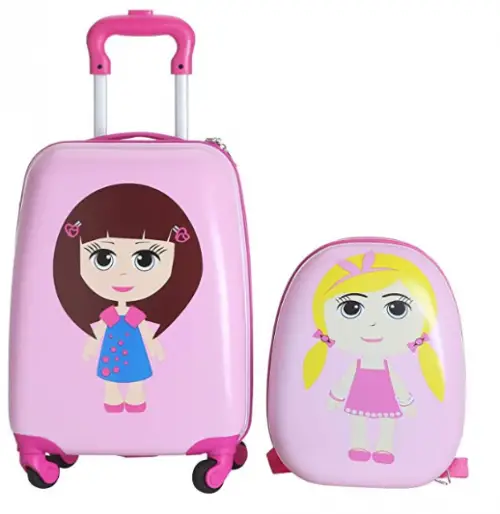 The Odthelda 2 Piece Kids Carry on luggage set packs a lot--a lot of storage and a lot of sass and roar--in a tiny package. This set is ideal for weekend getaways on trains, planes, and automobiles.
Sassy Design
This hardshell set by Odthelda comes with a durable design that's only beaten by the bag's fun character options. Coming in sassy pink girls and roaring green dinosaur options, this set will definitely add some spunk to traveling.
So Easy a Kid Could Use It
The roller bag in this set comes with 4 rotating wheels, making it extremely user-friendly--so easy a kid could use it! Its lightweight, yet durable design is great for even the smallest user. Both the roller bag and backpack unzip fully to help with accessing hard-to-reach items. The roller bag features a full zipper and crisscrossing straps to keep items in place. The backpack comes with an elastic pouch and velcro straps to keep the bag from opening totally up. Additionally, the backpack has an extra strap to secure it to the roller bag's pull-up handle.
Cost and Value
This set is slightly cheaper than most of the hard-shells on our list but it boasts the same quality materials and internal features as the others do.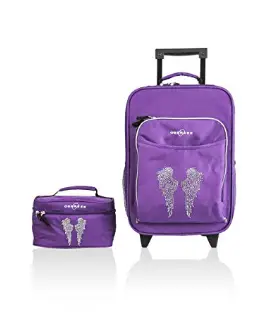 The handly little two-piece set by Obersee is great for travelers from 2 to 7 years of age. While a few of the items on our list are meant only for the younger travelers, this set is great for older travelers as well. And its size makes it ideal for weekend getaways and international travel alike.
Snazzy Designs to Choose From
We round out our list with this nylon and polyester soft shell bag. It's not a hard shell, but it is durable and can stand the test of time (and travel). It comes in 7 pretty radical and flashy designs that are bound to set your child's luggage out against the rest.
More Storage so Your Items Won't be Crammed In
This set has more storage than many of the other sets on our list which means that you won't have to squeeze your items in to get them to fit. The 16-inch roller bag is lightweight and features 2 wheels and a telescoping handle for easy rolling. Plus, the roller bag is 8.5 inches deep, leaving enough room for all of your child's essentials. With 2 convenient front pockets on the roller bag, your child can store food and other items that need to be accessed readily. This set also features a toiletry bag meant for keeping leaky bathroom essentials away from clothes and safely stowed.
Cost and Value
This set costs more than the other items on our list, but it truly stands up to the test of time. Plus, you can even add a protection plan for a few extra bucks to make sure you stay covered.

Subscribe to our Newsletter