Top 10 Kids Climbing Shoes Reviewed & Rated for Quality
last updated:
Nov 15, 2019
It seems harder and harder these days to find time for the family away from the almighty screen, but rock climbing can be a super fun way to get the family outdoors and can be as exciting as anyone of your kid's video games.
And while you may be on the fence about taking your little one with you to the boulders, let us reassure that rock climbing is actually one of the safer sports out there than your kid can get interested in.
That being said, they'll need some basic gear to ensure that they are safe and successful while climbing and belaying.
So we've rounded up the best kids climbing shoes (many of them cheap kids climbing shoes) that will function similarly to your adult climbing shoes, but that have added features that make them ideal for kids and for fun on the rocks.
This is the best product on our list that is currently in stock:

Climb X Kids Icon
Why is it better?
Velcro closure
Knit upper is durable
Breathable design
Soft neoprene tongue
Nice traction
In a
Hurry? Editors choice:

Test Winner: Climb X Kids Icon

15
Researched Sources
12k
Reviews Considered
11
Hours Researching
10
Products Evaluated
Ease of Use
Traction
Comfort
Durability
Value
By Default
10 Best Kids Climbing Shoes
Leath upper is seamless and breathable
Easy to tie
Traction works indoors and outdoors
Nice and durable
To kick off our list of the best climbing shoes for kids, we bring you the La Sportiva Stickit. These feature a breathable genuine leather upper and easily adjustable laces that secure the foot snugly but without pesky pressure points. Plus, the rubber grips work equally well on rock and plastic so you can use them indoors and outdoors.
FriXion
The Stickit features a FriXion bottom that is equally as grippy on plastic as it is on actual rock. This is a unique feature that allows this product to be useful both indoors and outdoors so you only need to splurge on one pair of shoes. We award points for traction and ease of use here.
Easily Adjustable
These are easy for kids of all ages to tie and secures around the heel and top of the foot for a secure fit. And because the leather upper is seamless, there are no lines that will dig into the foot and the shoe will remain breathable. We award points for ease of use and comfort here.
Cost and Value
The La Sportiva Stickit rings up towards the top of our price range but we love their value because they are super easy to get on and off and because they hold up incredibly well. Plus, because you can use them indoors and outdoors, they are a great buy.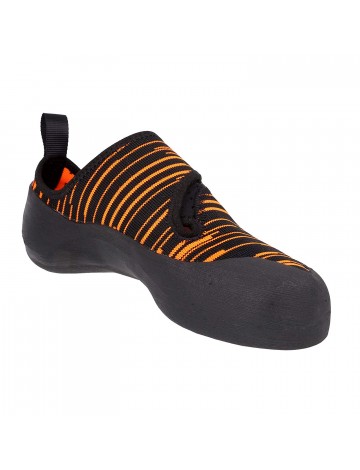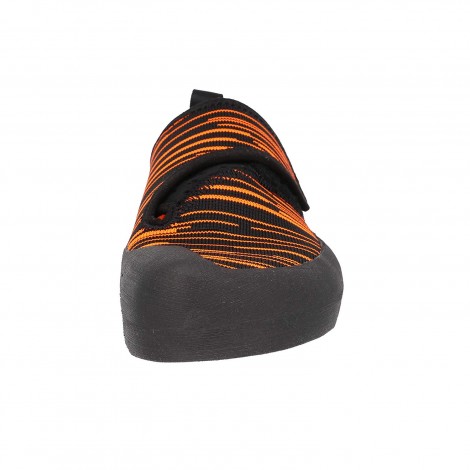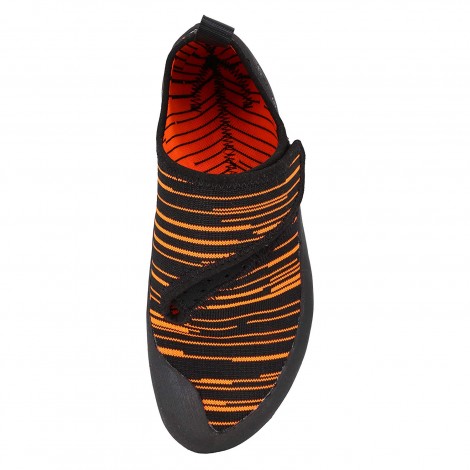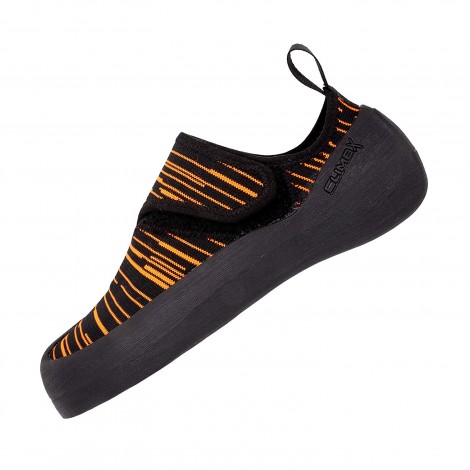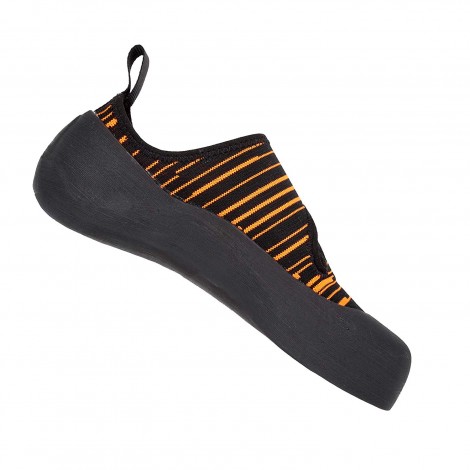 Velcro closure
Knit upper is durable
Breathable design
Soft neoprene tongue
Nice traction
Run larger than climbing shoes
Another great option for rock climbing shoes for kids are the Climb X Kids Icons. These are some of the easiest to use for little ones and they are nice, soft, and comfortable. But that doesn't mean you have to sacrifice quality or durability. Plus, you'll enjoy lots of traction that make conquering harder projects easier.
Knit and Neoprene
The Climb X Kids Icon is made with a knit upper that is super soft, flexible, and above all, breathable. For kids who are finicky about what goes on their feet, this is a great option and will move and mold with them. All while being super durable.
And with a neoprene tongue that is seamless and soft against the skin, these are some of the most comfortable on our list. Points for comfort here. Plus, X-Factor rubber for traction will help your kid to master harder climbs sooner.
Velcro Closure
These are one of the easiest for kids to use. Instead of having to deal with ties which can be a challenge to some kiddos, these close with sturdy velcro which makes getting them on and off a breeze. Points for ease of use here.
Cost and Value
The Climb X Kids Icon rings up in the middle of our price range and we love its value because they are super easy for kids to get on and off themselves, and because they are breathable and comfortable enough for kids to wear for extended periods.
3

. Mad Rock Kids' Mad Monkey
Easily adjustable
Great fit around heel and top
Durable construction
Grow with your kids
Indoor and outdoor use approved
The Mad Rock Kids' Mad Monkey is a great buy if you're looking for a versatile product that can perform indoors and outdoors and that can also grow with your child. Because of the highly adjustable straps, your kid will be able to enjoy these for a few years before they outgrow them altogether.
Highly Adjustable
The Mad Rock Kids' Mad Monkey is adjustable in two different areas. This product features velcro closure adjustments around the heel and over the top of the shoe. Because of the flexible nature of the shoe, one simply needs to adjust the velcro closures in order to meet their growing child's needs.
Many parents report their children being able to wear these shoes for years and even multiple children using these shoes over time. So we award points for ease of use and durability here.
Great for Indoor and Outdoor Use
These are designed to function as well indoors as they do outdoors so you can transition from the gym to the great outdoors without having to trade in or buy a new pair of shoes for your kiddo to get used to. Points for ease of use and traction here.
Cost and Value
The Mad Rock Kids' Mad Monkey rings up towards the top of our price range and we like their value because they grow super well with your kid's foot and they are nice and durable which means you will have to replace them less frequently.
Velcro closures
Adjust at heel and top
Anatomical toe design
More padding in toes
The Evolv Venga features a synthetic design that is nice and durable as well as comfortable. With extra traction and padding at the toes, your child will be able to climb in comfort and feel confident in their footholds. Plus, they are super stylish to boot.
Anatomic Design
The Venga is shaped to mimic the anatomy of a child's foot. With an asymmetrical toebox, as well as more padding at the toe, your child will enjoy a fit and comfort that feels more natural. This helps to improve their overall climbing experience and comfort so points for that and ease of use here.
Wide Foot Opening
This is another one that is super easy for kids to put on themselves. With a wide opening for the foot to enter, as well as adjustable hook and loop velcro closures at the heel and over the top of the foot, your child will be able to get a fit that works well for more than just one year. Points for ease of use and durability here.
Cost and Value
The Evolv Venga rings up towards the top of our price range and we like its value because they are durably made and adjustable so that kids can enjoy them for longer than one year's time without them needing to be replaced.
Made of 100% split leather
Big pull loop
Velcro closures
Adjustable
Super durable
Pretty pricey for a kids shoe
The Boreal Ninja Jr. is one of the most premium products on our list. It is made from 100% split leather and is nice and durable while also remaining comfortable. With a little more structure than other synthetic products, this design gives a secure fit though not as much flexibility.
Pull Loop
The Ninja Jr. is a great option for kids because it is nice and easy to put on. With a large opening for the foot, as well as a large pull loop at the heel, kids will be able to put these on themselves. We also like the ease of the hook and loop closure and award points for ease of use because of this.
All Leather Durability
It is made of 100% split leather which means a lot in the way of durability. Plus, with FS-Quattro rubber and half-stiff midsole, your child will get support and comfort that has a bit more structure than other more flexible synthetic shoes. So points for durability and traction here.
Cost and Value
The Boreal Ninja Jr. rings up at the very top of our price range but we love its value because it is highly adjustable and more durable than most others on the list.
Adjustable heel strap
EVA cushioning
Durable rubber outsole
Soft and flexible upper
Very pricey for synthetic materials
The SCARPA Piki Junior is another excellent premium option. Though it isn't made of leather, the components are super comfortable and durable. Plus, they are also highly adjustable which means that you won't have to replace these every year as they will grow with your child.
Flexibly Supportive
The Piki Junior is made of synthetic materials that are designed with flexibility and comfort in mind. The upper is made of microfiber which is soft and breathable and the shoe features lycra which is soft against the skin. Points for comfort and durability here.
Sticky and Durable Outsole
They feature an outsole that is super sticky and super durable at the same time. Plus, you'll enjoy the EVA cushioning in the sole which makes for comfort and cushioning for all-day wears. Points for traction and durability here.
Cost and Value
The SCARPA Piki Junior rings up at the very top of our price range but we love its value because it has an adjustable heel strap that allows the shoe to grow with your child and because the design is super durable so can even be passed down to younger siblings.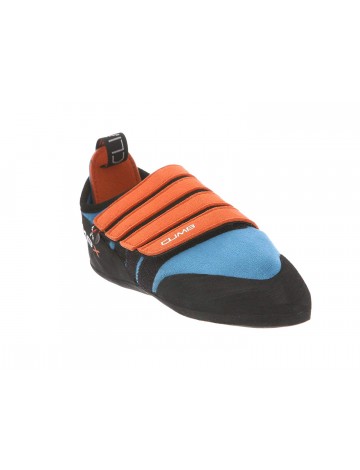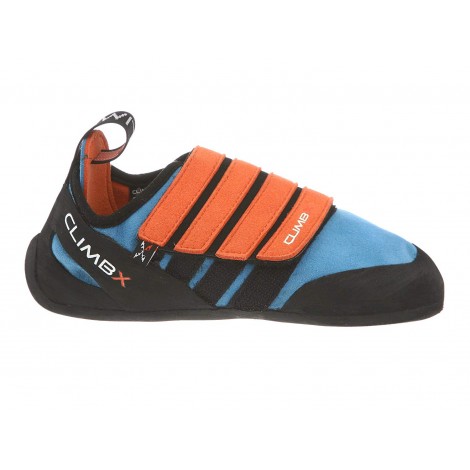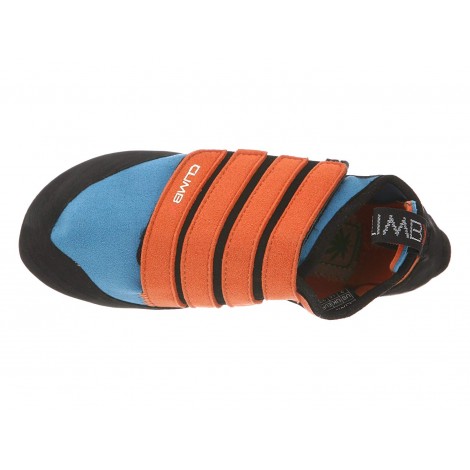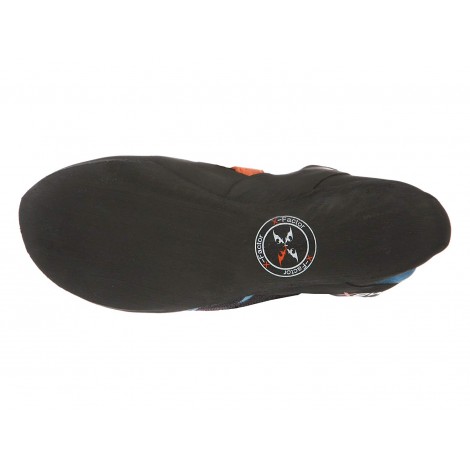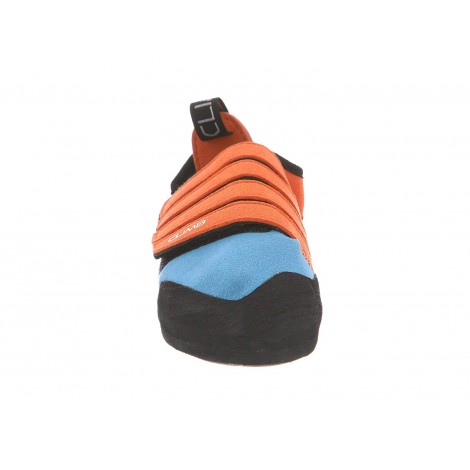 4 different velcro closures
Removable heel cup
Grows with child
Super budget friendly
Made of leather
Tons of issues with sizing consistency
The Climb X Kinder Kids is an incredible budget option that works well for the super young kids and that will grow with them. This product is made of leather and has a heel cup that is removable which allows the shoe to expand a half a size. Plus, the velcro is more adjustable so you can get a just right fit.
Removable Heel Cup
The Climb X Kinder features a heel cup that is removable. This serves to make the shoe grow up to one size larger for your child to be able to get more use out of. We give points for comfort and ease of use here.
We also like that there are 4 different velcro closures as this allows you to get a more custom and secure fit, so more points for ease of use here.
X-Factor Rubber Rand
These feature an X-Factor rubber rand that works to deliver nice traction. And with a leather upper, you'll enjoy nice durability as well.
Cost and Value
The Climb X Kinder rings up at the very bottom of our price range and we love its value because it is a great budget option that is still super adjustable and that can grow with your child.
Breathable design
Adjustable at heel and top
Velcro closures for ease
flat profile
EVA padding
Multiple sizes off in sizing
The Butora Brava is a durable and breathable shoe that provides a lot of support. The flat profile and EVA cushioning help to keep your child's foot comfortable and in the right position while they are out on the rocks.
Flat Profile
The Butora Brava delivers a flat profile and synthetic upper that works to deliver a nice balance of structure and flexibility to keep your child comfortable and supported. Points for ease of use and comfort here.
EVA Support
They feature EVA padding in the sole which provides impact support and which helps to make these more comfortable for longer wears. Plus, we like the hook and loop closure as this makes these easy to get on and off.
Cost and Value
The Butora Brava rings up towards the top of our price range and we like its value because they provide nice structure and support for longer wears.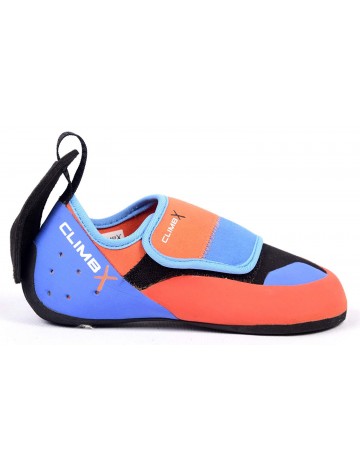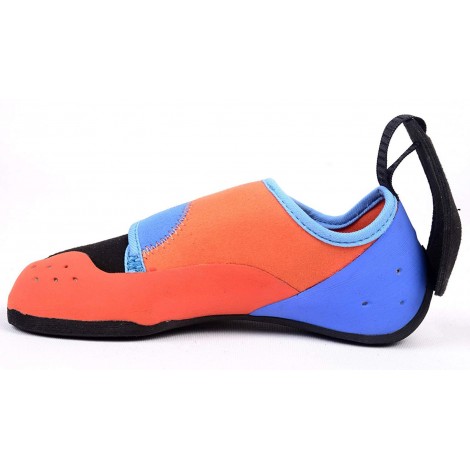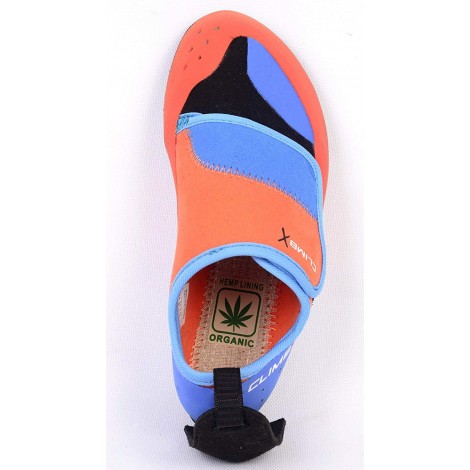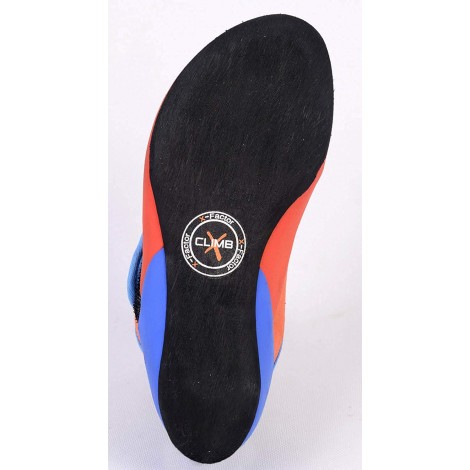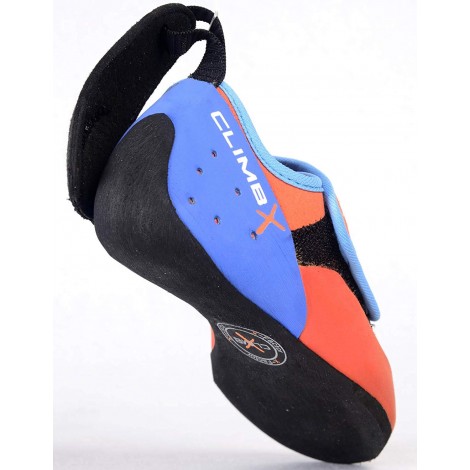 Super easy to put on
Removable heel cup
Adjust the sizing
Some issues with blistering
The Climb X Kinder is another nice budget-friendly option. Though it does not have a heel adjustment strap, it does come with a heel cup that you can remove for greater size variations. And we like that the velcro is easy to get on and off.
Adjustable Sizing
The Climb X Kinder is another that comes with a heel cup that you can remove in order to grow the shoe so that your child can enjoy the same shoe for longer without needing a replacement. We award points for ease of use and comfort here.
Single Closure
These are very simple to get on and off. With a large loop at the back and only one velcro closure, pretty much any kid can handle this themselves. Points for ease of use here.
Cost and Value
The Climb X Kinder rings up towards the bottom of our price range and we like its value because it can grow with your child and is reasonably durable for continued use.
10

. Black Diamond Momentum




Easy to get on
Nice traction
Comfortable fit
Very expensive and not much growth
The Black Diamond Momentum is great for even the smallest of kids. With a simple closure and good friction traction, your child will feel confident in their footholds. Plus the big pull loops make the shoe easier to put on as well.
Nice Friction Traction
The Black Diamond Momentum features NeoFriction traction that makes footholds nice and secure and that won't slip even if rocks are a bit wet. We award points for traction here.
Super Easy On
The Momentum is another option that is quite easy for kids to get on themselves. With only one velcro closure and big pull tabs, your kids and get themselves geared up. However, this means less adjustable fits because there isn't a velcro tab around the heel.
Cost and Value
The Black Diamond Momentum rings up at the very top of our price range and we like their value because they offer up great traction and easy use.
Criteria Used for Evaluation


Ease of Use
When selecting the products that would make this list, we heavily considered how easy each was to use as they are intended for kids.
To help all those parents out, it is important that a kid can put on and secure their own shoes. However, we will say that all parents should double-check their child's velcro closures to make sure they are nice and secure before sending them up the rocks.


Traction
Of course, traction was a major consideration. We value products that have equally good traction indoors and outdoors so that you don't need more than one pair of shoes per kid.


Comfort
Comfort was a major consideration as well. We like shoes that are seamless and flexible so that your child doesn't have to endure pressure points that can cause blisters. We also like shoes that are adjustable for a more secure and personalized fit.


Durability
We valued options that are durable enough for multiple uses and multiple kids to wear. Because these are quite expensive for a pair of shoes and because kids' feet grow quickly, we like choices that can be handed down and still function super well.


Value
In terms of value, the options we value most are those that are super adjustable and that can be fitted over sizes so that they grow with your child.
Expert Interviews & Opinions
Most Important Criteria
(According to our experts opinion)
Experts Opinion
Editors Opinion
Users Opinion
By Default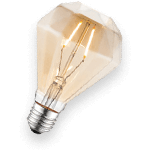 Age Appropriate Climbing
While these age suggestions are always subject to your judgment and your child's development, we say that most kids are well suited to begin trying their hand at rock climbing between the ages of 4 and 7.
Kids at this age will have developed problem-solving skills and enough strength to begin working their way through projects. Plus, it's no surprise that kids are natural climbers, and they'll often be more successful right off the bat than you anticipated.
Check your area for gyms with bouldering walls that are for kids. This is a great way for kids to get started and this style of wall usually has padding at the bottom and won't require your kids to wear harnesses so it's a more natural practice.
Best Type of Climbing for Kids to Do
This will depend on your child specifically, though you'll likely want to avoid ice climbing to start with! Most experts suggest starting your child at a kid-friendly indoor gym.
These gyms are more controlled in nature and they allow a chance for your child to learn the ins and outs before trying to climb a real boulder.
This means your child will have chances to try and fail, which will help them strengthen their confidence and problem solving skills, and that they'll be able to become more familiar and comfortable with their equipment.
Of course, there's nothing quite like getting outdoors to the real deal, so when you feel that you're child has had sufficient exposure and practice, by all means, take them to the rocks!
Other Factors to Consider


Materials
This is an important consideration as the materials determine flexibility, feel, fit, breathability, and overall durability.


Color
Color is an important factor to consider before you get your little one set up with their new kicks. Kids will be more willing to wear something that they think looks cool.
Frequently Asked Questions
q:

Do you have any tips for taking my kid rock climbing for the first time?

a:

You know how you feel about rock climbing? Well, how about sharing that feeling with your kids?

Rock climbing is a great way to get your kids outdoors and away from those pesky screens and to get the nice and active--we're talkin' draining those boundless energy stores. But just like most things with kids, a successful day climbing with kids requires lots of forethought and planning to make sure that the day is not only fun and enjoyable but safe as well.

So we've consulted the experts and compiled this list of helpful tips for rock climbing with your kiddos.

1. Pick your rock wisely. You want to make sure that you're setting your kids up for success and for safety. Choose a crag that is between 5.0 and 5.5 in difficulty. This will deliver an approach that is short and easy, and it means that the climb won't be totally vertical and that your kids will be able to land smoothly.

You'll also want to look to ensure that the base area where you'll be belaying is nice and flat, and that there aren't any hazards of falling off.

You should be able to check local maps for the difficulty rating of each climb so that you are well aware and prepared. But you should also go check out the climb ahead of time if possible, and always use your best judgment when there.

2. Think safety first. Make sure you come prepared with child and climb specific safety gear. This means a harness and helmet at the minimum, and shoes and gloves for good measure. We write more about the reasons for needing specific harnesses and helmets in our FAQ below.

3. Push and pull. You'll want to strike a balance between helping too much and helping too little. No one wants to be babied, but neither do they want to feel like the task is too challenging for them to accomplish.

So if you see your kiddo struggle and you can reach them, help them by securing their foot so that they can get to a more secure hold for themselves. Or you can even have the belayer take a little weight off of the child which can help them to progress as well.

4. Practice coming down! While it's second nature to you that you'll zip down the belay line after you've reached the top, kids can be a lot more hesitant about feeling comfortable when it's time for the descent.

That's why we suggest practicing coming before your kid actually reaches the top. If you've got two adults on hand, have your child practice climbing to about 7 feet up or so and then belaying down to the waiting arms of the other adult.

This helps the child to build confidence (in themselves and in the rope!) and it also makes it easier to work on their technique and body positioning so that they can belay more effectively and smoothly from the top.

5. Remember, they're kids. Especially for the very young youngsters, attention spans run short and tummies will growl. To ensure that the day doesn't unravel into chaos, bring along plenty of snacks and extra games that the kids can play when they're waiting or when they've worn themselves out.

6. Lay down the law. In climbing, safety is essential. Make sure your kids know all safety procedures and that you have developed a clear way to communicate needs while they are on the line.

We also suggest always having another adult with you when bringing multiple kiddos so that they can be supervised at the base while the other is doing the belaying with full focus on the current climber.

7. Make the day about them. Postpone trying to get some serious climbing in while you're with the kids. They will likely get bored of watching you and will also likely not be able to complete your challenging climb. So keep it simple and work on the climb that they're working on.

And wait to throw in super technical details like climbing knots for later.

8. Have a backup plan. Life happens. Emotional days come. Crags are crowded. Climbs can turn out to be too hard.
If, despite your greatest efforts, the day isn't going well, have a backup plan. This means turning the day into a hike or an ultimate frisbee game. Get creative and don't call it quits on the family day just because the climb was unsuccessful.

9. Ask the experts! If you are reading this list of tips and thinking it all sounds well and good, but are still wholly terrified to take your kids climbing, ask the experts.

Take a lesson with your kids and get real-time advice on how to follow safety procedures and ensure a fun and enjoyable day for your whole family.
q:

What are the benefits of rock climbing for kids?

a:

So we've outlined some super helpful tips about how to make a climbing day successful, safe, and fun with your kiddos--but why take them climbing in the first place?

Of course, burning through their endless energy and getting them outdoors is always a key consideration, but there are many reasons that make rock climbing such a great sport to introduce your kids to. We've outlined some of the key benefits below.

1. Rock climbing is actually a pretty safe sport. While this may seem counterintuitive, rock climbing is statistically a much safer sport which a far lower incidence of injury than other popular sports like football and hockey. With the right safety gear and knowledge, rock climbing is actually pretty safe.

2. It strengthens the whole body. Rock climbing works to improve many areas of the body, from strength building (think arms, core, and legs) to flexibility. And it also works to build up endurance as well, so you'll notice your kids being able to tackle longer and longer projects without showing fatigue.

3. Total body coordination. To successfully climb, your whole body has to be in tune. Climbing works to improve hand-eye coordination, as well as hand and feet coordination. Your child will learn how to move in sync and will develop a stronger awareness of where their body is in space.

4. Hello, confidence booster! There's a uniquely empowering feeling one gets when you master a project. You not only feel physically powerful, but mentally powerful as well.
When your child uses their own problem-solving skills to puzzle through and master a project, they will feel a huge confidence booster and likely be ready to attempt even more challenging projects in the future (on and off the court, so to speak).

5. Strengthens problem-solving. As we mentioned before, planning and problem-solving are a huge part of successful climbs.
By introducing your child to rock climbing, you will also be exposing them to situations in which they need to plan a course, make decisions, and problem solve when their plans don't work as they intended them to.

These are incredibly critical life skills that your child will be able to apply in myriad other ways in their life to push them through challenging moments.

6. Connect with nature. There is a physical reaction that takes place in the body when you take time to get outside and reconnect with nature.

Climbing can be a great stress reliever and it can also be a way to develop a deeper appreciation for nature and for the need and responsibility to preserve it.

7. Learning how to communicate more effectively. While you're not competing against others when climbing, you are working closely with others and relying on them for your success and your safety.

Your child will have to learn how to effectively listen and communicate with their belayer in order to enjoy their time on the rocks.
Needless to say, this is an extremely handy skill in all areas of life.

So there you have it! Climbing is a great way to urge physical, emotional, mental, and inter-personal development in your child. What in the world are you waiting for?
q:

What other kid-specific climbing gear do my kids need?

a:

Above all else, you will want to ensure that your child has a child harness and a child helmet that was designed with climbing specifically in mind.

The harness works to secure your child to the line. And we suggest opting for the full-body harness for smaller children (younger than 7) as this has a place where the harness ties in at the chest. This is especially effective in keeping your child in the harness in case they should flip upside down.

The helmet needs to be specialized for rock climbing because these helmets not only work to protect your child from impacts with the wall, but also from falling debris. Other styles of helmets will not protect as well in loose and falling rock situations.
Subscribe to our Newsletter