Best Ionic Hair Dryers Reviewed & Rated for Quality
In a Hurry? Editors choice: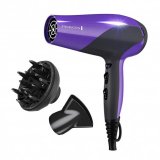 Test Winner: Remington D3190

Is your hair type thin or thick, long or short, straight or curly, kinky or locks? As with any kind, there are some products which will work best while some others won't. It applies across the board from conditioners, shampoos to
hairdryers
, the concept is the same.
Probably you have heard about ionic hair dryers. These are the new kids on the block. They use the ceramic and ionic technology to distribute heat evenly and use negative ions to break down the water molecules. Consequently, this results in faster drying and minimizes frizz. If you are looking for such a device, we have put together a list of ten best with all the features necessary for ensuring you achieve results pretty fast.
Standout Picks
Criteria Used for Evaluation
Effectiveness
The effectiveness of these options depends on the ability to dry water without damaging the follicles. Regardless of your whether your strands are kinky, curly, straight, cute, thick or thin; your choice should work best for you.
Hair dryers are effective in blowing out water from the hair and providing a smooth and beautiful finish. How are ionic devices different from ordinary ones? These innovative tools use the ionic technology which works by producing millions of negative ion, which breaks down water molecules pretty fast. By so doing, they do not open the shafts, ensuring the hair remains smooth, beautiful, and sleek. It is also useful in ensuring your hair does not frizz when conditioning.
Besides, they come with attachments that guarantee effectiveness. These are the concentrators or nozzles and diffusers. The nozzles allow you to concentrate on a specific area, and this helps in styling. Furthermore, there are adjustable settings for heat and speed that make it easy for you to customize to suit your styling preference.
The cool shot button helps you in styling immediately after blowing heat over the hair. For these devices to be useful, there should be no damage to the follicles or the scalp.
Durability
Is quality important when shopping for a hair drying device? Yes, it does matter. Just like any other device, a high-quality tool is durable and will give you service for long. It is also cheaper investing in such a product since it will mean lower replacement costs.
Some brands such as Twin Turbo, Sam Villa, Osensia and Andis are high quality but pricey. Nevertheless, they guarantee maximum performance and faster drying. They are also long-lasting and preferred by most users, more so professionals. High capacity devices also tend to be sturdier and made from premium materials.
These devices are quite often found in a salon where they are used by professionals on their clientele to achieve maximum results. However, due to busy schedules, more and more people are drying their hair at home.
They are thus cost-effective products that reduce the trips to the salon or beauty parlor. You will, therefore, save some bucks by foregoing your visits to the salon and investing in a high-quality device is important.
Value
Most people, when shopping for a product prefer one that will guarantee results within a short time regardless of price. A hair drying device is an electric appliance that gets rid of water from the follicles and ensures a smooth, silky, and elegant finish.
It is thus an essential investment, and while buying one, quality should be on top of your checklist. However, much as quality is essential, you will find that such products are expensive. Some brands are also pricey, and your choice of the product will depend on your preference, your budget, and how much you are willing to spend.
Let us have a quick recap on the effectiveness of a dryer, to dry your strands fast. The Sam Villa performs exemplary, and that partly explains the high price. If you are looking for a temporary solution, for instance, going out of town and you are not sure if the hotel you will be boarding has drying facilities, then you can look for a cheap one.
Other than saving money meant for salon costs, these devices are also energy saving since by drying the hair fast, there is low energy consumption and consequently lower energy costs. Similarly, energy efficiency has been associated with environmental conservation, which effectively means you will be contributing immensely to a green environment.
It is worth noting that cheap products may disappoint, therefore, even as you decide on what's best, look out for one that will give you value for money. The best device is one which will dry your hair pretty fast without damaging it or the scalp and help you achieve a smooth, silky, and gorgeous look.
Adjustability
When using these options, it's essential to choose one which will suit your style. The advantage is that they usually have adjustable settings for heat and speed that allows you to customize on your styling.
People have different types of hairs, such as curly, kinky, thick, long, locks, or thin. For this reason, you should pick one which blends to your style. Also, when using it, you should be able to change the setting from low speed to high speed or low, medium, and high temperature.
Versatility
A product with more than one use is more effective and also a cost saver. A drying machine for your strands should be able to take care of your needs while achieving maximum results.
What's your type? Kinky, curly, straight, cute, thick, or thin? Well, it can be very disappointing buying such a device only to find it can work on your type.
Most of these options are versatile in their application and can be used on any type. However, before spending money on these products, it is essential to seek help first on the best option that meets your needs.
Versatility can also be viewed from a different perspective. Your selection should be able to work on different types of nozzles or diffusers, especially if you would like to do a replacement; the process of finding one should be simple and straightforward.
10 Best Ionic Hair Dryers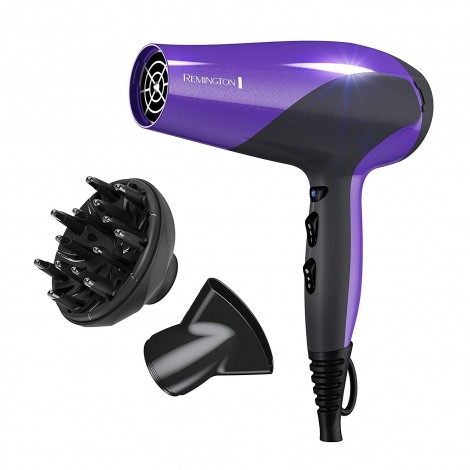 The Remington D3190 is a powerful tool that operates at 1875W and guarantees fast drying. This product is phenomenal, and its effectiveness matches that of a professional device. The kit features two nozzles, a slit concentrator for drying each strand of hair and a diffuser for promoting natural curls and ensuring a wild and voluminous growth.
Ideal for all hair types
This machine is ideal for all the hair types and has three adjustable heat settings with two different speeds. There are also two attachments; the concentrator and diffuser that makes it easier for you to choose the best style that suits you.
Convenient
If you are in need of a product that will achieve maximum results within a short time, the Remington D3190 takes the trophy. It is a blend of ceramic, ionic, and tourmaline grill that ensures faster drying of hair with minimal frizz. It is a user-friendly device with a detachable air filter and a 2.5m cord. There is also a hanging loop for secure storage, and it only weighs 650 grams, which makes it portable and easy to use.
Cost and value
If you are looking for a product that will guarantee robust and healthy hair at an affordable price, the Remington D3190 makes it to the top of our list. It uses the state of art technology to offer protection to the hair three times more than conventional dryers.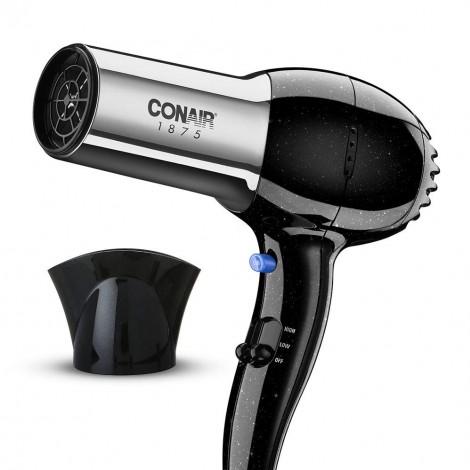 This device will help you achieve different styles and give your hair a professional touch. If you are looking for comfort, efficiency, and style, Conair 1875 will meet your needs. It is uniquely designed with a sleek handle that ensures comfort and ease of use. It has two speed and heat settings that allow you to choose your style. It is a powerful dryer producing 1875 watts; therefore, your curls dry pretty fast. It also features the diffuser and concentrator for a smooth drying experience.
Efficiency
The Conair 1875 has all the features needed for you to don fashionable and trendy hairstyles. The Tourmaline Ceramic mechanism ensures heat is evenly spread for quick drying and reduces damage to the follicles.
Moreover, the ionic conditioning helps minimize instances of frizz and provide a healthy shine on your curls or braids. You can use the cool shot knob for pinpoint styling. The concentrator focuses on airflow and allows you to set straight styles.
Portable and lightweight
This device has a compact and lightweight design that makes it easy to use. It also has a folding line cord that is concealed for ease of storage. If you are traveling, you can take it along since it can fit in your toiletry bag amongst other essentials.
It is easy to use, and you can remove the detachable filter for a quick clean up. The cord is also quite long at five feet and gives you the flexibility of use, whether standing at the sink or sitting at your vanity.
Cost and value
If you are looking for a smooth shine on your curls or locks at an affordable price, Conair 1875 is a natural choice. It costs more than the Remington D3190; however, it is high quality, effective and dries pretty fast.
The different heat and speed settings allow you to customize your style. For the price, it is worth every penny, and you won't regret your buy.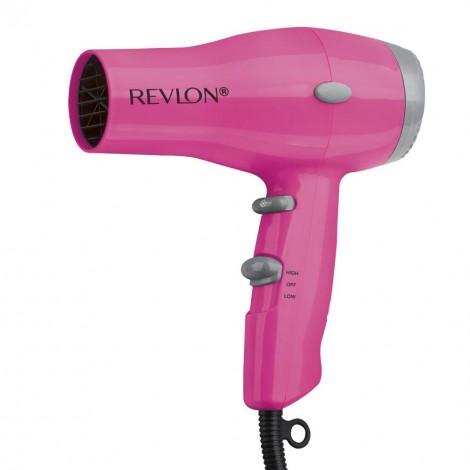 The Revlon 1875 is a revolutionary device for drying the hair. It is suitable for thick, shiny, curly, thin, straight, or frizzy hair. A right product is key to a smooth and healthy shine. From the outside, it looks like a typical device; however, it has several attachments that include the diffuser and concentrator. The concentrator directs the machine to one section; hence, you can use the equipment like a curling iron. You can also apply heat directly to the wrapped head for some light curls. This fixture is easy to use since you only need to turn it on and off while in use.
Features
The Revlon is a game changer, and there are a couple of advanced features that make it stand out from the rest. It uses the infrared heat technology that provides for shine and smoothness. The tourmaline ionic systems reduce the frizz and boost the shine.
These features will work well, considering you can regulate the heat settings to warm, hot, low, and high. You can also do a manifold of combinations depending on your preference. The cool shot feature helps in curling shortly after heating on the brush.
Quick results
If you have a busy calendar, you will find this tool quite useful since it dries the hair fast. It is lightweight, not too loud, and has an elegant design. Besides, it adds some shine and helps boost hair's appeal.
Cost and value
For the price, the Revlon is a powerful appliance with a power range of 1875 watts that scores result pretty fast. It is remarkably cheap; accordingly, you can part with a few bucks and style your hair at home.
The combination of features makes it ideal for anyone, and consequently, it will save you some dollars and time of visiting the salon very often.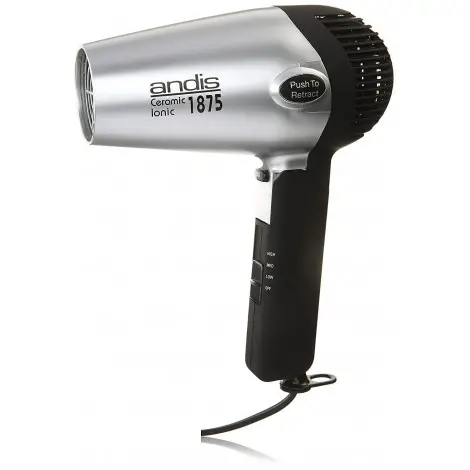 If you are looking for a product that is suitable for all types of hair, look no further since the Andis 1875 will get the job done. This appliance uses ion technology, which helps reduce frizzes on follicles when conditioning.
It has three heat and airspeeds ideal for ultimate styling and the cool shot button that helps in curling after heating. It has several attachments such as the concentrator which makes it easy for you to focus on specific areas for quick styling.
Ease of use
This innovative product has a retractable cord that folds quite easy and therefore, convenient for storage. It has a compact and lightweight design that makes it ideal for travel. You can also tuck it in your cabinet, drawers, closet or travel bag if you are going out of town.
It is likewise ideal for various types of hairs, thin, thick, curly, straight, rocks, and much more without ruining the ends.
High-speed drying
This device is practical in its performance and provides you with different alternatives for styling and helps achieve result pretty fast. It uses Ionic and Nano-ceramic technology that helps create shine, silk, and smooth hair much quicker than ordinary appliances.
Additionally, it uses shock and damage technology that protects, renews, repairs, and revitalizes the follicles, assuring a soft and smooth finish.
Cost and value
Most people have trouble finding a product that will reduce twinges on their hair, especially after applying a conditioner. The Andis has a powerful motor that provides for a quiet and lightweight drying experience.
It breaks down the water molecules pretty fast, and so it's an energy saver that will help reduce your energy bills. For the price, it is pricey and costs more than average dryers; however, it is a piece of high-quality equipment that will give you value for money.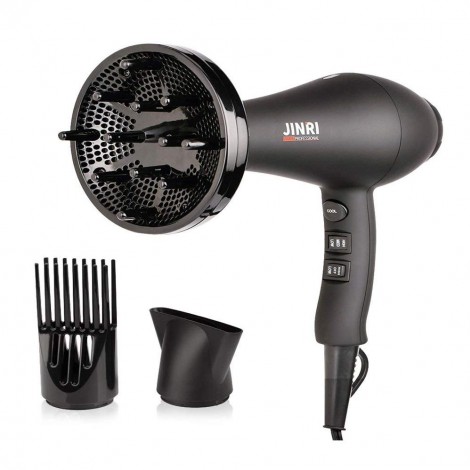 Quite often, it could be a challenge finding a hair drying equipment that achieves maximum results within a short time. Unlike other such products, the JINRI 1875 is a powerful device with an 1875 watts motor capacity which works best on all types of hair, from thick to long or curls to straight.
Professional quality
The JINRI is a professional tool with three heat and two-speed settings that allows you to customize on your styling. It uses the ION technology that focuses on a particular section and helps reduce the frizz when conditioning, thereby adding shine and providing a smooth appeal. It is versatile equipment that uses various types of diffusers and nozzles to straight and make curls.
Quick drying
The JINRI has a powerful motor that is high quality and will last three times more than that of an ordinary drying device. It has a long cord that you can easily hoop for secure storage. It is lightweight and can fit well in your suitcase if you are traveling. It is also a user-friendly device, extremely easy to use and with straightforward instructions.
Cost and value
The JINRI is an expensive hair drying equipment; however, it is much cheaper than the Andis. Notwithstanding, it is a high-quality product, durable and will achieve results of gorgeous, silky, and smooth hair pretty fast. It is a good purchase worth giving thought, and you will not regret picking it since its worth every penny.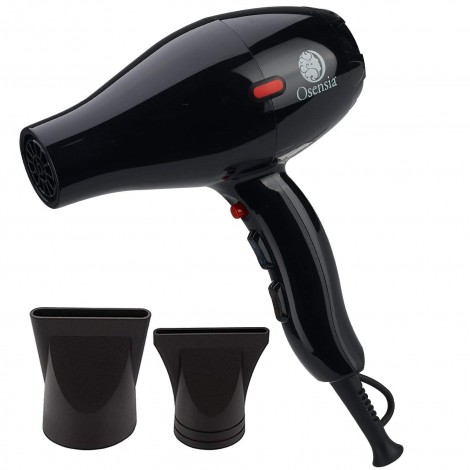 The main advantage of ionic technology is the production of millions of ions that helps break down water molecules and ensure faster drying. The Osensia is such a product that combines heat, airflow, and ion technology to ensure your hair dries fast and is smooth and silkier.
Features
The distinguishing characteristic of this device is that it is made with premium ceramic tourmaline that not only releases the ions but also protects the strands and moisturizes them.
It is lightweight, portable, and has a sleek design. Therefore you can store it quite easily in small areas without cluttering. You can also put in in your travel bag to use when out of town.
Customize your drying
It has two-speed settings that allow you to customize on the style that you wish. For instance, if you want to over dry, you can use the high and medium for focusing while for small areas that require dampening, you can set low.
It also has two nozzle attachments that ensure you work on your strands like a professional stylist. The concentrator allows you to focus on one area and regulate the direction of the hot air.
It has three heat setting that allows you to control the amount of heat when styling. The cool blast is useful when styling immediately after blowing hot air. Therefore styling the strands and setting is quite easy.
Cost and value
The Osensia is a beautiful black design with a shiny appeal that will blend well with your style. It is also a powerful tool with high motor capacity that dries the strands pretty fast.
It also ensures there is minimal damage hence fewer repair costs. It is much cheaper when you compare with JINRI; however, it is the best you can get for professional care. It is a super deal worth the price.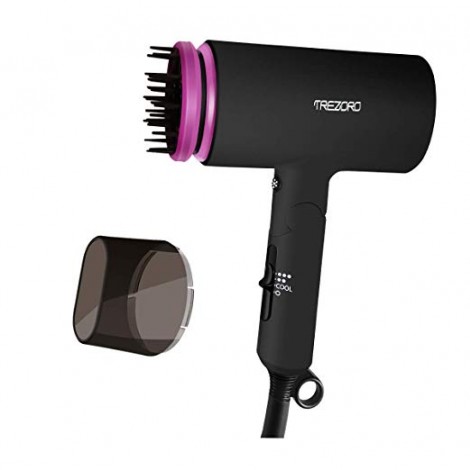 The TREZORO has less motor power as compared to other such dryers. However, it is a stylish and elegant device small in size that makes it ideal for traveling. It has a foldable handle design that makes storage a breeze. If you are traveling to a hotel, school or any other place, no need to worry since it will not take much space in the suitcase.
Effectiveness
This device uses the ion technology and ceramic tourmaline that breaks down the water molecules and ensure fast drying. It produces rapid results to give you a beautiful, smooth, and silky hairstyle. It also helps eliminate frizzing when you are conditioning the hair.
High quality appliance
The TREZORO is a high-quality product that is fast with a motor capacity of 1500 W. It has three heat and speed settings that allow you to customize your styling. It also has a cool shot knob that styles your hair after blowing hot air.
Cost and value
TREZORO is an excellent tool that you can also gift your loved ones. It's quite versatile, and you can use it on thin or thick and curly or straight hair. It is cheaper than most ordinary hair drying equipment and is a good value for the money.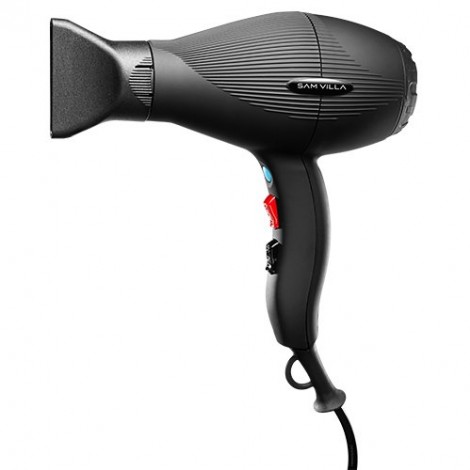 The Sam Villa is an award-winning hair drying equipment that gives a powerful airflow, quietly and is extremely lightweight. Therefore it reduces fatigue and muscle strain. The handle is ergonomic, comfortable, and guarantees a firm grip when using it.
Maximum efficiency
Sam Villa works magic on your strands by moisturizing and ensuring quick drying. It uses the ion technology that splits the water molecules and reduces the amount of heat directed at the follicles. It, therefore, ensures less damage and gives you a brilliant shine. It is a versatile device that is suitable for all hair types and reduces the frizz when conditioning.
Features
This device has rotating nozzles and a diffuser. It thus ensures you focus on specific areas that make it easy for you to style. The Turbo compressor mechanism ensures there is more power that accelerates the drying time. This tool has three heat setting and two-speed setting that allow you to customize your styles. The cool-shot button will enable you to style immediately after blowing hot air to the strands.
Cost and value
Sam and Villa is a high-quality appliance and will last for many days to come. It uses the 1750 Watts that delivers strong power and airflow at an adjustable speed and heat settings. It is quite a premium product which explains the high price. Nevertheless, it has many awards to its name, therefore worth the price.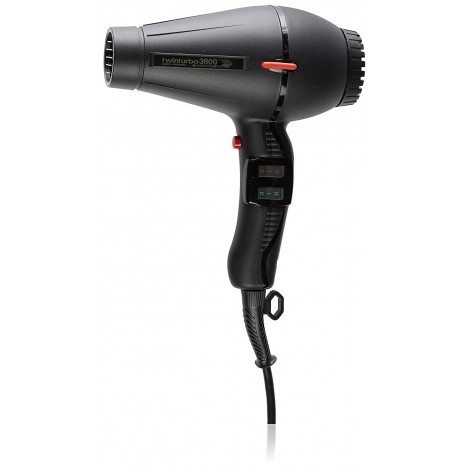 The Twin Turbo is both ceramic 2100 watts and ionic 3800 watts which makes it a powerful hair drying equipment. It uses ion technology which dries the strands pretty fast, therefore ensuring a healthy and shiny look.
Features
This device has adjustable settings for speed and heat, and this makes it easy for you to set your preferred setting for styling. It is lightweight and therefore you can easily squeeze it into your bag for a trip out of town.
Ease of use
The Twin Turbo is a user-friendly device with a comfortable handle for a perfect grip. It is noiseless, safe to use, and eco-friendly. It has an external cable that gives you the flexibility of use and is a solution to energy saving due to fast drying and low power consumption.
Cost and value
The Twin Turbo has a myriad of features that make it quite useful in giving you a healthy and gorgeous shine. Besides, it has two high-quality nozzles that allow you to concentrate on specific areas for easy styling. It is quite expensive; however, the benefits of beautiful hair cannot be compared to the cost.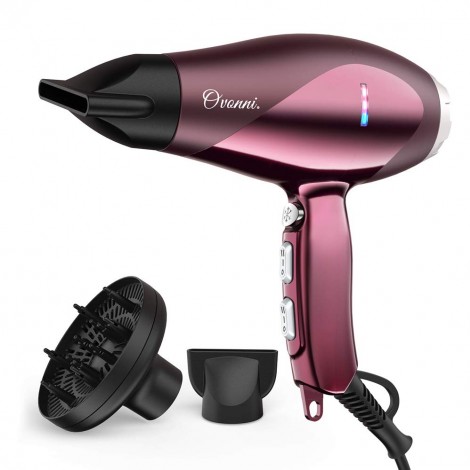 The Ovonni is a high power capacity hair drying equipment that uses the ceramic ion system to ensure a healthy and beautiful hair. It also protects the scalp from dryness, damage and ensures your strands are moist and nourished.
Quick results
The Ovonni is a powerhouse and dries the follicles within five minutes. It does this by use of the ion technology that releases ions and consequently splits the water molecules and protects the strands from damage. It is suitable for all hair types such as kinky, curly, straight, thick, or long.
Advanced settings
The Ovonni has multifunctional settings with three heat and two-speed levels that let you choose your styling option. The cool shot gives you a beautiful style after blow drying.
The package comes with a diffuser and two nozzles that you can use to focus on a specific area, thus ensuring you achieve curly or straight styles.
Cost and value
This device has a small and compact design that makes it suitable for travel and storage. It is made from high-quality materials, therefore, guarantees durability and reduction in replacement costs.
It is a safe product to use at home and saves you money and time since it will reduce your visits to the salon. If you are low on budget, then you can give the Ovonni a worthy consideration. You will not regret your purchase.

Subscribe to our Newsletter