Best Ice Picks Reviewed & Rated for Quality
In a Hurry? Editors choice: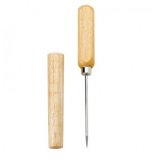 Test Winner: HIC Harold Import Co.

Whether you're shopping for the holidays or stocking up on
things you need for your own kitchen
, an ice pick is a must-have. They offer a nostalgic, classy throwback to the elegant way drinks were presented at parties in the 1950s and 60s; picture a well-dressed host or hostess chipping away a few fresh pieces of ice and serving a cocktail on the rocks. A nod to the social gatherings of yesteryear, an ice pick is an elegant addition to a complete beverage presentation. Affordable, fun and practical, an ice pick is an item not to be overlooked this holiday season.
Standout Picks
Criteria Used for Evaluation
Durability
Of course, when selecting an ice pick, durability is of the utmost importance. What could be worse than an ice pick that breaks after one use? Strength, craftsmanship, materials and general manufacturing are considered here. If an ice pick is not made to withstand serious use, it will not score well in terms of durability, reliability and/or strength.
Effectiveness
An ice pick that does not work very well is rather pointless. Here, we looked carefully at customer reviews, manufacturer specifications and critical reviews to get a better understanding of how effective each ice pick is. Some ice picks are better than others at certain tasks; some are ideal for defrosting freezers; others might be better at unconventional tasks such as hole punching. When selecting an ice pick, you have to bear in mind the sort of projects you plan on using the ice pick for.
Weight
In most cases, a heavier ice pick is considered a positive thing. Of course, for some buyers with limited strength, arthritis or otherwise, weight might present certain limitations. However, for the purposes of this article, heavier ice picks generally received higher ratings based on customer responses.
Ease of Use
An ice pick should not be a difficult tool to operate. If an ice pick is difficult to manage, slips out of your hands easily, chips, falls apart when used or otherwise, it is virtually useless. Ice picks that are comfortable to grip, safe, easy to assemble (when applicable), easy to clean and maintain, and generally simple to use receive higher ratings.
Comfort
Ergonomic handles are extremely important. Ice picks with comfortable handles and no-slip grips receive high ratings for obvious reasons. If an ice pick causes wrist strain or absorbs cold temperatures, it will undoubtedly result in user dissatisfaction. Ice picks should be manufactured with consumer comfort in mind. Customers with arthritis and/or carpal tunnel should have a wide array of products to choose from, regardless of physical limitations.
10 Best Ice Picks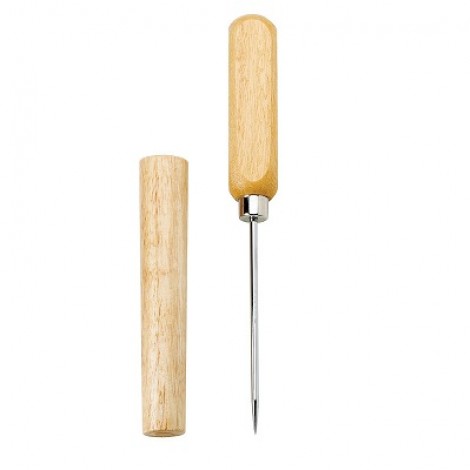 The HIC Harold Import Co. Ice Pick with Cover is the quintessential ice pick. Simple, well-built, sturdy and dependable, it might not come with a lot of flare, but the pick's simple, classic and timeless style of stainless steel paired with light, squared wood make it a great choice. The HIC is the top ranked ice pick reviewed here and with good reason. It's been reviewed over 600 times on one popular website alone, and even the most critical consumers have nothing but positive accolades for the HIC. Considering reputation, reliability, and value, the HIC truly stands out.
Squared Handle
A nice of the HIC is the squared wooden, therefore, the pick, will not roll off the counter when not in use. Adding squared edges to the pick's handle is a nice touch by the manufacturer; an easy way to avoid accidents and to keep the pick from becoming dull due to dents and dings.
Versatility
The HIC can be used for many things beyond chipping ice for drinks and defrosting stubborn freezers. For example, the HIC can be used as a hole punch for leather and wood items. Need to punch a notch in a belt? Instead of grabbing your toolbox, look no further than your kitchen drawer.
Cost and Value
The HIC is offered at a very affordable price. However, don't let the price tag fool you--it is a top-ranked item for a reason. Quality is certainly not sacrificed for the price when it comes to the HIC. It is a budget-friendly, reputable ice pick that is a sensible purchase which will get a lot of use.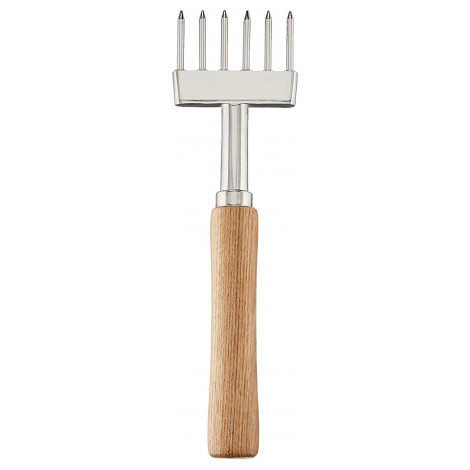 Like the aforementioned HIC pick, the New Star 48353 Carbon Ice Steel Pick with Hardwood Handle gives you a lot of bang for your buck. Affordable, reliable, sturdy and sleek, it's a great addition to your bar, home or restaurant, especially if you are a fan of the classic cocktail. Additionally, the New Star is affordable, making it a great stocking stuffer for the amateur (or professional) mixologist who has it all.
Beyond a Kitchen Utensil
While the New Star might find its home in your kitchen drawer or among your tumblers and tongs, you will find that the pick itself is useful far beyond cocktail preparation. The New Star is a legitimate hole-punching tool, penetrating leather, wood, cardboard and various kitchen items such as K-cups. The versatility of the New Star cannot be understated; you might even decide to keep one in your kitchen and one in your toolbox.
Smashes Through Ice
The New Star is small but mighty. Even the most stubborn freezer is no match for the New Star; it obliterates ice like a hot knife through butter. The New Star's thick, sharp tip cracks massive blocks of ice in no time (an added bonus if you enjoy putting on a show while making cocktails). Chip ice with ease with the New Star while putting no strain on your wrist, and the low price will put even less strain on your wallet.
Cost and Value
The New Star is extremely inexpensive; a price which belies the actual value of the pick. Inexpensive, yes, but cheap? Absolutely not. The manufacturers of the New Star have spared no expense in the ice pick's materials and construction. It is a strong, dependable tool that can be purchased on a tight budget, a workhorse and a show pony all in one.

3

. Norpro 802 Stainless Steel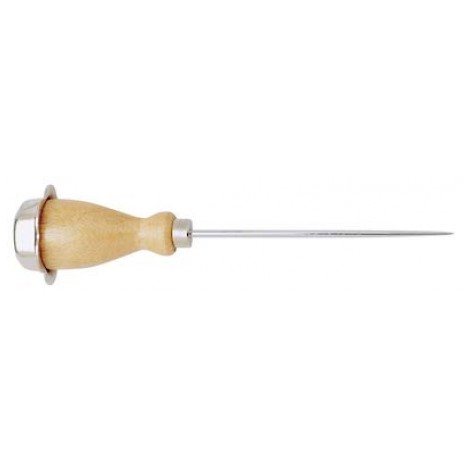 The Norpro 802 Stainless Steel Ice Pick in natural brown is a great selection for yourself or a lucky gift recipient this holiday season. The Norpro's appearance is sharp (no pun intended), the instrument itself is comfortable and ergonomic, and in terms of ice chipping, it certainly gets the job done. The Norpro is small, compact and lightweight, while still being balanced and sturdy. The Norpro's small size does not affect its power; it is a well-engineered tool that makes a great addition to any kitchen.
Metal Tip
The Norpro features a metal tip located on the pick's head. This allows the pick to be hammered with a blunt instrument when applied to a particularly hard block of ice. This added convenience is an important perk - chiseling away at an ice block will not dull the pick's tip.
Cold Absorption
The Norpro's natural wood handle is comfortable, ergonomic and most important of all, cold resistant. This allows the user to chip away at an ice block for an extended period of time without any discomfort or numbness caused by a cold handle. The wooden handle is therefore both practical and attractive.
Cost and Value
The Norpro is available for purchase at a low cost. With its impressive performance, reputable high-qualitying, high quality materials, ergonomic handle and sleek appearance, purchasing the Norpro offers a high return on investment. For a small price, you receive an excellent tool.



The Terya Portable Wood Ice Pick with Cover Ice Tool Kitchen Tool (Rosewood) is a unique model. The most notable quality of the Terya is its striking, handsome and unusual appearance. With its rich, beautiful rosewood handle and brass accents, the Terya is a showpiece that is as enjoyable to display as it is to use. With its attractive design and sturdy construction, overall, the Terya is a unique and desirable piece.
Handsome Design
As previously mentioned, the Terya's handle is constructed with rich, beautiful rosewood, complemented with bold brass accents. Like a fountain pen or high-end chef's knife, the Terya is an eye-catching showpiece, practically opulent and yet somehow understated, the epitome of good taste. The Terya achieves the perfect balance of fashion and function.
Unlikely to Bend
The Terya was designed with safety in mind. The tip screws into the sheath, making the pick sturdier and less likely to bend than other models reviewed here. When using any sharp implement such as an ice pick, knife or otherwise, safety is paramount. The secure fit of the tip combined with the Terya's storage case shows that the ice pick's engineers spared no expense in making a pick that is safe and effective.
Cost and Value
The Terya is a bit more expensive than the majority of other ice picks reviewed here. This is most likely due to the rosewood handle and brass accents. However, the Terya's unique appearance, sturdy construction and overall appeal more than make up for the increase in price. To put it bluntly, the Terya is worth the money.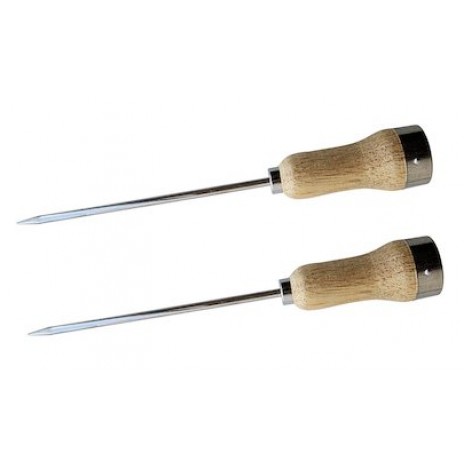 The Set of 2 Plated Steel Ice Picks with Wood Handle (Chef Craft) is, overall, a smart purchase. Obviously, a set of two ice picks is a bonus from the start. Buyers can certainly keep one ice pick for themselves and gift the other, or, use an ice pick for traditional purposes and use the other for something else, such as self-defense. While the idea of carrying an ice pick as a self-defense weapon might sound comical if not unconventional, it makes perfect sense nonetheless; it is a small, unobtrusive (and in this particular case, retractable) item that can be easily carried while walking or otherwise.
Retractable Blade
The Chef Craft ice picks have retractable blades, a somewhat unusual feature. This is an added bonus for those who intend to use the picks for self-defense purposes. Like a retractable blade, the Chef Craft picks can be safely carried in a coat pocket without fear of self-injury. This feature is also beneficial in the kitchen. The fact that the blade can be retracted while the pick is not in use greatly reduces the risk of an accident should the pick be dropped.
A Bonus Gift
The fact that the Chef Craft ice picks are sold in sets of two makes gift-giving easy. Purchasing the set of two allows you to keep a sturdy, reliable, well-built ice pick for yourself while having an excellent gift to bestow upon someone else. In the alternative, should you decide not to gift the second pick, you can certainly find an another purpose for the second pick. As previously mentioned, the second ice pick can be used for self-defense, or can be stored in your toolbox and stored as a hole punch, penetrating wood, leather and so forth.
Cost and Value
The Chef Craft Set of 2 Ice Picks is perhaps the option with the highest value reviewed here. For a price comparable to the other ice picks mentioned here, you receive two high-quality ice picks that would hold their own individually if sold as a single pick instead of a set. This is a rare two-for-one gem; a set of two ice picks that will not disappoint.

6

. Welldoit 9" Stainless Steel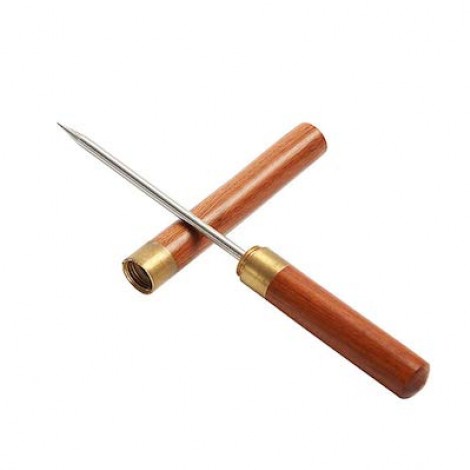 The Welldoit 9" Stainless Steel Ice Pick with Wooden Handle and Sheath is a high-end, handsome, impressive and powerful tool that gets the job done right. It weighs approximately four ounces, making it considerably heavier than the majority of ice picks reviewed here. However, the Welldoit's weight is a positive rather than a negative according to dozens of customer reviews, allowing the pick to be held steadily while delivering a powerful blow. The Welldoit is also attractive, adding a touch of class to your bar with its rounded, natural wood handle and fine design.
No-Slip Grip
The Welldoit's rounded handle offers a comfortable, no-slip grip. This decreases the odds of an accident or injury and bolsters the pick's safety. The handle is also ergonomic, cold-resistant and resistant to wear and tear with proper care.
Considerable Weight
Weighing in at approximately four ounces, the Welldoit is considerably heavier than the majority of other ice picks. However, this added weight should not be viewed as a negative quality. To the contrary, the weighty feel of the pick allows the user to exert greater control over the pick along with maximum force and power. The Welldoit obliterates ice with precision and accuracy, offering the best of both worlds; both power and safety.
Cost and Value
The Welldoit is on the higher end of the price spectrum. However, when considering the Welldoit's excellent reputation, handsome appearance, glowing customer reviews, impressive performance, durability, power and versatility, the price of the ice pick is more than justified. The Welldoit is indeed a high-value item.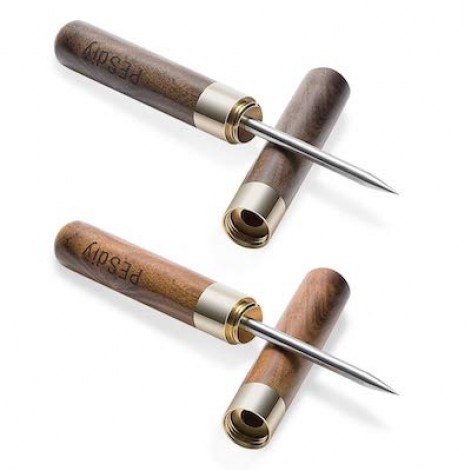 The PES Stainless Steel Knife Pack of 2 is unique in that the ice picks do not outwardly look like ice picks at all. With their polished wood and fine finish, the picks look more like letter openers or ornamental chef's knives. Stylish, strong, well-built and unusual, PES has manufactured an exceptional product. The fact that the PES ice picks are sold as a set of two offers the opportunity to present the second ice pick as a gift that will undoubtedly be loved by the recipient.
Unique Appearance
To reiterate, PES ice picks do not look like ice picks at all; they look like ornamental weapons or letter openers; the type of item that is too nice to use. However, the picks are durable, sturdy and tough. While the ice picks are beautiful enough to be put on display, to simply display them would certainly be a missed opportunity to use a fine, well-crafted tool that chisels ice with ease.
Industrial Strength
The fine finish and brass accents of the PES ice picks belies the raw strength of the picks. The picks feature the industrial strength of stainless steel. Whether used to chip ice, defrost a freezer, punch a hole in a belt or to carry as a means of self-defense, PES equals power. PES offers the highest quality materials and craftsmanship with its ice picks, and the picks' glowing customer reviews are a testament to that fact.
Cost and Value
The PES ice picks set of two are high-end items in terms of cost. That said, considering the handsome and stylish design of the picks, the raw power of the industrial strength steel, the safety of the picks, and the fact that they are sold as sets of two, the value of the picks greatly exceeds the price. PES ice picks are impressive, well-built implements that can be used to carry out a variety of tasks with style and ease.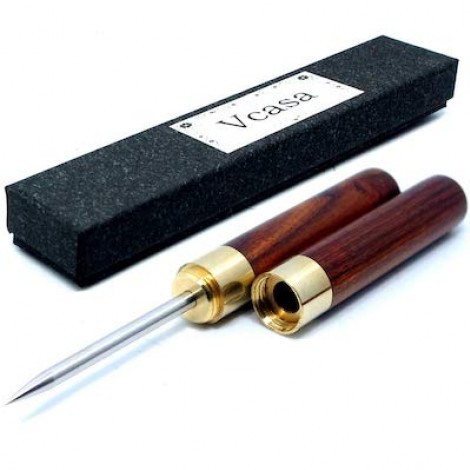 The Vcasa Stainless Steel Ice Pick with Wooden Handle Kitchen Tool is a moderately-priced, versatile, well-built tool that serves its purpose well. Customer reviews of the Vcasa are generally good, and the Vcasa excels at the traditional use of an ice pick. In particular, the Vcasa annihilates even the most igloo-like freezers imaginable with ease. The Vcasa is reportedly enjoyable when shaving ice for cocktails, making entertaining even more fun.
Great Grip
One of the most talked about features of the Vcasa mentioned in customer reviews is its impressive grip. The Vcasa's handle is comfortable, ergonomic and will not slip, thus avoiding the possibility of an accidental injury. The handle is also cold-resistant, which is great for heavy-duty projects such as defrosting a stubborn freezer. When it comes to comfort, the Vcasa is second to none.
Portability
The Vcasa is secure and portable. Many people choose to buy ice picks for non-traditional purposes; for example, it is not uncommon to carry an ice pick while walking for self-defense. Carrying around an 8" ice pick can be awkward and impractical. However, the Vcasa is compact and can be discreetly transported, allowing you to walk alone with confidence. In terms of traditional use, the Vcasa's design and portability require it to take up very little space. It fits easily in a drawer and is unobtrusive, allowing you to stay organized and avoid kitchen clutter.
Value
The Vcasa falls in the middle of the market in terms of cost. Considering the good craftsmanship of the ice pick, the pick's versatility, its safety, ergonomic, comfortable, no-slip grip and ability to demolish a block of ice, the Vcasa is a high value ice pick that is well worth the moderate cost.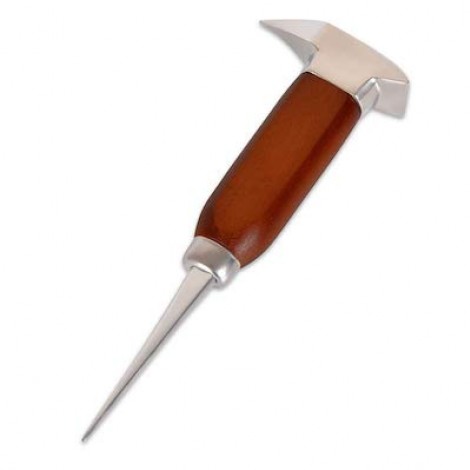 This product is a serious tool intended for serious use. Built with a hammer head on one end and a pick on the other, it is a versatile, heavy-duty, no-nonsense ice pick that is built to last. A truly impressive tool, the Barfame is virtually indestructible.
Hammer Head
As previously mentioned, the top of the Barfame is a hammer, which can be used to smash and demolish huge chunks of ice. On the opposite end is the razor-sharp pick, which shreds and slices ice with virtually no effort. A formidable tool, the Barfame is unique and impressive. The hammer alone is essential for any bartender. Combined with the pick at the opposite end, no ice block, regardless of size or hardness, stands a chance.
Amazing Handle
The Barfame's handle has been described as "exquisite." One would not normally associate such an extravagant term when talking about a handle, but when it comes to the Barfame, there is simply no other way to put it. The handle simply will not break off, no matter how hard you try. Meant to withstand serious abuse, the Barfame is virtually indestructible. In addition to its incredible strength, the handle fits comfortably in the user's hand, putting no stress on the wrist and exerting force with ease.
Cost and Value
The Barfame is the most expensive ice pick reviewed here. That said, it is absolutely in a league of its own. With its incredible design, unprecedented power, sleek appearance and general impressiveness, the Barfame is well worth the cost to purchase it. Some reviewers have commented that the Barfame revolutionized their personal cocktail preparing experience; and this is undoubtedly true.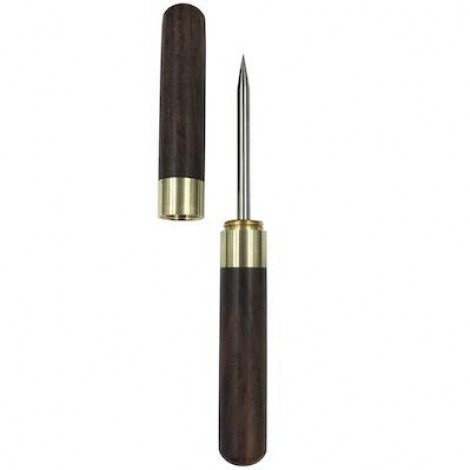 The iModen Ice Picks Wooden Handle is a fairly priced, positively reviewed ice pick that performs well and requires little to no maintenance. The iModen features few flares and is by no means a showpiece, but it works well, does the job and in general, makes customers happy.
Obliterates Ice
One of the most impressive features of the iModen is its ability to crush, smash and obliterate ice with virtually no effort. Designed to maximize force with minimal effort by the user, the iModen is small but mighty. Even a formidable hunk of freezer-burned ice is no match for the iModen.
Safety First
The iModen's handle is designed to resist rolling away when placed on a flat surface. This makes the iModen safe when not in its protective case; it is highly unlikely to accidentally fall off of a counter. Additionally, the iModen's grip is stable and steady, even when used to chip away at slippery chunks of melting ice.
Cost and Value
The iModen is very competitively priced and affordable. In terms of manufacturing quality, materials, craftsmanship and overall performance, the iModen competes with other ice picks that are sold at over twice the price. The iModen is a great investment which will not break the bank, but certainly will break the ice.

Subscribe to our Newsletter