Best Ice Augers Reviewed & Rated for Quality
last updated:
Feb 28, 2019
Aside from ice fishing gear, the one piece of equipment that an ice angler needs is a high-quality auger. In some ways, the auger is even more important than the fishing rod; there are plenty of other means by which to fish, but if you can't get through the ice to the fish, it doesn't much matter. Modern advancements have ushered in a new breed, but which one is the right one for you? Should you purchase a hand auger that requires more manpower, or power option that turns the blade for you? Our research team has compiled the top ten ice augers on the market to help you make your decision.
This is the best product on our list that is currently in stock: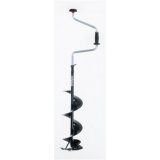 StrikeMaster Lazer Hand Auger
Why is it better?
The Lazar cuts through ice quickly
This hand auger has an adjustable handle and blade guard
The machine is durable and built to last years
It is convenient to carry and weighs less than a gas-powered auger
Multiple holes can be drilled before the blades need to be re-sharpened
In a
Hurry? Editors choice: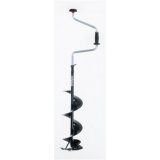 Test Winner: StrikeMaster Lazer Hand Auger

5
Interviewed Experts
10
Researched Sources
10k
Total Readers
8
Reviews Considered
10
Hours Researching
10
Products Evaluated
Effectiveness
Features
Value
By Default
10 Best Ice Augers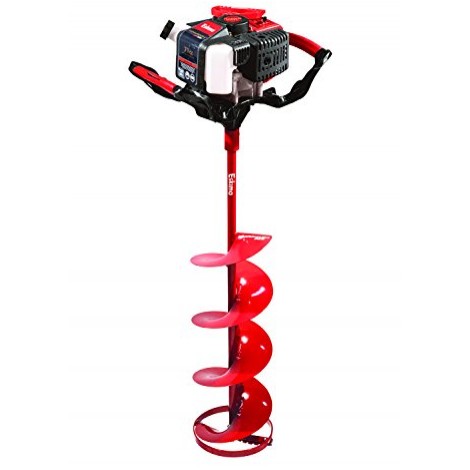 The Eskimo Mako has a Viper engine with impressive ice cutting speed
The auger starts easily due to the primer bubble
It has a pair of quantum chipper-style blades
The excellent fuel efficiency means cutting many holes before needing to refuel
The handle is oversized for use while wearing gloves
The auger requires a gas-oil fuel mix
It is a heavier auger model at 32 lbs.
While many anglers still use an old-school hand auger to cut through the ice, at some point, most ice anglers switch to power augers because they cut ice more quickly and with less physical discomfort. If you are looking for a top power auger, the Eskimo Mako 43cc Quantum Ice Auger is your best option. With a high-performance engine, the Mako can carve a hole fast to get you closer to your catch.
Craftsmanship and Power
The Eskimo Mako boasts high-quality craftsmanship with attention to detail. This powerful ice-cutting machine is designed to help anglers cut through ice swiftly. Built with an impressive and powerful Viper engine, the Mako's quantum blades turn almost 8,000 times per minute. The result is a smooth operating auger and trouble-free cutting. The Mako does require an gas-oil fuel mix, a small price to pay for top performance. Although it is a bit heavier and larger than other models, it falls in the average of most auger specification ranges based on an 8" cutting diameter.
Extra Features
This ice auger includes some time-saving features beginning with a primer button and fingertip throttle control for an easy start every time. The Mako has an oversized mitten grip handle that accommodates your hand without the need to remove your gloves, so your hands can stay dry while you are drilling. The fuel tank is see-through, so that you can keep an eye on your fuel levels.
Cost and Value
The cost-to-performance ratio in the Eskimo Mako is excellent. It is hard to find a better ice auger on the market at such a reasonable price. The Mako is impressive, cuts fast and true, and has excellent fuel efficiency, and at an excellent price, is well worth the cost.
2

. StrikeMaster Lazer Hand Auger
The Lazar cuts through ice quickly
This hand auger has an adjustable handle and blade guard
The machine is durable and built to last years
It is convenient to carry and weighs less than a gas-powered auger
Multiple holes can be drilled before the blades need to be re-sharpened
Some users felt the blades could have been sharper out of the box
The hand auger requires more time and physical effort
Available in sizes from 4 - 8 inches, the Strikemaster Lazer Hand Auger stands out from the competition as the fastest ice cutting hand auger on the market. The evidence of fine craftsmanship in this model is in its ability to cut through ice as fast as it does despite being a hand auger. Aside from its cutting prowess, the Lazer is celebrated for its durability and is built to last many years out on the lake.
Simple and Subtle
The Lazar hand auger converts RPMs into ice inches-drilled at an incredibly fast rate. The stainless steel chrome alloy blade stays razor sharp even as its cutting through the ice toward those fish. While it takes more physical effort to operate a hand auger than a power auger, many users find the Lazar effective, less noisy than a motor, and fuel-free.
Extra Features
The Lazar's ergonomic handle design reduces fatigue and transfers the user's effort straight to the blade. In this way, you can cut through the ice without becoming so tired that you throw in the towel. The handle is adjustable from 48 to 57 inches, and many smaller anglers will like how this auger compliments their height. The drill itself has a powder-coated paint finish that prevents ice and snow from jamming the tool.
Cost and Value
The Lazar hand auger is bargain provided you don't mind putting in some of the physical work yourself. For a small price and some earnest effort, you can own an auger that cuts through ice like butter.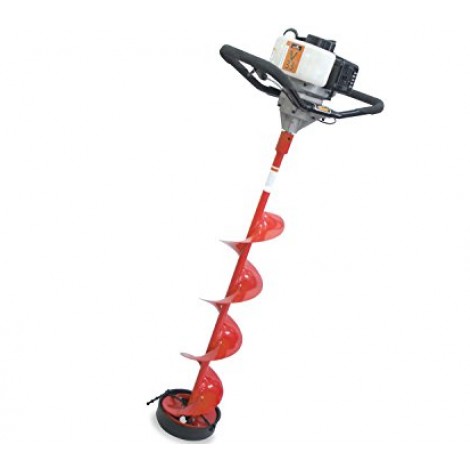 The Cold Shot starting technology ensures the auger starts up smoothly in extremely cold conditions
The ThunderBay cuts through ice fast
It is available for a reasonable price
The drill uses a 33cc two-cycle engine for powerful blade operation
The blades are incredibly sharp and stay sharp even after repeated use
The ThunderBay is 32lbs. and is heavy to carry around for long periods
It uses a gas-oil fuel mix
The ThunderBay Power Ice Auger is the answer to any angler's power auger needs. Although it does require the gas-oil fuel mixture, it is surprisingly easy to use. This auger uses specialized technology for a quick, reliable start and slices through the ice with no difficulty.
Easy to Start
The ThunderBay auger uses a 33cc two-cycle engine and Cold Shot technology to provide a reliable start no matter what the temperature is outside. An ice angler needs an ice auger that starts up easily in frigid temperatures, and the ThunderBay auger does just that. There is no struggle to get this auger going when you need it most.
Extra Features
This power auger delivers extra torque to cut through thick ice with ease. It also includes an All in One! Power Head, a blade protector, and an 8-inch auger.
Cost and Value
The ThunderBay Power Auger supplies much value for its price. It is a perfect starter power auger for ice anglers looking to switch over from a hand auger, and at a cost that will leave plenty left over for your other angling needs. The only thing the ThunderBay doesn't do is catch the fish for you.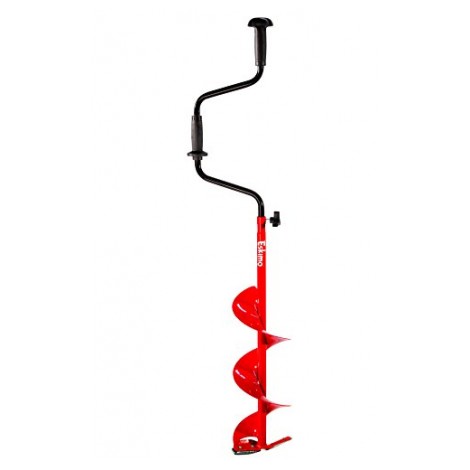 The HD06 is lightweight but strong
The dual flat blades are sharp and built to last
The Eskimo has three different heights to cut through varied ice thicknesses
Blade protectors are included
The Cross-Belt Takedown system prevents over-tightening during drilling
Users note that this auger is challenging to operate in thick ice
Temperatures below 15 Fahrenheit may cause the auger to ice up and barely cut
Perfect for early or late season anglers on a budget, the Eskimo HD06 Hand Auger with 6-Inch Dual Flat Blades is a reliable choice. This hand auger is also available in 7-and-8-inch models and provides a quick, smooth hole cutting through ice in under a minute. With this Eskimo model, it takes minimal effort to get the job done.
Effortless and Long Lasting
With its extremely sharp 6-inch blades, the Eskimo Hand Auger extends to three different heights to cut through different ice thicknesses. During drilling, the auger's handle is a chest height so the user can stand straight and use full strength while cutting as opposed to being bent or hunched over. The blades are sharp and durable and remain so after multiple uses.
Extra Features
The Eskimo Hand Auger comes with a blade protector to keep the drilling blades sharp. This auger also has a pommel handle for easy, smooth turns through the ice and a Cross-Bolt Takedown system that prevents over-tightening when drilling. The system is superior to the screw-together hand augers. At barely 7 pounds, the Eskimo Hand Auger is lightweight and easy to carry to and cut multiple holes with during a fishing outing.
Cost and Value
For a well-made and highly efficient hand auger, this Eskimo HD06 model is a steal. If you don't mind using a hand auger or are new to ice fishing and on a budget, this auger is one you should look at closely.
The Clam has an anodized aluminum plate
The handles and trigger are rubber dipped for secure handling and use
The conversion is very easy to assemble
The Clam is lightweight and compact for easy portability
All hardware needed to mount a drill to the conversion is included
Taller users may need to purchase an extension to avoid backaches and pains
For anglers who want an auger that relies on a cordless drill to cut through ice, the Clam Drill Auger Conversion is a lightweight and affordable option. The design allows anglers to use a drill without removing the chuck. This user-friendly auger conversion makes cutting holes in the ice a quick and easy project when paired with an appropriate drill, preferably a high torque 18-volt battery-powered lithium drill.
Easy Setup and Smooth Cutting
The Clam conversion includes a ball bearing that absorbs the auger's load, so the drill spins the auger instead of the auger torque, resulting in a longer life for your drill. The process is easy with this converter; simply attach the auger bit as you would on a power auger, pull the trigger, and start cutting the ice.
Extra Features
This auger conversion includes a quick start and quiet engine that chews through the ice with ease. The Clam plate is easy to handle during drilling, and the machine weighs roughly 12 - 13 lbs. when paired with the cordless drill.
Cost and Value
The Clam Drill Auger Conversion is affordable, but pricier than other products on our list; additionally, a buyer should keep in mind that the cordless drill must be purchased separately. Still, for anglers who want a method by which to cut fishing holes in the ice quickly and consistently, this conversion makes for a great deal.
6

. StrikeMaster Mora Blade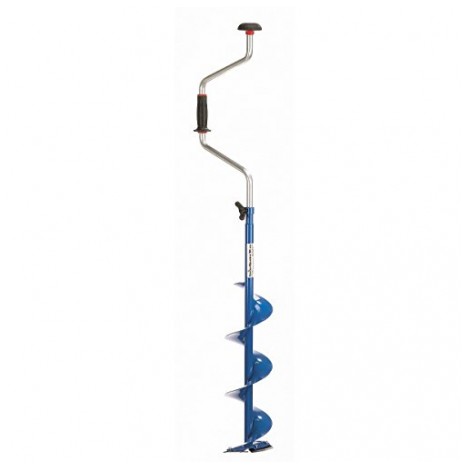 The Mora Blade is just over 7 lbs., highly portable, and easy to store
The blade on this auger is exceptionally sharp
The Mora Blade is sold at a fair price
The blade slices through the ice quickly
This product is durable and functional
The drill does not have a center point and can drift over the ice surface during drilling
Some users have complained that they have lost blades down the fishing hole
The Strikemaster Mora Blade Hand Auger is an excellent, low-priced product that is ideal for beginner anglers or anglers on a budget. Constructed with razor-sharp, high alloy carbon, steel twin blades, this hand auger cuts through the ice while remaining comfortable to use.
Ergonomic and Functional
The Mora Blade has an ergonomically designed handle system with soft rubber grips. The handle adjusts from 48 - 57 inches, making this auger functional for different heights and ice thicknesses. The blade itself is sharp and cuts through ice fast and smooth.
Extra Features
This hand auger sports powder coated paint to prevent and reduce ice build-up, and its two-piece design makes it portable and easy to store. It also includes a blade guard. The Mora Blade is compatible with an adapter for anglers who want to attach a cordless drill to it.
Cost and Value
The Mora Blade is inexpensive compared to the other hand augers on the market. While not as convenient as a gas or electric power auger, this hand auger is designed to do what it does best: cut through ice.
7

. Landworks Electric Power Cordless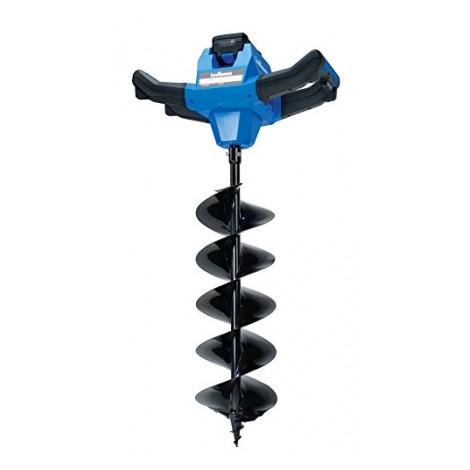 The Landworks auger can be used on ice or soil
It is eco-friendly and battery-powered
The 48V electric motor provides high torque
A 2 amp lithium ion battery and charger are included
The engine runs smooth and quiet
Some users state that the instructions that accompany the product are hard to follow.
The auger can be hard to hold onto at high torque
The Landworks Heavy Duty Eco-Friendly Electric Earth Ice auger is the ice cutter and dirt digger that delivers impeccable performance while also being environmentally friendly. Designed with efficiency and safety in mind, this Landworks auger can cut ice quickly and quietly during the wΩinter and dig through the earth in warmer months. It is an auger for all seasons.
Environmentally Friendly
The Landworks auger is battery-powered, and unlike a gas auger, is quieter and does not produce smog. The near silent engine is especially important when you are cutting fishing holes and trying not to frighten your targets. The 48V electric auger has a 2 amp MAX lithium ion battery to power the universal auger head. Users can expect to get 2340 inches drilled per battery charge, depending on load.
Extra Features
The Landworks auger prevents overheating of the powerhead with an overload protector. The gear mechanism allows for an efficient higher transmission, and the cutting and digging processes are smooth and flawless due to a brushless motor. The wide paced handles improve balance when the auger is in use. The drill also includes a charger and 2 amp lithium-ion battery; a 4 amp battery can be purchased separately.
Cost and Value
For an electric auger that doubles as a dirt digger and post hole digger, the Landworks auger sells at a price that is above budget but not overpriced. It is a versatile tool that has enough torque to get the job done fast.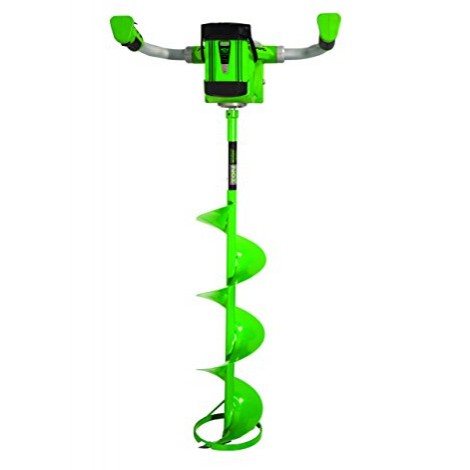 The Eskimo ION Ice Auger provides a mess-free, exhaust-free, smooth-cutting experience in a lightweight, easily portable machine. With this auger, anglers can easily drill holes, carry the auger across a lake, or make it easier to pull a sled behind them.
Lightweight and Easy to Operate
The ION Ice Auger offers different cutting diameters ranging from 8-10-inches. The auger is easy to carry for long periods coming in at 21-24 pounds, depending on the cutting diameter. The ION starts up reliably and cuts sharply thanks to the centering ring and blade positions that meter the depth of each cut. As an electric auger, the ION is mess-free with no gas and oil-fuel mixes to worry about or clean up after.
Extra Features
This electric auger comes with a larger trigger button and wide-spaced handlebar that offers more comfort during operation. The drill is constructed of steel and is 34-inches long, or 46-inches with an included 12-inch extension. The ION also comes with a slush-flushing reverse that eliminates the need to scoop ice and slush out of the fishing hole before drilling. A battery charger is included with the auger.
Cost and Value
The ION Ice Auger is the highest priced auger on our top ten list, but the price may be worth it to anglers who want a quiet, electric auger that cuts quick and offers a slush-flushing reverse option. For anglers who can part with the price, the ION Ice Auger is a top model auger for their consideration.
9

. Nils master Cordless Drill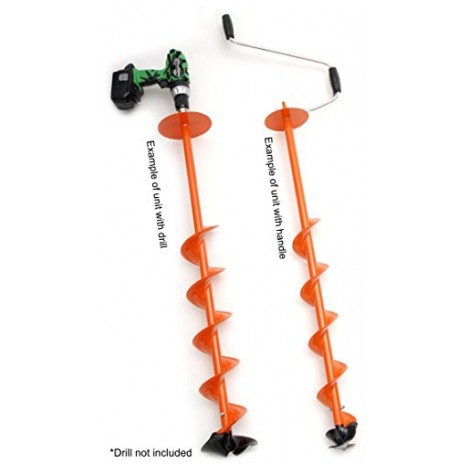 The Nils Cordless Drill is convertible and versatile
The sharp blades cut quickly and accurately
The auger is easy to operate
It is a lightweight and portable auger even with a drill attached
The blades are replaceable
Some users note that the design may result in a broken attachment point for the drill
The unit is pricey compared to other electric augers on the market
There is no need for a conversion kit to switch the Nils Cordless Convertible Folding Auger to a cordless drill auger. Anglers only need to remove the handle and attach the drill. The result is an auger that cuts ice as fast as a propane auger, but without the mess and heavy weight.
High Quality
The Nils company, known for high-quality products from Finland, don't disappoint with this Cordless Drill Auger. Cutting 700 inches of ice on a single battery charge, the Nils Cordless Drill Auger offers versatility combined with swift, easy ice cutting.
Extra Features
This cordless drill auger has a black slick cutting head that produces less resistance when drilling; used as a hand auger, the blades are sharp and cut through ice easily, and used as an electric drill it cuts very fast.
Cost and Value
The Nils Cordless Drill is reasonably priced compared to other cordless drills. It converts easily between a folding hand auger and a powerless drill auger, providing quick, clean cuts regardless of the power source.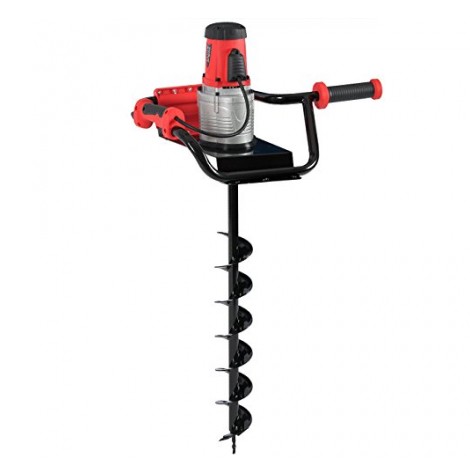 The Arksen auger has a 90 ft-lb torque and a 1200w motor for powerful cutting
The machine is easy and quick to assemble
The electric motor eliminates the need for an oil-gas fuel mix and any subsequent messes
The Arksen serves as both an ice and earth auger
The drill bit turns at a speed of 200 RPMs
This auger has no reverse or lock mechanism
The top part of the auger is hard to hold onto if the user hits thick ice or a root
With the power to carve through the ice and drill holes for fence posts and decks, the Arksen Electric Earth Ice auger is an excellent tool that is useful year round. The 1200w motor and bit speed of 200 RPM tops means the ice will cut quickly for the winter anglers who want to spend more time fishing than cutting holes in a frozen lake.
Hardworking and Reliable
The Arksen Electric auger produces power and results via a 4-inch drill bit for top drilling capacity. The manual startup keeps this auger running reliably for all of your ice and earth needs. The 90 ft-lb torque is powerful enough to help any user cut through ice fast and begin fishing even faster.
Extra Features
The Arksen auger comes with a hex spanner for easy assembly of the unit. A 4-inch auger bit and a thorough manual are also part of the auger package. Many augers do not come equipped with a hex spanner or drill bits, but the Arksen includes these items with the auger itself, saving the user some money.
Cost and Value
The price of an Arksen auger falls in the middle range of the other drills on this list. For a very affordable price, anglers can get a lightweight electric auger that is portable and cuts through ice quickly.
Criteria Used for Evaluation
Effectiveness
Our research team determined that effectiveness was the top criteria used in selecting the ice augers for this list. Ultimately, the auger needs to work at its optimum to cut fishing holes out of the ice as quickly as possible; the less time cutting and the more time fishing is the ideal scenario for ice anglers. If the auger does not perform adequately, then it is nothing more than a waste of time and money. We examined multiple kinds of augers including hand, electricity, and gas. The right auger depends entirely on the power and type of auger, the blade size, and the overall weight and size; for some people, a simple hand auger is enough to get the job done while other anglers might want a higher-level machine such as a gas auger. Anglers need an auger that does what they want, when they want, as quickly as possible.

Features
The features of an auger are important to the individual interests of the angler. Depending on the thickness of the ice that needs cutting, an auger's horsepower, engine type, torque, and blade size are all features that need to be taken into consideration. Aside from the technical components of the auger, other features that we examined were those more convenient for anglers such as the addition of drill bits, assembly tools, blade protectors, ergonomic handles, and see-through fuel tanks amongst others. These extra features were evaluated based on how they impacted the cutting properties of the augers and how they increased the ease of use for anglers.

Value
Our research uncovered many augers that provide significant value: an efficient tool at a reasonable or budget price. This top ten list includes multiple augers that fall into these categories; in fact, some of the budget-priced drills received the highest ratings. We took into account the average prices of gas, electric, and hand augers, then examined the effectiveness and reliability of the augers followed by any additional features. While most augers tend to have prices that fall into the middle-of-the-road, some were well below the average and a couple far above it. Our auger choices were designed to showcase products that had the best value for the price and offer drills that can meet various user's budgets.
Expert Interviews & Opinions
Most Important Criteria
(According to our experts opinion)
Experts Opinion
Editors Opinion
Users Opinion
By Default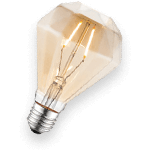 Choose Your Target, Then Choose Your Blade Size
Most auger blades are available in diameter models between 6- and 10-inches. You want to have your target fish in mind before purchasing an auger so that you get one that is the right size and power for where you are fishing and what fish you are trying to catch. If you are looking for a larger fish, such as a walleye or northern pike, an 8- to 10-inch blade should be used so the ice hole is cut wide enough to bring a sizeable fish up from the water. However, if you are fishing for perch or other smaller fish, a 6-inch blade will work fine.
Know Your Blade Types
Blades are often a secondary consideration because they can easily be swapped out or replaced. But what blade is the best kind to use? The answer depends on the type of auger you purchase. Many ice augers feature corresponding blades so that users can't switch out the machine's blades from one model to another. Ultimately, the user has to decide which blade is right for the situation, a shaving blade or a chipper blade. A shaving blade has a smooth edge that lets it melt through ice quickly even though even though it only cuts through the surface. On the other hand, chipper blades have a wide set of teeth and are particularly useful during the cold months. Chipper blades cut quickly but do not leave neat surfaces behind, and that may result in holes with rougher edges and longer periods until the hole is cut.
Use Common Sense on the Ice
Before heading out on the ice, check with your state environmental agency or nearest bait shop to get input on safety factors and whether the ice is thick enough to walk on. Typically, ice is considered safe to walk and fish on when it's four inches thick; that measurement generally happens after a week of evenings where the temperature falls below freezing. Even after checking with the bait shop or local agency, be cautious when you get to the pond or lake. Be sure to verify the ice thickness before stepping out onto it.
Other Factors to Consider

Portability
Another criterion that we examined was portability. It's essential that an angler's ice auger be lightweight if he or she intends to move around frequently during the day drilling multiple holes in the ice. A heavier auger will slow you down and cause aches and pains that will not make ice fishing an enjoyable experience. Our team examined the weight of each of the augers on this list to determine which models provided the easiest means by which to travel long distances in bitterly cold environment. The heavier the machine, the more quickly fatigue will set in and ruin a fun fishing trip.

Durability
Durability was the final factor we considered in choosing our top ten list of ice augers. Because of the cold conditions these machines are used in, they need to be durable and hardy enough to withstand the cold and operate promptly and efficiently. We looked specifically at design, engine capabilities, and starter functions as well as user references and feedback. Ideally, you want to purchase an ice auger that is the size you need for the size hole you wish to cut and the type of fish you are trying to catch. Our list consists of the hardiest ice augers on the market that should, if cared for properly, work for many years to come.
Frequently Asked Questions
q:

Where should I ice fish on a lake?

a:

First, obtain a map of the area you plan to fish in or check out your state's agency, especially if you are new to fishing in this location. Contact a local bait shop and ask about safety and ice thickness in the place you plan to fish. An ideal spot to begin ice fishing on a lake early in the season is the biggest weed bed. Reach out to other ice anglers to ask for fishing advice in the area as well.
q:

How should I dress for ice fishing?

a:

To keep ice fishing fun, you want to stay as warm as possible from the start. Dress in multiple layers, including long-underwear, wool socks, short, hood sweatshirt, hat, and gloves. Insulation builds in the air spaces between clothing layers, and you can remove layers as necessary to prevent sweating and maintain your comfort level. Any days where the temperature is frigid or the wind chills are excessive, a hut, tent, or shanty of some kind can make your time outdoors more bearable.
q:

Which type of auger is best, a hand auger or power auger?

a:

Which type of auger is best, a hand auger or a power auger?

Whether you should use a hand auger or power auger depends on a few factors. For ice that is thinner, usually earlier on in the season, a hand auger is the better choice. Additionally, hand augers are quieter and less likely to scare away any fish. Later in the season, when the ice is much thicker, a power auger can help you cut through that ice far faster than a hand auger. You can spend more time fishing and less time cutting holes.
q:

Is it best to use artificial lures or live bait?

a:

Live bait is almost always the better bait choice as it is more likely to intrigue the fish you are trying to catch. Being working with some maggots, moving from one maggot to a full hook depending on how the fish are responding. Artificial maggots can be used as well, and are typically plastic and come in many sizes and colors. You don't want your grubs to freeze, so keep them close to your body or in a sealed container.
q:

How can you tell if there are fish below the ice you are on?

a:

If the ice is snow-covered, see if there are fishing holes that have already been cut. These areas are locations where fish have been active previously. Check out the ones that look like they have been fished most frequently and give those a try.
q:

What can I do to clear out the holes my auger cuts in the ice?

a:

Some augers have a reverse option on the motor that helps to bring out slush and ice before it clogs up the newly cut hole. If your auger does not offer that option, you will have to use another tool. A good substitute is a metal or dedicated plastic hole skimmer. It's a cheap option that will scoop chunks of ice and slush from the hole.
Subscribe to our Newsletter