Best Hunting Hats Reviewed and Rated
Let's be honest, a huge part of hunting, especially going out bird shooting, is looking good, right? You want to look stylish, be dressed for weather and in a way that will identify you immediately to other hunters out there to avoid any sort of accident. What you'll want is some excellent hunting caps to keep you visible, keep you dry, keep you protected, and keep you looking good while you're out in the field.

Our Top 3 Picks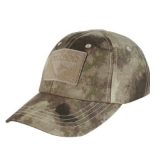 Condor Hunting Hat

Our rating
Great Material
Price:

See Here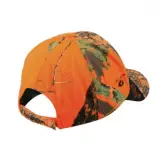 Remington Hunting Hat

Our rating
Nice Design
Price:

See Here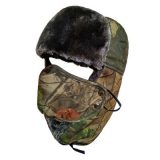 Lethmik Hunting Hat

Our rating
Warmest
Price:

See Here


10 Best Hunting Hats
1. Condor Tactical Cap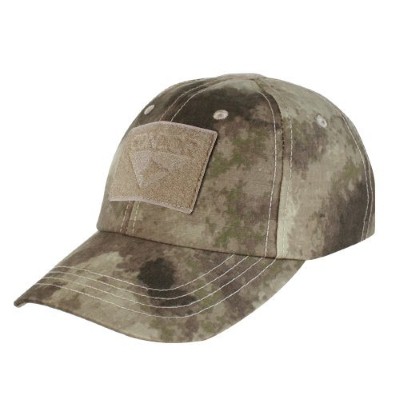 This is a good looking hat with a sleek design. It has a unique digital camo design and a embroidered log on the front along with all the usual adjustable bits. If you're just looking for a cap, this is another option for you.


Expand to see more
Blended Materials

This hat features an excellent poly-cotton blend for maximum fit, breathability, and comfort. It's a comfortable and well-fitting six panel that fits most wearers.

Brand Name

Condor is known for making great gear. They specialize in tactical gear and have done it with pride and a lasting reputation for quite a long time. That also means you can trust their gear construction for almost any venture.

Features/Specifications

Features a poly-cotton blend of materials and adjustable fit. Constructed with genuine A-TACS material and a loop and hook panel for customization with additional patches. It also features rip proof fabric for durability.

Price/Value

Condor is a trusted, respected, and well followed brand and this hat for this price makes it an excellent value for what you pay for and what you receive.

Decision Time

If you want a nice hat to wear while out hunting or shooting, this is a great buy. Condor makes great gear that's been trusted again and again by those who have purchased and used it.
Several sizing options
Excellent blend of materials
Material has been noted to be lower quality upon delivery
2. Outdoor Cap Remington, Blaze Camo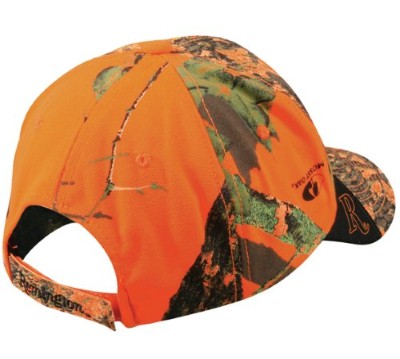 If you want a shooting cap with a nice name and sturdy construction, this is a good one to go with. This is an excellent Remington hat with a combination of hunter orange and a mossy oak camo. It's a fully adjustable piece as well which means anyone can put one of these one and head out.


Expand to see more
Camo Design
The
camo design
on this is pretty unique. It features the mossy oak style but overlaid with hunter orange for protection while out in the field. On top of this, there's a nice Remington embroidery on the cap for anyone who's a Remington fan.
Material
This hat is made from polyester so that means it'll stand up against the elements. It's got a nice stretch in the material during use and will keep you protected from any minor weather that comes your way while out
shooting or hunting
.
Features/Specifications
It features polyester material, a nice camo and orange design, as well as a sewn-in sweatband around the crown. It's fully adjustable in the back for wear by anyone.
Price/Value
Anything with Remington on the name is going to guarantee value, and this hat is no exception. On top of that, it comes at an excellent price for how much and what you get out of wear of the hat.
Decision Time
If you just need a cap to wear in the field or while shooting, then this is the hat for you. It won't do much in the way of winter protection but it's a flashy and good quality hat to have if you're just looking for a cap to wear.
Catchy and unique aesthetic design
Open sizing options
Trusted and respected brand name
The cap of the hat can be deep and sit low on the head as a result
3. LETHMIK Camo Winter Hats Faux Fur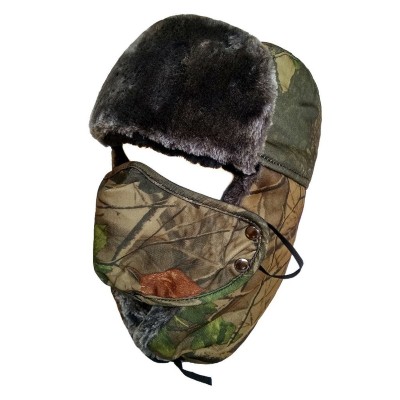 If you want cozy for some frosty hunts, then this is the way to go. It's designed to be as warm as possible and covers all the problem areas of the head and face that can feel the brunt of
winter chill
. It's got a protective polyester outer layer and a warm faux fur interior for maximum warmth.
Expand to see more
Warmth
The big draw here is that the hat is warm and keeps you protected from the sub-freezing temperatures you could encounter in the brutal parts of
winter while hunting
. It's a classic aviator design that covers the entire head and the majority of the face for maximum protection.
Materials
This hat is made out of a great blend of polyester on the outer shell and a faux fur lining to create both protection and warmth. LETHMIK has a reputation and history of making great gear for winter time hunters and this hat is no excpetion.
Features/Specifications
The hat is sized well and fits virtually all adult heads. It's light weight, even for the blend of materials it features. The mask portion is certified windproof and is graded for use in winter sports as well.
Price/Value
You get a lot of winter hat for how inexpensive this is. The value here, especially in the dead of winter and while you're out hunting in some freezing temperatures will speak for itself and your wallet won't take a serious hit either.
Decision Time
If you need something warm, this is the hat to get. It hits every part of the face and head it can get at and combines protection from the elements with the warmth of the faux fur lining on the inside. It's reasonably priced and will keep you from windburn and frostbite while out in the elements.
Incredibly warm design
Comfortable
Trusted brand name
Maximum winter protection
4. Panther Vision Realtree Camo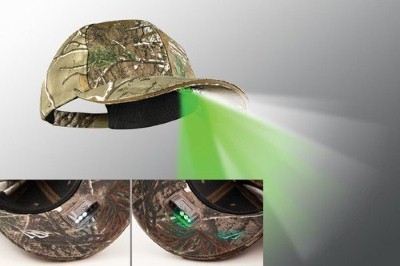 That's right, this has LED lights on it. This is a crazy cool hat with some pretty cool and customizable technology. It comes with several options for light depending on your needs and hunting conditions.


Expand to see more
Lightning

There's a lot going on in the lighting department. It comes with several light options and the total reach of the light can go up to an impressive 50 ft. The brim conceals with light technology well so it won't be in your way or make the hat look odd.

Construction

This is a nice 6-panel hat made from premium construction and material. It's also got a sandwich trim, a comfort sweatband around the crown and an adjustable velcro strap for perfect sizing for anyone.

Features/Specifications

2 green and 2 white LED lights, 2 ultra bright white LED lights, and 3-way lighting option for any needs. Light can reach up to 50 feet ahead. It's lightweight and has a one-size-fits-all guarantee thanks to the velcro strap.

Price/Value

You're getting a lot from this hat and it isn't priced too bad. You get an excellent and user friendly lighting system for your hunting needs for a low price, as well as sturdy construction and a comfortable fit, all for a moderate price.

Decision Time

If your hunting needs require some lighting, this is an excellent hat to go with. It's got options, fits well, and sits comfortably on the head, all for a very reasonable price.
Incredible light system
Well constructed
One-size-fits-all guarantee
Light beam can appear concentrated
5. Mesh Military Camouflage Boonie Bush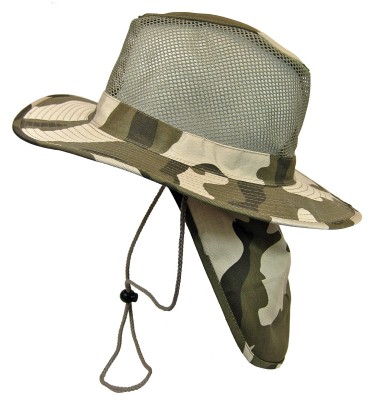 If you want optimal sun protection while being kept cool, then this is a hat to seriously consider. It features a sizable brim, a neck flap for protection at the back of the neck, and several other nice amenities and customizable features.


Expand to see more
Mesh Material

Many times with cotton or polyester hats is you'll sacrifice breathability for the material. This hat features a nice mesh layer that allows air in without getting you totally soaked if rain starts pouring. Especially considering this hat is designed to be used for sunny days, it's particularly helpful.

Neck Flap

The back of the neck is the number 1 missed spot when it comes to anyone spending time outdoors. You'd be surprised how much sun it actually gets and how much damage and pain that can cause. The neck flap offers complete and total protection against the sun beating down on you.

Features/Specifications

Brim measures to 3 inches out all around. The material offers a blend of cotton and polyester as well as the breathable mesh. There's a chinstrap with a chinlock for customizable wear and protection.

Price/Value

This is a solidly low price and you're getting a ton of hat for it. While it's not flashy like many caps out there, it does a huge job for a very low price and comes with a lot of features that are worth far more than the economic price. So the price to value ratio is certainly in the buyer's favor.

Decision Time

If you need a hat for sun cover and hot days, this is really the hat to go with. It's got excellent coverage, a good blend of materials, and will keep you both cool and protected from the beating rays of the sun during bright hunting days.
Sizable brim for sun and rain protection
Neck flag to protect from burning on the back of the neck
Blend of materials for protection and breathability
6. Mossy Oak Ducks Unlimited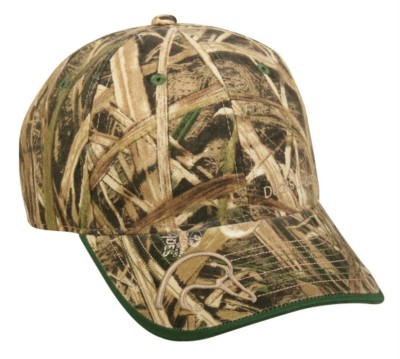 This brand has a history of making good material and good gear and this hat is no exception. It's got a nice build, a nice look of the camouflage, and works well out in the field or deeper in the woods depending on what you're hunting and where.


Expand to see more
Shadow Blades Camo
There is something to be said for flashy looks and this hat certainly gets it down with the shadow blades camo. It's a functional camo design with a very unique spin on it that'll make you stand out among your fellow hunters, but not to the animals.
Sizing
Like many of the hats, these is a one-size-fits most but also features an adjustable closure. This makes it perfect for several different size needs and even different ages. So you can't go wrong when it comes to sizing on the cap.
Features/Specifications
An embroidery logo is stitched over the Shadow Camo design. Designed specifically for wetlands hunting. Sizing is optimal for any adjustment you need.
Price/Value
This is a well priced hat and you get what you pay for, meaning, there's not much to this hat besides what you see. And that isn't the bad thing if you're looking for something to just put on your head and have a comfortable fit. But otherwise there's not too many bells and whistles here.
Decision Time
This is a nice hat for anyone just looking for a hat to wear without too much frill. It works well as sun cover,
cover from rain
, and something to wear with a functional camo pattern. It will also make a great gift for any first time hunter.
Unique and functional camo design
Sizing can be custom and fits most
Trusted brand name
Designed for high-moisture areas
No scent blocking technology
7. Scent-Lok Men's Full Season Skull Cap
This is a hat that's getting a little more into those aforementioned bells and whistles. It has the warmth and camo coloring scheme of the Whitetails hat but with some added features that help keep you concealed from animals while out in the field and hunting.


Expand to see more
Scent-Lok

Hiding your scent from your prey is very crucial in hunting. It's not enough to get yourself on the right side of the wind, you want to lock in and neutralize any possibility of omitting an odor that will tip off a deer. So this Scent-Lok could go a long way to help.

Materials

The materials used in this hat are designed for both waterproofing and comfort. The two-way stitch keeps the seams locked together and any moisture out. The wicking material also allows for a comfortable fit while keeping you warm and dry underneath.

Features/Specifications

The Scent-Lok technology makes this hat a very good buy. It's a proven fabric and design that help keeps you disguised from deer while out in the field. The wicking material is also proven and highly effective. It's lightweight, 100% polyester, fleece panelling for warmth and comfort. It also features two-way stretch fabric to fit any size.

Price/Value

For the price you get a fair amount of hat. It does more than just sit on your head thanks to the Scent-Lok technology. It fits well and the camouflage works nice. Ultimately, it's on the lower end of hat prices and is clearly worth a little more bit more.

Decision Time

If you want something that will cover your head and keep you warm on chilly fall hunts, then this hat is the one for you. It's got Scent-Lok for added protection from giving yourself from potential game and fits most so you don't have to worry about sizing too much.
Scent-Lok material
Fleece lining
One-size-fits most capabilities
Machine washable
Works best for more temperate climates than winter
8. Legendary Whitetails Men's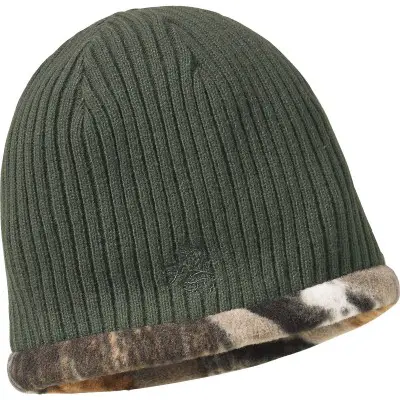 This is the hat to go with if you're looking for something that'll give you function and protection and less to do with looking good. Though the design here isn't hard on the eyes either, this knit cap is for those hunting in slightly colder and more weather obvious conditions, and it's reversible for customization of use.


Expand to see more
Trusted Brand

Like Browning, Whitetails is a trusted brand and sometimes that's important. You get a lot of built in trust with known brands thanks to years of experience and use and high profile merchandise that holds the makers accountable, and this hat is no exception.

Reversible

The hat's reversibility is also a very good perk here. On one side it's forest green with a stitched in Whitetails logo. On the other side it's Big Game camo. Both options offer protection and an inconspicuous look in the forest and the ease of switching between them depending on what your preference is.

Features/Specifications

This reversible hat is made from ribbed, knit acrylic on the green side with polar fleece on the other side for maximum warmth. It's one-size-fits-most, a shell of 100% acrylic and an inner lining of 100% polyester to make it 100% machine washable on cold settings. However, don't try to iron or press it for any reason.

Price/Value

This is a pretty good price for the value you're getting. You're essentially getting two hats for the price of one. Further, you get two brand hats for the price of one which is an even better deal.

Decision Time

If you need something that's going to keep you warm and dry, not just flashy, then this is the hat for you. It's warm, it's going to keep the weather out, and it's colors will match any hunting gear you already have. Though you'll want to be sure to wear something in hunter orange to alert your present to other hunters in the field.
Reversible
Fleece lining for warmth
Camo colors on either side
One size fits most
Could run a little big
Camo color could create hazard with other hunters
9. Browning Bozeman Mesh Back Cap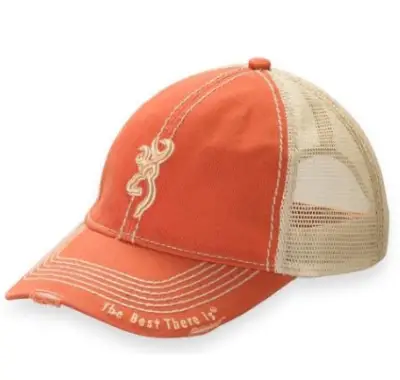 Browning gear is always a good bet for any hunting or outdoors gear. The name alone offers a lot of protection and guarantees for the quality of the product and years of merchandise and products make Browning really standout out as a line of products, this hat is no exception.


Expand to see more
Mesh Back

The mesh back of the hat offers a lot of amenities for such a simple design. It offers breathability and coolness in the heat of a summer day but also allows for general protection from any falling debris or wayward branches you may encounter in the woods.

High Tensile

All Browning gear comes with a promise of durability with high tensile gear. It stands up against repeat and excessive wear while out in the field as well as any adverse weather you may encounter while out hunting.

Features/Specifications

The hat is a one-size-fits-most but has a velcro adjustable strap in the back to ensure maximum comfort and fit for any wearer. The fabric front is in bright hunter's orange for safety while out in the field and features an embroidered Browning log on the front.

Price/Value

This hat's a little bit more expensive than the previous but you're also paying for an excellent brand and a visible brand name on your gear. And, luckily, the brand here really stacks up to the reputation as Browning is one of the most popular and trusted brands in hunting gear for any season and any game.

Decision Time

If you want a hat that's about more than just style, then this Browning hat will do the trick. The mesh back allows for functionality on it to be cool while using it out on hot days. The front fabric is highly durable so it'll stand up to a lot of use if you're constantly out in the field and the strap in the back allows for maximum customization of sizing.
Mesh backing for coolness
Velcro strap for adjustability
High durability of fabric
Has been known to run big
10. KC Caps Unisex Adult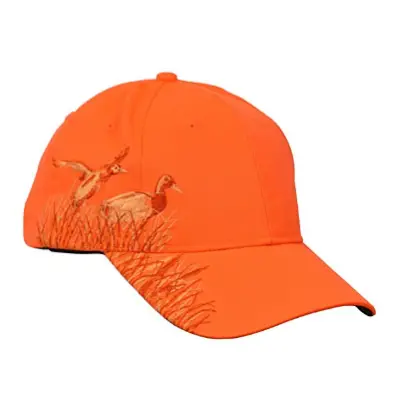 This is a six panel hat with a lot going for it in a lot of departments. It's obviously stylish, with a unisex fit it's going to fit most And it stands out to keep you safe while hunting out in the field and looking for birds. And for those it doesn't fit quite right (and that's very few), there's an adjustable velcro strap in the back.


Expand to see more
Embroidered Design

While it shouldn't be the very first thing you look for while shopping for hunting caps, it doesn't hurt that the first impression of this hat is pretty easy on the eyes. It features an embroidered scene with ducks that has a sharp look against the hunter's orange of the rest of the hat.

One Size Fits Most

This hat will generally fit any head, man or woman. And if you find yourself having trouble, there's always a velcro strap in the back to help you get the fit as custom and just right as you need it to be.

Features/Specifications

This hat is made out of 100% cotton and features a 6-panel design with a gorgeous and themed embroidery on the front. It's designed to fit all heads, man or woman, and features an adjustable strap in the back on the chance it doesn't fit quite right.

Price/Value

For this hat you're not paying much and you're getting a pretty obvious value of aesthetic in return. While it doesn't come with too many usable bells and whistles, it will do the job of a cap and make you look good while doing it.

Decision Time

This is a stylish and functional hat that'll work good for anyone just looking for a hat to wear on their next duck hunting outing.
Excellent look
Fits most
Adjustable for perfect fit
Hunter orange
No waterproof or weatherproof features