Best Hunter Rain Boots Reviewed & Rated for Quality
In a Hurry? Editors choice: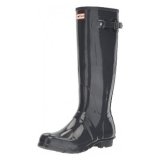 Test Winner: Tall

Hunter boots have forever been synonymous with cool kid style. Whether we're looking at tall or short, socked or plain, Hunter boots are a product that is sure to match outfit after outfit
throughout the rainy season
. They're durable, well constructed, and most importantly: they're waterproof. Not only do we find that rain boots are often some of the most hit and miss shoes we could purchase, we often find ourselves upset with the clunky styles. Rain boots are
built for function
rather than form, which could be why so many of us don't always know how to shop for them properly.
But, which is the pair for you? It can be a tough choice when there's so many styles and choices, but we're here to help. Let's start splashing through the options of the top 10 Hunter Boots.
Standout Picks
Criteria Used for Evaluation
Materials
When it comes time to take a look at the way we shop for shoes, there is no easier criteria to judge a boot on than the materials. This is because at the core, basic elements, the materials used to make up the boot are essentials to grade the product as a whole on.
Common boots are usually made of all sorts of materials, some aren't very great and should be avoided. But as we're talking about a specific brand, with Hunter Boots, that's not a very difficult problem, and won't come up often, if ever.
In order to create a boot that is all things waterproof, extremely flexible, and rather comfortable to wear regardless of the shape of your lower leg, Hunter Boots makes almost all of their boots from rubber, and rubber only. Discounting all of the extra additions to the boot -- which may have metal rivets, or cloth laces, etc -- rubber is the primary (and sometimes only) material used.
It's very common (and often considered insultingly flattering) for unknown companies to make fake copies of great and cherished products. In saying that, it's often easy to spot a fake Hunter Boot because the boot is either not made of pure rubber, or the rubber it has used is rough and unsmooth.
Ensuring your vetted Hunter Boots are made with rubber is essential, otherwise (if you're shopping for the off-beat Hunters) look for pure leathers, and rubber soles.
Style
Style is a tough egg to toss. Is it to be, or not to be? There is no real decisive factor available to all humans because, at the end of the day, all things boiled down, style is the most subjective criteria in the vetting process of any products, but especially fashion and clothing.
But, and this is lucky for us, Hunter Boots are commonly known among fashion aficionados as one of the most stylish and desirable rain boots the world over. That's probably the root cause of their crazy rise in popularity. All of this basically means that anyone can walk through a line-up of Hunter Rain Boots and walk away with a pretty stylish pair of boots that will also keep your feet and lower legs dry for days.
From their long dark rubber, almost knee-high classic rain boots, to their awesomely stylish and rugged looking half kicks hiking boots, Hunter has the shapes, the colors, and the aesthetics you're looking for, regardless of your tastes.
So, while style is something we cannot rightfully make a definitive statement on, there is no forgetting that these boots are loved around the globe by many people, and part of that adoration is indeed the look. For those that live in rather rainy or wet climates, those that will be wearing these boots a lot, the fashion choice in style will (and should) play a huge part in the decision process. As it should with anything visible to the outside.
Value
We always discuss it in the same way. The value of a product is the sum of all criteria, matched up against the price it will cost you to own it. For products like Hunter Rain Boots, you're looking at the material base of the boot, the fit of the boot, and the overall aesthetic quality of the fashionable footwear. Plot that up against an average price that is a little bit higher than industry averages -- because Hunter is a very well made and popular boot brand -- and you've got the general value of that product according to you, the consumer.
We, on the other hand, do not possess the right perspective to truly classify the value of these products as they particularly pertain to you, the specific person. Which is why we base our product rankings and value on more generalized opinions, and propped up on the entire criteria set as a whole.
It's made even more difficult to judge a product's value when it comes to lists like this because they are all the same product, and they are all made so well, and cost roughly the same. It's a game of which do you like or need more, rather than comparing the prices or the quality.
So, the truest value in Hunter boots is going to land directly in the buckets of use case, and style.
10 Best Hunter Rain Boots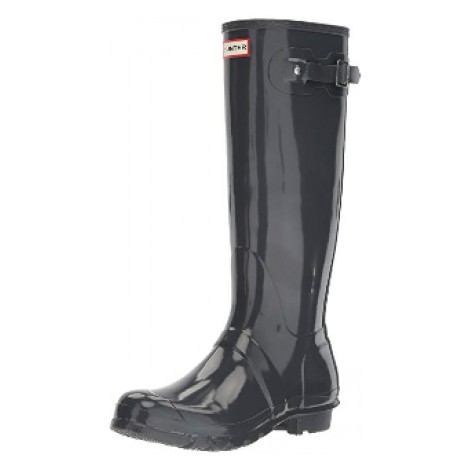 Starting with the classic Hunter Boot, this is a style that we all know and love. We've seen it on our friends, in the stores, and even on the cool hipsters on the bus whom we secretly wish we could be like. The tall Hunter Boots offer fabulous protection while still retaining that element of "check me out; I'm stylish".
Glossy
It might be strange to think that this is a benefit, but trust us when we say that there's more value to the gloss than not. Sometimes rain boots crack or rub away, leaving patches of sock exposed to the trials of the rainstorm outside. The high gloss effect on the outside of these Hunter Boots means that not only are you able to keep them looking shiny and new, but you can also rest assured that their waterproofing is definitely protective.
Transitional
When most women buy a boot they want to be able to wear that boot for more than two months out of the year. For those living in rainy climates, this means that winter boots are often overlooked when doing that yearly shoes shopping trip. Luckily for us, these Hunter Boots are designed to be versatile. Purchasing a sherpa lining or wool sock easily turns these babies from simple rain boots into full-fledged winter ,rockstars.
Cost and Value
For a great pair of boots this price is remarkable. Not only do we find that there's a little bit of wiggle room for purchasing accessories, but it's just a high enough price tag that we can rest assured that these boots are quality. The cost is definitely equal to the value, and in some ways we think the value might be even better. These are a great pair of boots that deserve our top spot.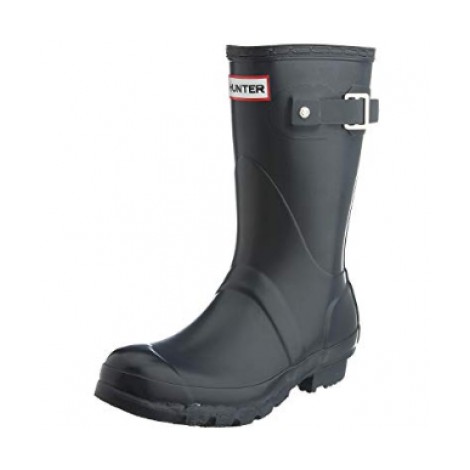 This short version of our number one choice is virtually the same thing. Hunter doesn't skip on the quality from product to product. Just because these boots are shorter doesn't mean that they're any worse. In fact, for some of us large calf-ed folks, the short boots are the better option. At the end of the day it's all about personal preference between these two.
Calf Sized
No, we don't mean that they're the size of a baby cow. When we're talking about "calf sized", we're talking about the fact that Hunter has finally made a boot that's got a wider than normal size to the calf. The shorter boot means that it doesn't come up quite as high on the calf, making it the perfect size for all those thick legged women out there. Finally, a stylish option built for some calves!
True To Size
One of the most frustrating parts of buying shoes online is the fact that we never know if they're actually going to be a good fit or not. Oftentimes we need to scour the reviews in order to see what kind of funny stuff is going on with the fit so we can accommodate for it before purchasing. These boots run true to size. That means that if you're an 8, you can order an 8. And it'll fit!
Cost and Value
Should less boot mean a lower price? Some people believe that, yes, having less materials should result in the price being lower. We, however, believe that the style is independent from the cost sometimes. This is especially true when talking about Hunter boots, where we're not just paying for the product. We're paying for the brand security and quality. These boots are roughly the same price as the full height boots, but we still believe that the value is worth it.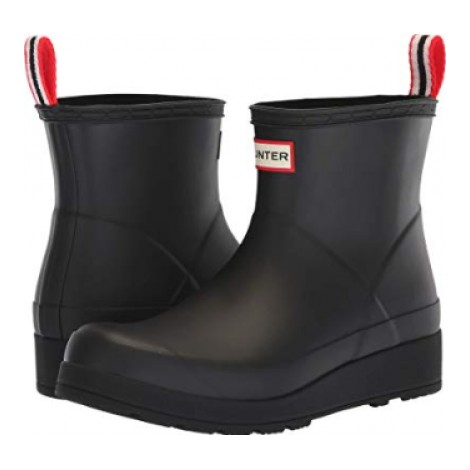 These play boots are a style that anyone would be proud to own. Not only are they a perfect match for anyone with wider calves, but the reviews lead us to believe that wide feet will also feel at home inside these boots. The play boot is a great option for those who want a shoe that can be slipped on easily and quickly before leaving the house.
Easy to wear
Anyone who enjoys putting together outfits will know just how tricky it is to style rain boots. On one hand, rainboots really speak for themselves. Everyone knows that we're wearing them to be practical, not necessarily fashionable. Matching them to things is a bit of a nightmare, though. These short boots, however, are classy enough that they can be paired with anything. Trousers and jeans look good loose or tucked in the top of them. The short height and solid color make these a very easy to wear boot.
Slight Heel
So many of the shorter folks out there prefer to wear heels, as it gives them just a little bit of extra lift in this tall-to-average height world. The heel on this boot style means that you're getting a little bit of lift, but you're not getting stuck walking around for hours in heels. It's the best of both worlds, and we're happy they're Hunter brand.
Cost and Value
One of the cheapest options out of the boots themselves on this list, we're very excited to find such great quality shoes for such a budget-friendly price. Not only do we find that these boots are definitely the best ones for slipping on and running around in, they're also very fashionable with all their different color options. Over all it's a great value for the cost.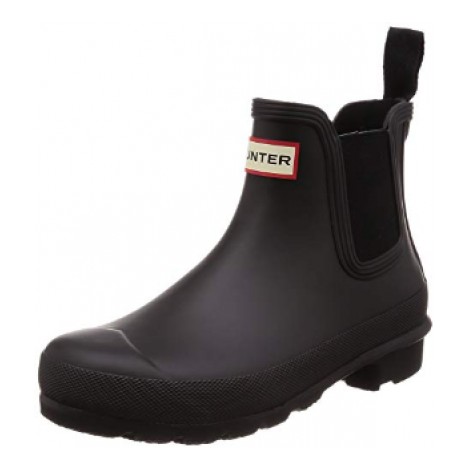 A similar option to our last product, these Chelsea boots are close to the style and size of the play boots. However, there are a few differences. Not only are the Chelsea boots a specific style at the opening of the boot, but they're also a little snugger than the play boots. The grip is slightly different as well, though all the other benefits are the same. Really, choosing this one over the play boot (and vice versa) are really just a matter of personal preference.
Tight
There's no denying that these babies are watertight. Not only is the opening up top narrow, but there's also stretchy panels on the side to ensure that your feet stay locked in place. This stretchiness ensures that the water doesn't get in, though there have been some reports of tightness on thicker ankles.
Trendy
As far as we know, Chelsea boots are still very much in style. With the popularity of Blundstones still rising, Chelsea boots are a style that are always very "in". The chunky sole and the stretchy paneling at the top are fashion-forward, and will work as a dressier rain boot for those who need some class.
Cost and Value
Based on the number of reviews that mentioned the boots being too tight at the ankles, we hesitate to confirm that their value is worth the cost. These boots are priced at a slightly higher bracket than what we think we would like for them. While the quality is good, there's just too much to be questioned with the fit. Those that know how Chelsea boots fit will likely be able to purchase a correct fit no problem.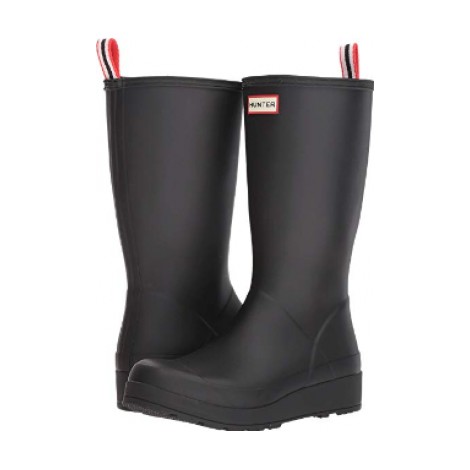 Landing smack dab in the middle of our list, these Hunter boots are the original, and thus an old standard. Those that think of Hunter boots are likely thinking of these, with the high fit and the red and white tag. Not only do these offer a whole lot of style, they also offer a whole lot of comfort. It's hard to go wrong with the classic look and feel of a Hunter boot. They really are the best.
Lightweight
When the boots are big, our first impulse is to think "Wow, those must be heavy". This is especially true when they're essentially made of solid rubber. These Hunter boots, however, are actually some of the more lightweight options that we have. Not only is this style well made, it's also made to be lightweight. That way your feet don't get tired!
True to the Brand
Some of the reviews we've seen expressed concern that the Hunter boots being sold are not legitimate Hunter boots. While that might be true in some other, different listings, it's not the case with the ones we're looking at. These boots especially are true to the Hunter boots vision of quality and style, and are correct right down to the logo placement.
Cost and Value
This listing is a little odd, as it's got a variety of prices listed. Depending on the size and color we end up getting the price changes, making it difficult to get an idea of how much these boots cost. While some odd sizes might end up paying quite a bit of money for boots like these, many of us will find that they're about on par with the cost of buying a pair of Hunter boots in a store. The quality is definitely worth the cost as well, making this an excellent investment.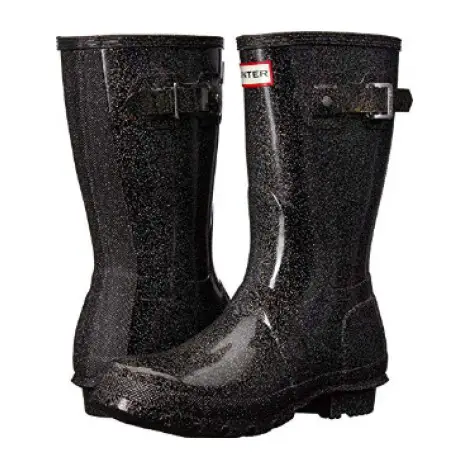 Who doesn't love stars? We love stars so much, and that's why we put these boots on here. While the stars might not be printed on the boots in any specific map or order, they are definitely meant to be stars. After all, it's in the name! Hunter boots are notorious for being solid colors, almost neutrally able to blend in with any outfit. Now is the time to stand out, while still getting the same quality that we know and love with our normal Hunter boots.
Glitter
One word: glitter. That's all you need to know to be convinced to buy these boots. Not only do they have the sparkle and shine that many of us love, but they're not overwhelmingly shiny. Sometimes glitter can go too far. Luckily these boots don't have that problem, as the glitter is done with a light hand and subtle touch.
Roomy Toe Box
Something that we discuss quite a bit when it comes to all the running shoe articles we do, the toe box is the part of the shoe that houses the fall of the foot and the toes. A roomy toe box is the type of thing that allows for the ability to walk long distances. Toes stay free, without rubbing at the edges or getting crunched up on the sides.
Cost and Value
While the boots are slightly more than some of the other Hunter boot options we have on this list, we believe that they're not priced much higher than the average cost of a pair of Hunter boots. Considering the fact that we're getting an even cooler style with a similar quality, we think that that's a pretty great value for the cost.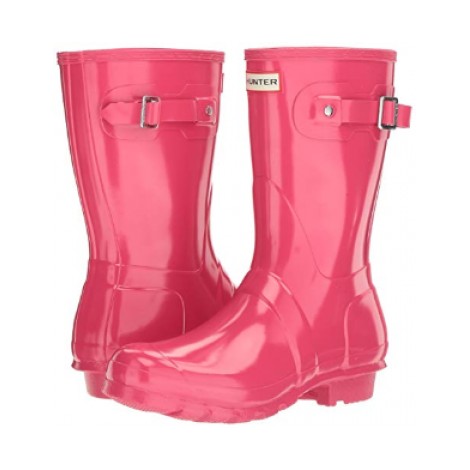 Gloss is boss, which is why we had to include all of these Hunter boot options. Rather than sticking with the same old boring boots day in and day out, why not choose these for a little bit of fun? The gloss makes them easy to keep clean, as they always look like they're shiny and new. Not to mention the fact that the quality is great, as it always is with Hunter boots. Honestly, you can't go wrong with any of these options.
Quick dry lining
Whether we like it or not, sometimes there's going to be water in our boots. Whether it's from excessive amounts of sweat or just from too many puddle splashing adventures, we're inevitably going to get a little bit of dampness around the edges. The quick dry nylon lining is a nice feature of these boots. While it's great that rainboots are waterproof on the outside, we also want them to be dryable on the inside!
Sponge insole
A few of the Hunter boots we've looked at so far have a sponge styled insole. It's not rare, but it is a great touch. Not only does the insole provide comfort, but it also provides a little bit of support too for those hardworking feet. We're big fans of the fact that these boots are so comfortable, and we can't imagine what it would be like to walk in a pair of Hunters if they didn't have the signature squish.
Cost and Value
Another style of boot that has the price changing depending on size and style, it's hard to determine where these boots fall on the budget spectrum. On average we have to say that these boots are well priced for their quality and size, as well as for their stylish aspects too. It's a great deal, and we're sure you won't be disappointed.

8

. Refined Gloss Quilt Short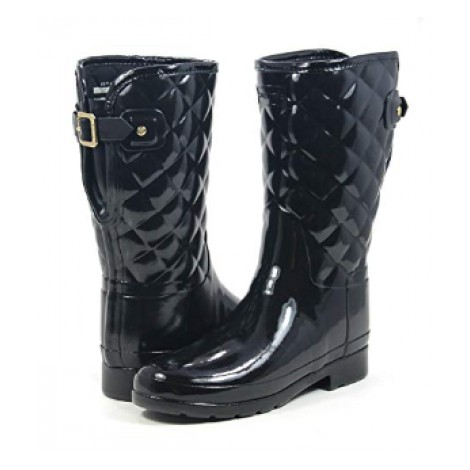 Creeping down a little bit lower on our list, we've come to one of the highest fashion offerings from Hunter boots. While the basic Hunter boots are in and of themselves a fashion statement, it's no surprise that they've developed a variety of looks and styles to try and stay within everybody's fashion range. The quilted pattern is a popular choice for anyone looking to add some chic style to their rain gear, while the quality remains that of a great, classic Hunter boot.
Adjustable
How often do we get to say that about a boot? For anyone that has wider calves, wider feet, or long toes, boot shopping can be a disheartening experience. Not only do we find that the boots themselves can be a bit of an awkward shape, but they're inevitably too big in one way and not big enough in another. By adding an adjustable gusset, those "almost perfect" boots become 100% perfect. We can make the calf slightly bigger or slightly smaller depending on what we need.
The Footbed
A footbed should be just that: a place to rest your toes while you're sitting in the car, on the bus, or in a desk at school. Shoes are typically stuck between being either functional or fashionable. The moulding of the footbed in these boots makes it a unique combination of both. Not only does it provide support and structure, but it adds comfort for all those hours spent trudging through the sleet and snow.
Cost and Value
Slightly higher in price, these boots are a great option for those that have a higher budget. We wouldn't necessarily say that they're a great value for their cost, but they are about equal. Good quality, comfortable, and true to fit all make them worth the price tag. The fashionable quilting is really just a bonus.

9

. Original Insulated Pac


These hard working boots are truly the result of someone who was craving a stylish yet effective boot. Not only do they look great, but they can also get the job done. Compared to some of the other Hunter boots we've been looking at, these boots are not only well structured but also easier to deal with than regular rain boots. The laces make them take a little longer to get on, but ultimately more comfortable for those with bigger calves.
Leather Topper
Most of the Hunter boots are plastic. In fact, when you think of Hunter boots you're probably thinking of the plastic ones too. Equipped with a high gloss and an eye-catching logo, Hunter boots are actually well served by this style adjustment. The leather topper gives them a more rugged look, while the wax they've put on it means that it retains the same type of waterproofing that the plastic boots have.
Insulated
Many of the benefits of Hunter boots comes in their versatility. Able to be worn with dresses or jeans, Hunter boots can be thought of as an all-year boot for rainier climates, especially with the addition of a thick sock. These Hunter boots, however, were built for slush. The waterproofing is strong, but they also come insulated. No more worrying about wearing boot socks for insulation; we can just lace them up and go, no matter the winter weather.
Cost and Value
The higher price range means that you'd probably be expecting more from this boot. Good news: it gives you more. While the colors are limited, there's no denying that the insulation and thick sole are worth a lot. These are a twist on the classic Hunter that we know people will be happy with.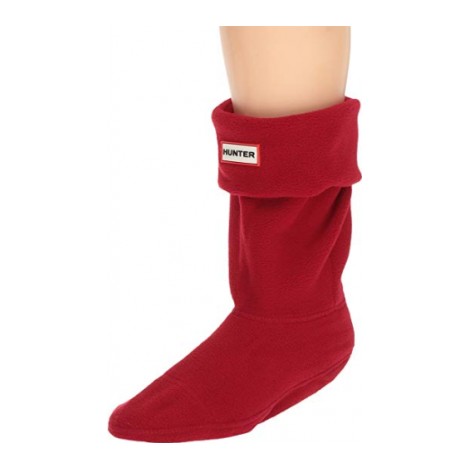 Last but certainly not least is the short boot accessory that everybody has been dreaming of. Whether we're searching for a stocking stuffer or just a regular addition into the boot sock dresser drawer, these are an amazing option. Hunter brand anything is great quality, and these socks are no exception. While they're not the most practical for the tall boots, the short boots will definitely feel the difference when you're lining them with these short boot socks. All that's left to do now is to pick a color!
Built for the Boot
It's not everyday that products come out with accessories that aid and accentuate an already popular item. Hunter Boots have been around for a long time, and it's no surprise that there's so many variations on them. With all this success, it's only natural that they decided to craft these socks. Built for the Hunter short boots, these socks won't slip down inside your shoe. They will, however, provide comfort and warmth while perfectly fitting into the short boot.
Color Options
While many of us will opt for black or grey Hunter boots, few of us will consider the outfit possibilities that go along with other colors. We want the neutrality of black or grey rather than the bold statement of red or blue. Luckily for us, these socks provide a bunch of options for color. This makes it possible to change the boots to match the outfit, without having to purchase a whole new pair of shoes!
Cost and Value
The fact that these look quite a bit cheaper compared to the boots on this list is because they are. After all, these are boot socks; not the boots themselves. Hunter boots are versatile and chic, making them the best choice for any fashion-forward style darling who also wants to stay dry. These socks might be an additional cost to the boots upfront, but trust us when we say they're worth it. The warmth and versatility they provide are alone worth the price tag.

Subscribe to our Newsletter