Best Hockey Bags Reviewed & Rated for Quality
In a Hurry? Editors choice: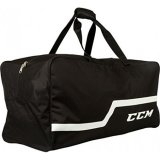 Test Winner: CCM 190

So, you got a big-time hockey game coming up, and you need to get all of your equipment there on time. However, you may have noticed by now a little problem:
hockey equipment
is really heavy. And not just heavy, but cumbersome, including gear, hockey sticks, and whatever else you are bringing along with you. And you cannot just stick it all into your suitcase, so what do you do? For those in this situation, the conclusion is obvious: you need a hockey bag. Hockey bags are one of the most
important tools
in any hockey player's toolbox. Mostly because it is the toolbox. It carries your equipment, your gear, your clothes, and pretty much everything else you need to play hockey properly but cannot carry in your two little arms.
Standout Picks
Criteria Used for Evaluation
Value
If you want a good hockey bag, like a true quality hockey bag, and you do not know a place that can get you a great deal, you may be looking at prices approaching or over $100 at least. Occasionally you will find a bag that does not drain your wallet faster than a hot dog eating contest drains the ketchup supply, but most of the time, if you want a really good bag, you will have to save up. So a big deciding factor in this list was how much each item cost and how extreme that cost was.
Conversely, if that cost was high, placement was instead judged on how well that cost was balanced out by the features of the product. If it cost a lot but had many cool features, then the cost is deemed to be worth it, bringing it up a notch on the proverbial totem pole.
Advanced Features
No one wants a hockey bag that is just a big empty glorified sack with zippers. A bag in the modern-day needs that extra edge, more character, and variety to it, which is where compartments and pockets come into play. These are any number of holes, crawl spaces, holders, what have you, that you can put other, smaller objects into besides the big main compartment. This includes docks for your hockey sticks, pockets for your mouth guards, smaller compartments for snacks, clothes, etc. and many others. These are vital to the importance of a hockey bag and whether that bag is worth your time or not. You need as many of these pockets as possible because you have no way of knowing what you are going to be putting in there.
Durability
The last thing you want is for your luggage and expensive hockey equipment to be damaged because your bag was not tough enough to handle some slightly tough conditions. Durability is necessary when it comes to hockey bags, like the stuff that is inside costs multiple times more than whatever you paid for to have that bag/ most bags are made of either polyester or nylon, sometimes both, so this is not really a problem nowadays. But you still occasionally hear about hockey bags that tear in luggage compartments.
Weather Resistance
You never know when you are going to get out of an airport and walk right into a torrential storm. As such, it helps to be prepared, and have a hockey bag that is prepared for these sorts of conditions. Polyester and vinyl themselves are not really waterproof, so such an ability has to be applied during production.
10 Best Hockey Bags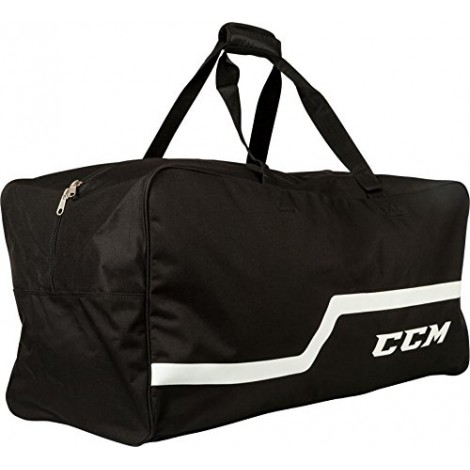 While not the most well-known of hockey companies, CCM has consistently turned out quality products, and the 190 is no exception to this. Delivering a top quality hockey bag at a reasonable price, CCM's 190 is one of those hockey bags that you just cannot go wrong with.
Plenty of space
Never underestimate the value of storage space in a hockey bag. With lesser quality bags, there is almost never as much room as it looks like there should be in the bag. But with this bag, there is room for your equipment, spare clothes, a shower towel, and so much more.
Reinforcement
Not only are the straps, handles, and material of the bag sturdy and durable all on their own, they have been specially reinforced to make sure that the straps do not come undone in your hands. The material of the bag is also enhanced to keep everything inside the bag where it belongs.
Cost and Value
The CCM 190 will not usually cost you much, making this a very reasonable price for a hockey bag. Add onto that the simplistic value of the 190, and it is no questions which one is the winner.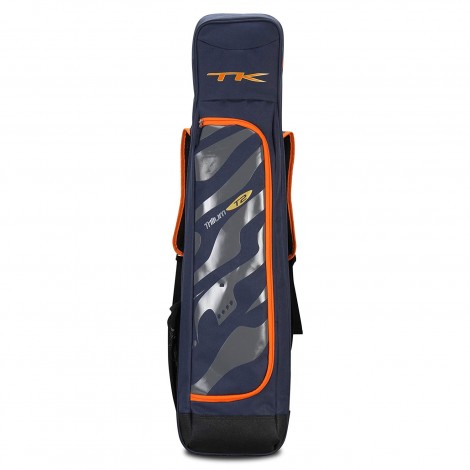 Here is a bag that has almost guaranteed to last you for years. Coming in four different colors, including navy, black, pink and orange, this bag comes with many separate compartments for everything you will need for that big game.
Durability
This bag is not just durable, it is every fabric is made of 600D polyester, one of the most durable fabrics on the public market. This means that the statement made at the top of this entry was not an exaggeration, this bag really will last you years, regardless of what you put it through during that time.
Breathable mesh fabric back
If there is anything that annoys people about carrying around a hockey bag, it is the uncomfortable fabric scratching at your back as you carry it. Fortunately, the TK Trilium T2 has breathable mesh fabric for that area that, while still made of the incredibly durable material that comprises the rest of the bag, will still make carrying it around less of a hassle because of how soft the area touching your back is.
Cost and value
In most retailers, the cost of the TK Trilium T2 will not take you much higher than around $40 or more. In that sense it is one of the best deals you can find for a bag like this, especially considering the materials it is made out of.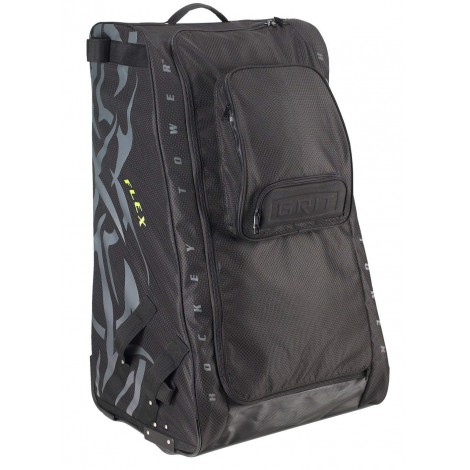 And now we come to the Grit HTFX Hockey Tower Equipment Bag. This titan of equipment carrying is impossible to deny, standing at 33" and sporting more goodies and compartments than you can shake a hockey stick at, and the Grit HTFX is genuinely one of a kind.
Blade ports
If you hate having to open up your bag and fiddle around with its contents to get to your hockey sticks, then you're in luck, because the Grit HTFX comes equipped with special "blade ports" that hold your hockey sticks in place on the sides of the bag rather than inside. And if you are worried about them falling out, do not be, as the unique straps used for the blade ports keep them locked tight in place.
Equipment shelf
Don't you hate how disorganized the inside of a hockey bag can be? There has to be a better way to keep track of everything, right? This is where the Grit HTFX comes in with its special equipment shelf, keeping everything neat, tidy, and organized.
Cost and value
This is where we get to the main downside with this bag: its cost. The Grit HTFX is an amazing hockey bag, but you are going to be paying a lot for it. Fortunately, the value of this bag makes up for the cost.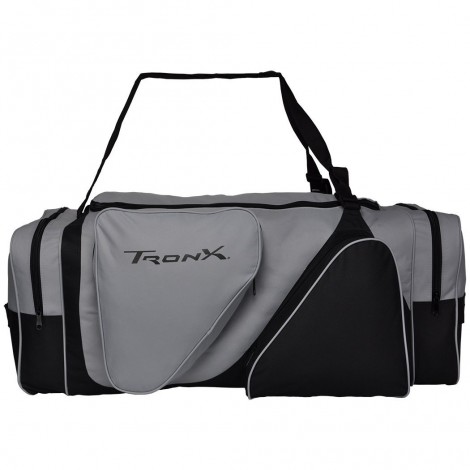 The TronX is easily one of the most popular choices for hockey players looking for a durable, sturdy hockey bag for their collection. You can enjoy this bag for years before it starts to, as they say, "turn". That, combined with the myriad pockets the bag sports shows that you are on the right track by buying this duffle bag.
Easy to carry
This seems like a small thing, but rest assured, when you are dealing with the weight of hockey gear all concentrated into a little duffle bag, you want the act of carrying it to be as easy as possible. Luckily, the handles and straps that make up the TronX make carrying this thing incredibly easy.
Plenty of pockets
The small items are the most annoying to have to keep track of when it comes to these big duffle bags. You drop them into any other hockey bags, you may as well have dropped them on the street then hopped on a train before realizing your mistake. Luckily the TronX has more than enough pockets for any items you may have that you want to keep better track of.
Cost and value
Easily one of the best things about this bag is the price. For all its advantages and advanced materials, it is also one of the cheapest bags on this list. So not only is this one of the best bags you can ask for, but it is also one of the cheapest.

5

. K Cliffs Heavy Duty Sport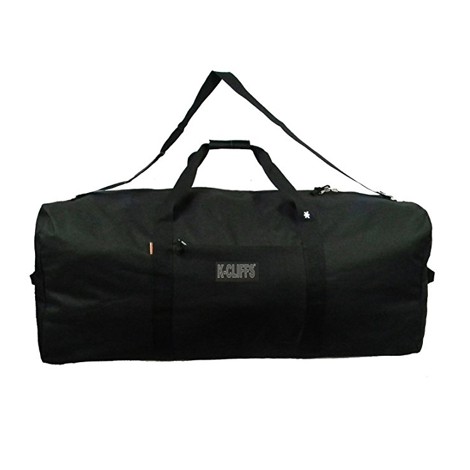 If there is any word to describe these bags, it is big. Choosing your size is highly encouraged with this bag because no matter which one you get, it may feel like you picked one that is too big. The smallest size can hold at least 50 lbs. So, if you have a lot of stuff to carry for a trip along with your hockey gear, this is the bag for you.
Sheer size
It may not seem like a big positive to have such a large hockey bag, it may even seem cumbersome if you do not choose the right size for you. However, when you have to pack your clothes, your spare clothes, your hockey gear, your hockey uniform, your sticks, helmets, and everything else, having a good, large bag to put everything in can be a godsend.
Water resistant
The material used to make this hockey bag is incredibly water resistant, meaning that you can take it out in the rain, even during torrential thunderstorms, without having to worry about the contents inside becoming soaked as well.
Cost and value
Easily the cheapest bag on this list, the K-Cliffs Heavy Duty bag is one of the best values you can find for a bag like this.



Jetstream is not exactly well known in the world of hockey bags, but their 36-inch model is one of the best. Standing at 36 X 16 X 15 inches, this bag is decently large and able to hold more than enough hockey equipment to help you through luggage on a flight.
Heavy Duty Material
The material used to create this bag is our old pal 600D polyester. Meaning that not only is it tough and resistant to most kinds of physical stress, but that water is unlikely to seep through it, even when left out in the rain. Meaning all the items kept within will be kept safe.
2 way zippers
Having zippers with handles on both sides is more useful a feature than one might think. You may think of this and immediately jump to the weirdest case scenario wherein someone tries to seal themselves in the bag, but it need not be so specific. There are plenty of scenarios wherein 2-way zippers prove themselves very useful.
Cost and Value
The Jetstream is decently priced enough, for what it is, making it decently affordable without being too expensive. However, as there are more expensive models on the market, there are also cheaper.

7

. The Northwest Company NHL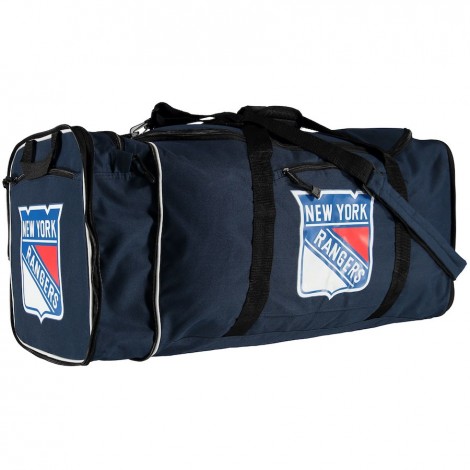 Coming in at #7, there is the Northwest Company's NHL Steal Duffel Bag. This duffel bag can be seen by some as being rather basic, not having a lot that's unique to offer, but then again, there's nothing wrong with a good hockey bag that works. After all, this is a hockey bag, people are only asking a few things from it.
Organized pockets
The pockets include a large main compartment in the center of the bag, with two pockets, one off to the side and the other up in the front. But the back pocket is comprised of an elastic mesh that makes it more suitable for slightly larger objects, or ones that you particularly do not want to lose. The four pockets are well organized so that you subconsciously remember where everything is even without them being labeled.
Nylon body
Polyester may be seen as the superior material in some areas, but in others, nylon has it beat by a mile. While polyester dries significantly faster than nylon, nylon is both softer and stronger than polyester. So when you are carrying a nylon bag full of heavy equipment which is now loading down on your back, you might just appreciate that bag being made of softer materials.
Cost and Value
The Northwest NHL is not only a sturdy piece of hardware but also very affordable. So if you are looking for a no-frills hockey bag with a great price tag, then the Northwest NHL is the one for you.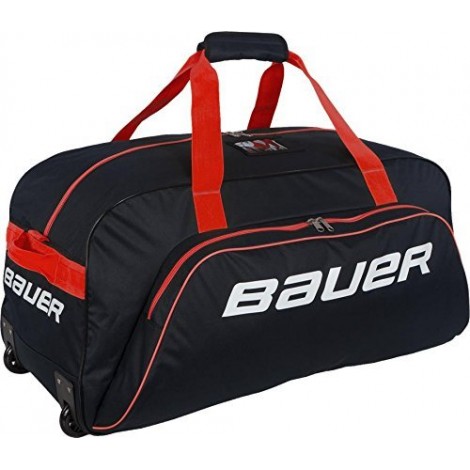 Bauer has been making hockey bags for some time now, and their premium line is their top quality items. This list chose the S14 since it is the one with the fewest problems and the most benefits. The Bauer premium S14, despite its low placement, is nonetheless a high-quality item that many athletes are proud to have as their bag of choice.
External skate pocket
One bit of nervousness that hockey players have is the worry that having their skates inhabit the same space as everything else in your bag may damage one or the other. After all, skates are meant to be sharp as knives, so you want to keep them sharp, while also making sure they do not hurt anything else. Luckily this bag comes equipped with an external bag wherein you can put your skates to keep them out of the way of all your other equipment.
Cold resistant
Like other hockey bags, this bag is made of polyester, which does not hold up well against the cold. In fact, polyester on its own is prone to cracking when under cold for too long, which is a problem of sorts when you are bringing it to an ice hockey game. Luckily, the Bauer Premium S14 has plastics interladen in the fabric, that keep it from cracking when exposed to low temperatures.
Cost and Value
The cost for this bag may outweigh the value to some folks. However, the Bauer S14 is more than worthy of that price tag.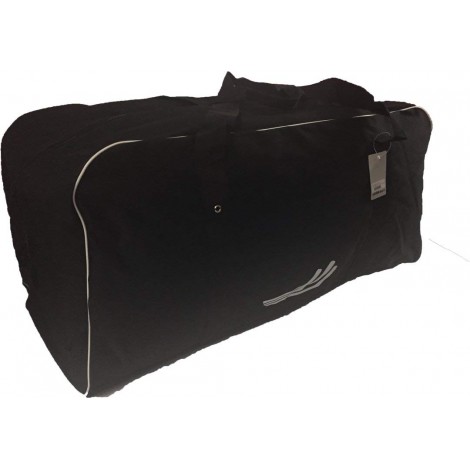 For the cash you have to pay to have this, the Jamm 36" senior duffle bag comes with massive value to compensate. Sporting enough space for every entry in your hockey gear, this bag has enough compartments for not just your uniform but also for your spare clothes, almost eliminating the need for a separate suitcase.
Versatile
While this is a list of hockey bags, versatility is still important. After all, what if you have two kids; one likes hockey and the other likes baseball, and you can only afford one bag at a time? In that case, this bag will be able to serve them greatly, as its compartments can be used for any kind of tool and sports gear.
Easy to carry
This bag is built in a way that allows for excellent weight distribution, meaning that carrying this bag is easier than many other bags on the market. On top of that, the design is more streamlined, meaning that it is not as cumbersome as other brands.
Cost and Value
The bag is priced very reasonably on the retailer market. Meaning that if you want this bag, you are likely to get it for a very good price.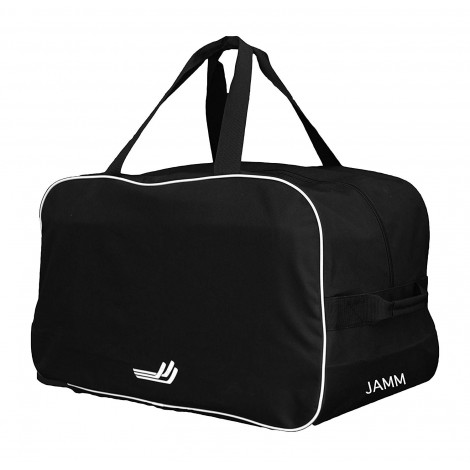 Bringing up the rear, another product from Jamm, this time the 26" wheeled hockey bag. Not many wheeled bags on this list, in fact, this is the only one. No real reasoning behind that, but this bag has more beyond that simple gimmick.
Perfect size for adults and kids
For adults and kids, this is a real sticking point. It can be hard to find a hockey bag that accommodates both extremes, especially if you are a poor family who cannot afford to change out bags as your kid grows up. However, the Jamm 26" is the perfect size for both kids and adults to use. It is not too cumbersome for kids, but it is not too small for adults either.
Wheels
Because it is on wheels, many of the problems that come with carrying a big heavy hockey bag are nullified. It is not as cumbersome, there is no problems with your walking speed or gait, and generally, it is an easier experience.
Cost and Value
Depending on your financial situation, the Jamm 26" may be perfectly reasonably priced, or it may be excessively overpriced for such a basic bag.

Subscribe to our Newsletter