Best Heated Vests Reviewed & Rated for Warmth
In a
Hurry? Editors choice: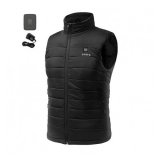 Test Winner: Ororo Lightweight

So, you've decided to finally take up that mountain climbing expedition that you kept telling yourself you'd get to eventually, and there's just one takeaway you have from the experience so far: it is very, very cold up there. Indeed, the top of the world is not one for the faint of heart, or the modest of condition when it comes to extreme cold. Or maybe you just live in a part of the country where it gets really dang cold, and you want to save money on heating. Fortunately, there's a solution for either scenario. Heated vests are a great way to survive those particularly cold winter days, what with climate change making the cold colder and the heat hotter. They're a great means of keeping warm without having to pack on the bulk and can even charge your portable electronics in some special cases. And today, we're going to be counting down what we believe to be the best heated vests and jackets out there right now. So, get ready to get toasty, because we're counting down the:
Standout Picks
Criteria Used for Evaluation
Effectiveness
There are three vital heat zones placed across the human torso. These zones are the optimal locations for outside sources to spread heat throughout, making new body heat, and helping the body stay nice and warm against the elements. If you want to warm up, you need to get your hands on a heated jacket that has their heating pads placed specifically on those areas. Now granted, this is not absolutely required to get nice and warm, but it is one of the faster ways, especially when fast is what the heated vest in question is claiming to deliver.
But sometimes you want a specific spot to get nice and toasty, and that's when special heated vests come into play. These vests are like any other, except they have more than just three heat pads, scattered to other strategically placed parts of the vest. It's always good to have more heat, just make sure that with these vests, you keep it below 100 degrees. Otherwise the cold isn't going to sound like such a bad idea soon.
Comfort
But of course, it doesn't matter how well put together the vest is, if it isn't actually comfortable, no one is going to care. We all demand a simple thing from all clothing, no matter how much technology they have going for them: be comfortable. When we put on a vest, we expect it to at least feel marginally good to wear, otherwise our endurance for it will run out very quickly. And the fact that it's cooking us alive at about 90 degrees Fahrenheit will become less warm and snuggly, and more "get this blasted thing off of me!" irritating. So, we made sure that, near the top of our list of criteria, we made sure to have comfort listed as one of the most vital things to look for in a heated Vest.
Insulation
But what is any vest, or any coat in general regardless of type, for that matter, without some kind of insulation? This was, shockingly, something we had a lot of trouble with when it came to even finding some entries that even had this criteria. We had to dock it points of importance, just to make sure that we even had enough entries. What little insulation there is with most of these vests, is usually not enough to actually retain the heat they generate. Sure, most of it goes in and stays in, but the lack of insulation means that things like the outer cold and the wind can still mess you up pretty bad. Fortunately, though, we did manage to find quite a few that did remember the importance of insulation for their vests. And these entries definitely earned a much higher spot on the list as a result.
Value
The final criteria we used for this list was the price of each entry. One may look at the prices of these vests and scoff at the thought of spending so much for a particularly hot vest they probably don't really need. And indeed, the prices can be, well, obscene sometimes. But we made sure to pick out the best priced of the bunch. And we also made sure to pick out the entries that best justified the prices they were asking for. It was, in our eyes at least, the best way to choose the best of the best, considering how high the prices can be for even a lackluster or flat out bad heated vest. After all, if you spend the kind of money that a heated vest will ask of you, it stands to reason that you would want the features included with the thing to actually be worth the triple digit investment you just made, otherwise, well, what was even the point?
10 Best Heated Vests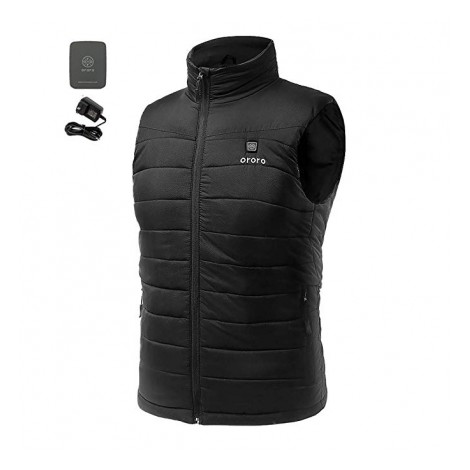 Kicking off our list on the right goot, we have the Ororo Lightweight Heated Vest. This 100% polyester jacket is brought to us by the folks over at Ororo, who have garnered quite the reputation when it comes to high tech clothing like this. So, let's take a look and see just how warranted that reputation is.
Fast and long heat
Like most heated vests out there, this one is powered by a rechargeable battery that you plug into the wall. This one, however, is particularly fast, much faster a charge, in fact, than most models on the market right now. Thanks to its 7.4V CE-certified battery. And not only is it fast, but it has an 8 hour minimum lifespan for its charge.
Good for all occasions
This vest, like most others of its kind, provides you with not only warmth to get through those cold winter days, but a design that molds to your torso, and no sleeves to give you full arm movement. So, you can take this vest with you to walk your dog, for a morning jog, and even worn underneath your usual winter jacket. Perfect for the person whose routine does not alter just because things get a little nippy outside.
Cost and Value
Like most heated vests out there, this one's a bit pricey. But as we've demonstrated throughout this segment, this vest is more than worth the price. Which is, of course, what got it to #1.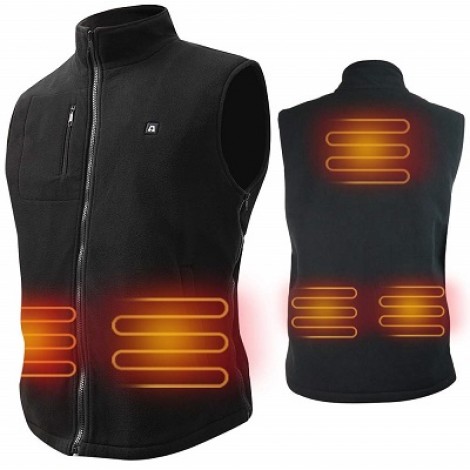 Coming in second place on our list, we have the ARRIS Heated Vest. This is easily one of the most versatile and adjustable vests on the entire list, with three sets of zippers that you can use to adjust how loose or tight the vest is depending on your size. So, does this thing have anything else going for it? Let's find out.
5 Pads, 5 temperature controls
You probably think the quality of the heated vests comes from how much heat they put out, but we believe the real measure of a vest's worth is how many heating pads it has in its system. Which is why we love ARRIS' heated vest, for its set of 5 heated pads, which in turn come with 5 heat options.
Great for pain
The great thing about heat is how it benefits those with sore muscles and joint. Which is what makes a heated vest so excellent as well. Thanks to the strategic placing of its heating pads, it helps to promote blood circulation, and relieves muscle and joint pain. And doing so, all while being one of the comfiest vests on the market.
Cost and Value
This vest costs a little bit more than the previous entry, but not by much, and still well within the borders of the average price of such a vest. So, if you got the money on you, and you have this pain that's been giving you trouble, then you're looking at the right vest for you.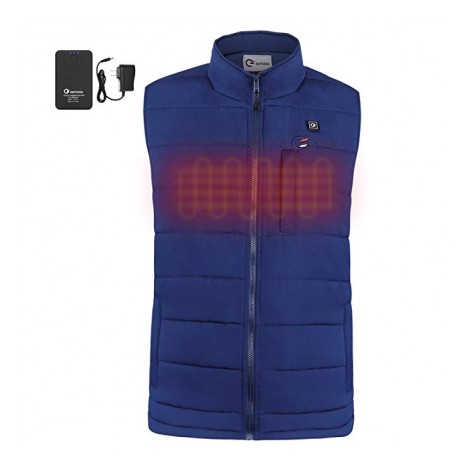 Finishing up our top three segment, we have the Outcool Heated Vest. Made from a water and wind resistant nylon shell that was lightweight but also tough, Outcool has more than outdone themselves with this excellent piece of fabric. So, what makes this heated vest so good besides cosmetics? Let's take a look and see.
Specially designed
When making a heated vest, the devil is in where you put the heating pads. It's essential to put them where you believe they will most efficiently spread throughout the rest of the body once activated. In the case of outcool's entry, this vest is designed with heating pads specifically placed to provide the most heat possible to your body's three core areas. This puts the most heat into your body and helps it circulate the fastest.
Complete temperature control
One of the pet peeves surrounding heated vests is that there's little temperature control. Most heated vests are controlled by a set of preset temperatures that you set it to. But this vest is completely adjustable in its heat output, making it much more desirable in the process.
Cost and Value
The best part about this vest is the price. It's a very modest price, as far as high quality heated vests go, but when you also take into account all the different features and innovations that this vest offers you, it becomes a much better deal as a result.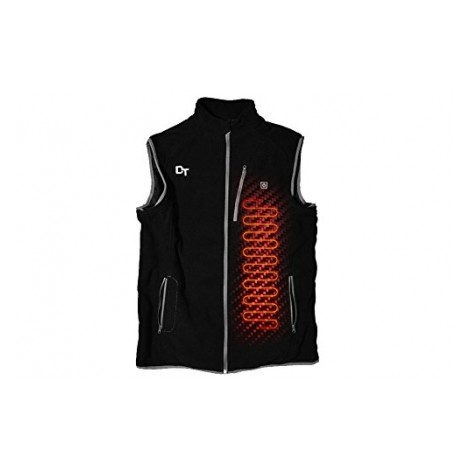 Coming in at #4, we have the DT Electric Heated Vest. Sporting a much thinner design than the other entries before this one, and with a max temperature of 135 degrees Fahrenheit, this heated vest is one of the lightest on our list, but don't take that to mean that it doesn't earn its spot this high on the list.
Smartphone charger
Not only is this a great light vest for those mildly nippy winter days, but it's also a great portable charger. Sure, it drains away the battery used to heat up your vest, but if you need an Uber or a taxi, then you likely need all the battery life you can get. It's a tradeoff, to be sure, but one that most people will be more than happy to make under the right circumstances.
Water safe
It probably doesn't need to be said that heated vests were not always the best with water. In fact, a majority of the time, they short-circuited the minute anything substantial so much as splashed on them. Fortunately, that's turning itself around these days, as seen with this vest here, which is one of the most waterproofed vests on the entire list, and elsewhere at that.
Cost and Value
The price of this vest is a good deal above the previous three, well into a pricy territory. But like those other entries, it more than earns its price tag through sheer quality of performance.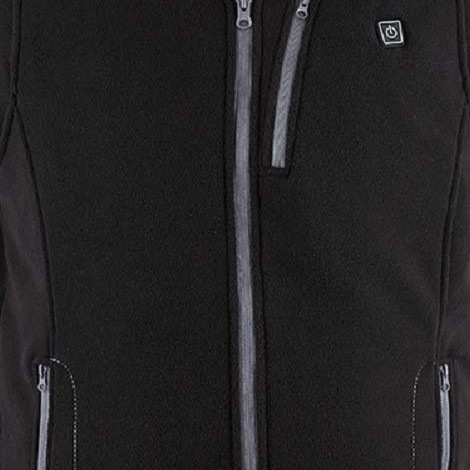 For our #5 spot, we chose the Prosmart Heated Vest Polar Fleece. This option is the ultimate in lightweight, high quality heated vests. If you're not looking for anything too bulky, but are looking for quality heating all the same, then you're looking in all the right places with this product. Let's explore further on why.
Efficient design
When designing a heated vest, efficiency is the main thing you want to shoot for, above all else, and that's something that this product achieved with flying colors. Armed with three heat settings, either low medium or high, and designed in such a way that allows this vest to warm up rapidly when exposed to cold weather, this is about the most efficient heated jacket you're likely to find out there right now.
Cell phone pocket
This vest also comes with a convenient pocket for your cell phone located on the upper front left side of the vest. In it, you can not only store your smartphone or android, but you can also charge it, thanks to a convenient charging cable located inside of it. Perfect for the person on the go who needs to charge up their phone on their way to work.
Cost and Value
This is easily the cheapest entry so far. While there are cheaper ones out there, to be sure, this vest is still incredibly affordable when you consider what you're getting out of it.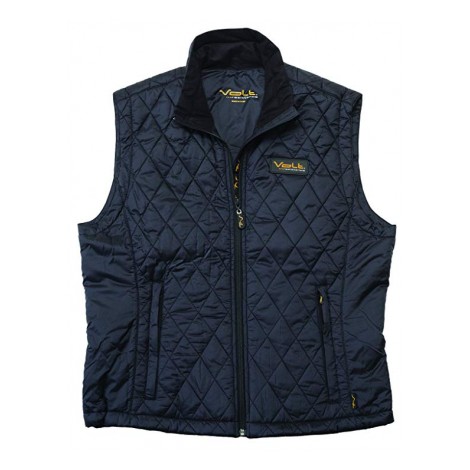 Coming in at #6, we have the Volt Cracow Heated Vest. This imported vest made from quilted nylon will give you maximum warmth and comfort in most cold climates, even without turning on the heat. And when you do turn it on, you're basically nice and toasty.
Great insulation
Like we said, this vest is great with or without the heat functions. And part of that is because it's by far the best insulated vest on this list. This vest is made from 80 grams of lightweight, thermally efficient polyester fiber, which makes up the insulation. A lot of big words to essentially mean that once you turn on the heat, it's never getting out.
3 zone heating
There are three core areas on the body where heat can best be circulated throughout the entire body and are essential to bundle up in order to survive the cold. Which is why this vest prioritizes the bundling up of those three core zones, and focuses the majority of that heat on those areas. Meaning that this vest heats you up fast and, thanks to the insulation, keeps you there.
Cost and Value
Unlike other entries on this list, this vest comes in a variety of different sizes. And with those other sizes comes different, higher and lower prices. However, don't go thinking you've lucked out, because high or low, this vest is nothing short of pricey.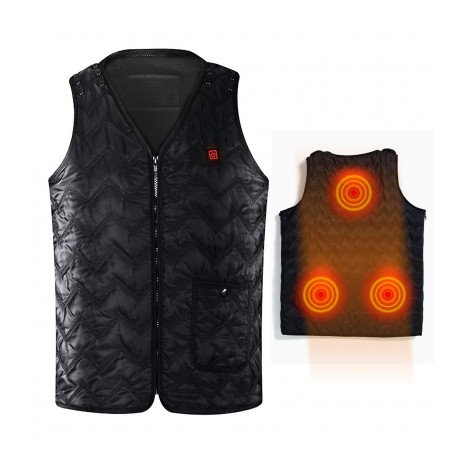 For the #7 spot on this list, we have the Vinmori Heated Vest. This nano fabric heated vest is precisely what to look for when you want maximum protection with a modern edge. This vest has everything you look for in a modern vest, but with all the classic appeal of a good heated vest.
Adjustable heat level
While you can't specify the kind of heat you want to put out with this vest, you do have more options than your average heated vest on the market. This option gives you five heat levels to play around with instead of the industry standard 3. So now you have more specific heat levels to play with, instead of having to work with the 3 heat levels and hope it's enough.
Quick and smooth electric warmth
With a heated vest, what you want to look for is quick and smooth warmth that gives you what you need, when you need it, without any slowness, and definitely without any threat of radiation poisoning. We can all likely agree that the latter of those two is definitely one instance that no one wants to happen. Which is why this heated vest smoothly gives you maximum warmth in as little as 3 seconds.
Cost and Value
While not quite as cheap as the previous entry, this is still one of the cheapest entries on this entire list, giving you a professional level of heat and warmth at a very reasonable price.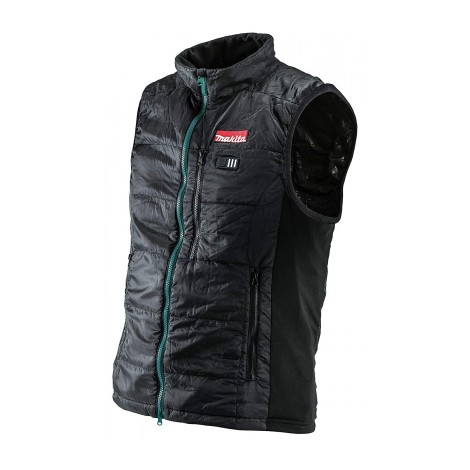 Kicking off our final three entries, we have the Makita Lithium Ion Heated Vest. This is a four pocketed, phone charging, light vest that anyone can wear in light winter climates. And when the weather outside gets mighty frightful, a simple flip of a switch will heat this vest up in seconds.
Interchangeable battery
With other heated vests, the battery you buy with the vest is the one you're stuck with. The thing is usually rechargeable and is permanently wired directly into the vest regardless. However, the battery of this vest can be swapped out for another, if the battery has gotten damage beyond repair. Sure, it can only use one other type of battery from the one you bought with it, but it's a lot more than what the other entries on this list offer you.
Great for charging electronics
The great thing about this charger, unlike other chargers in other vests on this list and elsewhere, is the fact that the charger and the battery for the heat are completely independent of each other. There's no drain on either for using the other function, so if you need a warm vest and a charged up smartphone, then this is the vest for you.
Cost and Value
The problem here is the price. From reasonable prices, we slingshot right back to extremely expensive price ranges with this item. In fact, this may be one of the priciest entries on the entire list.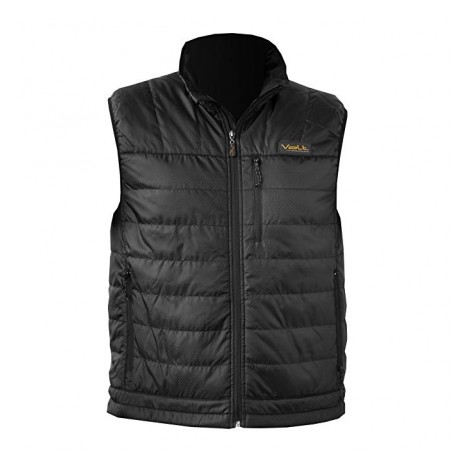 For our second to final entry, we have the Volt Resistance Heated Vest. Our second to last volt entry for this list, but a very high quality one to go out on, this vest will give you everything you're looking for in a heated vest, for the modest sum that we've seen be the average so far.
4 level microprocessor controller
Of course, it wouldn't be much of a heated vest if there was no way to actually access the heating controls. This is where the controller comes into play. The controller of a heated vest is usually sewn right into the fabric of the vest, for maximum convenience. In this case, the controller in question is a highly advanced, 4 level microprocessor controller that helps you select the desired heat output quickly and conveniently.
Great heat output
Though we doubt you would ever want to go this high, this vest has a maximum heat output of 150 degrees Fahrenheit. This maximum output, it can run continuously for up to 2 or so hours. And at more moderate temperatures, this vest can run up to ten or more hours. So, you'll rarely have to worry about this thing giving up the ghost on you in the middle of the coldest day of December.
Cost and Value
While this vest does have a price range, it's one of the most inconsequential price ranges we've ever covered on one of these lists. With barely even a single dollar between the highest and lowest sizes, if you can afford one, you can definitely afford the other. Which we do think is a good thing, despite our snark.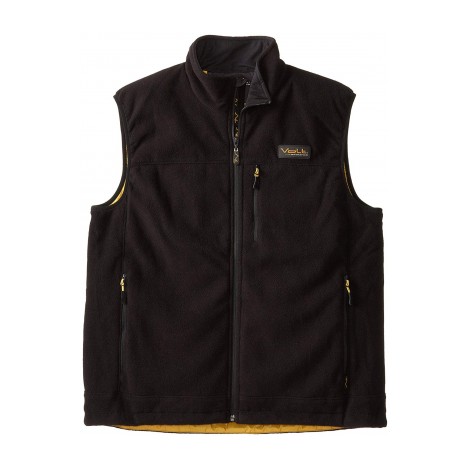 For the final entry for our list, we close out our time spent with Volt, with the volt rechargeable heated vest. It may be in last place, and it may be the last of the line of volt vests that we would recommend, but that doesn't mean it isn't of high quality. As you'll soon see, quite the contrary.
4 panel heat system
Like we said earlier, there are three core zones which are best for redistributing heat throughout the body. So most heated vests try to shoot for those areas in order to properly hit the right amount of heat distribution. But that doesn't mean that a heated vest should avoid those other areas as well. In fact, this vest is equipped with four heating pads, which hit the three vital areas, and one more for good measure.
Wind resistant
It probably doesn't sound like a whole lot, but a stiff enough breeze in cold enough weather can cut right through even the thickest coat and chill you right down to the bone. Which is why this coat, as thin as it may appear, is actually one of the most wind resistant vests you can find.
Cost and Value
The big problem here is the price, which is what got this otherwise excellent vest on the bottom rung of this list. It's not even the most expensive price range on the list, it's just that neither end of this price spectrum is worth the money for an otherwise pretty average coat.

Subscribe to our Newsletter