Best Gun Safe Dehumidifiers Reviewed for Quality
In a Hurry? Editors choice: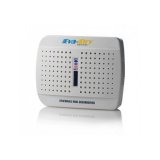 Test Winner: Eva-dry E-333 Renewable

Whether you're a professional hunter or enjoy target shooting as a hobby, then you know how important it is to
maintain your gun
. We know how pricey a weapon can be, so we're pretty sure you'll want to keep it looking and performing like new for many years. A dehumidifier is a device that reduces and maintains the level of humidity in the air. Since most gun safes are not opened on a regular basis, air does not circulate inside of it. Changing temperatures in the room outside of where it's located can cause the safe's internal temperature to fluctuate and allow moisture to develop. A gun safe dehumidifier is designed to absorb that moisture and keep your weapon in tip-top shape. With the options out there, you will be able to find something to help
protect your firearms
from rust, mildew, and moisture.
Standout Picks
Criteria Used for Evaluation
Model
There are two main types of gun safe dehumidifiers which are desiccant and electric. You will want to become familiar with each kind because each model is used differently. You will need to think about the advantages and disadvantages of each kind of gun safe dehumidifier when you are purchasing one for your gun safe.
Desiccant models use a material that absorbs moisture from the air and works like a sponge. They will absorb moisture until they are fully saturated and then will stop. An electric version uses heat to prevent condensation and evaporate moisture away. This sort may require you to run wires into the gun safe or it will require batteries to power it. You will need to decide which type will work best for your needs and choose the one that is right for you.
Ease of Use
Gun safe dehumidifiers are mostly easy to use, but you will need to become familiar with the kind that you are planning on purchasing in order to use it properly. When you are looking for one for your gun safe, you will need to think about how long you can use it between charges. Another thing you need to become familiar with is how you will recharge these so that you can reuse it. Some have indicators that will let you know that it needs to be charged while others will simply stop working.
Desiccant models will either need to be replaced or recharged on a periodic basis. If you have an inexpensive desiccant unit, then you may need to simply throw it out and replace it with a brand new one. Sometimes an inexpensive desiccant model can be recharged by baking it in the oven at 350 F until it is fully dry. If this is not the case, then there is not much that you can do with a used one other than to replace it completely with a new one.
Some electrical units do not require any maintenance at all which is part of the reason for the popularity of these devices. An electrical modelthat plugs into your wall will run as long as the electricity does not go out in your home. This means that there is no need to worry about indicator lights or recharging batteries. You can tell that the unit is working by looking at and feeling your guns. As long as they are warm and dry, you will know that it is working properly and there should be no need to worry about if your guns are protected.
Use
Gun safe dehumidifiers need to be installed properly in order for them to function correctly. While it is not difficult to install these in your gun safe, you will need to think about what sort of gun safe dehumidifier you have purchased in order to install them properly in the gun safe. Some require more effort to install while other kinds do not require any serious effort to install them in the gun safe. As always you will want to follow the directions that are provided by the manufacturer in order to make sure that it has been put into your gun safe correctly.
Although the wired electrical models require the least amount of maintenance, they also require the most amount of effort to install. This is because this sort of gun safe requires a constant source of electricity in order to function properly, which means that it requires access to an electrical outlet.
Desiccant and battery-powered models do not require you to modify the safe. If you are using a battery-powered, then you will just put it near the bottom of your safe and turn it on. The bottom is used because heat rises which allows it to work better. Desiccant models can be placed just about anywhere in the safe, but if you have a larger safe then you will want to use more than one to make sure that you have even coverage throughout your entire safe. This will make it more effective and protect your guns better.
Effectiveness
Since gun safes come in all different sizes, it makes sense that you will need to think about the zone of coverage when you are picking out an option for your gun safe. If your dehumidifier does not have a sufficient amount of coverage for the safe, then your guns will not be properly protected from the humidity. This means that you can still experience issues such as mold, mildew, and even rust on your guns while stored in the safe because you have not removed enough humidity from the air. For this reason, you should look at the coverage area listed to make sure that it is up to the task of protecting your investments in guns.
Dehumidifier rods are one of the most effective items for removing humidity from your gun safe. The smaller ones can treat up to 100 cubic feet and you can purchase large ones that will protect up to 500 cubic feet.
Desiccant versions can protect from areas from 57 cubic feet up to 100 cubic feet depending on the kind of dehumidifier you end up purchasing.
The battery-powered models have a coverage area that is similar to what is found in the wired electric ones. You will just need to make sure that you check the power levels on these to ensure that your coverage is sufficient.
10 Best Gun Safe Dehumidifiers
1

. Eva-dry E-333 Renewable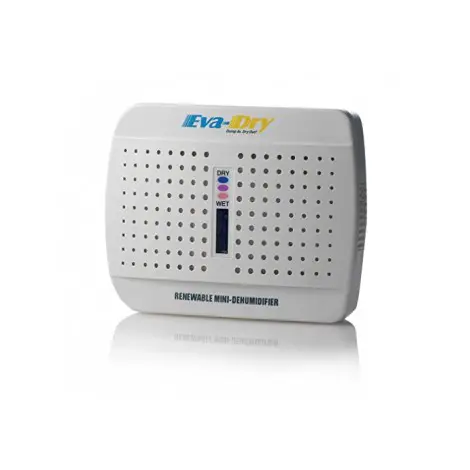 This new and improved unit is guaranteed a dry success. Safety comes first when it comes to this design, as it offers a spill-proof and freestyle, that is non-toxic to children and nosy pets! While it is easy to place, this one is sure to stay in place.
Non-Toxic
Unlike most, this one is a non-toxic, working machine. With the amount of power that this unit has, it is designed especially with a colorless and odorless, nontoxic silica bead. What that means is, it is safe for any of your family members.
100% Renewable
Everyday life can be incredibly hectic. Who is going to remember to check the dehumidifier? Now you don't have too, with the New and Improved Eva-Dry E-333 Renewable dehumidifier. Manage moisture and mildew with the everlasting renewable version!
Cost and Value
This compact, easy to use option, is not only safe but durable and long-lasting. With the ability to self-renew, you know this humidifier is in for the long haul. Keeping your firearms dry is incredibly important and this little unit is sure to get the work done.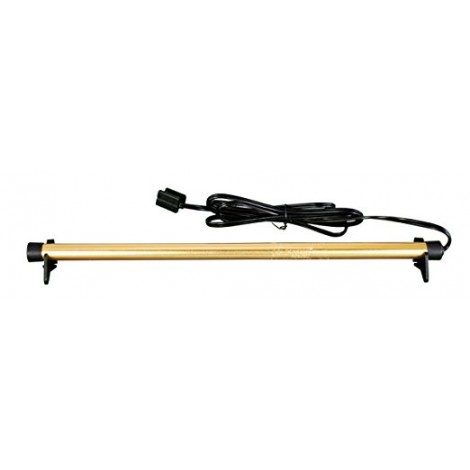 Popular for its long slender shape, the Golden Rod is a common choice among those who keep their safes dry. It heats up to a certain degree and allows warm, dry air to circulate on a constant basis, ensuring all of your guns will remain dry. At an affordable price, this will not let you down.
Super Safety
Safety is key in any household. One of the most well-known facts about the Golden Rod is that it is the safest model on the planet. The best part, the unit mounts in place, so it will not fall or swing down. Also, the heat in this rod is distributed evenly, allowing a safer alternative to heating in an enclosed area.
Cost Effective
The Golden Rod is extremely cost-effective, unlike any other. Running at just a maximum of 38 watts, less than your average light bulb, this one is likely to only cost you pennies!
Cost and Value
For everything that you will get with the Golden Rod, the price is right. With a lower cost to run, this is likely to keep money in your pockets, not just by power, but by the cost of guns, they will surely stay dry and never have rust pits.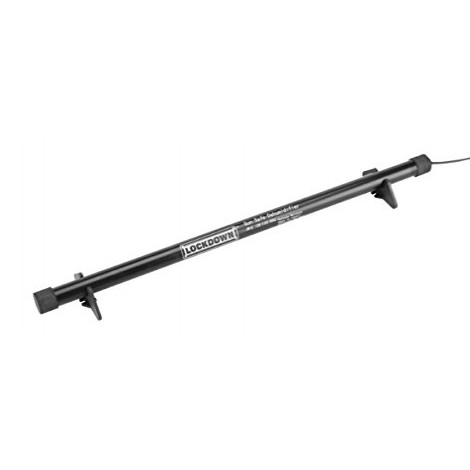 Available in different volts, this Lockdown Rod is incredibly popular within the gun world. Known for its compact style and ability to fit in almost any small area, this is almost made in different sizes, based on the area you need to pull moisture from. Offering a constant airflow, heat included, you are sure to feel comfortable knowing this is in your safe.
Ease of Install
When installing the Lockdown Rod, there is an incredibly, convenient feature that allows you to cut your cable to the length that you want it. With the world the way it is with technology, we have phased out the power cable dangling style. The rod comes with the plug-in detached, allowing you to cut to length.
Constant Air Circulation
The purpose of a dehumidifier is to maintain a dry area. With the Lockdown Rod, there is constant dry circulation throughout your safe, promising dry, rust-free firearms.
Cost and Value
This has a lot of features to offer the firearm owner. Loved for its sleek style, high quality, and low cost, this one has become one of the all-time favorites, in the dehumidifier world.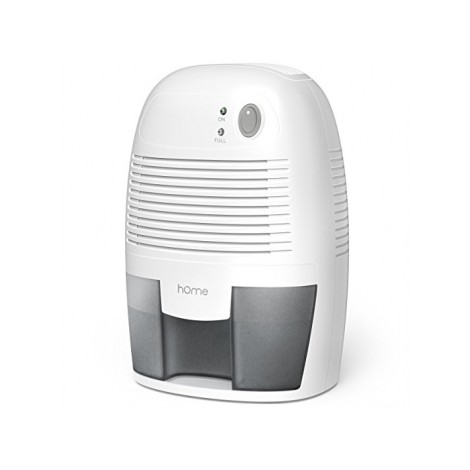 This compact, mini hOme Small is likely to make you feel at ease. With its power to help maintain excessive moisture, this works hard and takes care of what is important to you. Featuring a small, attractive style, the hOme Small is likely to fit wherever you need it!
Auto Shut Off
With everyday life, you get busy and may forget to manage your dehumidifier on a daily basis. With that being said, this offers an auto shut off for the busy lifestyle. Once the tank is full of water, the dehumidifier will shut off, ensuring that the tank will not overflow.
Quiet and Safe
The hOme Small offers a low noise thermoelectric peltier module so you will never have to listen to it working. Who wants to listen to a machine constantly running to suck moisture out of the air? Unlike most, the hOme Small quietly offers extra safety, as well, using a certified adapter to prevent overheating.
Cost and Value
With size and safety in mind, this quiet model may be the one for you. The compact style runs at a low watt, offering extra savings on the electric bill. Designed specifically with a special module to keep quiet, this is guaranteed to work hard, without a sound.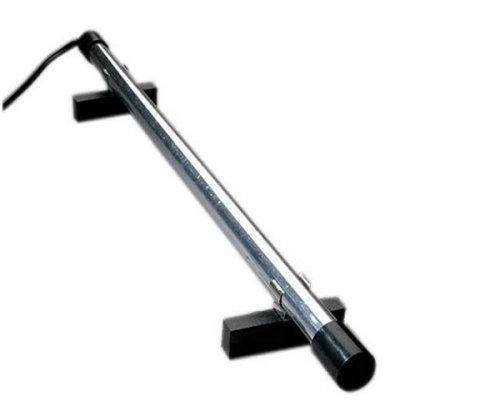 When it comes to finding a dehumidifier that was constructed to help keep as much moisture from your guns as possible, you want to get your hands on the very best. Measuring at 18 inches long, this was intended to be used in a safe that is 30 inches or longer. While this is a longer model you don't want to use it in an overcrowded space.
Can be Hand-Held
Many of these tend to get extremely hot, particularly electrical ones, which is why many of them are quite difficult to hold. The Browning Ever Dry Electric Rod was constructed to remain cool enough that you can easily and quickly hold it up if you wanted too. While the best form of using it is by having it in your safe, sometimes you do want to target certain weapons so having something you can hold will come in handy.
Removable Cord
In order to provide the easiest form of installation, this one comes with a removable cord. Having a removable cord enables you to place this in any area you would like without compromising how well the product will work. Furthermore, having this feature enables you to place it in smaller safes and not have to worry about it getting in the way.
Cost and Value
As for the cost and value of this product, many have noted that it looks like Goldenrod but you will come to note that it is not only cheaper but it is also safer. With that being said this is priced quite well. It's also easy to use so you are getting exactly what you pay for.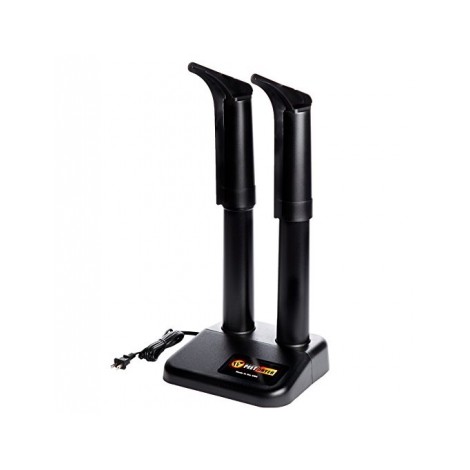 The PEET Dryer offers a lifetime of dry safes and firearms. Working hard, this little unit is well-loved among safe owners because of its dependability to get the job done. Featuring a quiet workload, this is known to remove moisture for up to 80 cubic feet. Safety is key with PEET making this one of the safest dehumidifiers on the market.
AirChamber
This PEET's product offers a specialized AirChamber that allows heat to constantly circulate throughout the safe, promising to break a bad habit of moisture in your safe, while managing the protection of your firearms.
Warranty
Guaranteed to keep the rust at bay, this product has a warranty, backing its performance. While the makers know it is a reliable product, the warranty is in place to help you feel at ease while managing your firearms.
Cost and Value
This small but reliable unit has a lot to offer when it comes to protecting your firearms. With its small design, but huge ability, this dehumidifier is made to last. Backed by a 5-year warranty, the PEET Dryer allows you to feel at ease with its constant flow of dry air, circulating for years to come.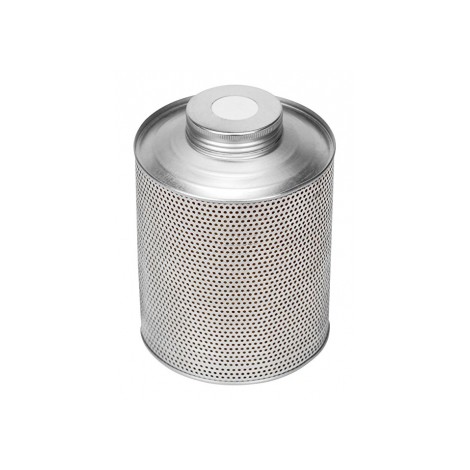 The Lockdown Silica Gel Canister provides ever last protection to your safe full of firearms. With its unique design and easy to manage insides, this canister is well known. The Lockdown Silica Gel, 750 grams is rechargeable and easy to place. Safe and secure, this canister does not make a sound.
Color Changing Gel
The Lockdown Silica Gel, 750 grams Canister contains a silica gel that is color changing. The color-changing gel is designed to tell you when there is moisture in the safe. Ready to renew? Just pop the canister on the stove and the beads will change back to its original dry color.
Durable Venting
This canister has a durable venting like outside that is guaranteed to pull moisture, mildew, and mold away from your firearms. With its small size and durable venting, this little canister is known to provide a moisture barrier for up to 57 cubic feet!
Cost and Value
Made for durability and moisture control, the Lockdown Silica Gel, 750 grams Canister provides long-lasting protection for your firearms. With guaranteed protection, this offers a non-toxic gel that is color changing for easy reading, easy to renew in the stove, and just replace to where it was, to continue more moisture blocking storage.

8

. SnapSafe Rechargeable Silica Gel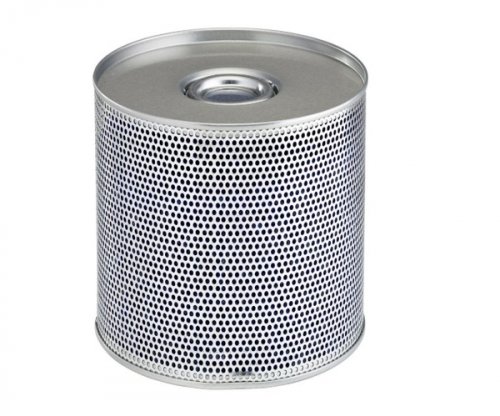 Designed to be compact yet mighty the SnapSafe Rechargeable Silica Gel comes prepared to help keep your safe as humidity-free as possible. Furthermore, this small canister might seem like it won't do much, but it is great for those that want to bring a product that gets the job done without taking up much room overall. Despite its compact size, this will help keep mildew, mold, and humidity away from your weapons keeping as much moisture away from them as possible.
Protect Against Moisture
As stated above, though mighty this is smaller in size but it will get the job done effectively, helping protect your weapon and tools from moisture, mold, mildew, and even rust. Having a protective aspect will ensure you get the most out of your product without getting in the way. Additionally, this product works great for use inside of a gun safe, cabinets and even closets.
Indicator System
Instead of having to guess when you should change them or replace them without thinking, this one comes with an indicator system. Having an indicator system will not only save you time but it will also save you money in the long run. This comes with an easy to read indicator on top once it is filled with moisture. Once it's filled with moisture the indicator will change to a pink hue, once that occurs you want to place it in the oven at 325 degrees, for two hours. Once those two hours have passed you can take it out and it is ready to work once again. This product was specifically created for unlimited recharges.
Cost and Value
When it comes to the cost and value of this product you will be paying a great price. Not only is it cost-effective but it can be changed over and over again saving you money in the long run. Its a win-win for all. You get a quality product without having to replace it continuously.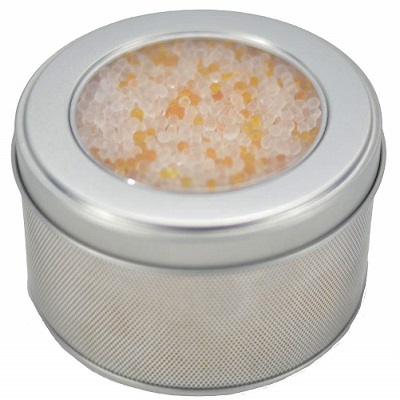 Another efficient choice would be Dry-Packs 300gm. We recommend this because it's one of the best when it comes to keeping your gun in great condition. However, you can use it in many other closed spaces, including shoeboxes, electronics or coin collection boxes. Whether you're quite forgetful, don't worry! This electric-free version warns you when it needs reactivation.
Electric-Free
One of the main advantages of purchasing this device is that it isn't powered by electricity. Therefore, it is perfect for outdoor usage. For example, you can put it in your gun safe when going hunting.
Easy to Reactivate
Another great feature of this gun safe dehumidifier is the reactivation. This process had never been so easy. In addition to warning you when reactivation is needed, the silica gel will prove its efficiency for a long time.
Cost and Value
This is worth purchasing if you want to increase the life span of your investments. What's more, this item is a bargain buy, taking into consideration its long term use.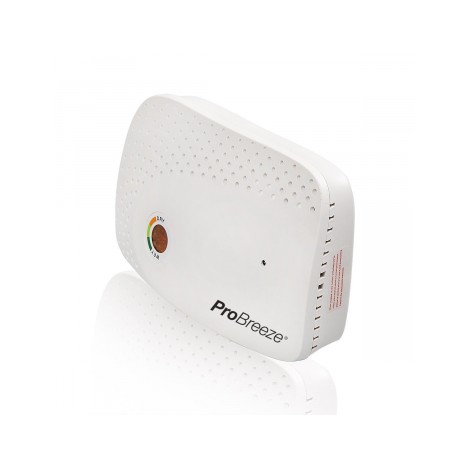 Ideal for your gun safe, this small, portable mini unit has the ability to reduce moisture up to 333 cubic feet! The Pro Breeze™is pet and child-safe, leaving you feeling at ease with a safe job done. This is long-lasting, allowing you to let it sit for up to 3 weeks, without having to recharge the unit. Being a wireless unit, this one is also cost-effective!
Silica Gel Technology
With the Silica Gel Technology, this is ideal for getting the job done. Allowing you to store in your safe for a few weeks at a time, maintenance-free! No canisters to empty, and long-lasting charge, the Silica Gel Technology is made to last!
Easy Plug-in Recharge
Absolutely wireless, this unit is pretty much maintenance free! Every few weeks, this will need to be recharged. You simply plug in the unit overnight and it is ready to keep your firearms safe again, the following day!
Cost and Value
The Pro Breeze™ is a compact style that you can place almost anywhere in you're safe. Being as it is completely wireless, there will not be extra charging on your electric bill! Just plug in the unit once every few weeks and place back in your gun safe. With the added bonus of being non-toxic, you have almost nothing to worry about while using this.

Subscribe to our Newsletter