Best Glock Night Sights Reviewed & Rated for Quality
last updated
May 16, 2019
Getting sighted in at night, if you wake up to some kind of strange noise or are caught unawares, can cost precious seconds that you might not be able to afford. A good set of Glock night sights are also great at helping you look down the sights in dark conditions. Any help with target acquisition when you are at that kind of disadvantage is a blessing. Here is a list of some of the best night sights on the market. These are all highly recommended, but many for different reasons. You will definitely find one that you like.
In a Hurry? The test winner after 11 hrs of research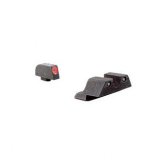 Trijicon
Why is it better?
Contrasting front and rear sights
U-shaped notch for quicker acquisition
Rear sight reduces glare
Durable materials
In a
Hurry? Editors choice: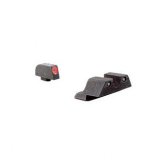 Test Winner: Trijicon

6
Interviewed Experts
14
Researched Sources
3333
Total Readers
1568
Reviews Considered
11
Hours Researching
20
Products Evaluated
Accuracy
Durability
Visibility
Speed
Versatility
By Default
In Depth Review Top 10
Trijicon
Truglo TFO
XS Big Dot
Ameriglo Ghost Ring
Meprolight Fixed Set
AmeriGlo Pro-IDOT
Glock Factory OEM
TRUGLO TFX PRO
Trijicon Suppressor
Haley Strategic Partners Thirteen
Table of contents
Criteria Used for Evaluation
Other Factors to Consider
Frequently Asked Questions
Sources
Top 10 Picks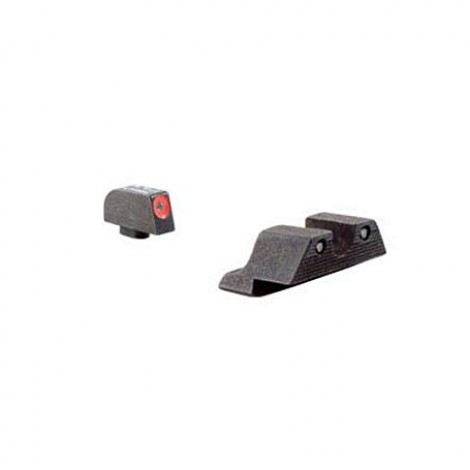 Contrasting front and rear sights
U-shaped notch for quicker acquisition
Rear sight reduces glare
Durable materials
Trijicon's night sight set is a great all around set. It prioritizes simplicity in its target acquisition at a reasonable price.
Read more
Night Sight
This set of night sights uses tritium-filled lamps to give a high level of glow that still doesn't distract from your target acquisition. It will remain clear at all times during the night, and won't be distractingly bright during the day. It uses a three dot sight system to allow you to easily line up your shot. It also has a brightly painted circle of phosphorescent paint that will catch the glow of the tritium and increase the brightness at night for unrivaled visibility.
Other Features
The way these Trijicon sights are designed will keep your focus up ahead on the front dot. The bright paint around the front sight ensures that your eyes will be led up to the front of the gun. The back sights are surrounded by black paint that will increase the contrast between the three dots. The rear sights are also textured so that there won't be any glare from unwelcome light sources. Lastly, the notch for viewing of the front sight is shaped into a "U" for even easier viewing for your eye.
Cost and Value
The Trijicon night sight set is a bit expensive when compared to some of the other sights on this list, but the quality of its design and materials makes up for it. These sights will last you a long time and you won't have to ever worry about your night visibility again. These sights increase visibility without sacrificing your target acquisition.
Tritium lamps for night shooting
Fibre optics for day shooting
Large dots for easy acquisition
Choice of contrasting colors if you wish
Tritium glows somewhat less brightly than the Trijicon
The TRUGLO TFO sights use both fibre optic cable for day shooting and tritium lamps for night shooting. This gives you a great shooting experience in all types of scenarios.
Read more
Night and Day Shooting
Of course, you want your night sights to be as effective as possible when you really need your pistol, but if you still want to go out to the range and practice your target shooting, then the TRUGLO is good for that as well. It uses fibre optics, which are a great choice of material for your Glock sights during the day, but also tritium lamps that effectively glow in the dark for if you need your Glock at night. This gives you the edge in many kinds of scenarios.
Target Acquisition
The TRUGLO uses two different kinds of materials to make sure you have high levels of visibility during the day and night, but it also has some other features that make this a good choice of night sight for target acquisition. It is a three dot sight with large noticeable dots that are very clearly visible. You can also buy these sights with contrasting colors of your choice so you can custom pick which type of visibility is best for you.
Cost and Value
These sights are a bit cheaper than the Trijicon sights on this list.This is a great choice for all kinds of shooting, and may be the type you want if you spend lots of time at the range. It has fibre optics that are designed for day shooting and they can make a big difference in your shooting for the way they absorb light.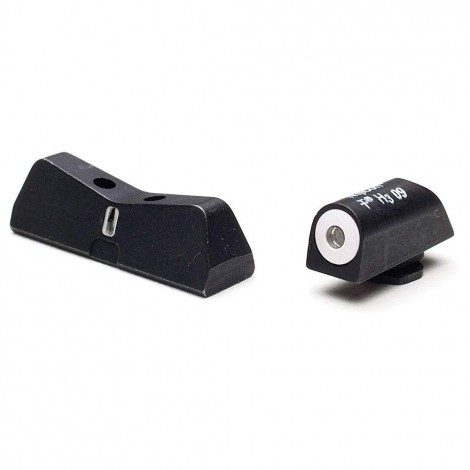 Two dot system
Can see front sight while moving
Easy to see front sight
Quick target acquisition
Aiming isn't as precise as three dot systems
The XS Big Dot sights use a different targeting system than the previous two entries, instead going for a two dot system and a different styled notch.
Read more
Night Sights
This night sight uses a tritium bar that is set in the middle of the a large white dot. The tritium is colored green for maximum visibility at night. The painted dot is white in color and much larger than many of the other painted dots you would usually see among these set-ups. This makes it very easy to see at night, and the white paint reflects the tritium very effectively.
Two Dot System
The Big Dot is designed much differently than many other sight systems you may be accustomed to. This sight has a lower profile for the back sights that allows you to see the front sight even when viewing the sights from an angle. The lining up is done vertically, instead of horizontally. It has a whit notch of glowing paint at the back centre of the sight. This allows for quick target acquisition because there are fewer marks to line up.
Cost and Value
The Big Dot is right between the last two entries on this list. This set up is geared towards quick target acquisition over precise aiming. In many firing situations you won't have a lot of time to aim and fire. Because this sight has been designed for firing at a moving target, in some ways it is a more practical application for a set of sights designed for night time use.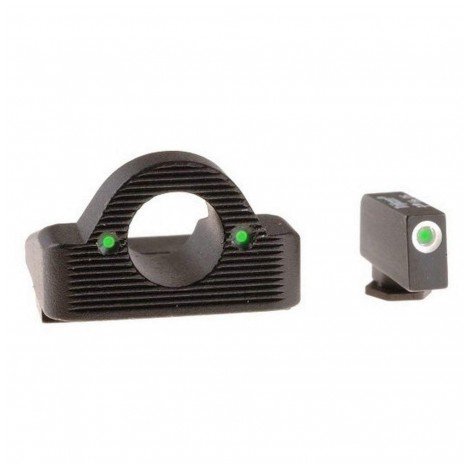 Effective green tritium
Great price
Very good at target acquisition
White paint embellishes front sight
Higher profile than other guns, might snag
The Ghost Ring is also a three dot sight system, but it has a unique design that declutters your view down the sight.
Read more
Night Sights
The sights of this sight set are made of green tritium lamps. This makes it a good choice for visibility during the night time, because of how effective green is at being seen against a black background. The tritium glows very brightly. All three markings on the three dot system have green tritium, but the front sight uses some white paint so that it glows a bit stronger, which will aid with your target acquisition.
Ghost Ring
This sight set is quite unique among Glock sights for its usage of a large ring instead of a notch in the back sight. This is useful because it will help you aim in some ways. It works like a scope and will help your eye centre on the target. It will also declutter your peripheral vision so you have an easier time finding what you are trying to shoot at.
Cost and Value
The Ghost Ring is a great deal. It is a bit cheaper than the other sights on this list. This sight was designed for those with a bit worse vision. If your vision isn't as good, then the large circle will help you aim more than a tiny notch in the back of your gun. If you've been noticing some trouble with your target acquisition at the range lately, then think about giving the Ghost Ring a shot.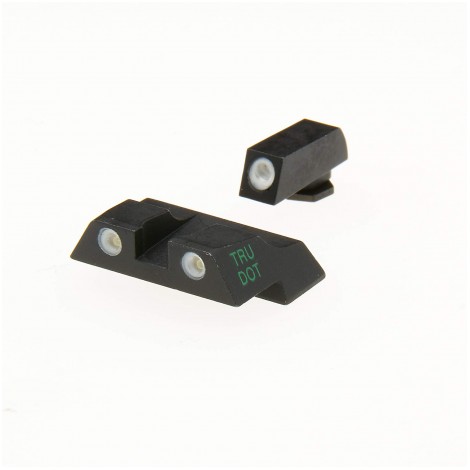 Very bright in all three sights
Low profile
Easy to take out of holster
Great price
Might rub you uncomfortably when in the holster
The Meprolight has three bright tritium lamps and low profile for very bright visibility while out at night. These sights are great if you want a lot of glow out of your night sights.
Read more
Night Vision
The night vision of the Meprolight is very effective. This is because of how much care has been put into each tritium lamp. Each lamp has a very effective amount of glow so that you will always be able to see each light on this three dot sight system. Each lamp is also surrounded by white paint that effectively reflects light for maximum visibility.
Other Features
The Meprolight is also very effective as a set of night sights because of its practical features. It has a very low profile so it is easy to see above the sight and catch things in your periphery. The low profile also allows for a quicker retrieval of your weapon from its holster.
Cost and Value
These are great sights for the price. The Meprolight is much cheaper than the more highly rated sights on this list. This is a good set of sights if you don't want to break the bank, but are still looking for something very practical for low-light usage.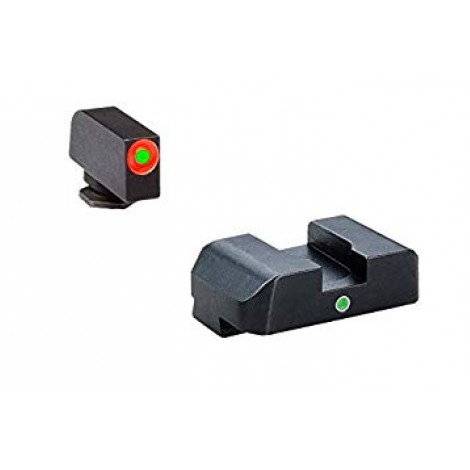 Good for day and night shooting
Good for accurate and quick shooting
Good price
Bright tritium
Front sight is sometimes not a great fit, may come loose
The Pro-IDOT is another entry on this list from AmeriGlo. These sights are different in that they use the two-dot system without sacrificing visibility.
Read more
Night Sights
This set of sights uses tritium lamps in both the front and rear sight for great visibility during the night time. The glow on these sights is quite strong, and you just need to line up two dots instead of three for effective aiming. There is a large dot at the front that is painted with phosphorescent paint. It is very effective at giving you a brighter front sight over the rear sight.
Other Features
This sight set is a two dot set, but it still uses a deep notch in the rear set for multiple ways to aim. This means that you can use this sight set for both target shooting and for quick acquisition. The red dot at the front makes it a good choice for day shooting as well. So this sight set has been designed for multiple types of shooting.
Cost and Value
The Pro-IDOT is a bit cheaper than most of the other sight son this list. It is a very versatile set of sights. It has feature sin its design that are meant for both day and night shooting. This is accomplished by the large red dot at the fron sight, as well as the effective tritium lamps in the front and rear sight. But it is also good for accurate and quick shooting. The notch makes it useful for accuracy, while the two dot system makes it an effective shot when you need to be quick.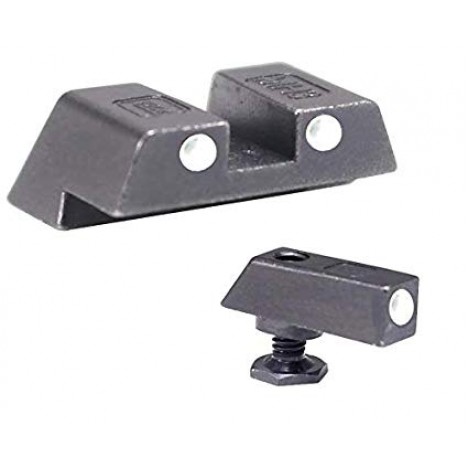 Made of durable metal
Bright tritium
Good price
Simple design
Might be too simple for some people
These sights are actually from the same factory that make the stock sights that come with most Glocks. The difference is that these are set up for night use, and they are more durable.
Read more
Night Sights
These night sights put a focus on being a very simple solution to your needs for night shooting. It is a three dot sight with three tritium lamps for maximum visibility. Each tritium lamp also has a white circle painted around it for an added level of brightness during night time. The white dots also work well as being a simple three dot sight for range shooting.
Different from the Stock Sight
The other difference between the OEM sights and the factory sights is that these are made of a much more durable metal. The stock sights are made of plastic and will often break the first time they are dropped. Having metal sights mean they your sights will last much longer.
Cost and Value
The Glock Factory night sights are quite cheap on top of everything. The greatest strength of these sights is that they are just a better crafted version of the stock sights. They are best bought by something who appreciates the simplicity of the stock sights, but want more durability and versatility.
Day and night use
U-shaped notch for better target acquisition
Red painted dot for better focus on front sight
Good price
Not as effective in low-light environments
This is another entry on this list from TRUGLO. This is an enhanced version of the TRUGLO TFO with some bonus features.
Read more
Night and Day Shooting
The TFX PRO uses both fibre optics and tritium so that it is very effective during both night and day shooting. The fibre optics do a great job of absorbing the light of bright daylight so you aren't distracted by glare of excessive brightness. Even better, the tritium makes for an effective source of light during nighttime shooting.
Extra Features
There are some differences between the TFX and the TFO. The TFX now has a U-shaped notch in the rear sight that gives you a quicker speed for target acquisition because it will guide your eye down the sight. another thing that will speed you up is the use of contrasting red paint around the front sight. This draws the eye forward on to the front sight. This version is also designed with one hand use in mind.
Cost and Value
For all of the extra features that come with the TFX, there isn't actually much of a price increase. The extra features on this sight set make it much easier to use, and also improve your target acquisition. This is another great choice for people who want a sight set that is good for day and night use.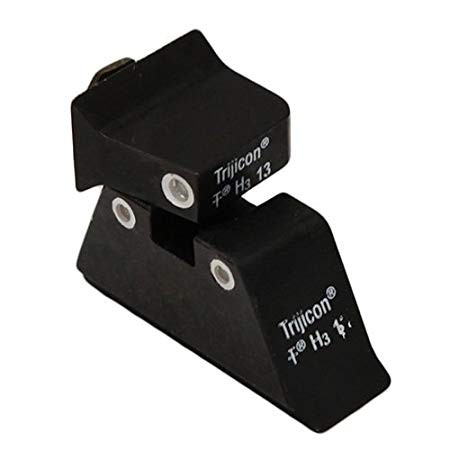 High profile for use with other features
Bright tritium lamps
Visible white paint
Good price
These are high-profile night sights from Trijicon that are designed to be used with a suppressor or also as a backup to a red dot sight.
Read more
High-Profile
Trijicon's suppressor sights are much higher than the other sights on this list. This means that they will continue to work if you have something that will get in the way of a more low-profile set of sights. These sights are specifically designed for people who like using a suppressor on their Glock. The other thing it could be useful for is for someone who uses a red dot sight that runs out of batteries so that you can still shoot effectively when your batteries die in another sight you may buy.
Night Sights
The night sights of these suppressor sights are designed as tritium lamps. These sights are extra durable because of the metal casing that keeps them protected from the firing motion of the Glock. These sights are designed into a three dot pattern and have white paint surrounding each of them for extra visibility in low light conditions.
Cost and Value
These are very effective sights within their limited scope of use. If you like to fancy up your gun when you take it shooting, then maybe these suppressor sights are for you. They fall in the mid-range of sights, and do a very effective job of giving you visibility during the night time.
10

. Haley Strategic Partners Thirteen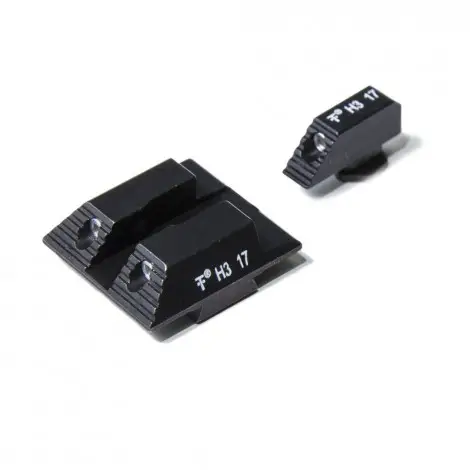 Lots of brightness for nightitme visibility
Reduces glare during nighttime shooting
Low-profile
Durable
Don't work with every kind of Glock
The HSP Thirteen sights are a set of sleek looking sights that do an effective job of reducing glare and keeping a high level of brightness for night time shooting.
Read more
Night Sights
These sights use three tritium lamps arranged in a three dot sight patter. They are very effective at night time, because all three of the sights have been surrounded by some phosphorescent white paint that is highly visible in the darkness.
Other Features
These sights have been designed to have an extra low profile so that you can better use your periphery for if you are trying to catch a moving target. They are also angled and serrated for when being used during the daytime. This will cut the glare coming off the sun or other bright lights.
Cost and Value
These Haley sights are a little bit cheaper than other sight on this list, but they are not the cheapest. These are good, simple, and effective sights that can be used during the nighttime or during the daytime.
Criteria Used for Evaluation


Accuracy
The chief thing determining the effectiveness of your Glock is how accurate it is. The accuracy of a Glock is determined by a few things. You want to look for an effective aiming system. On this list there are both three and two dot systems. These are both useful for different reasons. A three dot system will give you the ability to take your time and line up the perfect shot, while the two dot system is better for quick target acquisition. Another thing that is useful for improving the accuracy of your shots is to find a proper contrast between the front a back sights. This contrast can be one of color, one of differing levels of light, or even different sizes of dot.


Durability
The firing action of a Glock is very powerful. It is hot, and it also moves very quickly. You want to make sure that the sight that you choose is well-designed for repeated use. This will keep you safe, and will also save you some money. The reason many people have to buy aftermarket sights is that the sights that come with most Glocks are made of cheap plastic. This means that your replacement should be made of tough metal that won't dent or bend even if it is dropped on hard ground. There are other parts of your sights that need to be tough enough for the rigorous motion of gunfire. The tritium lamps of the sight that you choose should be reinforced by aluminum as well.


Visibility
A good set of Glock night sights will make it possible for you to effectively acquire targets and aim your pistol at nighttime. Make sure that the sights that you buy use tritium lamps. Tritium lamps are the most effective type of night vision that can be currently found on the market. Tritium lasts for around twelve years and should be more than bright enough for that entire time. A good glow off the tritium lamps will also be provided by the type of phosphorescent paint that surrounds the sights. This will increase the visibility of your sights during nighttime. Another thing that will help your nighttime target acquisition is the ability is the contrast in brightness between the front and rear sights. This will better allow you to distinguish the front sight from the rear sight.


Speed
The speed of your target acquisition will be really important when you are in real firing scenario. There area few things that will help you pick where you want to shoot quickly and effectively. The first is the type of targeting system your sights have. Two dot systems are known for being faster at letting you aim. This is because your eyes have fewer things to focus on. Another thing that will help you pick a target quickly is having a low profile set of sights. This means that you'll be able to exercise your peripheral vision while you are shooting so that you can better scan your environment for new targets.


Versatility
This feature is one of convenience that really saves you some time when it comes to using your new set of sights. Try to find a set of sights that is still effective for aiming during the day as well as during the night. Tritium lamps don't glow during the day, so they won't impede upon your ability to see during the day with unnecessary brightness, but the sights that you get should have some kind of back up targeting system that is effective during the day. Fibre optic sights will often do a good job of this. They are often considered the best sights for day time shooting because of the way they absorb light. If the sights you get don't have fibre optics, that's totally fine. As long as there is some kind of painted targeting system that effectively allows you to tell the difference between the front and rear sights, then you should be fine.
Expert Interviews & Opinions
Most Important Criteria
(According to our experts opinion)
Experts Opinion
Editors Opinion
Users Opinion
By Default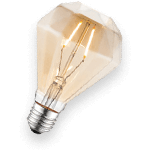 The Glock
The Glock is one of the most common handguns on the market. Many people have one due to how reliable and easy to use it is. The sights that come with it are very simple, just a set of white dots arranged into a three-dot sight. Many people replace their sights after realizing all the different advantages that come with custom sights. It is highly recommended that you make your second set of sights a set of night sights, just for the advantage of being able to use your gun in any kind of conditions.
Defense In the Dark
If you need to defend yourself, then it will most often be happening at night. In the darkness there are many issues that make being able to acquire targets clearly an issue. There is the problem of the darkness of low light conditions. You won't be able to acquire your target because their outline will be too dim. There is also the issue of not being able to look down your sights because the gun will be too dark.
Other Factors to Consider


Fit
When buying yourself a set of sights, make sure to look around for how easy it is to fit them on your gun. It can be very easy if you have all of the right tools, but often it can be very difficult if they don't fit properly. You might need to file down a portion of the sights so that they fit better and align properly with the front sights. With the front sights, often these can just be screwed into the front of the gun and it is usually very simple. Some sights will loosen after a while, as well. It is important to be careful and note if this begins to happen as it can seriously mess up your shot.


Comfort
The way that a Glock fits into your holster can be greatly affected by the sights that you buy for it. A couple of the sights on this list will greatly increase the profile of your Glock sights. If this is the case, then it might cause the gun to not fit as well into your holster. Try to see if the sights are designed to fit into any standard holsters. Or at least get yourself a set of low-profile sights that will quickly come out of the holster. The other thing to be aware of when buying a set of Glock sights is to make sure they are designed to not snag on your clothing as you draw. Once again, a set of low-profile sights area safer bet in this way. The other thing to look for with a snag-free design is to find a set of sights that have rounded corners. These are much less likely to catch or snag on clothing.


Compatibility
When buying yourself a set of Glock sights, make sure to buy yourself a set that is compatible with the Glock that you own. There are so many kinds of Glock these days, but not all sights are compatible with all Glocks. Usually, the sets listed here have different versions of themselves that are compatible with different types of Glock, but this isn't always the case. If you get the wrong Glock then you will probably end up with a too small or too large set of sights. No amount of filing is going to fix that. Always make sure to purchase a compatible set of sights.
Frequently Asked Questions
q:
How do I use my Glock sights?
a:
The only way you are going to be able to use your Glock sights effectively is if you know how to look down the sights properly. To start with, make sure that they are installed properly. Glock sights are easy to install if you have a guide in front of you and the right tools. When aiming your Glock sights always focus on the front sight. Focusing on that front sight will always help you more naturally aim your weapon. Then you are going to want to line up the front sight with the rear sights. With a three dot system this is best done by lining up the three dots horizontally with your target in front of the middle dot. On the other hand, if you are using a two dot sight system, then you are going to want to line up the sights vertically. Take your time when acquiring your target.
q:
What is tritium and is it safe?
a:
Tritium is an isotope of hydrogen. It is frequently encountered in nature. It glows green without any outside light source or movement. Tritium is used in Glock night sights because of its ability to give you a constant glow for a long period of time. Tritium is a very useful material to have around. It will last in your sights for around twelve years. This is because it's half-life will eventually expire and the isotope will degrade. Don't worry about it being dangerous because it is held within the sapphire lamps that keep it secure inside the night sight. On top of this, tritium is totally safe if touched. It doesn't emit enough radiation to get through your skin. The only thing you should worry about is if you eat it by accident. Call poison control if this happens.
q:
How do you install your Glock sights?
a:
Installing Glock sights doesn't have to be too difficult if you have the proper tools. On the other hand, it can be a finicky process that might save you some time if you just go to a gunsmith and let them do it for you. If you want to do it yourself, then you should first take the Glock apart until you just have the slide. Make sure that the gun is completely unloaded when you do this. From here you should be able to screw in the front sight. The rear sight needs a small hammer that can be used to knock out the old rear sight and then be replaced with the new sight. The most important part is to gently knock the sight so that it doesn't dent. If you don't feel confident using a soft-capped hammer, then get a sight pusher. Sight pushers are tools specifically made for pushing out the rear sight of a sight set. It is a useful tool to get if you want to do this sort of thing by yourself. The other thing to keep in mind is that sometimes you will have to file down the sight so that it fits properly in the slot of the rear sight. Make sure not to overdo this, or the rear sight won't fit inside the slot at all. Don't file down the width or thesight might fit too loosely.