Best Gifts for Fitness Lovers Reviewed and Rated for Quality
last updated:
Jul 18, 2019
We all know the type--that one friend who never misses a workout and is more likely to plan a hiking adventure for their vacation rather than a peaceful laze upon the beach.
And for these folks, when gift-giving time comes around, your average bottle of wine or cheese of the month club isn't going to cut it. So we've compiled a list of affordable gifts for fitness lovers that are thoughtful without breaking the bank.
When you're active, having the right gear is really important. Sometimes that gear can be as simple as a water bottle or cooling towel. Of course, you may be looking for something a bit more specialized like yoga or HIIT gear, and we've got you covered there too.
So take a second to think about how your friend stays fit and match that to one of the amazing products we feature below.
This is the best product on our list that is currently in stock: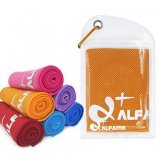 Alfamo Cooling Towel
Why is it better?
In a
Hurry? Editors choice: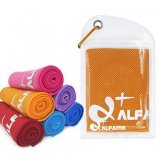 Test Winner: Alfamo Cooling Towel

10 Best Gifts for Fitness Lovers
1

. MIRA Wide Mouth Water Bottle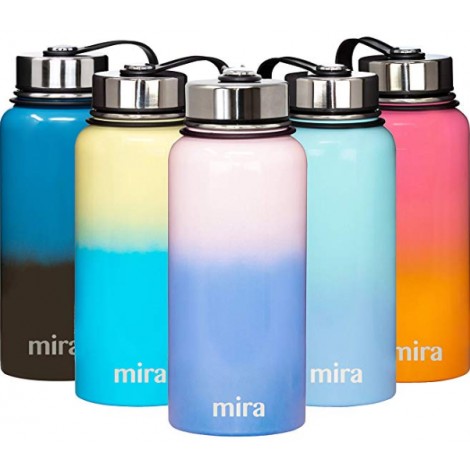 We kick off our list with the MIRA Insulated Wide Mouth Water Bottle because you seriously cannot underestimate the importance of having a reusable water bottle that actually keeps your water cool without sweating all over everything it touches. And the MIRA works just as well as the Hydro Flask--and at about half the cost. So you might as well go ahead and get one for yourself too.
Wide Mouth with Multiple Sizes
The MIRA Insulated Wide Mouth Water Bottle is a wonderful option because it comes in multiple size options. You can pick this puppy up in 12, 18, 22, 32, and 40-ounce bottles. Sizes 12-22 ounce will fit in any average size cupholder.
But no matter what size you select, each comes with a wide mouth. This is an amazing feature for several reasons. First of all, a wide mouth allows for easy drinking and filling up. It also allows you to fill the bottle with ice (a frustrating task for small-mouth bottles). And finally, it makes the water bottle much easier to clean than other small-mouth bottles on the market.
You'll also get to choose between some really amazing color options. You can go with block colors or side for the snazzier two-tone bottles instead. Either way, the gift is bound to dazzle.
Keeps Drinks Cold for An Entire Day
The MIRA Insulated Wide Mouth Water Bottle is made from food-grade steel. It is non-porous so it won't hold onto any weird flavors and you'll get a pure taste each time. Plus, stainless steel is incredibly durable and these bottles can withstand quite a beating without compromising its effectiveness.
And because this bottle is made from stainless steel and not plastic, you won't have to worry about harmful BPA or other toxic materials being in the mix.
The MIRA uses unique vacuum technology to keep your cold drinks cold and your hot drinks hot. The MIRA can keep drinks (really) cold for up to 24 hours and hot drinks (really) hot for up to 12 hours. But that's not all. The MIRA will also keep condensation from forming on the outside of the bottle and soaking everything it touches--no matter the temperature inside or outside.
And to top it all off, the MIRA has a spill proof and leak proof lid. The stainless steel lids are attached on a loop which ensures that they'll never go missing and also doubles as an easy-to-carry handle for the bottle.
Cost and Value
We are absolutely crazy about this value because the MIRA Insulated Wide Mouth Water Bottle cost about half as much as a Hydro Flask while insulating water just as well. Plus, this product is super durable and actually works like it says it's going to for years of daily use.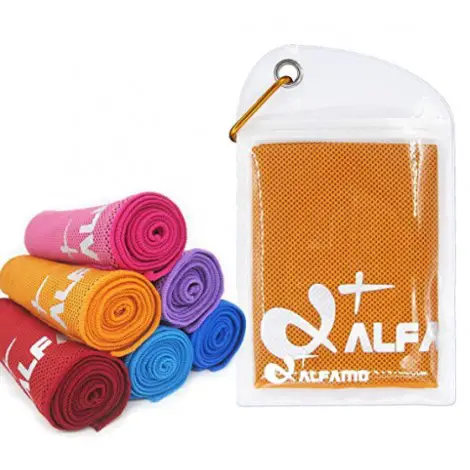 The Alfamo Cooling Towel is an amazing little workout companion that is super effective and super affordable. It comes in a couple of different sizes and tons of fun colors to choose from, but what's best is that it actually works--for up to 3 hours! This is a great choice for those who are frequently outdoors getting physical in hot weather, or for those who practice hot yoga.
Retains Cooling Properties for up to 3 Hours
The Alfamo Cooling Towel works almost like magic. The unique fabric weave is designed to keep air circulating and moisture evaporating for up to 3 hours. Simply wet the towel, wring it out, and then prepare to be amazed. This product won't drip all over you like other products on the market and it also maintains a nice feel against the body.
You can also wet this product and place it in the refrigerator or freezer for an even cooler start. Of course, this isn't necessary to enjoy its function. It can actually cool off up to 30 degrees. With a convenient carry case, it's easy to take on the go and wet wherever you are.
Tons of Size and Color Options
The Alfamo Cooling Towel comes in 4 different size options for you to choose from. Depending on the size you select, the towel can be used as a head wrap, scarf, or bandana for constant cooling. This is a great gift for folks who are active outdoors (as it also offers 50 SPF protection) or for those who are prone to overheating when they workout.
With tons of fun colors to choose from, you'll get able to get the just-right towel for your friend and they are guaranteed to be grateful for it.
Cost and Value
The Alfamo Cooling Towel is the most affordable gift on our list and will only cost you about as much as a lunch out. And it isn't a gimmick product--it actually works and will bring cooling relief to your heavy-lifting friend.
3

. TriggerPoint GRID Foam Roller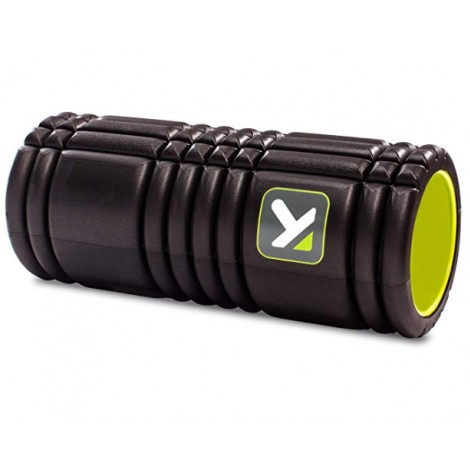 The TriggerPoint GRID Foam Roller is a wonderful gift for anyone who is known to push it so hard that they frequently suffer from sore muscles. If your friend is hitting at least one workout a day, this will be a cherished gift. The roller helps to roll out sore muscles and kinks so that the body recovers more quickly and is ready for the next day's challenge.
Used by Physical and Massage Therapists
The TriggerPoint GRID Foam Roller is used by PTs and massage therapists everywhere to get at deep muscle work that is patient led. These are designed to be used with the weight of the person on top of it to get fast acting results.
The roller is comprised of different densities so you can adjust the density and pressure on different areas of the body. The core is hollow but sturdy so it has some give but it won't lose its shape even after repeated heavy uses. In fact, it can routinely hold weights up to 500 pounds.
Comes with Instructional Videos
We love that the TriggerPoint GRID Foam Roller comes with instructional videos so that your friend can get the most out of their gift. YouTube also features hundreds of suggested uses for every type of sore muscle, ache, and pain.
But this roller is not only great for relieving pain and addressing sore muscles--it can also increase your flexibility when used in specific ways.
Cost and Value
The TriggerPoint GRID Foam Roller is another affordable option on our list that is kind of like giving the gift of at-home massage. The product is super durable (and comes with a 1-year warranty) and will provide tons of relief to your friend's sore muscles so that they can be ready to hit the gym again in no time.
4

. Tribe Resistance Bands Set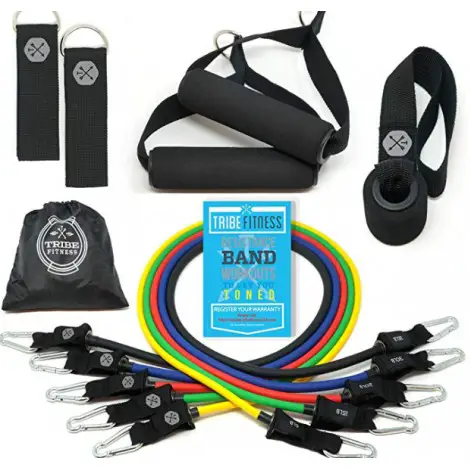 The Tribe set in a wonderful gift for fitness lovers who don't have a ton of space but still want to get ripped. If your friend is frequently on the go--this could be a great set for them. And with tons of resistance options, this is a suitable gift for those who are just getting into fitness and those who have been in great shape for years.
Fully Loaded with All Gear
The Tribe Resistance Bands Set comes with everything you need to get your whole body toned right at home or on the go. The set comes with 5 bands that are color-coded for different tensions. The bands are super strong (made from all-natural 100% latex) and are guaranteed not to snap. Plus, the carabiners are made from stainless steel so you know they will hold.
With this kit, you'll also get 2 padded handles, 1 anchor that makes using the bands on the door safe, 2 straps for the ankles, and 1 bag that is waterproof to carry all the gear in. The handles and straps are made from heavy-duty materials that won't wear down quickly under daily, heavy use.
Gradually Ramp Up Resistance
The Tribe Resistance Bands Set is a great tool for toning up the entire body. The bands feature 5, 15, 20, 30, and 35 pounds of resistance and can be combined for a total of 105 pounds of resistance. You can gradually work your way up through the bands so that your body and muscles don't hit plateaus where you stop making progress.
These bands are great for toning the upper body and the lower body as well. You can hit the glutes, quads, and legs one day and then tone up the arms, biceps, and chest the next. And there is no shortage of videos on YouTube to guide your friend through this process.
Cost and Value
The Tribe Resistance Bands Set is another inexpensive option that will keep your fitness friend sweating for hours on end. The product is super durable and made from high-quality materials and it comes with a lifetime satisfaction guarantee so you know it's a set that you can rely on.
5

. Survival and Cross Jump Rope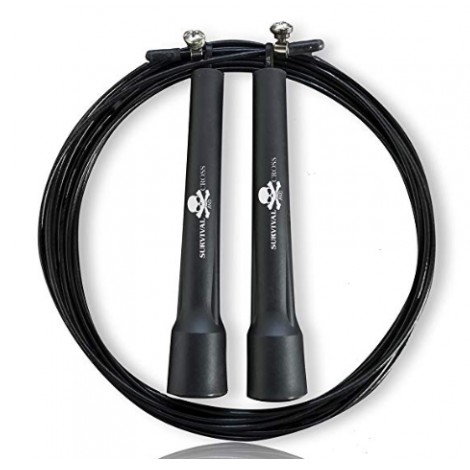 The Survival and Cross Jump Rope is another wildly affordable gift option that is great for the cardio-hungry friend in your life. Whether your buddy likes to condition for boxing or just to keep their resting heart rate low, this is a great compact workout companion that can be taken literally anywhere.
Won't Get Tangled
If you can think back to the jump ropes you had when you were a kid--this one is totally different. It is made with a 10-inch cable instead of rope or string. Not only is this cable strong and durable, but it won't get tangled up like other ropes out there. Plus, it has some major aerodynamic properties that make executing those double-whips a breeze.
Easy to Adjust
The Survival and Cross Jump Rope comes with 5-inch handles that are a great fit for almost everyone. The handles attach to the rope with steel bearings that help to maximize speed in rotation. The rope also comes with extra hardware that makes adjusting the rope to your exact size much easier. Simply cut off the excess once you have your perfect fit and get jumping.
And if that wasn't enough, the rope comes with a fully downloadable exercise guide to get your friend into incredible shape. And again, with tons of YouTube workout guides, your friend will be able to get their cardio in for days whether they're at home or on the road.
Cost and Value
The Survival and Cross Jump Rope is another of the most inexpensive items on our list and we love its value because it is simple yet incredibly effective and because it can be customized for your friend's exact fit.
The Jade Harmony Yoga Mat is the most expensive gift on our list and is a great choice for that really special friend whether they are just beginning their yoga journey or have worn out their current mat from tons of practice. This mat is one of the best yoga mats on the market and is worth every single penny.
Made from Natural Rubber
The Jade Harmony Yoga Mat is made from natural rubber's open cells that grip like no other. You can forget about needing a yoga towel--no matter how much you work up a sweat, this mat will grip your hands and feet so that you can remain stable and secure even in the most challenging yoga poses. And unlike other mats, you won't need to wear it in for it to begin working--it works from day 1.
And it really is all natural. The rubber is a renewable resource that is produced in the United States. There are no plastics or other synthetic materials in the mat. However, the mat will have a bit of a smell that is best to be aired out a little bit at first. This is normal.
Soothing Color Options
The Jade Harmony Yoga Mat comes in 11 different amazing colors to choose from. It also comes in 2 different size options: 68 inches and 74 inches. 68 inches is a standard length yoga mat while 74 inches is for yogis who are on the taller side (over 6 feet tall).
Cost and Value
The Jade Harmony Yoga Mat is the most expensive gift on our list but it is quality that you can rely on. This mat works better than almost any other at gripping slippery hands and feet during sweaty yoga practices and the natural materials are made to last. Plus, a tree will be planted every time a mat is purchased.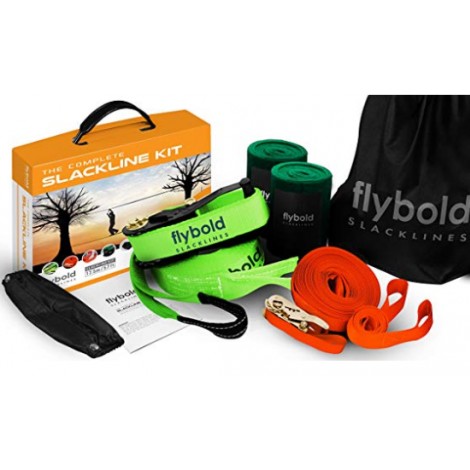 The flybold Slackline Kit is a super fun gift for fitness lovers who enjoy getting their blood pumping in the great outdoors. Not only does slacklining provide a nice workout, but it also delivers some serious entertainment as well. This is a sweet gift for fitness lovers of all ages who prioritize fun in their fitness.
Kit Comes with Everything Included
The flybold Slackline Kit comes with everything you need to get slacklining--even if you're a total novice. With the kit, you'll get a main line that is 57 feet long. Most standard slacklines are only 50 feet long so this line provides some nice bonus length.
You'll also get a 57-foot long training line. The training line is secured overhead within reaching distance of most slackliners. The purpose of this line is to give you security by allowing you to grab onto it and stabilize yourself to keep from falling. This is great for novice slackliners or for those who are looking to develop new skills.
On top of that, you'll get 2 tree protectors that are 5 feet long each. You can wrap these around even the thickest trees to ensure that you don't shred the bark on your line when the line is in use. This also prevents sticky tree sap from getting onto your line and damaging it.
The ratchet that comes with the kit can hold up to 300 pounds of pressure. It also comes with a handy ratchet cover to ensure that your fingers and toes don't get caught in the clamps and joints while you are playing.
Easy to Install
The flybold Slackline Kit is relatively easy to install and comes with picture instructions. We suggest watching a YouTube video if you are unfamiliar with how a ratchet works. Once you have installed the line one time, you will quickly get the hang of it.
You can set this kit up permanently in your home or take it with you to the great outdoors. You will work your core, your coordination, and your balance all while having a blast outside. And it is ideal for kids and adults to enjoy.
Cost and Value
The flybold Slackline Kit is another of the pricier gift options on our list, but it comes with everything that you need to get started slacklining. It's also a super durable and well-made gift that will provide hours of endless family fun outside which is hard to put a price tag on.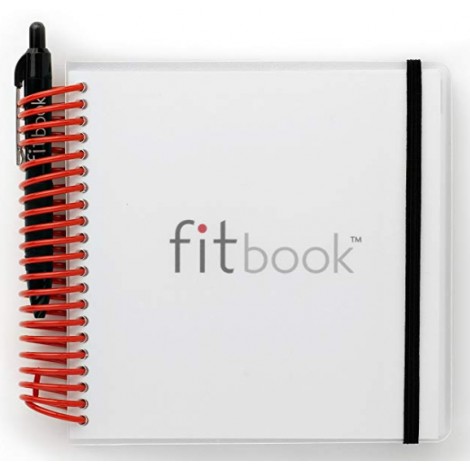 The Fitlosophy Fitbook is a great option for those who are serious about setting goals and keeping to their commitments. While everything seems to be digitized these days, this is a nice way to step away from the screen and engage your fitness journey right on the page.
Goal-Setting Guidance
The Fitlosophy Fitbook is a great goal-setting guide that will help your friend to articulate their goals and go about tracking their progress towards them. The Fitbook is designed for a 12-week goal-setting journey.
With goal setting pages at the beginning of each week as well as planning pages for each week, your friend will be able to map out exactly what they need to do and how they are going to do it.
The Fitlosophy Fitbook includes daily pages to track your workouts as well as daily pages to enter your nutritional information. Nutritional tracking includes space to record water consumption and nutrients, and you can even track your sleeping patterns.
At the end of each week, there is room to reflect on successes, progress, and even failures in order to be prepared to set new goals for the following week.
Comes with Companion App
The notebook is only 5.5 inches square and can fit in most bags. It comes with a little pen, as well as storage space inside for clippings and perhaps recipes.
Your friend will also get to enjoy access to the online companion app that will assist in the goal-setting process. That being said, it isn't necessary to use the app in order to get great use out of the Fitbook.
Cost and Value
The Fitlosophy Fitbook is another inexpensive option that will help your friend to lay out sensible and achievable goals. Laying out a clear plan with concise steps to follow is key in staying on track towards your goals and this just the compact buddy to make that happen.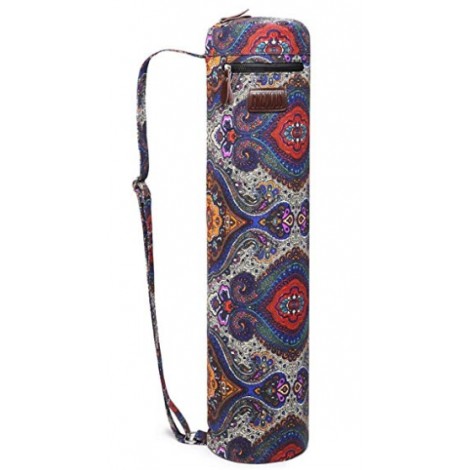 The Fremous Yoga Mat Bag is another yoga gift idea on our list, but with yoga's growing popularity, can you blame us? We love this cute little yoga bag that is great for hauling around your average sized yoga mat along with other small yoga essentials that your friend might have. So whether your friend gets to practice on their bike or on the train, this bag will free up their hands while they get there.
Easy Access Storage
The Fremous Yoga Mat Bag is designed to fit most yoga mats. It features a full-length zipper down the side that makes getting your mat in and out a breeze. The bag also has a zipper storage pocket at the top as well as a larger velcro storage pocket at the bottom. These pockets are ideal for storing smaller items like a wallet, phone, or keys.
Tons of Amazing Designs
The Fremous Yoga Mat Bag is a great option for both men and women. With 25 different canvas designs and colors, you'll have a hard time picking just one. The strap on the bag is fully adjustable so it can accommodate people of different sizes and it can even be tightened all the way up to function more like a handle.
Cost and Value
The Fremous Yoga Mat Bag is one of the more inexpensive gift items on our list and it is also one of the cutest. Its flair for design and durable construction make this a super thoughtful gift that won't break the bank.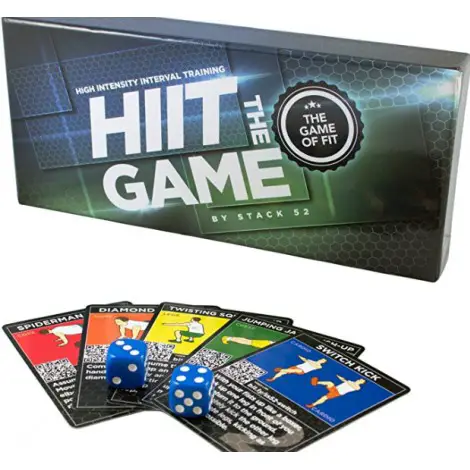 Move over Cards Against Humanity--there's a new HIIT card game in town. The Stack 52 HIIT Interval Workout Game is another super fun option for those who like to mix up their fitness routine with a dose of entertainment. It can be played alone or with friends and will keep your buddy on their exercise toes.
HIIT Workouts Work
HIIT workouts are scientifically proven to get results fast. They combine high-intensity workouts with short breaks in between to get the most fat burning bang for your workout minute. The Stack 52 HIIT Interval Workout Game uses this method in its workouts and will help your friend to get the shred they're looking for.
There are different levels of workouts that you can move through as you get stronger. Each workout lasts from 4 to 20 minutes and you can mix and match them if you want more on a given day. And because the routines are constantly changing, you won't get into a rut as you might with exercise videos.
No Equipment Required
The Stack 52 HIIT Interval Workout Game is a great option because you don't need any additional equipment. That also means that you can play this game practically anywhere. And you can download the companion app to scan the fitness cards in order to get quick demos on how to complete each exercise.
As we mentioned before, this is a great game to play on your own or with others in a competition--but whatever you do, make sure you grab a towel first to mop up all of your sweat.
Cost and Value
The Stack 52 HIIT Interval Workout Game rings up in the middle of our price range and we like it because it is a fun and engaging way to get those HIIT workouts in. Plus, it can be played alone or with a group to keep you on your toes.
Criteria Used for Evaluation
Application
When compiling this Ten Best List we heavily weighed the application of each product. We consider the application of a product to encompass how and when it can be used.
Products that can be used in a wider range of activities (like water bottles and cooling towels) score high on our list while products that are more suited for specific activities score lower. Basically, the more a product can be used from day to day, the higher it ranks in this category.
Ease of Use
There is no shortage of fitness and fitness-related products out on the market. But it doesn't matter what kind of gadget you have--if it isn't easy to use, you're not going to use it.
Fitness needs to be easily accessible in order to stay on track towards achieving your goals. That's why we include products on this list that are easy to use and that make your fitness life easier.
Effectiveness
Again, with thousands of different fitness and fitness-related gadgets available today, it's easy to stumble across quite a few that don't actually work. All of the products on our list are backed by hundreds of positive reviews--and some are even backed by thousands.
These products work and actually do what they say they are going to do. We know this because we've read testimonies from real people just like you.
Features
We rank products on this list by the features that each product has. Not only do we consider these features in a vacuum, but we also consider them in comparison to other similar products on the market.
We have scoured the internet to bring you the most effective products with the most features for the lowest cost. Often times you're paying for brand names when products with the same features are on the market for less.
And we have to say, we are absolute suckers for products that offer premium quality features at non-premium quality pricing.
Value
The products on this list are loaded with value. Not only are most of them wildly affordable (especially considering the rising price of gifts) but they are also super high-quality and guaranteed to work. And that, my friends, is value that is hard to beat.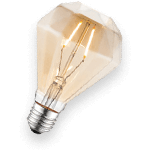 Think About Your Friend's Workout Preferences
If your friend is the type to hit the outdoors when they work out, then go with one of our outdoor-friendly products like a cooling towel, jump rope, or slackline. If your friend prefers more of the gym action, go with the resistance bands, foam roller, or workout games. And if your friend is into yoga, go with one of the yoga items on our list.
Get Involved!
Maybe your friend is the workout guru who is always trying to get you to join them--and maybe you are a little resistant. But you should use your friend's fitness energy to get yourself moving as well!
If you are purchasing one of these items for a friend and think you might enjoy it too, why not get yourself one so that the two of you can enjoy your gift together.
Other Factors to Consider
Connectivity
We also considered connectivity when making this list. Products that offer companion apps for your phone to help with your goal tracking and progress score bonus points on this list.
Style
We know it's not a fashion show but some of the items on our list have serious design appeal. With different color options and styles to choose from, these items also get bonus points.
Frequently Asked Questions
q:

Are these gifts gender specific?

a:

Not at all! All of these gifts are ideal for men and women alike.
q:

Are these gifts age specific?

a:

While some of these gifts may be a little intense for older fitness gurus (like the jump rope and HIIT game), if your friend is a fitness fanatic, these products can be enjoyed by all age ranges.
q:

Do you have to use companion apps with products in order to get the best use out of them?

a:

No! While using companion apps can provide some extra tips and features, it is not necessary to access these in order to get the full use of your gift.
Subscribe to our Newsletter