Best Gaming Mice Reviewed & Rated for Quality
last updated:
Aug 22, 2019
Do you love to game? Or did you just buy the perfect gaming computer? You sit down to play the game you have been dying to play only to realize that the mouse you have just isn't up to par. Well no worries, this has happened to a lot of us, so we feel your pain. And that is why we have put together a comprehensive list of our favorite gaming mice. So if you already have the best computer and the best headset and the best keyboard, why not have the best mouse too? So we did the research to highlight the benefits, pros and cons of each so you can quickly find the best mouse for you and your gaming. So, keep on scrolling to find that perfect mouse that was designed just for you!
In a Hurry? The test winner after 14 hrs of research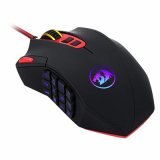 Redragon MMO
Why is it better?
Durable
Extremely compatible with PCs
18 (+1) programmable buttons
Lights up
Great price
Gold plating in USB for better connection
6ft Cord
In a
Hurry? Editors choice: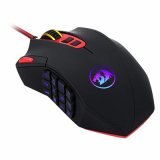 Test Winner: Redragon MMO

15
Researched Sources
152
Reviews Considered
14
Hours Researching
15
Products Evaluated
Responsiveness
Ease of Use
Comfort
Durability
Value
By Default
10 Best Gaming Mice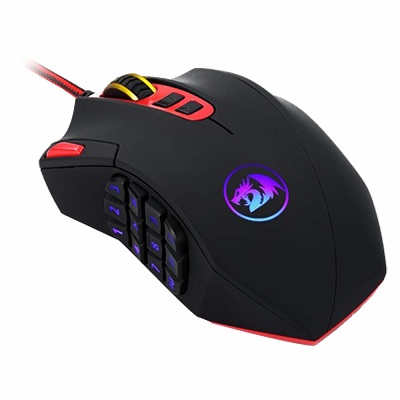 Durable
Extremely compatible with PCs
18 (+1) programmable buttons
Lights up
Great price
Gold plating in USB for better connection
6ft Cord
Limited on Mac use
Tends to only last 2-3 years
Looking for the perfect mouse for playing your favourite MMO? This might be a match made in heaven! Designed with the MMO gamer in mind, this mouse has ready features that are perfect for your needs and the price won't eat everything you have in savings either!
Less Keyboard, More Mouse
With 18 programmable buttons on the Redragon, you will spend less time looking for keys and more time quickly downing potions or switching spells as you take on your next dungeon. Or maybe it's a tower battle your looking at in your favourite MOBA and you need a faster way to go between abilities? This mouse will set your hotkeys so that you spend more time focused on your goals than you will on switching from mouse to keyboard just to get what you need to be done.
Compatible What??
While many of the new gaming mice might be limited on your PC's OS, the Redragon is backward driver friendly clear back to 7, Vista and even XP! It works with Windows 10 and Windows 8 versions as well, which makes this a PC lover's dream come true when hunting for a mouse that fits their computer and still offers newer luxuries!
Cost and Value
Already with its compatibility with so many Windows OS's, this mouse is really working on beating out the competition. When combined with the fact that it has such high programmability, id built to work easier in your hand and isn't all that much more than a normal mouse in cost- it has surpassed most in value. Add on its durability and the fact it has extra features just for fun (who doesn't like lights that pulse and glow with your character?) and it definitely deserves its place as number one on our list!
2

. Logitech G502 Proteus Spectrum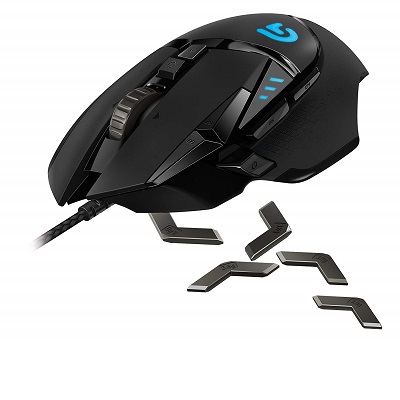 Optical sensor
Adjustable weight/shape
11 programmable buttons
Customizable lighting
Fast DPI adjustment
Button placement may be off for some
Better for larger hands
Compared to some of the others, this mouse may come off as a bit pricey, but it comes with Logitech backing. A company well known for its computer gadgets, the safety of a company many have come to trust as one of the best may leave you secure with its new gaming mouse!
I need a little more weight
Some gamers find that a lightweight mouse, no matter how many functions it has, just simply isn't what they want. Every gamer is different, and Logitech knows this. Instead of one-weight fits all, they created their mouse with the user in mind who wants a bit more or a bit less weight in mind. With adjustable parts that come with the mouse, the gamer can find the perfect grip and weight to their mouse to fit their flow, so they never have to lose grip again.
Just enough
While having a lot of extra buttons can make some gamers clap, some of us only want a logical set of useable places to click. Depending on your game preference, having too many can make the mouse just seem overdone. This mouse has enough to make it easy to use, without getting overzealous. Most games only need 11 optimized quick controls to make life easier, so that's all Logitech felt needed to supply. Simplicity and great value put into one mouse.
Cost and Value
Often times these ideas cross, but value can be quite different than the price tag given. Over the years Logitech has proven time and again that they are worth more than the price tag they attach to their products, and we feel this case is no different. They handed us a mouse that works with the gamer to adjust to their needs, add to the ease of use and made it easy to program perfectly to what you need. This mouse also hits the high marks on durability- so once more you can trust it to well outlast any lesser quality cheap mouse out there.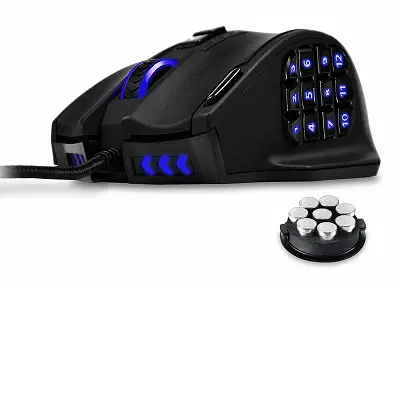 18 programmable buttons
5 savable gamer profiles with unique lighting
Gold plated connector
Fibre optic wiring
Can change weight
Good price
Extra downloaded drivers needed for some games
A few buttons may stick
Once again, we are out to impress those heavy gamers who love to have just about every control in a game on their mouse. With even more variety in customizable appearance, what's not to love? This one earned the third spot by being inventive and still on the inexpensive side of the fence for gaming mice.
Say what?
Individual gamer or gaming profiles for a mouse is a great concept! Not all MMO's or even FPTs play exactly the same way, so why would you want a one-trick mouse? This gamers delight allows you to set up to five different control types into your mouse, and to make sure you know which is active, even made it so each one can have a different color on your mouse's appearance! Play with a lot less hassle simply by switching which buttons do what with a simple one-click profile switch and you are on your way to gaming in no time!
Fiber optic wires!
We've all heard about these being used in cable lines to make the internet and TV run smoother and faster- but here is a mouse that does the same thing! Cut down response time with this beauty and find out just how much difference this technology can do when used in a game with your mouse! For the gamers who just despise lag, you can beat it out quick with this product for sure!
Cost and Value
While there are setbacks in needing extra drivers for certain games, this mouse keeps up by holding onto the settings for you once you have it all ready to go. Between the customizable buttons and colors, and the 5 profile settings, we feel it already paid for itself. Adding on the other goodies like the gold plated connection, superb wiring and the ability to set your weight, this mouse surpasses its cost and firmly lands it in our third-place spot.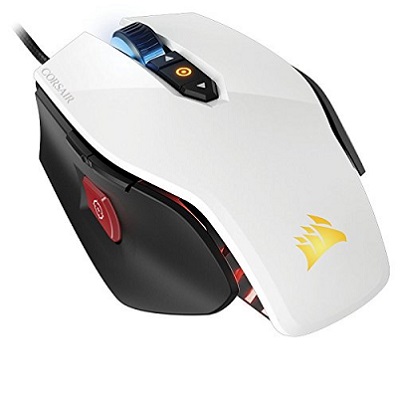 Aircraft grade aluminium
Weight tuning
12000 DPI high accuracy sensor
Surface calibration tuning
Custom lighting
When we went looking for high tech gadgets Corsair didn't disappoint. Made of high-quality materials it gives every impression of being able to take whatever you throw at it. Sniper, pilot, cowboy, or explorer take a look at what we found and see if this is just the thing to continue your adventures in style.
Aircraft-Grade Aluminum
For those that like to go at high speed, we found this was a great pick. Our gamers were constantly slamming down their mouse in exasperation or when they were trying to make a point, or just get out some aggression. One of the claims to fame for this mouse is that it is made of aircraft-grade aluminium which means it will take a bit more of the typical gamer handling than the plastic mouse we are all accustomed to.
Advanced weight tuning
As consumers, ourselves and most of us are gamers we had no idea what this meant. However, further inspection found that the weight tuning of this mouse allows you to alter the centre of gravity. That means when playing those simulators the mouse can be centred based on how your hand sits on it instead of based on the mouse pad. Pretty handy when you are flying something that moves with the tilt of a wrist.
Cost and Value
While this is not the cheapest gaming mouse on the market it is one of the better ones for cost-effectiveness. It's not wireless so you don't have to stress over your batteries going dead mid-adventure and the cord is plenty long to place it where comfortable. It has custom lighting and eight strategically placed buttons to help you personalize what you want it to do. For the full-time gamer, this seems a great investment and can take all the abuse you put out besides. Overall a great product.
5

. SteelSeries Sensei 310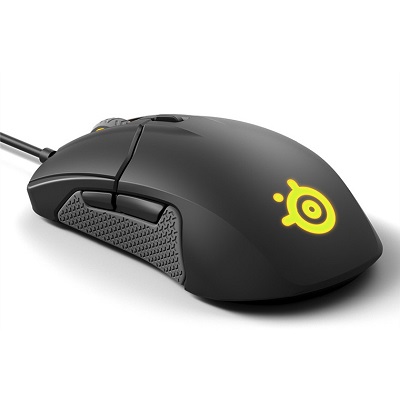 Lightweight
Ambidextrous
Split-trigger buttons
Prism lighting
Scroll button can be sensitive
When we tried out this mouse we found out some things about ourselves that we were not completely aware of. Mostly that we like things that can change colour, ahem. However, that was the least of the cool tricks we were able to pull off easily with this mouse and we think you will like all the other cool functions as much as we did.
Advanced Jitter Reduction
This mouse uses what is called a TrueMove3 sensor which goes from 3500 to 12000 CPI which allows you to move the mouse naturally without slowing down the response time even if your surface isn't completely still or your hand has a slight tremor. It is especially nice when you are getting hand fatigue from all those hours of fighting orcs and your sword arm is tired.
Ambidextrous
The shape of this mouse along with the button placement allows it to be used in the right or left hand equally well. For the lefties in our group, this was a huge find as most had few to no options when it came to finding a game mouse that would work for them. The side and top buttons are identical meaning you can set it up how it works best for you without having to change your standard style. A lovely touch.
Cost and Value
Between the fact that this is ambidextrous, has split trigger buttons and a full spectrum of lighting and reaction options we found this to be an awesome purchase. The settings of your buttons and lighting effects can be saved on a per game setting directly to the mouse which is also nice. Lightweight and durable this is less than most cost wise and something we feel is a good bargain.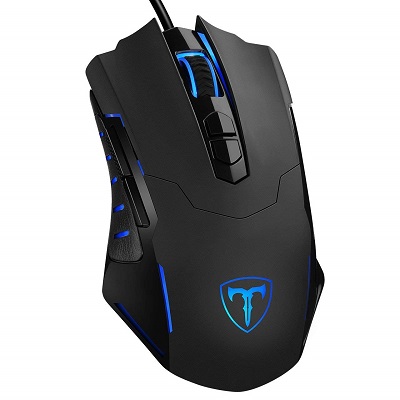 Warranty
RGB light 16 million colour options
7 programmable buttons
When we looked at various gaming mice there were some that really exceeded expectation when it came to performance based on cost. This was one of those. If you like something a bit showy that will still get the job done with minimal effort this might be what you are looking for. Just read what we found below and see if you agree with our assessment.
Ergonomic
While a lot of keyboards come with that new and improved ergonomic design we found that not many gaming mice did and the ones that were tended to be bigger than we wanted. That said we were pleasantly surprised with this one as it is a nice mid-sized mouse that still manages to reduce wrist and hand fatigue even after extensive use. With over sixteen million colour choices as well it was easy for us to fall in love with it, especially when we wanted a soothing experience. Hey, hands need love too.
Seven Programmable buttons
This mouse comes with a software that allows you to set all seven buttons to their own functions. Whether you are using it for an fps or a moba you have the choices and acclimations necessary to make this easier to use and more comfortable to memorize. We especially liked setting it up for our snipers but that's just us.
Cost and Value
Not one of our people that tried this mouse was unhappy with it. Between the customizations, the feel, and the ease and comfort of use this was enjoyed by all equally. On top of that Pictek offers an eighteen-month warranty on the product and a 30-day money back guarantee. If that doesn't prove they believe in this than nothing will. Easy to use and a fast-paced joy to game with for the price you can't do better.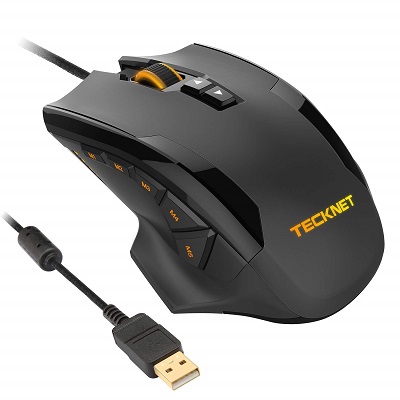 10 programmable buttons
Customizable light colour
Works with much older to current Windows OS's
Gold plated connector
Price
Adjustable centre weight
Confusing software
Scroll wheel issues with some
While the mouse has shown that it takes some getting used to with the programming, the Tecknet makes up for it once everything is in order. We feel it makes its home at number seven because of its normally great use by those who have bought it. Why don't you read on and decide for yourself if maybe all the noise is worth it?
That's an old game
It's hard to find a mouse for gaming that works with both Windows 98 and everything else up to Windows 10, but this one does! We feel that it may be the fact that it covers so much OS ground that causes misunderstandings in how to set it up. If you haven't had to work with the older OS's it can take some getting used to in order to find and utilize the best settings an get all the proper drivers to work on your computer. For many gamers who have games that no longer run on the new OS's though, this is a great chance to purchase a mouse that works for all their games.
Weight Precision
There is something to be said about having the perfectly balanced mouse for your hand and gaming abilities. If a mouse doesn't move right for you or turns too quickly (or not quickly enough), it can set your whole game off kilter. This easy to adjust product makes things simple. With its centralized slot with adjustable weights that can be added, removed, or adjusted in their positions, you can find that perfect gaming weight and pull off the moves you have wanted to since you first dove into your favourite video game.
Cost and Value
The value of this mouse is truly found in it's OS compatibility. Gamers who have had to give up the games they love because none of the newer equipment seems to work with the old OS and the game can't run on the newest ones will love knowing they can finally pick back up and with a mouse they can fine tune to it as well! While some of us preferred our puzzle games, there are many action and adventure games on older computers, and the simple fact you can go back to them definitely makes this mouse worth every penny.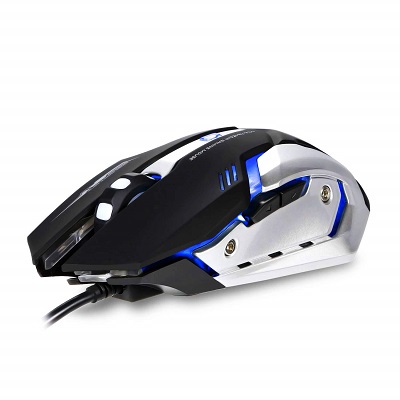 Breathing lighting
Braided cord
Ergonomic
6 customizable buttons
Since we wanted to be fair we also looked at the gaming mice that didn't cost quite so much. While there were many that didn't make the cut this one did and reading below will tell you why. If you are someone who appreciates gear that looks quite high tech, this may be right up your alley.
Customized buttons
As you would expect with any gaming mouse worth its price this one comes with programmable buttons. There is a simple six-button design that is easy to use and take control of. There is even a set of buttons on the side that allows a quick browser back and forwards function when checking out things on the web. For the sassy shopper, this can be a great add-on.
Breathing lighting
Now at first, we were wondering why the lights needed to breathe but we soon found out that it completely upped the awesome factor. While it isn't what you would call necessary in a mouse it does add a lot of cool not only to the mouse itself but to the atmosphere as well. There is nothing quite like fighting that fire-breathing dragon while your mouse breathes fire of its own.
Cost and Value
If you consider just how low this price of this is on the overall cost scale it's a great purchase. You can completely customize it with a simple download but if you just want it for the joy of using it till plug and play just fine. After all, not all of us need to have a specific colour that our mouse breathes when being used. Although it is pretty cool. All in all, this is a nice product at a very low price.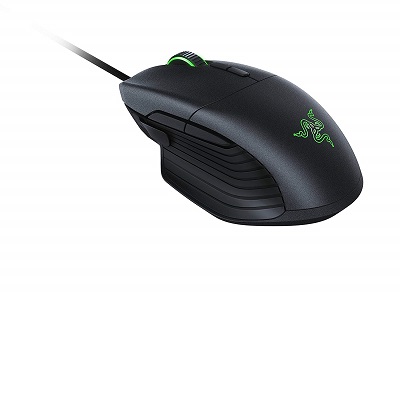 Designed for FPS gamers
Extreme amount of colour options
8 programmable buttons
Scroll wheel tension adjustable
Easy to reach sniper button
New software (beta test)
Not available for Mac
Price
Don't count out number nine on our list! While a little more pricey, this mouse is outperforming most others already- and it's only in its infancy! Want to be part of the beta testers for the new Razer? Give this one a go! Those who have, say they haven't been disappointed once it's up and running!
Scrolling… scrolling….
One of the biggest complaints on most gaming mice is that their scroll buttons. They either seem to go too fast, or they are too hard to turn at all- not so with the Razer. This little beauty actually allows you to adjust the scroll button so that you have it at the perfect tension. No more fighting to keep it from sliding as you scroll or going Hercules just to get it to turn a little.
Colors!
For those who love options to the appearance of their mouse- this will be your greatest venture! The Basilisk offers over 18 million colour options for your lights! For those that enjoy consistent change, or want a mouse that can always stand out from the crowd this is the perfect product. It could take years to find another person with exactly the same colour as you- and when you do find them, you can always change it up again just to fulfil that need to be different!
Cost and Value
For a beta, this mouse is already earning its place as the top FPS mouse on the market. With its accuracy and response being easily compared to even the top mice, and it's added adjustability with its buttons, this mouse is comfortable and durable enough to make any FPS gamer think they reached into gamer bliss when they got a hold of it. The only downside is that being in beta testing means the software can be glitchy when setting up, which can make many people want to back out early. Those who have stuck to it though, have called out that this mouse is worth the effort, and is worth every shiny penny to have.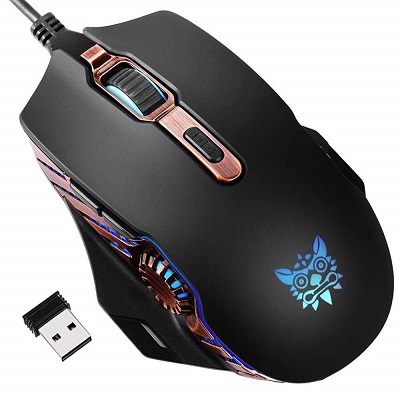 Dual mode for gaming and working
Moves with you without second-guessing
Wireless rechargeable through USB
Free replacement (2-year warranty)]
IBM compatible
If you are looking for a mouse that more easily swaps between gaming and office, then here is what you are looking for. The Onikuma is designed to work and feel natural when sliding between work and games so you don't have to worry about switching devices. It comes with a lot of features to impress and satisfy any casual gamer.
Get rid of cords!
While most of the gaming mice on our list are corded only, this pretty little device is a cordless rechargeable device that only has a cord when you need to plug it into your USB to recharge! It's perfect for travel or switching between a desktop and laptop for use. When you don't want the hassle of untangling cords, this rechargeable may actually be a better answer than anything using normal batteries. Because it recharges on a USB Onikuma thought ahead and you can even use it when it's plugged in for a charge!
Versatility on the OS front!
Some of these mice only work with older to newer versions of windows, but this mouse wants to run wild and free! It runs on Win7 all the way up through 10, but it can also hide in your mac jungle, and to further impress travels the little-known terrain of IBM. This makes it a fantastic buy for gamers and techies alike! No more requirement for a million products to run your computer needs!
Cost and Value
What makes this quickly worth the purchase is that it is honestly one of the lowest priced to begin with on our list. The greatest part? Even at the cost, it still easily holds its -place on the top ten and deserves your consideration. It offers the dual mode feature which allows you to easily and quickly switch between gaming settings and office settings, and it doesn't try to second guess your hand motions which can often lead to lag or inaccuracy. You won't have to worry about buying extra batteries, and it switches easily between corded and cordless while remaining useable in both forms. With the many different OS's it uses and the fact that for 2 years you can have it replaced if need be, you have a mouse worth way more than the price tag attached to it- and even that is easy on the mind!
Criteria Used for Evaluation

Responsiveness
This is one of the most important features for a gaming mouse, and any gamer who uses a computer as their main source will tell you so in a heartbeat. If your mouse's response time between you moving it and the character moving on the screen has a large amount of lag it can cause issues with any style of game, but especially with MMORPGs and any form of tower defense or FPS game. A second can mean the difference between a team's survival and death or even your own. You need to know that when you move the mouse your character immediately reacts.

Durability
Durability plays a hardcore part of this particular area of our criteria, but the fact that these products also do more than your average mouse adds to their value rapidly. Each one is designed to work for any game mechanic, but truthfully some are better suited for certain types of gameplay to make it faster and easier to respond in them. Once you get the hang of your new mouse set up, many offer to reduce the use of the keyboard to give faster and better gameplay which definitely takes these mice to a higher level.

Comfort
Using a mouse or any type of gaming device that isn't comfortably formed for the player's hand can cause issues when spending hours using it. Whether you are gaming or not, you will want your mouse to be properly formed so that you don't end up causing injury to your hands or wrists. This is very common for anyone who has to spend hours on a computer but can happen to gamers especially when they spend hours online or just on any game that requires the use of a mouse and/or keyboard. Keep this in mind when choosing your mouse and setting up- make sure everything is supportive to your body so that you can avoid causing yourself permanent injury or pain.

Value
Durability plays a hardcore part of this particular area of our criteria, but the fact that these products also do more than your average mouse adds to their value rapidly. Each one is designed to work for any game mechanic, but truthfully some are better suited for certain types of gameplay to make it faster and easier to respond in them. Once you get the hang of your new mouse set up, many offer to reduce the use of the keyboard to give faster and better gameplay which definitely takes these mice to a higher level.
Expert Interviews & Opinions
Most Important Criteria
(According to our experts opinion)
Experts Opinion
Editors Opinion
Users Opinion
By Default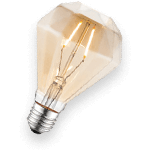 How Many Buttons Do You Need?
Your typical mouse only has three buttons, maybe four, and is intended mainly for the casual use of a computer, but a gamers mouse can have upwards of 8 or more. This allows the player to utilize functions in the game without having to switch between keyboard and mouse and limits the chances for overexerting your movements with your hands and wrists. These buttons are often programmable so that you can switch your potions or other types of abilities or equipment to be used by flicking a finger over a button on the mouse instead of trying to be fast enough to hit the right key on your keyboard. This can help reduce chances of aggravating carpal tunnel and even make your gameplay that much smoother. Those we put on our list with these options, we made sure are not automatic in what they do, but rather are programmed so you can keep your game flow going without having to guess which button does what!
Why A Gaming Mouse?
While new case studies have found that very few people who work on computers or play mouse and keyboard games develop carpal tunnel syndrome, how your mouse or keyboard is designed can cause other injuries to your wrist, arm, and upper back. Repetitive movement when you have CPS can aggravate, as can an inappropriate use of computer equipment. Having the proper set up can actually reduce the issues and the pain caused by their use.
No matter what the case may be, all the studies went back to suggesting you take breaks no matter what your set up or style of mouse/keyboard is. By doing so you can prevent pain and allow your body the time it needs to simply rest from the position you are likely to be in while in front of a computer.
Other Factors to Consider

Compatibility
Many see what they want in a piece of electronic equipment and don't go any further to assure the design works with what they already have for equipment. We chose to look at everything- and that includes whether or not the product can or does work with up to date computers and their current operating system.

Style
While this isn't important to everyone, many gamers who are out there today also have channels where they share their gaming experience. By having that awesome design, they can stick out more in a person's mind or simply have fun showing off the type of mouse they have. Having that awesome looking piece of equipment is not only fun but can help different gamers note which mouse does better more easily- especially since no two companies seem to like sharing the same visual appearance!

Safety Hazards
One thing many gamers and typists have not realized is that there is actually a device made that you should not use: a wrist rest. Though it may feel comfortable at first, if you are using the mouse properly, you will actually cause more harm than good with one- especially to your skin. Proper use of a mouse, believe it or not, is through using your elbow to slide the mouse- not your wrist. Because of this, you would be rubbing your forearm back and forth over the wrist rest enough to cause something akin to a rug burn.
The best advice you can take is to look for a shape that suits your hand. Even if it looks cool or works great for a friend or family member- it could cause strain on you if your hand is a different size or your fingers a different length/width in comparison to theirs
Frequently Asked Questions
q:

Can the wrong mouse cause CTS?

a:

Although recently it has been found to have little to no effect on most in developing the problem, it seems to do so in a few. More often than not, though, it only exasperates already existing symptoms. Cech our sources for more info.
q:

Do all these mice have the ability to program in all the number triggers for a game?

a:

No. Check what each one is capable of before making your purchase.
q:

Are gaming mice also good for everyday use?

a:

You can use them for your computer for everyday tasks, but in truth, unless you are an avid gamer, or at least play some sort of MMO you might consider getting one of the less complicated mice on the market.
q:

Do curved mice work better than those that aren't?

a:

Information we have found suggests the opposite. Check the resource for the 10 tips on mouse use, it gives a great list of do's and don'ts to help you with choosing the right mouse and for how to use one without hurting yourself unintentionally.
Subscribe to our Newsletter