Best Foosball Tables Reviewed and Rated for Quality
In a Hurry? Editors choice: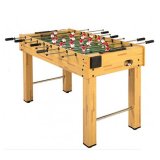 Test Winner: Best Choice Products

Foosball, much to my surprise, is not just a prop on Friends. I'm kidding. Relax.
It's actually quite an old parlor and pub game that's been around for more than 100 years. Dating way back to the 1890s, Foosball has provided
football
(soccer) enthusiasts who are, let's say, less than athletically endowed, an opportunity to enjoy the competitive action right at their fingertips. And nowadays, there's a full league complete with rules and regulations, tournaments, and yes, trophies--I mean people get really into it.
But for those of us who are simply looking for a fun way to unwind or for a game for the kids that doesn't involve a screen, here's the list for you. We've compiled a nice mix of serious game tables along with some more casual units so that you can find the foosball table for you.
Standout Picks
Criteria Used for Evaluation
Size
When making this Ten Best List, we considered size. Even though most of these tables are meant for home use, we still wanted to include products that meet professional playing size standards. That's why we feature so many tables that meet those standards to a T. We also provide dimensions so that you can make an educated decision about which product will best fit in your desired space.
We wanted to be sure that you were aware of the weight and stability of your table as well. Obviously, the heavier a table is the less likely it is to slide around and move under heavy play. We list the weight for each table so you can get a good idea of what style of play each product can handle. Products weighing under 100 pounds are best used in the home for kids. Products less than 50 pounds are meant for small children. While adults can enjoy playing with their families, they won't be able to engage in serious play on such lightweight machines without causing some serious wear and tear. So if you are looking for a more rigorous game, go with a heavyweight table that can sustain heavy play.
Features
We love a bonus feature--who doesn't. Some of the features we love on these products and the built-in cup holders that work to prevent any damaging spills in the playing area. We also love the scoring abacuses on either side of the table--especially those ones that are made of real wood.
Tables with end-of-table ball returns rank highly and those with individually functioning leg levelers also rank highly.
A few unique features we love are raised corners so that the ball doesn't get stuck during play and various games that come in addition to the foosball set.
Materials
Almost every product on our list is made from MDF wood which is both lightweight and durable, as well as resistant to water damage. The laminates are slick and offer up smooth gliding for the ball. They also come in an array of tones so that you can find the right aesthetic for your game room.
Most of the products feature hollow steel gaming rods that are coated in chrome. These rods are super sturdy and durable while being lightweight. They also move smoothly for more ease in use. Additionally, we love unique handle grips. Some of the grips we love most are real-wood grips and rubber grips.
On this list, we favor players that are counterweighted for optimization in play. We also favor sets that have 3 players at the goal instead of one as this allows for more fluidity in play since they are able to reach more area by the goal where the ball often tends to get stuck.
Durability
Our consideration of durability is linked to size and materials. The heavier a table, the stronger materials it is made out of, and the longer it will last. But just because a table is lightweight doesn't mean it isn't durable, it just means it needs to be used correctly. Don't purchase a 50-pound table for a frat house and don't expect to get a lifetime's worth of use out of a lightweight table in your company's breakroom. Lighter weight tables are meant for lighter weight play and should be used accordingly.
Value
We always consider value when making our list. Most of these units are intended for at-home use and are therefore less heavy duty and less expensive. We worked to feature an array of options from the most inexpensive to some pricier models so that you can get a real feel for what's out there. With value, it is again important to consider who your table is intended for. You don't need a $1,000 table for your little nieces to play with once or twice a year, and you shouldn't buy a $100 table if you're planning on using it all the time.
Apart from that, we love to feature companies with outstanding customer service and great satisfaction policies so that no matter what you get, you can enjoy it for years to come.
10 Best Foosball Tables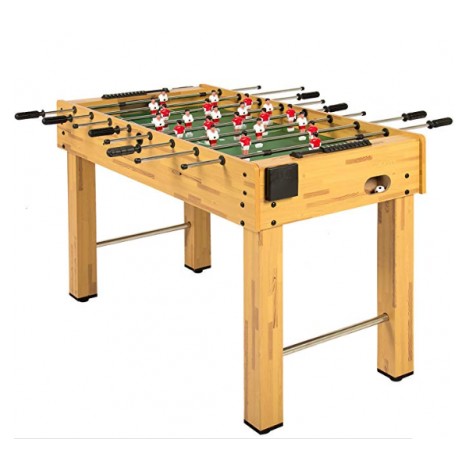 The first foosball table to make our list is the Best Choice 48in Competition Sized Soccer Foosball Table. It is 4 feet long and 2 feet wide which meets competition standards, but it won't break the bank. This is a lighter weight product (weighing about 80 pounds) so it is best intended for home game rooms and entertainment.
Made with Steel-Coated Rods and Composite Wood
The Best Choice is complete with 8 total rods--4 for the red team and 4 for the white team. It features 11 players per side: 1 goalie, 2 defenders, 5 midfielders, and 3 strikers. The body of the table is made from composite wood and is designed to stand up against the wear and tear of family use. The playing rods are finished in chrome and have comfort grips to keep you playing at your best. This table does require some assembly, but users report assembly being a breeze.
Comes with Cupholders
The Best Choice features some handy (literally) bonuses that you'll be wild about. Of course, the unit comes with 2 balls in the box that actually look like real soccer balls, and it features an end ball return. But now, you no longer have to worry about spilling your favorite drink on the table as The Best Choice comes with cup holders on either side to keep your drink safe and close at hand.
Cost and Value
The Best Choice is the most inexpensive product on our list and we love it because it is regulation sized and sturdy enough for home use without breaking the bank.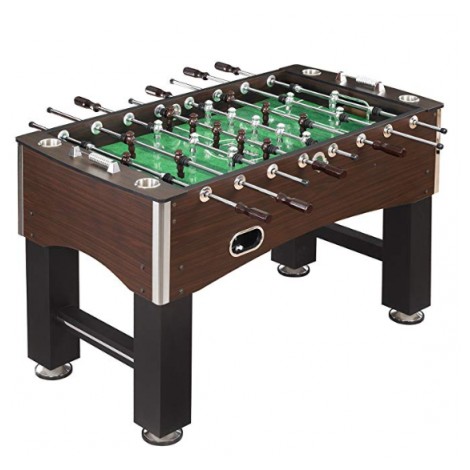 The Hathaway 56-Inch Primo Foosball Table is the first heavy-duty table to make our list weighing in at a whopping 280 pounds. The playing area measures 46.5 inches long by 26.5 inches wide and the whole table measures 56.5 inches long by 29 inches wide, so this product can stand up to family use and some heavier use in bars or office lounges as well. And what's even better? This product is engineered and designed right here in the U.S.A.
Coated to Look Like a Real Soccer Field
The Primo Foosball Table features a standard player set up with 3 strikers, 5 midfielders, 2 defenders, and 1 goalie. The table is made from espresso colored, medium-density fiberboard that is fast-coated, slick, and made to look like a real soccer field. The playing rods are made from solid steel and feature E-Z bearings that allow the rods to twist and glide with ease, and the easy-to-grip handles are made from real wood. Plus, the players on each rod are counterbalanced and made from ABS materials of the highest quality. You can be sure that your table will stand up to years of sustained use being made from such quality materials. Keep in mind that your table will take about 3 hours to assemble, but it does come with complimentary expert assembly.
Analog Score Keeper
The Primo Foosball Table is loaded with bonus features. Not only does it comes with 2 foosballs, but it also comes with analog scorekeepers on either side that are silver-toned. The balls return on the side. Additionally, the table comes equipped with 4 built-in cup holders made of stainless steel--2 on each side. And we absolutely love that each leg of the table comes with its own levelers that function independently of each other and deliver a totally level playing surface.
Cost and Value
The Primo Foosball Table is definitely a bit pricey but it still rings up in the middle of our price range. We love this table because it is durable and also because the company seriously backs its product. Not only will they replace any piece that is damaged upon arrival, but they also offer a 180-day manufacturers warranty so you can feel good about your investment.



The KICK Legend is definitely one of the most premium tables on our list but we love everything about it. Made by serious foosballers, it weighs in at 143 pounds and measures 55 inches long and 31 inches wides. It is versatile and sturdy enough to fare well in home and bar or office settings.
Comes with 2 Full Sets of Players
The KICK Legend features premium bearings and is finished in mahogany. Its 8 playing rods are made from stainless steel bars coated in chrome plating and are finished off with black easy-grip handles. As a bonus, you can request rod lube and KICK will send it to you free of charge. That means your rods will be gliding seamlessly for years to come. This table has ball returns at either end for convenience. We love that this table comes with 2 different player sets. The first player set features 13 red players and 13 blue players (with 3 goalies, 2 defenders, 5 midfielders, and 3 strikers each) that are expertly counterbalanced for ultimate playing ability. This set gives you the ability to switch between having 1 goalie and 3. The table also includes a uniform set of 26 men that can be changed out as well. This table really is made from some heavy-duty materials and is backed by an incredible company warranty so it definitely stands up to the test of time.
Comes with 5-Inch Leg Levelers
The KICK Legend boasts some super features. The independently functioning leg levelers can expand up to 5 inches each, giving you tons of control over height and leveling. Enjoy end-mounted slide scoring at either end of the table so you'll never miss a goal with either one of the 4 supplied premium soccer styled balls.
Cost and Value
The KICK Legend rings up in the exact middle of our price range and we love its value because it boasts super-premium features while ringing up at half the cost.

4

. American Legend Charger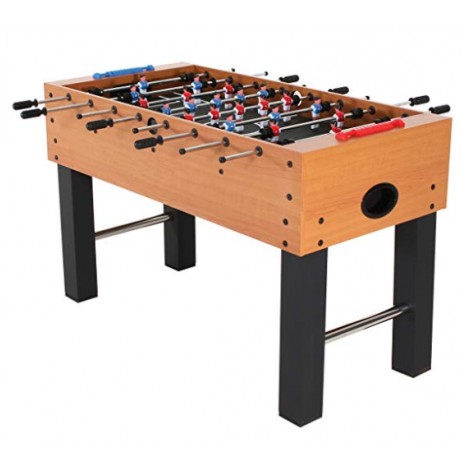 The American Legend Charger is a lighter weight option (weighing in at 83 pounds) that can be enjoyed at home with the whole family. It measures 52 inches long and 20 inches wide.
Convenient Internal Ball Return
The American Legend Charger is made using MDF (or medium density fiberboard) that is designed to reduce warping and damage. Player configuration is as follows: 1 goalie, 2 defenders, 5 midfielders, and 3 strikers. The hollow playing rods are coated in chrome for a sturdy finish and are topped off with black hand grips. For your convenience, the table features an internal ball return that returns balls to each end. Plus, two chrome bars between the legs endow the table with extra stability.
Abacus Style Scoring
The American Legend Charger features convenient, color-coded abacus style scoring mechanisms on either side of the table so you'll never have to bicker over scores again. It comes with 2 balls so you can get playing right away.
Cost and Value
The American Legend Charger rings up at the lower end of our price range. We like it because it's a straightforward table that is easy to assemble and sturdy enough to hold up to household use.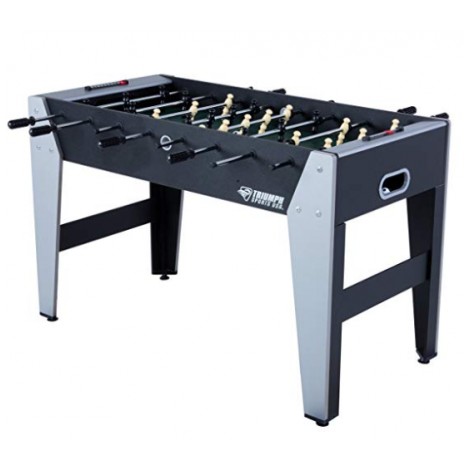 The Triumph Sweeper is a regulation product that weighs 40 pounds and measures 48 inches long by 24 inches wide. This unit is ideal for home play.
Hollow Steel, Chrome-Plated Rods
The Triumph Sweeper is made of MDF and features hollow steel chrome plated playing rods topped off with grips designed ergonomically for your comfort. The 26 players that are molded are arranged with 3 players at the goal, 2 players at defense, 5 players at midfield, and 3 players at striker. The product comes with end ball returns. This table is pretty lightweight so it is best intended for at home use.
Comes with 4 36mm Balls
The Triumph Sweeper comes with 4 36mm soccer balls that are totally solid and can stand up to tons of kicking. This product also comes with independently adjustable leg levelers so you can be sure to get a level playing surface no matter what room in the house you're playing in.
Cost and Value
The Triumph Sweeper rings up at the very bottom of our price range and we love its value because it's made using the same materials as some more expensive tables and it offers some of the same features as well, like leg levelers and end-of-table ball returns.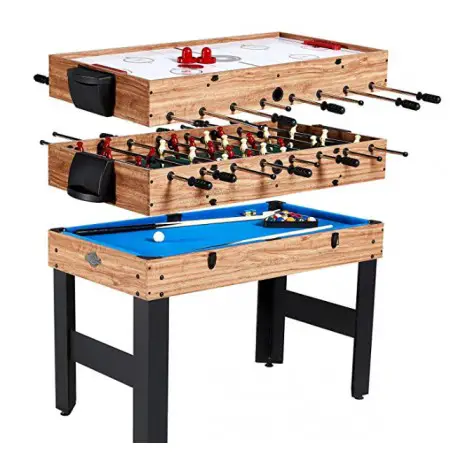 The Lancaster 3 in 1 does it all! If you're looking for a fun addition to your playroom for your kids or grandkids, then look no further--the Lancaster features 3 games built into 1. It weighs 61 pounds and measures 47 inches long and 48.5 inches wide.
Built-In Storage
The Lancaster 3 in 1 is made using MDF. The playing bars are made with hollow metal and topped with plastic grips. The slide hockey table is made of plastic and the pool table is topped with felt. The Lancaster clips the tables together using metal latches and allows the table to be a storage unit for itself and all of its gaming accouterment. Because this table is so lightweight, it is meant mainly for younger kids to enjoy.
3 Games in 1
The Lancaster features 3 games in 1. The foosball table comes with 2 foosballs; the pool table come with 2 miniature wooden sticks, a racking triangle, 2 pieces of chalk, and a full set of ceramic miniature pool balls; and the slide hockey table comes with 2 plastic pucks and 2 plastic hand-held gaming disks. Scoring games have manual scoring units on each end of the table.
Cost and Value
The Lancaster 3 in 1 rings up at the low end of our price range despite including 3 different games all in one. We like this product for its variety and easy storage.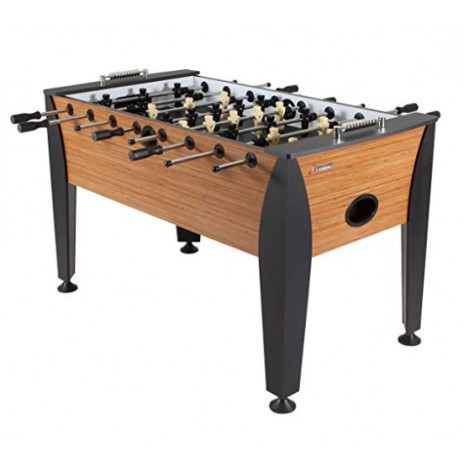 The Atomic Pro Force is both inexpensive but still relatively heavy-duty. It weighs 103 pounds and measures 56 inches long and 30.5 inches wide. This table is great for home and office use alike.
Rubber, Octagonal Hand Grips
The Atomic Pro Force is made of MDF and features hollow steel playing rods that have been coated in chrome. The playing rods are topped off with unique, octagonal hand grips that are ergonomic and finished with rubber for a super-comfy, non-slip grip. With end-of-table ball return, you won't have to reach for scored goals. This product comes with 26 players in the standard arrangement.
Manual Scoring Devices
Each Atomic Pro Force comes with 4 balls and manual scoring abacuses on either end of the table to make sure you keep track of every shot made. This product does require assembly and may require more than one person to assemble. However, reviewers believe that the instructions that come with the Atomic Pro are easy to follow.
Cost and Value
The Atomic Pro Force rings up towards the bottom of our price range and we like its value because it has similar features to more expensive tables without breaking the bank.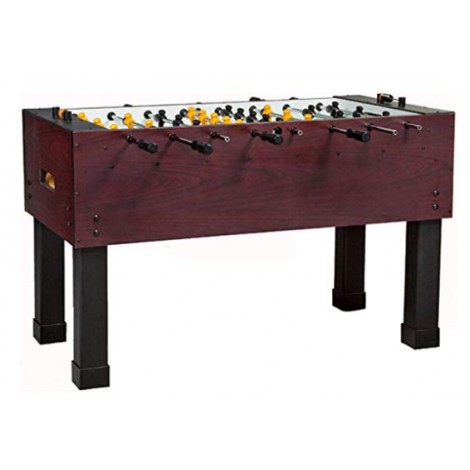 The Tornado Sport is the most heavy-duty table on our list. Built in Texas, it is designed to last and can be used by professional players and young enthusiasts alike. It weighs a whopping 230 pounds and measures 56 inches long and 30 inches wide.
Finished in Mahogany Melamine
The Tornado Sport is made from the finest quality materials. Finished with Mahogany Melamine, the Tornado not only looks good but is truly built to last. This guy is professional grade and professional sized--but it's great for the kids too. This product features black plastic handles with sure-grip technology to give you the non-slip grasp you need to score goal after goal. It also comes with 2 convenient dual end-of-table ball returns.
Fully Adjustable Legs
We absolutely love the Tornado Sport's legs. They are fully adjustable in height with different pre-factory holes for you to select your desired height. The unit also comes with rubber shims and rubber boots. If you have assembled your table on an uneven floor, simply remove the rubber boot and insert the necessary number of shims. Replace the boot and voila! You have a totally level table that still remains super sturdy.
Cost and Value
The Tornado Sport is the most expensive item on our list but it is well worth it. This table was designed to last a lifetime and the company offers tons of factory made replacement parts so that you can keep your table in peak condition no matter what the years do to it.



The Giantex is another inexpensive and lightweight table that is great for the holidays and great for kids. It weighs 42 pounds and features competition approved measurements of 4 feet long and 2 feet wide.
Hyper-Realistic Players
The Giantex is made from MDF wood and features steel rods that are finished with plastic grippers. An additional crossbar at either end of the table between both leg sets offers more stability and durability over time. This table features only one goalie, but all 11 players are hyper-realistic and fun to duel with. For your convenience, each end of the table has its own ball return slot. Assembly is required with this table, but detailed and easy-to-follow instructions are provided.
Lifelike Graphics
The Giantex comes with some fun features. To start, you get 2 balls so that you won't miss a beat. Each end of the table also comes with its own manual scoring device. And as a bonus, the table comes with some fun graphics. The table is made to look like a real soccer field, and rows of crowd graphics are thrown in as well. And for even more added convenience, this table comes with collapsible drink holders on either side
Cost and Value
The Giantex is one of the most inexpensive items on our list and we like it because it's easy to assemble and it comes with some lifelike features to make you feel like you're really in the game.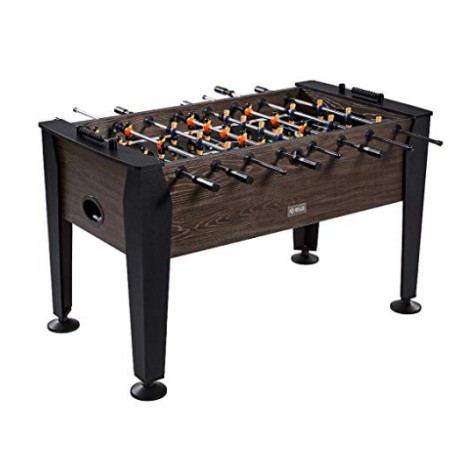 The Rally and Roar is a great table to round off our list, and we like this table's look more than any other table we've featured so far. This table weighs 75 pounds and measures 56 inches by 30 inches making it a great home table that adults and kids can both enjoy.
Deep Oak Espresso Finish
The Rally and Roar is made from sturdy MDF wood material that is finished in oak wood laminate. The steel playing bars are coated in chrome and finished with real wood handle grips. Each of the legs features a 5-inch leveler that allows you to get a totally level player, and each disk comes with a rubber bottom to ensure stability and prevent slipping. This table features end-of-table return slots at each end. And to top of the cool features of this table, its corners are slightly raised so that the ball never gets stuck in the corner and you can enjoy continuous play.
Comes with 2 Different Style Balls
The Rally and Roar comes with some great bonuses. The abacuses on either side of the table help you to keep score and are made of solid wood. And this table features 2 different styles of balls. 2 of the balls resemble soccer balls and have a hard, smooth finish, while the other 2 balls are softer and have a fuzzy surface. This will allow you to change up the style of play.
Cost and Value
The Rally and Roar rings up towards the middle of our price range and we love its value because it's aesthetically pleasing and it comes with some cool features like rubber bottom levelers and raised corners to keep the balls from getting stuck.

Subscribe to our Newsletter