Best Floor Mops Reviewed & Rated for Quality
Let's face it, there are not many people out there who look forward to cleaning their floors. It is just one of those jobs that have to be done. When it comes to this task at hand, there is nothing worse than having a mop that doesn't fit your needs.
It just makes the task of cleaning your floors that much worse. Whether you are just cleaning the floors in your home or clean for a living, I think that we can all agree that having that perfect mop makes thing just a little more tolerable.
Featured Recommendations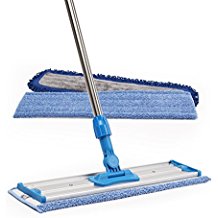 Microfiber Wholesale 18"

Our rating
Microfiber Mop Head
Price:

See Here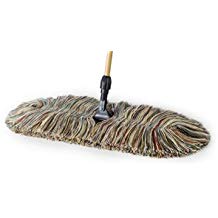 Sladust Wool Dust

Our rating
Telescoping Handle
Price:

See Here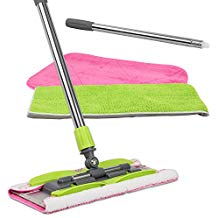 Linkyo Microfiber Hardwood

Our rating
Easy to Maneuver
Price:

See Here

When shopping for a mop, it is essential to keep in mind the area you are cleaning and the overall usage this mop will be getting. With those thoughts in mind, I have compiled a list below of the top 10 best mops. I used a variety of mops to help you determine which one best fits your specific needs.
10 Best Floor Mops
1. Microfiber Wholesale 18"

This 18" Professional Microfiber Mop makes cleaning floors a breeze. This mop comes with
locking velcro
that keeps the mop pad in place, so you don't have to worry about it slipping off. It also comes with a pivoting handle, which makes this mop efficient and allows you to tackle those big jobs with ease.
Expand to see more
Unique Handle Design
This mop has a unique handle that pivots with you, which allows you to clean those tight, hard to reach spots with minimal effort. This mop also comes with an extension handle, which makes cleaning faster and easier, especially larger areas.

Bonus Items Included

Not only does this mop come with an extension handle that extends to 70' and a heavy duty aluminum mop frame, but you also get an extra 2 microfiber pads and two Buff Pro Multi Surface Towels. The microfiber pads are also machine washable, so you can use them again and again.


Cost and Value

When compared to other similar microfiber mops, this one lands right in the average price range. With its overall quality and all of the extras that are included, this is a deal that you can't pass up because it most definitely will not empty your wallet.

Extension handle

Pivoting handle

Bonus items included

Average pricing
May stain flooring if left standing in one place for too long
2. Sladust Wool Dust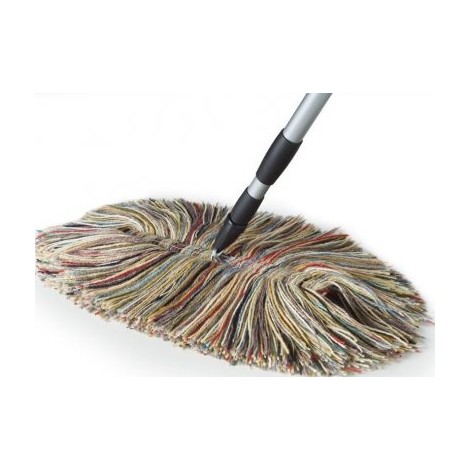 The Sladust Wool Dust Mop is a dry mop made with all natural Lanolin. It has a telescoping handle, which helps make clean-up quicker and more effective. It also swivels, which makes it much easier to maneuver and helps cut down on the cleaning time. After all, who wants to spend their whole day cleaning floors?

Expand to see more
Telescoping Handle
This mop was designed with a telescoping handle that can extend anywhere from 34" to 59". This is perfect for those
larger floors
that seem to take forever to clean. The handle is also made out of metal that is treated with a special resin coating, so you don't have to worry about water damage or corrosion.
Swivel Head
This dust mop was also designed with ease in mind. The head of this mop swivels, which makes it easier to clean larger floors and hard to reach places. It was built with a 12" frame and has the capability of dusting an area of 11" x 18", making cleaning a breeze.
Cost and Value
Comparing this dust mop to similar products, this one fall in the average price range. When you look at the overall quality of the product and all of its features, you are really getting a good deal. It also comes with the option of purchasing extra mop heads.
No harsh chemicals

Telescoping handles

Swivel head

Average pricing
Mop head may fall off when in use

May not clean up larger areas of dust
3. Linkyo Microfiber Hardwood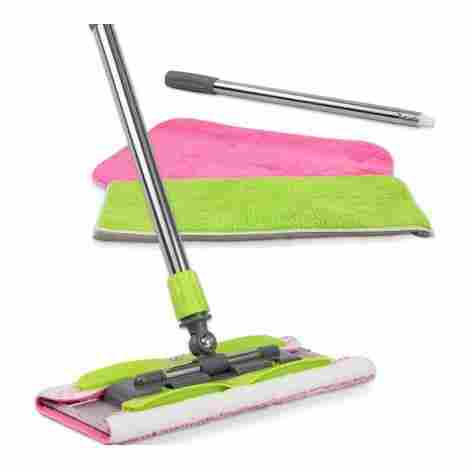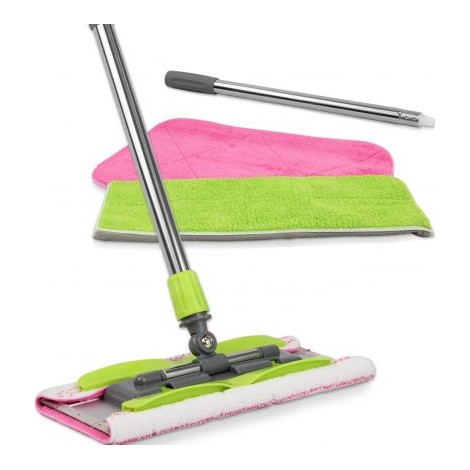 The Linkyo Microfiber Floor Mop is the perfect mop for cleaning the floors in your home or the office. Its long reach adjustable handle and unique 360-degree rotating design make cleaning those hard to reach places a breeze. The microfiber pads are also machine washable, so you can get multiple uses out of each pad instead of wasting money on disposable pads. If that is not enough to grab your attention, the 2-year guarantee on this product surely will.

Expand to see more
High Quality Material
This mop was designed with quality in mind. The handle is made from a
strong stainless steel
, so you don't have to worry about it bending. The mop frame is made from a strong aluminum and a high-grade plastic, so you won't have to deal with the struggle of the frame cracking or breaking.
Easy to Maneuver
The Linkyo Microfiber Floor Mop is designed for all of those hard to reach places. The mop frame rotates a full 360 degrees, making cleaning tight areas, like behind toilets, super easy. The frame is only 14.75", so you don't have to worry about finding alternate ways to clean those tight, hard to reach places.
Cost and Value
When comparing this microfiber mop to other similar mops, this one is the least expensive. When considering the quality of this product and the 2-year guarantee that it comes with, you really can't go wrong with this choice.
Easy to maneuver

High quality

Least expensive

2-year guarantee
May break after multiple uses

May not pick up dirt as well as expected
4. Twist and Shout Mop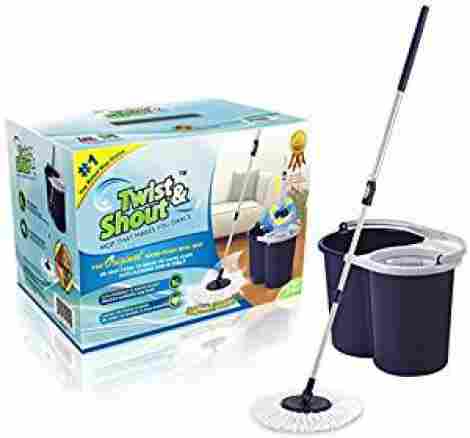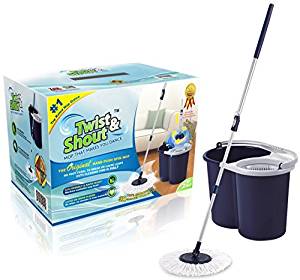 For those who don't mind the effort needed to dry this mop head, it is a well-rounded mop. The best feature of the Twist and Shout Mop is the freedom from bending over to squeeze the mop by hand.


Expand to see more
Features

A two mop-head design glides over hard surfaces. The bucket is made of heavy duty plastic and is fully assemble. At one time there was an eight-inch extension that was needed and had to be purchased separately. Improvements have been made for a better version than the original. It has an anti-splash guard. The mop is twice as, and the handle is six inches longer. No separate handle is required.

How It Works

As you clean, you can dunk the mop into the water side and transfer to the spin side without splashing water everywhere. Water is spun from the head of the mop with ease. Push the handle down, and the mop head spins in the spinner basket.

It can be compared to a salad spinner. The mop section of the bucket has holes in it. The wet mop is placed in the basket that spins the mop head, sending water back into the bucket. The mop can be used around toilets and under the kitchen table.

Cost and Value

Customers who bought the Twist and Shout Mop say it is easy to use. Spinning water out, filling the bucket, and carrying it to the workspace can be done with no problem. The mop is on the pricey side. Overall this is a quality product. The mop is backed by a two-year warranty and 30-day free return if the mop is defective.

Freedom from bending over to squeeze the mop head
No added strength or pressure is required to press the mop head
Performance
Two mop head design
Maximum watermark is a sticker rather than embossed. It may come off.
5. O-Cedar Easywring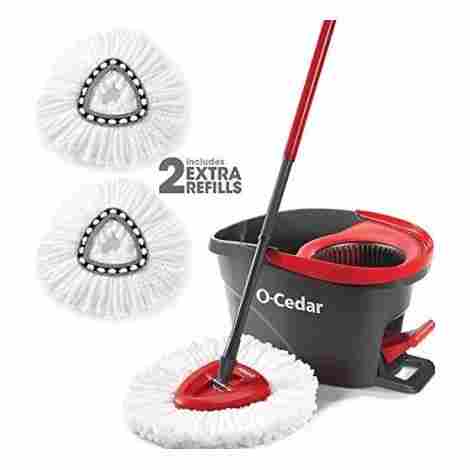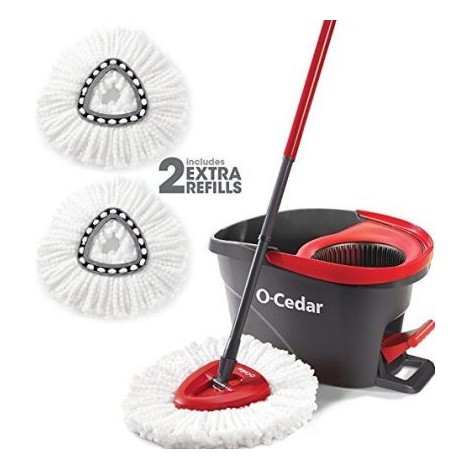 If you are looking for a newer version of the old mop and bucket, then the O-Cedar Spin Mop is the mop for you. This mop is a
microfiber
mop that comes with its own built-in wringer, which makes mopping so much easier when you don't have to use your hands to wring the mop. It also has a telescoping handle that makes cleaning easier and comes with 2 extra refills.
Expand to see more
Unique Bucket Design
This mop has a unique bucket design that has its very own built-in wringer. It comes with a foot pedal that engages the spin wringing, which makes things a hands-free wringing mop. The foot pedal also makes it so much easier because you don't have to worry about bending over and pushing a handle to wring the mop.

Telescoping Handle
This mop also has a 3-section telescoping handle. This handle can fully expand to 48", which makes a lot of those larger jobs much easier and more efficient, so you can spend less time cleaning and more time enjoying life.

Cost and Value
When compared to other similar spin mops, this one is a little more on the expensive side. Keep in mind that you are not only getting a high quality, hands-free spin mop, but you are also getting 3 mop refills that are included as well. If you ask me, I would say that this is money well spent.
Unique bucket design

Expanding 3-section handle

3 mop refills included
More expensive

Mop may be bigger than expected
6. Shark Genius Steam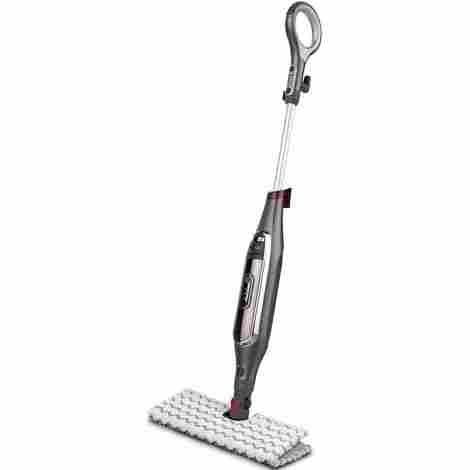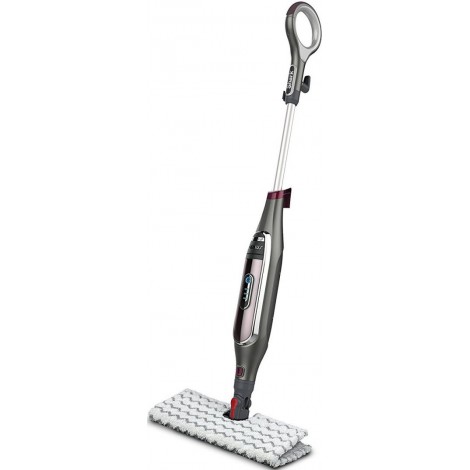 The Shark Genius Steam Pocket Mop is a step up from regular mopping. It uses steam to clean your floors, which means there are no harsh chemicals to worry about. Since this mop uses steam, it is also safe to use virtually any surface without worrying about damage. The mop pads are also machine washable, so you can get multiple uses out of them.
Expand to see more
Cleans and Sanitizes
This steam mop not only cleans surfaces, but it also sanitizes them as well. All without the use of harsh chemicals that can be harmful to you and your floors. The steam is able to
tackle
some of the toughest stains that have penetrated your floors.
3-Setting Control System
The Shark Steam mop also allows you to choose the level of steam you use for each cleaning task. This means that you can use a higher amount of steam for areas that have tough stains that need a little more elbow grease and a lower amount of steam for those more delicate floorings.
Cost and Value
In comparison to other similar steam mops, the Shark Genius Steam Pocket Mop falls into the average price range. Considering how thorough this mop cleans and the fact that it sanitizes too, along with the machine washable pads, this is a steal of a deal!
Clean and sanitizes

3-setting steam control

Machine washable pads

Average pricing
Mop is heavier than expected

Not a stand alone mop and falls over
7. Bissell Spinwave Powered Floor Mop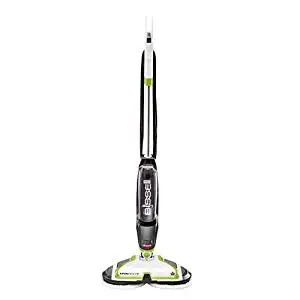 It is not a steam mop. However, the Bissell Spinwave Mop is designed to power through floors, scrubbing them without damaging delicate floors such as vinyl and hardwood. The cleaning beast has two spinning pads.

Expand to see more
How It Works

The pads scrub the floor every time the mop is pushed and maneuvered across the room, around tight spaces, and under furniture pieces. It has a tank for spraying a water solution to clean vinyl, linoleum, and tile.

The mop has an on-demand feature that allows pushing a button only when the cleaning solution is needed. This mop weights nine and a half pounds. The electric cord is approximately 20 feet long. The cleaning path or surface is about 14 inches.

Pads and Solution Compartment

There are two soft touch pads and two scrubby pads. Scrubby pads are used for stuck-on, sticky messes. The soft touch pads were made for gentle scrubbing that is perfect for sealed hardwood floors.

The pads work in pairs. As you turn on the mop, the pads work together. They eliminate the need to scrub the floor on your hands and knees. There is a compartment to fill with a cleaning solution that aids in removing messes and keeping floors looking great.

Cost and Value

The high-end mop is designed for sealed hardwood, vinyl flooring, laminate, and tile. Customers who purchased the Bissell Spinwave claim their floors have never looked better. Many users who have had the mop for six months to a year say it still works well.

It will clean shallow grout. The mop head fits under cabinet kick spaces and the front of a dishwasher. Designers sometimes overlook that feature. The pads can be washed and sanitized.

Easy to use
Not hard on the back
On-demand spray
Power spin pads
Not easy to get behind the toilet or into corners
8. Temples Pride Professional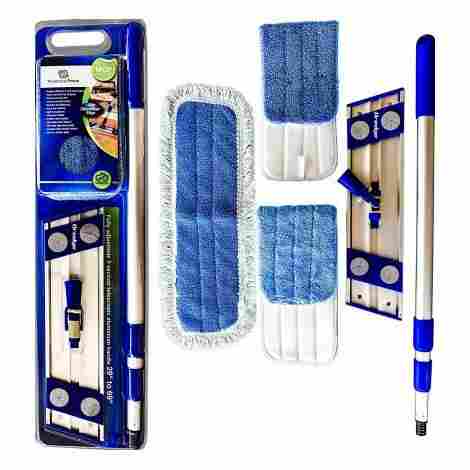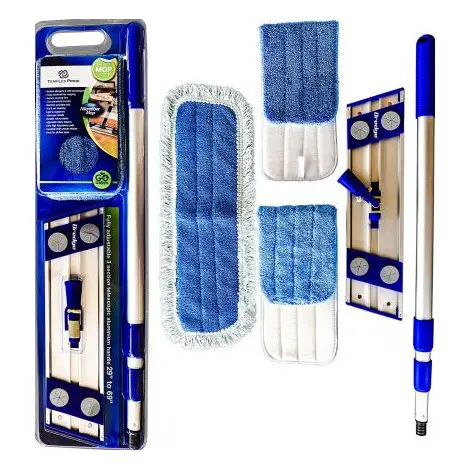 This professional microfiber mop by Temples Pride is actually an all-in-one kit for all of your floor cleaning needs. This system was designed with maximum efficiency and durability in mind, so you can spend more of
your time
doing the things Between the machine washable pads and the heavy-duty telescoping handle, you will have your floors looking like new in no time at all. Plus, this product is backed by a money back guarantee, so you don't have to worry about wasting your money.
Expand to see more
All-In-One Kit
This professional microfiber mop kit comes with a heavy-duty telescoping handle, 1 dry dusting pad, 1 drag-resistant wet pad, and 1 drag-resistant wet/dry pad. All of these pads are machine washable and pick up hair and dirt like a magnet, making cleaning easy and efficient. They are also safe to use on virtually any surface.

Telescoping Handle
The handle on this microfiber mop is extendable, which means that you can reach more spots in half of the time. It is made from a strong, heavy-duty metal, so you don't have to worry about this handle bending or snapping.

Cost and Value
When you compare the price of this microfiber mop to similar ones, it falls in the average price range. Considering that this is a complete kit with high-quality products and a money back guarantee, you really can't go wrong with this choice.
All-in-one kit

Machine washable pads

Average pricing

Money back guarantee
Mop head might flip while using wet mop

Velcro may come loose
9. Rubbermaid Reveal Spray Mop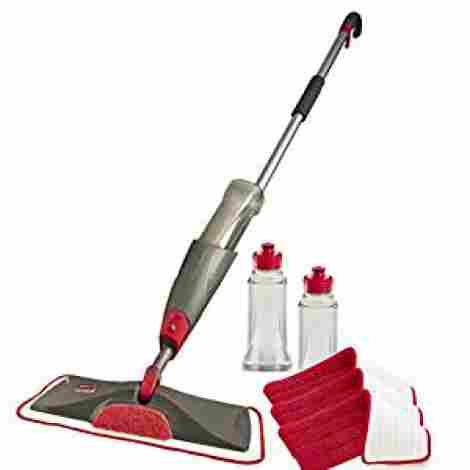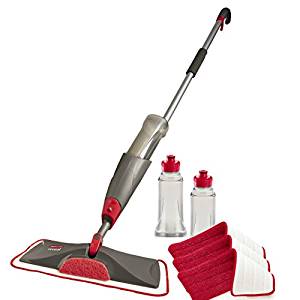 Use this mop instead of time-consuming, ineffective, inconvenient traditional cleaning methods. It is a new cleaning concept that brings efficient and great convenience that produces excellent
results.

Expand to see more
Features

The Rubbermaid Reveal Spray Mop is versatile enough to be used on any hard surface. It has a manual trigger spray that controls the spray amount dependent on the degree of pressure placed on the lever.

Its 360-degree wide swivel head aids in reaching every corner. No batteries are necessary. You can create cleaning solutions with the refillable bottle. The refill bottle and two microfiber pads are included with the purchase.

Pads

The non-scratch pads make the product attractive an option for serious cleaning. The pad is made from superfine filaments that are 1/100 the size of human hair. They allow the mop to pick up 50 percent more dust and dirt per swipe than traditional dusters.

The pad securely attaches to the mop during use. Removing for washing is easy. Pull the pad ring. The pad can be washed as often as 100 times in the washing machine or by simple hand washing for even longer use.

Cost and Value

The reusable microfiber cleaning pad and spray bottle provide an economical and easy cleaning solution. The handle is made of sturdy Q235 steel. It has an ergonomic design. All cleaning is done with a comfortable grip.

The combination of features provides a new cleaning experience. Fill the Reveal bottle with water and control the wetness level on the floor using the spray trigger. The floors dry quickly, and the mop prevents excessive moisture on hardwood floors. Your favorite solution can be used in the spray bottle for more effective cleaning.

Ergonomic design
No bucket is needed
Non-scratch pads
Washable pads
Some customers report a faulty spray trigger
10. SKG 1500W Powerful Non-Chemical Steam Mop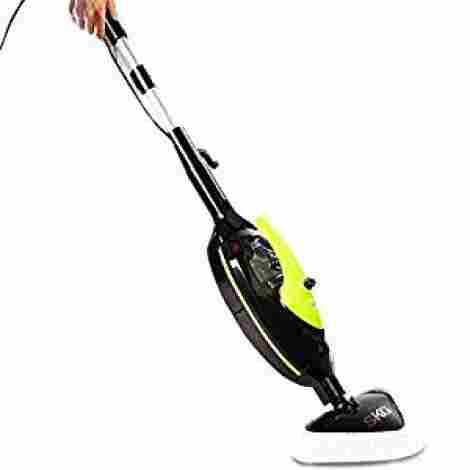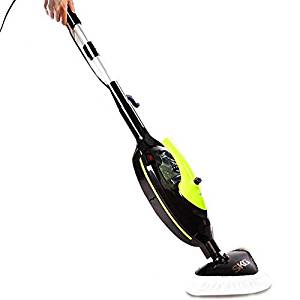 This is a six-in-one steam cleaner. The SKG 1500W Non-Chemical Steam Mop is one of the best cleaners for removing tough stains from floors. Multiple attachments make the mop capable of multitasking. You can clean over the curtains, inside the oven, and on furniture tops.

Expand to see more
Features

Cleaning floors is quite simple. It is designed to produce hot steam. The steam cleaner utilizes sanitizing power to eliminate stains, dirt, and debris from carpet, hardwood, and vinyl floors with ease.

A low-profile, triangular, swivel mop head allows cleaning every corner in a room. You can clean around and below cupboards and furniture. Also, the nozzle turns at a 180° angle to allow deep cleaning under furniture such as couches.

Attachments and Design

Six attachments are included that accomplish specific tasks. A snap-on glider cleans carpet. A hose removes oven debris. The small brush is used for cleaning furniture. A wide fabric attachment cleans curtains. The different accessories and attachments make cleaning easier.

The hot steam is produced at a temperature of 212° F. Challenging profile areas are addressed with the triangular mop head. The triangular design provides precise, deep corner to corner cleaning.

Cost and Value

The mop has earned high ratings from customers who say it is among the best alternatives for cleaning various types of floors. You no longer need a professional cleaner for carpet cleaning. The mop keeps carpet spotlessly clean.

The microfiber cleaning cloths that come with the mop are reusable. They are washable. The feature saves on replacement costs. It has an adjustable handle. The mop head detaches from the handle to become a handheld steam cleaner.


Can be used for cleaning carpets, furniture tops, curtains, and walls
Can be used on all types of floors
Six attachments
Triangular head cleans corners, below the couch and profile areas
Requires the use of filtered water
When it comes to shopping for mops, it can feel a bit overwhelming because of the abundance of choices and options out there. If you keep in mind the type of flooring, such as hardwood or tile, and how often you will be using this mop, choosing the perfect mop will be a breeze. Hopefully the list above helps you determine the type of mop you need and helps take some of the stress away from looking for the perfect mop.