Best Fish Tanks Reviewed & Rated for Quality
In a Hurry? Editors choice: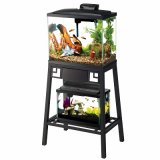 Test Winner: Aqueon Forge

Fish are simple
creatures. And they provide us plenty of simple joy, with their bright colors and simple elegance. So it's not too much to ask that we ensure our fish friends are getting the most they can out of life. And that means providing the best care possible. The happier your pets are the happier you are, making any of these the perfect option for your little-scaled friend. You'll be smiling ear to ear when you see Nemo floating around in any of these tanks. Now all that's left is to see which one of the ten
best fish
tanks will be perfect for you!
Standout Picks
Criteria Used for Evaluation
Materials
The materials of the fish tanks on this list are all incredibly high quality, both in the raw material value and in the build value. They need to be durable in order to fit in with the demands a fish tank goes through. Not only is it housing life, but it's also housing a whole lot of water and other stuff that could definitely ruin your floor if it were to break. Accidents happen, but they shouldn't be enough to take out your beautiful fish tank. Durability in the face of wayward balls, elbows, and cats is important when looking at fish tanks.
We've gone through and found the highest quality options for tanks of all levels. While they are still made of glass, many of the glass tanks have been treated and prepared for at least a little bit of impact. Plus, the bigger they are the stronger they tend to be. The more water they hold the more they need to be reinforced so as not to sploosh all over your hardwood. We judged these tanks based on both manufacturing specs and lived experiences from reviewers. We believe that this will give a fair and honest show of how durable these tanks are.
Size
Believe it or not, the size is actually very important when it comes to a fish tank. Not only are you taking into consideration the amount of water it takes to fill it, but you also have to figure out how much space your fish friend needs for exercise and roaming around. The size is thus important in more than one way; as well as needing to fit with your fish's routine, the tank also needs to fit into your home life. Size matters when it comes to setting up in a limited space.
While it might seem silly to base a shopping choice off of one point, we believe that it can be something very important to consider. It's a great choice to consider size, especially if you know already what kind of tank you're looking for for your fish friend. Knowing exactly what you need will help make shopping for a fish tank easy. By being able to say that you need a 2-gallon tank with filtration capabilities you can skip all of the saltwater tanks or aquarium tanks (or other tank options that aren't exactly what you need). We know that there's a variety of fish owners reading these articles though, which is why we compiled a variety of tank options. The tanks we've picked here will give you all the information you need to make an informed choice. The sizes we've chosen are certainly a variety, making it easy for you to strike off the ones that you don't need right away.
Value
A safe fish might be a happy fish, but it's still just a fish. The goldfish you bought your kid from PetSmart on a whim certainly doesn't need a $700 tank to be happy. This is a little fish that's been bred in captivity and will never see the light of a great, sparkling ocean. Goldfish wouldn't survive out there, anyway, making it easy to justify purchasing a perfect home for your pet that doesn't exactly break the bank.
That perfect home should be perfectly priced as well, though. While some people don't hate the expensive tanks and accouterments that go into tropical fish care, regular old goldfish don't exactly need that same luxury. Many people decide to purchase a fish just because of how interesting they look. It's like moving, living art when you get a couple of fish roaming around a tank. There's no need to stress out and purchase the priciest option though, especially when it's unneeded.
The fish friend will be happy as long as you're purchasing an appropriately sized home. The tanks we've chosen have a variety of prices, all of which are able to fit into either end of a budget. Whether you're looking to purchase a tropical ecosystem tank that mimics life out there in the great underwater outdoors or you're looking for some cool glass sculpture that also works as a fish tank, there's an option for you. Remember to err on the side of cheaper when it comes to purchasing fish tanks; there are running costs associated with owning a fish, as well as all the other fun additions into a fish tank. Gravel can add up, which is why we've tried to err on the less expensive side for the tanks.
BEST FISH TANKS REVIEWED & RATED FOR QUALITY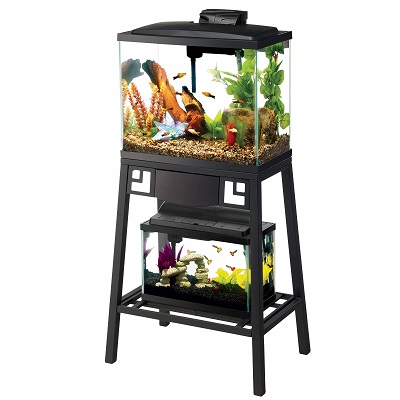 This first fish tank option actually isn't a fish tank at all; it's a stand! We included it because we believe that a strong base can make or break any fish tank. While it's all well and good to throw your fish tank on a shelf or counter, with so much weight pressing down it can be stressful to figure out how to support it properly. The last thing you want is a broken tank from hitting the floor! This stand merges perfectly with any and all mid-size fish tanks. There's an extra shelf for fish food, plastic divers, and how to books, or anything else you feel that your fish friend might need. Overall the shelf is versatile and will make taking care of your tank easy.
Made of Steel
Yes, we know there are wood panels on there too; just let us have an Ironman joke before we get started, okay? This product is basically the man of steel of aquariums. Not only can it support multiple fish tanks, but the steel construction means you don't need to worry about breaking or warping. The construction is totally strong enough to handle anything you put on it. Even eager children climbing up to pet their fish friend.
Perfect Size
It's hard to call something the perfect size if you don't know exactly what size you need for your space, but this average sized stand is legitimately built to be perfect for a certain size of the tank. While it's totally possible to put smaller tanks on here, it's suited best for a 20-gallon tank. This perfect sizing makes for an amazing visual when it's all set up. Sliding the tank right in between the posts is satisfying, and will land perfectly center on your new fish tank holder. Smaller tanks will also sit well on top, but don't try a bigger one… That could get messy!
Cost and Value
Considering the fact that we still need to acquire the actual accouterments to house a fish with this tank stand, the cost might be a little much for those first starting out. However, we feel that it's an important component of fish ownership. Providing a dedicated space for your fish friends will ultimately make you all much happier. Sliding into the right spot will make everyone feel satisfied, and the quality of this build will put anxious minds at ease. Now there's no fear of knocking, breaking, or smashing your fish friend's home! Isn't that peace of mind really priceless?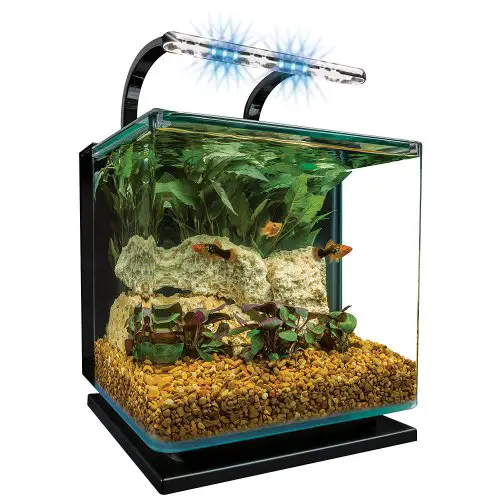 This is our first official fish tank on this list, which seems silly because we're already at the number 2 spot. However, it's well deserved. The first product we talked about is the perfect basis for any and all fish tanks. This is the perfect option for those looking to purchase their first fish tank. Marineland is a great brand and understands the needs of fish. They've crafted a tank which is durable, reliable, and able to live up to any fish's expectations. What could be better
The Light
Even fish need a little light in their lives. While we're very concerned with getting our plants enough light, seldom do we consider the fact that our fish friends need a little light as well. This aquarium has a built-in rail light, making it easy to fulfill the fish's circadian rhythm needs. You can set the light to both daylight and moonlight settings, almost like a little fish alarm clock. Now your water-living companions will be happy and healthy knowing exactly what time of the day it is.
Hidden Filtration
Whenever you look at a large fish tank, the first thing you tend to notice isn't actually the fish. The first thing you see is the bubbles coming from the filtration and aeration station, which is often tucked up in a corner and easy to see. Some tanks require a separate filtration station to be added, upping the cost and making your life a little more difficult. This tank includes it all in one, which we believe is a huge, huge benefit. The filtration system is hidden in this tank, and even includes a filter with it! Talk about a money-saver. Now all your fish will be the first thing people see, rather than staring at the clunky bubble-maker on the side of the tank.
Cost and Value
This fish tank is an excellent value for its cost, making it a great decision for anyone looking to purchase a tank. Whether you're an experienced fish owner or one that's just getting started, knowing what the best value for a tank is should always be a priority. Considering the fact that this tank also comes with a light and filtration unit built in, we believe that it's a great value for the dollar amount.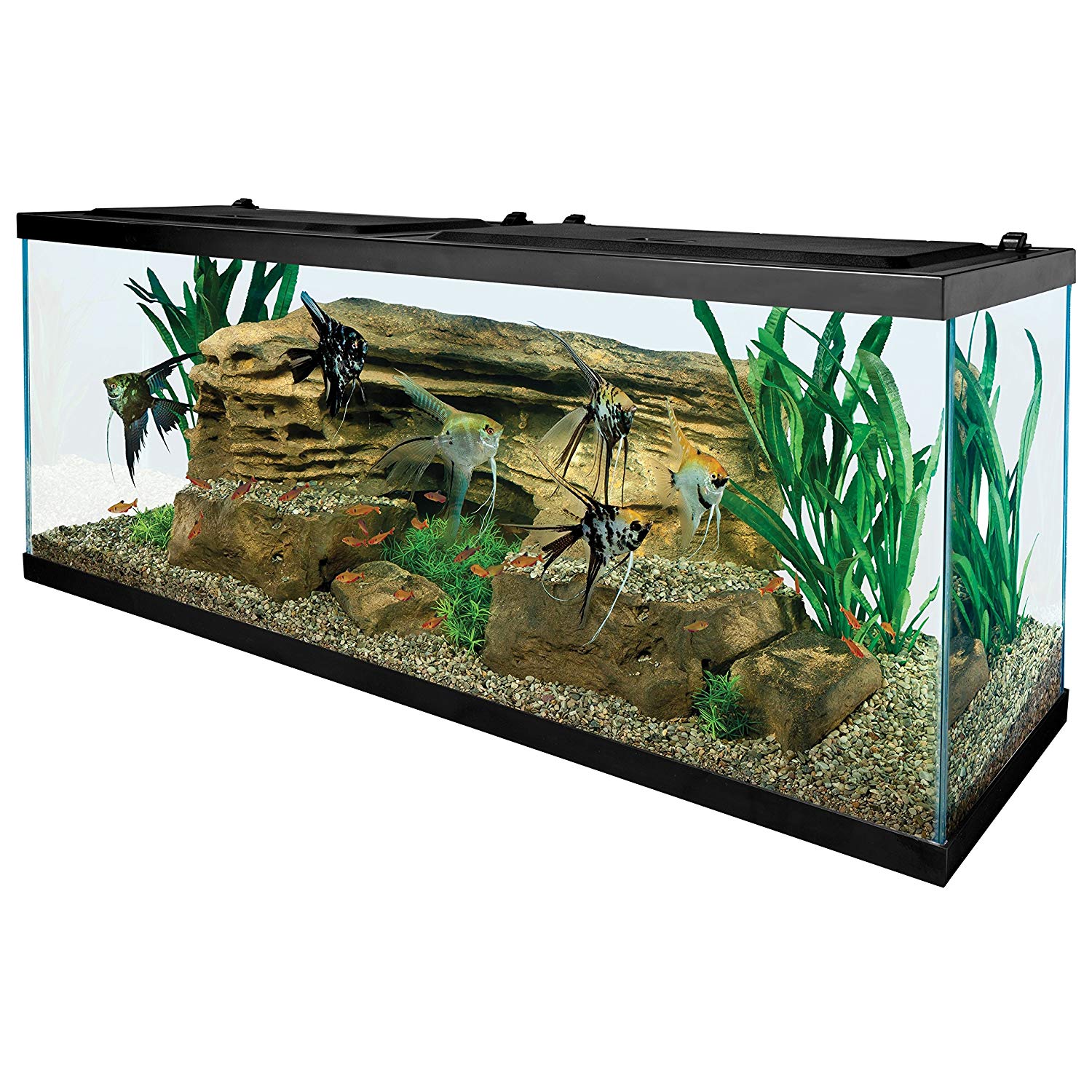 This is a simply massive aquarium but if you're looking to make a big impression with your denizens of the deep this is the way to go. The Tetra 55 gallon will make sure you can stock up your tank with whatever special fish you want.
All the Accessories
It's not just the tank you're getting. You'll get everything you need to go along with your tank: fishnet, thermometer, heater, and filter. This is the full set that will make your aquarium the envy of fish lovers everywhere.
LED Lighting
LED is the new thing and this tank comes with an LED light set that will allow you to alter the lighting easily and put a nice daylight effect on your tank.
Cost and Value
Make no doubt about it you're going to pay for this aquarium. But as big old tanks go this is going to be one of the best so if you're looking to make a splash with your fish tank this is the way to go and honestly at this level this is really a pretty good price for what you get.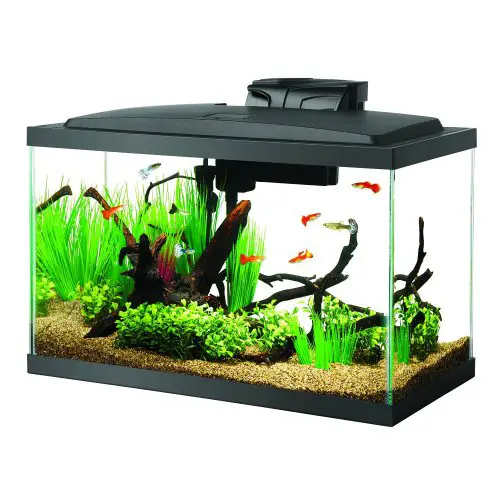 Okay, we've seen a solid, more grown-up tank and an all-in-one kit. We've covered the two extremes, which means we now need to look at the middle options. This is a starter kit that's going to be easy for you and the kids to work on putting together. Not only do you have pieces that are normally not included in starter kits, but you're also getting clear instructions from Aqueon as to how to put it together. This support is so valuable, and part of the reason we love it so much.
The Extras
No, we're not talking about coleslaw and french fries. The extras are for the fish this time before any dinnertime antics happen. This kit comes with fish food, filters, and even a fish net for those unfortunate situations when our beloved aquatic pet is actually sleeping with the fishes (or for scooping them out for cleaning day). With everything packed into this kit, it's no surprise that they list it as the perfect starter option!
Tropical Paradise
Sometimes we decide to buy fish just so we can feel like we're back in the Bahamas. Tropical fish are so interesting to watch and are much more vibrant than many of the normal fish we find here (even in pet stores). However, many people are scared to commit to tropical fish out of fear that they aren't going to be able to keep up with the caretaking needs. Honestly? It's easier than you think. This kit, for example, keeps the water at a perfect tropical temperature using its built-in heater. There you go! That's all you need for these tropical fish friends!
Cost and Value
This fish tank comes in two different sizes: a 16 gallon and a 20 gallon. Unsurprisingly the cost changes between the two of them. While the price tag on the 20 gallons might seem a little high for some, it's less expensive than the last kit we looked at. Considering the fact that this is another all-in-one kit (right down to the fish food), the cost is well worth the value and time you get. And you really will save time. Setting everything up in one go is going to be much less of a headache than doing it in parts!



ECOLIFE has truly outdone themselves this time with this amazing aquarium system. Not all aquariums are dull, glass cubes. This is a tank that can give the fun and excitement necessary to both plant growing and fish-loving. It's a different sort of all-in-one style of tank that we personally love. The "aquaponics" aspect is a great one for any and all plant enthusiasts and is definitely a new experience seasoned fish lovers will want to explore.
Full Meal Deal
Maybe that's the wrong phrasing when talking about our fish friends. It really is an interesting way to go about gardening, though. Essentially this tank is rigged so you can grow plants on top of your fish tank. The tank is built in such a way that it allows the fertilizer created by the fish to nurture your plants, and the nutrients released by the plants to help keep the tank clean and livable for your fish. With the light on top, you're also able to sun both the plants and fish, keeping everyone warm and happy no matter what the weather.
True Learning
Sometimes we need to look at the benefits a tank provides outside of its actual components. While it's great that this tank has all of these cool benefits, at the end of the day we're really excited about the fact that it's a perfect learning tool. Science teachers will love to have this in their classroom, and curious kids will appreciate having a mini ecosystem in their own home that they can ask questions about. We're very excited about the learning capabilities for this tank and think that that benefit is truly more than any of the other tanks could ever provide.
Cost and Value
A specialty project like this is certain to be a higher price. If you guessed that, you're right. The ECOLIFE ecosystem tank is a higher price than almost all of our other tanks. It's definitely extending our fish tank budget, but it's worth the cost if you can swing it. Not only does it come with everything necessary to set up and get growing, but it's also like getting two things in one: a fish tank and a raised growing planter. Considering that, the price really isn't all that bad.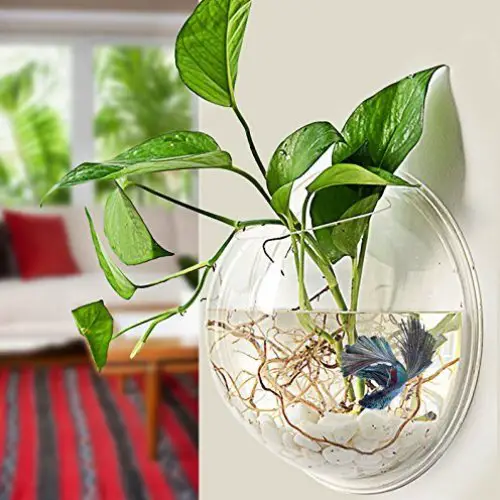 Alright, enough of these big tanks and clunky aquarium. Fish are delicate, beautiful creatures. Where do we find the tanks that are able to match how sweet and pure they are? Look no further than this home decoration pot, which features a 1-gallon bubble that lies flush against the wall. It looks like your fish has made its home in a little bubble and landed on the wall, forever existing in this small bubble. It's eye-catching, it's fun, but most of all? It's a practical decoration that will still make your fish happy.
Accessible Opening
While some wall-hanging fish tanks have to get taken down or move around every time you need to feed your lovely fish, this is one that's simple and easy to access. The opening is near the front of the tank, making it simple to add in a pinch of food once or twice a day. The back of the tank is also flat, which makes it even easier to angle. You never have to worry about your fish falling out, as the opening is solidly stuck in one place; no bad angles to result in spilling out onto the floor!
Acrylic
You didn't think this was actual, real glass, did you? Gotcha! That's how real it looks. Hanging a glass bubble full of water on a wall sounds in so many ways like a bad idea. That's why we've managed to find this acrylic version, which is perfect for any and all apartments. Your fish will be just as happy in here as it is in a large tank, though we would recommend changing the water regularly. The acrylic means it's not likely to get as dirty and will stay safe even during an accidental drop during cleaning. Plastic is also lighter than glass, which is part of the reason it's possible to hang this baby up in the first place.
Cost and Value
A cute and fun home decoration, this flat-sided bubble is a great choice for those that are looking to bring a little whimsy into their home. We love the way that this bubble sits against the wall, and makes for a perfect addition to any green space. The material is durable and doesn't require a whole lot of set up time. Overall, this is an excellent value for the cost. We're considering buying one just because of how neat it is. The sheer amount of eye-catching compliments we're sure to get is more than enough to convince us to purchase it!

7

. Docooler USB Desktop Small Fish Aquarium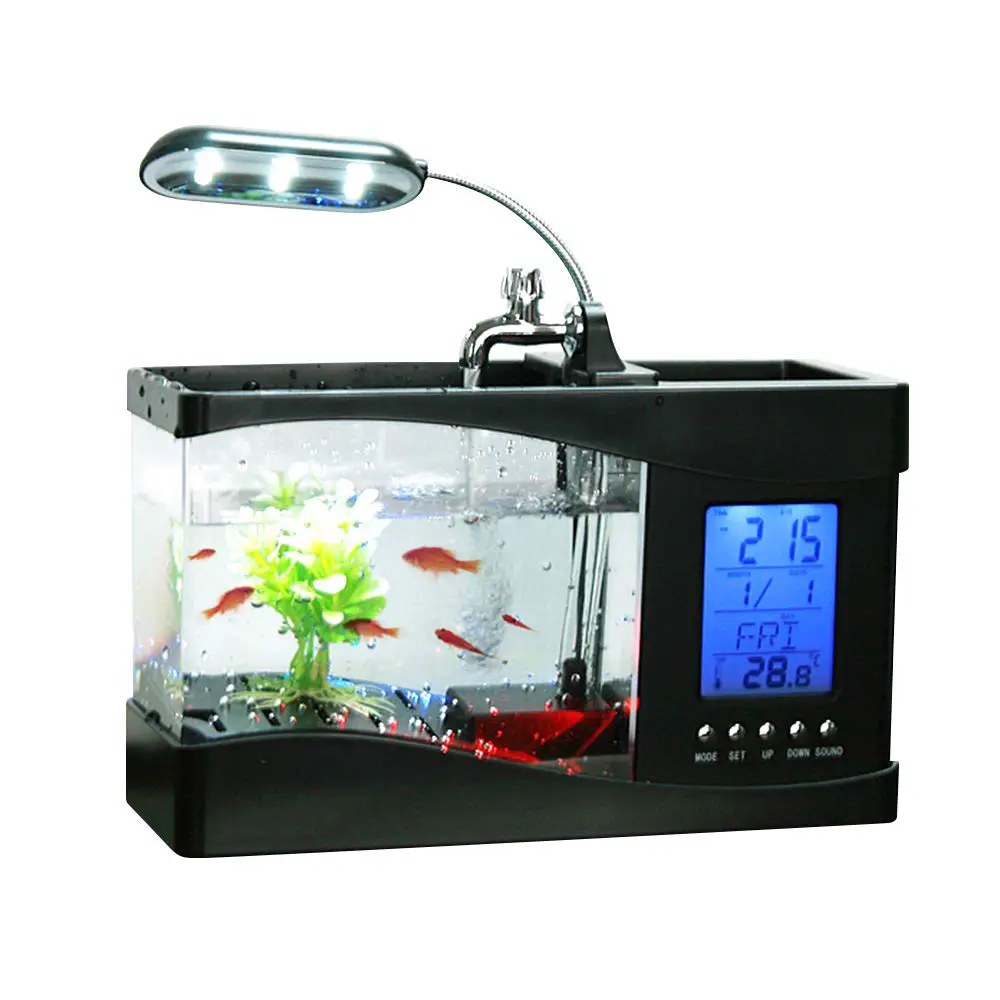 This is a really cool little aquarium. It allows for water circulation and some neat little features that will allow you to keep your fish by your bedside or maybe sit at your desk at work and provide a little distraction and stress relief when things get tough.
A few Extra Features
This tank comes with some nicely colored pebbles and one artificial plant to provide a bit of extra color to your tank. It also comes with an included LED light that will allow you to shed some light on your tank when things go dark.
Water Pump Circulation
Unlike a number of small tanks of this design, this one comes with a water pump to keep your water aerated and moving which will decrease cleaning time. It's a nice little addition to this small self-contained unit plus it's well designed and looks really great.
Cost and Value
The price is right on this little tank. This won't break the bank at all and will allow you to have the joy of fish without a lot of the hassles that come along with it. You've got the ease of use, portability not to mention the clock and USB that come along with the tank. It's really the best of all worlds.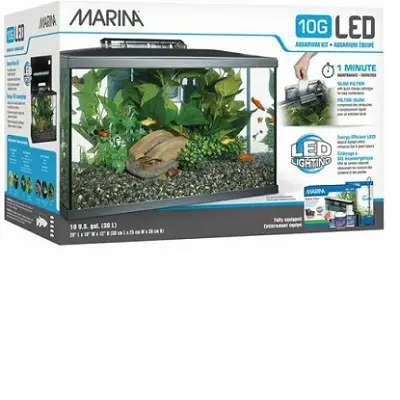 Another kit, another kind of fish to welcome into our home. This is an excellent option for anyone who's looking to improve their relationship with fish. It's straightforward and is similar to the fish tank you likely had as a child. While there are not as many accouterments as some of the other kit options we've seen, sometimes being more straightforward is nice. It's easy to set up, and won't result in any accidentally faulty parts. What you see is what you get with this kit.
The Care Guide
Remember when mom would send you care packages during sleep away camp? Or college? That's kind of what this fish tank kit is like. The care guide itself tells you exactly what you need to know. It explains why there's filters, a fish net, and fish food included, and will let you know exactly how you need to set things up. Just like when mom sent you frozen lasagna and gave step-by-step instructions for reheating it safely!
Multiple Sizes
Sometimes the only thing wrong with a fish tank is that it's too big or too small. People don't realize that the size of a fish tank is incredibly important. Fish need enough space to roam around in and will be much happier with more space rather than less. That's why we're pleased that this aquarium kit comes in multiple fish tank sizes. Now you don't need to lament the fact that there's only a five-gallon option. Now you can have this tank in any size necessary!
Cost and Value
This kit is less expensive than many of the other options, making it a great choice for anyone who's looking to invest in a fish tank (but not put their whole wallet towards it). While you might need to purchase extra filters or lights, you can get away without having them for the first little while. This makes the upfront cost much less than what any other fish tank will require. Ultimately, this is a solid fish tank that you'd be pleased to have in your home.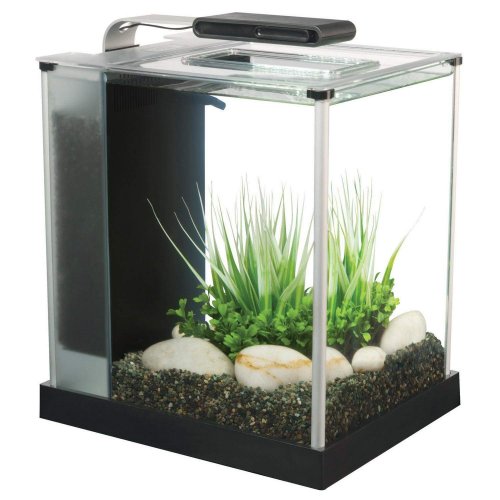 A smaller tank this time, but one that will do wonders improving your home or office space. The compact size might not be the best for bigger fish, but it's certainly a cool looking art piece. Even if you don't put too many fish in this tank (and we wouldn't recommend putting multiple fish inside) it can still make for a beautiful cross-section of marine life.
Great For Plants
This isn't a herb growing, "aquaponic" kind of kit, but it's still great for underwater plants. While many reviews complain about the fact that this tank is still too small for fish, we're thinking of it in other terms. Your desk environment always needs greenery… Why not make it underwater greenery? The filtration system will help to keep your plants happy, and the light that's attached will inspire them to grow. All in all, this is an excellent choice of tank for plants and will add some much needed green to dull spaces.
Fully Glass
One of the cool things we like about aquariums is getting to look at the fish from all angles. Having black posts in the way or frosted panels on the sides isn't an option we particularly like. That being said, sometimes it's necessary in order to keep the integrity of the structure. This fish tank features a couple of clean glass sides and unobtrusive corner protectors. This makes for a great quality product and keeps any and all fish fully visible from the outside.
Cost and Value
This is an average tank and one that's even a little on the small side. We're not hugely wild about the size, but the build is good and strong. This tank has a few built-in components that help us feel better about the price, but overall we believe that this is maybe a little more expensive than it should be. That being said, if you have the money to spend on a fish tank and are specifically looking for a smaller size, this could be the option for you.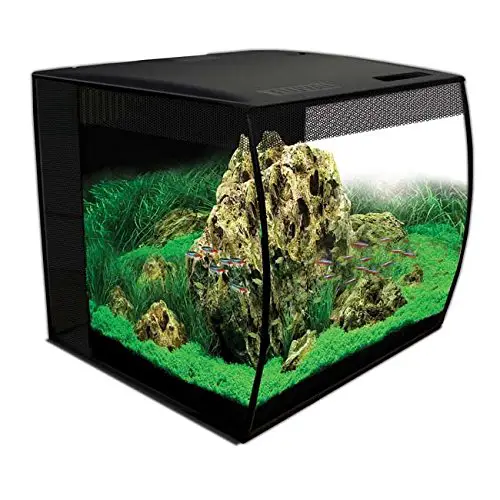 This 15-gallon tank is a real beauty and looks modern and hip. It's not a huge tank so it's a nice starter if you're looking for a way to dip your toes into the waters of aquarium management. It also comes fully loaded so it'll make your foray into fish tanks pretty easy.
Enhanced LED Display
This has over 50 adjustable LED lights which will allow you to set exactly the right mood and let you match up your tank to whichever room you set up your aquarium. This is a freshwater tank and there's room for plants so these lights will also promote plant growth in your aquarium.
3 Stage Hidden Filtration System
This superior filtration system is completely hidden in the back of the tank so this provides a nice streamlined look and adds to the general hip aesthetic of this aquarium. There's also a way to fully customize the way the water flows into the aquarium so you can make sure the water is flowing evenly around the tank.
Cost and Value
For such a small tank this one comes at a pretty big price. But really this is a high tech really a nicely built piece of fish tank equipment. With all the extras the unique design and all the extras, this tank is a great way to start a lifelong fascination with aquariums and the world of tropical fish.

Subscribe to our Newsletter