Best Fireplace Inserts Reviewed & Rated for Quality
In a Hurry? Editors choice:
Test Winner: Duraflame DFI021ARU

There truly aren't many things that are better than lounging around in your own home, with your feet up, and a steamy tea next to you, while you're serenaded by the warm and sounds of a crackling fireplace. The problem is, that the chances of you having a functioning fireplace in your apartment or home in the 21st century is pretty slim. Luckily for us all, there are products specifically designed and manufactured to dissolve that problem. Fireplace Inserts are electronic products that are designed to slide into the firebox of your fireplace, and use electricity to make synthetic fire. This makes for a zero-exhaust fireplace, as well as a far safer fire. Here are the ten best inserts on the market currently, and why they are so great.
Standout Picks
Criteria Used for Evaluation
Features
Believe it or not, there's a whole lot of awesome features in a marketplace where you wouldn't consider the consumer facing products would be rich with features or design decisions made for the interesting use.
But, perhaps you'll be as surprised as we were that there is actually a whole slough of common, and uncommon features that a lot of these products include, making them more interesting, easier to use, or more versatile fireplace inserts. There's almost no end to it, and we can see this market going to even weirder and wilder as time goes on, and technology grows.
The features we found to be the most imperative to build a quality product, and features that you should definitely be on the look-out for, are things like an emergency shut-off. Now, this is pretty much standard -- we believe that it's actually mandatory, and we hope that there's no harmful past that caused this -- and comes on every single option we've listed, and every product on the market. It's essential that your heating products remain safe, and that means emergency protection.
Other features include an auto-temperature adjustment with a built-in thermostat, that can regulate and maintain a specific atmospheric temperature all by itself. Things like flickering lights, or fake flames we'd rather leave up to another criteria, but those could technically be considered features.
At the end of the day, it's important to check the list of product features against the things you need or hope for, and that way you will get the type of product you've been seeking. Vetting features is usually easy while shopping because almost all products on any marketplace boast and advertise their features up front.
Take good care to ensure you're getting the features you want or need.
Style
There's no shame in it, when it comes to a product like a fireplace insert, fake fire, or fireplace simulation, the style of that product is going to come into great importance. What does the the fireplace look like, what aesthetics does it bring to one's defunct fireplace.
Style comes in all sorts of ways, but when it comes to purchasing a really cool fireplace insert like any of the ones we've listed above, it really comes in one succinct theme; what does it bring to the table regarding the emulation of an actual burning fire.
Some of the fireplace inserts on our list have a crackling soundtrack that brings sound into the game, while others use internal led lights and thing exterior walls to provide a glowing visual to the "burning" logs. Our favorite for style points, however, will always be the flame mirage. One of the best products on our list uses a thin sheet of glass to project a flame mirage on a near indistinguishable backdrop, making for a near lifelike fake flame.
Other notable stylish additions include things like the full frontal facade. In some cases, there is a flat glass front that reminds plenty of the front of an over, and it makes your whole new fireplace set-up look rather futuristic in design.
Two distinct paths in style exist currently and those are the products that emulate a pile of wood logs, burning in a fireplace, and those that have a more futuristic take on what a fireplace is supposed to look like. Deciding between those two worlds will set you off on a really great foot.
Otherwise, the level and kind of emulation you seek should be narrowed down prior to setting off, will be able to help you vet products out of the gate.
Safety Hazards
Fireplace inserts aren't an extremely new thing, and neither are space heaters. It has been a long time coming, but space heaters eventually got safe, and by safe we mean that they won't accidentally explode, or overheat, or set things on fire.
Safety hazards are a real thing. Preventable measures have been standardized in almost any industry, across the entire planet. They help keep consumers safe in their homes, with their new heaters, and will continue to make strides in technology that further ensure our safety.
When we talk about safety hazards as a criteria, we're more refering to the things that help battle safety hazards in these products. The biggest of them all comes in the form of an emergency shut-off program. This is built-into space heaters and fireplace inserts (which are just fancy heaters) to prevent overheating. If the internal workings of your heater reach a specific temperature, a dangerous one, the entire system will shut off and no more heat will be provided. Now, hopefully this never comes up, but if it does, you and your space will be safe thanks to this very standard safety measure.
Other safeguards on some products are things like cooled exteriors. These usually take the form of objects and materials that cannot conduct heat, making sure that any of the touchable exteriors of your heater won't burn you or whatever it may come in contact with. This is a pretty standard feature on a lot of fireplace inserts, because we all want to touch that fake fire.
There's not a strong reason to vet for specific safety measures, because they should all have them, so what we urge is that if you find a product that does NOT have any of these, drop them. Walk away, and never consider them again.
Value
The value of everything, especially consumer facing products, comes as the conclusion to a equation that involves all of the criteria we've mentioned above, matched up against the price on the tag. It's essential to consider all aspects of a product before assessing its value.
The average price of a pretty standard fireplace insert comes in just about the three digit margin, and that's pretty reflective across the entire marketplace. There's a great place to start. Beyond that, there's definitely a premium end of the market that will see double or triple the cost of average fireplace inserts, and (as with everything these days) with a higher cost, comes a better product. In terms of materials, technical abilities, and aesthetics, you will get better products with more financial investments.
It's important, in all shopping situations, that the value of your vetted products is obvious. Whether it be for the best kind of budget products, or the combination of premium quality and fair prices.
10 Best Fireplace Inserts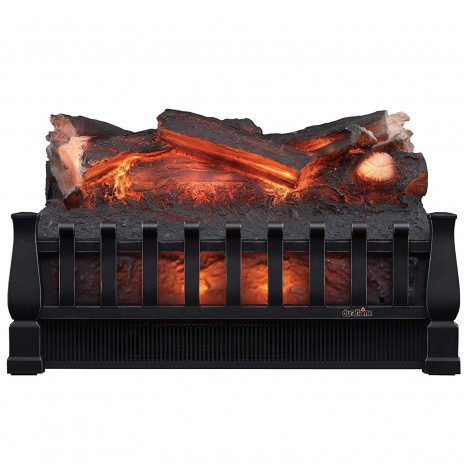 The best of this list comes in the form of a product that will fit into any single fireplace (almost) on earth. It's something that you do not have to measure for, and it looks like a real, authentic set of wood-burning fire logs. It's got all of the details, and all of the use than we have seen in most of the products on this marketplace during our research phase. The Duraflame DFI021ERU is the best fireplace insert available right now.
The Look
There have been plenty of options available to the general public in regards to replacing their wood-burning fireplace with something more synthetic. This was, usually an electric display, that simply showed a fire. Now we've got products like this one from Duraflame that actually resemble (in three dimensions) a stack of logs in a fireplace. It's one of the best molds we've seen for a fireplace insert, and will probably blow away some visitors when you tell them that it's not a real fire.
4600 BTU
While some of the early days of the "fake fireplace" industry were just meant for aesthetic upgrades, we've recently hit a point where the ability to emulate all aspects of a fire are reliably made. This includes the ability to provide heat. It used to be the only form of household heating, prior to electrical heat, a hearth fire, but now we have so many more options.
Cost and Value
For all of the perks and amazing quality that has been put into this product, you'd be surprised how little it'll run you to add one to your home. It'll fit in most any fireplace, in any home, and can produce a great 400 square feet of heat. It's the perfect insert on the market. And it won't break the bank either. Tons or value.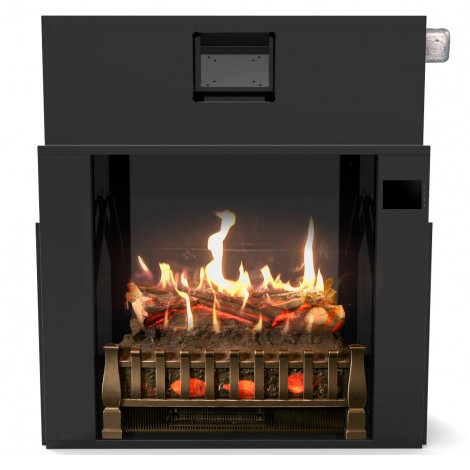 Coming in hot (get it? Hot? Because they are fireplace inserts? No? Nevermind …) at number two would probably be no question number one on this list had the folks at Duraflame Electronics not made the simplest, and best looking insert on the market. The MagikFlame is the best full-size, futuristic insert available today. Here's why.
The Application
Part of the huge benefits to the evolution in tech, is that more things that previously wouldn't ever have combinations of heavy tech, get them. If only just for the accessibility, or ease-of-use. That's definitely the case here with the MagikFlame Electric Fireplace Insert. The mobile phone application allows users and MagikFlame owners to control every aspect of their fireplace in the palm of their hand. This particularly becomes extremely handy if you have a permanent installation of the insert.
Standalone Options
Sure, we may have stated in the introduction that this wasn't going to be a place for stand-alone fireplace additions, but we just couldn't help ourselves, and hey, it's just a part option, not the product as a whole. There are both full-insert options for the MagikFlame Fireplace, and complete stand-alone versions. The standalone ones have a fake mantle/fireplace built around it.
Cost and Value
Though they cost a bit more than almost everything on our list, we just couldn't ignore the MagikFlame Fireplace Inserts because of their intensely high quality builds, their ingenuity in technological connections, and the extreme heat output, makes for one of the can't-miss products in this entire marketplace. It might cost you a big more, but it's got all you could ever ask for.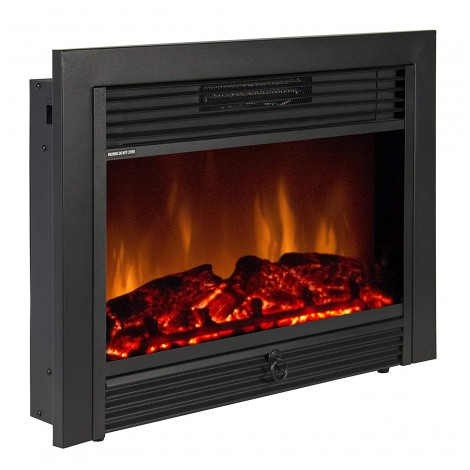 Best Choice Products have appeared on numerous different GearHunt buying guides, and while they might not hold the "best choice" spot on our list of fireplace inserts, they're offering up an amazing product here, and one that should be vetted by all those looking to pick something up to replace their wood-burning fireplace.
Simulated Flames
While many people would chalk up the actual flickering flame as the least essential trait of a fireplace -- the sound, the smell, and the heat, would probably all rank higher -- there is something to be said for the mesmerizing nature of fire. The Best Choice Products Embedded Fireplace Electric Insert is one of the better inserts that include a simulated flame.
Completes Facade
A lot of inserts attempt to slide into and beyond the facade of your original fireplace. This can be done by either creating inserts that are purposefully not complete slot-ins, or frameless fireplace inserts (like our first option on this list). The Best Choice Products Fireplace Insert has a full flat front, with heat vents, meant to complete the facade if your existing fireplace.
Cost and Value
The industry average for the pretty standard fireplace inserts isn't a whole lot of money, especially if you think about what you're getting. Best Choice Product's premium insert fits right into that price range, and does a wonderful job of completing the look of your defunct fireplace, as well as providing owners with plenty of heat, and simulated fire.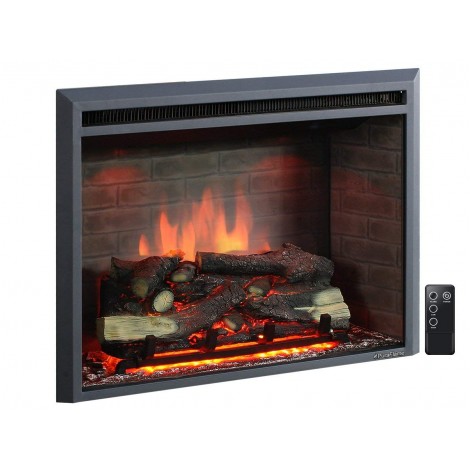 It's pretty obvious just from looking at the PuraFlame that it's of the more premium end of the entire marketplace's spectrum, and that's completely accurate. It's not only one of the most beautiful fireplace inserts on this market, but it would simply own our entire list if it was judged purely on aesthetics, and the entire product wasn't considered.
Full Look
Just look at it. It looks like a fully functional, real fireplace. Or, at least, the inside of one. And that's the biggest beauty of the PuraFlame option. It's the most aesthetically emulating of all the inserts. Designed to complete the facade of an existing fireplace, or to be built around (as a fake fireplace). It's the complete package.
Power Saver
Thanks to the use of beautifully sharp and powerful LED lights, the PuraFlame doesn't use a whole lot of power. Pair that with the synthetic log fire, and resin cast logs, you get a really environmental piece to your home. As an added bonus, because all of these things are on separate boards, you can have a fake fire roaring, lights and flames and all, without actually turning the heat on.
Cost and Value
At roughly twice the price of our average priced items on this market, the PuraFlame is going to cause some concern for consumers. But we believe that it is firmly worth the price. It's so well made, and continues to step up every aspect of the products expectations.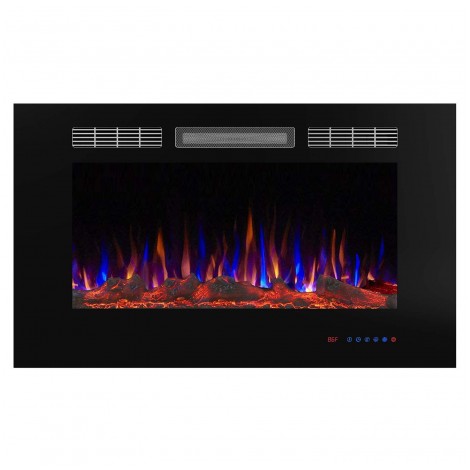 The ValuxHome Armanni is exactly the type of product we were speaking about earlier, in regards to its flat front, removing the depth and three-dimensional feeling of a real fireplace. These types of fireplace inserts are practically just flat displays (for the fire loop) attached to the front of heaters. They're astounding options. Especially if you're looking for more of a futuristic take on fireplaces.
Easy to Use
There's not a whole lot of room for overly complicated interfaces and controls when it comes to fireplace inserts of any kind. But more often than not, you have to be more in control that a lot of people want to be. Which is why the ValuxHome is an astounding option for those looking to take it easy. There is an internal thermometer that will regulate the heat it puts out, in an attempt to maintain the desired temperature.
Future Fire
A whole lot of people are going to look past options like this one in order to obtain something that perpetuates an old-school and retro feeling fireplace (see: every other option we've listed so far). And to each their own. But the beauty of a fireplace insert like this one from ValuxHome is that is truly exemplified the fireplace of the future. It's a digital LED screen displaying a crackling fire, while internal electric heaters provide up to 450 square feet with heat at a low energy cost. It's perfect, and pretty cyberpunk.
Cost and Value
The ValuxHome is an extremely valuable pick on this list, even at that premium end of the marketplace. It's a premium example of a fireplace from the future. It uses very little power. And, it produces a whole ton of heat with simple and self-regulating temperature controls. You can't really ask for more from a digital display fire.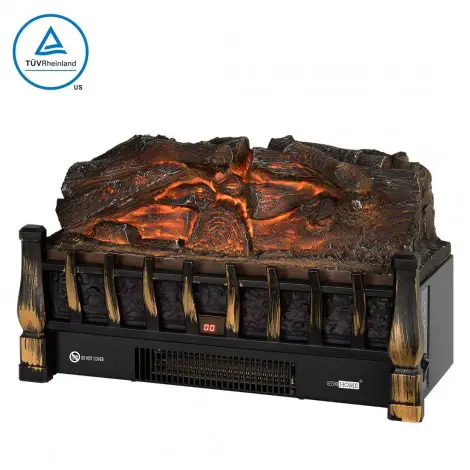 At number six, in slides the Vivohome that takes both the realistic trend of firewood stacked, and the fake copper tarnish of the vintage wood raising racks of fireplaces of old, to a whole other level. It's probably one of the best budget-friendly options on the entire market as far as contemporary electric fireplace replacements.
Air Fan
Some of the options on the market rely on the expulsion of air with given vents to help spread out the heat, but other products, like the Vivohome Realistic Ember Bed Fan Heater, use internal fans to help disperse the heat from the heater, spreading across your space much faster, and much more efficiently. This, combined with the high temperature output, makes the Vivohome one of the better options (even if you don't put it in your fireplace) when it comes to heat coverage.
Budget Proper
When we say that the Vivohome is a proper budget item we mean that in the sense that all of the right corners were cut, and none of the stuff we actually need this product for, was skimped on. There is a noticeable drop-off in quality when it comes to the actual aesthetic of the Vivohome Fireplace Insert. It's not the worst. But the paint job is a bit hard to look at. All of the internal stuff, however, works as great, or better in some cases, than most products on the market.
Cost and Value
Sure, it could be considered a budget example of a product on this marketplace. But there's no shame in that. Especially if you're looking for something that does all of the heating things, without all of the flash and expertly crafted log simulation that other products might pride themselves in. It's a valuable option to vet, for sure.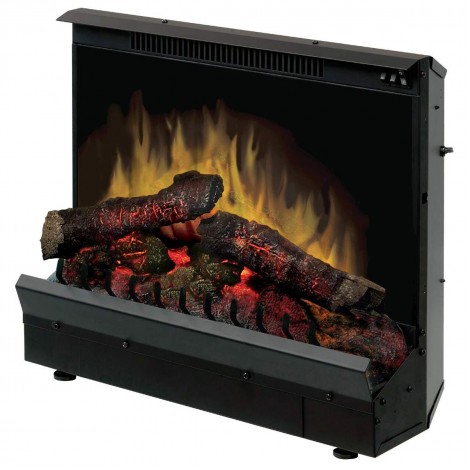 In a bit of a weird twist, the Dimplex DFI2310 Electric Fireplace Deluxe isn't quite a full facade replacement for a fireplace, but it's also not simply just a loose insert either. But it does a whole lot of things really well, and that includes a full-height fire simulation, and some pretty amazing-quality fake logs and heat lights.
Flame Tech
Dimplex goes out of their way to ensure that you're properly aware that their flame technology is patented, and rightfully so. It might be the best digital flame screen we've ever seen. That has a lot to do with the full set-up. Thanks to a black backdrop, the back wall of the fireplace insert completely disappears when you set it inside your fireplace. Therefore, the flames dancing on the front of the screen, look far more like real fire flames than almost every single other option out there.
Heat Fans
Much like our last item on this list, the Dimplex Electric Fireplace Deluxe does a fantastic job of distributing that heat that it creates. It does this with a bunch of really well placed, and highly powered internal fans. It's astoundingly quiet, and distributes heat evenly across any space that you place it within.
Cost and Value
The Dimplex has that much desired "flame only" mode, for those months where heat isn't needed, and when you pair that up with all of the other extremely high-quality design and manufacturing decisions made with the Fireplace Deluxe, you quickly begin to realize that it's worth every penny of its rather premium price.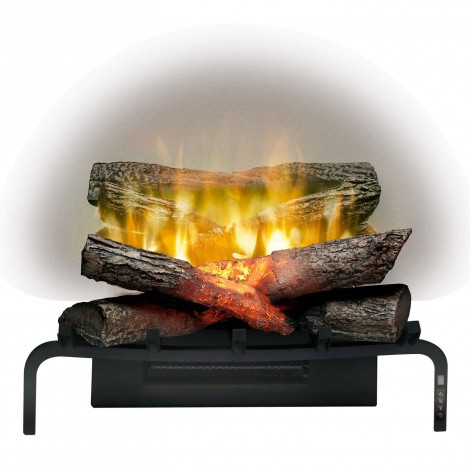 This is a unique choice. Most particularly because we just spoke about Dimplex, and their revolutionary (and definitely patented, they really want you to know that) flame technology. This option is a step down in a few ways, but a huge step up in others. Sit back, pour another cup of tea, while we share with you one of our favorite options on the market.
Standalone
We're kind of surprised that this product exists on the market shop for Dimplex, simply because we saw so many fireplace inserts from them with full backs, and this, the Revillusion Electric Fireplace, doesn't really have one. There's a bit of a fake wood back wall, but it's almost a standalone pile of fake logs. Mix that with their realistic flame technology, and you've got a really high-quality product as a whole package.
Mirage Panel
Thanks to some pretty clever design, the Dimplex team have developed a really awesome fire display that doesn't take much more than a large desert and a lack of water to conjure. That's right, it's a mirage. Using a thin plate of glass, and an internal projector, the flames dances and moves around like a real flame, and that's because it's designed with real fire projections.
Cost and Value
For less than the normal price of some of Dimplex's more complicated and higher quality fireplace inserts, the Dimplex Revillusion Electric Fireplace is one of the better options on the entire market. It sits as a standalone unit, and uses some pretty clever designs to display a realistic flickering flame.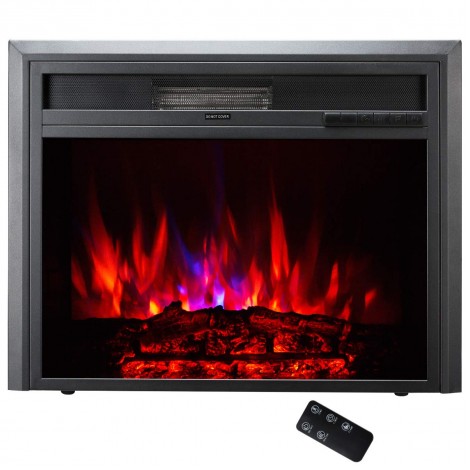 The special thing about a brand and a product composition like the TAGI set of Electric Fireplaces is that what you see isn't their only option, and everything available on their shopping list is an extremely worthy arrangement to make. There isn't a poor quality product with their name on it, and that makes the vetting of their stuff pretty easy.
Options
While we tried to find as many quality products that work as fireplace inserts (hence the name of the buying guide), but we couldn't help it, and had to include this product from TAGI. The reason why it's special, is because you can buy one of the three different sized embedded options. Or, you can select from their amazing wall-mounted options as well, which, also come packed with a stand, just in case you want to have your wall-mountable on the floor somewhere.
Simple
There's a whole lot to be said about a company making a product for a very busy, and ultra-competitive industry, but deciding to design and manufacturer a fireplace insert that takes things down a notch in complication and use, is always going to be a good move. With limited, and easily understandable front-facing buttons, and nothing else.
Cost and Value
The prices of these awesome TAGI Electric Fireplace Inserts varies a little bit, because we've got options in a few different sizes, and the options for embedded versus wall-mounted versions. There is a whole lot of value in the multiple options from TAGI, and the well-manufactured fireplace inserts are killer products.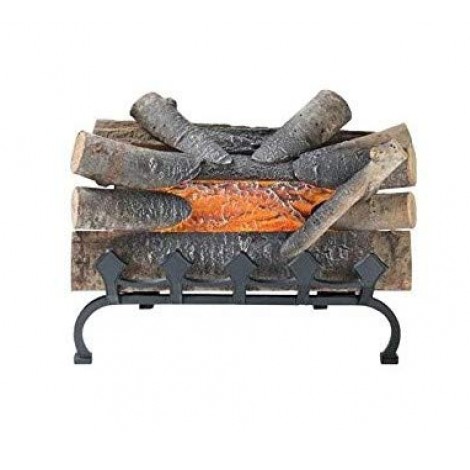 We spoke briefly about the grand beauty of simplicity in the world of consumer products. And the folks at Pleasant Hearth took that to the next level and brought us the simplest, and cheapest insert we could find. It has pinned a corner of this market that isn't really full of other options, and for that, consumers can pick up a stunning product, that does some things others don't.
Not Permanent
Some homes, with fireplaces, have actual working fireplaces. However, a lot of those working fireplaces don't actually get used all that often. Which would leave someone that owns that seeking something they could replace their fireplace with. The beauty of the Pleasant Hearth Crackling Natural Wood Log is that it's small, and plugs in, meaning you can easily remove it from your fireplace, and use the thing as a normal fireplace.
Flame and Flicker
Thanks to the embedded lights and programed varying glows, there is a very real looking fire and ember simulation built-in to this Pleasant Hearth Electric Crackling Natural Wood Log. Meant to be a semi-regular replacement for your fireplace, it'll sit there and pretend to be a real crackling fire, with sound effects and all, until the cows come home. And when those cows do come home, they'll think they're warm, because of the quality of this fake fire.
Cost and Value
At less than half the cost of the average fireplace insert on our list, the Pleasant Hearth is a great alternative (and a budget one at that) for those looking to get the aesthetics and flicker of a fire, without the actual heat or burning of one. This is the perfect, part-time replacement filler for your useable fireplace, in between those few nights a year when you actually burn wood.

Subscribe to our Newsletter