Best Electric Razors Reviewed & Rated for Quality
In a Hurry? Editors choice: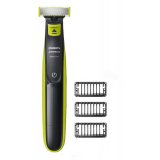 Test Winner: Philips Norelco

If you have a beard or some body hair you want to get rid of, then an electric razor is an essential piece of equipment. These have
everything to do with convenience
and keeping your skin smooth quickly and safely. You need to incorporate it in your shaving routine since unlike the manual razors, these types cut really close but not too close to give you razor bumps. You need a product that will
remove your facial or body hair
in a flash and give you a fresh and glowing skin. If you are planning on buying one, then I would suggest you read this guide since there are many razors out there and it will be difficult to choose.
Standout Picks
Criteria Used for Evaluation
Effectiveness
Electric shavers are reliable and fast, unlike the hand and old fashioned razors. They consist of multiple features, for example, sonic vibration and shaving sensors that will enable you to know the density of your beard and adjust suitable strength of the blade. They come with several shaving heads which you can replace from time to time. They are ideal for all types of hairs not just limited to the beard or short hair alone. It does not matter whether the hair is short or long as you can adjust the shaving head to suit the length of the hair.
What drives you to buy this critical gadget? It is worthwhile to consider its efficiency to enable you to achieve a close and smooth shaving experience. Its performance depends on the make of the shaver. Shaving devices come in two types; Rotary or Foil. They both operate similarly despite the difference in the appearances and make. The rotary shaver consists of three round heads fitted with rotating circular cutters that roll over the contours of your chin as you shave your beard. This type is suitable for all types of skin and can cut a medium coarse beard. If your hair is long, this type of blade will give you the best results. Men who keep long hairs and those with thick hair prefer a shaver with rotary blades. The difference between the rotary and foil shaver is that the foil shaver is fitted with thin curved metal foil under which a collection of cutting edges are fitted. This type of machine shaves in straight up, long back and forth movements. During the shave, the foil lifts the hair guiding it into the blade and results in the hair being cut to your desired size. This machine comes with different cutting blades and is also packed with extra foil razors. However, the shaver vibrates and gets louder as you shave, unlike the rotary shaver. You may experience problems with this shaver if you intend to cut long hairs.
Power Source
A shaver may have a cord that you fix into an electric power supply to facilitate shaving. Some shavers are cordless and operate by use of a chargeable power battery. It may prove suitable if you are traveling to a place where there is no electric power, though it might be a problem if the battery goes down and you are in a middle of a shave, or you cannot shave at all. It will inconvenience you if you are not in a position to recharge and do not have a power bank or a spare battery. How awkward would you appear with one side of your chin shaven and the other hairy? To prevent such a scenario, choose the right shaver which has all essential accessories and which will deliver a comfortable shave. If you do not travel a lot, it is advisable to buy a corded shaver that will suit your need. Where you opt to buy a cordless shaver, it is vital to establish how many hours the battery charge will last and also its life span. Consider purchasing a long-life battery shaver that will save you from replacing your shaver now and then and which is more reliable.
Value
When shopping for a shaver, it is essential to consider its price by comparing different items available for sale. An affordable product depends on an individual's budget. Go for a shaver that will not deplete or disorganize your budget. Pick one which you can afford and which will satisfy your needs. Do not overstretch yourself into buying a very expensive shaver when you can get a cheaper one that will serve your purpose.
Water Resistance
There are many shavers out there, and your selection will depend on your needs. It sounds like a good idea, picking a shaver that you can use in the shower. Yes, that's right, but what makes it suitable to use in the shower? It's due to its water resistance ability. Some of the best shavers have waterproof for easy cleaning and maintenance. It is also suitable for a wet shave, and thus you can apply your favorite cleanser or foam to achieve a more comfortable and smooth wet shave.
Accessories
It would be wise to choose a shaver that is packed with necessary accessories for regular and future use. These include travel case, razors, cleaning brush, and lubricants to mention a few. If not packed is it possible to get them separately in the shops. Where will you find these accessories? These questions are best answered at the time of purchase. Most often the foil packed with the shavers is too little and will not last for long. The brush is usually too tiny and can easily get lost. Get to know the suitable lubricant, the cleaning substances and the brush you can use to maintain your shaver. You may require a stronger and long lasting brush.
10 Best Electric Razors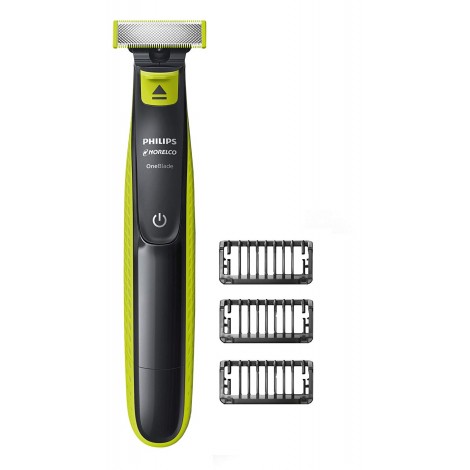 The Phillips OneBlade is a revolutionary product for men who want to achieve a smooth face and is designed to trim, edge and shave the hair of any length. It cuts instantly at the rate of 200x per second and has dual protection that gives you a perfect shave even on long facial hairs. It does not shave too close to your skin thus protecting you from injuries and bumps. It is easy to charge and comes with a universal charger; thus you can carry it along during your travel. The package comes with three trimming combs.
Efficiency
The Philip OneBlade is not only an innovative product out there but a small compact shaver that works precisely by cutting your beard back and forth while leaving perfect mustache edges. If your beard is fine texture, you will not have trouble trimming the edges or shaving even when using the trimming combs. However, if you have a coarse beard, you can still manage it with some little effort.
Quality
The Philips Norelco is a high-quality product that is water resistant thus convenience in that you can use it in the shower. The waterproof feature also makes it easy to maintain and keep it clean. You can also use it for dry and wet shaving; thus you can turn it on and instantly shave or trim your beard, but for a more smooth shaving experience you can use shaving cream. It has a long lasting battery that is capable of delivering 45 minutes of enough power after eight hours of charge.
Cost and value
The Phillip Norelco combines versatility, quality, and simplicity into one product. You have the electric shaver and the beard trimmer in one device. You need to replace the blade every four to six months, therefore you must factor this in your budget. Overall it is a reasonably priced gadget that will give you value for money.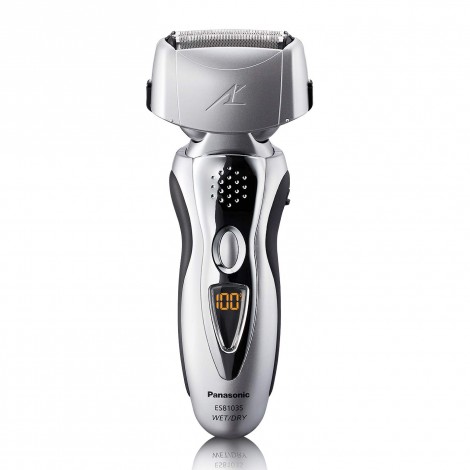 This Panasonic shaver is an innovative device designed to deliver a near close and smooth shave. It features a three blade framework that has a 30-degree angle blade for cutting the hair at its base meticulously. The pivoting head is flexible; thus you can move the cord with no difficulty, giving you a quick shave. It has a super motor that delivers up to 13000 cuts per minute and therefore it is gentle on your face and does not leave bumps that would occur with manual razors.
Convenience
If you are looking for a workhorse, the Panasonic will instantly deliver a smooth, clean cut within seconds. It gives you the convenience of achieving a quick shave using wet or dry operation thus personalizing your shaving experience. The razor is water resistant; therefore you can use it as your shower room, and this is also an advantage for easy cleaning and maintenance.
Advanced features
The Panasonic is a small compact and intelligent device with an LCD display that indicates the battery power. It gives you alerts on cleaning and charging. For that reason, you can know when to charge it and clean it. The package also includes travel pouch for organizing your razor, hypoallergenic blades for reserve use and foils to use on sensitive skin. It also consists of an AC recharger and a shaving trimmer.
Cost and value
The Panasonic is one of our best picks and is a versatile gadget that can be used by men and women as well. For the price, this razor will work perfectly and will give you smooth skin. It is high quality and will deliver perfect results, you will not regret the purchase.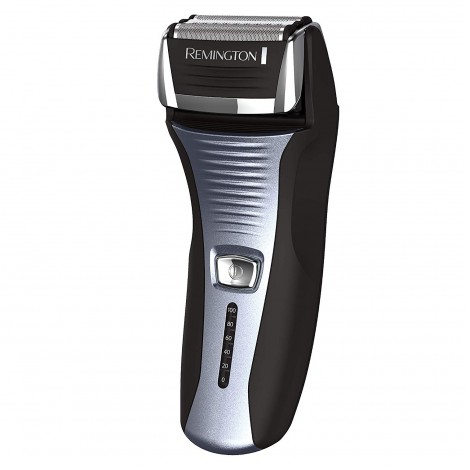 If you love technology, then you will definitely pick the Remington Electric Shaver. It uses the intercept shaving technology that is capable of pre-trimming even longer hairs and has a pivot and flex design that ensures it stays close to the skin thus delivering a smooth cut. It also has a rechargeable battery that has a runtime of 60 minutes when off the cord and charges pretty fast in just under two hours.
Flexibility
If you have sensitive skin after shaving, then the Remington is the best option since it is available for both wet and dry shaving. It offers so much in terms of convenience since you can use it in water and apply some shaving gels to help ease the discomfort.
Portability
If you are looking for a shaver, chances are you want one that will deliver the best shaving experience. One that will cut your hair fast and closer while offering you the convenience as compared to the manual razors. The Remington will not disappoint; it has a small compact design that is portable and can easily fit into your pouch if you are constantly on the go.
Cost and value
Since it is a wet/dry shaving gadget, the price is a bit higher as compared to the dry models. However, it is still moderately priced considering fact that it is water resistant and can be used in the water for easy cleaning and maintenance. It is a good buy worth the price.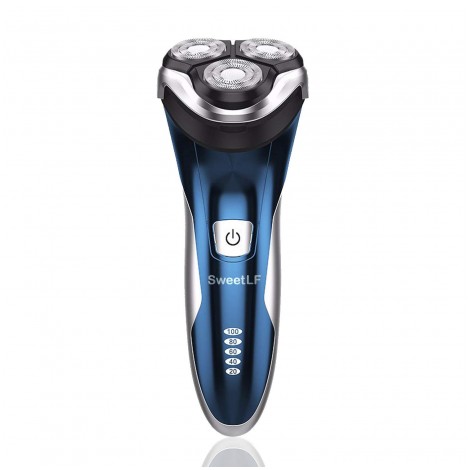 There are so many electric shavers on the market such that you are likely to spend many hours searching for the best. This shaver hits the spot in that it works flawlessly to give you a smooth cut. You will have a gentle and smooth shaving experience since it has a perfect shaving system that will not pull your hairs and will not result in skin irritations.
Elegant design
It has a stylish design that makes it look beautiful and sleek as compared to its peers in the market. It has a power button, and a shaver heat with three pivoting features and the back side is where the pop-up shaver is located. It also has a LED display that offers many conveniences.
Advanced Feature
The SweetLF is a digitally modified device and comes with a USB cable for easier charging and charges pretty fast within 120 minutes. Therefore you can use your smartphone charger to charge it, and this offers a lot in terms of convenience. You can also charge it through your power bank, computer, car charger, and USB devices. It is a high-speed shaver and has a mute function; hence you can shave quietly. It uses an automatic sharpening system for the blade that ensures the edges remain sharp all the time. It also has an LED display and five ranks power display and power usage that allows you to always keep it charged.
Cost and value
The SweetLF shaver is a budget choice, portable and reasonably priced. It will deliver a clean shave instantly without leaving any razor bumps. It is the best product if you are operating on a low budget and would like a product that works. It is a 100% money back guarantee.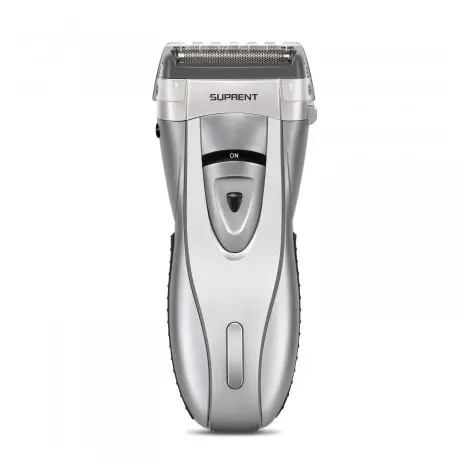 Do you want to achieve a close shave? The Suprent has a flex three blades system with two foils and a trimmer that shaves precisely without stubble and follows all the facial outlines, the jaw, chin, and the neck. It has a powerful motor that shaves at a terrific speed, giving you a clean, neat and comfortable shave without pulling any hairs or beard.
Performs efficiently
This shaver has a rechargeable battery that offers a 70 minutes run time and has an added function where you can charge it for five minutes to achieve one shave. It has a unique trimmer that helps in managing thick long hair, facial hair and any sideburns fast and with a lot of conveniences and in one pass. It also has a pivot and flex that rotates back and forth thus allowing you to adjust your head and maintain closer contact to your skin, the neck, and jawline.
Portable
The Suprent has a unique design that makes it easier to fit in a travel bag. It also has a safe travel lock that allows you to conveniently pack it in your travel bag without the risk of it turning on.
Cost and value
The Suprent shaver is the best deal and is unbelievably cheap yet performs excellently. It will give you a clean and close shave. It is a must-have and high-quality gadget that will give you value for money.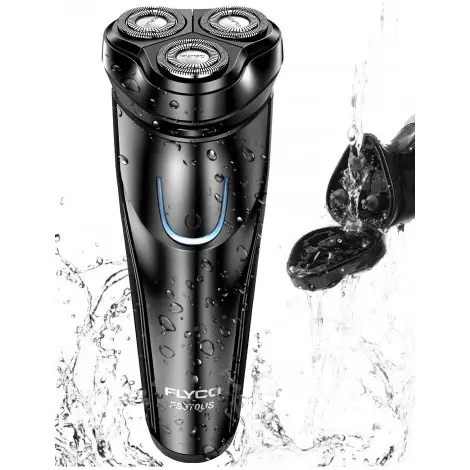 The Flyco shaver is an excellent razor made from state of the art technology that provides you a smooth close shaving experience. It is a perfect size, comfortable on your hands and is portable and you can easily tuck it in your travel bag. It has a beautiful design and a perfect gift idea for daddy, spouse, brother, boyfriend or son.
Smart shaving device
The Flyco has a powerful shaving system and a 3D rotating system that adjusts to the contours of your face, neck, and jaw. It has three pivoting heats and is fitted with self-sharpening blades for a comfortable shave. Also, it has a state of the art grinding platform that ensures you achieve a close and smooth shaving experience without pulling your beard or damaging your skin. It is water resistant, and you can use it comfortably in the shower for a wet shave, which also gives you the convenience of cleaning and maintaining. It is rechargeable and charges pretty fast, takes only one hour to charge and the battery can last up to 9- minutes. The LED displays allow for versatility since it shows you the charge level and warning, locked and washing reminders
Effective
If you have spent hundreds of dollars on disposable razors or other expensive shaving devices, then the Flyco will perform as expected. It has a foil that increases contact with the skin thus giving you a smoother cut. It has a pop-up trimmer that delivers a perfect neat shave with precision and trims all hairs helping you achieve a reliable shave. It also has a touch tab that instantly trims unwanted hairs.
Cost and value
For the price, I would rate it at five stars. For such a high quality and practical device, you would be mistaken to think it's expensive and out of reach. However, the converse is true, the Flyco is unbelievably cheap, yet it gets the job done perfectly. You will not regret buying this state of art gadget. It is worth every penny.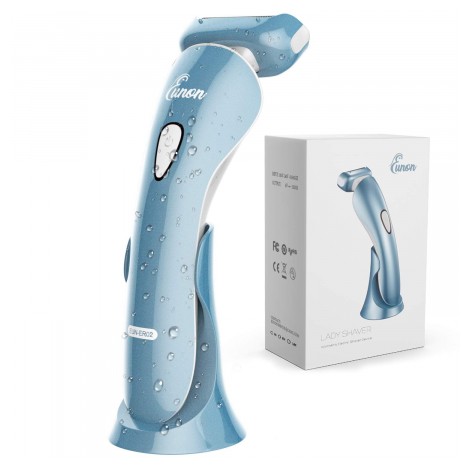 Personalize your shaving experience by buying the Eunon Electric shaver. It will help you achieve a clean and smooth shave without leaving any residue. It has three high-speed razors and is for women who want to get rid of hairs around the arms, armpits, legs, and body and bikini lines.
Painless and does not irritate the skin
The Eunon is a high-quality shave fitted with a hypo-allergenic stainless steel razor and a 3D floating foil that delivers a close and safe cut comfortably without damaging or irritating the skin. Thus you don't have to worry about razor bumps. It is water resistant, and therefore you can use it in the shower and thus also easy to clean and maintain.
Advanced feature
The package comes with a free replacement head and a cleaning brush. It has an elegant design and illuminates due to the LED light which is ideal for blind spots. It shaves quietly thus giving you a cozy luxurious shaving experience. It is a handheld device with a convenient USB charging system and you can use a charging stand or connect to the socket for charging.
Cost and value
The Eunon is a handy device to use even when you don't have foam or gel; it is for the glamorous modern woman who wants to achieve flawless skin. You will be impressed by the quality, convenience, and overall performance. It is also reasonably priced and will give you value for money.



If you are looking for a shaving device that will help you achieve smooth body, legs, and arms without injuring your skin or leaving bumps, the Maybuy will deliver as expected. The package includes four heads designed for specific purposes. In there you will find one shaver blade head which you can use for shaving and trimming of your body hair, one precise hair trimmer blade for the bikini area and other difficult areas, one precise body brush that you can use for deep body cleansing and one sonic face brush for deep skin cleansing.
Effective
It has a professional design that gives you a safe and painless shave and has a hypo-allergenic foil for sensitive skin. It has a waterproof body and cord; thus you can use it while taking a shower. It is a highly effective device that vibrates at the rate of 10000 per minute; therefore you can shave and trim hairs on your body, arms, legs, bikini, face, armpit and other areas. It cleans deeper in the skin and removes any oil or dirt giving you a smooth and balanced tone. It has a three-blade shaving system that can shave short, long and any other unwanted hairs.
Easy to use
This shaver is cordless and has a rechargeable battery, thus no need for constant battery replacement. It has a USB port for charging and it takes up to four hours to charge fully. It has one button for switching on and an ergonomic handle which makes it easy to use.
Cost and value
This device performs well by preventing nicks or cuts and other skin irritations. You don't have to pick expensive brands since this shaver is reasonably priced yet it will deliver a close and clean shaving experience. It is a good buy and is worth the price.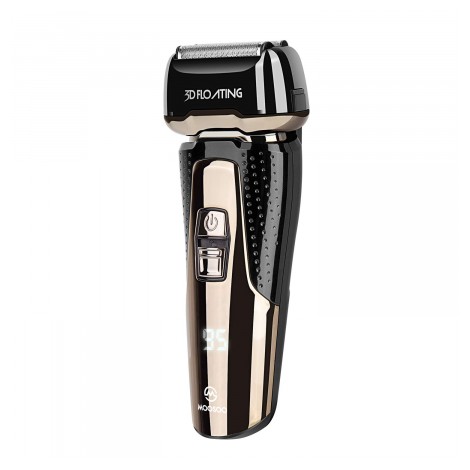 Moosoo is an intelligent device that has an auto sensor motor for a precise and close shave. The motor is powerful to deliver 14000 cuts per minute, and the razors adjust to the contours of your face and the hair length and eliminate even the stubborn whiskers. It is multifunctional, and you can use it for a dry and wet shave. It also has a pivoting head, and a built-in LED display. The package also includes a storage bag and a cleaning brush.
Efficiency
The Moosoo has a triple shaving technology that guarantees a close and clean shave. The pre trimmer trims long hairs while the blades ensure a closer shave giving you a smooth shave. It has a push-up trimmer on the rear for side burning and detailed facial hair grooming. It is versatile and ideal for many hair types. The auto grid blade has a 30 degrees angle that gives you a comfortable shave without pulling your hairs, and it's gentle on your skin and does not cause irritations.
Portability
The Moosoo is a portable device and has a 700mAh lithium-ion battery that has a runtime of up to 60 minutes. It is the best choice if you are traveling and can use it at home and away. It charges pretty fast at only 90 minutes and has a safety lock thus cant switch on by accident.
Cost and value
The Moosoo is a multipurpose device that will help you achieve a close and clean shave without leaving cuts or bumps. It's more expensive than most shavers. However, it is worth the price since it will do the job efficiently and leave you satisfied. It is a good buy worth every penny.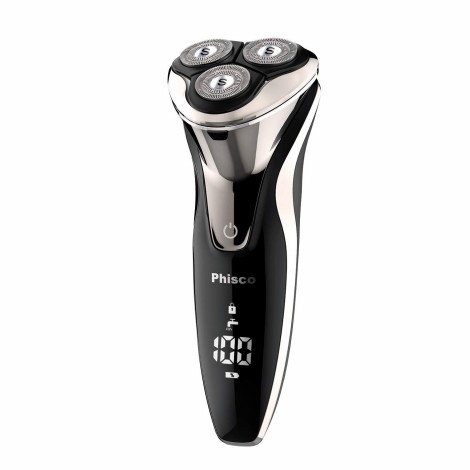 You will love the packaging of the Phisco shaver which is excellent and appears like a gift. It is an exceptional product with a sleek design that will deliver a clean and close shave and leave you feeling smooth and flawless. It is a portable device that will easily fit into your travel pouch.
Performs efficiently
The Phisco shaver comes with a double track cutter and self-sharpening blade, a 3D pivoting shaver that delivers a wide and close and smooth shave. It has LED displays; thus you can see the battery percentage and the charge indicator. It also allows you to see the cleaning indicator and has a safety lock indicator. It is an intelligent device that reminds you when the battery is low, and there is an extra trimer for grooming sideburns and mustaches. It is water resistant and can be used for a wet and dry shave. Therefore you can use it in the shower and is also ideal for easy cleaning and maintenance.
Rechargeable battery
If you have spent hundreds of dollars on shaving gadgets that do not deliver, the Phisco is an excellent idea that will get the job done. It has a rechargeable battery and takes up to one hour to charge it, and you can charge it for two minutes for a quick charge. It has a strong and powerful motor that provides a swift, noiseless and close shave.
Cost and value
The Phisco is a remarkable product with a spirited performance that will deliver an all-around shaving experience. It has a sleek design and will feel comfortable in your hands. It is a high-quality product for half the price of pricey shavers. It is a hot deal worth the money.

Subscribe to our Newsletter