Best Duck Boots Reviewed & Rated for Quality
last updated:
Apr 10, 2020
In the not so distant past, women who were in search of duck boots had very few options. There were one or two brands which primarily dominated the market, and they were valued almost exclusively for their functionality. As far as different designs with personal style, comfort, and versatility went, as far as duck boots were concerned, these were foregone considerations sacrificed in exchanged for having dry, warm feet. Fortunately, designers have brought their own creative approaches to the duck boot, taking the classic model and adding different touches, variants and nuances to the original boot options.
Duck boots are plentiful and diverse, from the original model featuring a rubber black bottom and leather upper portion extending to the mid-calf, with colorful patterns and eye-catching features that make the boots stand out. In this article, 10 popular pairs of women's duck boots are reviewed and compared for your consideration.
In a Hurry? The test winner after 16 hrs of research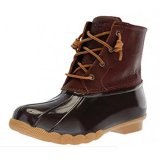 Sperry Women's Saltwater
Why is it better?
Classic design with a modern, feminine touch
Completely waterproof from top to bottom
Natural materials
Accurate, exact fit
1,000 positive customer reviews
In a
Hurry? Editors choice: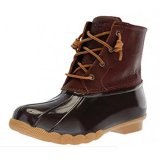 Test Winner: Sperry Women's Saltwater

15
Researched Sources
22k
Reviews Considered
16
Hours Researching
12
Products Evaluated
Water Resistance
Insulation
Style
Versatility
Comfort
By Default
Top 10 Duck Boots
1

. Sperry Women's Saltwater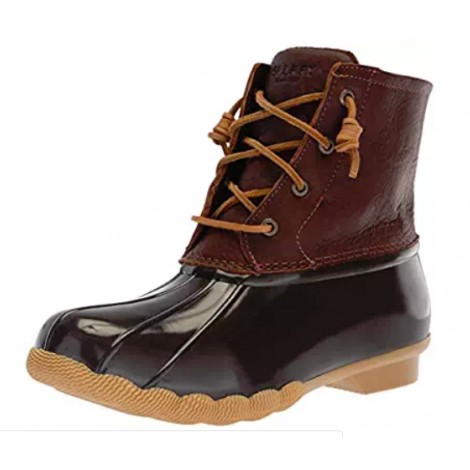 Classic design with a modern, feminine touch
Completely waterproof from top to bottom
Natural materials
Accurate, exact fit
1,000 positive customer reviews
Sperry is one of the original manufacturers of duck boots (men's and women's alike). If you are a fan of the classic, tried and true duck boot, Sperry is your ideal option. Featuring the iconic tan and black design, the saltwater boots will do an excellent job of keeping your feet dry, warm and comfortable, even in the harshest, dampest conditions where frostbite is a very real concern.
Material Considerations
The boots are made using a combination of natural and synthetic materials. The upper portion of the boots, which extend to is-calf height, is composed of tan leather with criss-cross rawhide laces. The soles are rubber to ensure complete waterproofing. The interior of the boots are lined with fleece for maximum warmth and comfort.
Advanced Traction
The boots' rubber heels cling to icy surfaces using a patented tread design. Like a high-quality set of tires, the boots are designed to provide stability on virtually any surface, making the boots exceptionally versatile. That being said, they are perfectly suitable for walking on dry land or trekking through the snow.
Cost and Value
The boots are priced on the higher end of the spectrum. However, they are durable and built to last for several years of regular use. Sperry designs its footwear with a long life in mind. The boots will be your vehicle to embark on years on adventures. As such, a pair of Sperry boots is an excellent value and a sound investment, well worth the money.
2

. Globalwin Waterproof Winter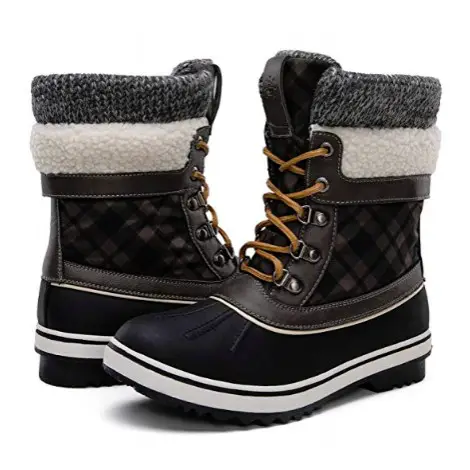 The large variety of designs
Extremely comfortable
Exceeded the majority of customers' expectations
Sufficiently weighty, but not too heavy
A stylish, chic take on the classic duck boot
May not be warm
The strength of water resistance questioned in multiple reviews
Global Win offers a wonderful take on the classic duck boot design with a stylish, modern and extremely fashionable take on the original. Several different color schemes and patterns are available, giving you several options to choose from. Better yet, the boots are sold at a very fair price; you don't have to choose just one pair to stay within a reasonable budget to add even more variety to your wardrobe, while not sacrificing any of the important functionality of the duck boot; your feet will still be cozy and protected.
Ultra Variety
Global Win's creative design team had a lot of fun while designing the company's variants on the classic duck boot, giving the customer a wide array of colors and patterns to choose from. The patterns vary from preppy to whimsical, featuring plaid, houndstooth, and even leopard print designs. The boots are made with a mix of natural and synthetic materials; namely, leather, rubber, and fleece.
Aesthetically Pleasing
While the purpose of duck boots is not necessarily to be a complete and utter fashion maven as you make your way through slush and snow-filled streets, with this particular pair (and its various iterations), you get the bonus of not having to sacrifice fashion for function. Of course, most of us care more about not having our feet freeze off while scraping the ice off of our windshield than how cute our feet look. Thanks to a team of talented, creative fashion designers, you get the best of both worlds; your feet are insulated, warm and toasty while they are clad in a tasteful, chic pair of boots with plaid accents.
Cost and Value
Global Win has done a great job of offering a high-quality, affordable pair of boots that fall on the lower end of the cost spectrum. The boots are less expensive than the majority of other options reviewed here, but by no means are they cheaply made or of poor quality. All in all, the boots are a great value, and fun to wear.
3

. Nature Breeze Lace Up and Zipper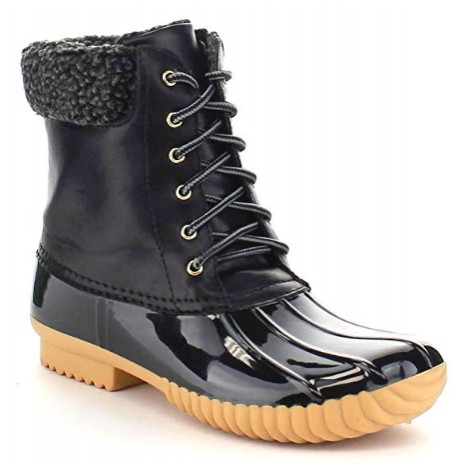 Low cost
Very similar appearance to classic, most popular brand of duck boots
Flexible, comfortable material
Available in six colors
Boots slip on and zip up for convenience
Okay for use in the rain but not intended to be worn in snow
Many complaints of inconsistent/inaccurate sizing
The boots offered by Nature Breeze are essentially a less expensive version of the classic Sperry duck boots. That is not to say that the boots do not have their own charm or unique qualities; however, the resemblance and similarities are undeniable. However, unlike the classics, the boots are made of entirely synthetic materials, which might present a more attractive option for wearers of vegan footwear. If you only need duck boots for the occasional rainy day as opposed to heavy-duty, regular wear, then you might want to consider Nature Breeze's footwear as a sensible, affordable and still stylish option.
Priced to Sell
To put it bluntly, Nature Breeze's duck boots are sold at a fraction of the cost of Sp's boots. Is quality the same? Based on the reviews, materials, average ratings and answers to commonly asked questions about the boots, the most likely answer is no. That being said, if you do not walk to work every day, or if you live in an area where the weather is primarily dry, and you will only need duck boots once in a while, they are perfectly fine.
Flexible Material
The boots are made entirely of synthetic materials. In some instances, synthetic materials are equally or even harder than leather or rawhide, thus requiring a significant period to break in. These, however, are flexible out of the box; comfortable, form-fitting and malleable. Despite the material being soft, the boots are still durable and waterproof. They do the job of keeping your feet dry, and you don't have to worry about getting blisters on your heels during the first week of wearing them.
Cost and Value
The boots represent a product of average value. They are inexpensively priced, but they are not as durable or long-lasting as other pairs reviewed here made with higher-quality materials. They are perfectly suitable for occasional wear, but not for daily use in a wet climate, and you should not expect them to last beyond a year. In this particular case, you get what you pay for - an okay pair of boots at a good price; not terrible nor wonderful.
4

. SOREL Women's Out N About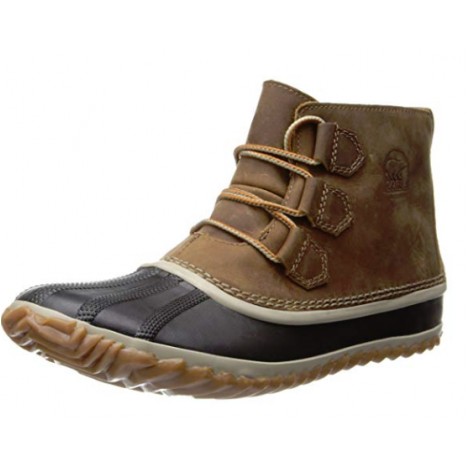 Unique appearance
Good for cool, rainy or raw weather
Handsome, all-leather design
Excellent traction
Beautiful coloring
Sizing runs small and narrow (acknowledged by SOREL)
Inadequate warmth
SOREL has done a superb job of putting its own creative spin on the original duck boot design. The boots are a clear homage to the classic design, but they stand in a class of their own, with a unique, extremely fashionable and eye-catching look. They are classy, mature and feminine. Despite being duck boots, there is nothing utilitarian about them.
Ankle Height
Unlike other duck boots, these reach ankle height, giving them a less "clunky" feel and making them perfect for running errands. The boots have a stylish, feminine twist, and could be worn in a variety of environments, including to work. They are classy and could be easily dressed up or down to complement and enhance any outfit. The only drawback to the ankle height of the boots is the fact that the leather can uncomfortably rub against the skin, causing friction and discomfort and requiring the use of, at a minimum, tall socks.
Lightweight
A common complaint voiced about duck boots is that they are heavy, clunky and cumbersome when it comes to walking long distances, running errands, or doing anything that requires you to be on your feet for a while; for example, shoveling snow, getting your daily exercise or working outdoors. SOREL's boots are unusually lightweight and will not hold you back as you accomplish your daily tasks. It is important to note that despite the light-weightedness of the boots, they still offer adequate stability and traction on slick surfaces.
Cost and Value
The boots are on the very expensive end of the spectrum. They are a costly purchase, but they are fashionable, high-quality, durable and reliable. If you are in a financial position to afford high-end shoes and ist a pair that are as stylish as they are practical, then investing in a SORELs is worth it. Overall, they represent a high-value product; well worth the considerable pricetag.
5

. DREAM PAIRS Women's Mid-Calf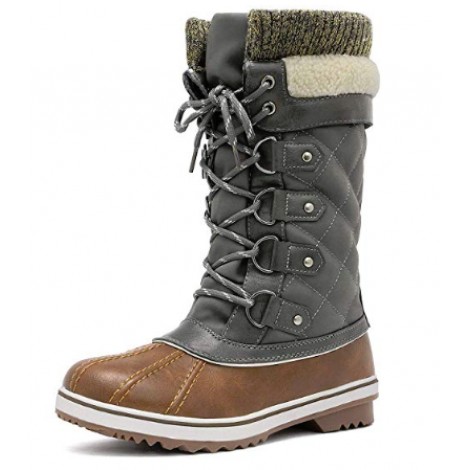 Flattering, mid-calf height
12 different designs and color options
Thermal insulation rated to -25F
Great for those searching for vegan boots
Plush, faux fur lining for ultra comfort and warmth
Complaints of zipper breaking
May not fit on wider calves
When it comes to keeping your feet warm and dry in harsh conditions, DREAM PAIRS is not messing around. Considerably taller than the majority of other boots reviewed here, they extend to the mid-calf region, keeping not just your feet but also your lower legs warm during the dead of winter. These are serious boots that can stand up to blizzard-type conditions or taking your dog for a walk down a frozen, ice-covered sidewalk. And, we would be remiss were we not to mention the fact that the boots are quite sleek and nice looking.
Flattering
You don't often see flattering and duck boots in the same sentence, and yet, here we are. The tall height of the boots would pair quite well with leggings or skinny jeans (or perhaps skinny jeans with a pair of tights or thermals underneath depending on how frigid the temperature is). Whatever the case may be, the boots have an elongating and slimming effect. The overall design is attractive, and in no way is function sacrificed for fashion - the boots are incredibly well-insulated, waterproof, and built to last.
Unprecedented Insulation
DREAM PAIRS has truly outdone itself in term customers' its customers feet warm. Picture a snow-covered landscape. The bare trees are covered in a coating of ice. You can feel your ears, nose and eyes instantly stinging from the relentless windchill paired with the sub-zero temperatures. Your feet and legs, however, will be alright if they are adequately protected, such as with the boots at hand. The thermolite insulation is rated to an incredible -25F. Hopefully, you will never have to actually experience such extreme weather conditions, but in the event, you find yourself in such a situation, your lower extremities will be safe from pain and frostbite.
Cost and Value
The boots are fairly priced, durable, attractive and powerfully insulated. Customer reviews are overwhelmingly positive, and the seller has good marks for excellent customer service, which is always a plus. Overall, DREAM PAIRS' boots are an excellent value and are highly recommended.
6

. GLOBALWIN Women's 1650-2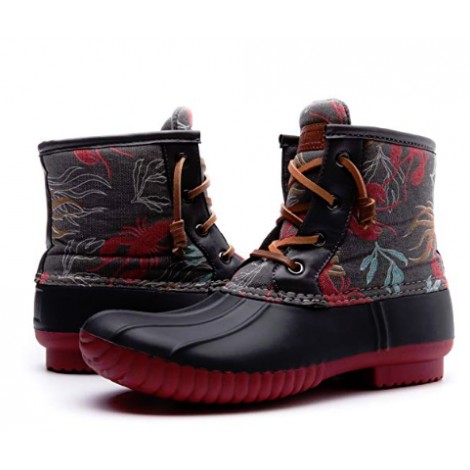 Can be put on and pulled off easily
Creative designs
Low price
Can be tucked into pants or leggings for style options
Laces and side zipper
Poor arch support
Not completely waterproof; allowing water to infiltrate the soles
If you are looking for something a little different, you might want to consider the GW Textile boots. Their style is unique and distinctive; take the classic duck boot and add a bit of Western flare and distinctly feminine printing, and the end result is a look that's certainly eye-catching. The boots are whimsical and certainly make a statement, and are ideal for those who are unafraid of taking fashion risks.
Whimsy
The boots are a great mixture of classic design, Western flare, and Bohemian beauty. If you are tired of looking at boots that are carbon copies of each other, then consider what GW has to offer. Bold, bright and cheerful, they will certainly add a little color to a rainy day, all the while keeping your feet dry and warm. Be prepared for people to ask you where you got your boots.
Slip-On
An added convenience is that the boots easily slip on and off. You can instantly take off your wet boots, without any lacing or unlacing. This is a bonus for customers with arthritis or limited dexterity. Putting them on and taking them off is a cinch, and can be done in seconds. That being said, the boots do in fact have both laces and zippers, but they can be put on or removed without using either functionality; to reiterate, they can be slipped on and off.
Cost and Value
The are of good value. They are relatively inexpensive and work well in the rain. The unique design makes them stand out, which can serve to brighten your mood on a dreary day. They are not quite as tough or durable as some of the other boots reviewed here, but if you are looking for a charming pair of rainboots to wear occasionally, you can't go wrong here.
7

. Tommy Hilfiger Women's Ravel2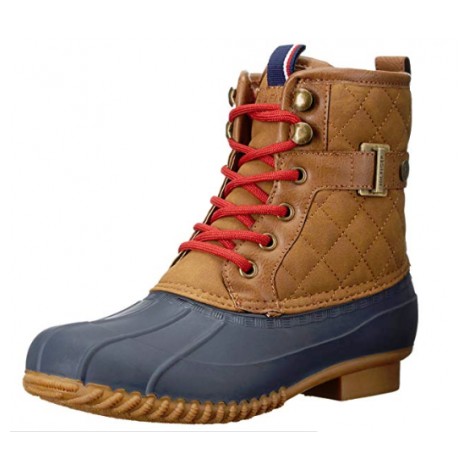 Superior arch support
Quilted detail
Unique maroon lining with matching laces
Removable lining
All-weather use
Reports of faulty zipper
Not all customers were pleased with the detachable liner
The Ravel2 boot by Tommy Hilfiger is an excellent option in terms of fashion, function, and practicality. The boots are very similar in style to the classic duck boots, but Hilfiger added his own unique flare, making the boots attractive, comfortable, well-made, and manufactured by one of the most respected names in fashion. The boots have that special something, the "it" factor that makes you want to buy them, whether for yourself or someone else.
Superlative Support
If you need extra arch support due to arthritis, flat feet or otherwise, you're in luck. These boots have excellent arch support, taking the strain off of your feet. They offer the kind of construction and design what podiatrists recommend to properly distribute your weight, keeping you comfortable and even improving your posture. The boots offer strong support to keep your feet properly positioned.
Small Details
The Ravel2s are the perfect blend of classic and modern design. The original duck boot was modified to have a few subtle feminine touches. On top of that, there are quilted, attractive accents which both look and feel good. The maroon laces and matching lining are another small, yet noticeable touch. A classic boot with a little flare for a special look.
Cost and Value
Overall, these are an excellent value. They are moderately priced and get high marks across the board, from fashion to function and durability. The majority of customers who posted reviews were especially pleased with the removable lining, which allows them to be worn in virtually any weather. They are also complimented, time and time again, on their extreme comfort; they are reportedly a pleasure to wear.
8

. Collective Women's Rainier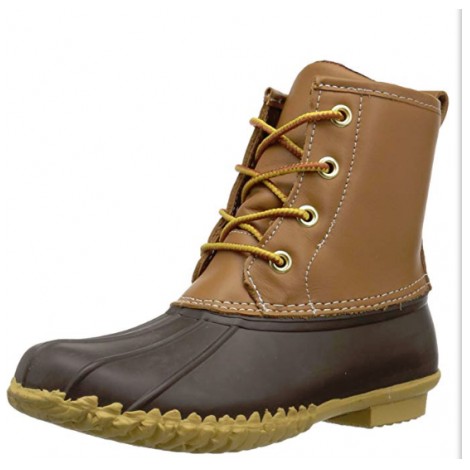 Moderately priced
Indiscernible from designer boots
Roomy, generous fit; accommodates thick socks
Breathable, ventilated material; keeps feet from overheating
Easy to clean
Some complaints about durability
Several reports of rubber on the top portion of boot cracking and breaking
The 206 Collective is an Amazon brand. The boots are designed in the fashion of the original, with very few modifications that differentiate them from the classics. So, if you are in search of a classic duck boot at a moderate price, you may want to consider the Rainiers. They work well, they do their job, and they are overwhelmingly well-received.
Classic Design
If you are a fan of the classic, original, duck boot design, look no further. The Rainiers offer a touch of nostalgia with their clean design and modest style. They do not offer much in the way of variety, flare or distinguishing qualities, but for some customers, that's a positive thing. A trusted, timeless classic.
Roomy
A common complaint among duck boots is that they are too tight and run small; often resulting in returns and exchanges. The Rainiers are roomy and spacious enough that they can be worn with thick socks without your feet feeling tight, constricted or cramped, and your toes will receive adequate circulation. The overall sizing is perfect and logical, as duck boots are not meant to be worn without socks.
Cost and Value
The Rainiers are a good value. They're right in the middle of the market in terms of price. To be frank, they are just as nice as some of the more popular, well-known brands, and are far less expensive. The differences are barely discernible. So, unless designer labels make or break footwear for you, the Rainiers are a good, sensible choice and a nice find.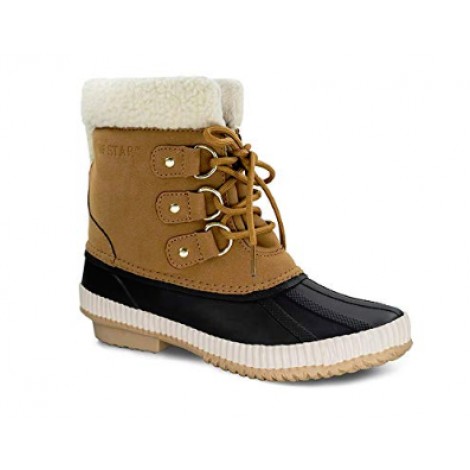 Vulcanized rubber sole
Lamb's wool collar
Herringbone outsole
Lace up for a secure fit
Powerful treads
Tight fit; inadequate toe room; need to order next size up
Complaints of inadequate warmth/insulation
TF STAR offers a decent option with its calf-length duck boots. They are thickly insulated with thinsulate material, designed to withstand brutally cold weather. The boots are moderately priced and are especially popular for being fashionable. It is important to note that the boots are described by the seller as "water resistant" but not "waterproof."
Fur Lined
The boots are lined for extra warmth and insulation. They are designed to keep your feet protected from frostbite and discomfort in harsh winter conditions. Between the thick soles of the boots, the fur lining and the generous height of the boots, your feet will be properly protected, even in the frozen tundra, and you will look chic and stylish all the while.
Vulcanized Rubber
The soles of the boots are made with specialized vulcanized rubber. This not only insulates and reinforces the outer strength of the boots; it also bolsters the strength of the treads. The boots provide steadiness and support on slick surfaces, keeping you upright and preventing you from falling. Despite the vulcanized rubber soles and thick fur lining, the boots are not cumbersome or heavy and are quite comfortable to wear.
Cost and Value
These are mid-priced and are an excellent value, earning an average of 4.5 out of 5 stars. The majority of reviews are enthusiastic and overwhelmingly positive. The boots get high marks across the board in all categories and are rapidly gaining popularity. They're a stylish, durable option, and affordable to boot (sorry).
10

. MONOBLANKS Plaid/Cotton Lined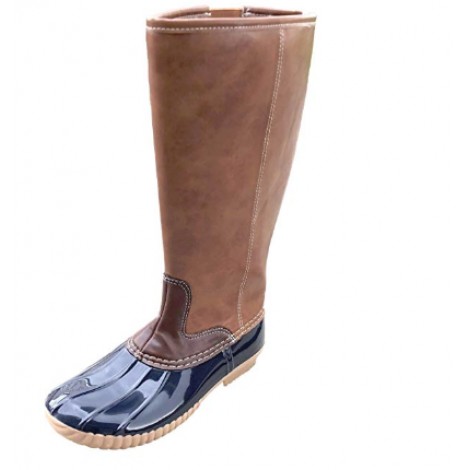 Seven unique designs
Lightweight material
Monogrammable
No fuss zipper
Easy to clean and maintain
Not as effective in the snow
Several reports that the boots run very small
The MONOBLANKS is an interesting hybrid of duck boots and Equestrian-style riding boots. They are the tallest boots reviewed here, extending up to the knee.
Cheerful Designs
These are available in seven unique, versatile designs. From a simple black and white design based on the classic duck boot to cheerful, bright-colored, whimsical versions, whether you are looking for something understated or bold, you'll certainly be able to find a style that fits your personal look. There are styles for women of all ages and personalities; they are quite possibly that most stylistically diverse brand reviewed here.
Ultra Dry
These are ideal for rain and will keep your feet perfectly dry during nasty weather. It is important to note that they are not, however, quite as adequately insulated as other duck boots reviewed here and may not serve you well in the snow. Calling them all-weather boots is not quite accurate; but for nine months out of the year, they would be absolutely fine, keeping your feet from getting soaked.
Cost and Value
These are inexpensively priced. They are also not quite as functional as the other duck boots reviewed here due to their limitations in snowy/icy weather. They are attractive and come in a variety of styles. All in all, they represent a decent value; not terrible nor exceptional; they're fun, colorful rainboots in a nutshell.
Criteria Used for Evaluation


Water Resistance
The main purpose of duck boots is to keep your feet warm and dry in nasty weather. Ideally, duck boots should be waterproof, not just water resistant. If you walk regularly, live in a city or simply want a collection of footwear that fits all seasons, you understand the importance and necessity of having a pair of boots that will keep your feet protected no matter what the weather brings.
Showing up at work with soggy, cold feet due to choosing the wrong footwear is a terrible way to start off your day. You will undoubtedly be physically (and, most likely, mentally) uncomfortable all day. Having soaking wet feet is also detrimental to your health, and can lead to dermatitis and other irritations of the feet. Don't let accidentally stepping in a puddle ruin your day - protect yourself with the right footwear.


Insulation
Duck boots are designed to be worn in all types of inclement weather, including rain, snow, and ice. There are times when you don't want to go outside, but you simply have to. Maybe it's to shovel your walkway, snow blow the driveway, clean off your windshield, or walk your dog. Whatever the case may be, as much as we dread it, we all have to go out in cold, dreadful weather at times.
So, protecting your feet in cold weather is crucial. We lose the majority of our body heat through our extremities, and serious conditions such as hypothermia and frostbite can quickly develop if we aren't careful, requiring immediate medical attention. Insulation is your greatest ally against the cold, from your head to your toes. Look for boots with a thick, cushioned lining such as fleece, to form a protective barrier around your feet.


Style
The style of duck boots has evolved subtly over time. There are many options for women to consider. Now, there is a great variety of duck boots available on the market, and women no longer have to choose boots simply because they are functional - they can also look fantastic.
Duck boots vary in style in several ways, allowing a woman to choose whichever style (or styles) appeal most to her. Perhaps tall duck boots which can be worn with leggings are the most flattering option. Or, in the alternative, calf-length boots which can be paired with a skirt (yes, a skirt). There are also classic duck boots on the market which have maintained their original style, with a neutral appearance, which can be pulled off by virtually anyone unafraid to take fashion risks, whether masculine or feminine, a la Annie Hall.


Versatility
Some duck boots are clearly designed for strictly winter use; for example, the boots with heavy fur lining. However, there are some options that include removable linings, allowing the boots to be worn regardless of the temperature outside.
Other boots can be dressed up or dressed down based on your particular outfit and accessories. Does it take a certain amount of confidence to wear duck boots to the office and wear them for the duration of the day? Certainly, but that does not mean it's inappropriate or unfashionable. On the contrary; fashion risk takers can make virtually anything work, including duck boots, which can be worn in a professional manner, or on a date, looking fun and flirty, or adventurous - whatever look suits you.


Comfort
If a pair of boots is uncomfortable, the boots are virtually useless. Quality footwear is meant to make walking around effortless. Blisters, chafing, poor fit and undesirable construction are simply intolerable in today's market. We need to be able to move.
Duck boots are meant to make us comfortable in uncomfortable environments, whether it's taking a walk in the rain or trying not to slip while maneuvering across a parking lot. A duck boot should be comfortable at a minimum; with the exception of some slight stiffness during the initial breaking in period. Other than that, the boots should not be too tight, too hot nor too cold. They should make your feet feel cushioned, supported, dry and warm.
Expert Interviews & Opinions
Most Important Criteria
(According to our experts opinion)
Experts Opinion
Editors Opinion
Users Opinion
By Default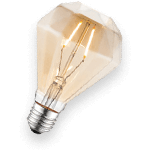 Invest In Your Style
Duck boots never go out of style. These are such a versatile footwear option that somehow seems to be able to stand the test of time. You can wear them with nearly any outfit while still remaining fashionable, protected and comfortable. It's quite the win-win scenario.
Still Wear Those Socks!
Even though some duck boots are insulated, we still recommend you invest in a pair of nice warm socks, especially if you plan on wearing your new footwear outside in cold, winter temperatures.
Other Factors to Consider


Materials
The materials used to make duck boots determine the water resistance, overall comfort, durability, strength and even lifespan of the boots. Some customers prefer all-natural materials and others prefer synthetic alternatives. Whether you choose leather and rubber boots or boots made entirely of synthetic materials, there are strong, high-quality options that fall under both categories.
What matters is that you purchase boots that are not going to fall apart. They need to be long-lasting and serve you well. Additionally, while this may seem obvious, the material which composes the sole is paramount. If the material is at all permeable, or prone to cracking and breaking, water will inevitably infiltrate the sole, eventually rendering the boot useless.


Brand
When it comes to boots or any other footwear, the brand does matter. That is not to suggest you should only consider designer brands. Rather, what matters is a brand's reputation in terms of the quality of their products. Clearly, a brand that is known for manufacturing poor quality products should not be considered.
Additionally, brands matter in terms of customer service. With footwear, sizing can be unpredictable, necessitating returns and exchanges. Quality brands offer fair and reasonable customer service policies and will work with you, hoping to earn your future business. An unpleasant customer service experience can certainly be enough to influence you to never purchase a product from a particular brand again in the future. So, in order to avoid any negative and unnecessary exchanges, take the time to research the brand ahead of time and see what the experiences of other customers have been like.
Frequently Asked Questions
q:

Is it considered acceptable to wear duck boots to the office?

a:

Yes. Choose calf-height, classic boots and pair them with flattering pants and a professional-looking blazer. All in all, you will be able to pull off a cool, stylish, office-appropriate ensemble that blends the right elements of business casual, chic and progressive look that mixes elements of masculine and feminine styles for a bold look.
q:

Can I wear duck boots on a date?

a:

Absolutely. Duck boots can be dressed down or dressed up. Don't be afraid to wear an ensemble that mixes elements that contrast each other. Saltwater boots can be paired with a skirt, your favorite top, the jacket of your choice and some sort of elegant, pretty accessory, such as a sheer, lightweight scarf or a series of layered necklaces.
q:

What's a stylish way to wear duck boots when I'm running errands or out on the town during the day?

a:

There are a lot of ways to wear duck boots. If the boots are tall enough, they look great with skinny jeans or leggings, tucked inside the boots. Then, wear a long top or tunic. Again, you may want to choose an elegant accessory to provide a touch of contrast to your overall look.
Subscribe to our Newsletter