Best Dollhouses Reviewed & Rated for Fun
last updated:
Mar 05, 2019
Dollhouses can be a favorite pastime for any child, as they aren't just for girls and offer a lot of benefits that surround this type of playtime activity. For starters, they improves perception and communication skills. Most of them are themed giving parents the opportunity to teach their kids about history and give them a glimpse of how things used to be in the past. They can also help to develop their fine motor skills and coordination. Finally, setting up furnishings is a great opportunity to express creativity. Who wouldn't jump at the opportunity to be an interior decorator for the day? Take a look at our selection of the best homes for dolls on the market today and choose the one that's going to be perfect for your kid.
In a Hurry? The test winner after 5 hrs of research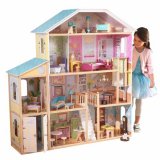 Kidkraft Majestic
Why is it better?
34 accessory pieces
8 available rooms
Elevator connecting floors
Fully operable garage doors
Wide windows positioned on the sides of the item
In a
Hurry? Editors choice: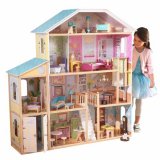 Test Winner: Kidkraft Majestic

6
Researched Sources
13
Reviews Considered
5
Hours Researching
14
Products Evaluated
Size
Accessories
Advanced Features
Materials
Compatibility
By Default
10 Best Dollhouses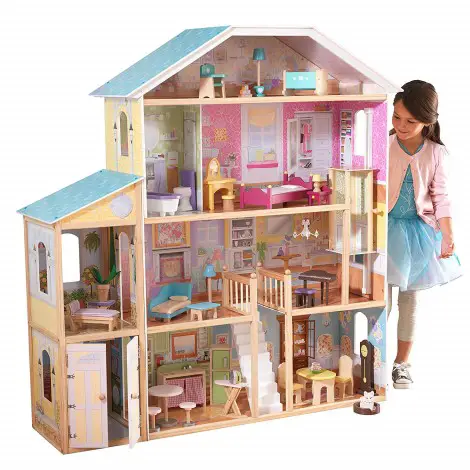 34 accessory pieces
8 available rooms
Elevator connecting floors
Fully operable garage doors
Wide windows positioned on the sides of the item
Instructions for assembly of the item may not be clear
Some parts may be damaged or faulty
The KidKraft majestic home for dolls is an over 4-foot tall structure that has 4 levels and is incredibly spacious. This item is 4 ½ feet tall and made primary out of wood. It has eight rooms spread across the 4 levels of the home. There are multiple interactive features such as garage doors and elevators. It includes an assortment of accessory pieces such as furniture and features large windows positioned at the sides of the house.
30 Extra Pieces
This dollhouse comes with over 30 accessory pieces. Included among these are furniture pieces. It also features a classic "grandfather" clock and that has a snug little area for a pesky kitten.
Over 4 Feet Tall
This mansion towers over 4 feet tall. It is 52 inches wide and has a depth of 14 inches. There are 8 rooms available to decorate, 2 on level one, 3 on level two, 2 on level 3 and 1 on the fourth and final level.
Cost and Value
The item has a moderate price range. It also has an elevator connecting the second and third level of the home and adjustable garage doors.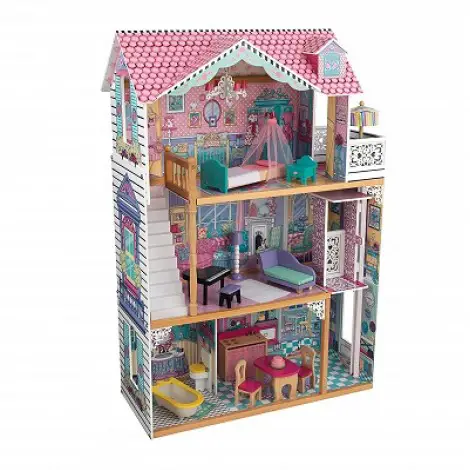 4 rooms spread across 3 levels
Classic design
Wood finish
Sliding elevator and balcony
17 accessory pieces included
Poor general quality
Movable parts may be faulty
The Kidkraft Annabelle home for dolls has a lightweight construction with a classic design that gives it a smooth and elegant finish. This object has a bright and cheerful ambiance. It is almost 4 feet tall and has 4 rooms spread out across 3 levels. It features an elevator that connects the first floor to the second floor and a small balcony on the third. It comes with 17 pieces of furniture and can be a home for dolls up to 12 inches tall.
Two Levels
This structure is almost 4 feet tall with a width of 37 inches and a depth of 14. There are 4 rooms available to decorate, 2 on level one, 1 on level two and another single room on the top floor.
Operational Elevator
The house features a fully operable elevator that connects the first level to the second level of the item. It also has a balcony positioned off the side of the third level area.
Cost and Value
This item has a low price range and features a sturdy wood finish. It also comes with over 15 pieces of furniture which can be used to decorate it.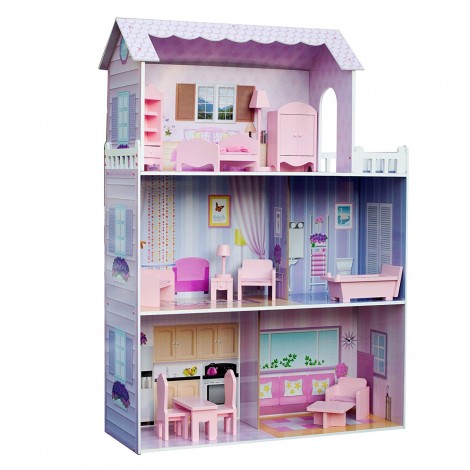 Durable material
Open concept construction
13 piece accessory set included
Hand carved
Hand-painted
May not include assembly tools
Parts may be poorly packaged
The Teamson kids wooden home for dolls is hand carved three levelled masterpiece. It features an open concept design with furnishings to suit the kitchen, bedroom, living space and bathroom area. This selection is also hand painted, safe for the environment and has a pristine balcony linked along the side of the home.
Durability
This item contains a medium density fiberboard. The fiberboard is hardwood that has been broken down and combined with softwood. This creates a consistency which is more durable than plywood, adding to the stability of the structure.
Included Furnishings
Furnishings are included for each level of the mansion. The total 13 pieces cater to the bedroom and bathroom area as well as the living space and kitchen area. Among these is a stylish bookshelf.
Cost and Value
The price range of this item is low. It is FSC approved labeled safe for the environment. Easy to follow assembly instructions are included.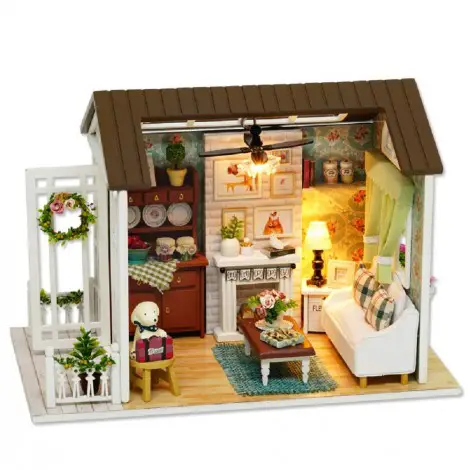 Detailed assembly instructions
Accessories are included
Rustic miniature design
LED lights
Glue to bond parts together is not included
Poor quality building material
This dollhouse is a namesake. You will receive all the parts necessary to build your dream home but when it comes to construction, you have to do it yourself.
The Flever DIY house kit comes with packaged furnishings. It is recommended for children aged 14 years and older. It will take on average one day to fully assemble the structure. All the furnishings will be sent in a packaged kit after which you begin the challenge of building your home from scratch.
DIY-Style
A product kit containing furniture, accessories and building material will be given to you. You'll be tasked with the job of assembling your new home. This will include bonding the wood and modeling the construction. Your finished product should look like a quiet rustic home brimming with character.
Small Package
Whoever said good things come in small packages must have had their eyes on this miniature beauty. With dimensions measuring 9.7 inches in length, 7.2 inches in width and a depth of 2.3 inches. Correctly assembling this home is going to push your motor skills to its limit.
Cost and Value
This selection has a very low price range. It comes with LED lights and a detailed instruction manual to make assembly easy.


4-foot tall structure
8 rooms spread across 3 stories
Over 70 accessories
Dual function features
Sound incorporated
High price range
Some items may be damaged
Every girl's fantasy comes true; the Barbie Dreamhouse. 3 floors, 8 rooms and more accessories that you can count. This offers endless hours of fun and imagination. This item is over 3 feet tall and more than 3 feet wide. There are 8 rooms spread across 3 levels. It also features a carport, pool, fully functional elevator and a slide wrapped around the side of the home that extends all the way up to the roof.
Eight Rooms to Decorate
This selection is 30 inches tall, 30 inches wide with a depth of 8.5 inches. It has 8 rooms available for decoration. There are 3 rooms on the first and second floor and 2 on the third and final one.
Unique Accessories
Accessories are not lacking with this high-class item. A features a fully functional elevator and the entire home is sound incorporated. The kettle can whistle, the toilets can flush and the stove makes a sizzling sound when you cook.
Cost and Value
The price range on this item can get high however it does have over 70 accessories many of which can expand and double as a whole new item.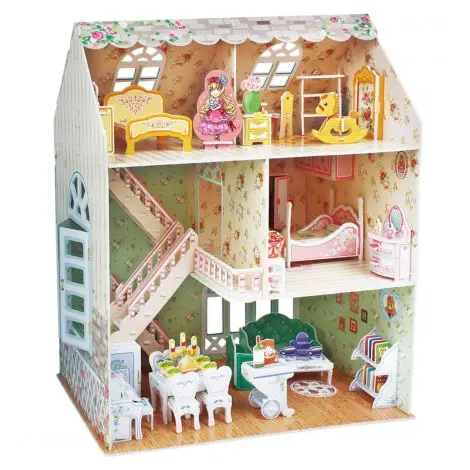 Miniature size
Low price range
No scissors or glue required for construction
Easy to assemble
Integrated components
The completed structure may not be sturdy
There is a probability of the integration failing
The Cubicfun home for dolls kit is like a 3D puzzle with over 160 pieces. Test your crafting skills with this miniature beauty. This item reflects the performs well and reflects the quality of the brand it bears. With excellent materials and a beautiful design, this selection is equipped to provide endless hours of fun and creativity. No scissors or glue is required for assembly as all components are well integrated.
Unique Construction
This miniature model packs a mean punch. It is 12 inches tall, 10 inches wide and has a depth of 6 inches. This integrated assembly will test the motor skills of any craftsman. The finished product looks like a 3D puzzle with bright colors and classic accessories.
Material
The building materials for this house is made from paper and also utilizes EPS. EPS or Expanded Polystyrene is a type of styrofoam. Although it is lightweight it is also a load bearing quality material. This will add to the stability of your structure.
Cost and Value
This item is with a very low price range. It contains over 160 pieces however it is quite easy to assemble.
7

. KidKraft Arendelle Frozen Palace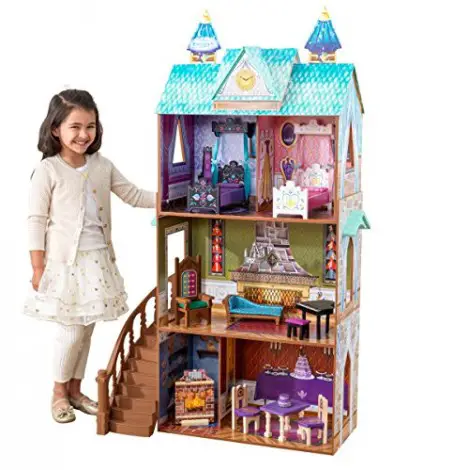 Accommodates dolls up to 12 inches in height
Composite wood construction
Fabric drapes
Molded plastic staircase
Detailed chandelier
Some furniture may be damaged during the shipping process
May be difficult to assemble
The Arendelle frozen palace is ideal for children aged 3 years and over. It features a lovely spiral staircase and a decorative chandelier. This item has a grand ambiance about it. It has 5 rooms spread across three floors. An accessory pack is included that features decorations for every room. It has a lovely chandelier and a grandiose staircase that wraps around the side of the castle.
3 Levels
With 5 rooms spread across 3 levels, this spacious structure has great capacity. The third floor features 2 bedrooms that can comfortably accommodate dolls up to 12 inches tall. Elsa and Anna are poised to have a great night's sleep in the beautiful castle.
Construction
The structure is made from composite wood. This is a careful blend of wood and plastic which adds to the stability of the castle. The spiral staircase consists of molded plastic and the fabric drapes are an elegant feature included in the design.
Cost and Value
Price range is within moderate range and a 12 piece accessory set is included in every purchase for the decoration of each room.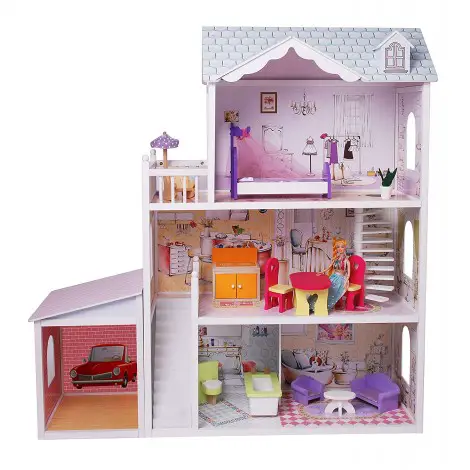 Over 4 feet tall
Parking garage located at the side of the home
13 furniture pieces
Accommodates dolls up to 12 inches tall
Detailed decor printed on each level of the item
Very few accessories
May be difficult to assemble
The MMP contemporary home for dolls is over 4 feet tall and includes 13 furniture pieces. This option features a wooden structure that includes a garage conveniently located off the side of the home. It also includes 13 furniture pieces with decorations for each room. The decorations feature an upscale classic home with printed decor and a lovely chandelier on the third floor.
3 Floored
This spacious home has 5 rooms spread across 3 floors. It is over 4 feet tall with dimensions measuring 48 inches in length, 33 inches in width, and a depth of 15 inches. There are 3 rooms on the ground floor and 1 on the second and third.
Staircases
There is a wooden staircase that leads from the main floor to the second that includes a banister at the top. To enter the third floor an in-style spiral staircase can be utilized. There is also a bricked garage that is detached from the house on the first floor providing a convenient parking option.
Cost and Value
This item has a moderate price range. There are 13 furniture pieces included upon purchase to decorate each room The home for dolls is also able to accommodate dolls up to 12 inches tall.
9

. Melissa & Doug Heirloom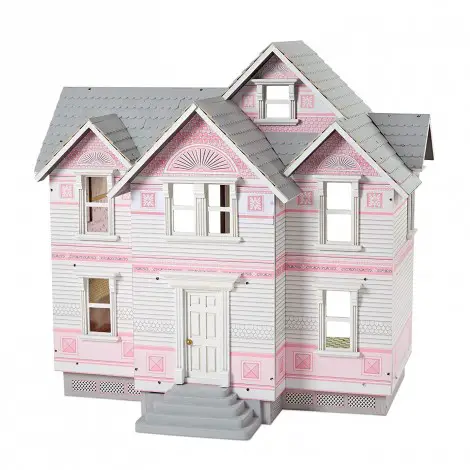 Sturdy construction
5 rooms to decorate
3 leveled structure
Instructional video and manual included
Accommodates dolls up to 12 inches tall
Takes a long time to build
May be incorrectly labeled
The Melissa & Doug Heirloom home for dolls has a sturdy structure made of wood and features classic Victorian style. This model includes a detailed instruction manual and all the necessary building equipment to assemble this Victorian classic. It is made from sturdy material and has detailed artwork throughout all the rooms of the home. It can easily accommodate dolls up to 12 inches tall.
Size
This miniature home is ideal for children aged 6 years and over. There are 5 rooms spread across 3 levels. Its dimensions are 29 inches in height, 27 inches in width and a depth of 18 inches. It can easily accommodate any doll up to 12 inches in height.
Beautiful Accessories
This structure is beautifully accessorized with pink and grey trimmings against a white background. It has friezes and gables that are patterned and impeccable brackets and latticework.
Cost and Value
This selection has a moderate price range and comes with an instructional video to help with easy and accurate assembly of the item.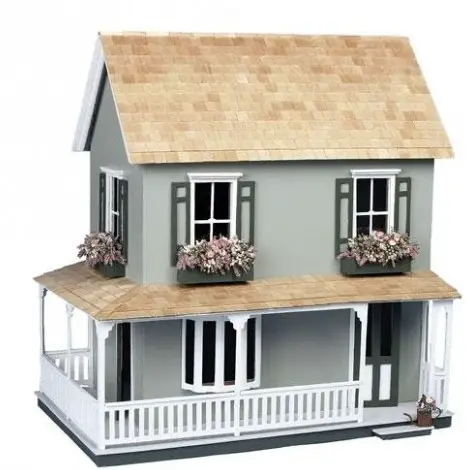 Gingerbread trim
Wide and spacious front porch
Unfinished wood
6 rooms
2 levels to decorate
Very fragile construction
The Laurel gingerbread home for dolls has a traditional finish complete with porch and attic. This item has a classy traditional look. Reminiscent of the white picket fence life we have all dreamed about it is furnished with a lovely white detailed porch. The building has six rooms in total and primarily made out of wood. It is ideal for ages 5 and over.
Unfinished on Purpose
This home is purposely constructed with unfinished wood. This gives you the unique opportunity to express your creativity and complete the project with a style specific to you. You can paint the walls, roofing and trimmings with a color of your choice.
Wraparound Porch
This dollhouse is no towering giant but it does contain 5 rooms spread across 3 floors. Three on the ground floor and two on the second floor. It also features a gorgeous white porch that wraps around both the front and side of the home.
Cost and Value
This item has a low price range and has dimensions of 25 inches in height and width and 17 inches in depth.
Criteria Used for Evaluation

Size
Those items are built to scale. This means that each measurement in the miniature home corresponds to an actual size in the real world. Most miniature collectible homes are built to a scale of 1:12. That means that one inch in the item is equivalent to 1 foot in the real world. These models tend to be more expensive and have fewer accessories available for decoration. The 1:6 scale is generally used for playtime doll homes. This means that 6 inches in the real world is equivalent to 1 inch in the toy. This can see castles and mansions reach up to 4 feet in height. They are usually very spacious and have an abundance of accessories with which to decorate each room.
Playscale homes are easily accessible and allow children to express their creativity. They can have up to 8 rooms and are great for endless hours of fun. Due to their larger size, the are commonly available to children three years of age and older. There are smaller scaled options that are created such as 1:24, 1:48 and 1:144, however these are very difficult to find. Accessories for these miniatures can be easily lost and they are very difficult to work with due to the size constraints of items for construction.
The capacity of them depends on its size. Miniature houses can facilitate up to 5 rooms across their 2 leveled structure. These rooms usually feature 3 rooms on the bottom level 1 room on level 2 and an attic area. They are complete with accessory kits that can furnish each room according to type. The room types are generally basic including a bedroom, bathroom kitchen, and living space. Due to its size, provisions are rarely made for additional accessories as this would create clutter. There is much more available creativity with a larger home.
Playscale homes can have up to 8 rooms. These are usually spread across 3 floors. 3 rooms on the first floor, 3 rooms on the second floor and 2 on the third and final floor. These generally feature much bigger accessory kits and have additional accessories that can be purchased separately. Base items are sufficient to decorate each room of the home. These items usually include added areas like garages, pools extra bedrooms, study and dining areas. This helps to facilitate a child's wide imagination making these homes ideal for hours of play time. The can also accommodate dolls up to 12 inches tall. This means apart from decoration, role play can be incorporated into play time.

Accessories
A home for dolls usually comes with an accessory kit full of items that can be used to decorate the available rooms of the item. These kits can be as small as 10 or 11 items, and can range all the way up to over 60. It usually depends on the size house you have acquired. All of them will come with basic items such as beds, furniture, bathroom decor and appliances to furnish a kitchen. Based on the style of your home, special items may be added to the kit such as classic clocks or pianos. They may also feature items like bookcases, cabinets, and chandelier.
Most of them have wallpaper with themed designed in each room which adds to the ambiance of the castle or mansion. This makes it easy for children to discern what each room is intended to be and which accessories can generally be included in that area. Each item is by no means limited to the accessories received by the manufactures. There are countless additional items that have been made available that can be acquired separately at your convenience. Accessories sold separately gives children the opportunity to redecorate and provides them with a wide range of flexibility when playing "make believe". They will be able to potentially collect decor for any and every occasion.

Advanced Features
With any option, you can expect a minimum of 2 floors. These usually feature a basic setup of the bedroom, bathroom, kitchen and a modest living space. As the structures get bigger they include more fascinating additions and feature added interactive combinations. On a 2 leveled home, there is generally a basic staircase connecting the two floors. However, when a third level is added special designs like a spiral staircase may be added. There are also homes constructed with fully functional elevators to take you to the third floor. Some 2 leveled homes may be designed with a parking garage or balcony off the side of the home. Others feature a gorgeous classic porch that wraps around the front and side perimeter of the structure.
Many 3 leveled structures have direct access from the first floor all the way up to the third and final floor. To make this available many designs utilize a spiral staircase or a standard stair wrapped around the side of the building. A few have slides that extend from the third floor to the bottom floor. Or elevators that grant access to the higher levels. Some brands have multi-purpose accessories that can see one item transform into another maximizing decor options for any occasion.

Materials
Many full-size homes are constructed from composite lumber. This is achieved by combining wood fibers with plastic. The end product is much heavier than a purely wood constructed house, however, it is also sturdier and more durable. This increases the product quality of the mansion or castle and ensures it can stand up to the wear and tear of continued interaction by children.
Another popular material used in the construction is MDF also known as medium density fiberboard. This is also a combination of two types of materials, however, it is mainly a wood compound. This material is created by combining softwood and hardwood. Each is broken down into their individual fibers and then combined using a substance such as resin. The application of high temperatures or pressure increases the density of the material and the end product is much more durable than materials such as plywood. This adds to the durability and sturdiness of the structure.
Another material used to create items that are seen more commonly in miniature collectibles is a type of styrofoam called EPS. This is expanded polystyrene foam. It maintains the lightweight characteristics of any styrofoam product, however, it is extremely durable and is an excellent load bearer. The ones made of this material are usually inexpensive and once put together are generally sturdy and able to remain upright and supported on its own.

Durability
Fiberboard and composite lumber are dense materials that are very durable however they are susceptible to water damage which can warp the structure. The ones made from this type of material is best suited for older children. For younger children, it is best to stick to hard plastic. It is sturdy and can withstand the everyday wear and tear of an energetic youth.
Expert Interviews & Opinions
Most Important Criteria
(According to our experts opinion)
Experts Opinion
Editors Opinion
Users Opinion
By Default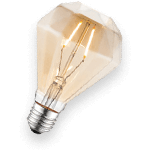 A History Lesson
Dollhouses go back hundreds of years. The earliest known dollhouse examples in Europe were "baby houses" which came about in the 16th century. These were more of a cabinet-style than what we're used to today and were built by hand, often featuring fine exquisite details. They were constructed by adults for adults, however, and were completely off-limits to young kids in order to protect the integrity of the dollhouse. Adults treated these baby houses as trophies and were often kept locked up to stay protected.
Astolat Dollhouse Castle
Think the dollhouses on our top ten list are expensive? Let us tell you about the Astolat Dollhouse Castle. This is a 9-foot tall structure that weighs in at over 800 pounds. It took about 13 years to construct and is quite a piece of handmade architecture utilizing real marble, hand-painted paintings and gilt trim inside. There are 29 rooms and over 10,000 interior accessories that accompany this dollhouse. Oh, yeah, and the price? A cool 8.5 million.
Other Factors to Consider

Brand
KidKraft has been in this industry for over 40 years. They pride themselves with inspiration and innovation. Their products have been marketed in over 90 territories across the globe and they have won multiple awards for their home and play kitchen creations. They have since expanded into playsets, playhouses and more. The vision as always been and continues to be the inspiration and empowerment of young minds. They are committed to creating products that assist young children to discover their world through play.
The Teamson brand has been around for over 20 years. They have been creating products for almost 18 years. In 2003 they introduced their first line of hand painted children's furniture and by the very next year were producing his and her potty chairs. Their items didn't come for them until 2011 and since then, they have continued to make strides in this arena. They are committed to producing unique, high-quality products to suit your individual style and can last a lifetime.
The barbie dreamhouse is one of if not the most iconic brand when it comes to these toys. After more than 40 years it is still at the lips of almost every child around the world. Their general style and decor have continued to improve over the years, showing that a good reputation is not all you need to get to number 1 and stay there. They are constantly innovating, maintain consistently good reviews and is one of the fastest selling brands in this industry.
CubicFun is in a league of their own. They manufacture puzzled in 3D. They create these structures using a specific type of styrofoam called EPS. This material is has been approved by the FSC and labeled safe for the environment. It may seem like an unlikely source for a dollhouse but their structures tend to be sturdy and load bearing. What makes this brand interesting is that it does not require any hardware or glue to set up. All the pieces are integrated and when complete, make a quite classy and beautiful home.

Style
They come in many different and unique styles. Some are incredibly spacious with multiple interactive features while others are lightweight with a more classic design. Depending on the brand you have acquired some homes are in the image of a hand-carved masterpiece while others allow you to take the design into your own hands with a DIY kit. You can even have the option of an unfinished design where you get to use your creativity and the trimmings and interior rooms in any color of your choosing.
No one can deny the glamour and fantasy of a Barbie dream home that is designed more like a clubhouse than a place for noontime tea or the magical atmosphere of an Arendelle palace. With fabric drapes and hand painted wallpaper, there is a lot to choose from when it comes to style. There is a wide selection for almost every preference.

Color
It was thought long ago that they were designed for children. They were always bright and playful and left very little to the imagination when it comes to function. However, in the land of the free, equality is king and an ever more increasing number of adults collect and construct these homes and a hobby and many keep them for display purposes. This has moved manufacturers and industry leaders to diversify their style and color scheme which has resulted in some beautiful and elegant creations.
Bright colors tend to appeal to children. It makes it easier for them to see and identify an object. Colors are also known to affect their mood. Bright colors evoke joy, happiness it creates light and is the perfect selection for a children's play toy. Adults, however, gravitate toward darker more earthy colors like cream, brown and grey. Matching the right colors to the right style can make all the marketing difference when it comes to this selection.
Frequently Asked Questions
q:

What age range is a home for dolls best suited for?

a:

Most of them are labeled for children age 3 years and over. This is due to the size of the building materials and accessories. Because they are done to scale, some pieces can become a choking hazard for children younger than 3 years of age. It is best to wait until they are old enough to play responsibly with these types of items before offering one as a gift.
q:

What size dollhouse should I get for my 6-year-old?

a:

The size of it depends largely on the space you have available. Some houses can reach up to 4 feet in height and width. Bigger homes tend to fall into higher price range brackets however they usually have more accessories and can accommodate full-sized dolls. Once you have settled on the space you have available and the price range you are comfortable with, selecting your next home will become a lot easier as it will now only be based on your personal preference.
q:

What material should I look for in a dollhouse?

a:

It depends on the age of your child. Fiberboard and composite lumber are dense and very durable however they are susceptible to water damage which can warp the structure and render it unsightly and at times useless. These are better suited for teenagers or younger children who exhibit responsibility. For younger children, it is best to stick to hard plastic. It is durable, sturdy and can withstand the everyday wear and tear of an energetic youth.
q:

Do they come fully furnished or do I have to purchase the furnishings myself?

a:

Every item comes with an accessory kit. The items contained within can be used to decorate every room of the house. The size of the kit depends on the size of the home. If you acquire a miniature one you will receive a small number of accessories as the size of the home would not be able to accommodate a large amount of furnishings. A life-size house usually has a large number of accessories and many can also be purchased separately as there is a lot of open space available for decoration.
q:

Are there any options available if I prefer to build the home myself?

a:

Yes, there are quite a few brands that offer dollhouse kits. You will receive all the necessary parts and instructions on how to construct the structure. These kits also come with all the necessary accessories. To effectively build these you will need to have glue and the proper hardware. Some companies are unable to ship these items to you so if you choose this option, it is of great benefit to ensure you have all the necessary items at hand to put it together. There are also unfinished homes that allow you the opportunity not just to construct your home yourself but also design it to your specific taste. You will be able to paint the trimmings and inside of your home and really make it your own.
Subscribe to our Newsletter