Best Dog Rain Boots Reviewed & Rated for Quality
last updated:
Feb 22, 2019
You've probably seen a few videos of dogs awkwardly attempting to maneuver around with a new pair of boots on. Wearing boots is obviously foreign to dogs, so having their paws suddenly encased in four unnatural, unfamiliar objects can be quite confusing, disconcerting and distressing for a dog. While the sight of a Golden Retriever awkwardly prancing through the house, each paw headed in opposite directions may seem funny at first, it's also a view of a legitimate struggle of a dog to acclimate itself to something literally and figuratively throwing the pup off balance.
However, dog owners invest in boots for their pups for benevolent, not malevolent reasons. Dog rain boots (and raincoats) are helpful for a number of reasons. Ultimately, your dog will be safer, healthier and more comfortable going for walks in the snow or rain with its paws protected.
This is the best product on our list that is currently in stock: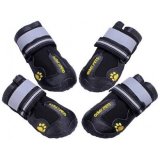 QUMY
Why is it better?
Superior traction
Perfect for older dogs
Secure fit
Dogs acclimate themselves to the boots quickly
Year-round use; snow and sand alike
In a
Hurry? Editors choice: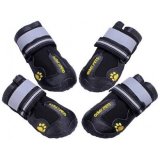 Test Winner: QUMY

11
Researched Sources
14k
Reviews Considered
19
Hours Researching
14
Products Evaluated
Water Resistance
Insulation
Motion Control
Style
Versatility
By Default
10 Best Dog Rain Boots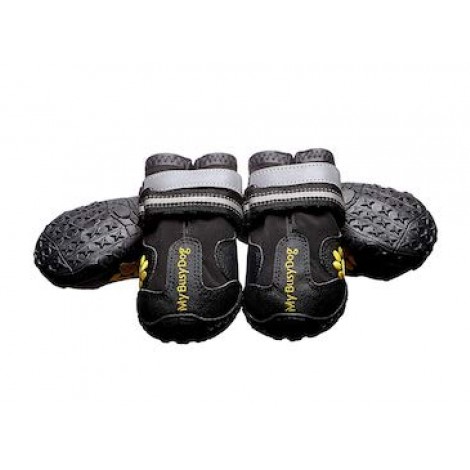 Made in USA
Meticulous construction
Versatile enough for year-round wear
Adjustable for dogs with arthritis who drag their back nails
Stylish, nice looking
The material can irritate the paws of dogs with extremely sensitive skin
Some customers reported issues getting the boots to stay on properly
My Busy Dog's boots are carefully crafted with high-quality materials that are properly sewn and secured together, not glued. No corners were cut during the manufacture of the boots; the company prides itself on constructing boots that are safe, comfortable, durable and reliable enough for their own dogs to wear. A company full of dog lovers; the design team focused on creating water-resistant boots that provide the best comfort, stability, durability, and style available, to keep your dog's paws healthy, comfortable, insulated and protected no matter what the weather may bring.
Ultra Protection
The boots are light enough for your dog to walk unencumbered, yet made of materials thick and durable enough to protect your dog's paws from common hazards such as thorns, nails and broken glass. This is, of course, in addition to protection from rain, snow, ice and the frequent chemical contaminants commonly found in each.
Extreme Versatility
These are not exclusively rain boots, by any means. In fact, the boots are ideal for protecting your dog's delicate paws during the height of summer. Walking on asphalt that's been baking in the sun all day or even walking through the hot sand of a beach can burn your dog's paws, which is extremely painful and can even temporarily render your dog immobile. The boots are versatile and ventilated enough to be worn in virtually all weather without causing your dog any discomfort; its paws will not overheat.
Cost and Value
My Busy Dog has truly offered an exceptional product with its dog boots which are an extremely high-value item. They are considerably more expensive than some of the other boots evaluated in this article. However, they feature superb construction, great versatility, ample comfort and are clearly made by dog lovers for dog lovers.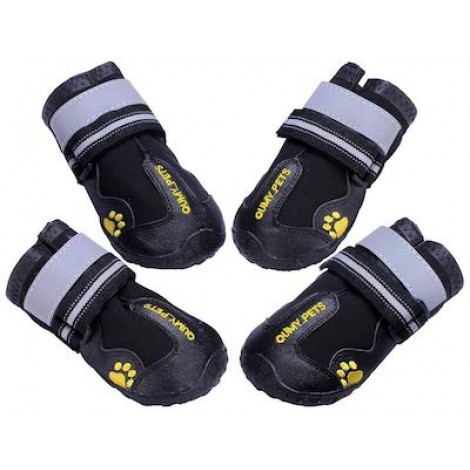 Superior traction
Perfect for older dogs
Secure fit
Dogs acclimate themselves to the boots quickly
Year-round use; snow and sand alike
Some complaints about the lifespan of the boots
Issues with front area of boot reported (nail area, specifically)
These, you can feel good about, knowing that your dog is comfortable, safe and well-protected in all weather conditions. Your dog will also have no issues with slipping or skidding indoors on smooth surfaces. Based on dozens of reviews, many customers were happy to report that it took their dogs very little time to get used to walking in the boots. The boots appear to be comfortable and are easily adjustable, ensuring a proper fit.
Amazing Traction
Whether your dog is walking on a slippery, icy sidewalk, through completely saturated grass, over snow-covered pavement or across a shiny, polished floor, it will be safe with QUMY boots on. The unique treads of the shoes allow them to grip virtually any surface, allowing your dog to have increased control over its movements and greater mobility. The treads are strong enough to keep your dog steady even while walking on ice, and yet will not do any damage when worn indoors.
Great for Older Dogs
Often, as dogs get older, they experience difficulty walking, whether due to arthritis, muscular issues or general joint discomfort. This can increase the likelihood that a dog may fall and injure itself while walking, even indoors. The treads on QUMY's boots will provide the strength and stability your dog needs to safely walk around independently without risk of injury. Older dogs who can still freely walk around are generally healthier and happier, as they enjoy being active, able to romp and play at any age.
Cost and Value
QUMY's boots are high in value. They are priced in the middle of the market; not cheap but certainly not exorbitant. They are versatile. The boots can be worn year-long, regardless of the weather They offer superior traction and are ideal for older dogs who might otherwise struggle with independent mobility. Overall, these boots can keep your dog safe, healthy and happy with an overall improvement in the dog's quality of life. As such, the value of the boots is truly off the charts.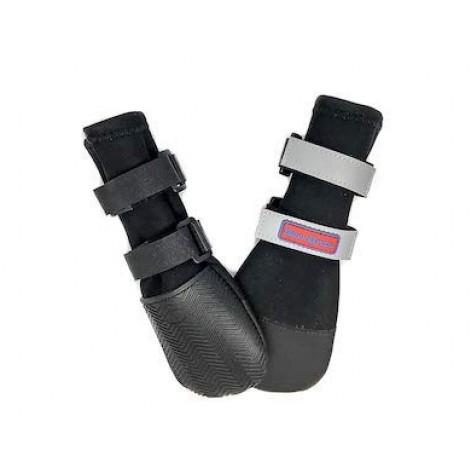 Great for dogs with narrow paws; e.g. Greyhounds
The boots can be worn for hours at a time without any discomfort
Long-lasting, even with daily use
Protects paws in the height of summer (according to one customer from Arizona, even in 110-degree weather, the boots worked perfectly)
Soft neoprene inside keeps dog's paws feeling padded and supported
Soles are reportedly stiff
Complaints of straps negatively affecting mobility
The Bark Brites got their name for a reason. Each boot includes two reflective strips so that the boots can be easily seen at night as light is reflected off of them. This simple, easy measure makes the boots that much more usable, allowing you to safely walk your dog at night. The shoes are great for a multitude of activities, including running, swimming, walking, hiking and more, in virtually any environment...sand, snow, rain, the ocean, a lake, grass...whatever you're doing and wherever you are, now, your dog will be able to comfortably keep up with you.
Flexible Material
The boots offer an excellent fit thanks to the variety of sizes the boots come in (a complete sizing chart is available online), as well as the stretchable fabric the boots are constructed with, which bends and conforms to securely fit your dog's paws. This is accomplished without restricting blood flow to your dog's paws, squeezing the paws or causing any discomfort. Rather, the material itself is flexible and stretches, while still maintaining strength and durability; the toughness needed to sufficiently protect your dog's paws from the elements.
Nighttime Use
Most dogs love to walk or run at night. However, there are inherent risks associated with doing so. You can walk with your dog with a flashlight, of course. Or, you can invest in a collar with a blinking light on it, or an illuminated leash. However, such items are limited by battery life and do not last forever. In the event your dog is able to break free from its collar, you might wind up in a terrifying situation: chasing your dog through the darkness, with vehicles completely unable to see it. With Bark Brites, this risk has been minimized through the addition of two sets of reflective straps on each boot. Even if your dog gets loose in the dark, vehicles will still be able to spot it in the dark. Additionally, you will be able to find your dog easier with the use of a flashlight, as you will see the light reflecting back at you from the straps.
Cost and Value
Bark Brites are toward the higher end of the pricing spectrum, but they are absolutely worth it. They offer your dog safety, comfort, greater agility, the ability to join you in a variety of activities, and nighttime safety. Without a doubt, the boots are well worth the cost for any dog lover.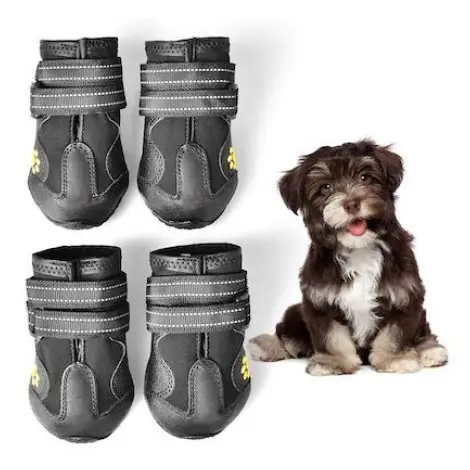 Charming dog print embroidery
All-terrain use
Easy to put on and take off with side opening design
Breathable yet strong material
Incredibly lightweight; still tough
Complaints of boots being too stiff
Multiple complaints of sizing running too small; smaller than advertised
WUXIAN is in a class of its own in terms of keeping your home clean. Even if your dog goes on some sort of canine archaeological mission digging through dirt and mud in search of bones, as long as it's wearing the waterproof boots, your floors will be spared. In addition to their wonderful strength, stability, and functionality, the boots are delightfully stylish, looking like adorable tine trainers.
Keep Those Floors Clean
No matter how muddy the expedition, the boots are made of tough, durable, washable, waterproof material. They can be easily pulled right off or put back on. So, before your dog returns from an outdoor adventure, prances across your white carpet and catapults itself onto your brand new comforter, you can get those waterproof shoes off in seconds flat. Disaster averted.
Lightweight Yet Strong
The boots are deceptively strong. They are quite lightweight, leading one to believe that the boots might be better suited for the warmer months and dryer weather, but the material is surprisingly durable. It is breathable and yet still insulates the dog's paws against both hot and cold weather, wet and dry environments. They are also easy to put on; opening at the sides as opposed to the tops which can be more convenient when putting boots on your dog's paws.
Cost and Value
The boots are smack in the middle of the market in terms of price. The reviews are overwhelmingly positive, with the majority of customers giving almost exclusively five-star reviews. The boots, relatively new to the market, are ever-growing in popularity. The innovative design of the boots and unique material are being enjoyed by more and more dogs every day. All in all, the boots are an extraordinary value.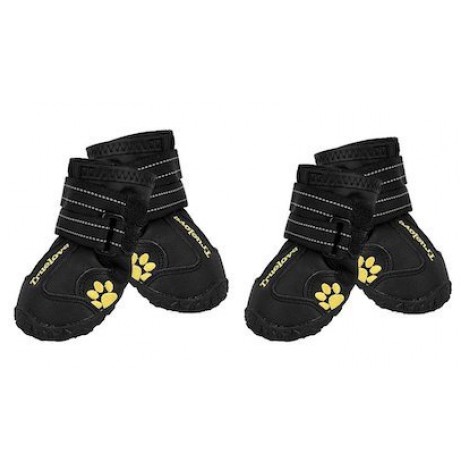 Can be put on and pulled off easily like regular boots
Grooved soles for superior control
Reflective straps for better nighttime visibility
Hand washable
Boots can be worn inside or outside without dirtying floor
Reportedly do not work well for small dog breeds
Problems with velcro straps reported
The EXPAWLORER are absolutely adorable. They are charming, well-designed, warm and waterproof. They will keep your dog happy during cold and wet weather, with cozy, warm, dry, protected paws. The price of the boots is competitive; they're easy to put on and take off, and they are eye-catching. The perfect example of fashion meeting function.
So Stylish
These boots, quite frankly, are so adorable that they look like Uggs for dogs. They're charming booties that extend up your dog's leg. The fluffy, nice looking black material is accented with reflective straps on the leg area to keep your dog safe and visible at night. Each boot is accented with a whimsical pawprint. The boots are unisex; cute enough for a female pup, yet the black color and overall design would look great on a male dog.
So Warm
The boots will keep your dog's paws warm and dry, regardless of how wet, snowy or icy it is outside. They are well insulated; water will not infiltrate the interior of the boots. Your dog's paws will be kept snuggly, cushioned and free from ice, chemicals, salt and dirt. Your pup will enjoy frolicking outside, unencumbered by the elements.
Cost and Value
The boots, as previously mentioned, are mid-priced. However, they are incredibly stylish and charming. You will love walking your dog when it's wearing its sleek, fluffy black boots. Your dog will love being able to play and dig in the snow without hurting its paws or developing hypothermia from being outside for too long. Your dog will be one happy pup.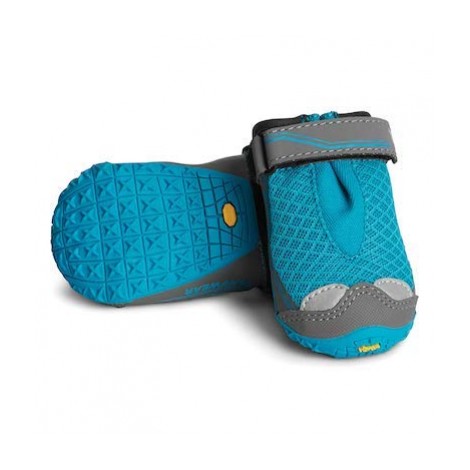 Stylish and attractive
Breathable, ventilated
Great for rough terrain
Hook-and-loop with hardware closure
Air allowed in; dirt and debris kept out
Reports of boots being painful for dogs with sensitive paws
Less effective as others reviewed here in terms of insulation and water protection
RUFFWEAR boots are another great example of fashion meeting function. They're similar to stylish, functional, modern hiking shoes. Not clunky, but strong. Ergonomic. Athletic. The kind of shoes that you enjoy wearing and feel comfortable no matter where you are and what you're doing. You can wear these shoes for hours on end and still feel good. Your dog deserves the same comfort and convenience. Enter RUFFWEAR.
Extreme Environments
The boots are engineered to excel in rough, tough, extreme environments. Want to take your dog on a hike? A trek through the rainforest? A walk on a rocky beach? Whether you're emBARKING (sorry) on an adventure or just going for a walk around the block, your pup's paws will feel great.
Breathable
The boots are made of breathable, mesh material. However, despite being fashioned of mesh, air is allowed in, but dirt, debris, water, snow and ice are kept out. Additionally, as a bonus, the boots are machine washable and can be air dried. Maintenance is a breeze.
Cost and Value
The RUFFWEARS are stylish and attractive, as well as comfortable. They are moderately priced. They work well on rough terrains and in harsh environments. However, they do not appear to be as water, snow and ice-resistant as some of the other boots reviewed here. As such, the boots are of average value.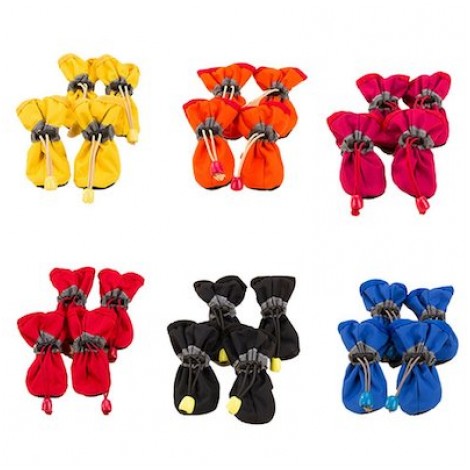 Affordably priced
Available in bright, cheerful colors
Secure fit with bungee straps
Effectively protects paws from water
Provides sufficient traction on slippery surfaces
Not very durable
Somewhat difficult to put on
This product is designed for puppies. They are small and are made with less substantial material than other boots; they somewhat resemble balloons with drawstrings wrapped around the top portion. They are quite inexpensive and come in a variety of bright colors. They effectively protect your puppy's paws from becoming wet, dirty and cold.
Anti-Slip
Despite how lightweight the boots are, and the very thin material they are made of, they still provide a good deal of traction, keeping your puppy upright as it learns to maneuver across slippery services. The texture at the bottom of the boots clings to the surface of the ground just right, to provide stability and bolster your puppy's confidence.
Secure Fit
The "drawstring" strap used to secure the boot works quite effectively, keeping the boot in place. The boots come in various sizes to fit each puppy properly, and the bungee drawstring portion keeps the boot snugly in place it should be. The boot can be secured tightly but not too tightly as to constrict blood flow or make it difficult for your puppy to control its paws.
Cost and Value
The Jocestyle are very inexpensive. They are not the highest quality product on the market, but for growing puppies, they do the job. A puppy's paws will not stay the same size for very long; so it doesn't make sense to spend a lot on a pair that the dog will outgrow within months. The boots do protect a puppy's paws from ice, snow and water, and they stay on securely. Overall, the boots are of average value.


Stylish, sleek design
Double velcro fastening
Reflective straps
Comfortable, cushioned
Provides traction
Soles can become waterlogged
Not completely waterproof
The Union Rich Pet Boots are quite possibly the most handsome and stylish boots reviewed here. They have a luxe overall appearance, featuring rich, black, faux fur. In addition to keeping your pup looking good, the boots will keep your dog's paws warm and protected in water, snow, ice, dirt, mud and overall nasty weather.
Reflective Velcro
The boots include reflective velcro straps. The straps serve a dual purpose. They help to provide an incredibly secure fit. Additionally, the straps are reflective. They allow your dog to be seen at night as the boots reflect the light back at the light source. This also increases the amount of time you can safely walk your dog, benefiting both you and your dog.
Easy Care
The boots can be machine washed and air dried. They are incredibly easy to take care of. If the boots should become somewhat dirty from being outside, the dirt is not as obvious thanks to the dark color of the boots. In terms of washing, it can be done in the machine or by hand, and then placed in the sun and air-dried.
Cost and Value
These are on the lower end of the cost spectrum. They are attractive and stylish and will do a good job of keeping your dog's paws comfortable. However, they are not completely waterproof and are not quite as practical as the majority of boots reviewed here. All in all, the boots represent a purchase of a fair to average value. They look nice, but if they leave your dog's paws soaked and cold, their overall purchase is virtually defeated.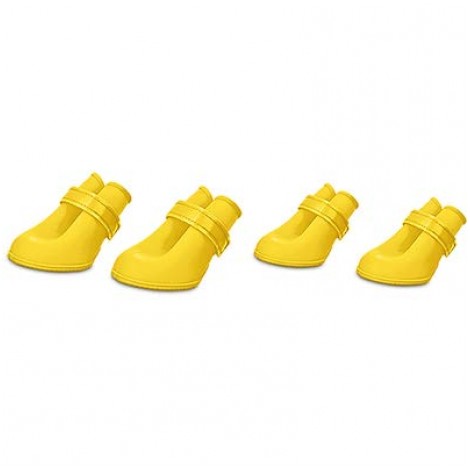 Bright yellow
Lightweight silicone material
Comfortable fit
Easily taken off and put on
Keeps paws ultra-dry
Some trouble with fitting reported
Area in boots where water is prone to pooling
Good2Go rain boots are exactly what you'd expect. They're simple, waterproof, and with their bright yellow color, they look like rain boots. They're not fancy, though they do look pretty adorable when actually worn by a dog. Matched with a yellow dog-sized rain slicker, these rain boots would be nothing short of charming.
Cheerful Yellow Design
The boots have a shiny yellow appearance, a throwback to the days of yellow rain slickers. They are made of lightweight silicone material; comfortable for pups to wear. Your dog's paws will be clean and warm with these classic rain boots.
Ultra Dry
When these boots fit correctly, they keep your dog's paws ultra-dry. Your pup is free to splash through puddles, romp through snow, and even trek through mud. Take off the boots before you let the dog back in your house, and your floors will stay spotless. These boots are reliable workhorses that will keep your dog happy, even on a rainy day.
Cost and Value
The boots are on the less expensive side of the spectrum. There's nothing overly special about them, but there's nothing wrong, either. They're of average value. They serve their purpose. If you are looking for something extra special, you may want to consider some of the other boots reviewed in this article.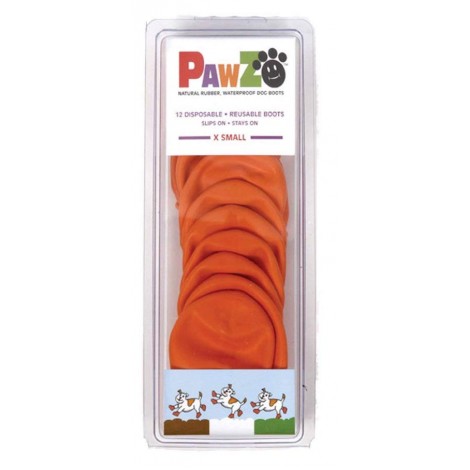 Comprehensive sizing chart; XXS to XL sizes available in multiple colors
Form-fitting and comfortable
Protects against water, snow, ice, mud, salt, and chemicals
Assists with traction and control on slippery services
Reusable and made from completely biodegradable natural rubber; disposable
Some reports of nail punctures damaging the boots
Some disputes over the quality of traction on smooth indoor surfaces such as hardwood floors
The waterproof dog boots by Pawz are popular for a multitude of reasons, including their incredibly low price (for an extremely small amount, customers get a pack of 12 boots), their surprising durability, the fact that they are eco-friendly, and their ability to protect a dog's paws from rain, snow, salt and ice.
Multipacks, Multiple Sizes
These are available in every size from extra-extra small to extra small, and in a variety of bright colors. How do you determine your dog's specific size? Pawz includes a comprehensive size chart which features a comprehensive list of dog breeds matched up with their respective size. Of course, many pet owners own mixed or rare breeds not found on the list. The solution? The sizing chart also includes paw measurements, in inches, matched up with the appropriately sized boots. Simply use a tape measure, ruler or piece of fabric tape to determine your dog's paws' dimensions.
Easy On, Easy Off
These are easy to slip onto your dog's paws for a secure fit. Based on several customer reviews, dogs do not seem to mind having the boots placed on their paws, and therefore do not put up much struggle or resistance. They fit snugly yet comfortably, conforming to your dog's paws' shape and contour. They are also easy to remove, wipe off and prepare for their next use. The boots, made from natural rubber, are reusable. They are also disposable and completely biodegradable, making them environmentally friendly.
Cost and Value
The boots present an excellent value. As previously mentioned, they are sold in multipacks for a price that is considerably less than some of the other products reviewed here cost for a single pair. The low price does not indicate poor quality or any other sort of red flag; the boots are simply a great find, making both dogs and owners happy.
Criteria Used for Evaluation

Water Resistance
This may seem like an obvious one, but when you're searching for rain boots for your dog, you need a pair that is water resistant. Some models reviewed here are completely waterproof and can be fully submerged in water while still keeping your pup's paws dry. However, other boots aren't quite so water resistant. Some, if exposed to too much water, allow water to infiltrate the boot, waterlogging the sole and causing discomfort to your pup.

Insulation
Like water resistance, insulation is key when selecting dog rain boots. It is of the utmost importance to protect your dog's paws from water, snow and ice, as well as the chemicals that infiltrate water. Sand is often mixed in with snow, along with harmful salt. Dogs are prone to licking their paws, and if their paws have been exposed to chemicals, your dog can become seriously ill. The greater the insulation, the better.

Motion Control
Motion control and stability are important considerations when selecting dog rain boots. Your dog needs to be stable on a slick surface. Otherwise, your dog is liable to slip and fall, especially if the surface is icy. A slip and fall can cause serious injury to a dog, particularly if it is of advanced age. Dogs with arthritis or issues with their hips and joints need to be able to walk with greater stability than they otherwise would, if they were attempting to walk with no boots at all.

Style
In terms of fashion versus function, when it comes to dog boots, function is much more important. However, that being said, who doesn't want their dog to look good? Some dog boots are extremely adorable, cute and charming. Your dog deserves to look great and feel fabulous. We spend lots of money on vanity collars, cute outfits, dog sweaters, Halloween costumes and so forth. Maybe dogs don't really care what their rain boots look like, but we can always pretend that that extra bounce in your dog's step is caused by its love of its new, high-fashion boots.

Versatility
The best dog boots aren't just for walks in the rain. Dog boots are also important in the ice and snow, as well as on any sort of rocky, rough terrain. Boots are needed to protect a dog's paws in the summer heat, when asphalt and sand can severely scorch a pooch's unprotected paws. Additionally, boots can be worn indoors, keeping a dog stable on smooth, slippery floors. A boot that works in all scenarios and environments is ideal.
Expert Interviews & Opinions
Most Important Criteria
(According to our experts opinion)
Experts Opinion
Editors Opinion
Users Opinion
By Default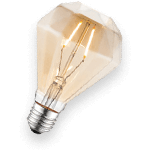 Safety First!
There are plenty of benefits to purchasing a pair of these for your dog. Safety is often a huge concern when we take our pooches out for walks. There are so many things they can get into. Harmful chemicals can pool on wet surfaces, such as salt and oil. Your dog may later become ill after licking its paws if they are exposed to such toxins. Also, when your dog returns home from its walk, if its paws are bare, it may leave dirty, wet, muddy pawprints throughout your house.
Sweaty Paws
You should never leave your dog's new shoes on them for an extended period of time and definitely never leave them unattended with the boots on. Remember, too, that dogs sweat through their paws. In order to prevent any harmful side effects like irritation and overheating, you will want to remove their footwear as soon as you are home from your walk.
Other Factors to Consider

Features
Some dog boots have extra, advanced features that are quite beneficial. These include adjustable straps for customized sizing as well as reflective straps for nighttime use.

Materials
The materials used to construct dog boots determine the durability, water resistance, overall comfort and even lifespan of the boots. Some customers prefer all-natural materials for their dogs, while others prefer the benefits of some synthetics.
Frequently Asked Questions
q:

How are these beneficial to my dog?

a:

Rain boots act as a protective barrier between your dog's paws and the surface it's walking on. If your dog is walking through freezing rain or snow, ice can build up in your dog's paws, which is both painful and dangerous. Walks in cold, wet conditions can increase a dog's risk of developing an illness or hypothermia, which is particularly dangerous for older dogs or dogs with compromised immune systems. Wet paws also increase the length of time it takes a dog to dry off.
q:

How do I know what size to order?

a:

There is a detailed answer to this question under the review for the first boots reviewed in this article, Pawz. In summary, most sellers include sizing charts available on their websites. Sizing charts typically feature common dog breeds and their respective sizes. For dogs that are mixed or uncommon breeds, the dimensions of their paws can be measured in inches and then matched up with a boot size. If you are buying dog boots at a pet store, a sales associate should be able to assist you.
q:

How do these improve a dog's quality of life?

a:

Some dogs, for various reasons, have limited mobility. This is particularly the case for older dogs, arthritic dogs, or dogs with hip and joint problems that have a tendency to drag their back nails. Dogs such as these may not feel confident outside. If the surface is icy, the dog may be frightened of slipping and sustaining an injury; a very real concern. Once the dog learns how to walk in the boots comfortably, the dog's confidence will be bolstered, and the dog will enjoy walking outside again, thus making the dog happier and more active, enjoying a sense of freedom again, which dogs need to thrive.
q:

How do I get my dog to wear them if they never worn them before?

a:

It's normal for it to take awhile for a dog to get comfortable wearing boots. The first step is giving your dog the opportunity to familiarize itself with the boots. This can mean simply being around the boots, giving them a good sniff, etc. Encourage your dog to be near the boots by providing positive reinforcement. When you are ready to try putting the boots on your dog for the first time, don't be surprised if your dog is scared, unhappy, and, not surprisingly, off balance. Continue to provide encouragement, including the use of treats. It's okay to reward your dog for wearing boots. This will eventually create a positive association for your dog when it sees the boots. Once it's gotten lots of time, practice, encouragement and support, your dog should get the hang of wearing boots and actually enjoy it, as its paws will be protected from water, mud, rocky terrains, hot surfaces and so forth, as discussed.
Subscribe to our Newsletter