Best Dog Lift Harnesses Reviewed & Rated for Quality
In a Hurry? Editors choice: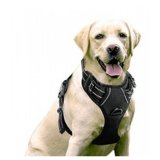 Test Winner: Rabbitgoo Dog No-Pull

How does a dog that has been injured remain mobile? The answer is with a dog lift harness. What is a lift harness? It is actually, in essence, a giant sling that enfolds around a dog's body and has an extended handle.
A lifting harness operates by first wrapping it around your dog like a
dog vest
. Then you gently pull up on the handle to remove any weight bearing down on his/her legs, spine or hips. A dog lift supports your dog in a way that does not require a wheelchair, which would be very cumbersome and uncomfortable.
The following review is about the best 10 dog lift harnesses that are currently available. Depending who the manufacturer depends on the type of material or design of the harness.
Standout Picks
Criteria Used for Evaluation
Adjustability
When looking for a dog lift harness, you need to ensure that it can be adjusted easily. The harness should fit comfortably around the dog's chest, waist, and legs to ensure it will not slip off or irritate him/her. The straps should be made of a material that is comfortable and flexible; but not too flexible that the dog can stretch the straps out of place to allow escape. Besides being adjustable, a lift harness should also be lightweight.
The harness should be able to lift and carry the dog's weight. When a dog's lift harness is adjustable, it protects the dog and keeps it from falling off and keeps your dog inside the harness for an extended period of time.
Comfort
In order for a dog lift harness to be comfortable, it should be made of a material that is soft and flexible. The harness should not be so tight it constricts his or her chest and makes it difficult to move freely. There should be plenty of extra padding to prevent any rubbing that irritates your dog's skin. The material that the dog harness is made from should be a breathable material.
There should also be padding in all the places that have the potential to rub your dog and cause chafing. You want to ensure the ultimate in comfort for your dog; particularly since he/she is not feeling their best.
Capacity
The capacity of a dog harness should be that it is able to hold your dog firmly within it. It should not allow the dog to escape or injure him/herself any further because it does not fit securely.
The dog harness you provide for your dog should have the capacity to assist your dog in standing and walking with as little pain as possible. It should also be able to give your dog's belly the support needed; as well it should have a sturdy sling and handle to keep your dog under control should they become restless or rowdy.
Ease of Use
The harness you purchase for your dog's rehabilitation from surgery or an accident needs to be one that can be easily put on or removed. Besides being easy to use, it should also be easy to maintain. It should be made from an easy, washable material.
The straps and sling should be made easy to get your dog into the harness without causing your dog too much stress. The straps should also be easy to adjust and fasten, made from a material that is durable and won't break easily.
Effectiveness
The effectiveness of a dog harness should keep your pet restrained without choking or causing any pain to your dog. A good harness will even keep large dogs under control and is constructed to withstand even the most pressure.
In order for the harness to be effective, it needs to withstand even the most constant pulling and tugging by your dog. A harness needs to have resistance against the toughest abuse a dog may give it.
10 Best Dog Lift Harnesses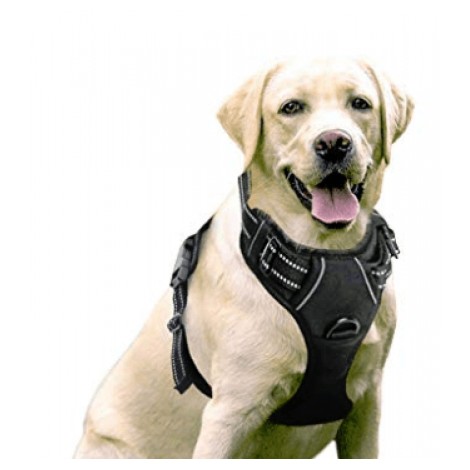 Rabbitgoo makes an adjustable dog harness that is no-pulling, made of a reflective 3M material. This dog harness makes it easier to control your small, medium, or large dog. The harness is made extra-large so you can even keep your large dog restrained.
No Choking/No Pulling
It has two metal rings for the leash which ensures a safer walk for your dog. There is a clip on the chest piece attachment which keeps your dog from pulling while on a walk. This is the ideal training tool to teach your dog behavior control. It will also teach your dog not to pull while going for a walk. The back ring is excellent for taking a casual stroll, jogging, or hiking.
Easy to Use
This over the head harness has easy to use, fast-releasing buckles, which makes it easy to pull on and take off your pet. All you need to do is slide it over your dog's head, buckle the straps and you are ready to go.
Cost and Value
The value of this dog harness is greater than what it costs. When you see how much easier it is to control your large dog while on a walk, you are going to wish you had bought it sooner.

2

. Outward Hound Granby Splash Life Jacket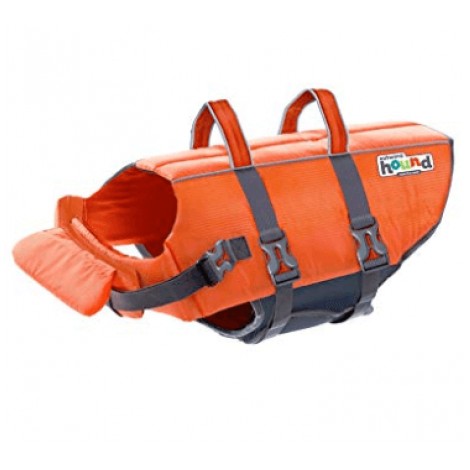 Outward Hound makes this doggy life jacket harness as a means to keep your dog safe in the water. The doggie life jacket is the perfect fit with buckles on the belly and straps for the chest to ensure it safely fits any size pooch.
Perfect Size
Whether your dog is extra small or extra-large; you can verify with our size guide which life jacket is the right size for your furry kid.
Dual Rescue Handles
This dog life jacket comes in medium, large, and extra-large and has rescue handles that are dual, making rescue as well as restraint easy.
Cost and Value
This harness is going to prove how invaluable it is the instant you put it on your pet. You will be pleasantly surprised by how low the cost is in comparison to its value.

3

. Copatchy No Pull Reflective Adjustable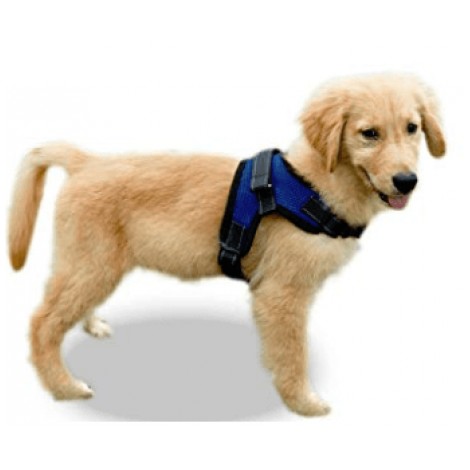 Copatchy makes this no-pull reflective adjustable dog harness with handle for a doggie with a medium-sized chest. The harness is anti-pull and no-choking; your dog will be in luxurious comfort as you take him/her on walks, jogging, hiking, and even training.
The Harness is Easy to Apply
This dog harness can easily be put on and taken off. It clips on around your pet's neck and chest with great ease.
Made of a High-Quality Mesh
The harness is constructed of the highest quality mesh material. It keeps your pet cool while you maintain complete control. The harness is simple to control, and makes walking an older dog easier, keeping you in total control
Cost and Value
The price of this dog harness is going to prove to be invaluable. Once you strap this harness on your dog, you will see how valuable it is. The cost is minimal, yet the price is priceless.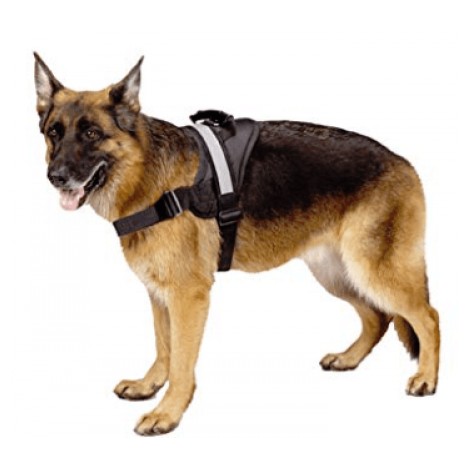 This soft no pull reflective vest made by Expawlorer is made for medium to large dogs. The dog harness is hassle-free, it is simple to put on and take off; your big dog will be ready for a walk-in no time at all.
Twice the Security
It has a large buckle attachment, and two big metal D rings to attach the leash to. You will be capable of walking your dog, knowing with the confidence they will not be able to break free.
Straps are Reflective
The big reflective straps ensure your dog's safety as you go for a walk. Also, it is made of breathable fabric with heavy padding which makes it comfortable.
Cost and Value
When you see the cost of this dog harness you are going to be pleasantly surprised. You will see that the value of what this harness does is far greater than the actual cost.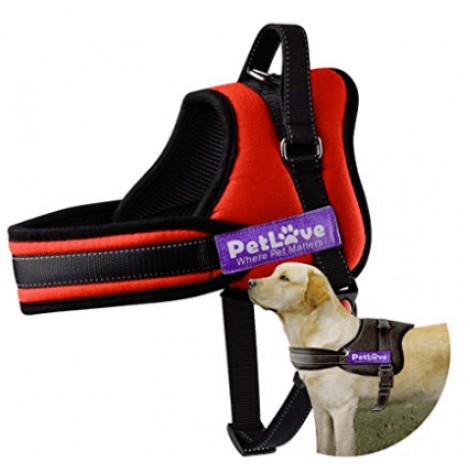 This dog harness made by PetLove is a soft padded leash; it has a no pull feature and is available for dogs of all sizes. It is made with a durable material that resists scratching.
Easy to Put On
The harness is comfortable, easy to put on and take off your dog. It is made of a lightweight mesh, with a soft sponge lining, and padding on the chest and belly areas.
Safety Features
This dog harness provides great visibility at night with reflective material for safety. You will feel comfortable taking your dog for walks in the evening with the peace of mind that he/she is safe.
Cost and Value
As with all PetLove products, this dog harness comes with a full three-month warranty. This ensures you are getting a product with value that goes along with the fair price you pay.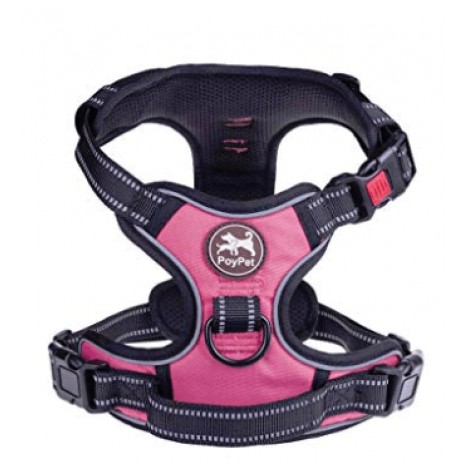 This reflective dog harness made by PoyPet is a reflective vest, no pull, and has 2 leash attachments in front and back. There is also a handle which gives you easy control of your small, medium or large dog.
Upgrade of 2018 Model
This harness discourages pulling by your dog. It has to simple buckles on the tummy, an additional quick snap at the neck gives easy on/off capabilities. No need to pull this on over the head.
The Harness is No-Pull/Choke-free
This harness has two durable leash attachments made of webbing that has been reinforced. It has a clip in front to discourage your dog from pulling.
Cost and Value
The value of this lead dog harness will impress you so much; particularly when you see the low cost of it. You will soon discover it is an invaluable asset to your pet training equipment when you see how your dog no longer tries to drag you along on walks. Your arm is going to love this leash/halter.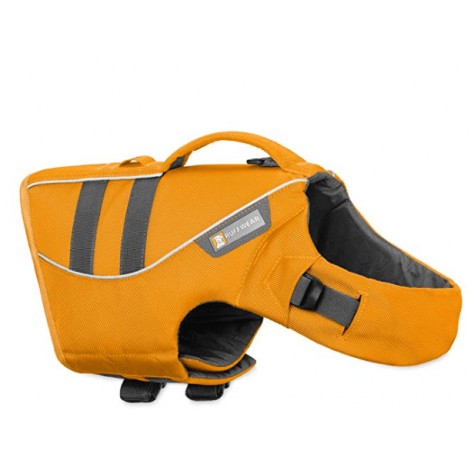 This dog's life jacket is made by Ruffwear; it is made for swimming and is adjustable and reflective. It comes in xx-small, x-small, small, medium, large, and x-large sizes.
Life Vest for Dogs
This is the ideal life vest for dogs. It is made for kayaking, rafting, surfing, boating, swimming, and paddleboarding.
Telescoping Neck Closure
This dog safety vest is adjustable to different sizes of dogs. It will securely attach in place and has buckles that are easy to clip and holds straps firmly.
Durable Webbing
Webbing is water-compatible sustains its durability even during wet weather. It has a reflective trim which provides an added safety feature for visibility.
Cost and Value
This dog floating harness is priced a bit more than other dog harnesses; however, it is going to be an invaluable tool to protect your dog. Cost is not an issue when it comes to the safety of your fur baby.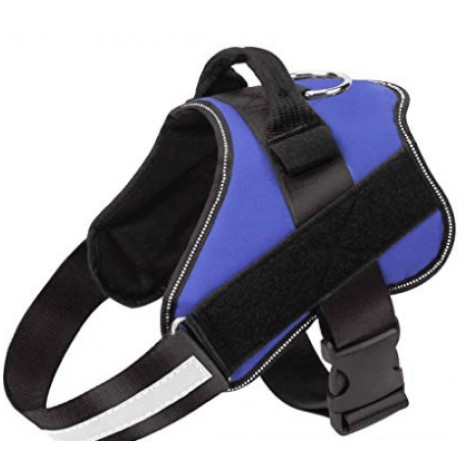 This no-pull dog harness is made by Bolus. It is reflective, breathable, and adjustable; ideal for going for long outdoor walks. Your dog will not have the urge to pull or tug when wearing this durable pet vest.
Material is Upgraded
This dog harness is made with a superior grade of oxford material. D- Ring is made of stainless steel with a plastic buckle that offers superior performance.
Excellent Comfort
There is an even distribution of pressure when your dog pulls or tugs on the leash. This keeps your dog from choking. For added comfort, the harness has a chest strap that adjusts easily with a snap. You can adjust this harness as your dog grows so there is no need to exchange it for a larger model.
Cost and Value
You are going to love the value of this harness for the little amount it will cost you. This leash and harness will prove it is invaluable when you take your dog for a walk and you see how well-behaved your pooch is.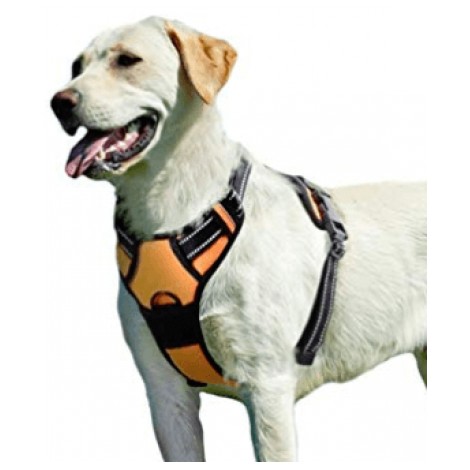 This pet harness for dogs made by Eagloo is a no-pull walking harness and has a handle that is adjustable. It has two rings that are made of metal, is reflecting, and has a front clip on the vest for ease in controlling your pooch.
Available in Various Sizes
Comes in small, medium, and large sizes; ensure that you measure your dog's chest before purchase to get the right fit. Add an additional inch when measuring your dog for the large size.
Greater Control
This dog harness discourages pulling and offers you better control when walking your dog. There are 2- zinc alloy rings that can be attached to the chest and back area to deter pulling. There is also another black ring that causes no stress, no choke answer for when your dog starts pulling on the leash.
Cost and Value
This harness made by Eagloo is going to prove its value goes far beyond the monetary cost of the product. You are going to love the control you have over your dog as well as how comfortably it fits your pooch.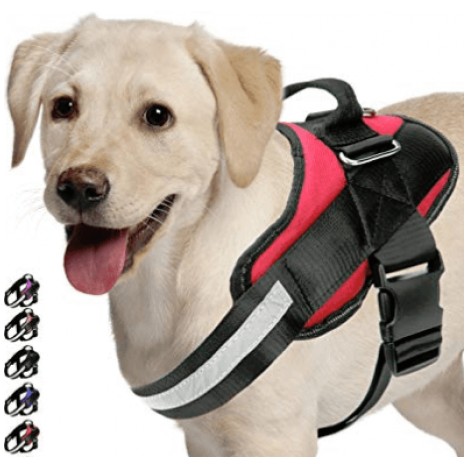 This adjusting dog harness made by Noyal is a pull-deterring, outdoor dog vest. It offers the user ease in controlling their dog when using the handle. There are reflective straps that have hooks in the front. Makes tugging and choking a thing of the past.
Variety of Sizes
This dog harness comes in one color, red; however, it comes in a variety of sizes-small, medium, large, and x-large.
Sturdy Buckle Release
There are two sturdy buckles on each side which have a simple release mechanism. It is heavy-duty, won't break, unravels simply, a no-pull action makes it hassle-free to take your dog for a walk.
Cost and Value
The value of this dog harness is much more than the costs. For less than you think, this walking equipment is going to be an invaluable tool when it comes to training your dog to not tug or pull on their leash.

Subscribe to our Newsletter