Best Dog Hunting Vests Reviewed and Rated
We've said it before and we'll say it again. As a serious hunter, there is a tremendous amount of time and work that's required on your part to ensure that you're as properly equipped as possible. Starting out as a new hunter can certainly seem like a very daunting tasks right from the get-go, and if you happen to fall in that boat, do your best to not let it overwhelm you. Even the most experienced and seasoned hunters still have new things to learn every single day, and while that may seem like an annoyance, it's actually one of the best aspects of hunting that exists. There's always something new to learn, there's always a skill of yours that you can work on improving, and you're never done learning or growing with this hobby.
Among all of the things that you need to keep in mind as a hunter, one of the most important ones has to do with your gear. Whether you're just starting out or you've been hunting for a few years, making sure that you've got the proper gear on you when you go out to hunt is one of the most important things that you can do. This not only helps to ensure that you have as enjoyable of a time as possible, but will also make you as safe as possible at the same time.
Our Top 3 Picks
When it comes to hunting gear, some items are quite obvious and others are a bit mysterious. Not all gear that exists is required, as certain gear is only necessary depending on the type of hunting trip you're going on. For example, if you go hunting at night, a solid hunting flashlight will come in handy a great deal. However, if it's daytime and sunny, it won't really serve you any good purpose at all.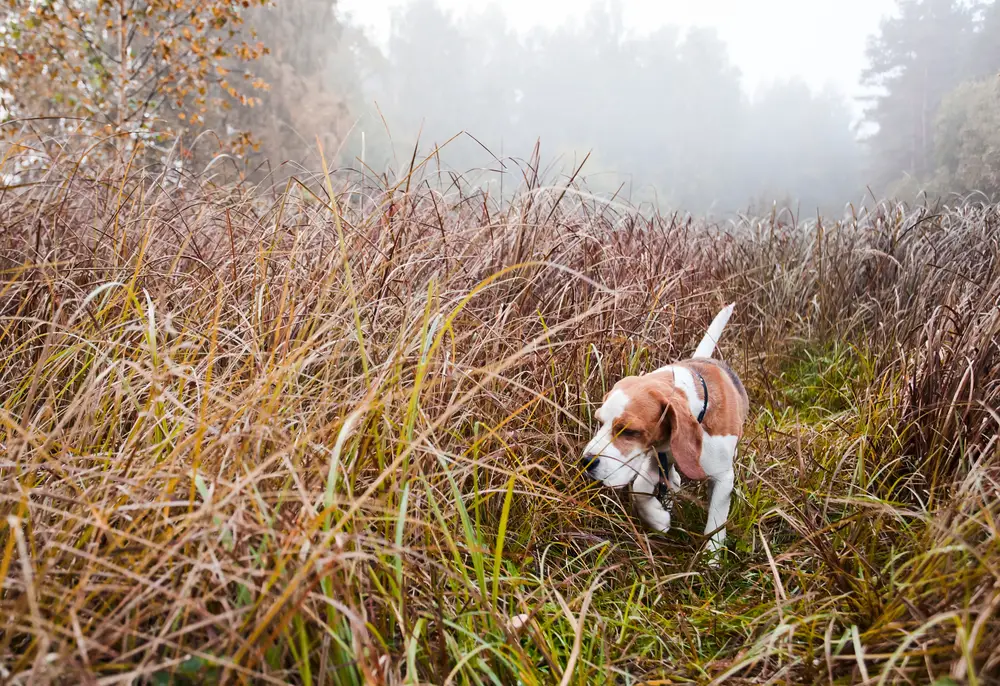 A lot of hunters use hunting dogs to take with them, and while this isn't a style that everyone follows, it sure can make for some of the most enjoyable hunting you'll ever have. Owning and training a solid hunting dog can be one of the most rewarding experiences out there, and taking him or her out to hunt with you is unlike any other hunting experience that exists. However, just like your gun and yourself, your furry friend needs their own equipment to keep them safe and happy while out on the hunt as well.
When it comes to properly equipping your dog with the gear that they need, one of the most important things that you can buy is a hunting vest for them.  Hunting vests help keep your dog(s) warm and safe during cold weather and other harsh conditions, and they really are necessary for many hunting trips. However, this might be a bit of gear that's entirely new to you. We get that, and that's why we've created this guide. We're going to go over everything you've ever wanted to know about the best hunting vests for your dog, including the top 10 ones that money can buy, frequently asked questions, the best brands out there, and more.
We sure do have a lot of ground to cover today, so without any further ado, let's go ahead and get things started.
Best Brands
DOGOC
Remington
BINGPET
Petflect
Factors to Consider When Buying Dog Hunting Vests
Visibility
One of the most important factors to keep in mind when shopping for hunting vests for your dog is the visible nature that they carry. Most all vests should be visible of some nature, but all vets are different in regards to how reflective they are in different lighting situations. The more visible of a vest you can find, the better.
Safety
A good hunting vest for your dog will feature some form of waterproofing or additional warmth features to keep your dog as safe and comfy as possible while you're out hunting with them, so a vest that keeps your dog as safe as possible is also something that should be at the very top of your list.
Size
It should go without saying, but we'll go ahead and say it anyways. When buying a hunting vest for your dog, make sure that it's sized right so that it will fit them properly. Most manufacturers of vests offer extensive details as to how their sizes work, so while this isn't all that difficult to do, there's no denying it's importance at all.
Maintenance/Usage Tips
Regularly wash your dog's vest
As your dog wears his or her vest a lot when they go out hunting with you, it's only natural for it to get dirty. When this happens, you're going to want to make sure that you clean it regularly and properly. Some vests aren't machine washable, so make sure you check to see that it's okay to throw it in your washing machine before you accidentally ruin it!
10 Best Dog Hunting Vests
1. SAFETYPUP XD DOG REFLECTIVE VEST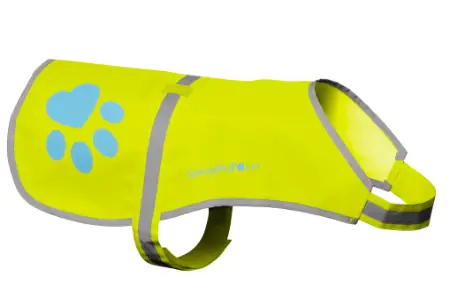 Last but certainly not least, we've got the SafetyPUP XD Dog Reflective Vest. With this vest, we're looking at something that's able to fit dogs between 61 and 100-pounds, and it features 300D Oxford Weave fabric with reinforced stitching that allows it to be as durable as possible with all of your dog's running and other physical activity.


Expand to see more
Easily adjustable straps allow the vest to be quickly modified to fit your dog just so, and the bright orange color means that your dog should be easily seen no matter where you're at. Top all of this off with a 100% money-back guarantee and a fairly affordable price, and you've got an awesome package to round out this list.


High visibility even in the darkest conditions
Rip and tear resistant 
Reinforced stitching for extra durability
2. NATURALLY SIMPLE PETS REFLECTIVE DOG VEST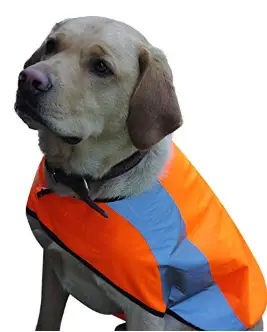 Let's get back to money for a second. The Petflect option is already very affordable, but what if you're looking to spend even less than that? Going really low in regards to price can sometimes be a dangerous game when shopping for dog vests, but with the Naturally Simple Pets Reflective Dog Vest, we've got a very high-quality dog vest for hunting for hardly any money.


Expand to see more
This vest is extremely durable, and has a very high visibility thanks to the bright orange color and reflective materials that allow your dog to be easily seen during both day and night. The Velcro collar closure creates for an easily adjustable fit for pets of all sizes, and the water-resistance means that the vest doesn't absorb water and helps to keep your dog both drier and cleaner in the process.

You won't believe the price of this vest once you look at it, and the fact that Naturally Simple Pets was able to pack in so much into such a little price tag is simply astonishing.
Best value for money
Very affordable 
Great fit
Good quality
3. IMK9 REFLECTIVE DOG VEST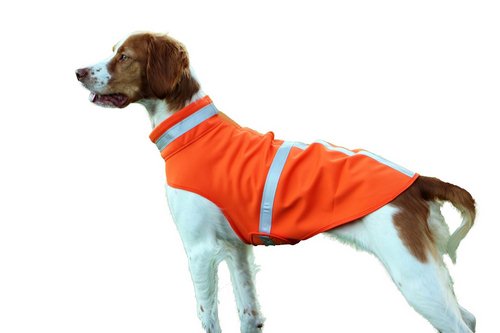 However, let's say that visibility is one of your top priorities? It really should be as that's one of the most important things to keep in mind when taking your dog out hunting with you, and if you want to get as much visibility as possible from your dog's hunting vest, you should look no further than the IMK9 Reflective Dog Vest. This vest is rated to offer more than 1000-feet of visibility, and that right there is downright impressive. You are paying a bit more than the Petflect for that increased visibility, but if you've got the cash to spare, it really is worth it.


Expand to see more
The fabric used to construct the vest is human-grade sports fabric, so you can rest easy knowing that it's made out of some of the best material that exists for this kind of thing. It comes in both a Red and Orange option in regards to color, and there are three sizes available as well to ensure that it fits your dog no matter how large or small they are. As for that insane visibility of 1000-feet, that's achieved by using 3M 360 Enhanced reflective material, and it really is quite impressive.

The vest easily slips on and off, and there's a large Velcro option for getting as secure of a fit as possible. The design of the vest is also incredibly unique and stylish, and looks quite a bit different from everything else on the market. Pricing could be a drawback, but again, this is a worthy investment if you have the cash to cover it.
1000+ ft visibility
Water and wind resistant 
Quick drying
Maintains body temperature
4. PETFLECT REFLECTIVE DOG VEST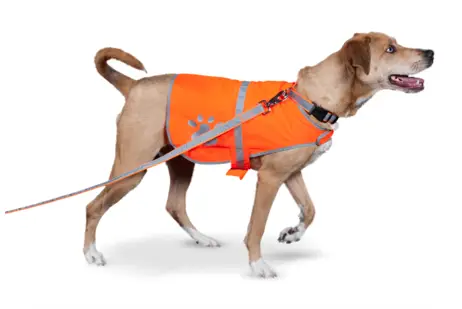 What if you're looking to get a solid dog vest for your hunting companion, but money is a bit of an object? There's nothing wrong at all with saving money on this purchase, but you want to be careful about not cheaping out too much and buying something that isn't worth a mere dollar. If this happens to be the case for you, you'll want to take a look at the Petflect Reflective Dog Vest.


Expand to see more
There are three sizes to ensure that it fits any size or type of dog (Small, Medium, and Large), and the bright and reflective orange color helps to ensure that your dog stays as visible as possible at all times. The vest itself is made out of a lightweight and breathable nylon material, and it even features a decorative paw print on the side with even more reflective stripes for maximum visibility.

Velcro fasteners allow the vest to be fully adjustable, and the vest is rated to be visible from more than 500 feet away. Owners of the vest have said that it's one of the most reflective options out there, and as good of a thing as that is on its own, it's even more impressive when you consider the lower cost of this particular item. You may not be getting as many features as you can with some of the more expensive options out there, but for something that's going to keep your dog safe and secure during any hunting session, this is one of the best choices you have – no matter the price.
500 ft visibility
Lightweight and breathable 
Adjustable fit 
5. GOOBY PADDED COLD WEATHER
We've looked at hunting vests for larger dogs, but what about smaller ones? Big dogs might be more commonly used for hunting, but don't take small dogs out of the count! Size certainly doesn't matter when it comes to what makes a dog good for hunting or not, and if you've got a smaller hunting dog, getting a safe and comfy vest for them is just as important. If you happen to be in this boat, the Gooby Padded Cold Weather Vest for Small Dogs is an amazing option that's sure to please you on all fronts.


Expand to see more
The outer layer of the vest is incredibly resistant to water, so if your dog is out hunting with you in the rain or snow, you won't have to worry at all about the vest itself getting ruined. The zipper closure keeps it secure and snug on your dog while you're out on the hunt, and the fur guard allows your pooch to stay as warm as possible during the colder winter months.

The vest is machine washable for added convenience, and it comes it sizes ranging from XS, S, M, L and XL. And, as a nice bonus, there are numerous color options included as well (Blue, Green, Pink, Purple, and Red). The cost here is a bit on the expensive side of things, but the quality being offered is simply undeniably and easily worth the slightly increased cost.
Padding for extra warmth
Water resistant
Different color options 
Great fit
6. AVERY STANDARD DOG VEST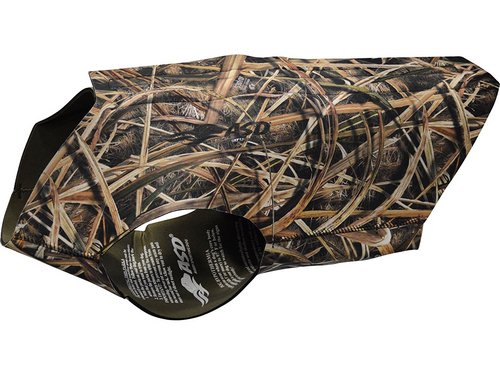 Moving on from DOGOC, or next hunting vest comes by way of Avery. Avery may not be as popular as DOGOC, but that doesn't mean they don't know what they're doing when it comes to making a quality vest for a hunting dog. In fact, it's quite the opposite!


Expand to see more
To kick things off, we're looking at a vest that's made up out of 3-millimeter neoprene. The zipper that's included is rated to be incredibly durable and heavy-duty, and the cold weather pull tab is a nice addition that comes in handy when the temperatures drop and you want to make sure your dog has as much additional warmth as you can give them. Combine all of this with the hook & loop fastener and the torso adjuster, and you're also looking at a vest that's extremely easy to adjust in a pinch if it happens to become too loose or tight for your dog at any point during your hunt.

To round all of these feature out, the Avery Standard Dog Vest features flotation protection so that you can know your dog will always be as safe as possible, even if they happen to wander into a stream or river. The camouflage color means that it isn't quite as visible as the other options we've looked at so far, so if that's something of big concern to you, it could make this option a deal-breaker.
Made from 3mm neoprene
Comfortable
Dries quickly
Ideal for cold climate hunting
Low visibility due to camo print
7. DOGOC HUNTING VEST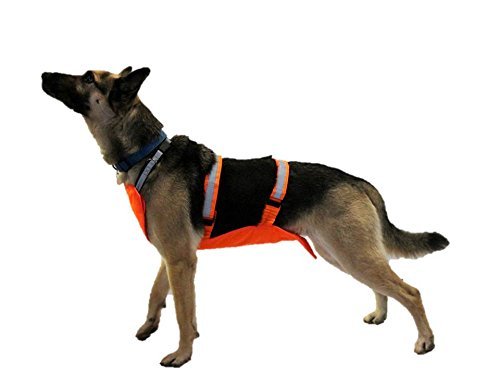 We've already looked at a hunting vest option by DOGOC, but we've already got another one to check out. DOGOC is one of the most popular brands out there when it comes to vests for hunting dogs, and as you can already tell from the first option we looked at, these guys know what they're doing when it comes to making quality hunting vests for your pooch.


Expand to see more
The design here is actually quite similar to the other one we already looked at in the sense that it covers your dog's under belly and chest at the same time. This option does cost a bit more money, but that's because it's the XL option for bigger doggies. The vet itself is incredibly visible thanks to the bright orange color and reflective strips, and the polyester fabric with the flannel lining should help to keep your dog as warm and comfy as possible even through the longest hunting trip.

Also, the included collar makes a return with the XL option. It still offers that same great hi-visibility, and just like the other DOGOC vest, it can be easily and quickly removed so you can add your favorite collar that your furry friend has grown accustomed to wearing.
Great visibility
Protects against irritations and abrasions
 Waterproof
8. BINGPET DOG COOLING JACKET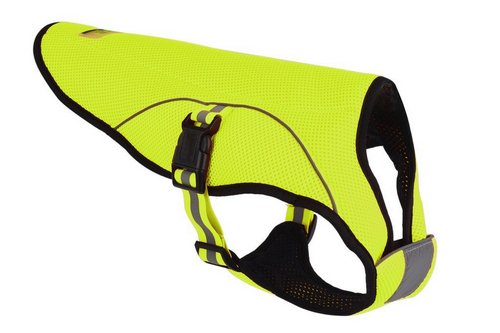 Moving right along, we've got the BINGPET Dog Cooling Jacket up on our list next. This particular jacket comes in two different color options (Yellow and Orange) and both are highly reflective so you can rest easy knowing that your dog will be easily spotted if they happen to get out of your range of vision. There are also numerous sizing options available as well, ranging from Small, Medium, Large, Extra Large, and Extra-Extra Large.


Expand to see more
The vest itself is made out of a high quality PVA material with an air mesh panel, helping to make it lightweight, breathable, and incredibly soft to the touch. And, thanks to the side release buckles, adjusting and taking the vest on and off of your dog should prove to be as simple as possible. And, as if all that wasn't enough, if also comes with evaporation, cooling, and heat reflection. All of that ensures that your dog stays as cool as possible in the summer, and as warm as can be during the winter.

Numerous owners for this vest have said that it's one of the best products they've ever purchased for their dog, and it's priced quite a bit lower than the DOGOC option we previously looked at. This is a vest that's more than likely going to be best-suited for use during hot weather, so if that's going to be the kind of weather your dog will be out with you the most in, this is definitely going to be one of your best choices.
Various sizes
Cooling effect for hunting in hot weather
Lightweight and breathable
Manufactured with high quality material
9. DOGOC DOG HUNTING VEST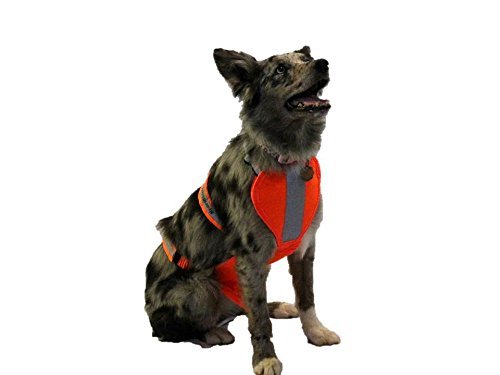 To follow up the Remington option, we've got the DOGOC Dog Hunting Vest. This vest is a bit different from the Remington one, as it covers your dog's chest and under belly. This makes the vest a bit more complex, and as a result, the price is driven up a fair amount. However, you are getting a lot of added features, but are they really worth it?


Expand to see more
First of all, this vest is waterproof to keep your pooch as dry as possible if he or she gets wet. Additionally, it's rated to provided superb protection against abrasions and skin irritations that dogs who go out hunting are very prone to experiencing. The vest is highly visible thanks to the bright orange color that's very prominent on it, and it's made out of a polyester fabric with an extra layer of flannel to help keep your dog as warm as possible during the extra cold hunting months.

There's even a collar included with this vest, and it offers fantastic hi-visibility with reflective tape. However, if you want to use a collar that you already own, it can be easily swapped out without any hassle at all. As we mentioned earlier, this vest does cost a bit more than the Remington option, but as you can see, spending a few more dollars can really make a difference in all of the features that you can get.
High visibility
Adjustable fit
Made with high quality material
Waterproof
10. Remington Orange Chest Protector for Dogs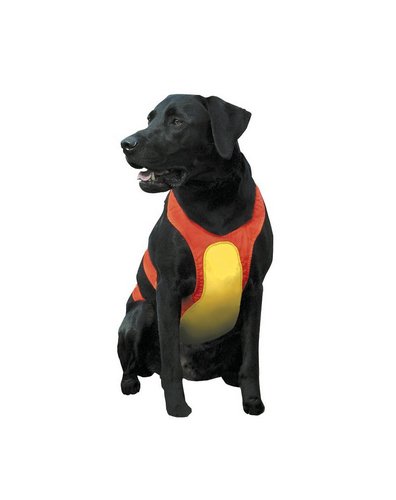 To kick our list off, we're going to be taking a look at the Remington Orange Chest Protector for Dogs. If you've spent any time at all as a hunter, then you know that Remington is one of the most well-known and trustworthy brands that exists. Their expertise and knowledge carries over excellently to their vest for dogs, and that's first noticeable with the secure Velcro adjustments that help to ensure as secure of a fit on your companion as possible.
Expand to see more
In addition to this, the vest also features an extremely bright yellow and orange color that allows your dog to have the best visibility possible. The vest has been endorsed by hunting enthusiasts all over the world, and it comes in both a medium and a large size to help you get the best fit possible for your dog.
Owners of this vest have said that it's lasted a great deal of heavy use, and that it's performed surprisingly well for the affordable price that it comes equipped with. It does a great job at keeping your dog's chest both clean and warm, and it certainly is worth taking a look at.
Affordable price
Two sizes (medium and large)
Full chest coverage
FAQs
Do all hunting vests for dogs feature reflective properties?
The majority of them do. Although this isn't necessarily guaranteed, the vast majority of hunting vests for dogs will include this. It's still important to keep an eye out for it, but most vests you take a look at should come equipped with this feature.
How can I tell if a vest will fit my dog?
All hunting vests are made differently, so the best way to go about making sure it will fit your dog is by looking at the sizing chart or list the vest. Most manufacturers offer this either on their listing on line or on their website, so finding the perfect size shouldn't prove to be too difficult.
How to Make the Best Decision in Picking the Best Dog Hunting Vests
So, with all of that information now laid out, how can you go about making the best decision when you go out to purchase a new hunting vest for your dog? While we dived into a lot of info, the process itself really isn't all that difficult.
When you go shopping, you want to make sure that the vest is going to fit your dog. That should be your first thing to check out. From there, take a look at what kind of features they come equipped with. Is it going to be reflective/visible enough? Does it feature waterproofing? Is it easily adjustable? It might seem like a lot at first, but once you get started, you'll have a general idea of what to keep an eye out for.
As for price, you don't necessarily need to spend a lot of money for a quality vest, but doing so will ensure that you get the best of the best. It is very possible to spend a very small amount of money for something that's still going to be very serviceable, so if you don't have a lot of extra cash to burn, you can rest easy on that front.
At the end of the day, know what your budget is, find something that's going to be safe and comfortable for your dog, and you'll be all set.
Good luck!