Best Dog Costumes Reviewed & Rated for Quality
In a Hurry? Editors choice: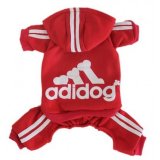 Test Winner: Scheppend Hoodie

This may not have been the case a decade ago but pet costumes have become so popular now that you can find them and virtually any
pet supply
store. There is an almost limitless variety of costumes available, so much so, you can
dress your pet
as basically anything you would like. What are the most popular choices on the market for dogs? Find out below to make the choice that is best for you.
Standout Picks
Criteria Used for Evaluation
Durability
Dogs are very physical and active animals. They enjoy playtime in-doors as well as outdoors and this makes durability an essential aspect of any type of clothing or costume your pet is expected to wear. This is especially the case if your intent is for them to stay groomed for an extended period. For this reason, many brands have gone the extra mile to ensure you pet's outfit is secure by processing the fabric, reinforcing seams and inspecting their products before it is distributed to consumers. This is done to ensure you get the best quality possible for your canine companion.
Ease of Use
A zip is usually utilized to fasten clothing, however, when it comes to pets, this is not the best option. Some dogs have a lot of fur and when using a zipper to fasten their clothing, it can easily get caught causing pain and discomfort. Some manufacturers have therefore opted to use alternative fasteners such as snap buttons, hooks and loops or even velcro. Snap buttons make it easy to lock clothing in place and remove after use. Pressure needs to be applied to remove it, which means your pet can play without the worry of their outfit coming loose. It also eliminates the possibility of snagging their fur. It is an easy to use, comfortable option for pets which is why many brands utilize these.
Dogs are similar to humans when it comes to variety. Even dogs of the same breed can come in different shapes and sizes. To accommodate these variations many brands that prepare pet costumes have made these adjustable. Sizes generally run from small to extra large. With the use of draw stings or hoops and loops, you can create a unique fit within a size range. This makes it easy to dress up your canine companion and have their costume fit ideally.
Dogs are balls of energy. They tend to play indoors, outdoors and all day long if you gave them the chance. For pet owners who make an effort to get their pet dressed for the day, they can see outfits being worn and dirty at the end of the day. Some brands have costumes that not only have removable parts but are machine washable. This makes it easy for you to safely remove their outfit and launder it for use at another time. Features like these ensure your pet is always clean and ready for a day of adventure.
Fit
To get the right fit for you canine friend, it is essential to measure them accurately. Areas such as the neck and the height of you pet should be used when sizing them. At times, especially for new pet owners, it may be a challenge getting through this process. Some brands have instruction videos that can assist consumers to get the measurements needed to ensure an ideal fit for their costumes.
Sizes for pet costumes generally range from small to extra large. Most outfits are adjustable and can give a custom fit within a specific size range. Every costume company has a unique sizing chart that accommodates a particular range. The size chart for the manufacturer you choose to purchase from should be the chart you utilize to get the fit for that particular outfit. Using an alternative sizing chart can result in a misfit.
If your pet falls in between a size range, it is the best practice to get the bigger size. If an outfit is too small there is not much that can be done besides replacing it. A gig size can always be adjusted using the draw strings and other adjustable features to ensure your pet looks its best.
Materials
Fleece is a very lightweight fabric that is made from synthetic fiber. It is equipped to lock in heat and is a great option for your pet in the winter. This material will help keep them warm and is extremely durable. It is also quite flexible which makes it ideal for both indoor and outdoor activities that your pet may engage in especially over the holiday season.
Wool is also a great option for the winter seasons. It tends to keep the heat in better than other natural fibers and has a measure of elasticity. This is perfect for keeping up with the busy and highly physical lifestyle of a healthy canine. This material is used in costumes that cover the whole body such as sweat suits. It is also soft and increases the comfort for your pet while in use.
The main attribute when it comes to cotton is comfort. It is a very soft naturally occurring fiber. This material is commonly used in clothing and a popular feature in dog costumes as well. It has a good resistance when it comes to heat and chemicals and is machine washable. This feature makes it easy to keep your pet clean as you will be able to remove and launder their outfit after every use.
Polyester is a very strong synthetic fiber. It can withstand heavy wear. This makes it a prime candidate for dog costumes. It can easily withstand the everyday wear and tear of an active pup. Adding to this is its durability, resistance and elasticity. It is machine washable which makes it easy for you to maintain a fresh and clean appearance for your canine companion.
Style
There is a wide variety of styles when it comes to costumes. There are outfits that come straight out of the DC Universe that are official and licenses replicas of original hero suits. These include but are not limited to Wonder Woman who is also part of the Justice League and Robin who is also the leader of the Teen Titans. These unique costumes come complete with the insignia and color scheme we are all familiar with.
There is no shortage of costume variety when it comes to franchises. The Star Wars Franchise has been a long-running leader when it comes to the epic hero vs villain battle. Your canine friend has the opportunity to dress as a Jedi Master and join in the battle against the empire. These costumes are ideal not just for special occasion but also for holiday parties. Many can even more worn as a day out as many have removable parts.
If you're not a comic fan there is still a wide selection of styles available for you and your pup. These include but are not limited to funny specialty suits. You and your canine friend can dress up as cowboys, pandas and even humans. These suits usually come with accessories that can be attached such as arms and headpieces. There are also everyday costumes available like track suits. These can be worn on any day to keep your pet warm in the winter or just to make a fashion statement. With this wide selection of costumes available at your every convenience, include regular pet stores, your canine companion can always be well-dressed for any occasion.
Top 10 Best Dog Costumes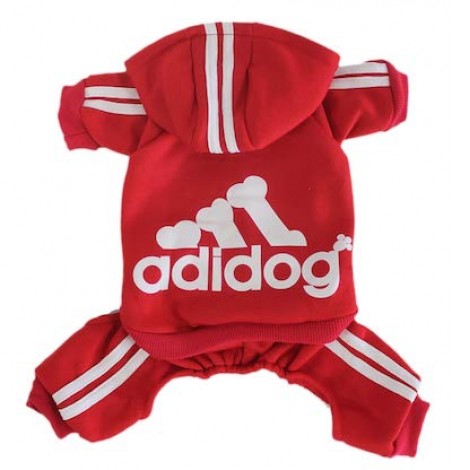 The Scheppend Winter hoodie is a full body sweat suit ideal for keeping your pet warm while still looking fashionable. There is a wide variety of sizes available so measuring your pet is essential to acquiring the right fit. The suit is durable enough to withstand high wear and uses buttons to secure the outfit which limits any possible injury to you dog. The outfit is constructed from fleece. With multiple colors available to choose from your pet can always look its best.
Fleece Material
The Scheppend winter hoodie is made from fleece. This fabric is extremely soft and lightweight. This will enable your pet to stay cool during winter. It also ensures their comfort while they engage in both indoor and outdoor activities.
Ease to Get On & Off
This dog costume uses snap buttons to secure the outfit instead of a traditional zipper. This is a bonus for pet owners as zippers tent to snag and pull at the fur of your pet causing pain and discomfort.
Cost and Value
The Scheppend winter hoodie falls within a very low price range. It also offers full coverage. This offers your pet the added benefit of being completely covered and protected from the weather during winter.

2

. DC Comics Wonder Woman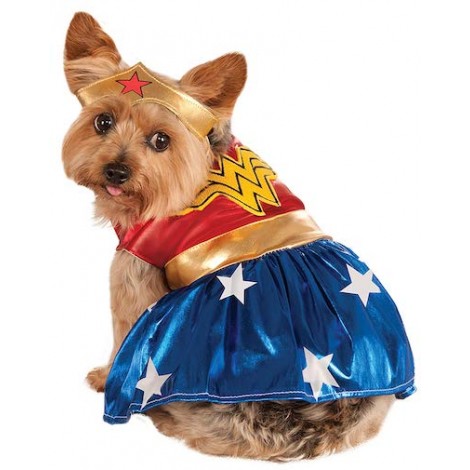 Wonder Woman from the DC Franchise has the signature blue and red combination complete with patented insignia and headband. This dog costume is a licensed and official replica of the original. It features the signature red blue and gold color combination. The well-known Wonder Woman insignia along with the suits gold headband. Finding the right size is crucial to getting a fit that will have your furry friend looking her best. Rubie's makes it possible for you to find a costume that will match perfectly with your pooch.
Fit
Rubie's has a sizing chart available to assist consumers in selecting a size that will fit their particular pet as breed may not be an accurate tool to determine costume size. An instructional video is also available for use.
Style
This Wonder Woman costume is designed to perfectly replicate the suit that everyone has grown to know and love. There are matching suits available for humans if owners decide they would like to match with their pet.
Cost and Value
This has a medium price range and it is essential to not that the cost of each suit differs based on size. The larger the costume the more expensive it becomes. The highest valued costume is still well with medium range and is well worth the cost for this legendary hero costume.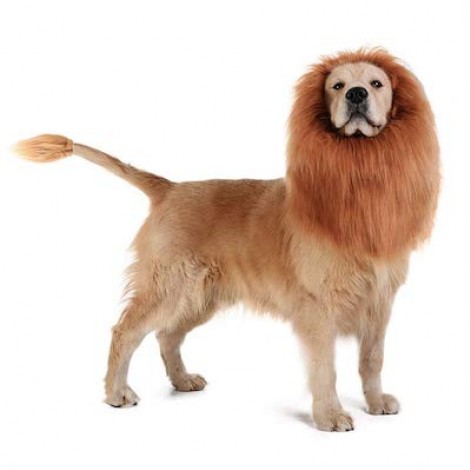 This lion mane wig is not only hilarious but is quite realistic. You can crown your canine friend with this costume and have him look and feel like a king for the day. This costume is guaranteed to impress no matter the occasion. It is realistic and the vibrant brown can perfectly complement any costume you wish to add to the ensemble. The wig has a size range between medium and large. It is also adjustable so you can easily create a snug fit. This feature also makes it easy to put on to your pet and remove after use.
Ease of Use
This lion mane wig is designed for medium to large breeds. It is adjustable which makes it easy to create a snug fit. This feature also makes it easy to dress your pet in this one of a kind costume and remove seamlessly after use.
Materials
The costume is made of wool. This is a natural fiber that is not only strong but breathable. This ensures your pet is comfortable during use. It also makes the wig easy to clean after use.
Cost and Value
This realistic lion mane is moderately priced and constructed from high grade natural fibers. This makes the costume extremely durable and best suited to prolong the longevity of your costume.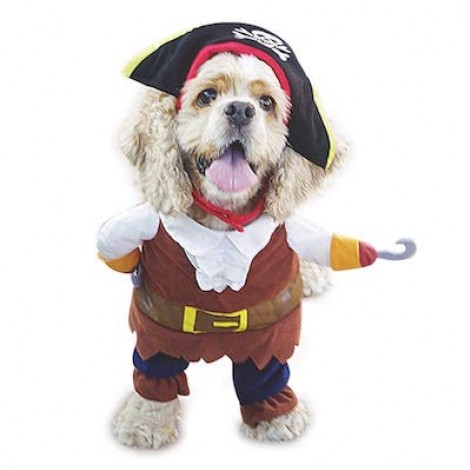 The Nacoco pirate costume is patterned after the hit show Pirates of the Caribbean. Your pet is guaranteed to look authentic in this unique design. This is a great choice for a variety of holiday parties and events. For a proper fit is essential that accurate measurements are taken. Costumes come in small, medium and large sizes. Neck size and height can be used to get an ideal fit for your specific pet. The suit is made from cotton and velcro is used to fasten the suit to your canine companion.
Cotton Construction
Cotton is a natural fiber that is not only soft but has great breathability. This helps to keep your pet cool and comfortable while they parade in their eye-catching outfit. Cotton is also very durable which helps to ensure longevity.
Machine Washable
The Nacoco pirate costume is made from cotton. This not only promotes comfort but it is machine washable making it easy to clean after use. Velcro is used to hold this costume in place. This material is well suited for easy dress and removal.
Cost and Value
This has a low price range and features three pieces. Apart from the suit itself, your pet will receive a hat and cloak to add the finishing touch to this pirate apparel.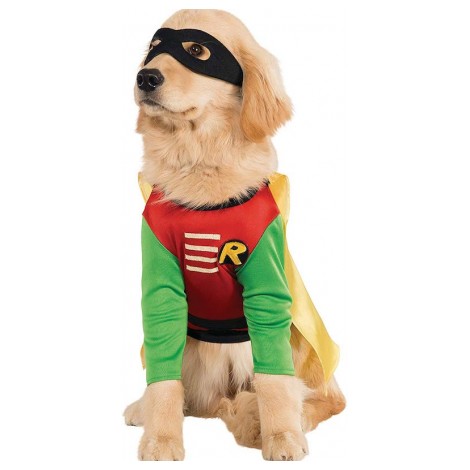 This costume from Rubie's replicates the Robin character perfectly with the signature green and red colors, cape included. This is an authentic and licensed replica of the Teen Titans Robin costume. It features the iconic red and green suit and comes equipped with a cape and mask. Measuring your pet is essential to ensuring they get a fit that is ideal for them. A sizing chart and instruction video is available to assist consumers with their selection.
Size Options
Sizes range from small to triple extra large. Although the costume is adjustable it is advisable to measure the beck and height of your canine friend to accurately assess the size that would give the best fit.
Style
The teen titans are DC Comic legends and your pooch gets to be the boss for the day with this authentic Robin costume. It is fully equipped with a suit, cape and mask to safeguard his or her secret identity.
Cost and Value
The cost of this DC Robin costume varies based on size. The bigger the size the higher the cost. The largest size available is within a medium price range which sees the other sizes falling into a very low range.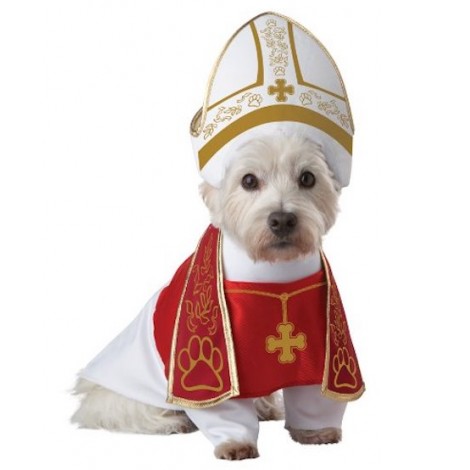 The Holy Hound costume is a three-piece work of art. It is handcrafted, specially designed and exceedingly detailed. This is more than just a fashion statement. It carries all the pieces to an official ceremonial garment. The miter headpiece is uniquely printed and detailed. This perfectly matches the stole, which is also included in this stunning three-piece set. The stole is removable and can be worn with or without the rest of the outfit which is worn in traditional white.
Style
This California Collections costume is the image of an official religious garment. It is made complete with a stole and miter headpiece. This is sure to make your canine companion stand out from the crowd.
Ease of Use
A stole isn't always worn by a priest or deacon, for that reason, it is fitting that the stole contained in this costume be removable as well. This ensures your pet is always well-dressed for any occasion.
Cost and Value
The price range for this costume is moderately high however it is well worth the investment for this one of a kind artistic production.

7

. Rubie's Star Wars Jedi Robe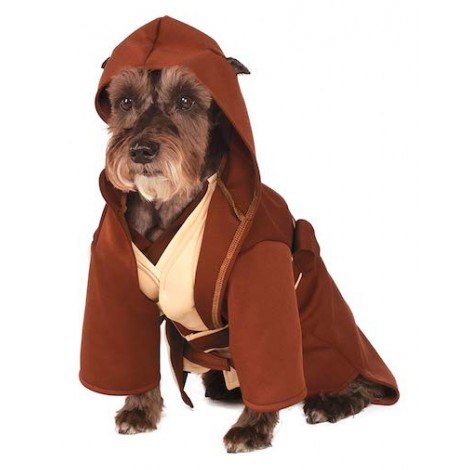 Rubie's Star Wars costume is a three-piece replica of the outfit worn by the Jedi masters. This allows your pet to become a part of one of the most iconic stories of all time as a Jedi master,. It features the signature three-piece suit which includes a shirt, robe and belt. A sizing chart and instruction video are made available to assist consumers in selecting the ideal size for their pet.
Style
Star Wars is a large and well-known franchise. Rubie's has been authorized to replicate the style of the Jedi masters in this three-piece suit. It comes complete with shirt, robe and belt.
Easy to Get On
This 3 piece costume features simple construction that is easy to use. Each accompanying part is replaceable. This makes it easy to dress up and remove the outfit after use.
Cost and Value
Rubie's Star Wars Jedi robe has a moderate price range. Cost varies depending on size. Sizes range from small to extra large and increase in value as size increases. Matching person costumes are also available.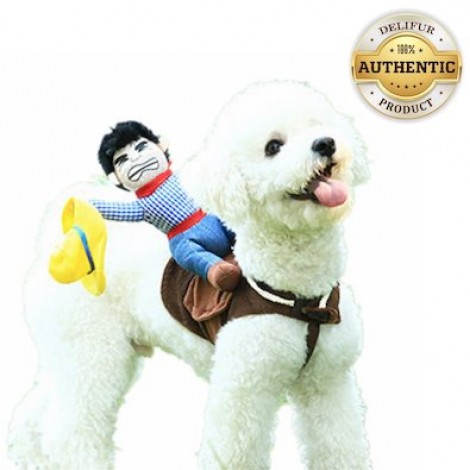 The Delifur cowboy costume allows your pet to carry along a riding cowboy. He or she will be the envy of everyone in the wild west. This comes with instructions on how to accurately measure your pooch to get the right fit for his or her costume. The adjustable saddle is fastened to your pet using hooks and loops. The attached cowboy doll is a unique finishing touch as it seems to move in time with your pet's movements for a realistic interpretation.
Cotton Construction
Delifur has constructed their outfit out of cotton which is a durable naturally occurring fiber. It also soft and breathes well which adds an element of comfort while your pet struts in this unique outfit.
Durability
Each doll attachment undergoes processing to ensure that it is durable enough to be worn and handled by your pet. They are also inspected before being shipped to consumers to ensure quality control.
Cost and Value
This costume is moderately priced. Sizes range from small to large with the saddle being adjustable. This helps to secure a proper fit, however it is recommended consumers utilize the sizing chart made available by Delifur.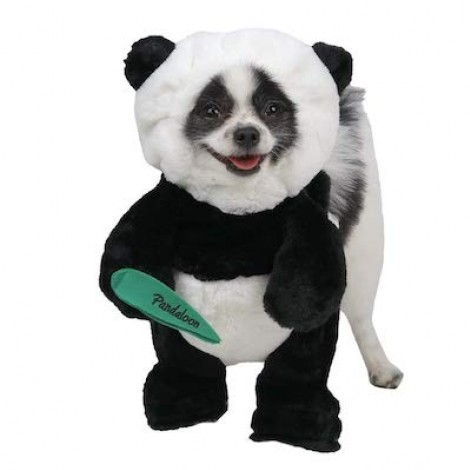 The puppy panda set from Pandaloon is a bear that walks around with the aid of your pet. This panda costume is well suited to for a variety of events. It comes with accessories that are removable and can be switched out to suit any occasion. Measuring your pet is essential to ensure a proper fit. The adjustable headpiece allows for a wide variety of fits with a particular size grouping.
Highly Adjustable
This Pandaloon outfit is highly adjustable. The head attachment, legs and accessories can all be adjusted to fit the size and height of your dog. You can also switch out the accessories to suit any occasion.
Durability
The feet of this costume is reinforced to increase the durability of the outfit. High-grade fabric is used to add comfort and improve the longevity of this suit so it holds up to high wear indoor and outdoor activities.
Cost and Value
This Pandaloon outfit has a very high price range. Sizes range from 1 straight up to 4. Due to the outfit being highly adjustable it is easy to find a fit within each size range that should suit your pet.

10

. California Costumes UPS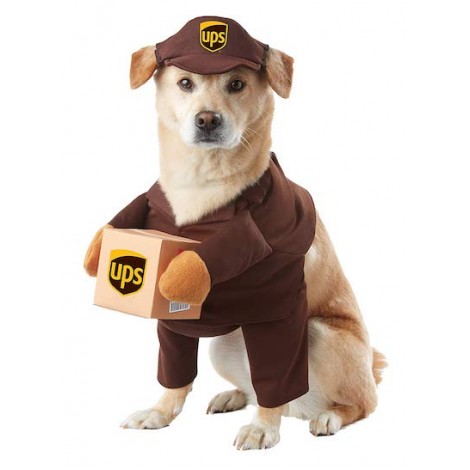 This out from California Costumes is a replica of UPS guy or gal complete with parcel delivery. This features the signature brown worn by the UPS service. The outfit is made from polyester which is a highly durable synthetic material making it ideal for everyday use by your pet as it can withstand heavy wear. It is also equipped for both indoor and outdoor activities.
Polyester Construction
Polyester is a strong and extremely durable synthetic material. This makes it an excellent choice for this costume as it will increase the longevity of the outfit and is capable of enduring heavy wear.
Hilariously Cute
This perfect replica of a UPS guy or gal makes a great costume for your pet. Accessories such as the arms and parcel box can be attached after you have secured the outfit to your pet.
Cost and Value
This California Costumes outfit has a low to medium price range.

Subscribe to our Newsletter