Best Dance Workout Videos Reviewed & Rated for Quality
In a
Hurry? Editors choice: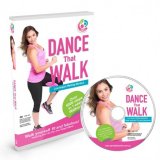 Test Winner: Dance That Walk

Did you know that apart from being a great way to heat things up, dancing can boost your physical, mental, and social well-being, helping you to change your life and live better? Even the
physical activity guideline
, as stated by the Department of Health and Human Services, endorses dancing as a way to improve your health.
These best dance workout videos are guaranteed to keep you in tip-top shape, so say goodbye to boring exercises. From a Zumba dance to Bollywood dance
exercise videos
, we got you covered 100 percent, no matter your style.
For a more rhythmic workout, we have put together a list of the 10 best dance exercise videos to lose weight, stay healthier, and spice up your routine. Read on, and enjoy the beat!
Standout Picks
Criteria Used for Evaluation
Effectiveness
A dance workout video is useless if it does not help you achieve your fitness goals. For a workout program or course to be considered effective, it must be able to help you burn fat, calories, and ultimately shed weight, helping you to keep fit and healthy.
Additionally, it should be challenging enough but easy to follow and master. The routine must be able to elevate your mood, help you to maintain balance and coordination, sharpen your memory and cognitive ability, and strengthen your core performance.
Also, no matter your age, the routine should be able to make you break a sweat without being too complicated to follow. Each step must make you want more, and keep you in the fitness mode all day long. It will only be termed effective if you can measure a big difference between your start date and after your first progress check.
Style
Another criterion to consider is the style of the video. Now, if you are more of a hip-hop person, then it may be hard for you to use a fitness kit with an '80s retro style. Everything, from the choreographer and moves to the music and outfits, should match up with your style.
Most people get pissed, either at the music because it is not their genre, or at the instructor, because he's too peppy, making them lose interest in the routine/video all too quickly. Other times, people skip some essential part of the routines because of the style of dancing.
The style of the video is very important, as it will determine if you will be happy when you think of exercising. Besides, the whole point in choosing a dance workout over normal conventional exercise is because you want to have fun. One more thing about style is simplicity. Some dance exercise video styles are ideal for beginners and can be used by all fitness levels, while other videos are choreographed in styles that are too advanced for new dancers.
Sound Quality
The sound quality is one factor that will determine whether the video will bore you or get you coming back for more. Most people complain about boring voice-overs, bad music quality, and a way-too-chirpy instructor.
Sometimes, the voice-over may drown out the music, making you tired of the routine after a while. Other times, the quality of the music may be too low for you to enjoy your workout to its fullness. Most DVDs may even have poor quality and may freeze up or, crack, making it difficult to even hear any sound.
Often times, most DVDs come with an option to mute the instructor's voice and turn up the music, or the other way round. But, this option is not available with all workout kits. The sound quality of the video should be clear enough that you can enjoy the music, and at the same time, not get uninterested with the instructions. It should also have a progression, with the rhythms following each step of your workout. Some videos change their sounds with each level and routine, adding different beats. This adds some spice to each routine.
Compatibility
The compatibility of a dance workout video routine with your fitness level, age, and preference is worth considering. A workout routine DVD may end up being an item up for sale in your next yard sale if it does not suit you.
Most people make the mistake of going for a video that is upbeat and trendy, not minding if it's too much for them. Some videos are not for the older generation because they are either too fast and highly energetic or too complicated to master.
Furthermore, some routines are low impact and the workouts may have little to do with cardio performance. This may be ideal if you are older or a beginner, but it is ineffective for someone younger and at an advanced level.
Depending on your fitness stage and needs, each segment of the workout should fit you, and be equally effective at getting you back in shape and staying healthy.
Bottom Line
The bottom line is a dance workout video, no matter your style, fitness level, or, age, should make you sweat and have fun at the same time. Most videos use similar styles and genres, others use Zumba dance, and some may mix it up with country music or hip-hop.
Some video instructors even encourage you, pushing you to continue. The most important thing is getting to exercise and stay fit, If a video can get you to do this, then it is for you. You may get some bonus packages and a fitness calendar with some DVDs, encouraging you to do better and remember your fitness goals.
10 Best Dance Workout Videos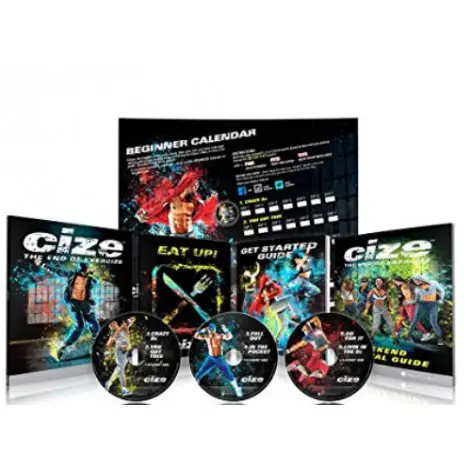 This workout base kit, created by the professional choreographer and dance workout trainer Shaun T. is specially designed to be the end of a boring exercise routine. This program is available in six different courses and has a myriad of moves to help you stay healthier and get stronger. The series of challenging moves will definitely make you break a sweat. It also encourages viewers to lead a healthy lifestyle.
Intensive Fun Workout
This kit is so intensive that, it helps you get fit in just four weeks. Between mastering different moves and enjoying yourself, this impressive sequence gives you cardio, core, and strengthening workout, all in one!
6 Dance Courses
The exercise video also comes with six different courses, allowing you to progress towards more difficult routines. The courses are designed to break down the steps and build them up to a full combination. Although the courses can get challenging, it is enjoyable and the end results are always rewarding.
Cost and Value
Along with the six different courses, this base kit comes with an abs workout on three DVDs, one Get Started guide, a meal plan to manage weight, a weekend survival guide, and, a calendar to help pace yourself. All these wonderful features come at a very affordable price and work effectively.

2

. Zumba Incredible Slimdown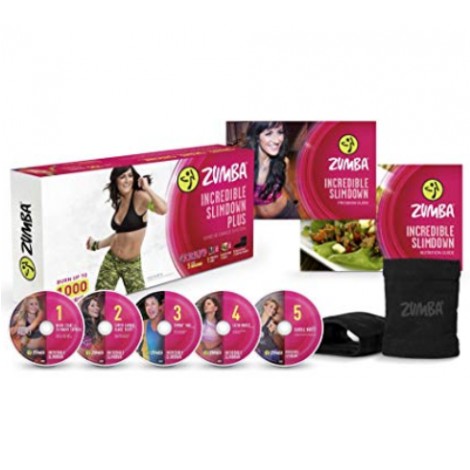 If you are more of Zumba than a hip-hop person, then this program is for you. This incredible Zumba fitness makes slimming down more pleasurable. It contains a Super Cardio Dance Party, and a Latin and Global Dance Burst, which helps you to burn up to 1000 calories with one workout.
Accessories
This program comes with nice sole control wraps that you can slip on your workout sneakers. Their purpose is to improve your motion and flexibility while you groove, letting you slide, pivot, and, turn with ease. A dance workout has never been more fun.
5 DVD Total Body Workout
This ultimate workout kit comes with five DVDs, which contains a Quick Start Guide, Super Cardio Moves, Zumba Max, Latin Burst, and Global Burst. You'll also receive a nutrition guide to maximize your results.
Cost and Value
The cost of this incredible kit is nothing compared to the quick and instant results you get from it. You'll enjoy a weekly plan and recipes that will help you burn fat, get super-charged, and whip you back in shape.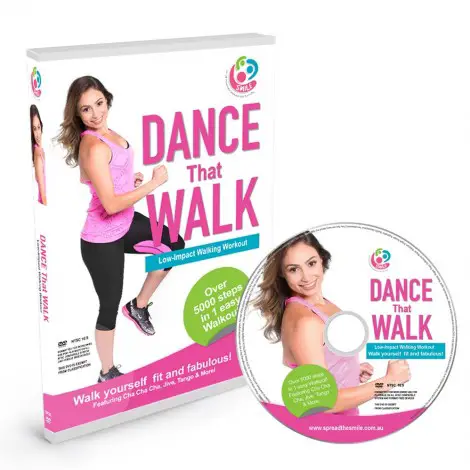 This fun new 'walkout' combines both Latin and ballroom moves with simple walking. The 45-minute DVD contains over 5000 step sequences to make calories burning a blast. Furthermore, the workout routine helps to improve your circulation, cardio health, and general fitness.
Suitable for Everybody
The routine is suitable for people of all ages, sizes, shapes, and fitness levels. With an easy to follow the sequence and walk out, your body is sure to tone up in a matter of time.
Improves Coordination
This exercise helps to keep your reflexes and memory sharp. It also improves balance and coordination, stimulating your mind with the engaging routine and rhythm.
Cost and Value
This is a low impact, easy to follow a routine that's convenient to use at home. It's easy to master, boosts your daily step count, and aids in weight management. Overall, the price is very affordable and worth it.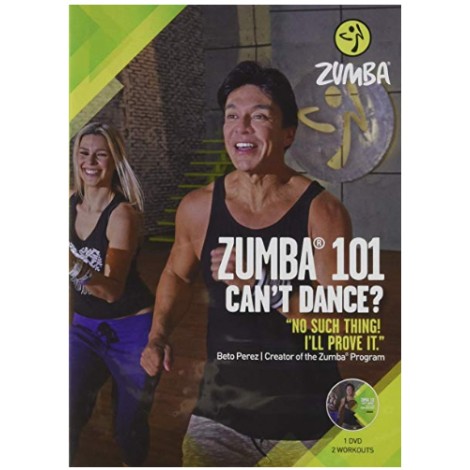 This was created for beginners by the Zumba fitness program king, Beto Perez, who teaches the basics of Zumba. The program features two 30-minute workouts in one DVD that teach you new moves while you blast those calories away.
Learn Zumba
With this step-by-step guide, you can join the world of Zumba and stay in top shape, one burnt calories a time. The routine is easy to follow and gives you amazing results.
30-Minutes Workouts
The routine contains 4 core rhythms, all featured in a 30-minute basic class. In just a little amount of time, you'll rock new moves and dance yourself to a healthier body.
Cost and Value
This high-quality DVD gives you the best results and can transform your life. It is fun to learn and suitable for people who think they cannot bust a move. It is also very easy to keep up with the steps. The product is very valuable and worth its price.

5

. Shazzy Fitness: A Time to Dance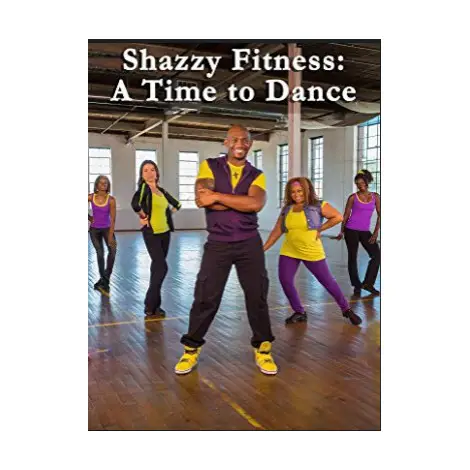 This was designed for Christians, but it contains clean hip-hop and soul-baring music. The program is ideal for beginners and people with intermediate fitness levels because the steps are easy to learn.
Great Workout
This will you to have a great workout and enjoy cool Christian hip-hop music at the same time. It's great for a family or group workout.
Fun
This video is fun and very effective. The routine is very intense and can whip your body back into shape.
Cost and Value
This is free on Prime but can be rented at a cheap price. The routine starts with low impact moves and then progresses to more difficult steps giving you the results you want while boosting your mood.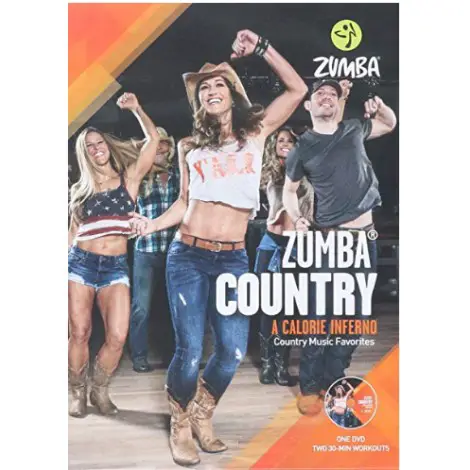 This Zumba and country music mix features two 30-minute workout routines. The steps, which are easy to follow, are perfect for all fitness levels. The upbeat country music is sure to lift your spirits and add pizazz to your workout.
Lose Weight
This specially designed to help you burn fat and calories, giving you control over your weight. With easy to master steps, each sequence is tailored to tone your muscles and keep you in shape. It is also one of the best dance videos to lose weight.
Real Country Music
Unlike other videos that feature remixes, this one uses real country music from your favorite country musicians Some of these artists include The Charlie Daniels Band, Brooks & Dunn, Mark Chestnut, and Big & Rich.
Cost and Value
This is very affordable and has a high success rate. The instructions are simple but the aerobic element is guaranteed to make you sweat

7

. Beachbody Country Heat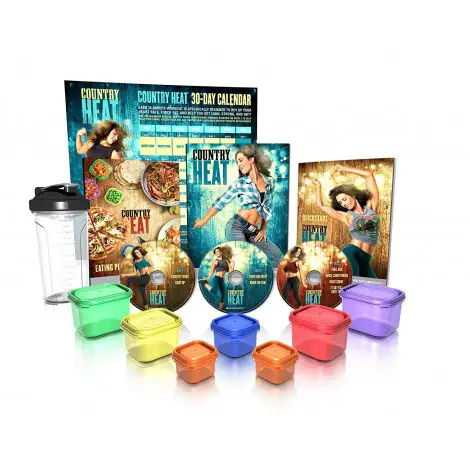 This kit makes exercising so much fun. The upbeat country music will definitely give you some heat to shave off that fat. The DVD set comes with different workout programs and a calendar to help you track your progress.
Country Eat
The DVD has a Country Eat routine to manage your eating. This plan will ultimately change your body from the inside out and help you lose weight.
30-Day Calendar
The 30-day calendar gives you the ability to measure your starting point and set goals for yourself. Also, it allows you to check your progress and achievements within 30 days.
Cost and Value
This DVD base kit is worth its price. It is highly recommended and can be used by people of all fitness levels.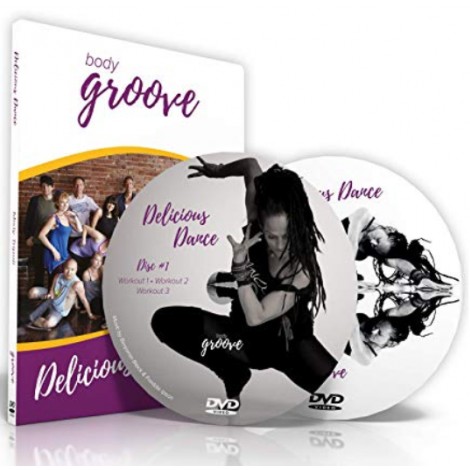 The dance workout series consists of 19 complete dance routines in 2 different DVDs that are 4-9 minutes long each. Each DVD has a variety of music and high-energy routines you can dance to. It also includes two bonus routines: "Mind and Body" and "Stretch and Flex".
Effective Dance Workout
All the routines in the series are sure to keep your body fit. The routines are age-friendly and gentle. The workout also allows you to engage your mind and body in every step, which is different from other regular exercises.
Variety and Fun
The different energizing dance exercise videos contain a variety of dances, from upbeat rhythms like 'The Love Bus' to cool grooves such as 'Chiller's Lounge'. There is just a selection for everyone.
Cost and Value
This base kit is cheap and is ideal for all fitness levels. The series comes with 2 DVDs and 2 bonus sets filled with all the tunes to give you a complete workout.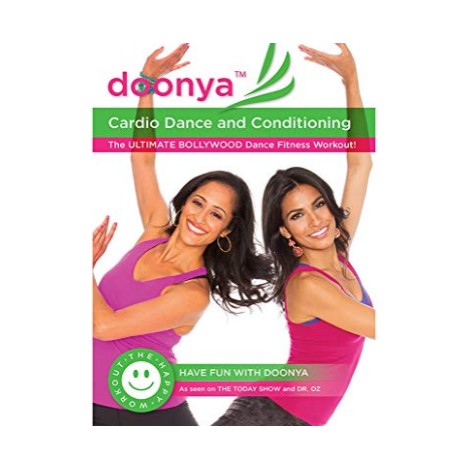 If you are a Bollywood fan and you absolutely love their music and style, then this dance exercise video is for you. The high energy rhythms and routine will help you burn up to 800 calories at once. This workout will also teach you the fundamentals of fitness.
Cardio & Conditioning Intervals
The workout is designed to help you keep up with your cardio performance. This routine will activate, energize, and strengthen your abs, arms, and legs.
Customized Workout
Doonya Workout Routine keeps your exercise routine fresh and upbeat. It is also a fun way to learn new moves. The video is also divided into segments, making it easier to learn.
Cost and Value
Although the dance workout video is free on Prime, it is very valuable. The style is different and very effective in helping you achieve your fitness goals. The quality is great and the instructions are simple.

10

. Senor Gold Dance Workout # 1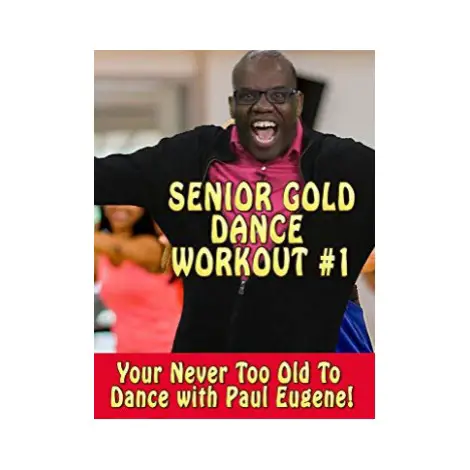 Do you consider yourself a baby boomer? Perhaps you have two left feet? This is also perfect for the young at heart because it is low impact. The steps are safe, fun, and easy to learn. Anyone can groove to these tunes!.
Effective Workout for seniors
The workout routine is tailored for seniors, although anyone else can use it. The music is sure to lift your spirits. It is very effective in shedding fat, burning calories, and losing weight.
Great Instructor
The instructor in the video is very specific and fun to watch. These old school moves are sure to bring back some happy memories.
Cost and Value
This video is also free on Prime. It is a very fun workout tool for seniors to groove their way to better health.

Subscribe to our Newsletter