Best Crossbow Cases Reviewed & Rated for Quality
In a
Hurry? Editors choice: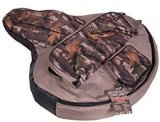 Test Winner: Barnett 17083

Bow owners have a new sense of freedom while using a case. Originally, these weapons were carried over the shoulder with nothing around them for protection. Although some owners still carry without the protection of a case, at some point in their life, they'll wish that they had one. Being as these weapons are valuable merchandise, the thought behind protection to them is valid. They are designed for hunting, therefore, they are known to be in the most extreme of climates. That being said, a crossbow case is not a bad idea. Not only is it a great idea to invest in a case for the sake of carrying the bow, but when you are looking to travel any amount of distance, it is crucial to have one. Whether you are driving or flying, your weapon should be packed away carefully in order to protect it, yourself and others.
Standout Picks
Criteria Used for Evaluation
Materials
Soft Cases
Before you purchase your case you will want to check out the materials in which the case is constructed from. As some materials are of better quality than others. When speaking in terms of soft cases, you will want to choose a durable material. An example of such fabric would be a blend of nylon and polyester. One final material you will want to consider is the zipper. You will want a zipper that is large enough to handle even while wearing gloves. The zipper should also be made from metal, metal zippers tend to be more durable than those made of plastic.
Hard Cases
As for choosing materials for a hard case, these are all typically made of plastic. You will want to do a little research on the case before purchasing it. Some things to take into consideration would be, whether or not the case can be easily scratched or scuffed. Cases that are more scratch-resistant tend to hold up longer and can resist more damage. Check to be sure the latch system is sturdy so that the lid won't pop open.
Size
Hard and soft cases alike come in different size ranges. This is sometimes the hardest part of choosing a case, as it can be difficult to find just the right fit. It is recommended that you bring your bow along while looking for cases to ensure the proper fit. Before doing this you will first need to check with the store to be sure you can bring the bow in. As some stores won't permit a weapon inside the store without a case.
Weather Resistance
You will want to be sure that your case will hold up to the weather conditions, especially if you spend a lengthy amount of time outdoors. The outer shell of a soft case made from nylon is typically water-resistant. The problem with these cases is that the zipper and seams tend to leak. You will want to check to see that the case has been weatherproofed. If it has not, you will want to research how to do this yourself.
Protection
When it comes to soft crossbow cases, the only protection that your bow has from dings and dents is the padding. You will want to be sure that your padding on the inside has enough thickness to it. You will also want to check any straps on the inside for securing your weapon. You want these straps to be thick and sturdy enough to prevent the bow from sliding around.
10 Best Crossbow Cases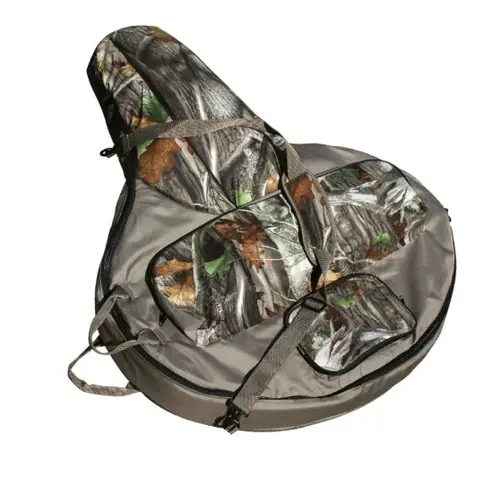 This is the perfect case for accommodating your crossbows. Made to store larger weapons, the case is also made for miles of extreme abuse and will never skip a beat, always keeping your gear safe and sound. With the many benefits that this option has, you will not be disappointed with what it has to offer.
Shoulder Strap
This case offers a padded shoulder strap for comfort, making this one of the most comfortable traveling cases. guaranteeing a safe shoulder, every time.
Super Storage
It offers extra storage in the outer part of the case. With additional pockets and pouches, you can take all of your needed items with you in one case. The additional pouches and pockets also offer added protection.
Cost and Value
This has everything a bow owner could want, packed into one case. Offering additional shoulder padding, you can travel miles carrying this case, without an ounce of discomfort. Additional storage pockets offer an all in one case for your gear.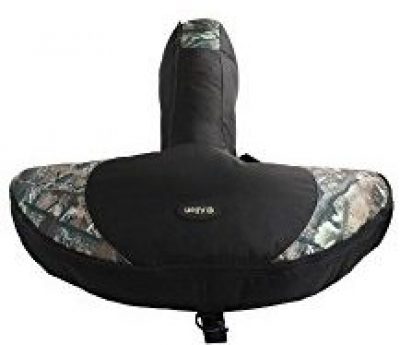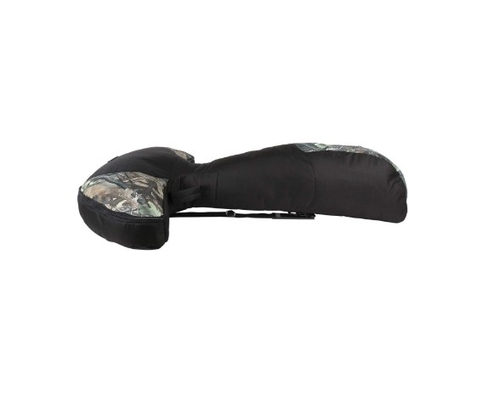 The Allen Glove Fitted Case is an attractive style and convenient for storage purposes. The compact, black and camouflaged case is every bows dream. Fitted to almost every weapon, you can store your gear safely, with or without a scope. Constructed of heavy material, this case is made to last.
Fitted Design
The Allen Glove Fitted Case is known to take up a lot less room than most cases, due to its fitted design. This case is far from bulky.
Adjustable Sling
Traveling has never been easier with the Allen Glove Fitted Case. Offering an adjustable, removable sling, you can position this case anyway, comfortable to you.
Cost and Value
The Allen Glove Fitted Case is a compact, flashy design that will fit all your needs. With extra padding and a strong nylon shell, the weapon will be protected from all elements. Also designed with large zippers, this case makes access easy.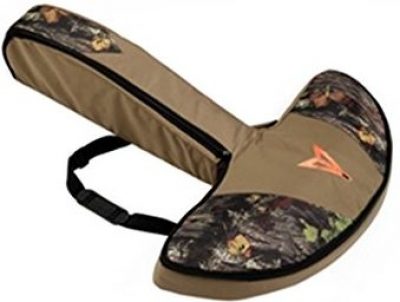 The 30-06 Classic Case is a soft and classic case that is made to hold your quiver and accessories, with it's added extra space. With a compact design, this case is made for long trips, with your weapon on your shoulder. Featuring moisture-wicking material, you will feel at ease knowing your bow is protected from all elements and ready for the long haul.
Material
The .30-06 Classic Case is made with a moisture-wicking technology entwined with 600D polyester, making this case reasonable for travel in extreme conditions. The .30-06 Classic Case keeps water out and your weapon safe and dry.
Extreme Padding
Protection is what you need when traveling with a bow. With the .30-06 Classic Case, you have extra padding around the weapon it carries, ensuring a means of safe and damage-free transport.
Cost and Value
Safe, secure, and dry from all elements, the .30-06 Classic Case is designed with your weapon in mind. Featuring 3750 cubic inches of space, this case will carry accessories and quivers without a complaint. Lightweight and topped with a comfortable shoulder strap, you are ready to travel in style and comfort.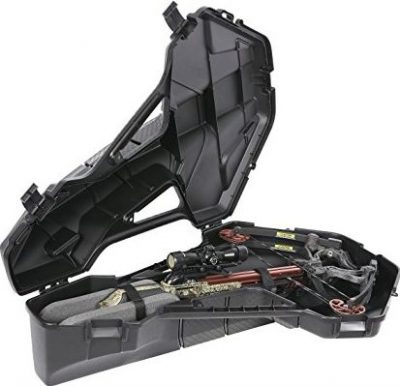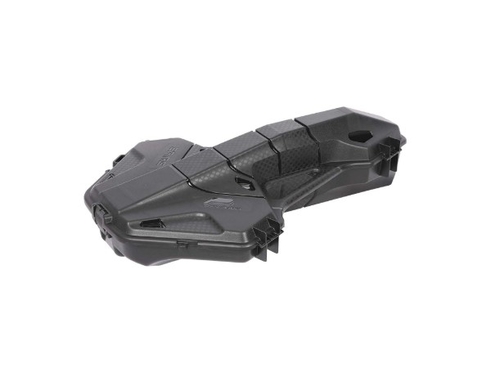 The Plano Spire Case is a one of a kind case. As a hardcover case, it has many features and benefits that allow it to make the top list. Offering a hard outer shell, the Plano Spire Case will shield and protect your investment from damage. The heavy-duty latches will help keep this case closed. Knowing you're not at risk damaging your bow, the Plano Spire Case is the case for you.
Super Storage
The Plano Spire Case has extra room to store accessories and the quiver. With the extra storage that this case has to offer, you can be at ease knowing you will only have to carry a light load. Reducing your luggage is always a plus when out in the wilderness!
Lashing Straps
The Plano Spire Case is all about safety and protecting your gear from damage. Providing lashing straps on the inside of the bow case, these straps are designed to keep your bow in a secure place.
Cost and Value
Providing an accident-proof case, the Plano Spire Case offers a hard outer shell and lashing straps to ensure extra safety at all times. When the weapon is not in use, the compact design is used to safely store your weapon out of the way, tucked in a small space. With heavy-duty latches, you can be sure that this case will also remain closed at all times. The value is written all over the Plano Spire Crossbow Case.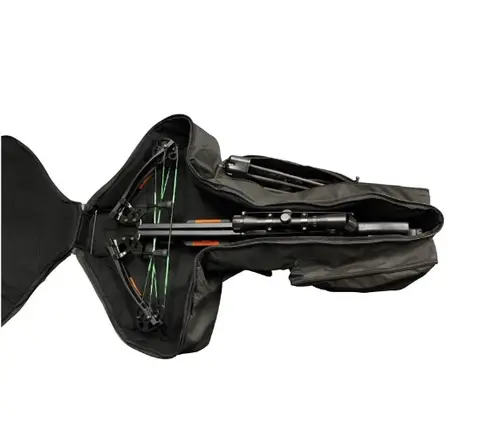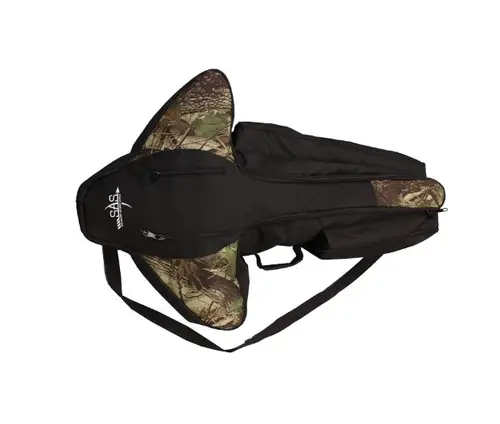 When it comes to finding a case that not only keeps your expensive crossbows safe but ensures the longevity of the product it's hard not to consider the SAS Deluxe Compact Padded Soft Crossbow Case. Built to last, yet be effective and lightweight, this crossbow case is the perfect tool for you to travel and take with you as you go on extended hunting trips.
Durable Construction
In order to provide a quality product that ensures your items travel safely, this case is built to last. Constructed out of 600D rugged, padded polyester, the outside is perfectly durable and supportive of any product you place inside of it. Furthermore, it is paired with dual zippers, that work in conjunction to give you the most out of the product. The padded elements enable you to feel comfortable in knowing your product has an extra layer of protection.
Multiple Compartments
As previously stated, this case was built with the traveler in mind. Instead of simply having one space for your crossbow it comes with multiple compartments so you have a space to place your accessories. There is also the fact that each pocket has a zipper so you can store your items without worrying about it falling off or anything of that sort. Furthermore, the compartments have padding so any accessory or item you place inside is fully protected.
Cost and Value
When it comes to the cost and value of this product, it is on the higher price point but it is well worth the investment especially if you have an expensive crossbow. Having a higher price might seem scary but its not, as you are getting a quality item with all the bells and whistles.

6

. Wicked Ridge by TenPoint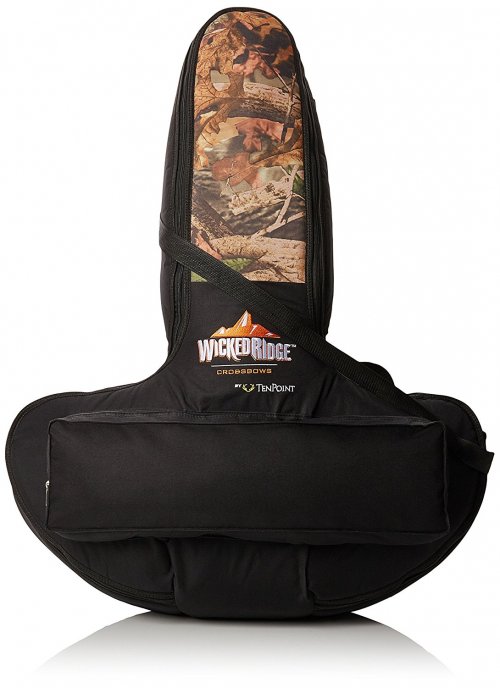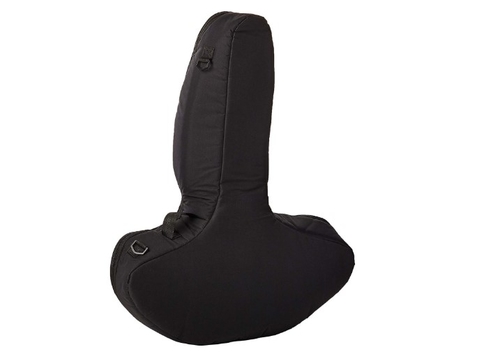 The Wicked Ridge Case is a reliable and durable case, made to keep your investment safe. This case offers sturdy side panels to keep its shape and help with protection against damage. Also, the sturdy sides allow extra depth to help store bows with scopes, too! The Wicked Ridge Case was designed with your needs in mind!
Extra Storage
The Wicked Ridge Case has extra storage on the inside of the case. With the extra storage, this case can accommodate your accessories, quivers, and much more!
Side Panels
The Wicked Ridge Case ensures safety and protection by providing extra support. The sturdy side panels, in this case, are reliable and durable, allowing the weapon it's carrying to be safe during travel.
Cost and Value
With the value that this case has to offer, you will not be disappointed with your purchase. Made with durable material and solid side panels, the Wicked Ridge Case is sure to hold up in traveling situations. This case also provides extra storage to make your traveling load lighter!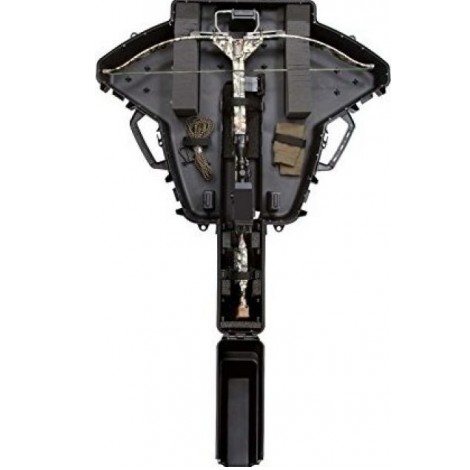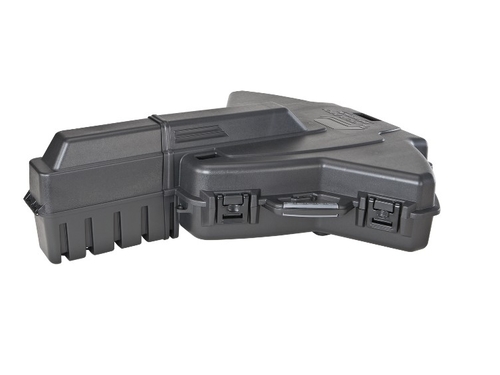 The Plano Case is a hard-shelled case that is nearly indestructible. With the high-density foam padding on the inside of the case, there is additional shock and impact resistance, making this one of the safest options on the market. Lightweight and durable is the route you'll take with the Plano Case.
Tie-Downs
The Plano Cross Bow Case offers additional safety and protection for your weapon. On the inside of this case, you will find poly-tie down straps, making the protection even more secure.
Outer Shell
The Plano Cross Bow Case features a hard outer core that is made to last. Built with durability, the outer shell is weather-resistant, UV resistant, and scratch-resistant, making this case incredibly durable.
Cost and Value
The Plano Cross Bow Case is made to secure and protect with everything it has to offer a bow. As a hard case, the outer shell is made for durability and protection against the elements, while the inside of the case is made for protection and absorption of shock. The high-density foam on the inside of the case is there to cushion and protect.

8

. Excalibur Deluxe T-Form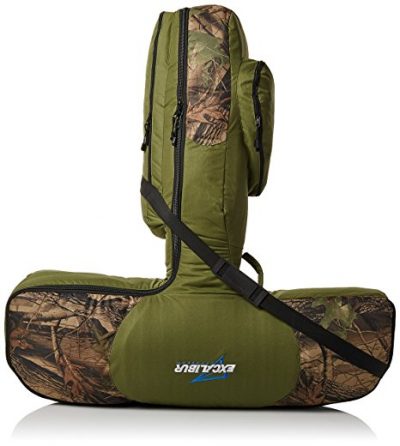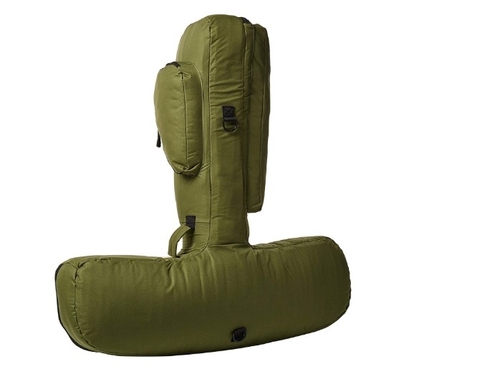 The Excalibur Deluxe T-Form Padded Case was designed to protect your weapon during transport for years to come. Designed with durable materials, the Excalibur Deluxe T-Form Padded Case is also a moisture-wicking material that will allow you to store your bow safe and dry, in even the harshest environments. Finished with self-healing zippers, you know easy access is just a zip away.
600D Endura Material
Built to last, the Excalibur Deluxe T-Form Padded Case has one of the most popular outer shells on the market. The 600D Endura material is surrounding this case which makes it tough and moisture-wicking, keeping your weapon safe and dry.
Super Storage
The Excalibur Deluxe T-Form Padded Case takes care of all your storage needs with its super storage space! Featuring two outer pockets, you can take your bow and accessories anywhere, with no additional luggage!
Cost and Value
Being one of the toughest cases on the market, you can't say no to the value! The Excalibur Deluxe T-Form Padded Case is known to keep your merchandise dry, safe, and sound, with its moisture-wicking material and extra padding around the case. Self-healing zippers allow easy access and extra storage makes getting ready, simple as can be.
9

. Excalibur 95855 EX-Shield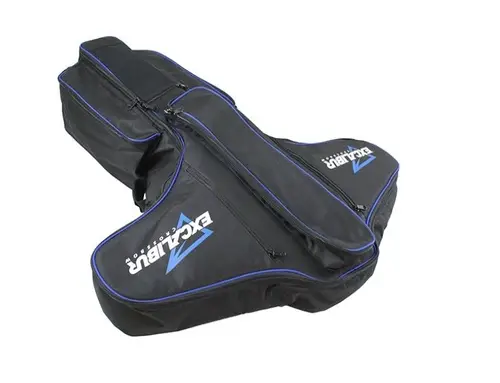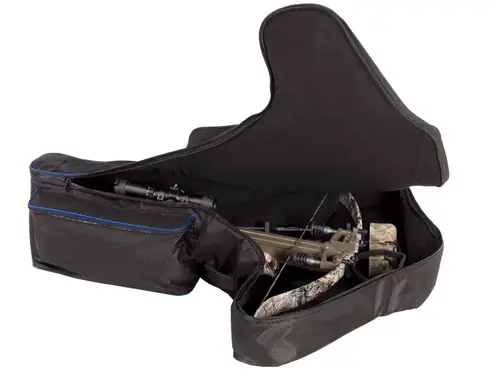 If you are an active hunter, and love using crossbows, then you know its extremely important to keep your crossbow safe the entire time. Crossbows are a bit more fragile, which is why having a heavy-duty case is quite important. Built with an integrated extra added dose of protection, with a sleek exterior the Excalibur 95855 EX-Shield Case was constructed to be on the road. Furthermore, this case is ready to take your crossbow hunting to the next level.
Lightweight
We all know when it comes to traveling and hunting that carrying a heavy product can completely change the way you feel about your travels. Not only will having a heavy case ensure you have too many items on you, but it will also make carrying your crossbow an unpleasant experience. This is why the Excalibur 95855 EX-Shield case is extremely lightweight. But what the brand does well is it works hard at keeping the durability and the authenticity of the product without having a heavy product on hand. Furthermore, this item keeps it durable while still being light and airy.
Added Storage
For security and convenience, this bag comes with added storage. But not just any storage, it comes with 3 pockets that are built into the bag. Having this touch enables you to bring your favorite crossbow items along with you. You can almost carry everything you need in one single space without having to go overboard with your items. Additionally, your storage has built-in zippers that are durable and secure so all of your items remain in place every time.
Cost and Value
As for the cost and value of this, it is on the pricey side. Though you will be paying more, you will be getting quality above all. Additionally, the added storage makes up for the higher price and let's not forget the entire case is padded and lightweight for the most convenience possible.

10

. Allen Hardcore Sub-Compact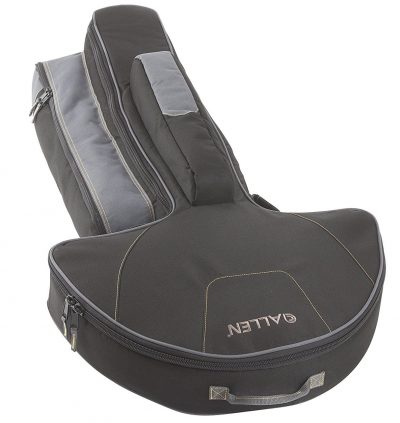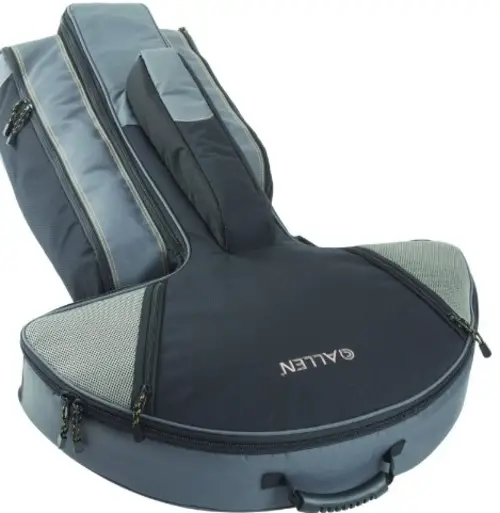 The Allen Hardcore Sub-Compact Case is a soft case designed to protect your weapon with easy transfer. Offering a foam-padded case, your case has extra protection to absorb shock and travel. An extra padded shoulder sling makes for comfortable travel at long distances. With so much more, the Allen Hardcore Sub-Compact Case hits the spot for value.
Shoulder Sling
The Allen Hardcore Sub-Compact Case offers nothing but comfort. The shoulder sling has a double padded area, to keep comfort while traveling.
Interior
The Allen Hardcore Sub-Compact Case is made with a soft lining to help protect your crossbow even more. The soft lining is adjustable in length to fit almost any weapon.
Cost and Value
With the Allen Hardcore Sub-Compact Case, there are so many different features to support you and your weapon. Made with durability, this case features durable outer material, durable zippers that are oversized, extra padding in the case for more protection and a comfortable sling for carrying. The Allen Hardcore Sub-Compact Case has it all, at a valuable price!

Subscribe to our Newsletter