Best Cross Stitch Kits Reviewed & Rated for Quality
In a
Hurry? Editors choice: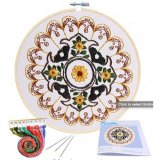 Test Winner: KISSBUTY Starter

Young or old, crafter-extraordinaire or complete beginner, anyone can enjoy the
relaxing hobby
of cross-stitching. Thanks in part to such websites as Etsy and Pinterest, handcrafted
home decor items
have become all the rage again! While cross-stitching may once have been associated with spinsters and your grandmother's house, history always repeats itself!
Whether you are in the market for a cross-stitch set for yourself, a child, or a gift for a friend, there are loads of kits available. Picking a design that you enjoy is the first step, but there is more than just a great pattern that makes a kit a good buy. We considered factors such as clear, easy-to-follow instructions, quality thread and quilting cloth, and additional accessories.
After reading thousands of reviews we have compiled our top-ten list with the best kits for children, beginners, advanced stitchers, and everyone in-between!
Standout Picks
Criteria Used for Evaluation
Ease of Use
We scoured hundreds of reviews from real-life crafters to find the most user-friendly kits on the market.
Clear and easy to follow instructions as well as pre-sorted thread were two big factors we looked for that make a crafters life a little easier.
It is worth noting that stamped patterns will be much easier to complete versus counted patterns, which are best to left to advanced stitchers.
Materials
Without the right materials, your finished project will end up looking less than stellar.
When making our selections, we looked for reviews from satisfied customers and checked out things like the quality of the thread and how true-to-picture the colours were.
Value
Here at the Gear Hunt we are always striving to find you the best products on the market, and at the best price for your wallet.
All of the cross stitch kits on our list offer excellent value for money. Cross stitching is a relaxing way to unwind and destress after a long week or hard day at the office.
Adding more value to these kits is the fact that once your project is complete, you can display it in your own home or use it as a personal, homemade gift for a friend or family member.
Style
There are so many designs and patterns on the market today that there is something to appeal to every type of taste.
We selected a wide range of styles and difficulty levels so there is the perfect option for everyone no matter your age or stitching skill level.
Size
There are as many different sizes of projects on the market as there is variety of designs.
We have selected a range of different sized kits so there is an option for everyone regardless of their skill level or the amount of time they have to dedicate to their new project.
The largest kits will requires months of dedicated stitching and will result in a full-size piece that can easily be used as feature artwork.
Smaller kits can easily be completed in a few hours and make great gifts. They make a great addition to a gallery wall and also look fantastic hung up in smaller spaces such as the powder room or hallway.
10 Best Cross Stitch Kits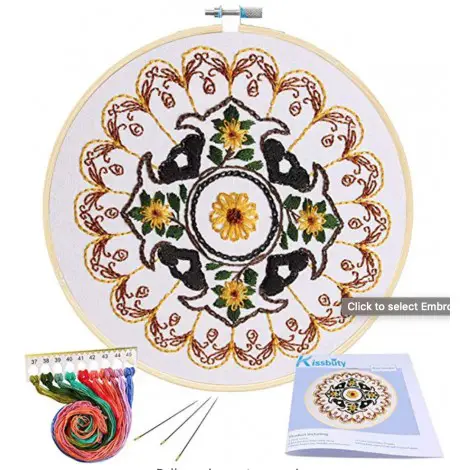 In the number one spot on our top-ten list, we have the KISSBUTY Starter Kit. There are myriad of factors that landed KISSBUTY in the top spot. With a ton of great design to choose from, a modest price tag, and easy-to-follow instructions that are also printed on the clothe, this set is perfect for beginner or novice stitchers as well as children! Keep reading to find out all the reasons the KISSBUTY Starter Kit is number one!
25+ Designs
One reason we love the KISSBUTY set is that it offers over 25 patterns to select from. Picking a design that appeals to your personal tastes will make finishing your project even more rewarding! You will be more motivated to work on your stitching if you can't wait to reveal the finished product.
Some of the great designs that KISSBUTY offers include florals, mandalas, folk designs, and our favorite, a fun hot air balloon and rainbow design with a black background! These pieces all fit perfectly with the vintage-revival trend that is all the rage in home decor right now!
Makes Great Home Decoration
Thanks in part to websites like Etsy, where artisans can sell handcrafted goods, and Pinterest, where users can explore and share a wide variety of crafty-ideas, handmade decor items are super on-trend right now.
If you have a specific location in your home where you plan to display your new work of art, you can select a pattern with colors and a design that will match the existing decor. Likewise, if you intend to gift your finished project, select a pattern that will appeal to the recipient's tastes.
Adding handmade decor to your home is a great way to decorate on a budget. Handcrafted items also make great gifts that will be cherished by the recipient for many years to come, while the value of a store bought gift can easily be forgotten.
Cost and Value
One of the great reasons to love the KISSBUTY Starter Kit is the price tag. Great for people on a budget, or anyone who isn't ready to break the bank on a new hobby. If you have a habit of investing loads of cash into new activities that you easily forget about a month or two later, you will appreciate that fact that KISSBUTY allows users to try out cross stitching with a minimal investment.
Included in the kit are a 6" bamboo embroidery hoop, thread in appropriate colors, cotton embroidery cloth with pattern, embroidery needles, and an instruction booklet. Considering KISSBUTY includes everything you need to create the finished product in the kit, we feel this product offers great value for money. There is no need to take a trip to the craft store to purchase any additional parts before you can get to work.
There are tons of positive reviews on this product from satisfied consumers who raved about everything from how easy the instructions were to follow, how great this product was for beginners, and how good-looking the finished piece was. One reviewer even stated that this purchase was one of those rare occasions where she actually felt she got MORE than what she paid for!
If you are looking to try out cross-stitching for a new, relaxing hobby or a great way to craft some handmade gifts, or home decor items for yourself, than the KISSBUTY Starter Kit is a great place to start.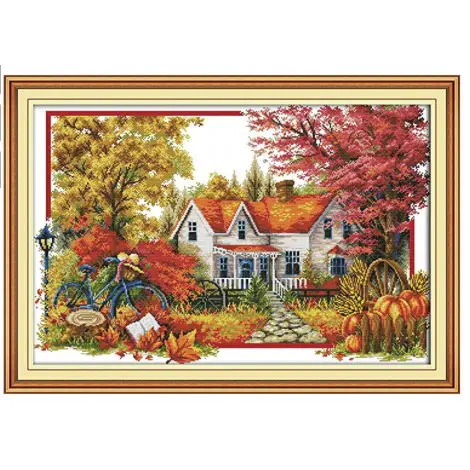 Landing in the number two position is Maydear's Embroidery Starter Kit is a great option for those who a little more advanced in their stitching skills. With a ton of challenging and inspiring patterns to select from, there is something for everyone whether you are crafting the finished product for yourself or as a gift. If you are looking to test out your stitching skills and are tired of beginner patterns that you could practically do with your eyes closed, you will want to consider an Embroidery Kit from Maydear.
Water Soluble Ink
Maydear's Starter Kits are great for a number of reasons. One thing we really love about this product is that the pattern is printed directly onto the fabric, with corresponding numbers and symbols for the different colored threads. This makes following the pattern a cinch and is great for beginner or intermediate stitchers.
Maydear uses a water-soluble, eco-friendly ink to print their patterns. The grid lines wash off easily once you have finished your stitching, leaving only the beautiful, hand-embroidered design for everyone to admire.
Beginner to Intermediate Designs
Maydear offers over 40 different designs to select from with its Starter Kit. There are patterns to appeal to everyone's tastes, or if you plan to give your finished product as a gift it will be easy to select a design that the recipient will enjoy. Some of the designs feature animals, nature scenes, cartoon depictions, floral patterns, or even Van Gogh's famous starry night scene.
The patterns included in Maydears Starter Kit will be suitable for beginner or intermediate stitchers, or even advanced stitchers who are looking for a relaxing project to work on.
Cost and Value
Maydear offers an affordable, accessible option for anyone who is looking to try their hand at cross-stitching. There are over 40 designs to choose from all with a very modest price tag that won't break the bank.
Cross-stitching is a great hobby for anyone to take up. During the long, winter months it can provide a relaxing, stimulating activity for people to work on while couped up in the house. Alternatively, cross-stitching can be enjoyed on the porch or balcony during late summer evenings to soak up the last of the warm weather. Psychology experts agree that participating in hobbies or activities that we enjoy is crucial to achieving long-lasting happiness.
Adding more value to the Maydear Starter Embroidery Kit is the fact that it includes all the necessary thread and needles, along with instructions and the pre-printed pattern on the embroidery fabric.
Maydear uses a premium fabric that is thicker than some other brands, for a high-quality finished product. We also love that the ink used is eco-friendly and water-soluble so you can easily rinse it off when you are complete.
If you need a new hobby, want to improve hand-eye coordination, or are interested in creating some hand-crafted home decor items, the Maydear Starter Embroidery Kit is a great place to start.

3

. ITSTITCH Starter Pattern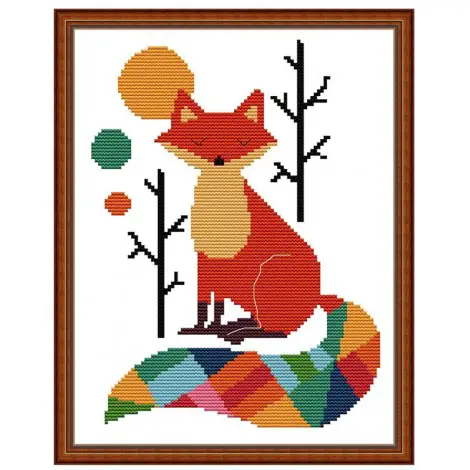 Finishing up the top-three finishers we have a fantastic kit from the ITSTITCH company. With seven fun, whimsical animal designs to select from this kit is sure to be a hit with anyone who loves their furry or feathered friends!
Easy to Follow
There are tons of great reviews from satisfied consumers who purchased the ITSTITCH Starter Pattern Kit. Reviewers loved that the pattern was already stamped onto the embroidery cloth, perfect for beginners as there is no need to count-stitches or draft a pattern yourself.
Another factor that reviewers commented on is the easy-to-follow symbols which correspond to the different colored threads. One reviewer stated she could not wait to finish the tiger pattern so she could display it in her home. Another woman stated that she has no previous sewing, stitching, or embroidery experience whatsoever and she was able to follow the instructions with ease.
DIY Home Decor
With seven great animal designs to select from, the ITSTITCH Starter Pattern Kit is a great way to make some DIY home decor items. With such a reasonable price tag, this is even cheaper than decorating with budget decor items from the department or home store. Plus, handmade items have really come back into fashion in the recent years with the popularity of sites such as Pinterest and Etsy.
Whether you plan to use your finished item in your home or gift it to someone else, a hand-stitched design will be a great conversation started in any home it is placed in. Bonus points because handmade gifts have so much more sentimental value than store bought ones.
Cost and Value
ITSTITCH makes it simple to take up a new hobby or continue on with one that you already enjoy. Each of their seven fun animal designs is extremely reasonably priced.
The price of the ITSTITCH Kit comes in well under the average budget for taking on a new crafting project. Anyone who frequents the craft or art store knows that these items are not cheap! With everything included in the Kit, you save a ton of money versus purchasing all the items separately as well.
If you are new to cross-stitching or want an advanced stitcher who wants to take on a less strenuous project, check out ITSTITCH's Starter Kit for a selection of colorful, animal-friendly, easy to complete designs.

4

. Dimensions Learn-A-Craft 'Rainbow Peace'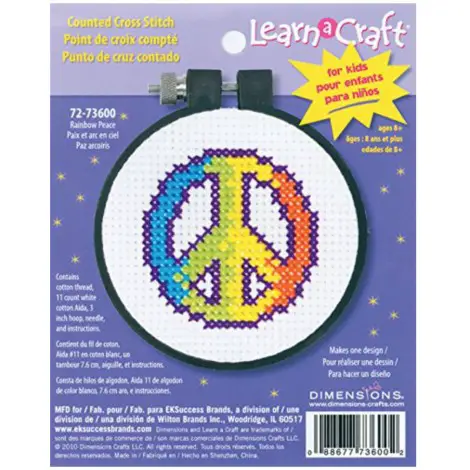 The next product that made the grade is Dimensions Learn-A-Craft 'Rainbow Peace' Mini. This kit is a child-friendly way to introduce youngsters to stitching, embroidery, and the fun world of crafting. The kit is super-basic so even younger children can get involved.
Perfect for Kids
This 3" colorful peace sign design is perfect for kids from the age of 8 and up. While many of the other kits that made our list state they are for beginners, the patterns and size of the stitches may still be too challenging for some younger children to complete.
Crafts are a great activity for children enjoy, especially in this day and age where youngsters spend far too many hours a week looking at tablets, phones and television screens! There are a whole slew of benefits of crafting for kids such as development of hand eye coordination, development of fine motor skills, improved dexterity, boost self-esteem, promote self expression and creativity, and enhancing decision making skills!
Great for Travelling
Anyone who has ever taken a long car or airplane trip with children knows the struggle is real! Even with today's tablets and smartphones for entertainment, children will easily become bored of these activities especially when couped up in one spot for too long.
The Learn-A-Craft Rainbow Mini is a great activity that can easily be thrown into carry-on luggage or backpacks. It's small size means it will not take up valuable packing space. Bonus points for parents who have siblings that can begin fighting and bickering if not occupied and distracted during lengthy travel times.
Cost and Value
Another thing to love about the Learn-A-Craft Mini is the price. Kids are notorious for being obsessed with an activity one day and completely bored of it the next! This kit is an easy to complete project that is a great budget-friendly way to introduce children to cross-stitching.
There are loads of satisfied customers who purchased this as a gift or because their child showed interest in learning about stitching and embroidery. Reviewers were satisfied with how quick and easy the project was to complete, and how the colors and design looked just as good in real life as they did in the pictures.
Adding more value to the kit is the fact that it includes everything you need to start stitching, including the mini 3" embroidery hoop, needles, and thread.
If you need an activity to occupy your child that isn't television and smartphones, or are looking for something to keep your youngsters occupied during vacation travel, the Learn-A-Craft Mini Peace Sign is the perfect product to consider.

5

. Baker Ross Christmas Hanging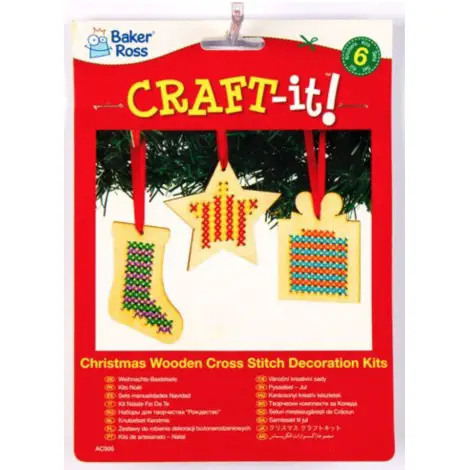 Up next we have a great Christmas-theme cross-stitch kit from the UK childrens retailer Baker Ross. Wildly popular in the UK, Baker Ross makes a complete line of luxury craft supplies and seasonal or themed craft-kits for children. Finally available outside the UK, this Baker Ross kit makes a perfect gift or holiday surprise for any child who enjoys arts and crafts.
Designed & Manufactured in UK
Baker Ross is designed and manufactured in the UK. The company has been around since 1974 and is still a family owned and runned business to this day. Not widely available outside of Europe, thanks to the internet and online shopping, now customers all over the globe can enjoy Baker Ross' quality craft items.
6 Decorations
The Christmas Hanging Decoration Kit comes with 6 different hanging ornaments that can each be colored prior to adding the stitching, for fully-customized look. Reviewers stated that this project was easy and simple to compete for children as young as the age of 7.
We give bonus points because the ornaments will make great handmade gifts that your children can give to friends, family members, teachers, or community leaders. Kids will love the idea of gifting something that they crafted themselves, and recipients will be happy to receive a sentimental gift that will hold valuable memories for years to come.
Cost and Value
The Baker Ross Christmas Decoration Kit is super affordable and offers a ton of value for money.
Each kit contains 6 wooden decorations in the shapes of a star, bell, stocking, present, bauble, and snowflake. Also included are plastic child-safe needles, embroidery thread,and red ribbons for hanging.
We love that this kit includes plastic needles which are a much better option for children than metal ones. Parents will love keeping their children amused with something hands-on and creative that isn't TV, the computer or tablet and kids will love using their imagination to create handmade Christmas ornaments that can be gifted or hung on the tree at home.
This kit would also make a great gift for any arts and crafts loving children on your list. Bonus points because this is a gift that both children and their parents can appreciate, since it offers educational and creative value.

6

. Glory GNI Red Umbrella in Paris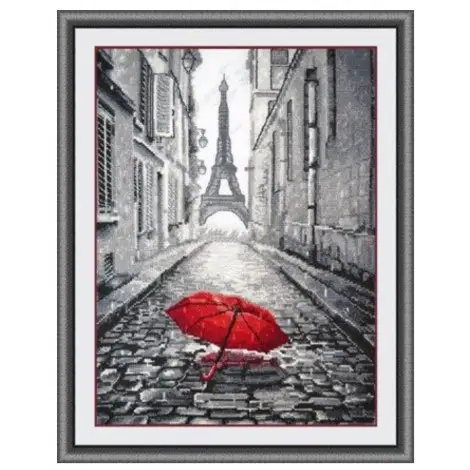 Clinching the sixth position, we have a great looking, challenging design from Glory GNI that is called Red Umbrella in Paris. This black and white scene features a cobblestone alleyway that shows a view of the Eiffel tower in the background. The focal point of the design is the red umbrella which has been abandoned in the middle of the alley. For any avid stitchers out there looking to challenge themselves with an advanced stitching project Red Umbrella In Paris from Glory GNI is a great option to consider.
Great For Advanced Cross-Stitchers
This beautifully detailed scene requires a steady hand and some previous stitching experience. While we would not recommend this set for a beginner or intermediate stitcher, it is perfect for anyone who has a ton of stitching hours under their belt.
Just like in any activity, you must keep challenging yourself with more advanced patterns if you wish to continue expanding your stitching skills.
This is a counted pattern, meaning the stitches are described in the instructions and the Aida cloth is stamped with a grid. Stitchers must apply the correct stitches to the corresponding square on the grid as per the instructions. Within each designated square on the grid there may be multiple colors, stitch types, and thread counts to work with.
This type of project is more complex than simpler patterns which have the colors marked directly on the cloth with the design clearly outlined. The grid lines can easily be washed out with soap and water when you have finished stitching.
Everything Included
The Glory GNI kit includes everything you need to complete the finished project. Unlike some kits that do not include the necessary embroidery hoop, Glory GNI has included one with the Red Umbrella in Paris kit so you can begin crafting as soon as your product arrives in the mail.
Cost and Value
This kit is a little more costly than some of the other options on our list. It still offers great value for money for a number of reasons. One, this design is far more complex and intricate than other simpler options. For this reason more thread is required.
Two, the finished product is a stunning black and white Parisien scene that features a red umbrella in an alleyway. The amount of detail that goes into the project is really breathtaking. This cross-stitch picture will look splendid displayed in your home or gifted to a friend or family member.
This is a great purchase for an intermediate or advanced stitched who wants to challenge their skills to continue progressing. If you have mastered beginner and starter kits and are looking for a lengthy stitching project to immerse yourself in, the GNI Glory Red Umbrella Scene is a great option to check out.

7

. Thea Gouverneur Bumble Bee


Thea Gouverneur grew up working in the fields of her family's flower business in Amsterdam. She eventually moved on to study fashion design and drawing at The Royal Academy of Art in The Hague.
From a young age, Thea had enjoyed drawing the flowers she found in her families gardens and then stitching the patterns to make them look as real to life as she could. After her time in art school a friend suggested that she begin selling her cross-stitch patterns, so Thea approached a department store in Amsterdam who immediately began to stock her products. The rest is history! Thea Gouverneur's highly detailed, nature-inspired, cross-stitch patterns have been coveted by crafters for over three decades!
Highly Detailed Design
This 18 count bumble bee design is one of the most intricate and detailed on our list. The finished product will be a breathtaking masterpiece that you will be proud to display or gift to a loved one or family member.
The cloth included in this kit is an 18 count Aida. In the stitching world, the 'count' means how many stitches are required for each square inch of fabric. The higher the count, the more stitches required per square inch, meaning you will need to stitch smaller.
For Experience Stitchers
The Aida cloth used for the Bumble Bee design is linen, which is thinner and more challenging to work with than cotton.
Experienced stitchers will appreciate the attention to detail required to complete this project. An easy to follow chart with instructions in English are included with this kit.
It is worth noting that this kit is a counted pattern. This means it will require stitchers to read the instructions for each grid square and then apply the correct stitches to the designated area. This involves a little more skill than stamped patterns which have the colors and design clearly marked on the cloth for you to follow.
Cost and Value
This is one of the most costly kits on our list. Adding value to the cost is the included pre-sorted DMC thread and John James needle.
One of the reasons this kit is in the top of the price range is you are paying for the brand of Thea Gouverneur who has been a top name in cross-stitch patterns and kits for over 30 years.
Second, this highly detailed pattern is set on 18 count linen Aida. With 18 stitches per square inch, this project is best suited to intermediate or advanced stitchers who are looking for a challenge.
You cannot beat the attention to detail and true to life look of this piece. It will be stunning displayed in your home or as a gift to a friend or family member.

8

. Dimensions 'Stack of Critters'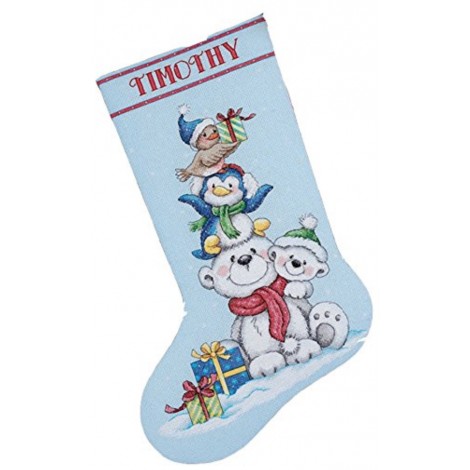 Coming in at the seventh position, we have the Dimensions Personalized "Stack of Critters' Christmas Stocking Kit.
This fun, holiday themed project helps crafters create their very own personalized Christmas stocking which can be hung with pride on your own mantle, or gifted to a loved one to enjoy!
If you already have an abundance of cross-stitch patterns displayed in your home or are looking for a creative, handmade item to gift this holiday season, we suggest checking out this festive Dimensions Christmas Stocking Kit.
Alphabet For Personalized Design
One of the great things about this kit from Dimensions is that the stocking can be fully personalized with the name of the friend, family member, co-worker, or child that you are gifting it too.
This will look great displayed on the mantelpiece or hung on the bedroom door handle during the holiday season waiting for Saint Nick to come down the chimney and fill it with presents.
Makes Great Gift
Handmade gifts are much more sentimental than store bought ones and the holiday season is supposed to be about giving and not receiving, Your friends and loved ones will be delighted to receive a handcrafted stocking that was made with love. Bonus points if you fill the stocking with small gifts as well for a double whammy.
Cost and Value
The price of this Dimensions Christmas Stocking Kit is super affordable. The kit contains a needle, pre-sorted thread, wool yarn for hanging, a 14ct Aida cloth and a felt back as well as instructions.
There are loads of positive reviews from consumers who said that they had no trouble following the instructions even though they do not consider themselves to be an advanced stitcher.
Many customers raved about how great the finished product looked and how eager they were to gift it to their grandchildren and loved ones. Reviewers also loved that the thread was pre-sorted which saves time and makes organizing your materials a breeze.

9

. Joy Sunday Bird On a Fence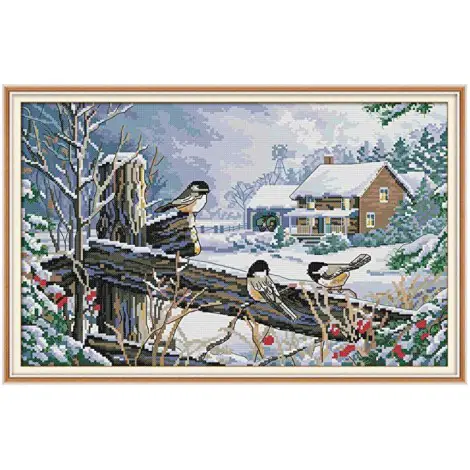 The second last cross stitch that made the cut is this intermediate design from Joy Sunday called Bird on a Fence. This is a stamped kit, meaning the pattern is printed directly on the Aida cloth. The winter scene features three small birds perched upon a snow covered fence with a country home in the background. We love the size of this project which is quite large and will be an accomplishment for any stitcher to complete.
Large Finished Product
The Bird on a Fence kit from Joy Sunday is a finished size of 24"x16". This size will look great displayed above a couch or bed, or placed on top of the mantelpiece.
While many of the other kits we have featured offer smaller, less time consuming designs that will look great displayed throughout your home they are not large enough to be used a feature piece of art.
Whether you plan to display your completed Bird on a Fence in your home or gift it to a friend or loved one, you can rest assured it will be an eye-catching feature that will be loved for many years.
Challenging Design
Another great thing about the Bird on a Fence kit is the challenging design. For stitchers who have mastered the basic skills and are wanting to advance to a higher degree of difficulty, this is a fantastic option to consider.
The pattern is printed directly on the Aida, so there is no need to transfer complex stitch patterns from the instructions onto the grid. The Aida cloth included is an 11CT. Remember, the 'count' when you are talking about cross-stitch kits relates to the amount of stitches per square inch of Aida. The higher the count, the more stitches required and the higher degree of difficulty the piece will be.
Cost and Value
For the size and complexity of the piece, we feel that Joy Sunday's Bird on a Fence kit offers excellent value for money.
Large pieces of art can easily exceed hundreds or even thousands of dollars. With some dedicated stitching hours, you can create your own masterpiece to proudly display in your home at a fraction of the cost of purchasing.
This kit includes the stamped Aida cloth, thread, an embroidery needle, and instructions. The pattern washes off the Aida cloth easily with soap and water once you have completed your project.
With 30, 271 stitches in total, this is a wonderful piece for an intermediate to advanced stitcher who wants to take on a lengthy project. Perfect for summers at the cottage, long winters by the fire, or for anytime you need a relaxing escape from the hustle and bustle of everyday life.

10

. Janlynn Olde World Map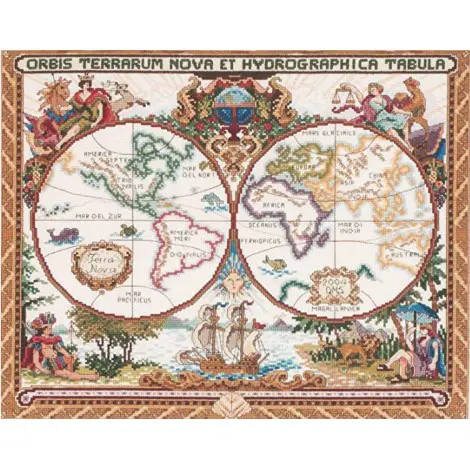 Finishing up the list of the top ten best cross stitch kits on the market we have the Olde World Map from Janlynn.
Janlynn's motto is 'A family business unleashing creativity since 1979'. They offer a full range of needlecraft kits including both stamped and counted patterns to appeal to all levels of stitchers. The Olde World Map is one of their most challenging, counted designs and is part of the Platinum Collection.
Beaded Border
The Olde World Map is the only design on our list to feature a beaded border. We love that this extra detail makes the finished product look opulent and luxurious, like a piece of high-end designer artwork. The beads add an additional layer to the piece, creating more visual interest for the viewer.
For advanced stitchers who are looking for a challenge, the beaded border will be just the thing to help taking your crafting skills to the next level.
Cost-Effective Artwork
The finished size of the Olde World Map is 15" x 18". This is larger than some of the other kits we have featured which would look better displayed in smaller areas such as the powder room, hallway, or as a part of a gallery wall.
The large finished size of this piece makes it ideal to use as a feature piece. This project will look fantastic displayed above your couch in the living room or behind a desk in the study or office.
Cost and Value
Coming in at the higher end of the price range, Janlynn's Olde World Map still offers great value for money. For one, the counted pattern is complex and requires many hours to complete as well as previous stitching experience.
The kit includes a 14CT Aida cloth, thread, embroidery needles, a needle threader, beads, thread sorters, and instructions.
One of our favorite things about the Olde World Map from Janlynn is the fact that the finished project becomes a lovely piece of artwork to display in your home or gift to a friend or family member. Reviewers raved about how satisfying the project was to complete and how proud they were to display such a masterpiece in their home.
Large pieces of art can easily cost hundreds or thousands of dollars! Stitching your own feature piece if a great way to incorporate artwork in your home without breaking the bank! We give bonus points because this piece features a beaded border which adds even more richness and opulence.
If you already have some stitching hours under your belt and are looking for a challenging new project to take on, you cannot go wrong considering the Olde World Map kit from Janlynn.

Subscribe to our Newsletter