Best Columbia Shirts Reviewed & Rated for Quality
In a Hurry? Editors choice: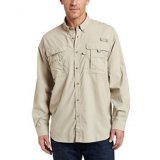 Test Winner: Columbia Bahama II

If you are an avid hunter or outdoorsman, it is very likely that you have heard of this brand. This is because it is known as one of the best companies to make clothing items for outdoor weather and activities.  When someone is spending a lot of their time outdoors, it is important to have articles of clothing that are going to be reliable. Whether this is water resistant, permeable, or insulated. It has always pulled through and has gained trust in being able to always provide the clothing item necessary for the task at hand.
Standout Picks
Criteria Used for Evaluation
UV Protection
It offers shirts with different levels of UV protection, allowing you to do away with all that sunscreen. The theory around their design is a weave of protective layers, some will absorb the sun, while others will block those harmful rays. Putting all those layers together, this brand has given you the protection that has the seal of approval from the Skin Cancer Foundation.
Water Resistance
Water and Stain Resistance
This one is a simple theory that does just as the name states. Made to not allow the material to soak in the moisture from water, therefore preventing those nasty stains. This protective coating has been designed to last for many wash cycles keeping your clothes looking fresh for a long time.
There is also an advanced form offered for this technology, this one offers two forms of protection against staining. The second resistance treatment will allow the stain to release from the clothing material. Making the clothing line with this advanced form of resistance perfect for those who hunt and fish. As this form of protection is also said to work great for blood stains, anyone who has ever done laundry can tell you that blood is one of the worst stains to try to get rid of.
Insulation
Some shirts have a special material on the inside that can be activated when your body temperature changes. In other words, when you start to sweat, the shirt material will begin to drop in temperature helping to regulate your body temperature. The material inside these shirts is meant to feel cool, helping to keep you dry during your workout, or outdoor activities.
Water Capacity
Moisture Wicking and Evaporation
These two technologies combined will keep you perspiration free. Moisture-wicking draws the moisture away from you, while the evaporation technology helps to keep the shirt material dry. After all the sweat has to go somewhere, you don't need it clinging to your shirt.
Bottom Line
Selecting the Right Shirt for Your Occasion
Choosing the correct shirt will involve looking into the characteristics of the shirt as well as considering what you will need the shirt for. With the advances made to technology and materials, this can seem somewhat overwhelming at times. Knowing which materials and technology are best suited for your activity is half the battle. In this section, you will find a few ideas for shirt types for a couple of different scenarios.
Comfort
Experienced hikers tend to prefer shirts made from materials that are synthetic, such as polyester. Synthetic materials are designed to pull moisture, from sweating, away from your body. This keeps your shirt dry and your body temperature better regulated.
Materials such as cotton are known to hold moisture, causing your shirt to become wet. Once this happens, depending on where your hiking, you could come down with a case of the chills.
Another good choice when it comes to hiking shirts, especially for those hiking in warmer climates, is to find a shirt that is vented. Vented shirts allow for airflow, which will help reduce the amount of sweat your body will create. You can also look for a shirt that will offer you protection against the rays of the sun. Many hikers will use these shirts to avoid having to wear sunscreen on those sometimes dusty trails.
One last little tidbit to consider, whether you want short or long sleeves. Short sleeved shirts will ultimately be cooler than the long sleeve shirts. While the long sleeve shirts will provide another form of protection to your arms. Considering the terrain in which you will be traveling will help you decide which of these options will best suit your needs.
Overall Fit
This can be a very broad category when it comes to selecting a shirt for work. Some employers will provide uniforms, so maybe you are looking for a good undershirt. Other employers will require a dress code, but don't provide the clothing just the guidelines for what to wear. Then you have those workers who will be working outdoors all year round, in that case, you will want to be prepared for all weather conditions. This list can go on for days, one thing that you know for certain, you must consider your location and employer when selecting shirts for work.
A good rule of thumb to follow when looking for an undershirt, choose a fabric that is slightly snug. Doing so will create less bulk to your layers, giving you a less awkward feel throughout the day. Another great choice for undershirts, make sure the materials you choose allow breathability as well as moisture wicking. This will help keep your body dry and regulated for temperature.
If your employer has a dress code, be sure that your clothing selection will fit into their guidelines before purchasing your choices. Some businesses require more formal type clothing, in this case, button-up shirts add some formality to your attire. These are available in a wide variety of colors as well as patterns. When choosing such things as pattern or color, be sure to choose one that isn't considered an eyesore. In other words not too bright as far as color, and not to far fetched for the pattern style.
Working outdoors can be a challenge when it comes to apparel choices. One rule to follow, always dress in layers, this way you can take off or put back on as needed. Base layering can be an effective way to remain warm in cooler months, and dry in the warmer months. Select a shirt that offers benefits such as breathability, moisture wicking, and if possible antimicrobial.
Depending on the type of work you do, you may need to find a shirt that offers durability. This durability comes from the materials in which the shirt is made from. Cotton duck is one of the most widely used materials for work clothes. This is because of the amount of durability it provides. Cotton duck clothing is typically labeled for weight from the manufacturer. You will need to think slightly backward when determining the weight you will need. Cotton duck rated 5-12 is normally what is used for work gear, so if the rating is 5 you know you have chosen a tough shirt. Rated at a 12, your durability will be less.
There are other materials for work shirts on the market that are far less complicated. One that comes to mind is flannel, these come in several thicknesses but won't offer you the same amount of durability. Denim is another material used for work shirts that offer you a potential amount of durability. I suppose you could say that the material you choose will depend on your job, and how often you want to replace your work shirts.
For those of you who seek work shirts suitable for general purpose, there is a wide variety of choices for you on the market as well. There are the classic cotton shirts, as well as those that are made from the synthetic blends. Cotton shirts are known for comfort as well as offering a large color selection. Those made from synthetic blends have more potential to offer. You can find these shirts with moisture wicking and sometimes even stain or odor resistance. Depending on the work you do, synthetic blends might be the better option for you.
As you can see, with the advances to materials and technology the market for shirts has broadened immensely. Although you can certainly go off the recommendations of others, the decision will lie solely on you to choose what works best for you. Before purchasing, just be sure to consider these few things: Where will you be using this shirt? How durable will my shirt need to be? What dress code do I need to follow? Will I be working outdoors or inside? Asking yourself these questions can make the process of selecting a shirt go much smoother.
Top 10 Picks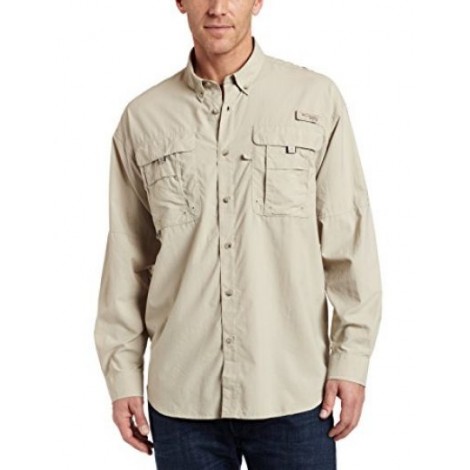 The Sportswear Bahama II is another shirt that has a lot to offer you and supports you in almost everything that you would do. Being a quick drying shirt, it is very well known for outdoor activities and working. The vented back and shoulders support airflow and help maintain sweating as well. The full button up is easy on and off with durable buttons that offer a secured fit. With all of the added benefits of the shirt, this is the route to go.
Omni-Shade
This shirt offers an extra step with the protection of dangerous UV rays. This shirt offers an added UPF 30 sun protection that will keep the sun off of your back, resist sunburn, and also help maintain in heat blocking. That being said, this is a great shirt to enjoy while outside or on the job.
Quick-Dry Fabric
The shirt has added materials that assist in fast drying properties. With the added ventilation system, this shirt takes your sweat and wicks it away faster than it can produce sweat. Being moisture resistant and quick drying, this shirt is made for work.
Cost and Value
This shirt has so much to offer, which is why it makes the top list. With its quick-drying properties, this shirt is made to withstand the most intense work while keeping you dry. Having the added UV protection, the amount of care this shirt has for you is through the roof. Very cost effective, it is made to last and support you.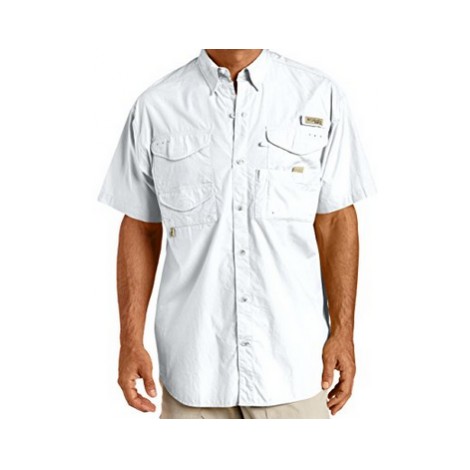 Coming in at number one, the shirt is the most sought after work shirt that this brand has to offer. With added technologies, the shirt is designed to move freely with your body and assist in moisture wicking for when you work up a sweat. The buttoned-up closure offers a secure close while a ventilated system keeps a constant airflow. Each shirt is designed with you in mind and that is why you can't say no to this brand.
Back Venting System
This shirt has been designed with a system to keep a constant airflow in place. Being as it has a ventilated back, this shirt will keep that air circulating, removing any sweat and odors from the material. This back venting system has been put into place to keep you comfortable on the hottest days.
4 Chest Pockets
It offers a number of secured pockets in the chest area to assist in keeping your items safe and secure. Having the extra pockets, you can carry around your belongings with ease. The item had you in mind when it was constructed with these 4 pockets!
Cost and Value
With so many benefits, it is a highly rated product for many reasons. A full button shirt that moves freely with the body creates a strong comfort as well as being a natural feel. Back ventilated, this shirt helps maintain sweat and keeps a constant flow of air to the body. At an affordable price, the item is a great choice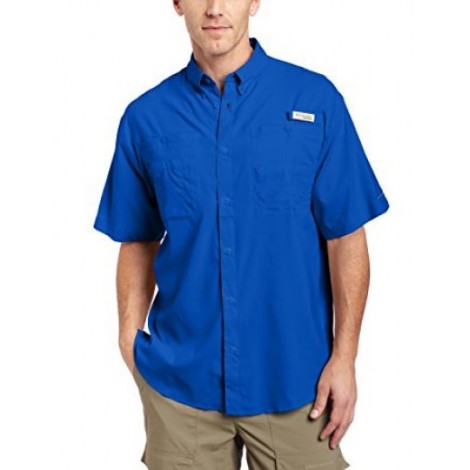 Are you looking for a shirt that blocks out stains and water while keeping you protected? Look no further! This shirt is an all-around fantastic choice that gives your shirt added protection along with your body. Being vented, this shirt also allows a constant flow of air that assists in keeping you cool. Why not go with a choice as great as this one?
Vented
This piece is a vented shirt that allows constant airflow to circulate keeping you cool. With the added venting, the material dries quickly and helps in the cooling process during hard work!
Antimicrobial
Having a shirt that assists in the resistance of bad odors and bacteria has never been easier than with this shirt. Bad odors have become a nightmare to hard workers that sweat. Put bad odors in the past using it and its antimicrobial properties!
Cost and Value
The item has a lot of added benefits which is why it is a top rated product. With the UPV protection and the vented system, this shirt is made to keep the heat out, keeping you cool all day while preventing sunburn. Being antimicrobial, this shirt also assists in blocking bad odors and keeping bacteria's out of the material, making it a safe and clean feel for hours of use. At an affordable price, you can't pass on this blue shirt.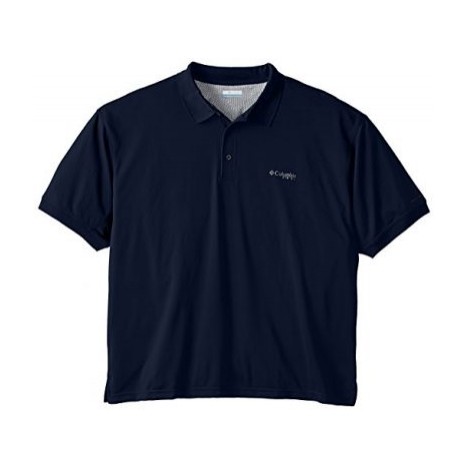 This Polo Shirt is incredibly versatile and has so many great benefits, you'll want to jump right in. If you are looking for a shirt for the golf course, a dressy situation, or a relaxing day at work, this is definitely the shirt for you. Having SPF protection, ventilation, and moisture wicking properties, it is bound to keep you comfortable for hours.
Moisture Management
Protection of moisture is something that most people need. Sweating has been an on-going issue for people and now it can be a thing of the past with the moisture management that the item has to offer you. Being a quick dry material and also ventilated, this shirt keeps airflow constant and pulls moisture out.
Omni-Shade UPF 30
Whether you are at the beach or on the golf course, this piece will keep you shielded from the sun, preventing overheating and sunburn. With the Omni-Shield UPF 30 technology, you will stay protected for hours in the sun. With protection being key, this is the shirt for you.
Cost and Value
Featuring some of the best benefits, this shirt is made to protect you from the sweat and the sun. The comfort fit style will move with you, giving you an optimal feel, keeping you satisfied all day. The price of it speaks volumes and is totally worth what you pay!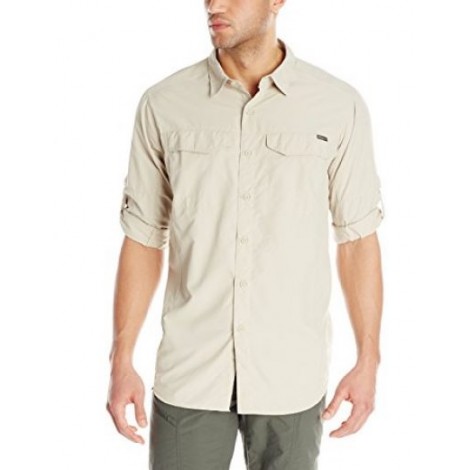 It is a great value with incredible benefits. This shirt is made to dress up or dress down. Being incredibly versatile, this shirt is made for any occasion. Offering sun protection and sweat control, it has it all and is built to last. Being so attractive, how could you say no to such a great value?
Omni-Wick
This piece of clothing is designed to help you control your sweat and all moisture. Being that this shirt is incredibly moisture-wicking, it will leave long-lasting comfort no matter what time of the day that it is.
Cost and value
This item is a great shirt for any occasion. With the number of benefits that it has to offer, this shirt will keep you feeling cool and looking cool, no matter where you go. Ventilation systems and Omni-Wick technology, assist it with keeping you dry all day. Why pass up such a great item, when it is just one click away!

6

. Columbia Terminal Tackle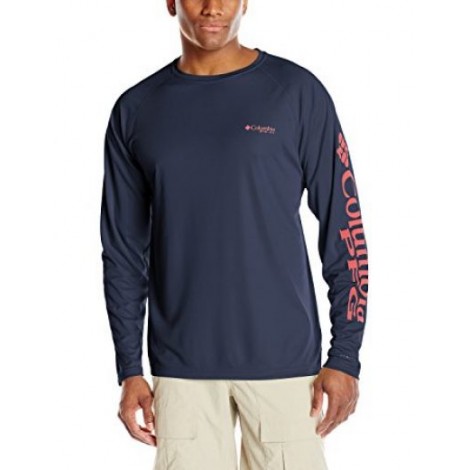 If you are looking for a sleek, comfortable style, it is the shirt for you. Being incredibly versatile, this shirt is comfortable and stylish. Offering moisture protection and sun protection, this shirt has your back, all day long. At an affordable price, you can't go wrong.
Quick-Dry Fabric
This shirt offers a material that is quick-drying. The Quick-Dry fabric is designed to dry out fast on the hottest days of work. This technology is made to keep optimal comfort and leave you feeling cool, the entire day.
100% Polyester
It is made from 100% polyester material. Polyester is a synthetic fiber that is less expensive than most materials and made to withstand the toughest situations. Polyester is built to last and that is why this item is the right for you.
Cost and Value
The durability in this shirt speaks volumes for the cost with the Terminal Tackle Long Sleeve Shirt. Having such a durable material that is not only moisture wicking but UPF protected, you are bound to stay comfortable and secure in this shirt. The cost is at an affordable rate and the comfort is totally priceless.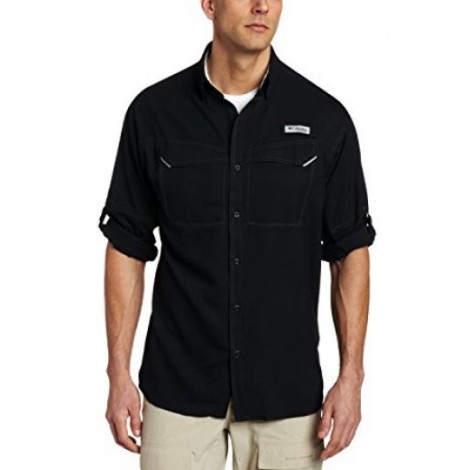 This crisp, lightweight shirt is ideal for anyone. Being as it is short sleeved, it is great for the warm weather and also has properties that will keep you safe in the even of sun burn! Dry-Quick fabrics are entwined into this shirt, assisting with keeping moisture away and helping the material remain dry and comfortable.
Antimicrobial Finish
The Low Drag Offshore Long Sleeve Shirt has a one of a kind protection for you and your clothes. Being antimicrobial, the Low Drag Offshore Long Sleeve Shirt wicks bad odors away and keeps bacteria from entering the clothes. The antimicrobial properties assist with armpit stains and permanent odors.
Vented
The Low Drag Offshore Long Sleeve Shirt is strategically vented for your comfort and satisfaction. The ventilation in these shirts give way for a constant airflow, keeping cool in and heat out. Having the ventilated system allows sweat to turn into vapor and move out of the shirt.
Cost and Value
The Low Drag Offshore Long Sleeve Shirt is a one of a kind shirt that has many benefits to keep you happy while dressed. Antimicrobial materials will keep bad odors away while the ventilated system assists with the odors and the moisture within the shirt. The Low Drag Offshore Long Sleeve Shirt will take care of you inside and out!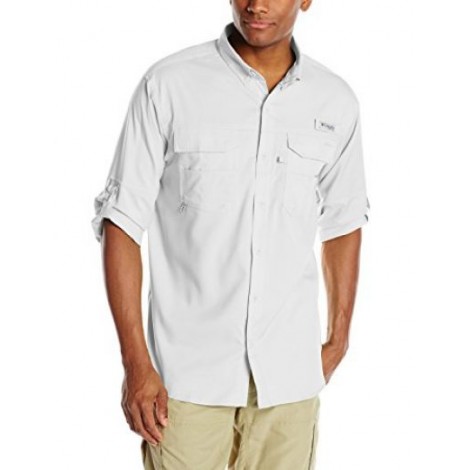 Looking for a casual shirt to wear almost anywhere? The Sportswear Blood and Guts III Long Sleeve Woven Shirt is a versatile shirt that is made for comfort and protection. Sun block goes a long was as the Sportswear Blood and Guts III Long Sleeve Woven Shirt has a sun block collar and Omni-Shade that offers incredible protection. Built with Omni-Shield to protect against blood and guts, this shirt is bound to keep you protected while hunting too! With so many options that this shirt has to offer, you won't be disappointed.
Blood and Guts
The Sportswear Blood and Guts III Long Sleeve Woven Shirt will protect you on all of your hunting explorations. Made with Omni-Shield protection, this shirt allows you to gut out a deer, and not leave any stains behind! This protection keeps your shirt looking fresh and new for many days out on the hunting field.
Vented Back
Offering a vented back, the Sportswear Blood and Guts III Long Sleeve Woven Shirt is 100% breathable and offers a great airflow system for sweaty times. This shirt is made for work and allows you to stay cool and comfortable by circulating sweat out, and fresh air in.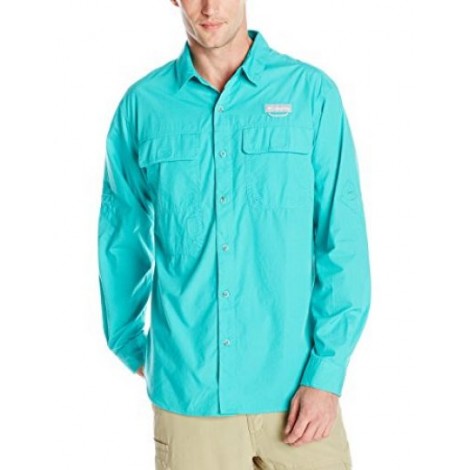 The Sportswear Trailhead Long Sleeve Shirt is a relaxed fit shirt that is made for the worker. Offering utility loops, carry your most used tools with you, where ever you go. The vented back allows a constant airflow to keep you cool while helping maintain sweat and moisture. Made from 100% cotton poplin, this shirt is super soft and lightweight, making this shirt great for any occasion.
100% Cotton Poplin
The Sportswear Trailhead Long Sleeve Shirt is made from 100% cotton poplin. With all the benefits of cotton, plus more, this shirt is super soft and also incredibly durable.
Multi-Functional Pockets
The Sportswear Trailhead Long Sleeve Shirt offers a variety of multi-functional pockets that are in place for your benefit. Use these pockets for tools and any other belongings that you may need on the job.
Cost and Value
The great shirt is amazing for any situation. Being at it is so soft, the comfort of the Sportswear Trailhead Long Sleeve Shirt will be long-lasting and satisfying for long periods of wear. Keep in the game with the built on utility loop and multi-functional pockets. With so many benefits, this shirt is a steal!

10

. Columbia Cascades Explorer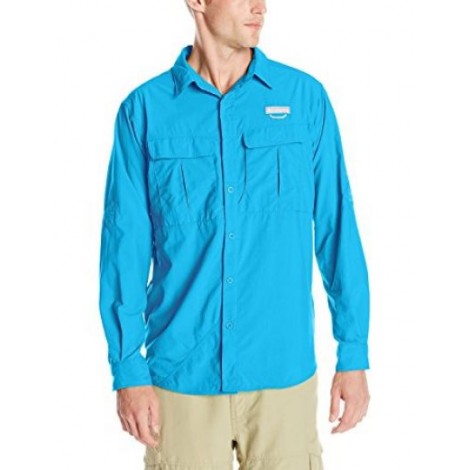 The Sportswear Cascades Explorer Long Sleeve Shirt is an all around shirt for the hiker and worker. Having added features to benefit the wearer, this shirt even includes a built-in cloth to clean your sunglasses! Made for hiking, the Sportswear Cascades Explorer Long Sleeve Shirt offers sun protection and stain protection. Assisting with sweat, the back ventilation system will keep moisture wicked and the fabric dry!
Roll Up Sleeves
While out on a hike, we tend to work up a nice sweat. If you chose the Columbia Sportswear Cascades Explorer Long Sleeve Shirt it has the ability to keep you both warm and cold with the roll up sleeves that it offers. Go from a crisp morning to a warm afternoon in complete comfort with these roll up sleeves!
Sunglass Cleaner
Made for the hiker, the Columbia Sportswear Cascades Explorer Long Sleeve Shirt has a built in cloth that allows you to clean your sunglasses, perfectly, every time! No more scratched lenses from cleaning with rough materials, use the Columbia Sportswear Cascades Explorer Long Sleeve Shirt for all of your needs.
Cost and Value
With the ability to keep you protected, the Columbia Sportswear Cascades Explorer Long Sleeve Shirt has it all for the hiking kind. Sun protection, soft materials that wick moisture, and a sunglass cloth that is built in, carry less and be comfortable for a long time in the woods. At an affordable price, the Columbia Sportswear Cascades Explorer Long Sleeve Shirt is worth every penny!

11

. Columbia Utilizer Polo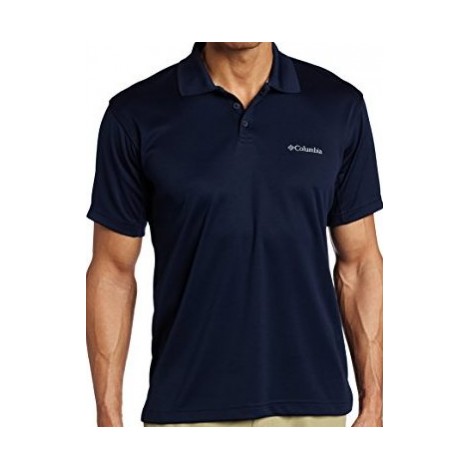 This shirt has come back to the market with several improvements. Changes to the cut and material of this shirt have given it the style and comfort that you deserve. With several color choices, you can pair this shirt to match your business or casual attire.
Cut Style
With improvements made to the cut and material of this shirt, rest assured you will remain comfortable and dry. The new cut length is slightly longer than the previous version. Yet slimmed through the mid section to contour your body in all the right places. Changes to the material of the shirt were made to provide you with better moisture wicking properties.
UV Ray Protection
Looking for a shirt that can keep you protected from the sun while spending long days outside? This shirt offers you that from of protection. No more worries while spending your time outdoors on those sunny days.
Cost and Value
Offering you a new sleek look, this shirt has had changes that will have you looking great no matter what the occasion. UV protection paired with moisture wicking properties, will keep you comfortable and protected while spending those summer afternoons outdoors. This shirt has plenty of benefits to offer without breaking the bank.

12

. Columbia Thistletown Park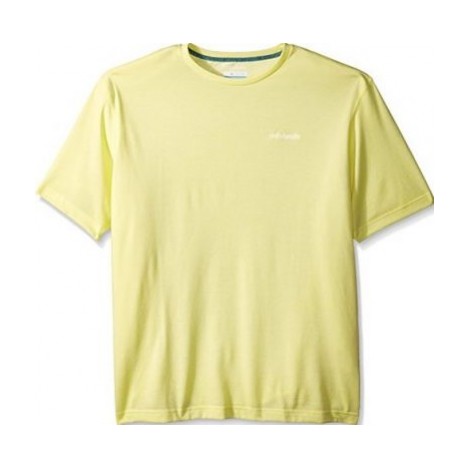 The perfect shirt for your everyday needs, with the stylish cut and color selection this shirt can be used for work or play. Easy hand washing, paired with quick drying fabric, will allow you to cut down on the amount of shirts you pack on those long business trips.
Material Blend
Made from a particular blend of materials, this shirt is quick to dry and easy to wash. Simply wash this shirt in the sink, shower or tub. Then hang it to dry, the material blend is designed to dry quickly. With this much convenience, you gain a quick turn around on your wardrobe.
Moisture Wicking
Made with moisture wicking properties, this shirt is sure to keep you dry during your hike or run. With the quick dry technology you won't have to worry about where that sweat will show on your shirt.
Cost and Value
For a relatively low cost, you can feel free to own several of these shirts. Made from a material blend that is easy to wash, while quick to dry, can help you cut back on the amount of clothes you carry on your trips. This shirt with all it has to offer can be used everyday or just for your workout needs.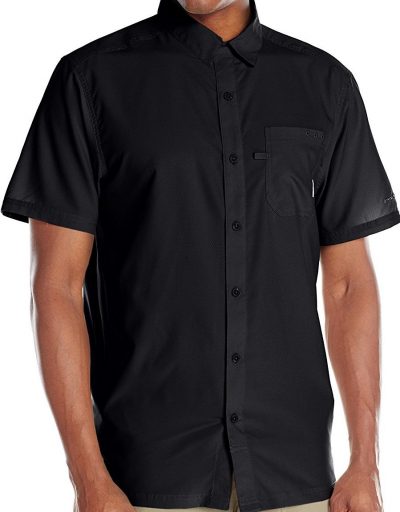 This shirt will keep you cool and protected while spending time outdoors. Great for those who work outdoors in the hot summer months. Being that this shirt is lightweight, you can wear this shirt without the worry of being weighed down.
Evaporation Technology
It has cornered the marked with the evaporation technology. Allowing their shirts designed with this property to not only wick away moisture, but to evaporate that moisture quickly. Keeping you cool and dry on even the hottest summer days.
Lightweight Material
Lightweight materials make this a great summertime shirt. Many people who have purchased these shirts have done so to make them summer work shirts. Vented to give you and your shirt the breathability you need to keep cool while out in the heat.
Cost and Value
Falling on the scale at a slightly higher cost, this shirt will not disappoint when it comes to quality. Keeping you cool, while your sweat gets wicked away and evaporated, this shirt is perfect for those warm days spent fishing or working in the summer months.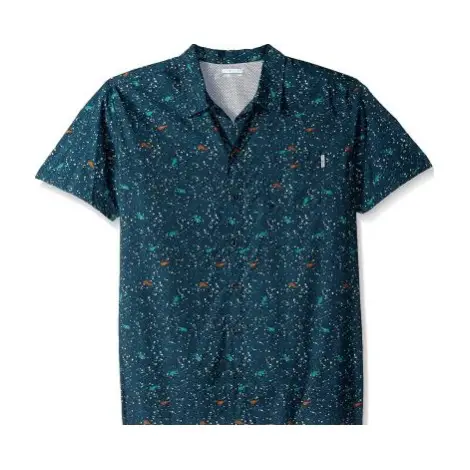 This shirt will add some spice to your attire, with the selection of prints available you can definitely make a statement in one of these. Made with the same great features that you find in most shirts from this brand, this one will not let you down.
Pattern Selection
This shirt has a huge assortment of bold prints, as well as some solid colors. You have the ability to stand out in the crowd with a bold print pattern. Choose a solid color to dress up your outfit for that important business meeting or slightly formal gathering.
Vented
This shirt has vents placed in the back to allow air to flow through the shirt. This along with moisture wicking will keep you cool and dry even on those days when the sun is shining.
Cost and Value
Stand out in the crowd without stepping over your budget with one of these shirts. You have one of the largest pattern and color selection at your finger tips, making it easy and affordable to choose one of these shirts for any occasion.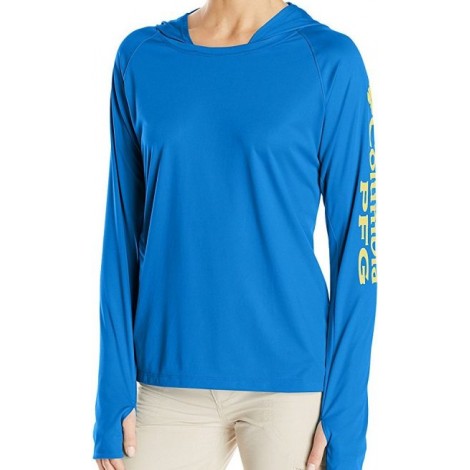 With the amount of protective properties this shirt has to offer, you can be prepared for any circumstances the weather has in store for you. Whether your hiking in the harsh sun, or planning a day on the water this shirt will have your back.
Protective Properties
This shirt is armed with the top technology for your comfort and safety. Not only is this shirt moisture wicking, it also has one of the highest ratings for UV protection given to clothing. Added to that is the evaporation technology and quick dry material. What more could you possibly ask for?
Stylish Cut
The cut for this shirt is designed to hug your physique in all the right places. Allowing for a fit that is not only snug but comfortable. This shirt also offers you a hood as well as thumb holes in the sleeves. It really has plenty in the design to have you looking great.
Cost and Value
This shirt has all the modern technology for your safety, making this shirt perfect for outdoor use. Coming in on the high end for cost, you have to ask yourself, "Can I put a price tag on my safety?"

Subscribe to our Newsletter